Whether you're hosting a large gathering or just enjoying a small charcuterie board at home, it's essential to know how to transport your board safely and effectively. In this article, we'll share some tips and tricks on how to transport a charcuterie board to ensure it arrives at its destination fresh and ready to serve.
Charcuterie boards are the perfect addition to any holiday party or dinner party, as they offer a variety of cheeses, meats, fruits, and other bite-sized foods that can please even the pickiest eaters.
Jump to:
Let's Get Started
Charcuterie boards have become a staple at holiday parties, family gatherings, and even as a simple way to enjoy an evening at home. However, transporting a beautiful charcuterie board can be challenging.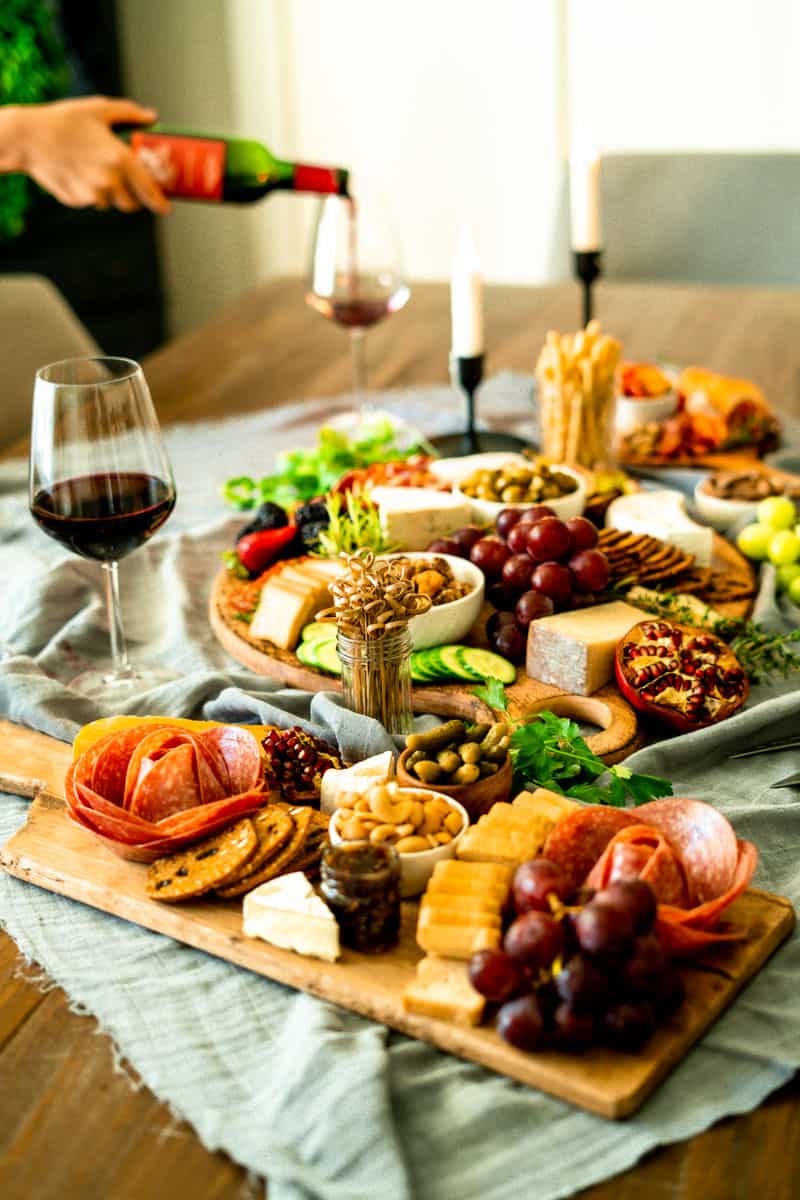 From keeping the ingredients fresh to ensuring they don't shift during travel, or knowing how to make your charcuterie board ahead of time, it's important to have a plan in place for how to transport your board. In this article, we'll discuss different ways to prep your charcuterie board for travel and options for different sizes.
Consider Small Components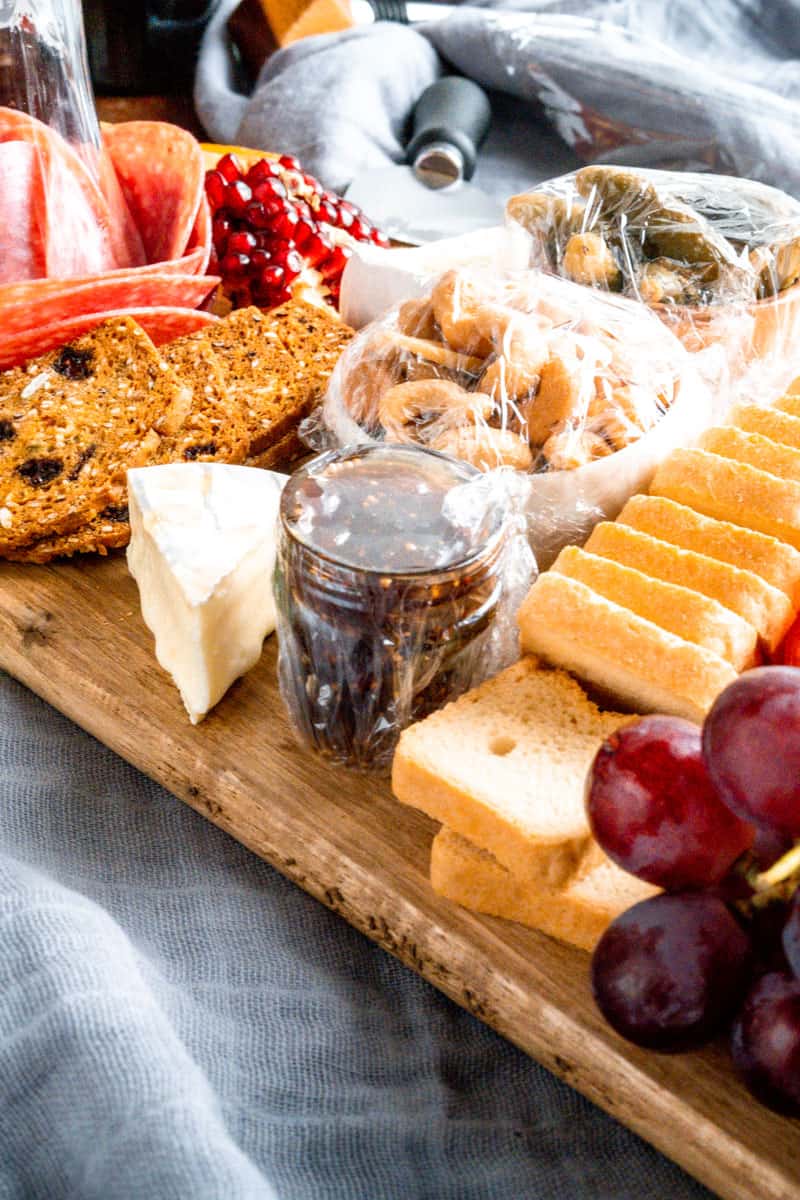 Whether you're dealing with nuts, dried fruits, olives, or any small components that may roll, it's wise to individually wrap them or place them in small pinch bowls or decorative dishes.
This helps in keeping everything organized and avoids any messy spills. Adding cute little containers can not only secure these small items but also enhance the overall appearance of your board. Think about matching the colors to the theme of your event or simply adding a touch that expresses your unique style.
Mind the Jams and Jellies
Transport jams, jellies, or honey in leak-proof containers or wrapped securely to prevent spills that could ruin the board. Keep in mind multiple layers of plastic wrap may be required to achieve a good seal.
Protect Your Crackers
Crackers are a crisp complement on a charcuterie board. Store them separately in a beautiful box or individually wrapped in plastic to preserve their texture. This ensures they don't absorb moisture from the other ingredients or the inside of the plastic-wrapped board.
If you're not traveling far or have a last-minute setup, and don't want to add the crackers at your final destination, you should be fine. If packing them with the board and you're traveling far, make sure they are well-protected to keep them dry and fresh.
Certain soft fruits, like raspberries, can stain or affect the texture of crackers. Be mindful of your placement on your board, and consider using separate containers or wrap items that can cause staining or contain lots of moisture.
Prep Your Board for Travel
The easiest and best way is to wrap the entire charcuterie board tightly in plastic wrap, making sure to cover all edges and corners. For an extra layer of protection, consider adding popsicle sticks or an upside-down cup in the middle to create a tent-like structure over your board.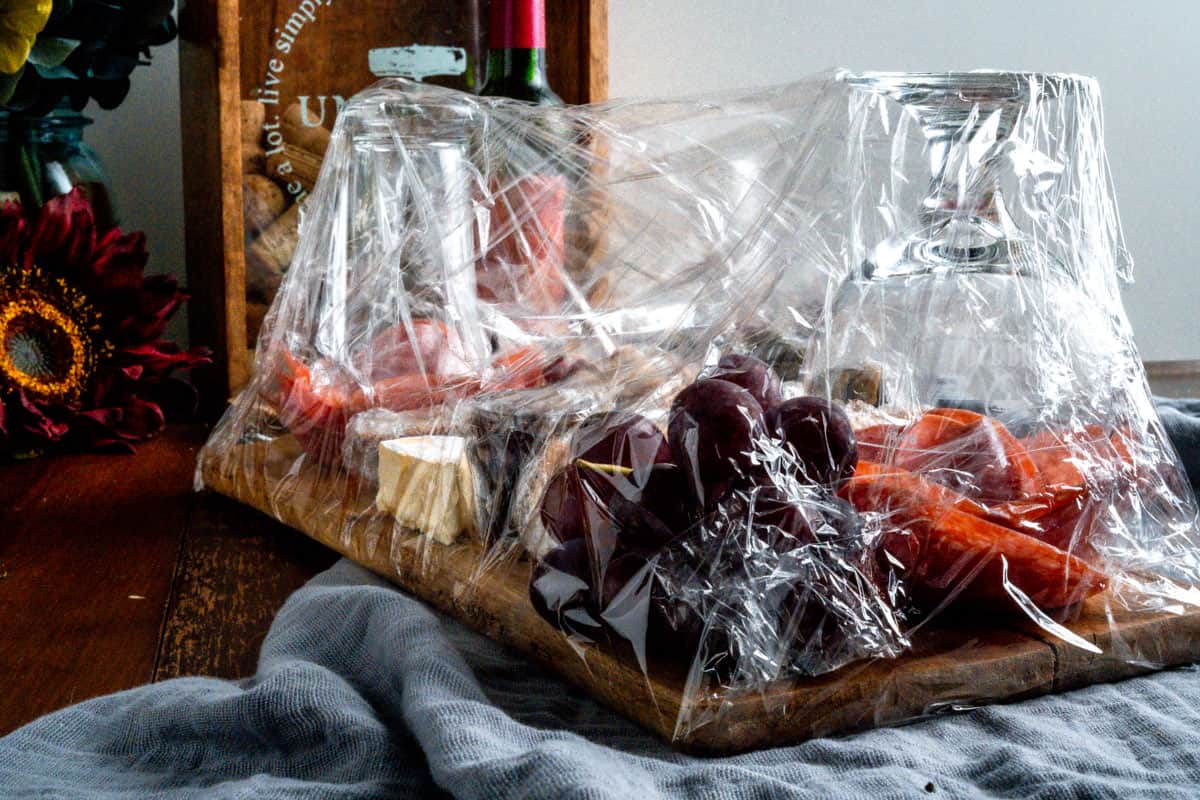 This will help keep the ingredients fresh but also prevent them from getting damaged during transport, and ensure that any delicate folding work or artful arrangements stay intact.
Choose the Right Board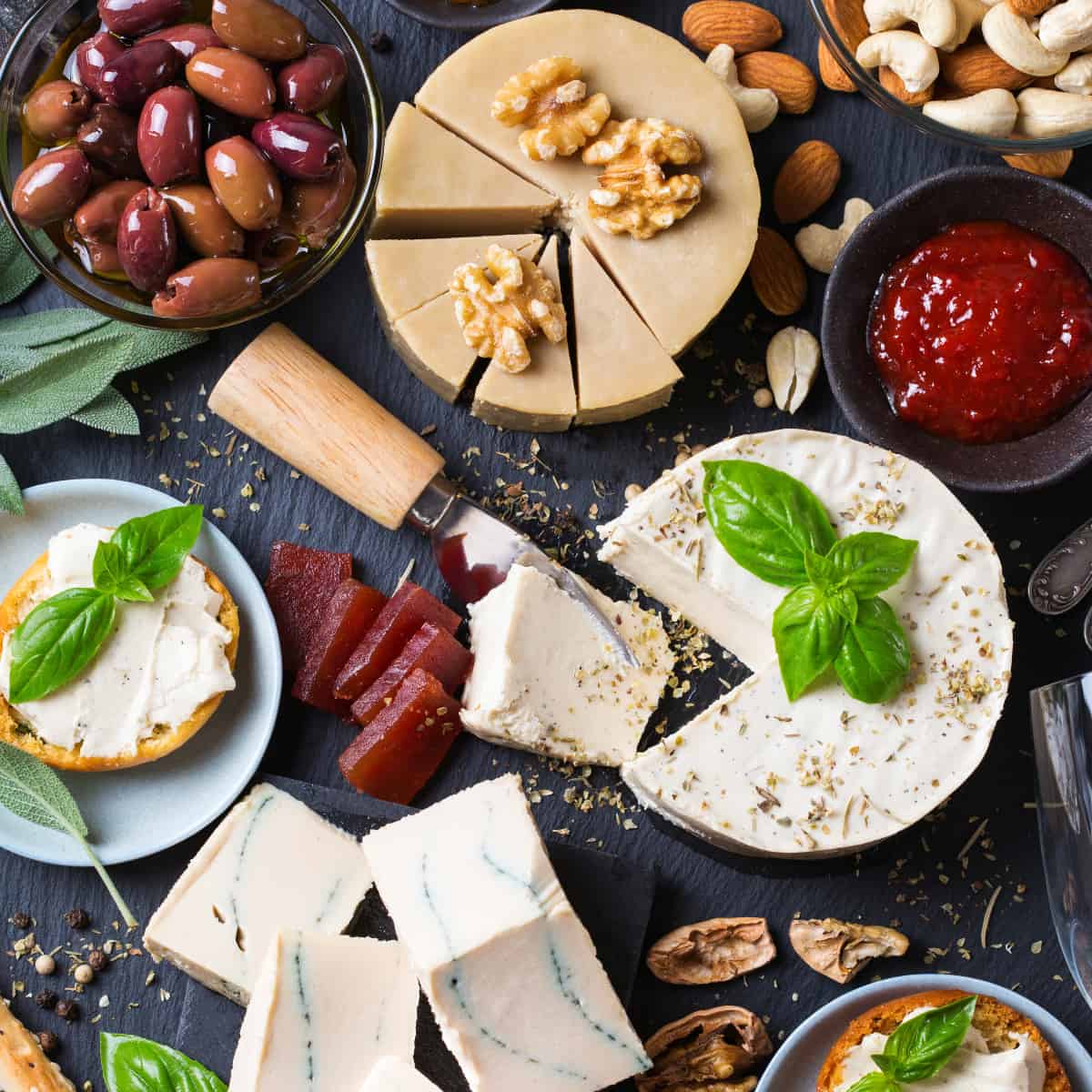 While classic charcuterie wood-style boards are undoubtedly gorgeous, don't feel confined to them. If you have a large serving platter that will work better for your occasion, go for it!
A serving tray may even be easier to clean and bring home later. It's all about embracing flexibility in the kitchen, right? This could be a game-changer, especially when you're feeding a crowd or aiming for a different presentation style. A cutting board is also a great alternative!
Handle Temperature with Care
While serving your charcuterie ingredients at room temperature is essential to bring out the best flavors, safety should never be compromised. If you need to prepare your charcuterie board ahead of time, it's vital to keep it in the refrigerator to ensure freshness.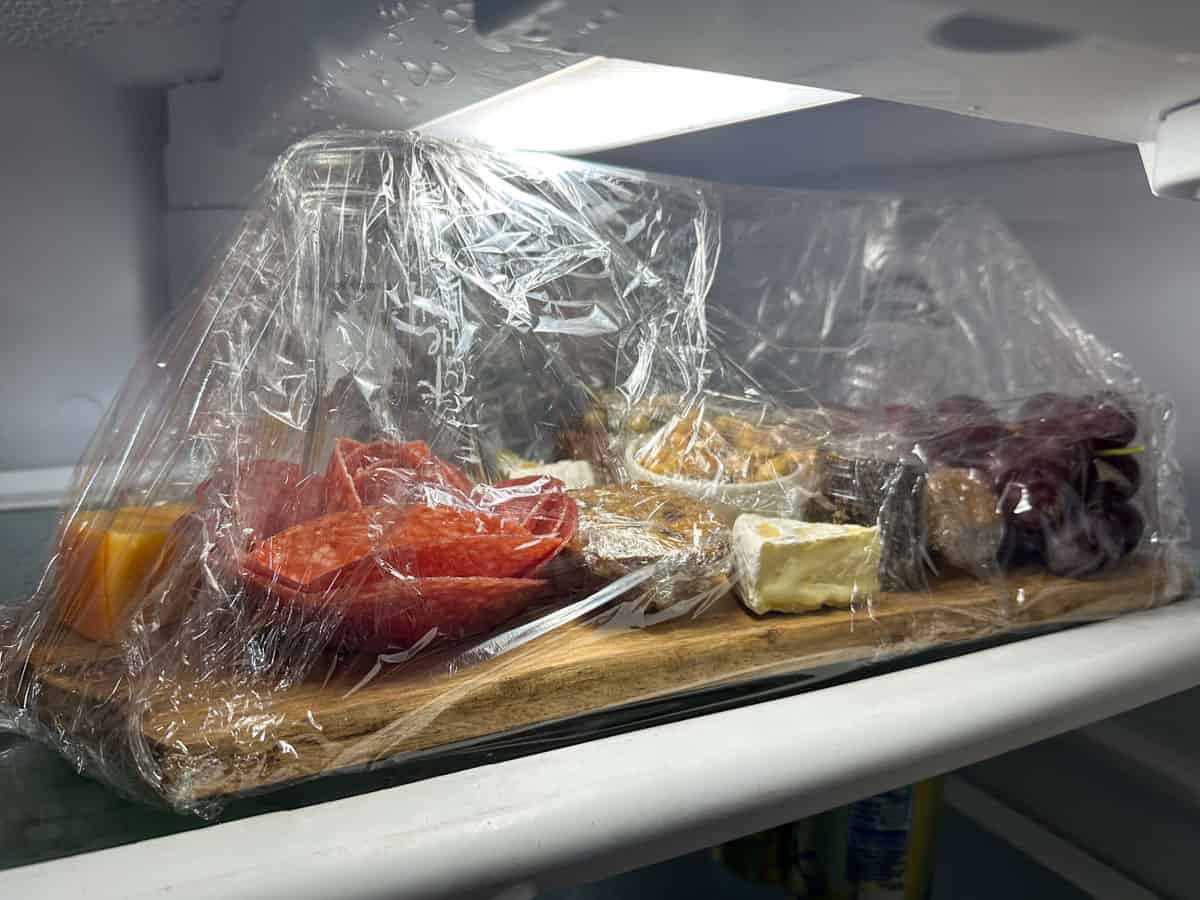 However, make sure to pull it out at least 30 minutes before serving so that everything can come to room temperature. Soft cheese and fresh fruits are particularly enjoyable at room temperature.
If you're transporting the board on a longer car ride and need to keep the ingredients cool, consider placing an ice pack underneath the board or wrapping them in long pieces of tin foil or heavy-duty foil. This way, you strike the right balance between safety and flavor.
Choose the Right Size Board
When choosing a board for transportation, it's important to consider the size of the board and the number of people you're serving. A small charcuterie board may be perfect for a few people, while a larger cheese platter may be necessary for a party of ten or more.
Consider your audience and the occasion before choosing a board. Don't forget to consult our detailed articles on choosing the perfect charcuterie board size and pricing appropriately to ensure that you create the perfect spread without overextending your budget.
Use Decorative Elements
Adding decorative elements to your charcuterie board is a great way to make it stand out during transport. Consider adding small containers of different colors or decorative paper towels to the edge of the board. This will not only add a fun element to your board, but it will also help keep everything in place during transport.
Bring a Mini Chalkboard or Signs
Mini chalkboards, a printable recipe card, or a little sign are a great addition to any charcuterie board. They not only provide your guests with information about the different types of cheeses and meats, but they also give them ideas for different ways to enjoy them. Consider including a recipe card with your board to make it even more special.
Curate Your Charcuterie
Choose Neutral Cheeses: Not everyone has an adventurous palate, so when in doubt, go for crowd-pleasers. Classics like cheddar cheese and Gouda are sure to satisfy most. For a touch of sophistication without going too far, Brie and goat cheese have different textures without branching out too far.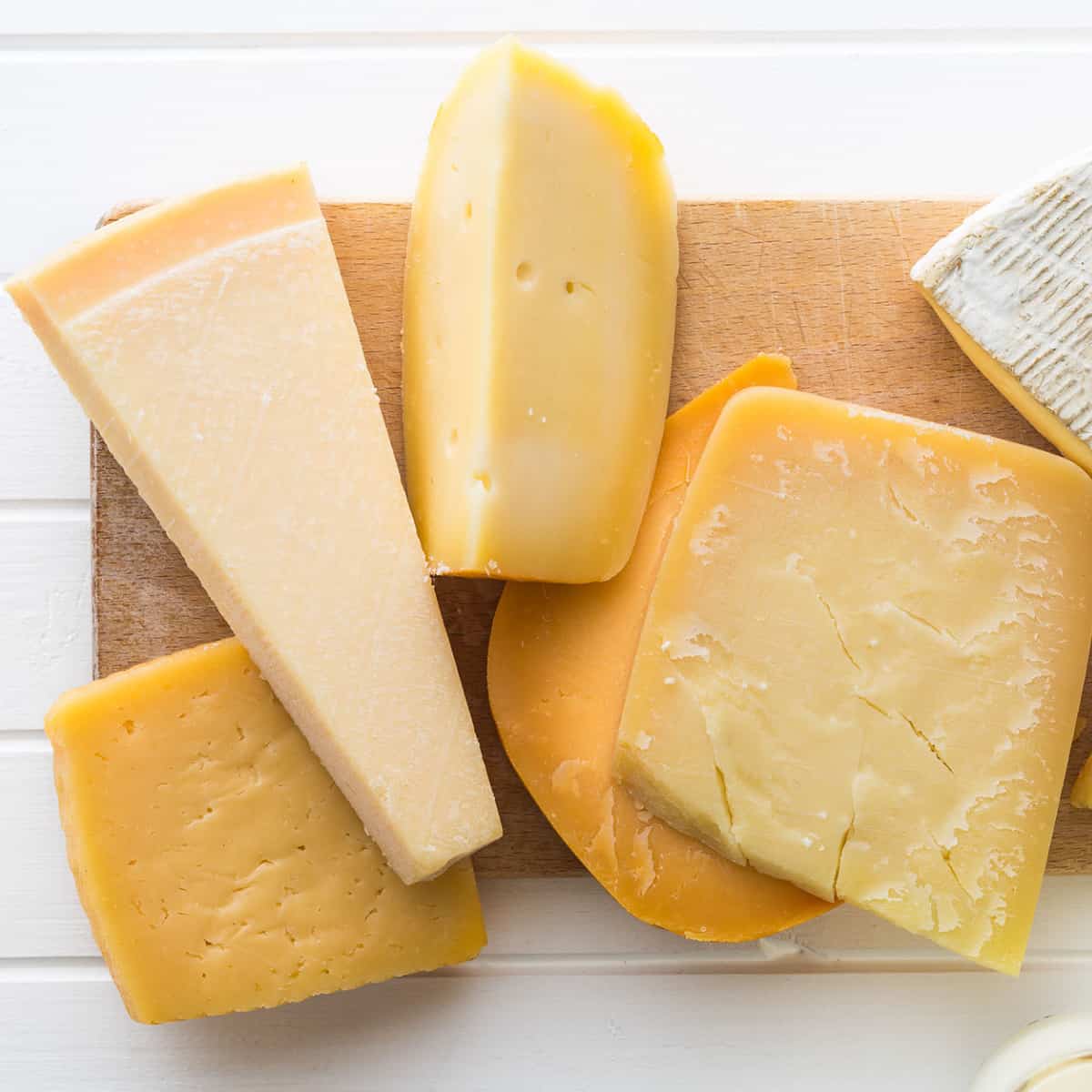 Consider Dietary Restrictions: If you're aware of pregnant guests, note that soft cheeses like goat cheese may not be suitable. Including labels or letting the host know can be a thoughtful touch.
Meats Galore: It's always a good idea to have a variety of meats that add layers of flavor to your board. Salami, chorizo, and prosciutto are some my favorites.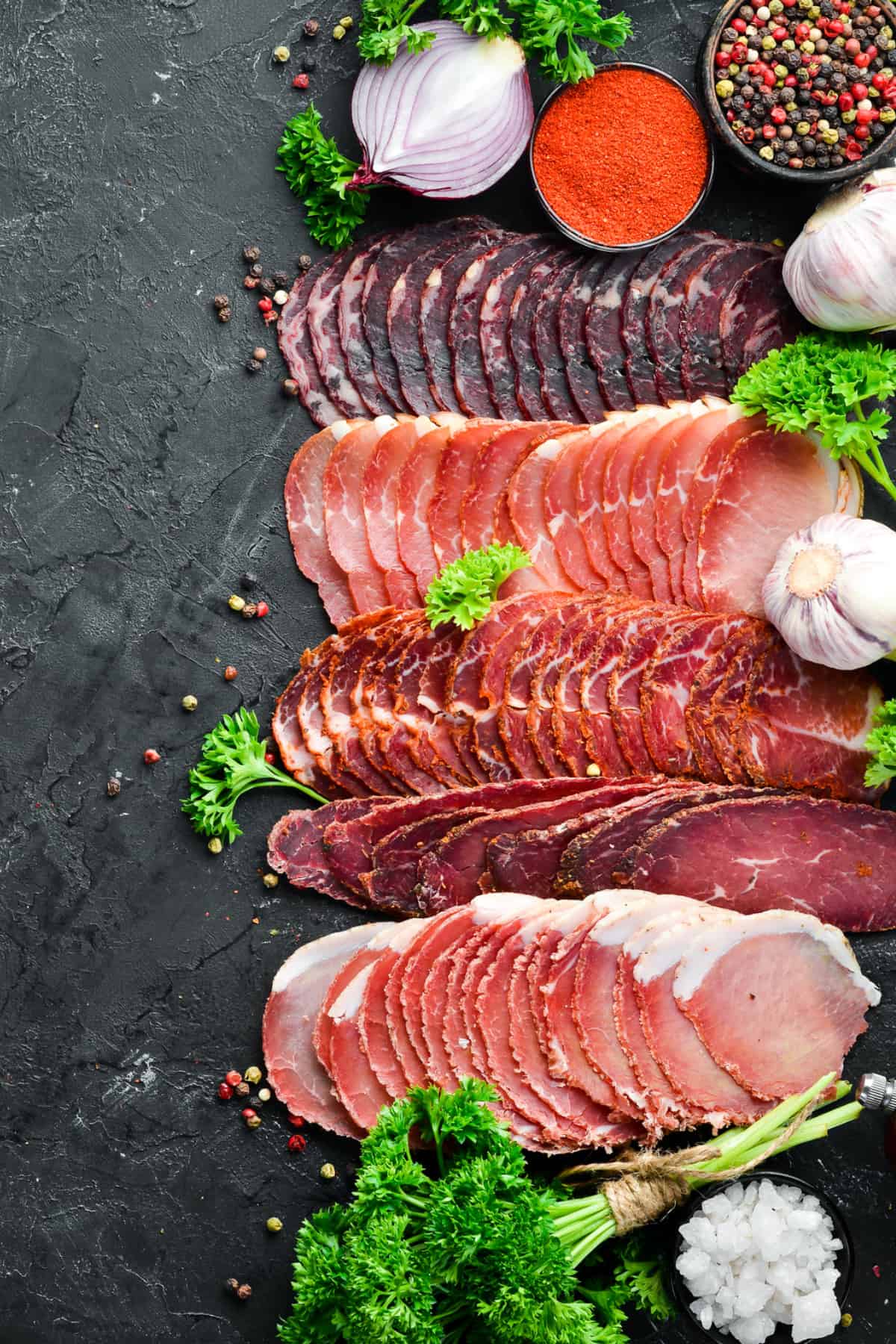 Offer Unique Options: For those looking to impress a family member or cater to those with specific dietary needs (such as avoiding pork), consider including more unique options like duck, elk, or pâté.
Incorporate Fruits and Nuts: Grapes, strawberries, and nuts add color, texture, and a break from the rich, salty flavors of the meat and cheese.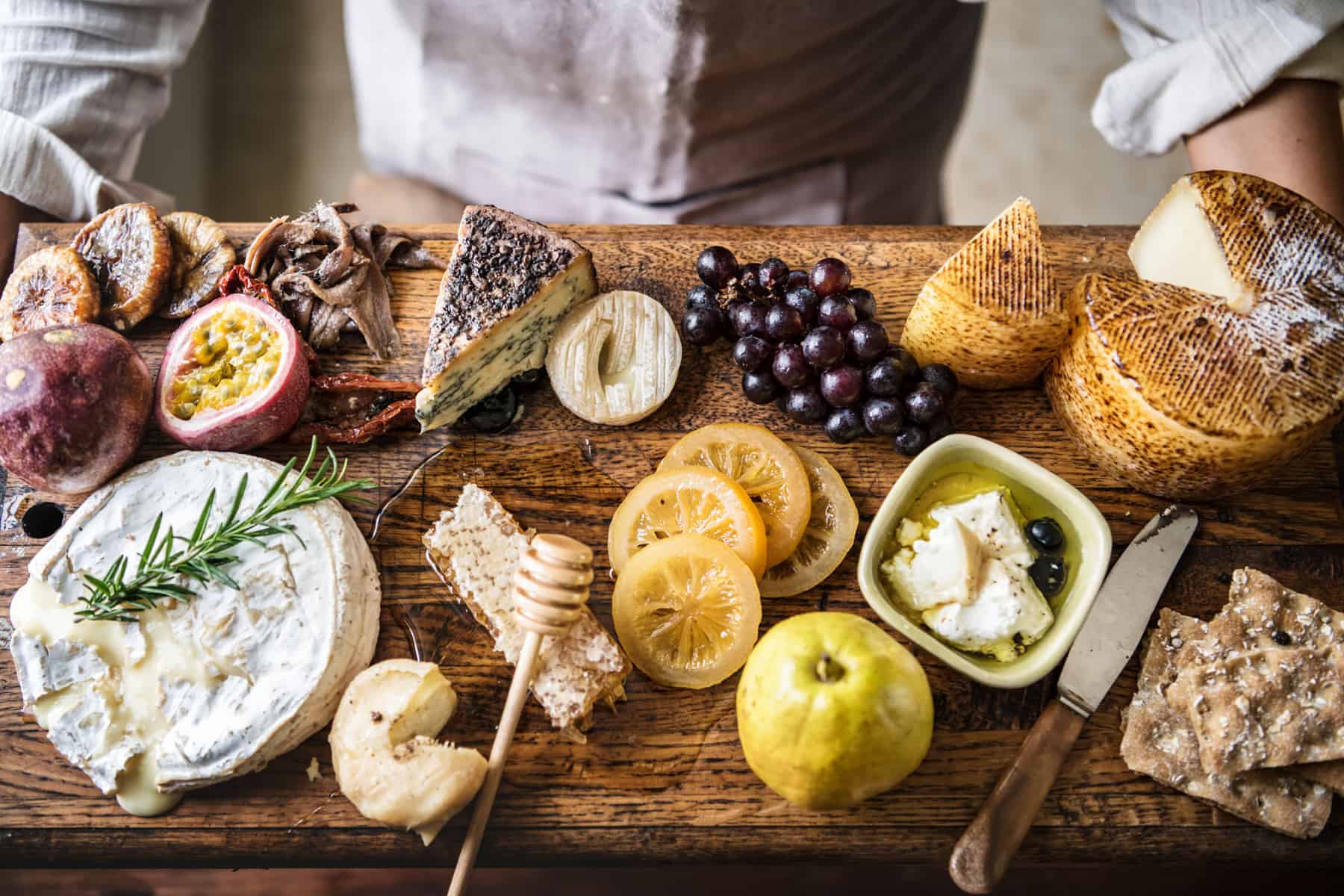 Vegetarian Alternatives: If you're aware of vegetarians in the crowd, include some meat-free options like stuffed olives, marinated artichokes, or a delicious hummus. Making a crudité board could also be a great choice!
Embrace Seasonal Flavors: Consider the season or holiday theme for that extra special touch. Cranberries and pecans for Thanksgiving or figs and fresh herbs for summer gatherings can really elevate the board.
Keep it Stable: Choose items that travel well. Avoid anything too soft or crumbly that might not look its best upon arrival.
Offer Different Variations
Offering different variations of charcuterie boards is a great way to keep things interesting. Consider a themed charcuterie board, such as a Christmas tree charcuterie board for a holiday party. Or one that highlights a specific country's different types of cheese or meat products. By offering different variations, you'll be able to cater to the preferences of your guests and ensure that everyone is satisfied.
Don't Forget
Don't forget to pack your cheese knives, extra nuts or fruit, and napkins. I would even recommend hand wipes or a pair of gloves if you are headed to a picnic and don't think you'll have access to a hand-washing sink.
Transporting a charcuterie board requires some planning and preparation. The key is to keep the ingredients fresh and prevent them from shifting during transport. By following these tips, you'll be able to transport your charcuterie board with ease and enjoy it at your next holiday party, family gathering, Thanksgiving dinner, or even in a hotel room. Remember to have fun and enjoy the process – creating a beautiful charcuterie board is one of the best things about the holiday season!