Disposable charcuterie boards present a unique and innovative way to serve an assortment of charcuterie meats and a variety of cheeses. These disposable serving trays are especially suited for large events, offering a convenient solution for serving delectable bites in a casual setting.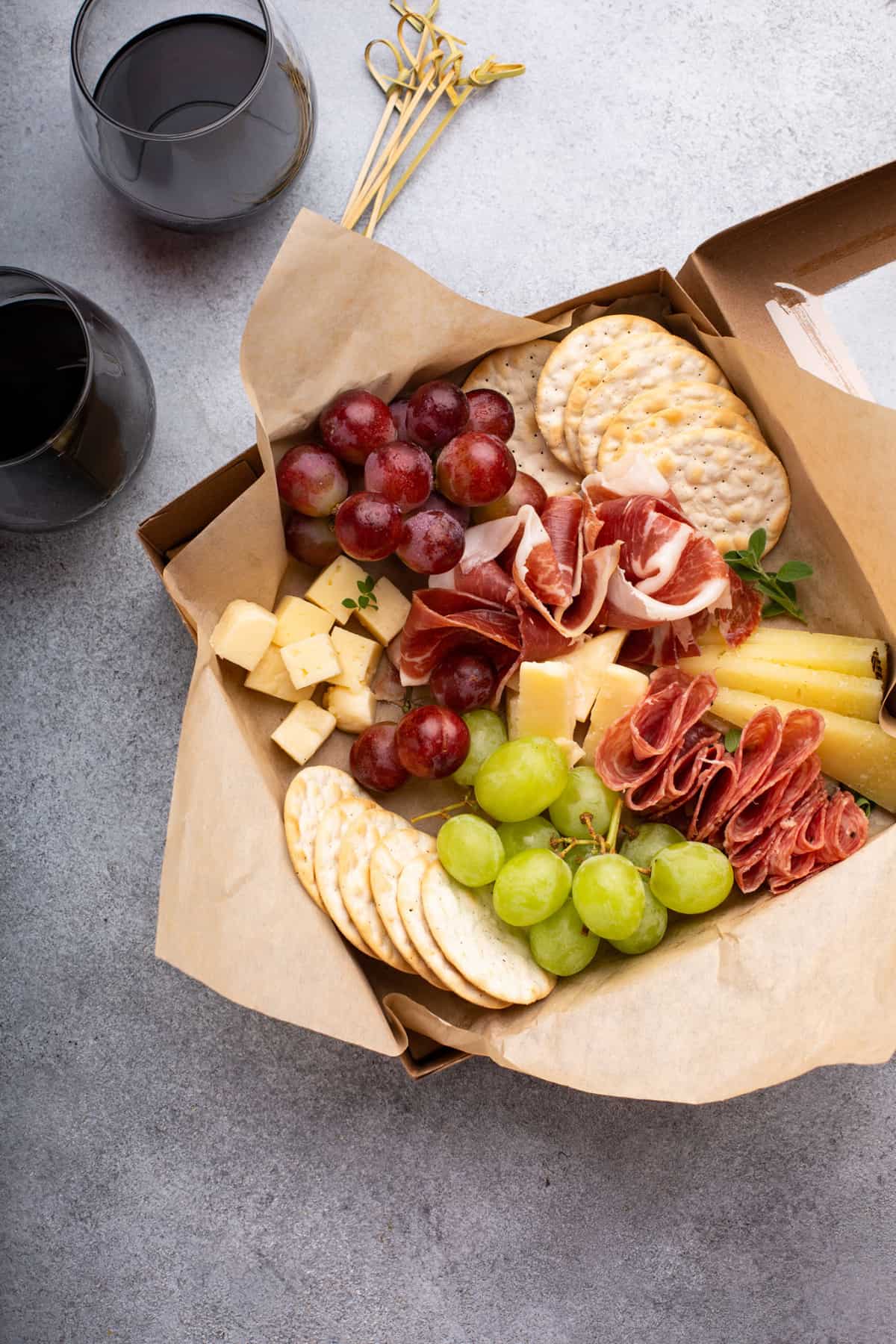 Whether you've been requested to bring an appetizer to the next party, or bridal shower, or you're just planning a chic picnic in the park, disposable charcuterie boards and cheese trays provide an impressive, stylish, and practical solution. 
When it comes to crafting the perfect charcuterie board, be it for everyday use or a special occasion, the first step is selecting the appropriate disposable charcuterie board. Numerous alternatives to traditional boards exist in the realm of disposable options. The goal here is to uphold the aesthetic allure whilst also ensuring convenience and portability. With that in mind, let's explore a few diverse ideas:
Jump to:
Another excellent and environmentally-friendly option is palm leaf disposable trays. These are sturdy and biodegradable, and their unique aesthetic can make your charcuterie spread look even more appealing. They are often available in a variety of shapes and sizes, suitable for any event.
However, a point to consider is that they usually come in larger packs, which could be cost-prohibitive if you only need a few for a single event. While the initial cost may seem high, remember that any leftover trays can be saved for future events or everyday use, making the investment worthwhile in the long run.
Recycled paper trays are an excellent choice for a disposable charcuterie board due to their environmentally-friendly nature and practical design. Being lightweight and sturdy, these trays make for easy transportation, perfect for bringing to events or picnics.
The flat surface provides plenty of room for an attractive arrangement of cheeses, meats, and other accompaniments. Furthermore, their neutral aesthetic can enhance the visual appeal of your charcuterie spread.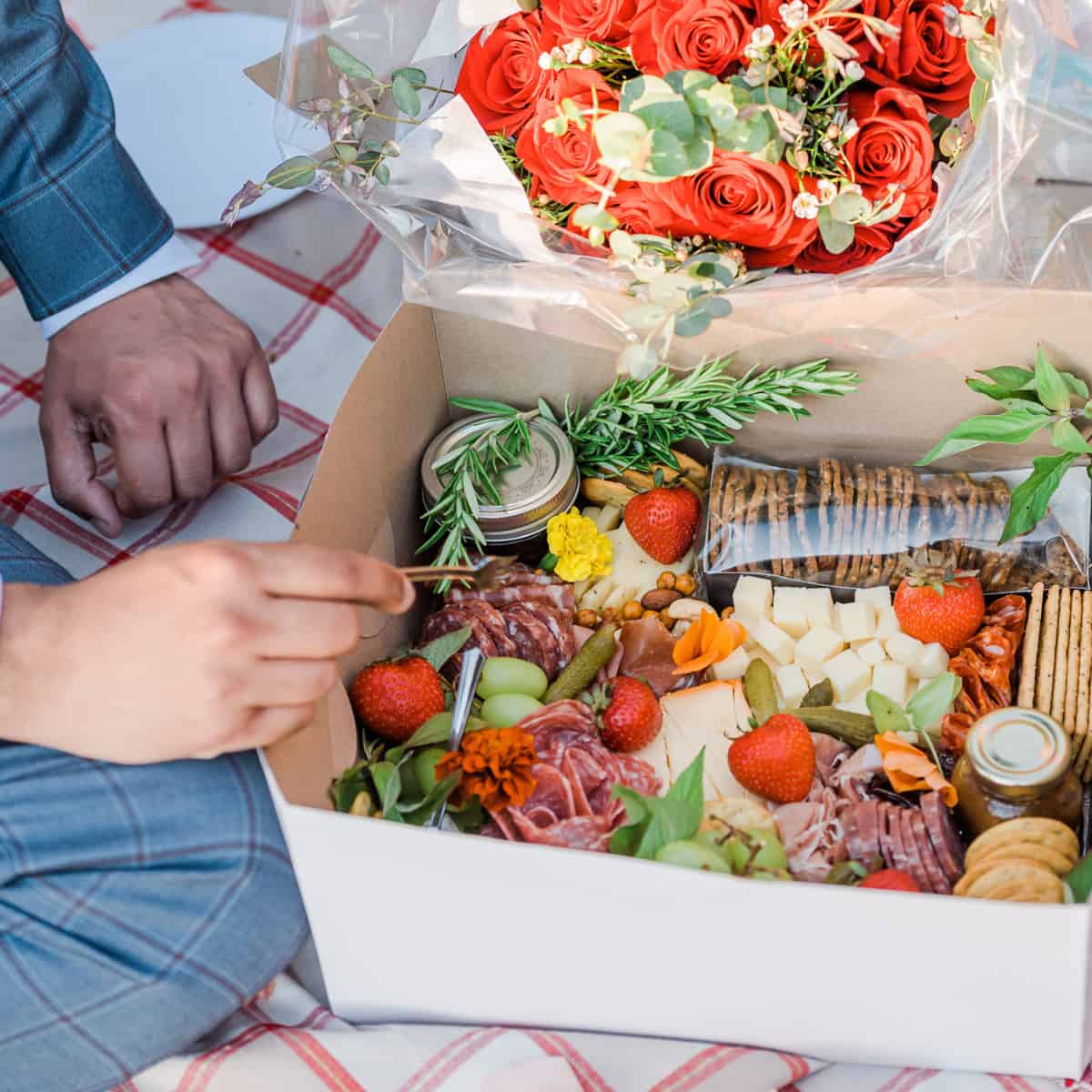 Cake box trays serve as an excellent solution for a disposable charcuterie board. They are lightweight and sturdy, making them easy to transport, which is particularly valuable for events like picnics or parties where you might be traveling with your food.
Most box trays also come with lids, ensuring your charcuterie spread stays fresh and protected. Additionally, their rectangular or square shapes provide ample space to artfully arrange a variety of cheeses, meats, fruits, and other accompaniments, creating an appealing presentation. 
Paper picnic boxes are a superb choice for a disposable charcuterie board due to their practical design and ample space. These boxes tend to be taller than other options, allowing you to include larger items such as full cheese wedges or taller jars of jams and spreads without difficulty.
Their sturdy construction ensures that the box retains its shape, even when loaded with a variety of charcuterie ingredients. They often have a handle for easy carrying and a lid to keep your food safe.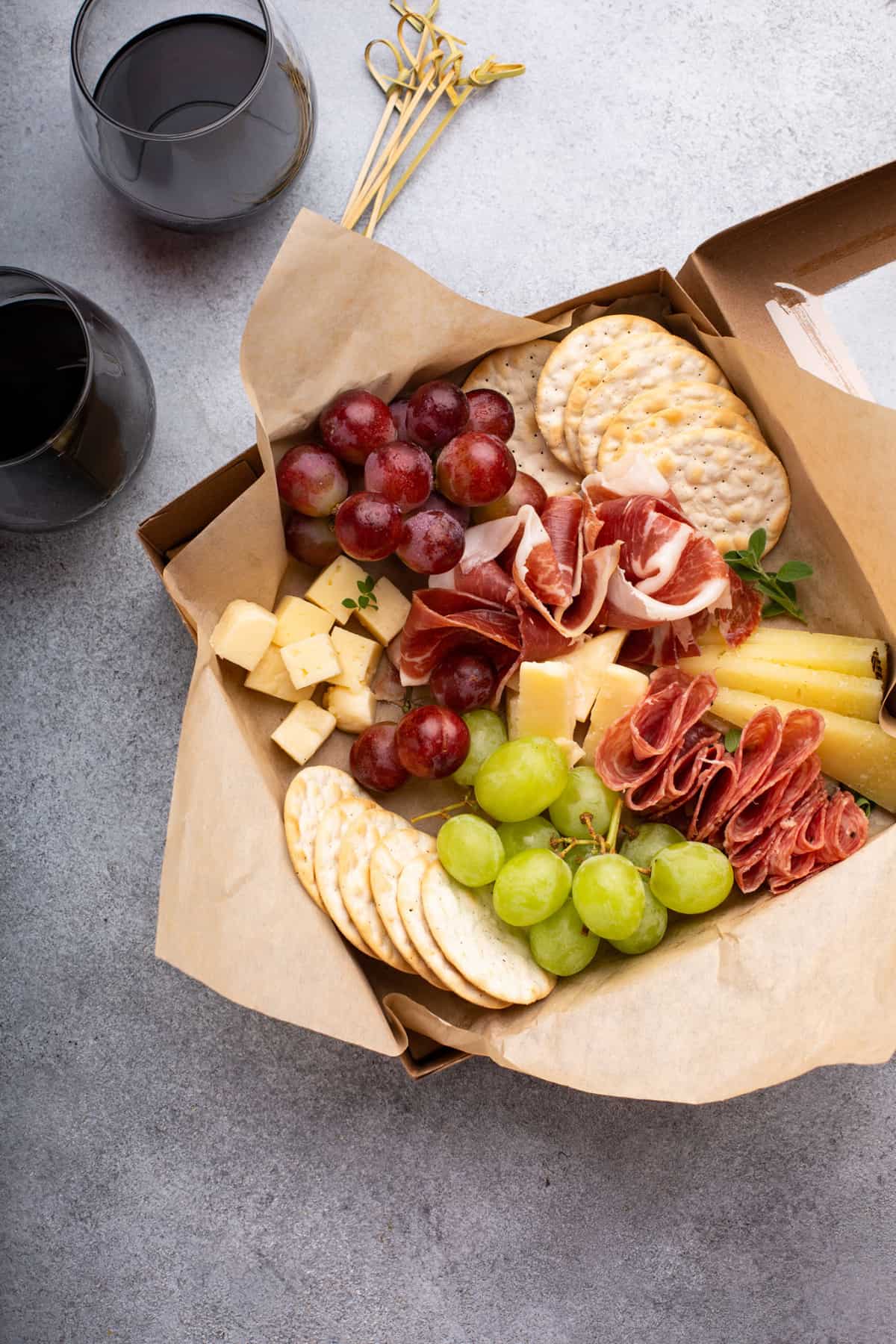 For a trendy and eco-friendly option, consider disposable craft paper boxes. These boxes provide a rustic, yet elegant, backdrop for your charcuterie spread. They are lightweight, biodegradable, and come in a variety of sizes to accommodate your needs.
You can also easily write on the boxes, allowing you to label the different types of cheeses, meats, and fruits for your guests' convenience. As a bonus, they are often sold in smaller quantities, making them a more budget-friendly option if you're catering for a single event. Plus, any leftovers can be easily recycled, reinforcing your commitment to sustainable practices.
Reused Food Trays
An innovative and sustainable approach to a disposable charcuterie board could be to reuse trays from large grocery stores like Costco. These trays often come with bulk purchases of fruits, vegetables, or bakery items. Clean them thoroughly and repurpose them into charcuterie trays.
They're typically sturdy, lightweight, and perfectly safe for food. Plus, it's a great way to reduce waste and make the most of resources. Keep in mind, however, that these trays might not be as aesthetically pleasing as other options, so you might want to consider lining them with a decorative paper or cloth napkin to enhance their appearance.
Tips & Tricks
In creating your portable charcuterie boxes, a great hack to maintain the neat presentation of your delectable spread is to use mini plastic cups with lids or cupcake liners.
These are especially useful for holding different types of jams, spreads, or even small, loose items like grapes or olives. The lids on the plastic cups or the sides of the cupcake liners create boundaries, preventing the items from shifting during transport and potentially creating a mess.
Additionally, these cups or liners add an element of visual appeal by creating distinct sections within your charcuterie box. The result is a clean, organized charcuterie spread that is as picture-perfect upon arrival as when it was packed.
Final Thoughts
No matter which option you decide on, remember to strike a balance between convenience and style, ensuring you can revel in the event just as much as your guests. Also, don't forget to pack extra napkins or mini forks for a seamless and enjoyable charcuterie experience.
Don't forget to calculate how much charcuterie you may need and what size box you may need before ordering!
Disposable charcuterie boards and palm leaf plates might even be available at certain grocery stores, but you'll find a broader selection online. Companies like Chic Leaf provide outstanding customer service and a diverse range of products that are perfect for your next-day event or even as a charming gift for the holiday season. With standard shipping options, you can have your items delivered within a few business days, making your party planning both efficient and convenient.
Remember, disposable charcuterie boards offer more than just practicality; they serve as a canvas for a beautiful culinary display. With options such as a bamboo cheese board or a palm leaf board, you can craft a spread that's not only delectable but also visually appealing. After all, the magic of an unforgettable gathering lies in both the quality of the food and the charm of its presentation.
For your upcoming event, contemplate these disposable charcuterie board and cheese tray ideas - the ideal fusion of style, convenience, and sustainability.