The following guide will explore the different charcuterie board dimensions & sizes, materials, and care methods for charcuterie boards. The art of charcuterie is no longer confined to the upscale eateries of Paris or the pages of gourmet cookbooks. This French term, which traditionally refers to the preparation and assembly of cured meat, has taken social media by storm.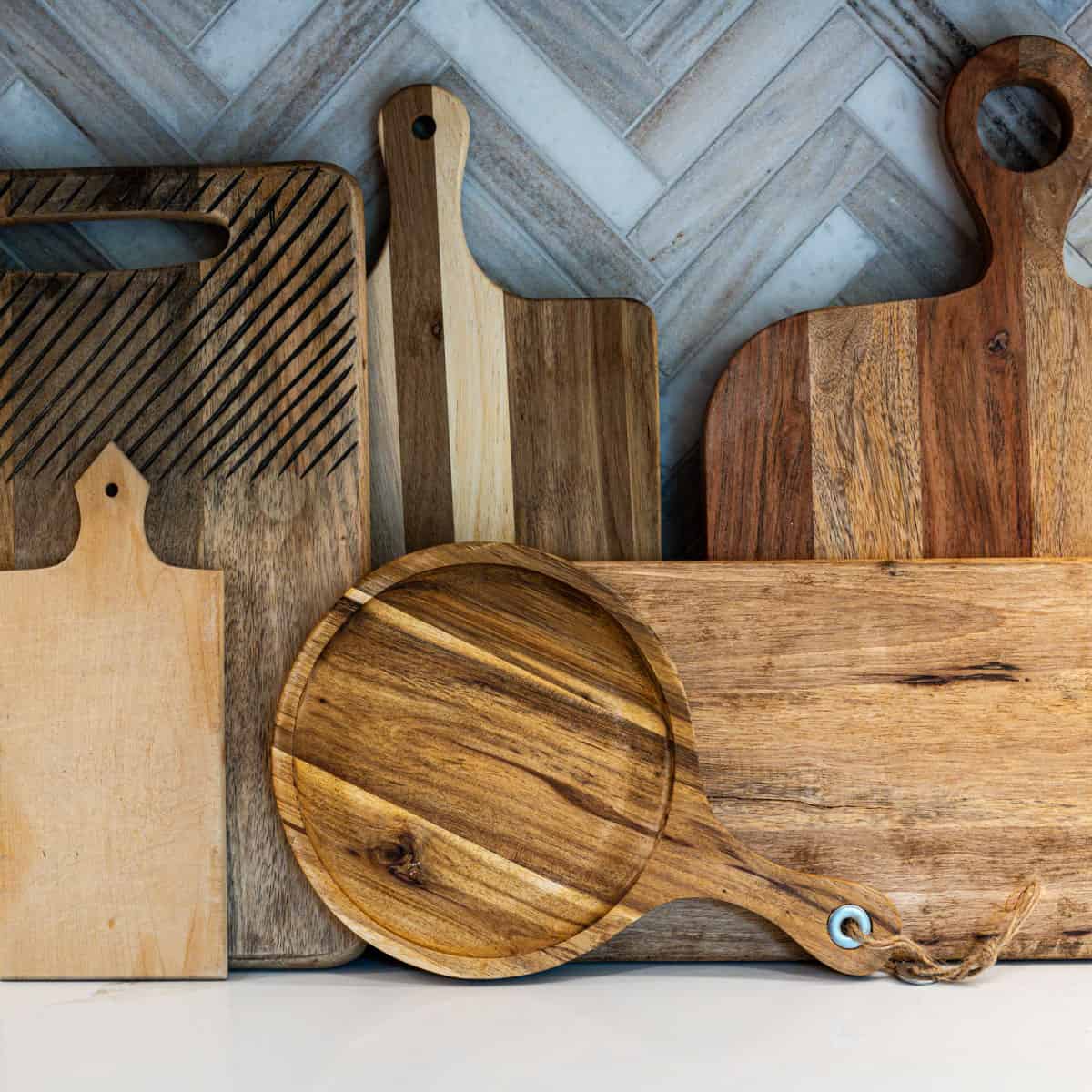 A beautifully assembled charcuterie board is the main event at many dinner parties. An edible canvas that can be as unique as the host. However, one of the most critical aspects of the best charcuterie boards isn't the array of meats, types of cheese, or fresh fruit on display. It's the board itself.
Jump to:
The Perfect Size
Choosing the right size of the board is fundamental for your charcuterie masterpiece. Smaller boards, such as cheese boards or dessert boards, are an excellent choice for intimate gatherings with close friends.
Or for presenting a single category of food items. These boards offer easy access to all their contents and don't overwhelm the table surface.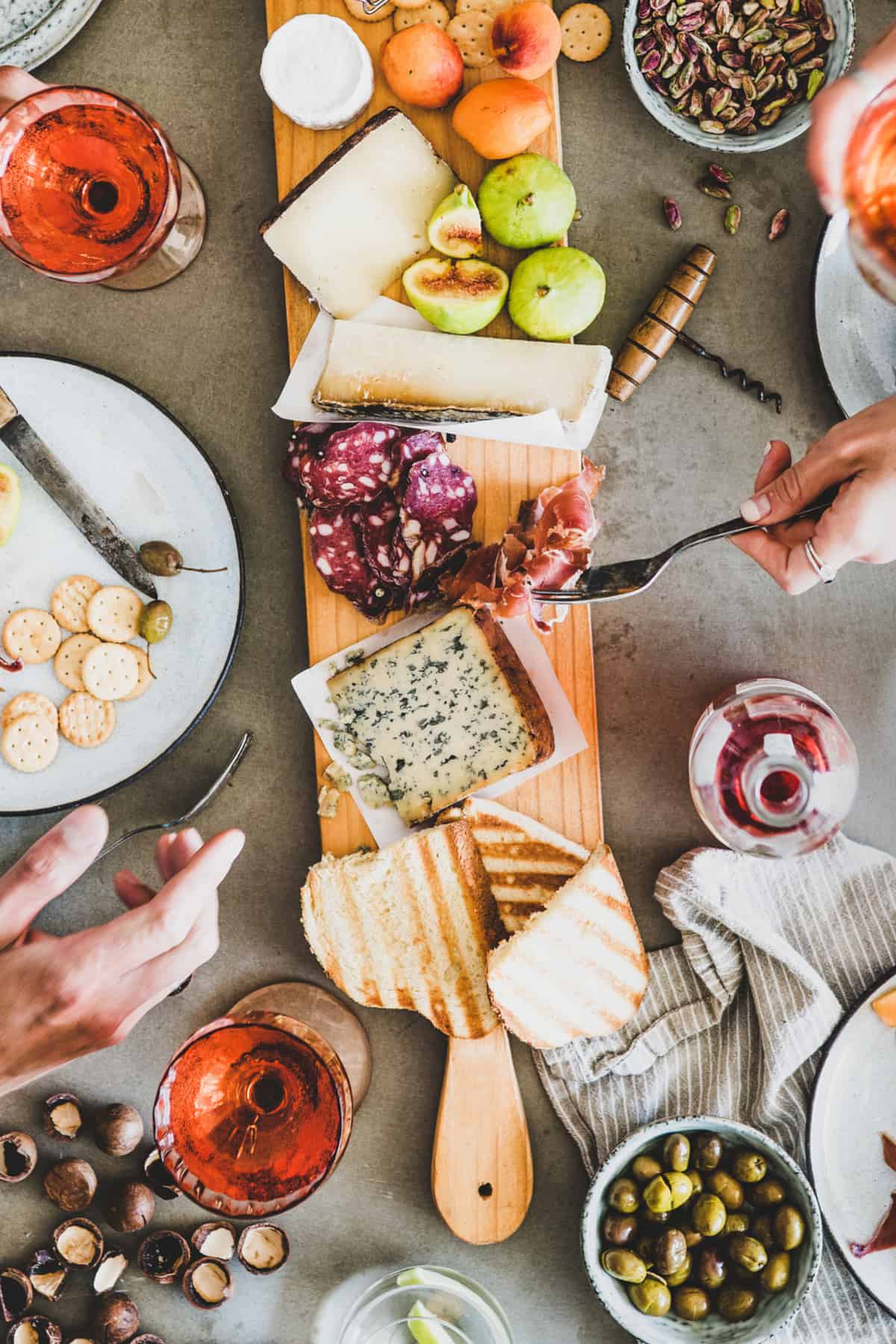 On the other hand, larger boards serve a double function. Not only do they provide ample space to present a lavish spread of various foods, but also become the focal point of the table. Drawing guests in with their mouth-watering display. A large charcuterie board is perfect for larger gatherings where the charcuterie serves as the main meal rather than an appetizer.
If you're interested in how to price a charcuterie board for your next event we have an article on that as well.
Choose Your Board Sizing
We've broken down typical sizes of charcuterie boards so you can plan accordingly. If you want to get an idea of pricing including ideas for what to meats and cheeses to add to your board, we have an article dedicated to how much charcuterie boards cost as well.
Small
People usually consider a 'small' charcuterie board to be one that measures around 8 to 12 inches in diameter or length for round and square boards. This size is ideal for serving 2-4 people and is perfect for intimate gatherings or a casual evening snack.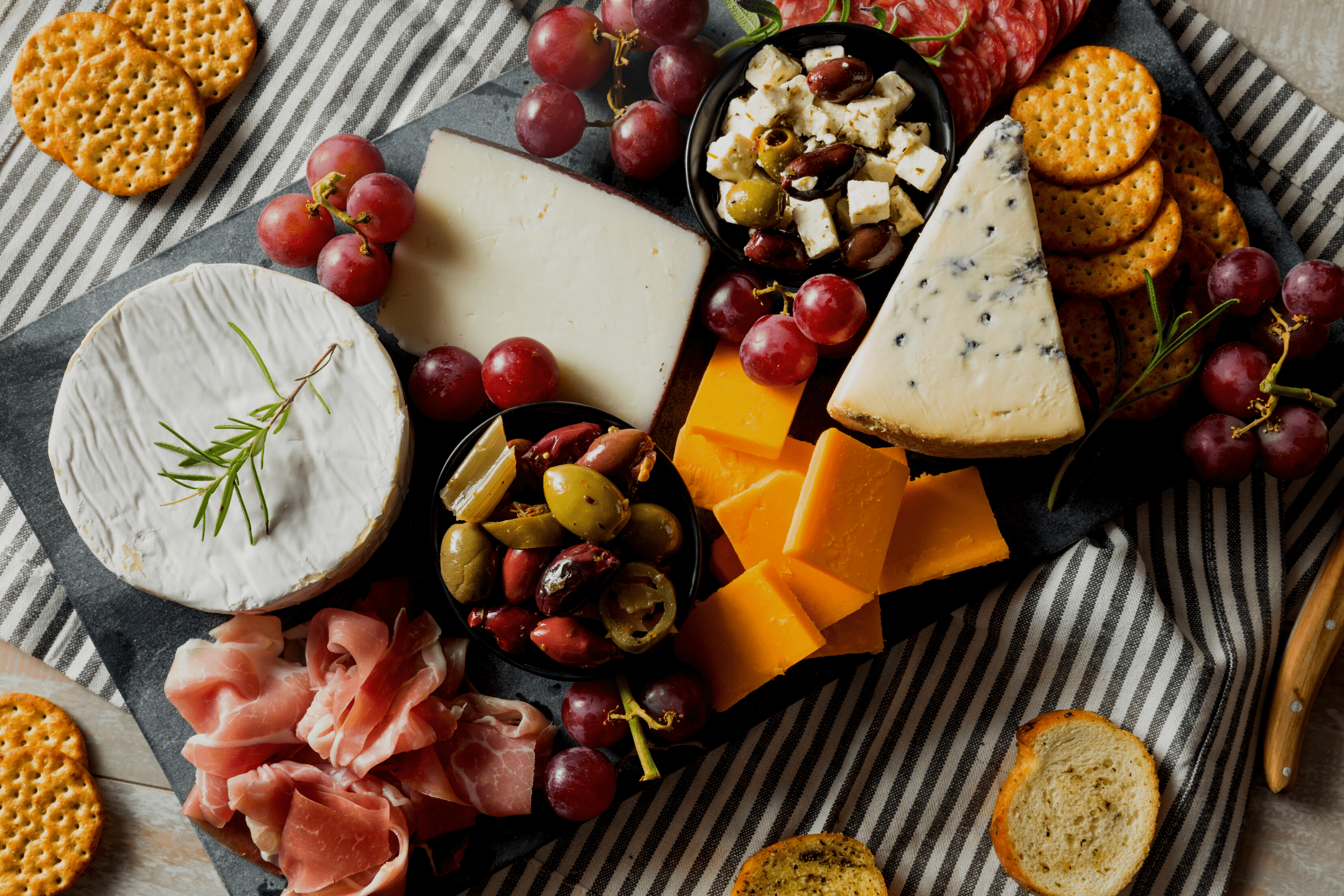 It's important to remember that the quantity and types of items you plan to serve will influence the size of the board you need. Even a small board can hold a surprising amount of food if arranged creatively and efficiently.
Medium
A "medium" charcuterie board typically measures around 12 to 18 inches in diameter or length for round and square boards respectively. This size is well-suited for serving about 6-10 people. Making it a practical choice for slightly larger gatherings or family meals.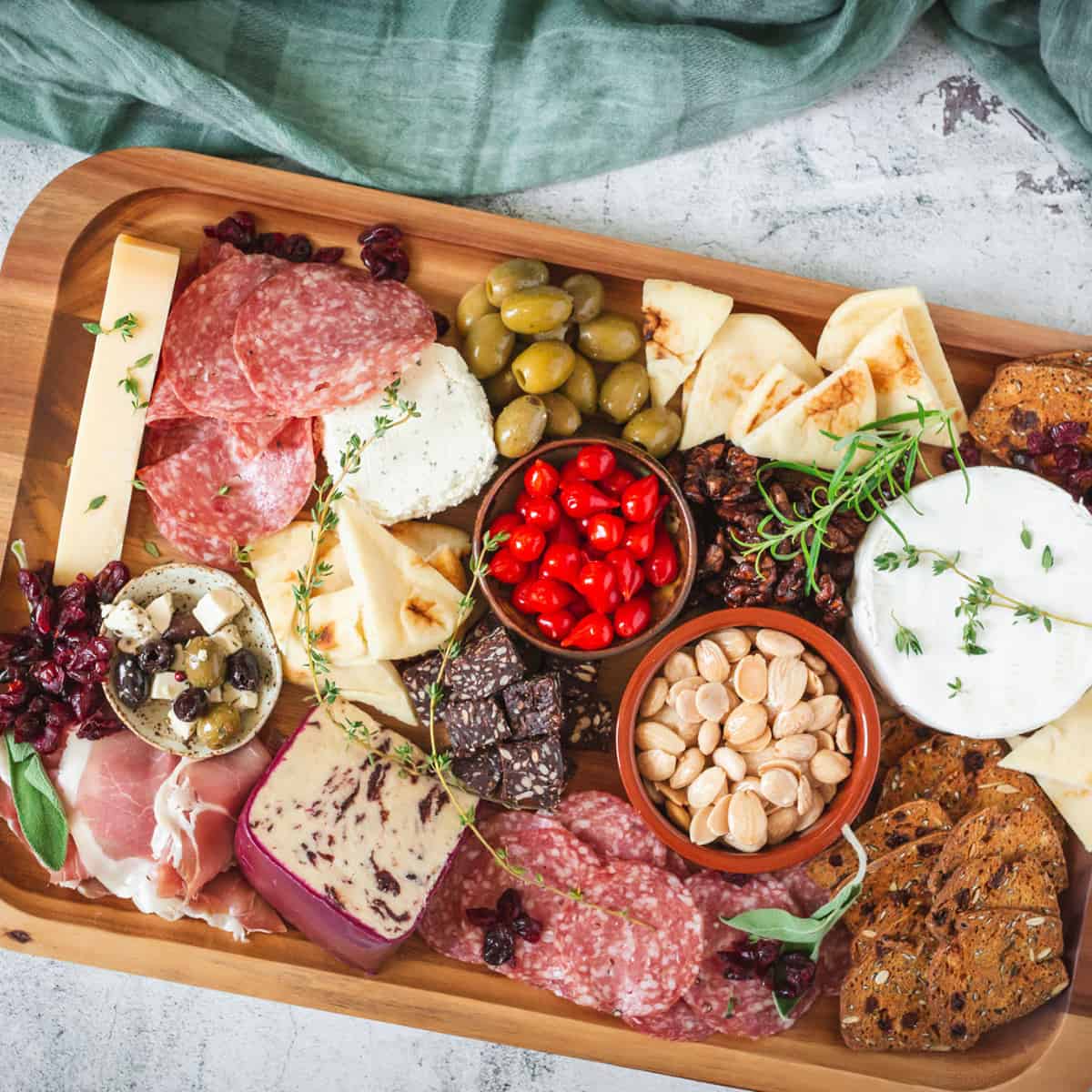 Similar to the small board, remember that the selection and quantity of food you plan to serve will determine the most suitable board size.
Large Board
A "large" charcuterie board usually measures around 18 to 24 inches in diameter or length for round and square boards. In some cases, boards may be even larger. Particularly for sizable events or when the charcuterie spread serves as the primary meal.
A large board is generally suitable for serving about 10-20 people, although this can vary based on the quantity and type of food items you plan to display. A larger board provides ample space for a diverse range of meats, cheeses, fruits, and other accompaniments, allowing for an impressive presentation.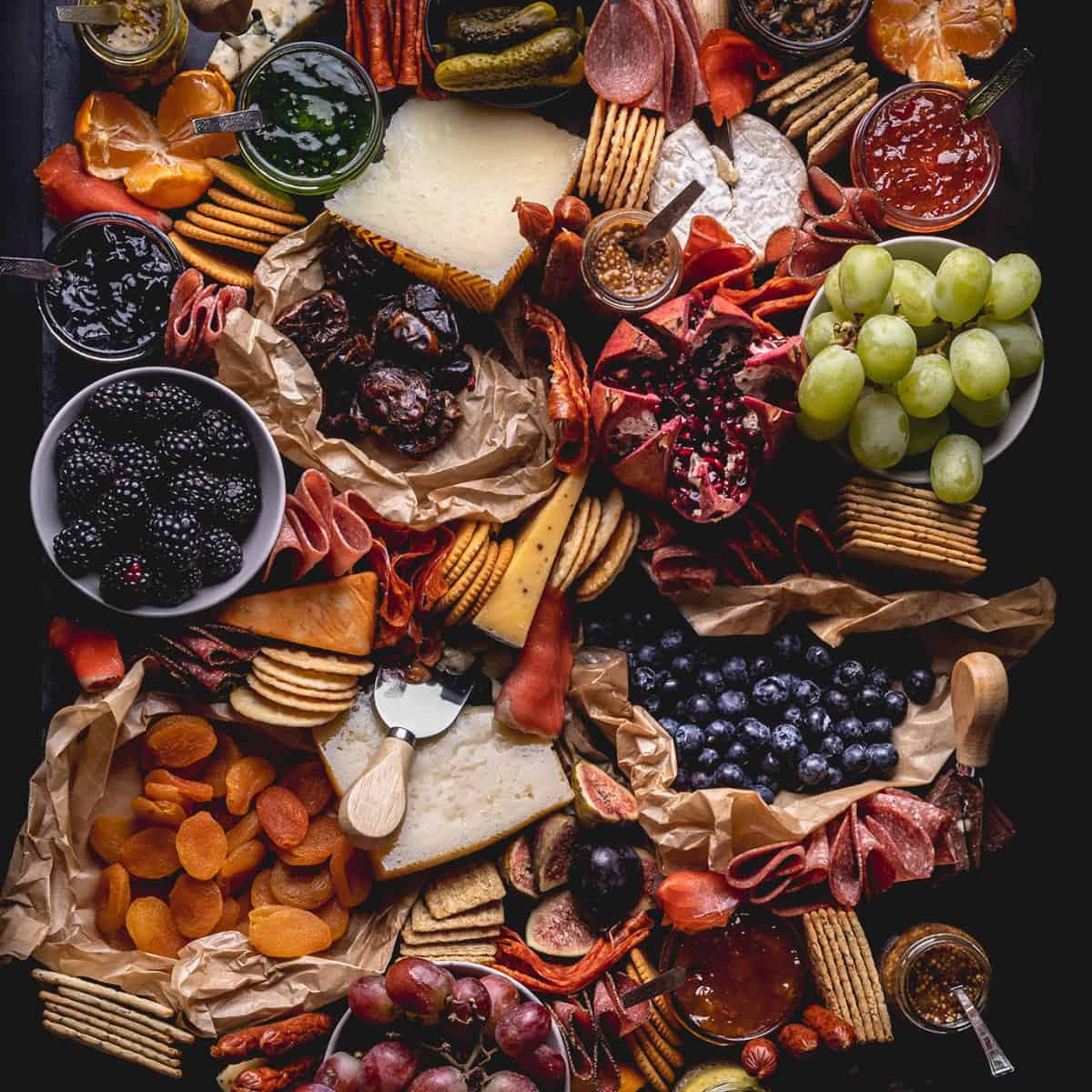 Grazing Table
A grazing table is a great choice when you're hosting a large gathering, event, or party where you expect more than 20 guests. Grazing tables are designed to provide a feast for the eyes as much as the stomach. Offering an abundance of food in a visually appealing manner. Here are a few instances when you might opt for a grazing table over a charcuterie board: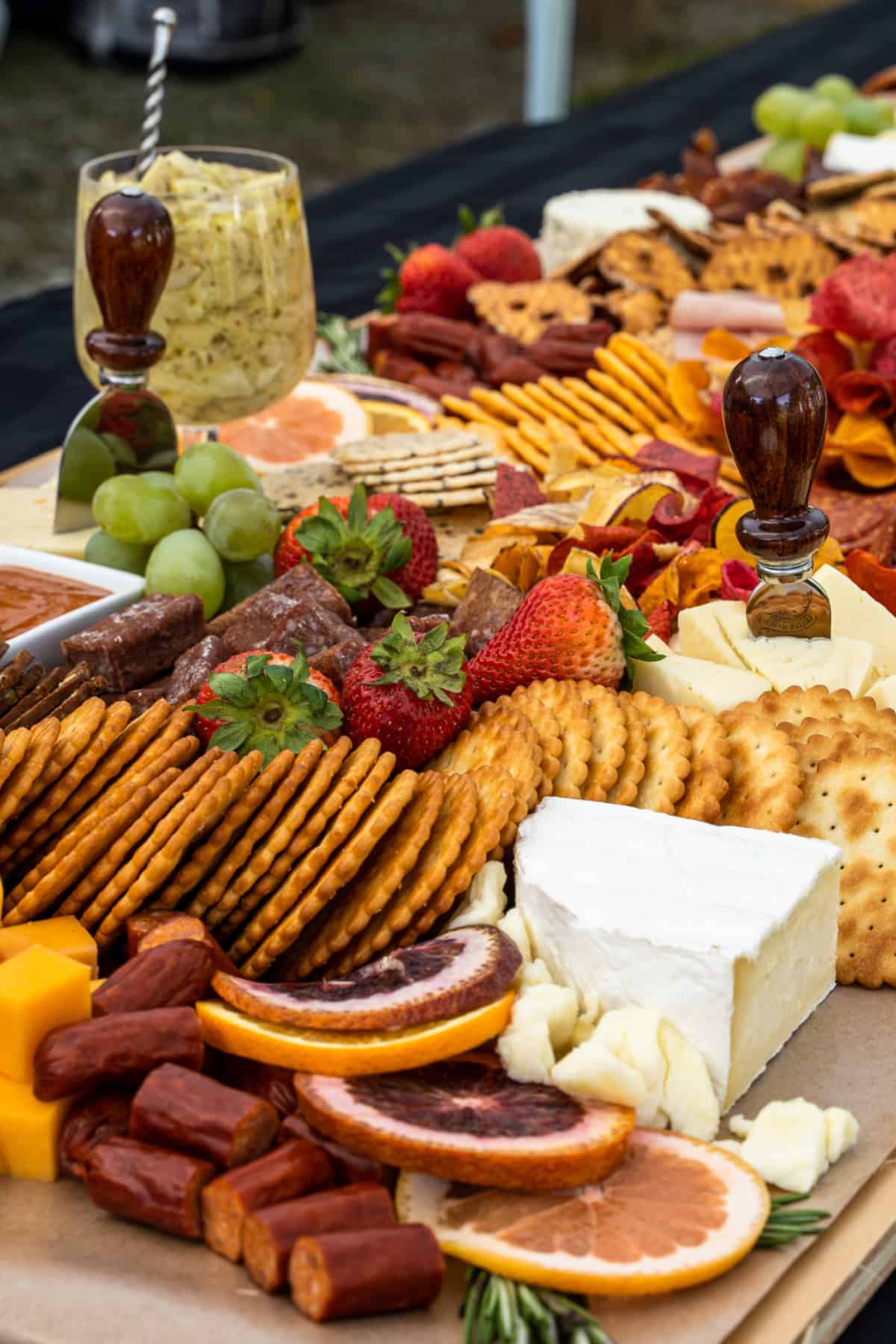 Event Size: If you're hosting a large event, like a wedding or corporate gathering, a grazing table can provide a diverse spread that caters to a variety of tastes and dietary preferences.
Length of the Event: Grazing tables are ideal for events where food will be served over an extended period. As they allow guests to nibble throughout the event.
Variety of Food: If you want to serve a wide range of food items, beyond just charcuterie meats, cheeses, and accompaniments, a grazing table gives you the flexibility to include an array of appetizers, salads, dips, and even desserts.
Social and Casual Atmosphere: Grazing tables encourage mingling among guests. They're less formal than a sit-down meal, encouraging guests to move around and interact.
Remember, the decision between a charcuterie board and a grazing table ultimately depends on your event's size, nature, and personal preference. Both offer an exciting and delicious way to present food to your guests.
Similar Articles
Choosing the right material for your charcuterie board can significantly impact the presentation and durability. Here, we dive into the two most popular choices: wooden boards and stone boards.
Wooden Boards
Wooden boards, whether it's a standard cutting board or a specialized charcuterie serving board, are a staple in many homes due to their warmth and charm. Among the many types of wood, olive wood is often lauded as the best wood for charcuterie boards. It boasts a distinctive grain pattern and a different color, infusing each board with a unique character. Softer woods may also be used, but they might not withstand frequent use as well as their harder counterparts.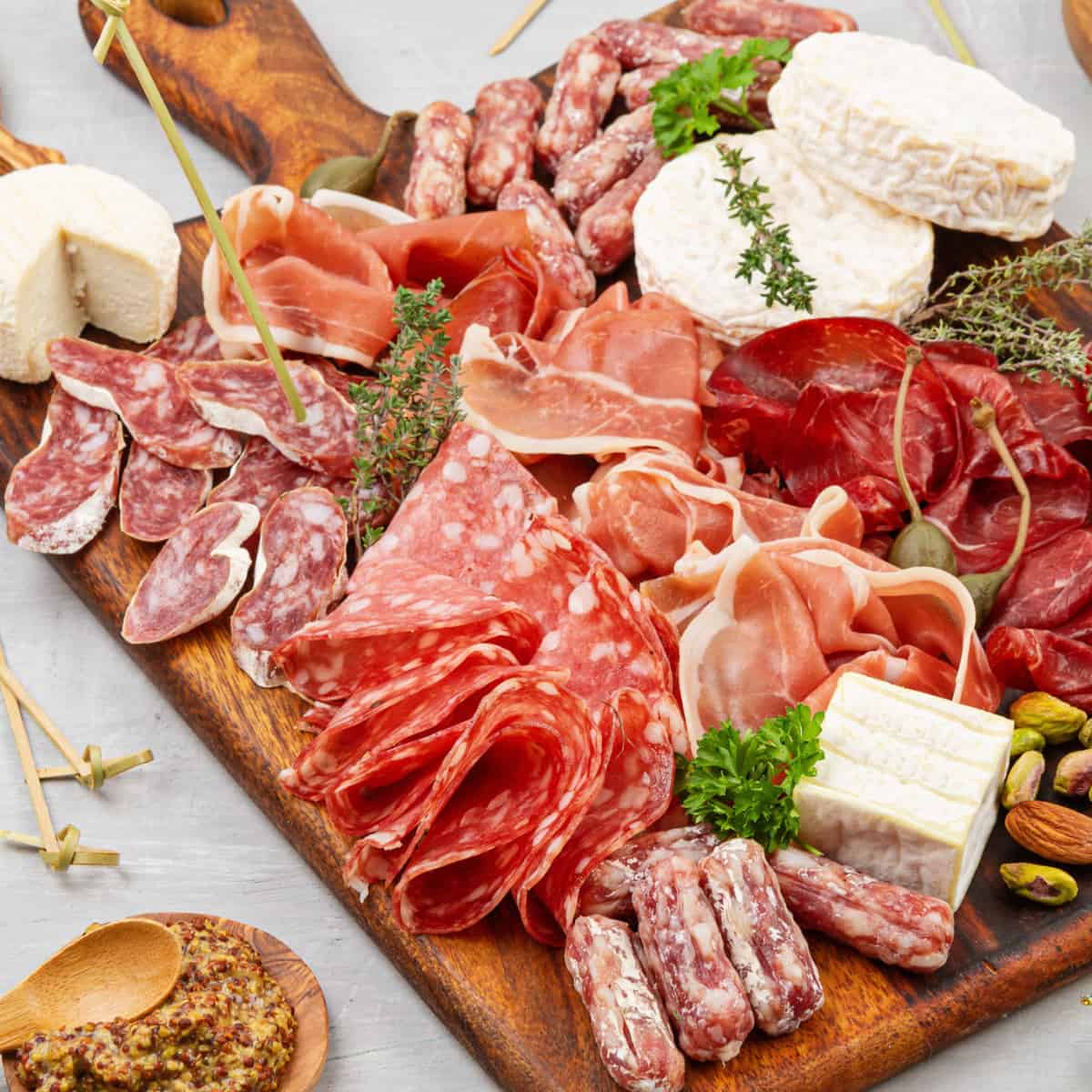 Caring for wooden boards requires some extra attention. They should be cleaned with warm water and mild soap and dried thoroughly to prevent small cracks. The entire surface and sides of the board should be treated with food-grade, safe mineral oil or butcher block conditioner to maintain a smooth finish and ensure food safety.
Stone Boards
Stone boards, made from materials like slate or marble, offer a sleek, modern alternative to the rustic charm of wood. They remain cool at room temperature, making them an excellent choice for keeping cheese and other food items fresh.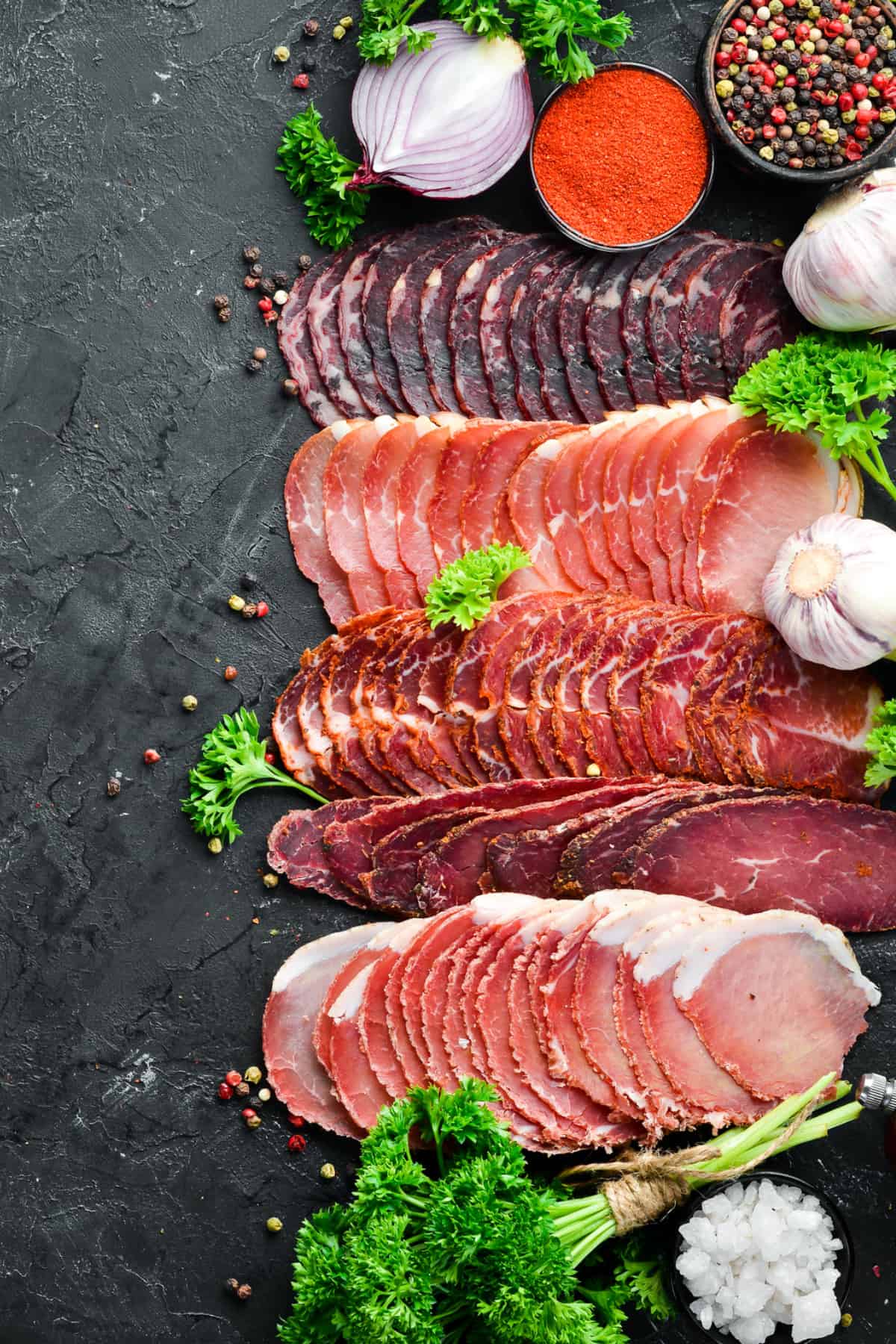 Stone boards should be cleaned with warm soapy water. They require no conditioning like their wooden counterparts, but great care should be taken to prevent chipping or scratching.
Alternative Options
If you find yourself planning a last-minute gathering and you're lacking a traditional charcuterie board, fear not! There are several practical and creative alternatives that you can use in a pinch.
Cutting Boards
One of the most accessible alternatives is a clean, wooden cutting board. This common kitchen tool makes an excellent charcuterie board due to its flat surface and durability. In many cases, cutting boards even provide a similar aesthetic to a traditional wooden charcuterie board.
Serving Trays
A large serving tray can easily be transformed into a makeshift charcuterie board. If the tray is made of wood, it might even resemble a classic board. Even metal or ceramic trays can work, though, adding their own unique twist to the presentation.
A Slab of Stone or Tile
For a touch of elegance, a clean stone slab or large ceramic tile can work as an alternative to a traditional charcuterie board. This can be particularly handy if you've recently renovated your home and have some materials left over.
When we had our countertops replaced recently they included a medium-sized rectangular piece with finished edges. While I would never use it as a cutting board (horrible for your knives) I added rubber feet to it and it's the perfect serving board!
Platter or Large Plate
A large, flat platter or plate can work wonderfully as a charcuterie board. The key is to choose a plate large enough to accommodate your spread and flat enough to keep items from sliding off.
Caring for Your Board
Whether it's a cherished olive wood board or a sleek stone board, your charcuterie board deserves regular upkeep.
Board Maintenance
Avoid commercial stains; they can be harmful when in contact with food.
Clean your board after each use. For wood, use warm water and mild soap. For stone, warm soapy water will do.
Dry your board thoroughly after cleaning.
Regularly condition your wooden boards with food-safe oil.
Store your boards flat to avoid warping.
Board Repair
A well-loved charcuterie board may show signs of wear over time, including warping, splintering, or staining. However, with a bit of care and maintenance, it's possible to breathe new life into a worn-out board.
Warping
Warped boards often result from uneven exposure to moisture, so your goal here is to slowly and gently reverse this effect. Cover the concave side of the board with a damp cloth and then place the board, damp cloth side down, on an ironing board or other heat-safe surface.
Using an iron on a medium setting, gently heat the damp cloth in a circular motion, checking frequently to see if the board is flattening. Once the board is flat again, it's important to rehydrate it thoroughly with a food-safe mineral oil or a specialized butcher block conditioner.
Cuts & Splintering
Begin by sanding down the damaged or splintered area with a piece of fine grit sandpaper, moving in the direction of the grain to smooth out any rough spots. After sanding, clean the board to remove any dust or wood particles. Finish by applying a generous layer of food-grade mineral oil or a butcher block conditioner to restore moisture and create a smooth finish.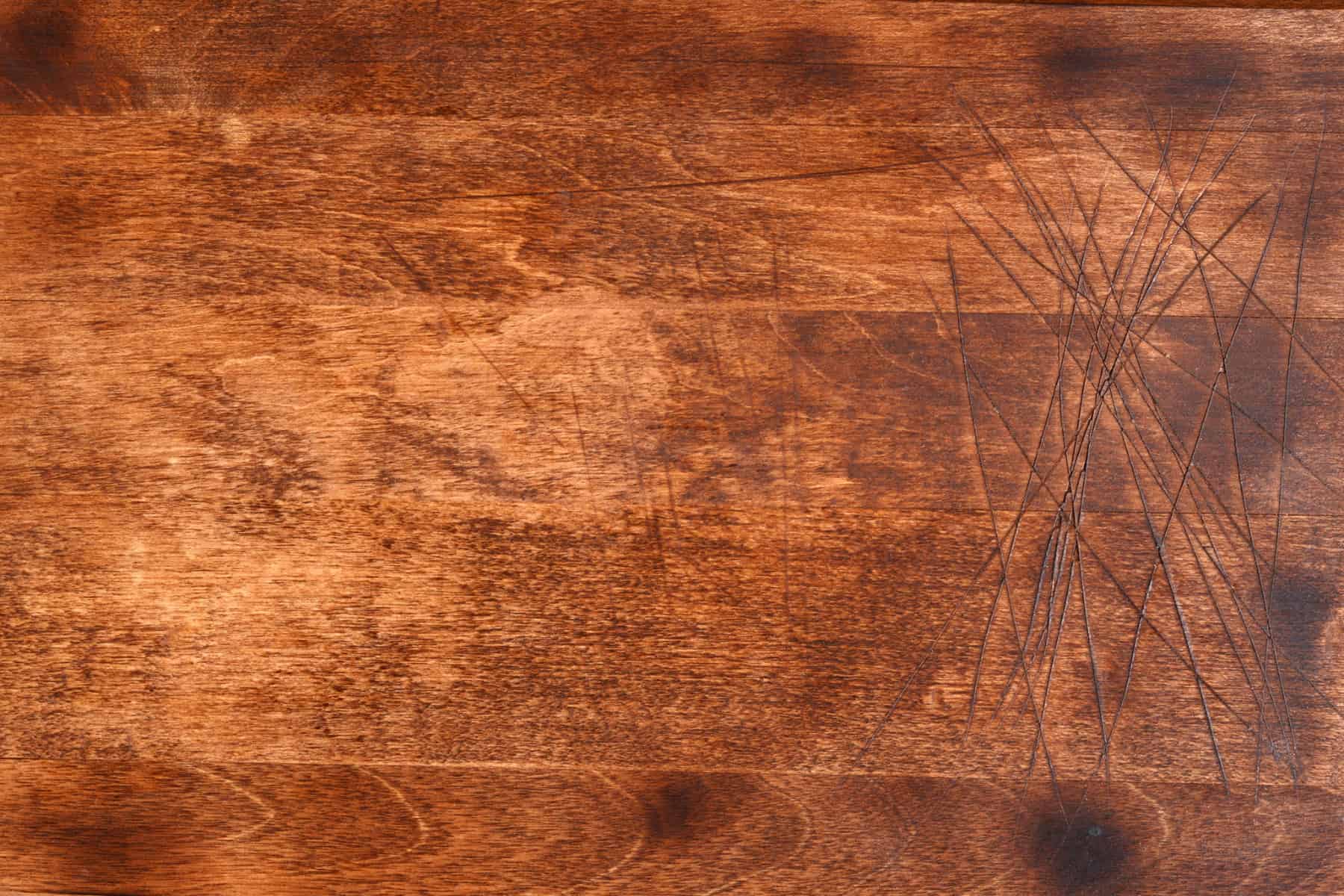 Stains
If your board has taken on some unwanted colors, create a paste from one part baking soda and one part warm water. Spread this mixture over the stained area and let it sit for a few hours or overnight if possible. The baking soda will work to lift the stain from the wood. Rinse the board with warm soapy water and dry immediately.
Remember, frequent use of a charcuterie board will require routine maintenance, such as monthly oiling, to ensure it remains in top condition. Also, always dry your board immediately after washing to prevent warping and cracking, and avoid using harsh chemicals or abrasive cleaning tools that can damage the wood.
What Not to Do
While charcuterie boards are versatile, there are some things you should avoid using them for to preserve their quality and longevity:
High Heat: Never use your charcuterie board as a trivet for hot pots, pans, or baking sheets. The high heat can damage the wood, causing it to warp, crack, or even burn.
Raw Meat Preparation: It's not recommended to use your charcuterie board for cutting or serving raw meats due to the risk of cross-contamination. Bacteria from raw meat can penetrate the wood, posing a potential food safety risk.
Heavy Chopping or Cutting: Charcuterie boards are primarily for serving, not heavy-duty cutting or chopping. Doing so can create deep scratches and gouges in the wood that are not only unsightly but can also harbor bacteria.
Soaking: Never soak your charcuterie board in the water. Submerging the board in water for extended periods can cause the wood to absorb excess moisture, leading to warping or cracking over time.
Dishwasher: Never clean a wooden charcuterie board in a dishwasher. The intense heat and prolonged exposure to water can cause serious damage, such as warping and splitting.
Harsh Chemicals: Avoid cleaning your charcuterie board with harsh chemical cleaners or bleach, which can damage the wood and potentially contaminate your food.
By using your charcuterie board correctly and caring for it properly, you can ensure it lasts for many more dinner parties, special occasions, and evening snacks to come.
From Everyday Use to Special Occasions
While charcuterie is often associated with special occasions, there's no reason why it can't feature in your everyday culinary line-up. For an informal family dinner board on a weeknight, a mid-size wood board laden with a few types of cheese, some cured meat, and accompaniments like fresh fruit and a small bowl of olives can make for a delightful, easy-prep meal.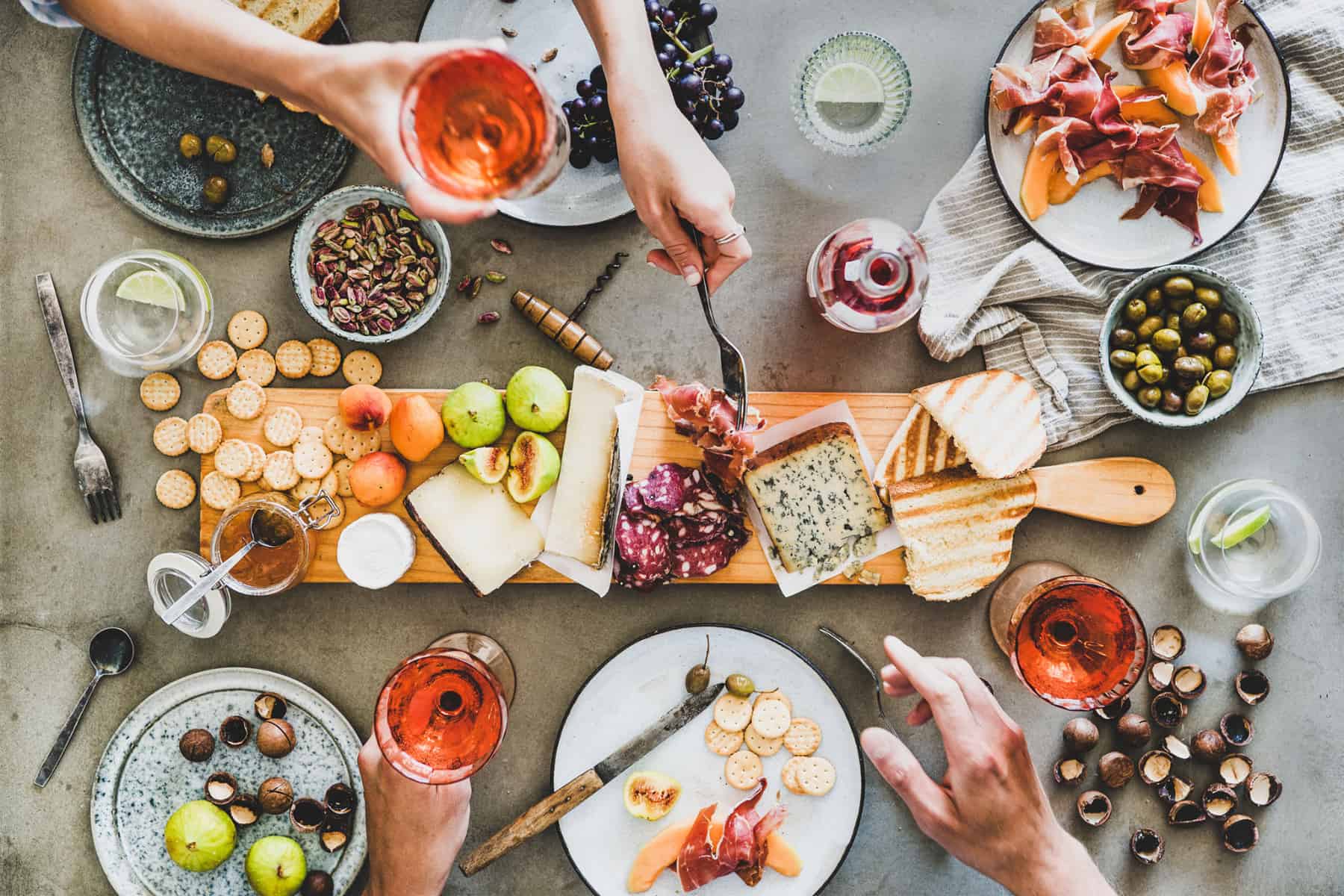 Larger boards, holding a substantial amount of meat, a variety of cheese, fresh fruit, and perhaps even some artisan bread, are ideal for larger gatherings. If you're hosting a sizeable dinner party, you might even consider a charcuterie board set, complete with serving utensils such as cheese knives and small shallow bowls for accompaniments.
Your Charcuterie Journey Begins Here
Creating the perfect charcuterie board is an art form that begins with the board itself. By considering the board's size and material, you can elevate your food presentation and make the dining experience more enjoyable. And remember, the beauty of charcuterie is its flexibility - whether it's a simple cheese board for a weeknight dinner or an extravagant large board for a dinner party, the options are endless. Now, it's time for you to embark on your own charcuterie journey. Happy creating!
Be sure to follow us on social media for more tips and inspiration. Sign up with your email address for free shipping on new products and exclusive updates on custom requests for unique, handcrafted boards from artisans in Upstate New York. We look forward to helping you host your next great dinner board gathering.