Charcuterie boards are a great way to elevate your dinner parties, family gatherings, or even a quiet evening at home. Whether you're arranging a variety of cheeses, cured meats, fresh fruit, or gourmet cheeses, a good charcuterie board will make your spread look and taste even better. But what wood is best for a charcuterie board?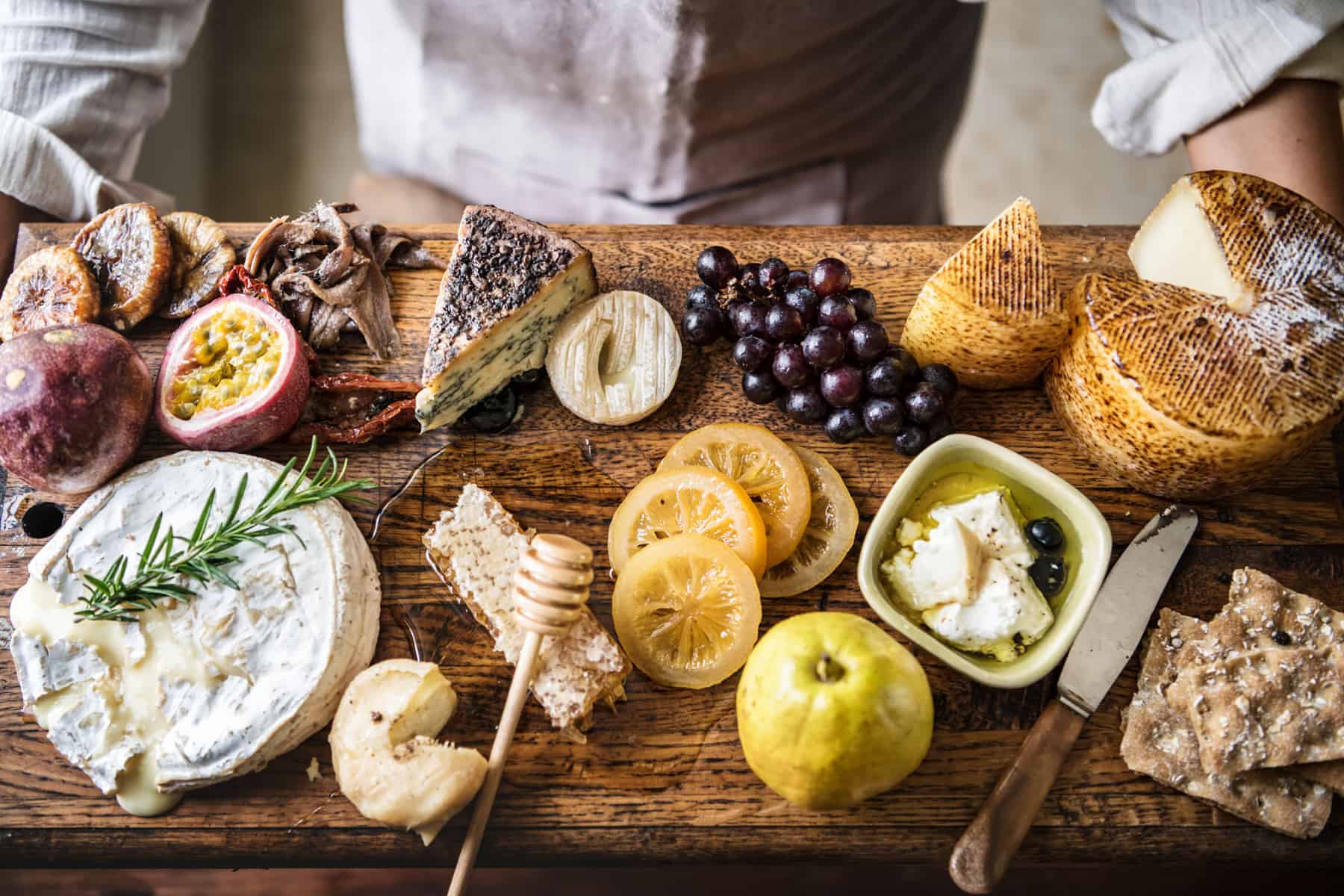 When considering what kind of wood to use for a charcuterie board, the type of wood plays a critical role in aesthetics, durability, and food contact safety. Here are some of the most popular types of wood for wooden charcuterie boards, and the reasons they might be the best option for you.
Jump to:
Acacia wood boards are another popular choice for wooden charcuterie boards. This type of wood boasts a unique look, with a rich color that enhances the appeal of your cheese platter.
With its natural oils, acacia wood is also a non-porous wood, making it easy to clean and less likely to harbor bacteria. Acacia is a solid wood that, with regular care, will continue to look beautiful for years.
For those seeking an organic, natural look, olive wood boards are a fantastic option. Their unique grain patterns and warm tones make them a stunning choice for any cheese board. Like other hardwoods, an olive wood board is also non-porous and very durable.
Cherry wood offers a warm, rich hue that complements a wide variety of cheeses, meats, and accompaniments on your charcuterie board. Like black walnut, is an excellent choice if you're going for a more upscale or sophisticated vibe at your social gathering.
Hard maple is an excellent choice for wooden boards because of its durability and beautiful hardwood aesthetics. This wood, especially from upstate New York, stands the test of time and provides a non-porous hardwood surface, which is a great choice for those looking for a board that is easy to clean and maintain.
With the proper care, which often involves cleaning with warm, soapy water and occasional treatments with mineral oil or another food-safe oil, a hard maple board can be the best cutting board for your charcuterie needs.
If you're seeking a sustainable and budget-friendly option, a bamboo board could be an ideal choice as it comes with lots of extras. Bamboo, a renewable resource, is an environmentally-friendly choice for those who want to make sustainable choices in their kitchenware.
Alternative Options
While wooden charcuterie boards offer a classic, versatile look, they are certainly not the only option. Two alternative materials that have gained popularity are marble and slate. Each brings its unique advantages and aesthetic appeal to your table, making them excellent choices for charcuterie boards.
Marble boards are an elegant choice for charcuterie displays. With their smooth, cool surface, they're particularly excellent for serving soft cheeses, which can maintain their shape better on a cool surface.
Marble boards also offer a stunning aesthetic appeal. If you happen to have a marble slab from your family quarry, for instance, it can serve as an impressive and unique meat board.
When it comes to maintenance, marble boards require some care. You should avoid using harsh or acidic cleaners, which can damage the marble. Instead, wipe them down after use with warm, soapy water, and dry them thoroughly to avoid water stains.
Slate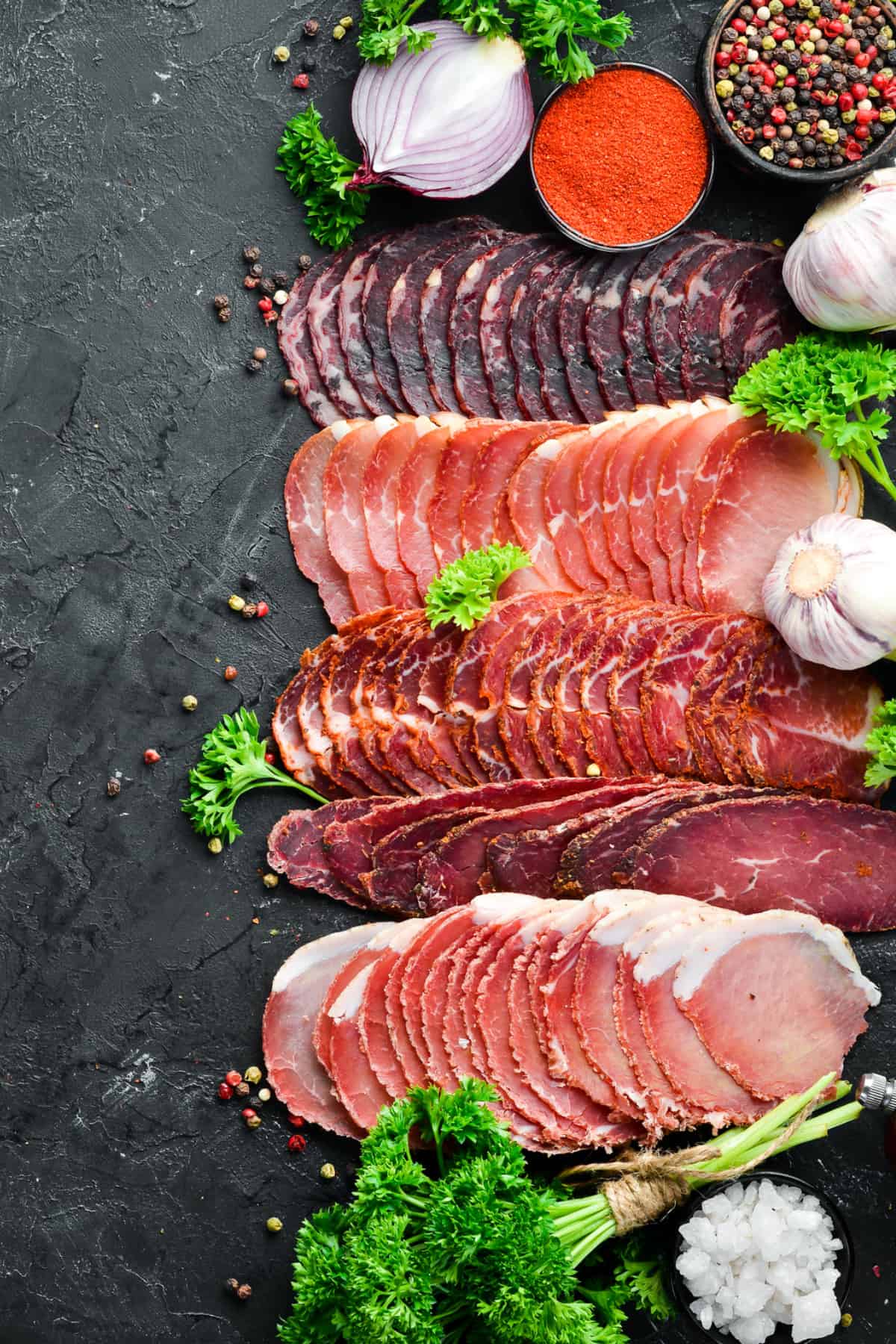 Slate boards, with their distinctive dark color and naturally uneven surface, provide a unique, rustic look for your charcuterie spread. Their darker tones contrast beautifully with the rich colors of various cheeses and meats, making everything pop and look more appetizing.
Another advantage of slate boards is the ability to write directly on them with chalk. This can be a fun and practical way to label different cheeses or meats for your guests.
Similar to marble, slate boards should be cleaned gently with warm, soapy water. Avoid scrubbing to preserve the natural patina that develops over time.
Board Sizing
Take a deep dive into how to select the perfect size charcuterie board for any event by checking out the full article here at Tabetha's Table. We recapped some highlights for you below...
Small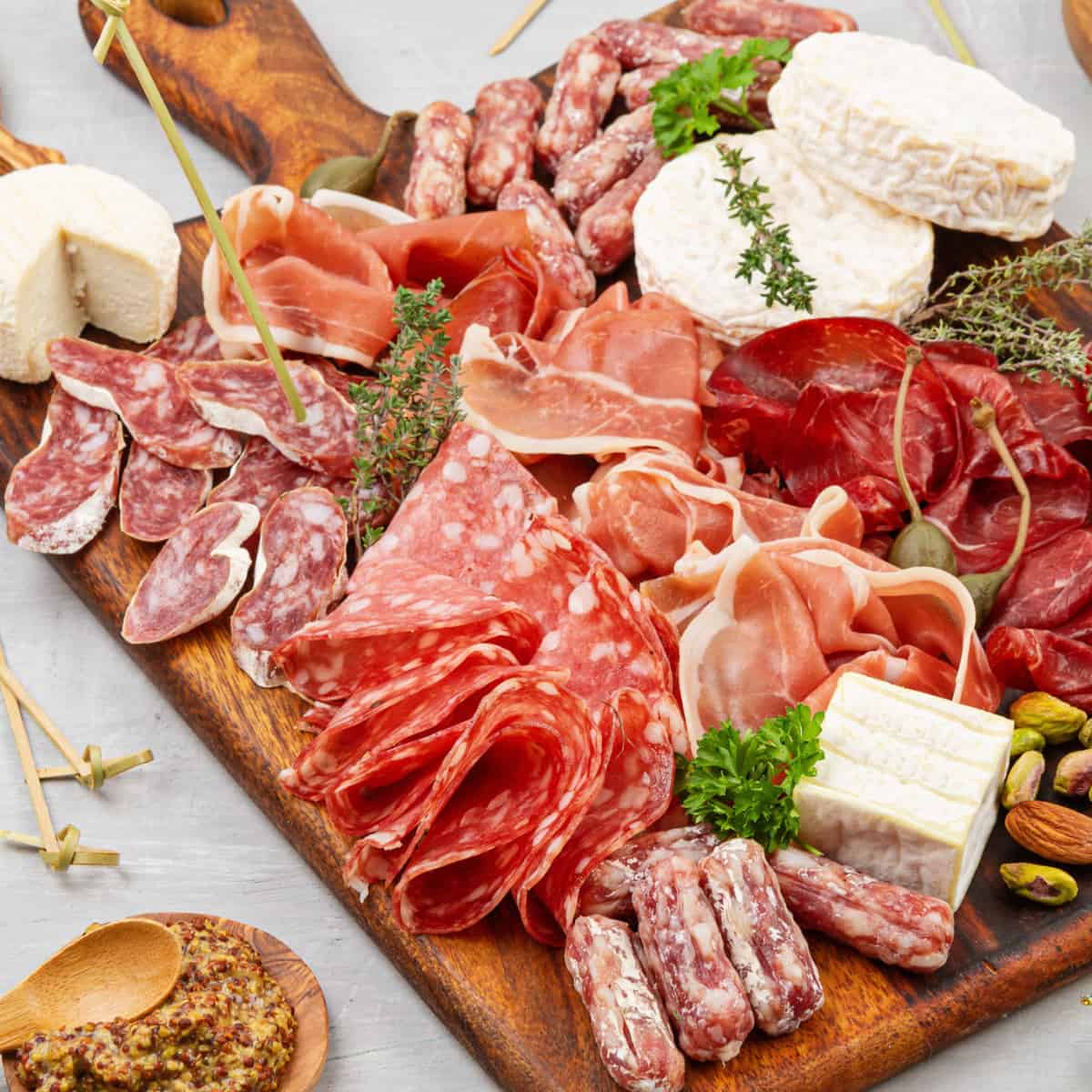 People usually consider a 'small' charcuterie board to be one that measures around 8 to 12 inches in diameter or length for round and square boards. This size is ideal for serving 2-4 people and is perfect for intimate gatherings or a casual evening snack.
Medium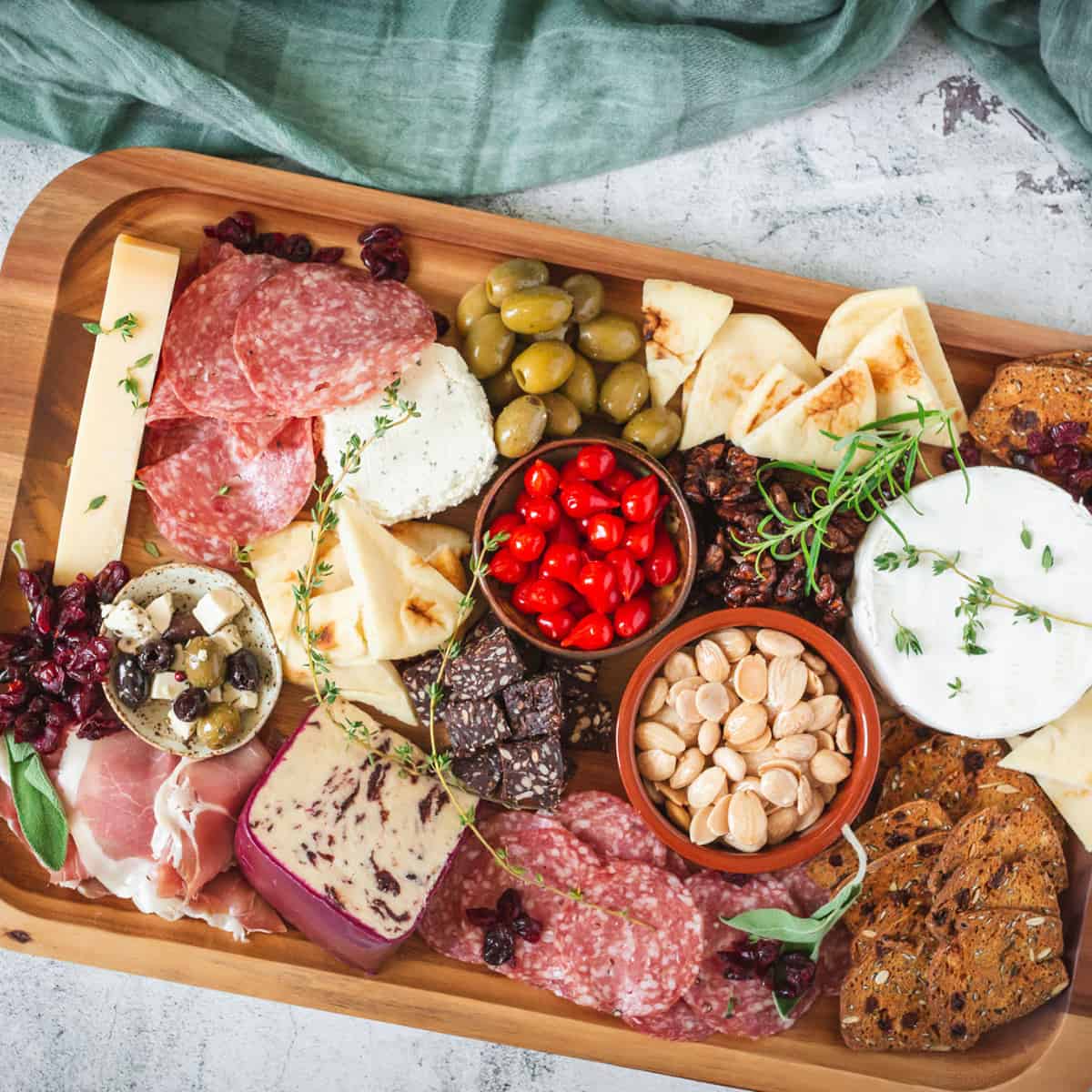 A "medium" charcuterie board typically measures around 12 to 18 inches in diameter or length for round and square boards respectively. This size is well-suited for serving about 6-10 people. Making it a practical choice for slightly larger gatherings or family meals.
Large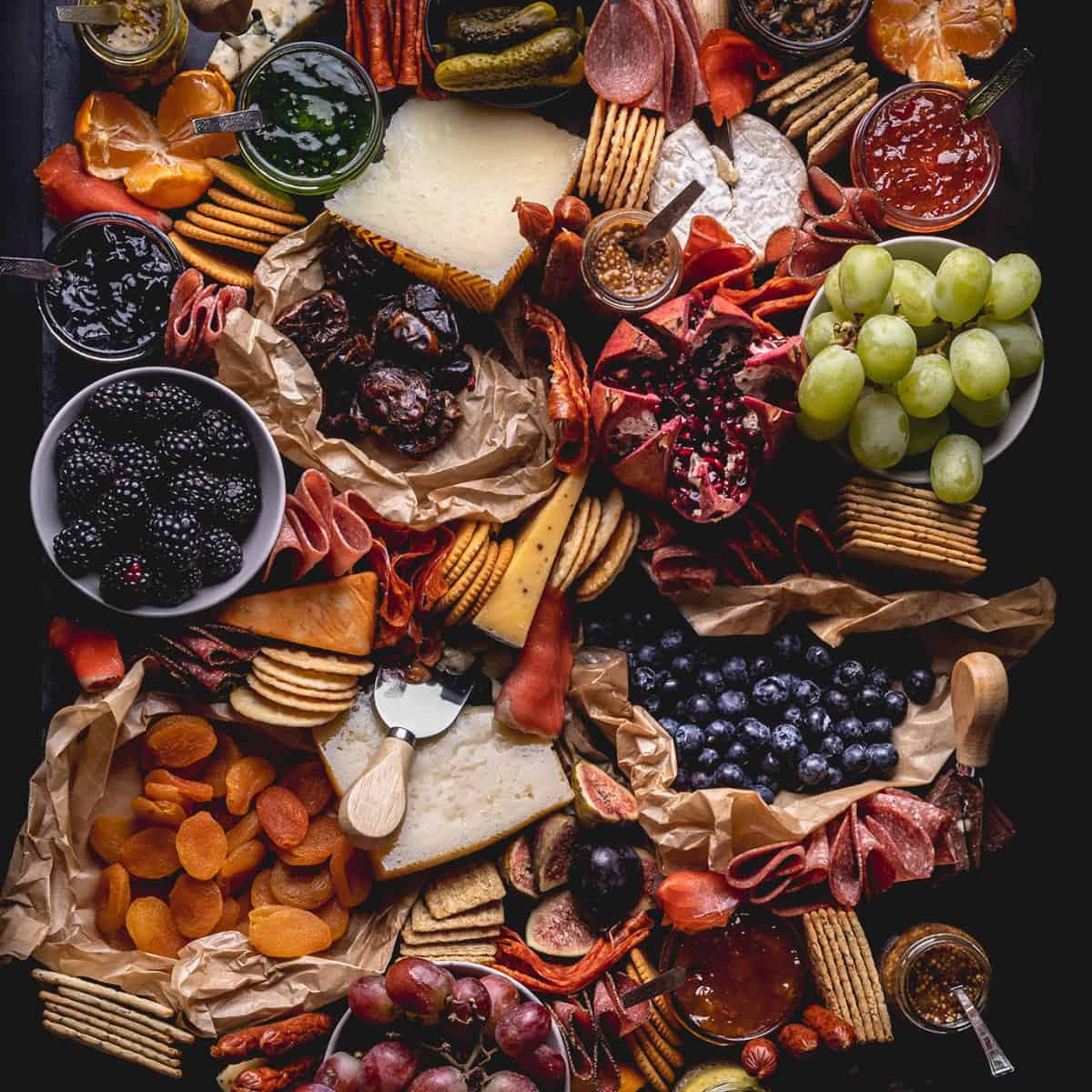 A "large" charcuterie board usually measures around 18 to 24 inches in diameter or length for round and square boards. In some cases, boards may be even larger, particularly for sizable events or when the charcuterie spread serves as the primary meal.
Grazing Tables
A grazing table is a "no-board-required" situation but a great choice when you're hosting a large gathering, event, or party where you expect more than 20 guests. Grazing tables are designed to provide a feast for the eyes as much as the stomach, offering an abundance of food in a visually appealing manner.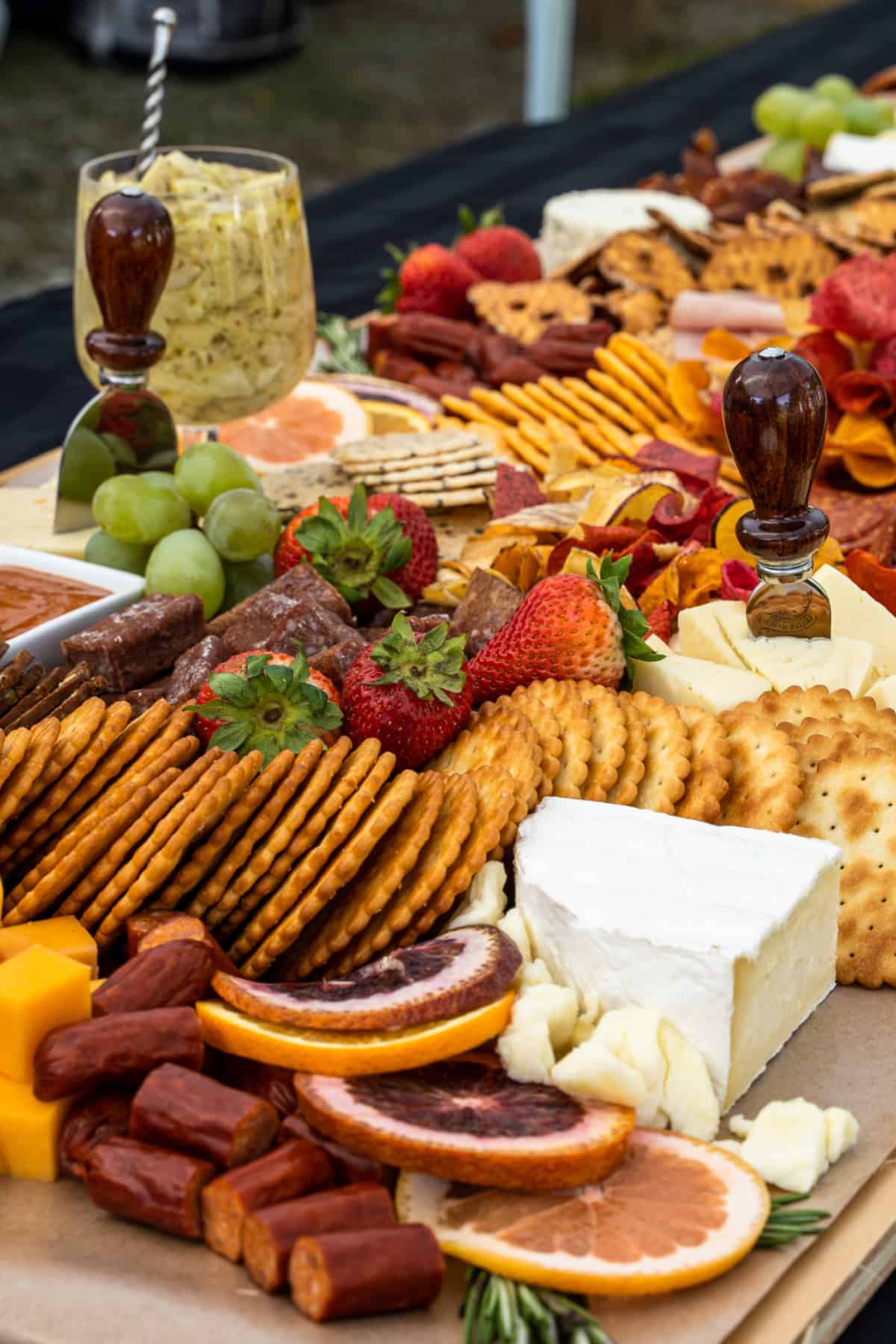 Board Maintenance
Avoid commercial stains; they can be harmful when in contact with food.
Clean your board after each use. For wood, use warm water and mild soap. For stone, warm soapy water will do.
Dry your board thoroughly after cleaning.
Regularly condition your wooden boards with food-safe oil.
Store your boards flat to avoid warping.
When choosing the perfect size for your wooden charcuterie board, consider the size of your gatherings. A larger board, like a large cutting board or butcher block, is a great choice for larger crowds, while a smaller board can be ideal for small gatherings. Remember, no matter what size board you choose, ensure it has plenty of room for a variety of shapes and sizes of cheeses, meats, and other accompaniments.
Chef Tips
Adding accessories can be a great addition to your charcuterie setup. A wine opener, stainless steel cheese knives, and ceramic bowls for olives or jams are always handy to have around. Additionally, consider including a marble charcuterie board, which can provide a cool surface for soft cheeses and add a touch of elegance to your presentation. If your family quarry has provided you with a stunning marble slab, this can also serve as a beautiful meat board.
Other materials such as bamboo boards, walnut boards, and royal craft wood can also be used for charcuterie boards. Each offers a unique look and has its benefits. Bamboo, for instance, is a sustainable option, while a black walnut board offers a rich, dark aesthetic that can be very striking. A royal craft wood board can give you the unique look of live edge wood, which can be a conversation piece in itself.
With the right wood or material choice, a charcuterie board can be more than just a serving platter – it can be a centerpiece of your table. So next time you're hosting a large gathering or even an intimate dinner, remember that a high-quality charcuterie board, made from the best wood and treated with care, can be the star of your spread. The right charcuterie board not only makes your food look great but will also stand the test of time, becoming a staple piece in your serving ware collection.