If you are looking for a show-stopper to bring to your next event, this Jalapeno Shrimp Appetizer is it! I made this amazing appetizer for a neighborhood get-together. Once a month everyone shows up with an appetizer to share, and we all get to hang out and catch up.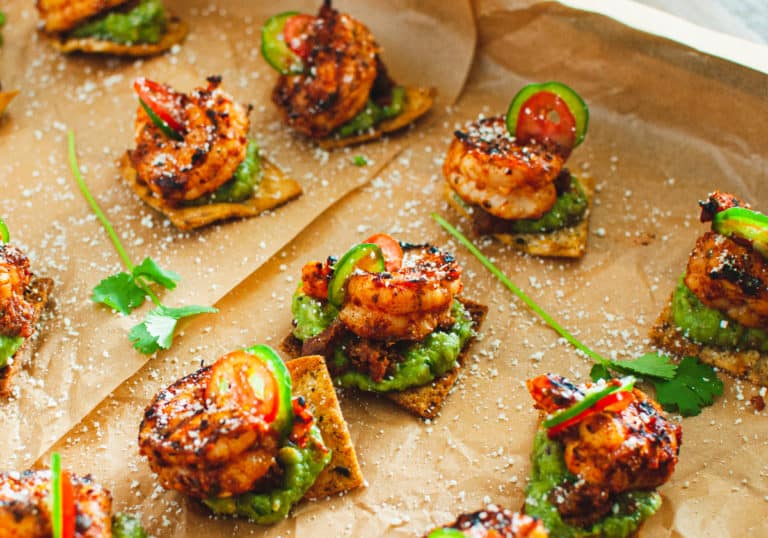 People kept walking around these bite-size snacks and commenting about how beautiful and delicious they were. Which always makes my heart the happiest, so needless to say I knew I need to share it with the world.
Jump to:
🛒 Ingredients
Spicy Grilled Shrimp

Shrimp - Peeled & Deveined
Olive Oil
Lime Juice
Honey
Fresh Cilantro
Garlic - Minced
Red Onion - Diced
Dry Oregano
Smoked Paprika
Chili Powder
Chipotle Powder
Cumin

Mexican Chorizo - crumbled
Cojita Cheese - or Mexican Crema
Jalapeno Pita Chips - Stacy's Brand
Jalapenos - for garnish
Cherry Tomato - for garnish
The Jalapeno Pita Chip
I struggled to name this recipe. It felt like it was a tostada, but tostadas are classically served on fried tortillas. It wasn't quite a canape either, which is generally on bread or toast. We used Stacy's Fire Roasted Jalapeno Pita Chips which are now one of my new favorite snacks (they didn't pay me to say that either).
I needed something that would hold up heavy guacamole without getting soggy, and my brain immediately went to pita chips. Then I saw the fire-roasted jalapeno ones at the store I knew it would be perfect. The seasoning is spicy, but not overpowering. It set the stage for this stunning appetizer.
Guacamole, Shrimp & Chorizo
One of the things we love to do is use the same recipe in different ways for different things. Guacamole is more than a dip, it can also be a topping or a base. Our Spicy Grilled Shrimp is perfect in quesadillas, shrimp tacos, or just as a snack. Our Mexican chorizo can be used in queso, chori pollo, chorizo burgers, or as a spicy smokey crumble in this spicy shrimp snack.
Everything you'll need for this recipe is already at Tabetha's Table. We didn't need to create anything crazy & new because they were already perfect for this recipe. Citrusy and spicy shrimp, smokey chorizo, and creamy guacamole all in one big bite. I used one shrimp per pita chip, but you could easily have cut them in half.
📖 Instructions
You can find each individual recipe below. They are also grouped together in this post's main recipe. We will do a quick walkthrough here though!
Start by cooking your chorizo crumbles. In a small saute pan, lightly coated in olive oil break your chorizo into small pieces and let each brown nicely. Since we aren't making a lot, it shouldn't take more than 5 minutes or so.
Next, in a medium-sized bowl, mix together all the ingredients for the shrimp marinade and let them hang out for about 15 minutes.
You can either grill your shrimp on high heat for 2 minutes per side. Sear them in a pan, on medium-high heat with olive oil for 2 minutes per side. Or roast them in the oven at 400 for about 10 minutes.
Let's talk about how to layer and stack your Jalapeno Shrimp Appetizer...
Starting from the Bottom...
Jalapeno Pita Chip
Guacamole (use a piping bag or zip lock with the tip cut off)
Chorizo Crumble
Shrimp
Jalapeno & Tomato - sliced thin and wedged in the shrimp center
Cilantro - chopped and sprinkled on top for garnish
Cojita and/or Mexican Crema - drizzled or sprinkled for garnish
👩🏼‍🍳 Chef Tip
#1 The guacamole will start to brown, so these need to be assembled right before serving!
#2 The shrimp can be made ahead of time and put in the fridge if needed. Unless you are serving them at home, immediately, the shrimp will have cooled down anyway.
#3 In a time crunch? Buy guacamole from the store, and skip the chorizo. They are still delicious!
#4 We used one shrimp per pita chip, but you could easily have cut them in half and made them go twice as far.
📖 Recipe
Jalapeno Shrimp Appetizer
A spicy appetizer that is sure to please. Spicy shrimp, guacamole, and a fire-roasted jalapeno pita chip make this dish stand out!
Ingredients
½

cup

Guacamole -

or homemade

¼

pound

Mexican Chorizo -

crumbled

1

tablespoon

Cojita Cheese

-

or Mexican Crema

1

bag

Jalapeno Pita Chips

-

Stacy's Brand

2

Jalapenos

1

pint

Cherry Tomato
Shrimp Marinade
1

pound

Shrimp

-

Peeled & Deveined

¼

cup

Olive Oil

-

14

cup

Lime Juice

-

1

teaspoon

Honey

1

tablespoon

Fresh Cilantro

1

tablespoon

Fresh Garlic

1

tablespoon

Red Onion

-

Minced

2

teaspoon

Dried Oregano

1

teaspoon

Smoked Paprika

1

teaspoon

Chili Powder

½

teaspoon

Chipotle Powder

½

teaspoon

Cumin

½

teaspoon

Kosher Salt

¼

teaspoon

Fresh Ground Pepper
Instructions
Mix together all the ingredients for the shrimp in a bowl and set to the side for 15 minutes or so.

In a small saute pan on medium heat, brown the chorizo down to small crumbles and then set to the side.

For the Shrimp, add 1-2 tablespoon of olive oil to a large saute pan and bring to medium-high heat.

When oil is slightly shimmering add the shrimp one at a time, minding to not overcrowd the pan.

Cook for 2 minutes and then flip and cook another 1-2 minutes on the other side until the center is no longer opaque.
Building
Set out a layer of jalapeno pita chips.

Next, using a pastry bag, add a small dollop of guacamole to each one.

Add a small sprinkle of chorizo.

Top each with the grilled shrimp, and add a thin slice of jalapeno and cherry tomato on top.

Finish with a sprinkle of cojita cheese or Mexican cream, and fresh cilantro.
Nutrition
Calories:
182
kcal
Carbohydrates:
18
g
Protein:
15
g
Fat:
6
g
Saturated Fat:
1
g
Polyunsaturated Fat:
1
g
Monounsaturated Fat:
4
g
Trans Fat:
0.01
g
Cholesterol:
91
mg
Sodium:
257
mg
Potassium:
390
mg
Fiber:
2
g
Sugar:
3
g
Vitamin A:
350
IU
Vitamin C:
19
mg
Calcium:
49
mg
Iron:
2
mg