Hop aboard the flavor train as we travel straight to the heart of Mexico with this mouthwatering and zingy shrimp recipe. Packed with punchy flavors and tantalizing aromas, it's your one-way ticket to culinary delight. Plus find multiple spicy Mexican shrimp recipes below for extra ways to enjoy!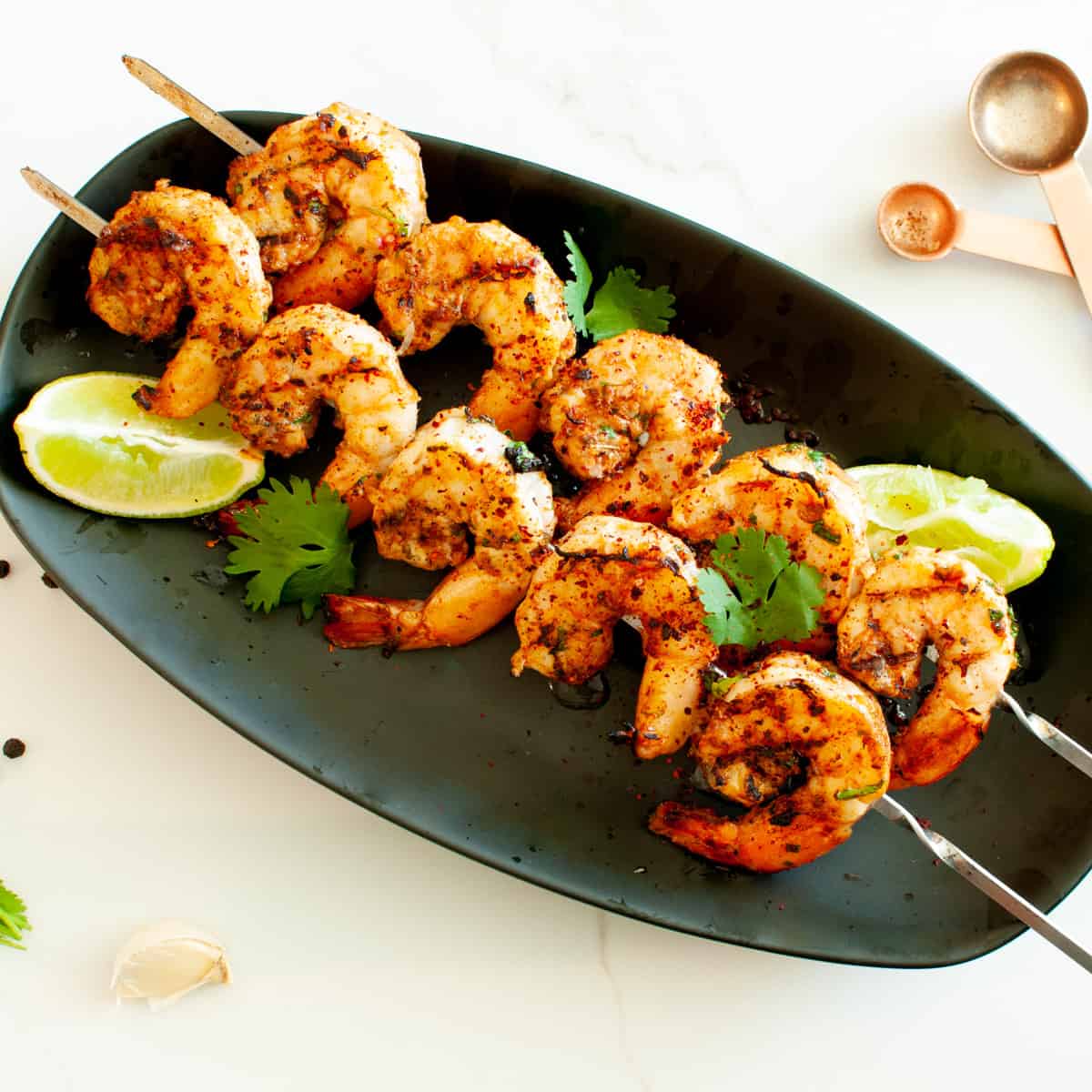 Whether you're rushing through a hectic midweek dinner or basking in the joy of a sunny backyard BBQ, this recipe is your trusty sidekick. And the best part? It's as easy as pie to whip up. So roll up your sleeves, fire up the stove, and let's bring the fiesta of Mexican cuisine right to your kitchen!
Jump to:
The Ingredients
This spicy Mexican shrimp dish draws its bold flavors from a delightful medley of ingredients. Here's a quick overview of the ingredients you will need...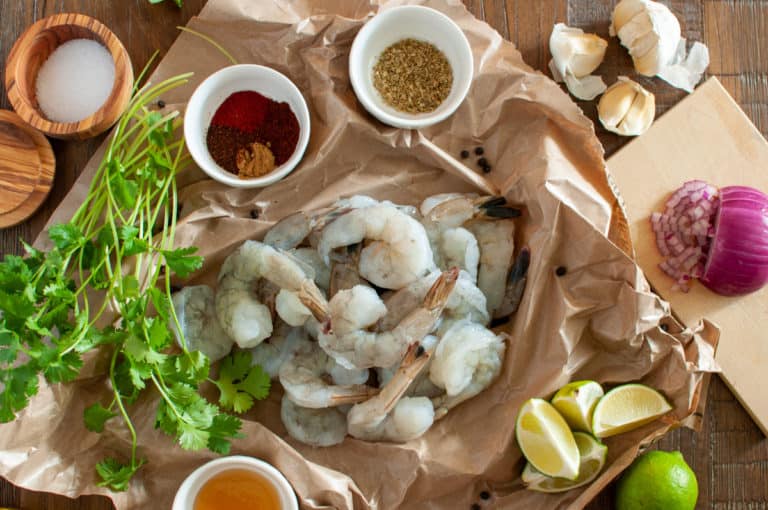 Shrimp: Need to be peeled and deveined! We recommend 16/20s generally.
Chipotle Powder: Adds a little heat, but mostly a wonderful smokey flavor. 
Smoked Paprika: Less spicy than chipotle powder, but it also adds smoke flavors and a little bit of heat.
Chili Powder: Adds more heat by using a blend of different peppers to spice things up a bit.
Cumin: Popular in Mexican/Southwest dishes, cumin adds an earthiness to your dish.
Honey: Adds a bit of sugar and liquid at the same time. Honey helps hold our ingredients together and helps us get a beautiful sear when cooking. 
Fresh Garlic & Cilantro: Brightens up all the heavy spices and gives us a pop of flavor. 
Lime Juice: The acid helps round out all the flavors, and gives the final zest of flavor that makes this dish stand out. 
Red Onion - Diced
Olive Oil
Dry Oregano
Kosher Salt - Diamond is Preferred
Fresh Ground Pepper
With our ingredients ready, let's dive into this great recipe for spicy Mexican shrimp. This dish can be prepared in three different ways: grilling, pan-searing, or broiling. We've included step-by-step instructions for each method to ensure your shrimp cooks to perfection. For extra heat, feel free to add some hot sauce or chile de arbol peppers.
Preparing the Shrimp: Thawing, Peeling, and Deveining
First things first, ensure your shrimp are thawed, peeled, and deveined. Why devein, you ask? Well, that 'vein' is actually the shrimp's digestive tract, and it can contain grit that not only impacts the texture but also the flavor of your dish. While it isn't harmful to consume, leaving it in can introduce a bitter, muddy taste, undermining the delightful spiciness you've carefully crafted with your marinade.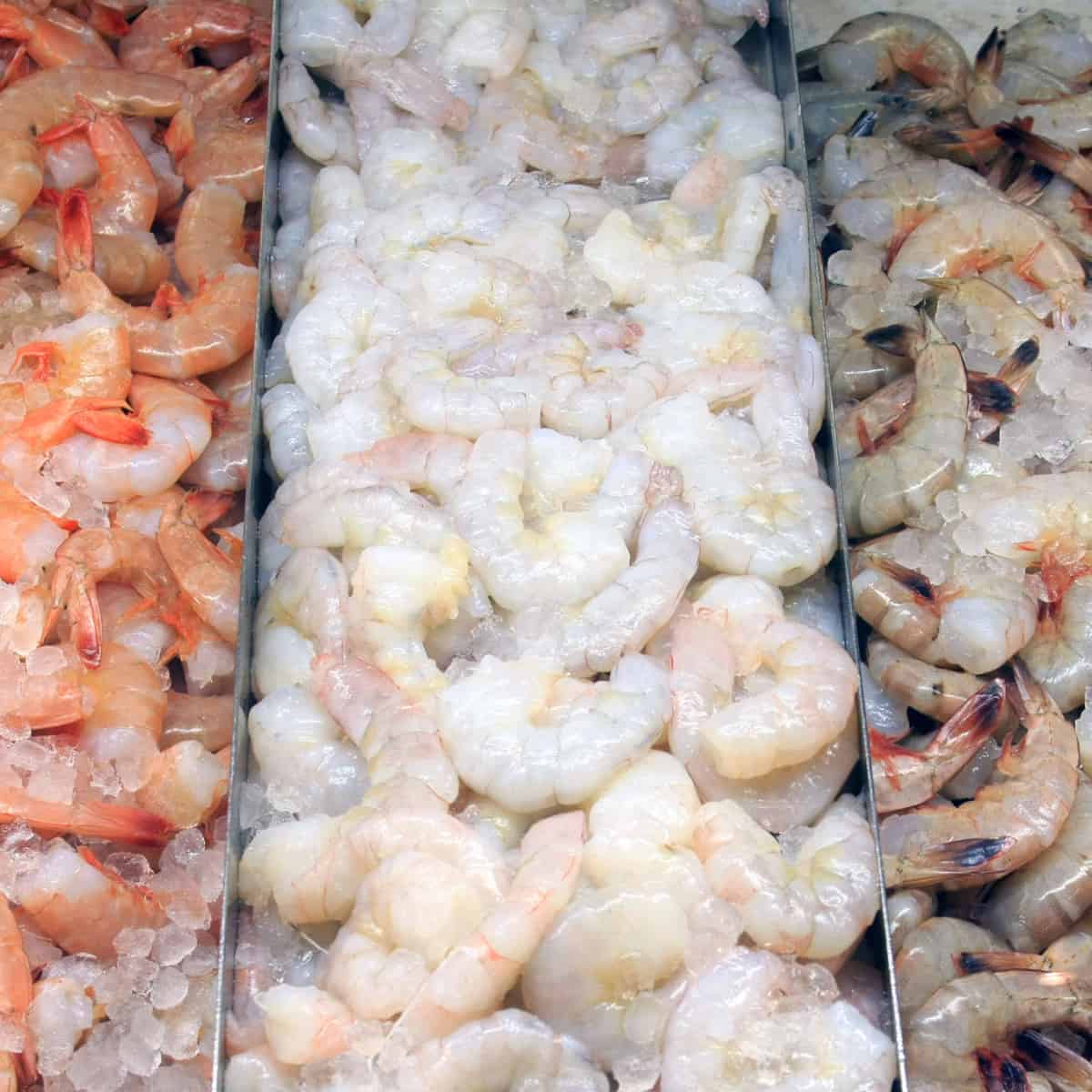 Now, you could certainly devein your shrimp at home, but if you're pressed for time or not confident with the process most grocery stores offer pre-peeled and deveined shrimp right in the seafood case. This option eliminates the need for extra prep.
Making the Marinade
Combine all remaining ingredients (except shrimp) in a medium bowl. If you're looking for a shortcut, add all the marinade ingredients into a small blender or use an immersion blender. This will give you a smoother marinade, but remember to save some fresh cilantro for garnishing.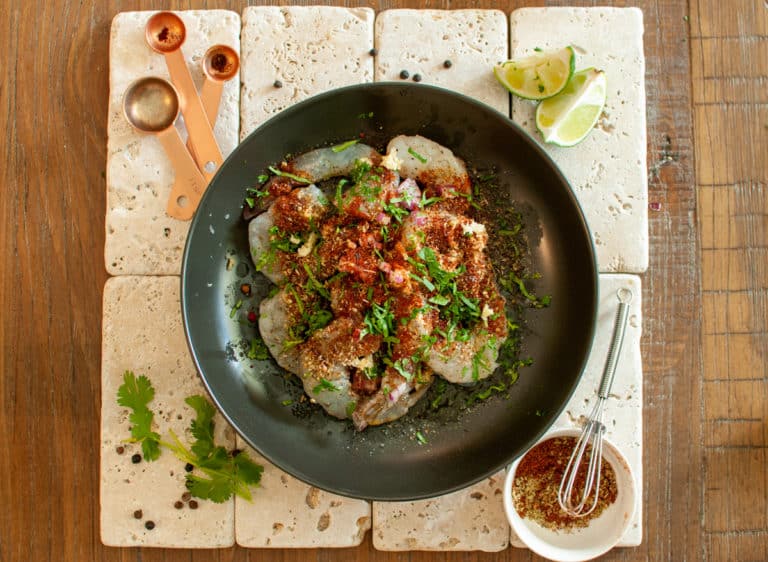 Once your marinade is ready, add the shrimp. Make sure every shrimp is coated well. Let it sit for at least 15 minutes at room temperature. Be careful not to marinate overnight, as the lime juice can overcook the shrimp and make them chewy.
Cooking the Shrimp
So, you've successfully marinated your shrimp. Fantastic! Now, it's time for the real show - cooking the shrimp. Whether you're a grill master, a stovetop superstar, or a broiler boss, this part is for you. We're going to dive into each method, ensuring your shrimp comes out perfectly cooked and utterly delicious, every time.
Grilling
If you're using a grill, kabobs or a grill basket are the best way to cook the shrimp. Just make sure you get as much color/char on them as possible. Cook for 2-3 minutes on each side over medium-high heat.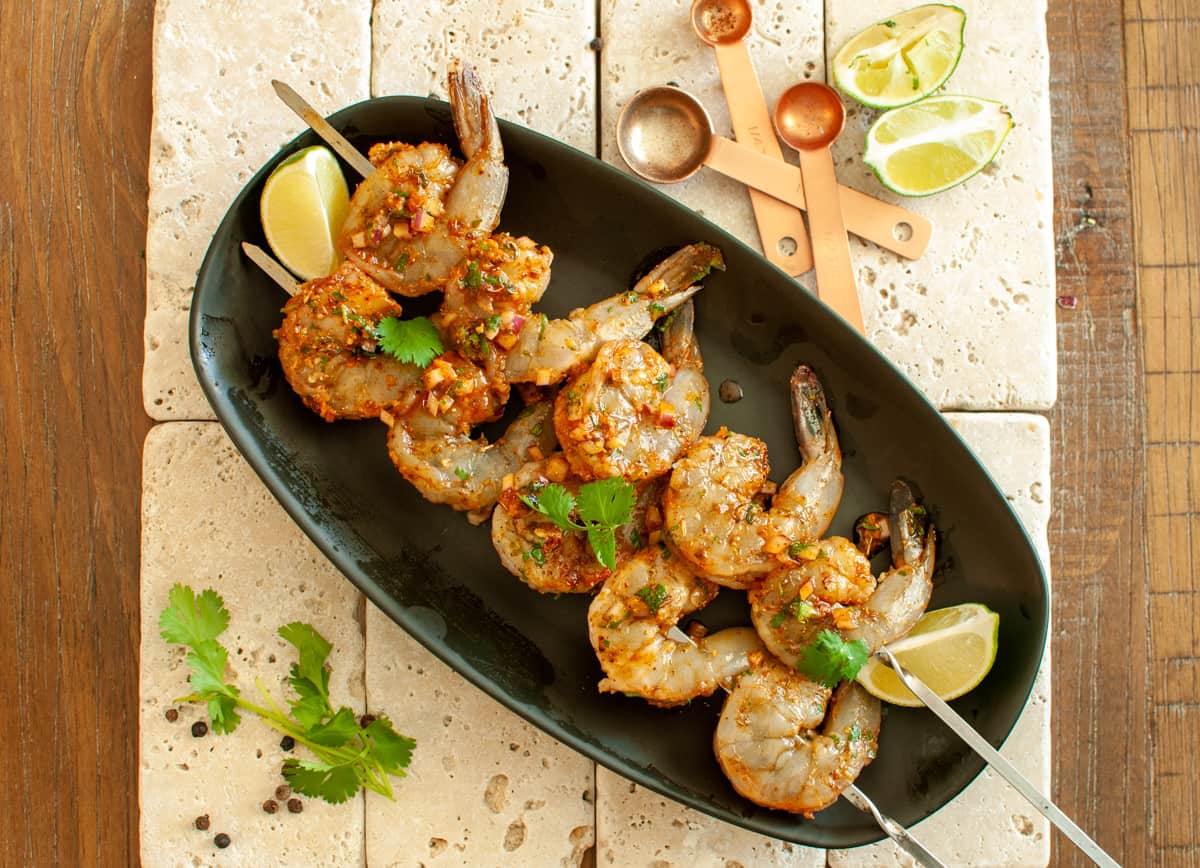 Metal Skewers
We personally use metal skewers 99% of the time. They are reusable, easy to clean, and don't require soaking like wood skewers. The downside is they cost more, and if you are feeding a crowd you might need quite a few.
Wood Skewers
Wood skewers are super cost-efficient, but take a little more time to get ready as they need to soak ahead of time to prevent the ends from burning during the cooking process. 
Metal Grill Basket
Using a grill basket is another great way to grill food! You can completely skip the time-consuming step of individually adding shrimp to a skewer. Downside? You lose some of the direct contact areas of the grill. Leading to less char, and less flavor.
Pan Searing
If you don't have access to a grill, a large skillet on the stovetop is an easy way to cook the shrimp. Ensure your pan is really hot before adding, a neutral oil like olive oil to the pan until it shimmers. Then, add the shrimp and sear them for about 2 minutes on each side. Remembering browning equals flavor!
Broiling
The third option is to broil the shrimp in the oven. This method will work well too, just remember to spread the shrimp out evenly on a pan layered with foil. Cooking for 3-4 minutes per side. Keep a close eye on them using this method as they can do from browned to burnt in under a minute.
Serving Suggestions
This easy Mexican shrimp skillet can be served in many different ways, making it a versatile main dish. Here are a few suggestions:
Spicy Shrimp Appetizer: Served over a jalapeno pita chip with guacamole and chorizo crumbles, topped with this spicy Mexican shrimp recipe.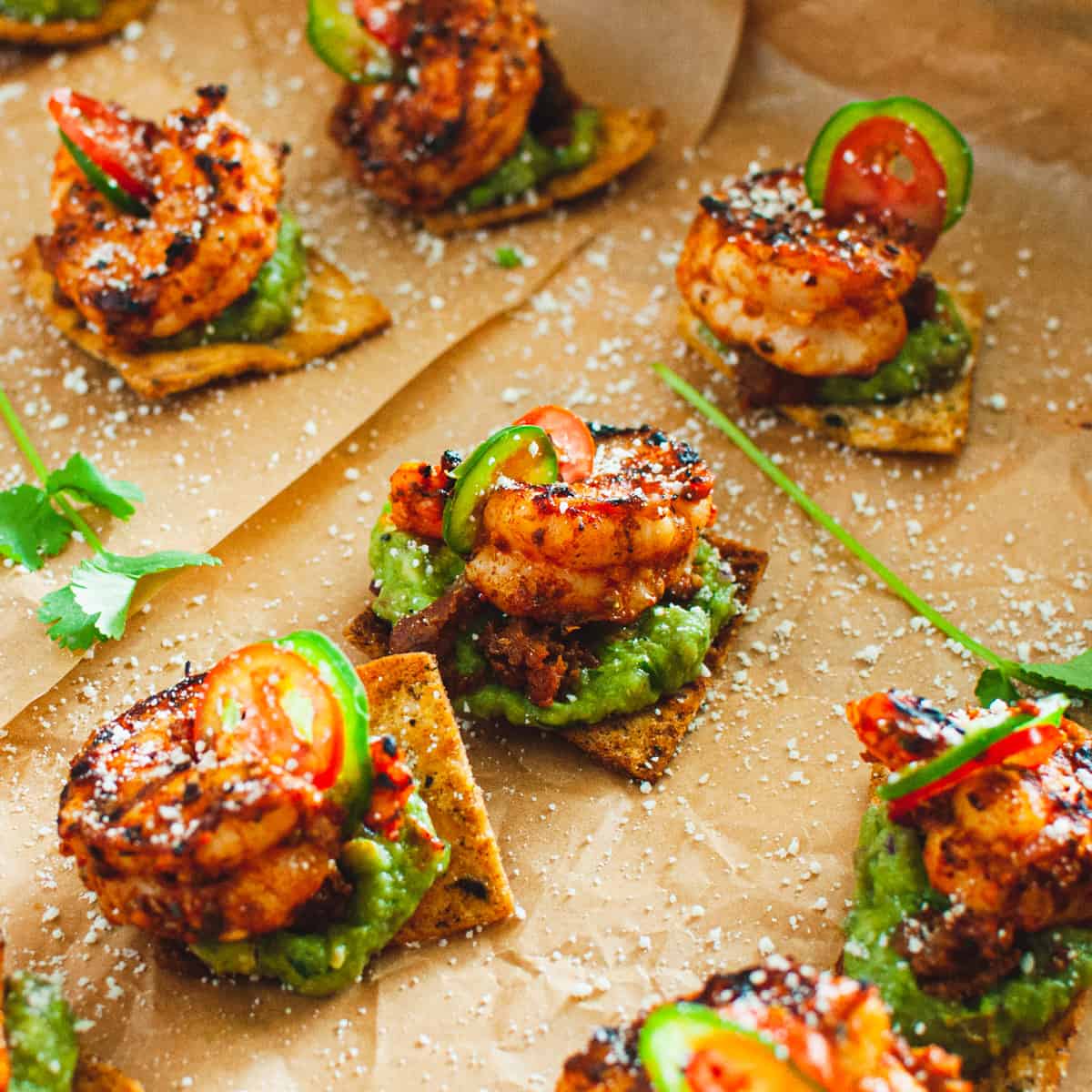 Shrimp Tacos: Serve your shrimp with warm corn tortillas, a squeeze of lime, and some homemade taco seasoning for authentic Mexican shrimp tacos.
Mexican Shrimp Salad: Toss the shrimp with black beans, cherry tomatoes, bell pepper, and fresh cilantro for a refreshing salad.
Spicy Shrimp Queso: Possibly the best queso, especially for shrimp lovers.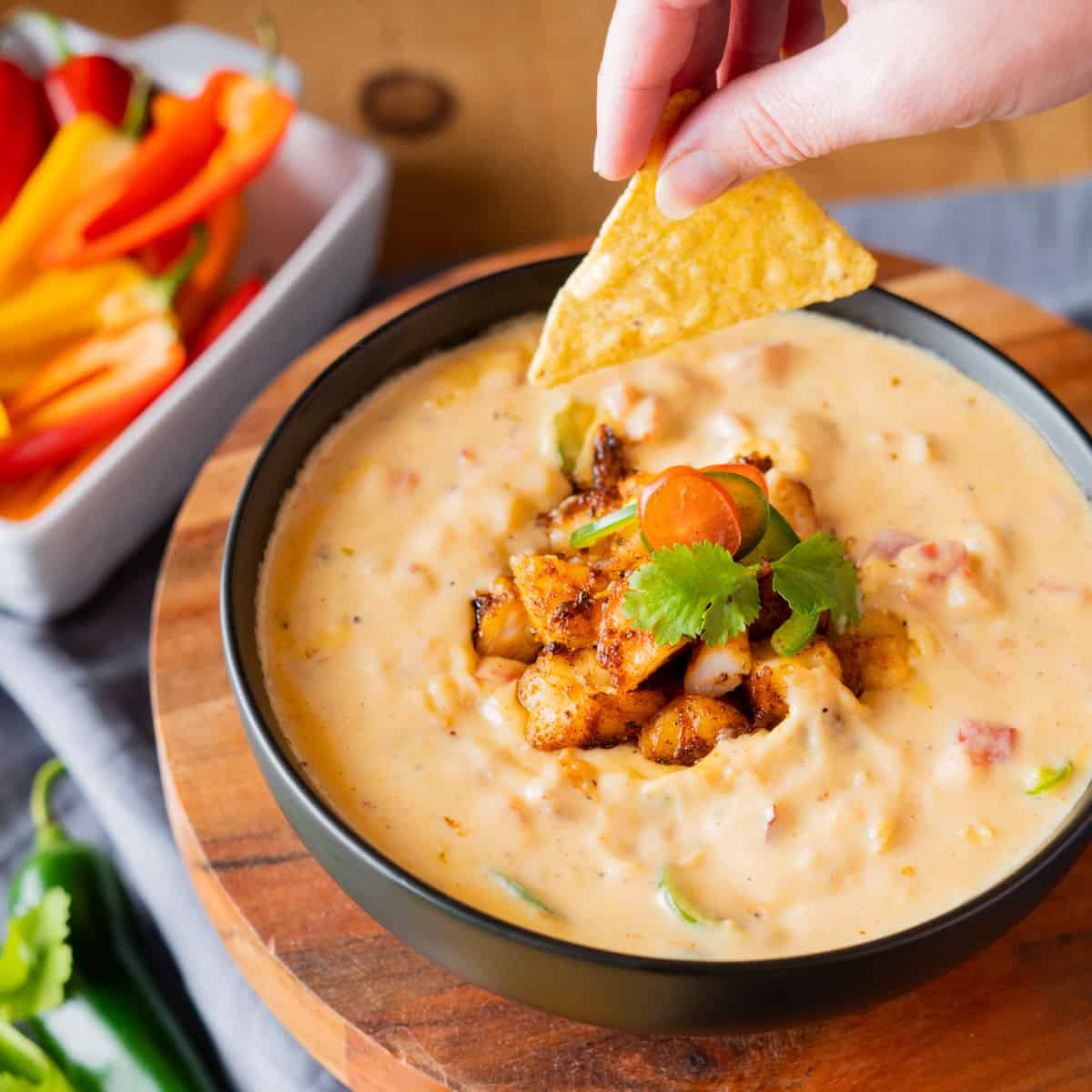 Taco Bowl: Serve the shrimp over cilantro lime rice with some refried beans and top with sour cream for a delectable taco bowl.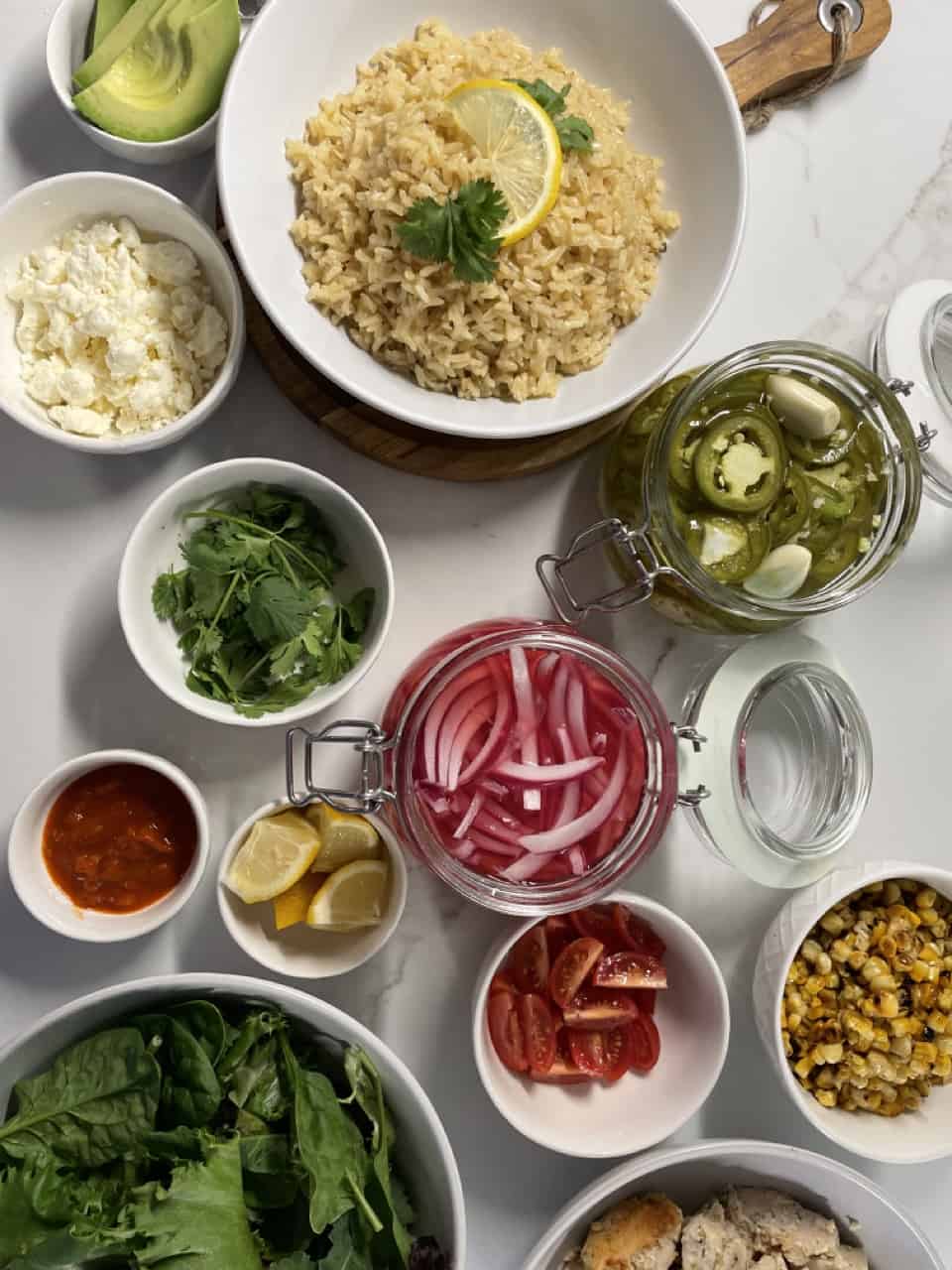 This spicy Mexican shrimp recipe can be kept in an airtight container in the fridge for 3-4 days. However, the freshness of the shrimp is best when consumed immediately after cooking.
Sides
To complement your spicy Mexican shrimp, consider pairing them with these delightful side dishes from Tabetha's Table. These options can turn your meal into a veritable Mexican feast.
What's a Mexican meal without some creamy, rich guacamole? It's the perfect dip for your shrimp and a great way to balance the heat.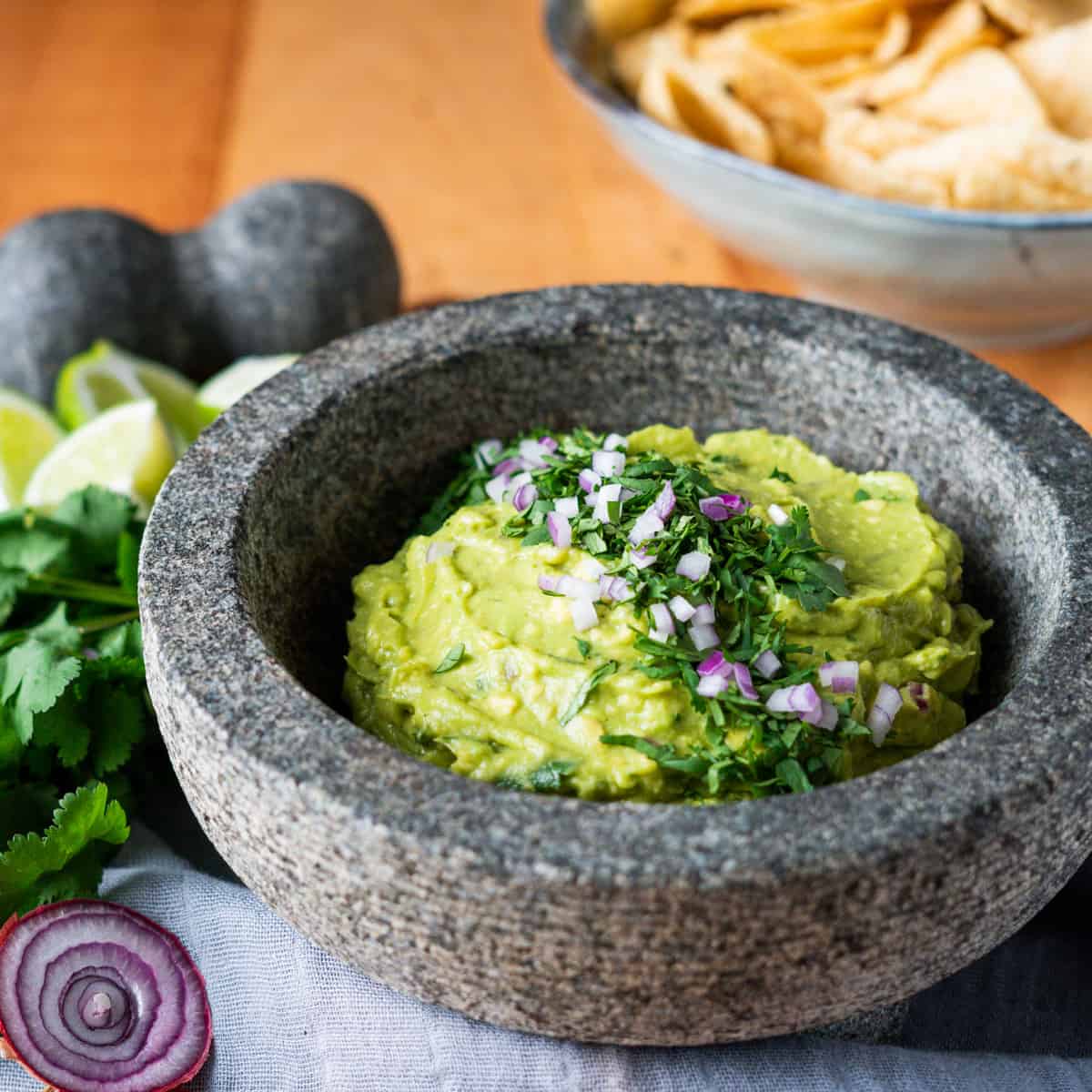 For a wholesome, fiber-rich addition to your meal, brown rice is the way to go. It's a great base that absorbs all the delicious juices from the shrimp. Add fresh cilantro and a squeeze of lime and BOOM. Cilantro lime rice.
For those who love an extra kick of spice, these are a must-try. They add a zesty, tangy touch to your shrimp dish.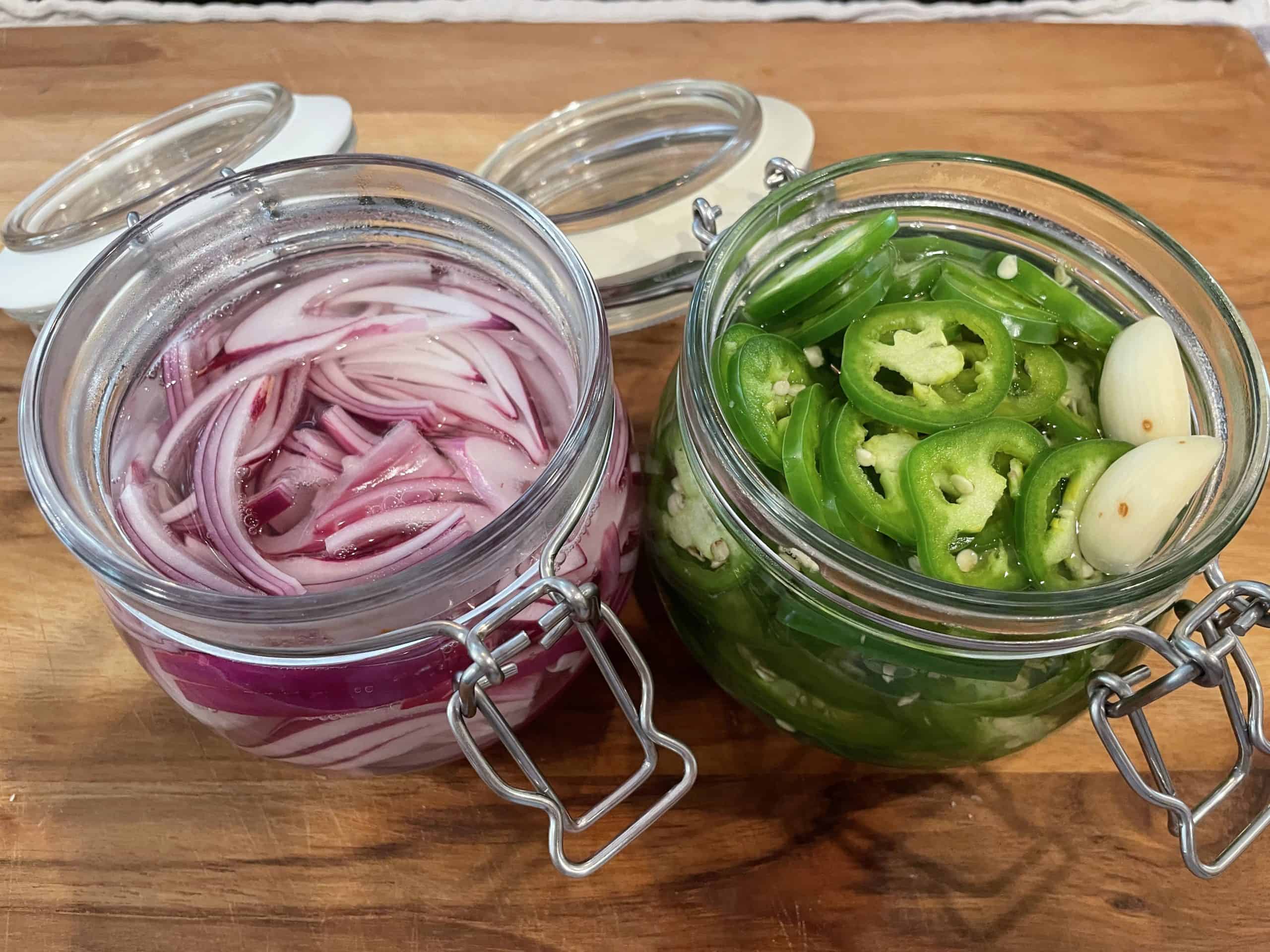 This easy dinner recipe allows you to capture the essence of Mexican cuisine at home. Next time you're in the mood for some delicious shrimp, or you want to add a Mexican touch to your meal, remember this spicy Mexican shrimp recipe. Enjoy the blend of spices, the tang of lime, and the succulence of well-cooked shrimp in every bite.
📖 Recipe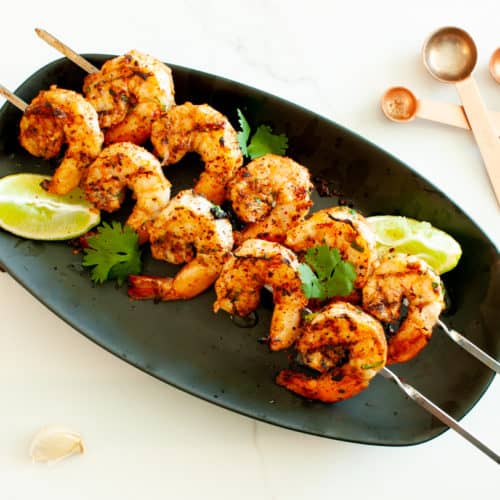 Spicy Mexican Shrimp
Zesty & full of flavor this shrimp recipe is addictive. Grilled or pan-seared these are perfect on their own or in a taco or burrito bowl. Warning: Try not to eat them all before dinner starts or just double the recipe to avoid fights.
Ingredients
2

Pounds

Shrimp

-

Peeled & Deveined

¼

Cup

Olive Oil

¼

Cup

Lime Juice

1

teaspoon

Honey

1

tablespoon

Fresh Cilantro

1

tablespoon

Garlic

-

Minced

1

tablespoon

Red Onion

-

Diced

2

teaspoon

Dried Oregano

1

teaspoon

Smoked Paprika

1

teaspoon

Chili Powder

½

teaspoon

Chipotle Powder

½

teaspoon

Cumin

2

teaspoon

Kosher Salt -

Diamond is Prefered

1

teaspoon

Fresh Ground Pepper
Instructions
Add all remaining ingredients to a bowl. You can cheat on some of the prep here and add it all to a small blender or food processor if you'd like. I'm obsessed with my immersion blender which would also work beautifully.

Add Shrimp to a bowl and marinate for at least 15 minutes. **Don't marinate overnight as the lime juice will cook the shrimp and make them chewy*.
Cooking Methods
Grilling: Kabobs are one of the easiest ways to cook shrimp on the grill, but you can also find some neat grill baskets that prevent them from falling through. I suggest kabobs so you get as much color/char on them as possible. Cook for 2-3 minutes on each side.

Pan Sear: If you don't have access to a grill you can easily cook this on a stovetop. The key here is to get your pan really really hot, add oil to your pan to prevent sticking, and only add enough shrimp to cover about ½ of the pan.

If you add too many at once, all the moisture will drop the temperature of the pan and you will boil your shrimp vs sear them. Browing = Flavor. Flip the shrimp after 2-3 minutes. Cook another 1-2 minutes on the other side or until the center of the shrimp is no longer opaque.

Broil: This would be my last option, but it will work. Layer a pan with foil. Add shrimp and spread out. Cook on high broil for 3-5 minutes.

They may need to be flipped if they are extra-large. Test if they are done by removing one, cutting it open, and checking to see if the center is no longer opaque.

In most cases, the shrimp should only take 3-5 minutes to cook depending on your cooking method and the size of your shrimp.
Notes
 The fresher your shrimp are, the better. Even if they were previously frozen, just try and use them within the first day or 2 of defrosting. No one wants fishy shrimp.
Always devein your shrimp or buy your shrimp deveined. It's a little more effort or costs a little more money but is well worth it.
Want a shortcut? Add all the marinade ingredients into a small blender OR a bowl with an immersion blender. Just leave yourself some fresh cilantro to finish with.
I prefer larger shrimp for this recipe. Something around 20/25's (the count of shrimp per pound which is generally noted on the bag). 
Nutrition
Calories:
330
kcal
Carbohydrates:
4
g
Protein:
46
g
Fat:
15
g
Saturated Fat:
2
g
Polyunsaturated Fat:
2
g
Monounsaturated Fat:
10
g
Trans Fat:
1
g
Cholesterol:
365
mg
Sodium:
1447
mg
Potassium:
660
mg
Fiber:
1
g
Sugar:
2
g
Vitamin A:
486
IU
Vitamin C:
5
mg
Calcium:
158
mg
Iron:
2
mg