I love shrimp a lot. It's one of my favorite proteins, whether it's grilled, sauteed, or in ceviche. Spicy, or covered in butter and garlic, shrimp is always a yes. This spicy grilled shrimp recipe was built from a love of this delicious seafood and my husband and I always trying to find new ways to make it.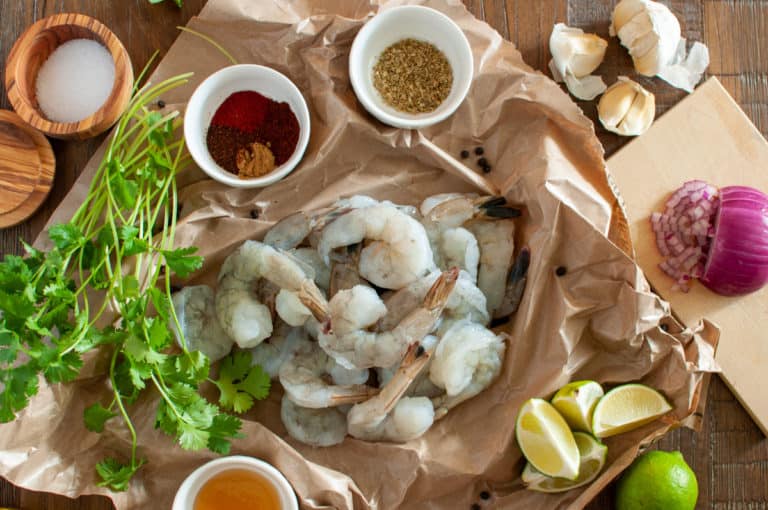 Jump to:
📖 Instructions
I'm not gonna lie, there is a decent amount of spices that go into this recipe. Sorry, not sorry and I promise it's worth it. As you are measuring it all just keep remembering this is gonna be really really good.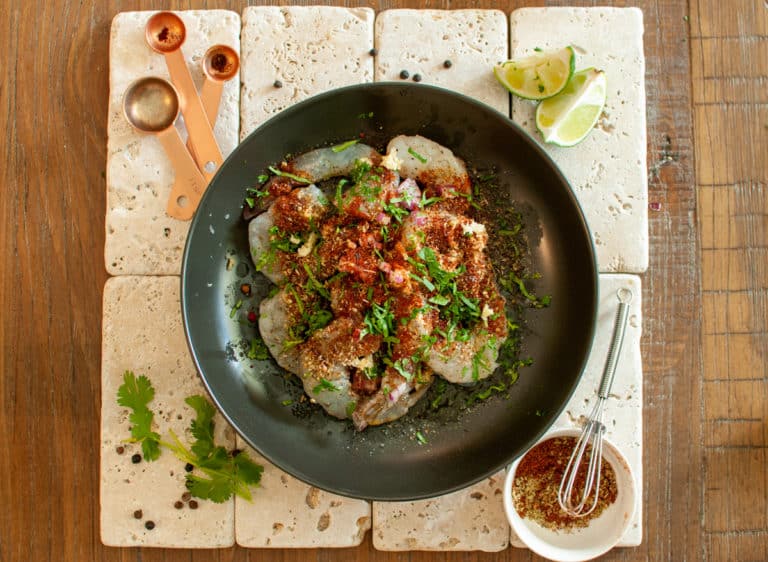 This doesn't need to sit and marinade for long either. I would suggest around 15-30 minutes if you can. If you're in a rush and need to cook them right away it isn't the end of the world either. 
Once they have taken their flavor bath, you'll want to cook them for about 2 minutes per side. Whether that's in a grill basket, metal skewers
🧄 Ingredients
Shrimp: Need to be peeled and deveined! We recommend 16/20s generally.
Chipotle Powder: Adds a little heat, but mostly a wonderful smokey flavor. 
Smoked Paprika: Less spicy than chipotle powder, but it also adds smoke flavors and a little bit of heat.
Chili Powder: Adds more heat by using a blend of different peppers to spice things up a bit.
Cumin: Popular in Mexican/Southwest dishes, cumin adds an earthiness to your dish.
Honey: Adds a bit of sugar and liquid at the same time. Honey helps hold our ingredients together and helps us get a beautiful sear when cooking.
Fresh Garlic & Herbs: Brightens up all the heavy spices and gives us a pop of flavor.
Lime Juice: The acid helps round out all the flavors, and gives the final zest of flavor that makes this dish stand out.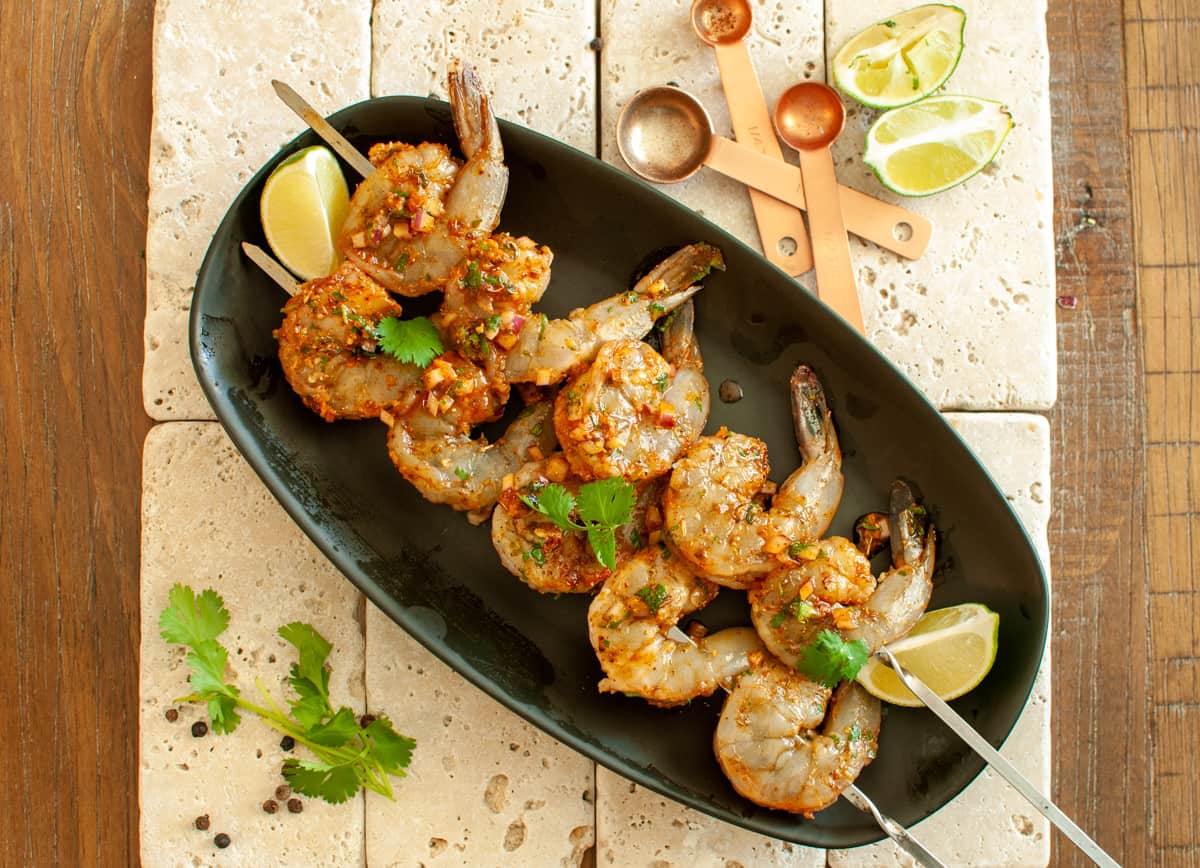 🥘 Equipment
There are lots of different ways to go about grilled shrimp and it all boils down to personal preference and cost.
Metal Skewers
We personally use metal skewers 99% of the time. They are reusable, easy to clean, and don't require soaking like wood skewers. The downside is they cost more, and if you are feeding a crowd you might need quite a few.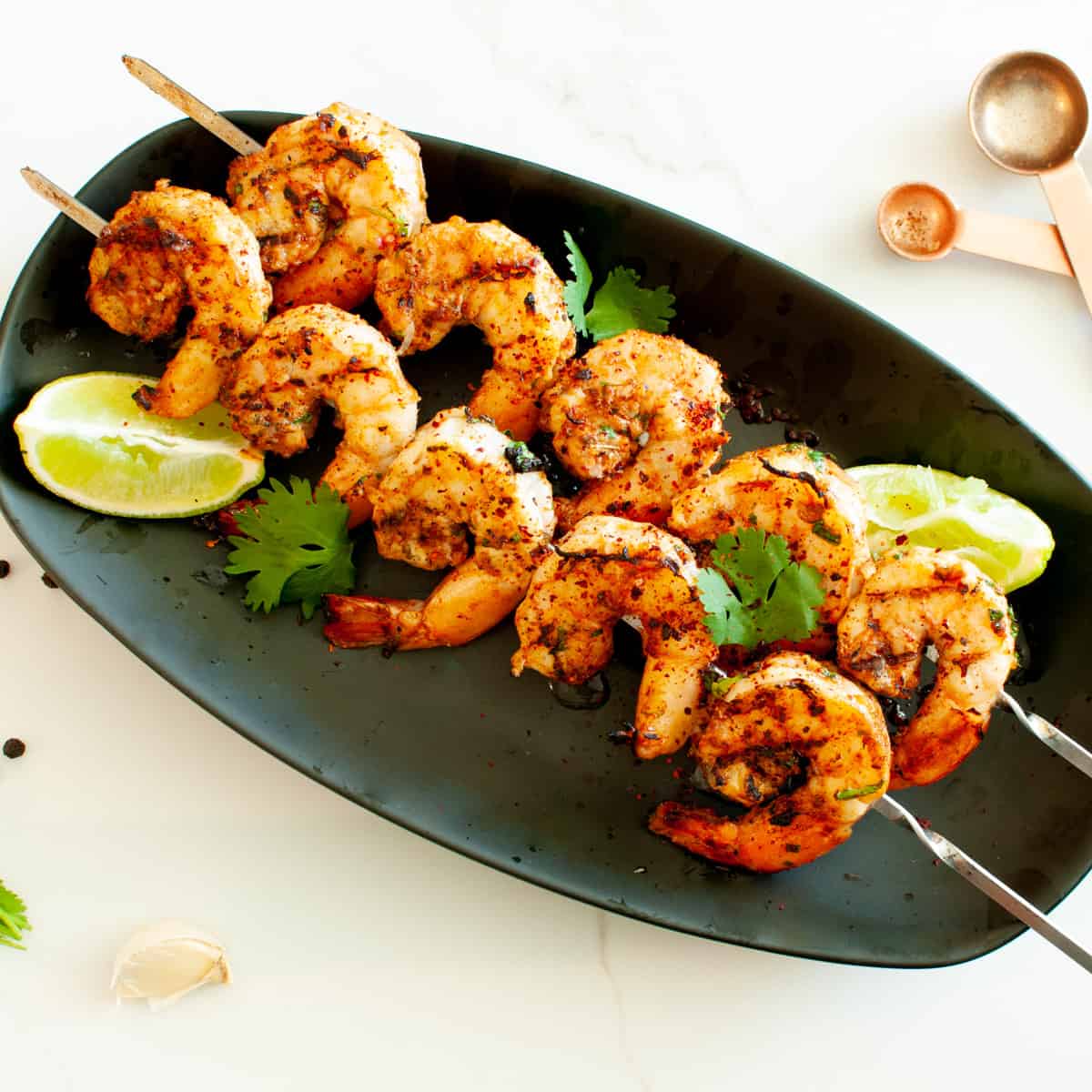 Wood Skewers
Wood skewers are super cost-efficient, but take a little more time to get ready.
Metal Grill Basket
Using a grill basket is another great way to grill food! You can completely skip the time-consuming step of individually adding shrimp to a skewer. Downside? You lose some of the direct contact areas of the grill. Leading to less char, and less flavor.
👩🏼‍🍳 Chef Tip
#1 While huge shrimp look fun to buy, if they aren't cooked properly they can become chewy. We lean toward a medium-size 16/20 (which means 16- 20 shrimp per pound).
#2 Grilling adds another whole layer of flavor, but these also taste amazing pan-seared.
🍽 Sides
I'm always developing more recipes and trying to pair them up together. Until I get a few more recipes added here to Tabetha's Table, I would suggest putting these with Tacos, taco bowls, burritos, cut up in quesadillas, as an appetizer, or serving them just sitting on some guacamole! Use your imagination while I get to work!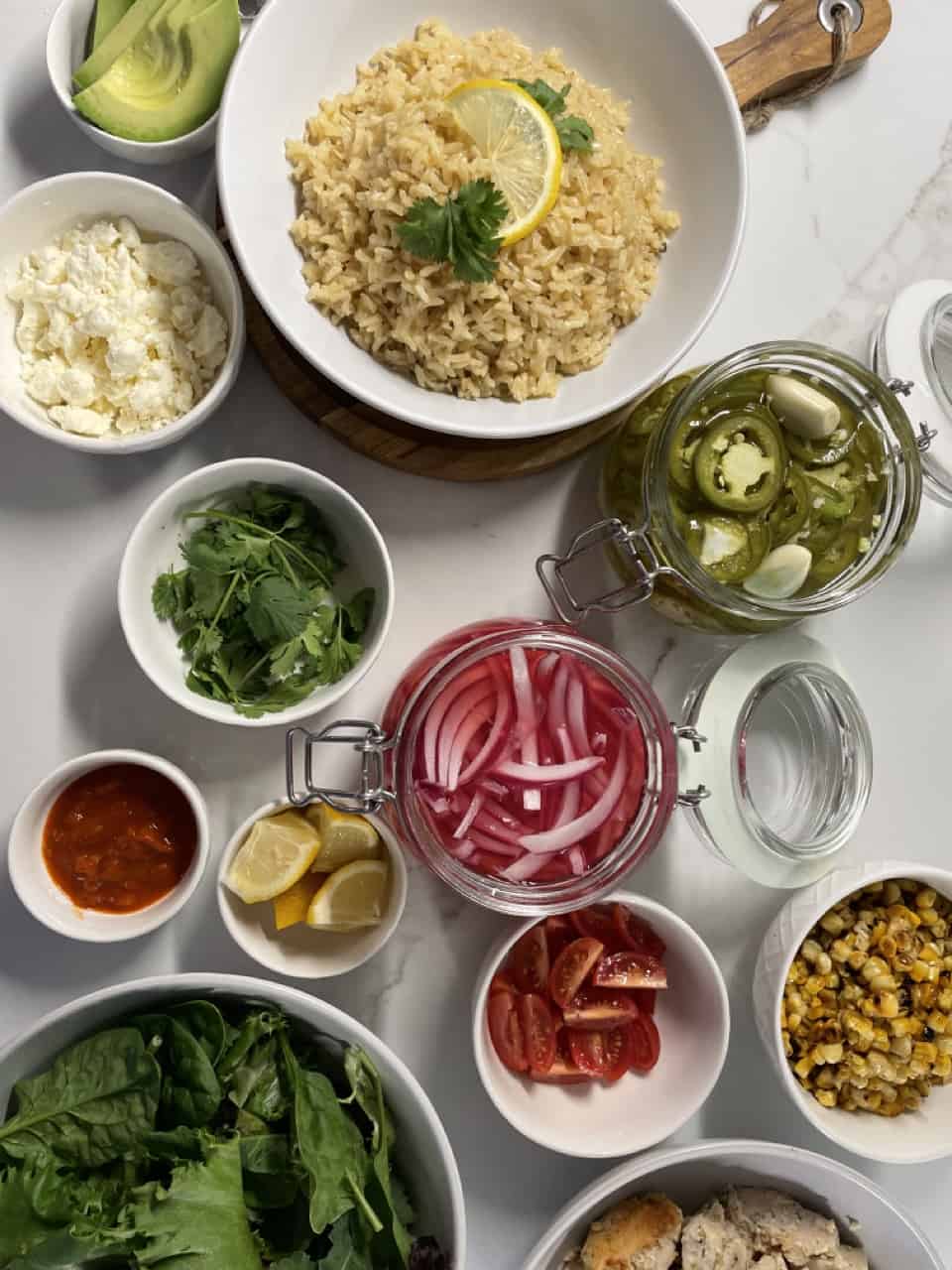 🥡 Storing Your Shrimp
If you find yourself with leftovers, you can absolutely throw these in the fridge for a few days and enjoy them on a salad for lunch the next day, or in a yummy quesadilla!
I would not recommend eating them after more than 3 days. Seafood in general doesn't like to keep well and will stink up your fridge quickly. The more realistic problem is having any leftovers at all 😉
Enjoy!
📖 Recipe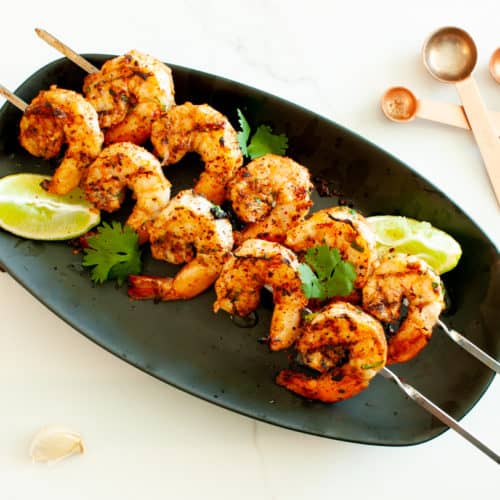 Spicy Grilled Shrimp
Zesty & full of flavor this shrimp recipe is addictive. Grilled or pan-seared these are perfect on their own or in a taco or burrito bowl. Warning: Try not to eat them all before dinner starts or just double the recipe to avoid fights.
Ingredients
2

Pounds

Shrimp

-

Peeled & Deveined

¼

Cup

Olive Oil

¼

Cup

Lime Juice

1

teaspoon

Honey

1

tablespoon

Fresh Cilantro

1

tablespoon

Garlic

-

Minced

1

tablespoon

Red Onion

-

Diced

2

teaspoon

Dry Oregano

1

teaspoon

Smoked Paprika

1

teaspoon

Chili Powder

½

teaspoon

Chipotle Powder

½

teaspoon

Cumin

2

teaspoon

Kosher Salt -

Diamond is Prefered

1

teaspoon

Fresh Ground Pepper
Instructions
Add all remaining ingredients to a bowl. You can cheat on some of the prep here and add it all to a small blender or food processor if you'd like. I'm obsessed with my immersion blender which would also work beautifully.

Add Shrimp to a bowl and marinate for at least 15 minutes. **Don't marinate overnight as the lime juice will cook the shrimp and make them chewy*.
Cooking Methods
Grilling: Kabobs are one of the easiest ways to cook shrimp on the grill, but you can also find some neat grill baskets that prevent them from falling through. I suggest kabobs so you get as much color/char on them as possible. Cook for 2-3 minutes on each side.

Pan Sear: If you don't have access to a grill you can easily cook this on a stovetop. The key here is to get your pan really really hot, add oil to your pan to prevent sticking, and only add enough shrimp to cover about ½ of the pan.

If you add too many at once, all the moisture will drop the temperature of the pan and you will boil your shrimp vs sear them. Browing = Flavor. Flip the shrimp after 2-3 minutes. Cook another 1-2 minutes on the other side or until the center of the shrimp is no longer opaque.

Broil: This would be my last option, but it will work. Layer a pan with foil. Add shrimp and spread out. Cook on high broil for 3-5 minutes.

They may need to be flipped if they are extra-large. Test if they are done by removing one, cutting it open, and checking to see if the center is no longer opaque.

In most cases, the shrimp should only take 3-5 minutes to cook depending on your cooking method and the size of your shrimp.
Notes
 The fresher your shrimp are, the better. Even if they were previously frozen, just try and use them within the first day or 2 of defrosting. No one wants fishy shrimp.
Always devein your shrimp or buy your shrimp deveined. It's a little more effort or costs a little more money but is well worth it.
Want a shortcut? Add all the marinade ingredients into a small blender OR a bowl with an immersion blender. Just leave yourself some fresh cilantro to finish with.
I prefer larger shrimp for this recipe. Something around 20/25's (the count of shrimp per pound which is generally noted on the bag). 
Nutrition
Calories:
330
kcal
Carbohydrates:
4
g
Protein:
46
g
Fat:
15
g
Saturated Fat:
2
g
Polyunsaturated Fat:
2
g
Monounsaturated Fat:
10
g
Trans Fat:
1
g
Cholesterol:
365
mg
Sodium:
1447
mg
Potassium:
660
mg
Fiber:
1
g
Sugar:
2
g
Vitamin A:
486
IU
Vitamin C:
5
mg
Calcium:
158
mg
Iron:
2
mg
Handy Tools
Want to take your cooking game to the next level? Here's a list of some of the tools I use every time I make this recipe that help make this a breeze!