I originally learned this light brown rice recipe from a restaurant I worked at in Arlington, VA about 15 years ago (I had to use a calculator to do that math. I'm not okay... someone should check in on me). Either way, I was in charge of Staff Meal that night and the Chef schooled me on ways to up my rice-making game.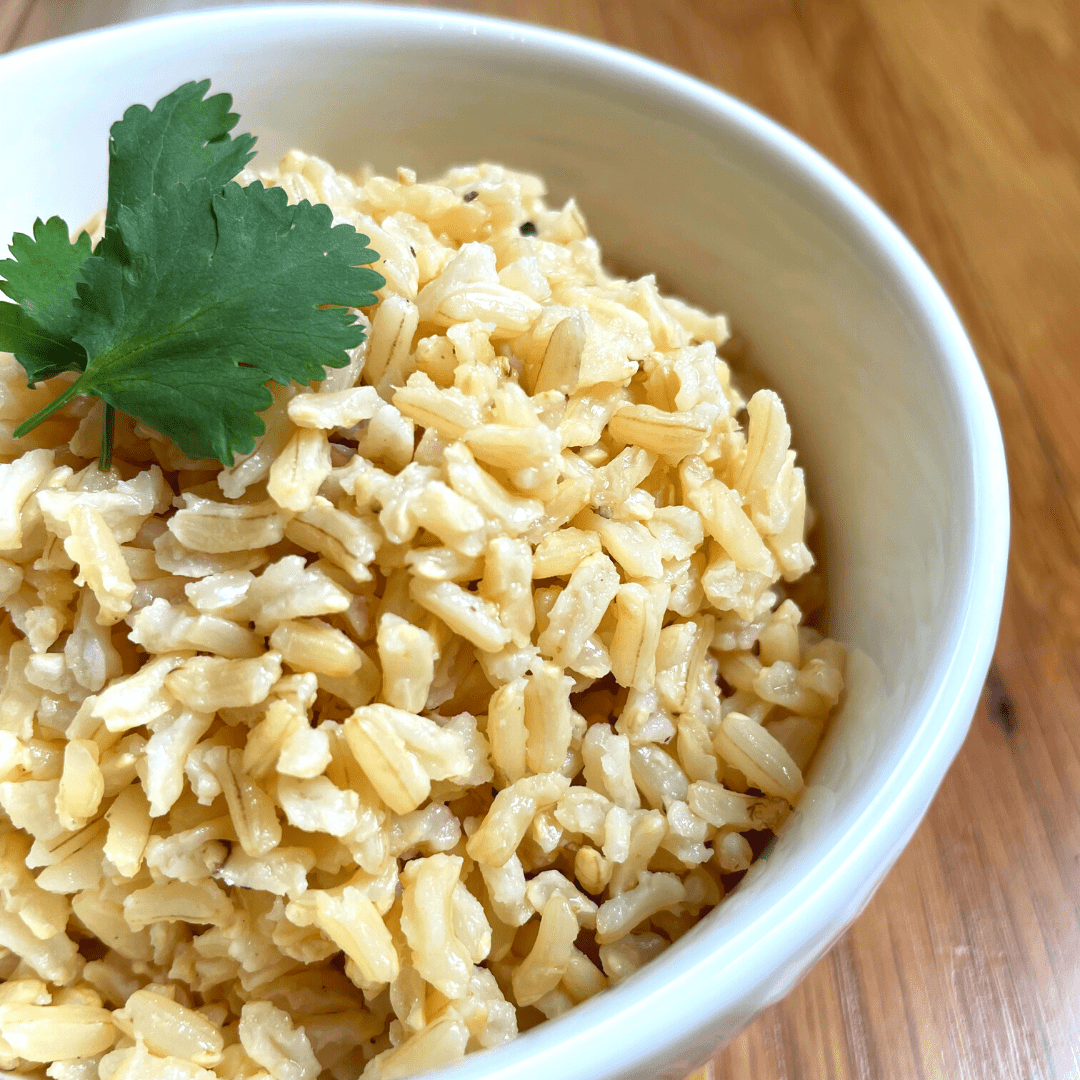 He stressed the idea of building flavors, which is something I keep with me to this day. Don't just use water... use chicken stock. Don't just use vegetable oil use butter or olive oil, and sautee some garlic in it first. Toast the rice, it adds flavor.
At the end of the day, other than the chicken stock, most kitchens have everything else laying around. It's just about how you put them to use.
Della Light Brown Rice
This is my rice of choice. Hands down. It is more nutrient-dense than plain white rice, but it also doesn't take an hour to cook which is mission-critical in my house.
From start to finish this rice takes about 25 minutes, and honestly, this could probably easily be converted to an InstaPot. I just don't have one. Well, I did... It took up to much space in my kitchen and didn't earn its keep.
Della Organic Light Brown Rice
This is the exact rice I use. It's got more bite than standard white rice with a significantly more manageable cook time than full-on brown rice.
Light Brown Rice Variations
Here are a few ideas to get you started. If you start with this base recipe, you can jump to any of the following variations by just adding a few ingredients...
Greek
1 teaspoon Lemon Juice
1 tablespoon Chopped Parsley or Dill
Mexican
1 teaspoon Lime
2 tablespoon Cilantro
Leftover Rice
Now you need to be careful with keeping cooked rice in your fridge for too long. This has to do with bacteria that are found on pre-cooked rice that don't die off in the cooking processes. Then it will continue to grow in the fridge, and if you don't heat it up properly... boom. Tummy troubles. With that said, if you are using it within a few days of making it, you should be good to go.
I will generally make a double batch of this recipe because I end up using it in some capacity. Here are some current recipes that this Light Brown Rice recipe would go wonderfully with. 
Some other ideas would be stuffed peppers, fried rice, taco bowls, or burritos. No need to make it twice if you can plan ahead.
📖 Recipe
Brown Rice - Leveled Up
Ingredients
2

cups

Light Brown Rice

-

I love Della Organic

4

cups

Chicken Stock

1

tablespoon

Olive Oil

1

tablespoon

Garlic

-

minced

2

teaspoon

Kosher Salt

1

teaspoon

Fresh Ground Pepper
Instructions
Add the olive oil and garlic to a pot on medium heat.

Stir with a rubber spatula and cook until it smells uterly delicous.

Add the rice and mix. Coating all the rice in the delicous garlic flavored oil.

Add the chicken stock, salt, and pepper.

Bring to a simmer, put the lid on, and turn down the heat to low.

Cook until all the liquid is absorbed which is around 20 minutes. This will really depend on the type of rice you used.

To check if it's done, use a large fork to push the rice off the side of the pot and see if there is any remaining liquid at the bottom of the pan. DO NOT STIR.

When done, turn off the heat and add any additional flavorings if desired (lemon, lime, cilantro, parsley, etc).

Using a meat fork or large serving fork gently fluff the rice to incorporate.
Nutrition
Calories:
482
kcal
Carbohydrates:
85
g
Protein:
14
g
Fat:
9
g
Saturated Fat:
2
g
Polyunsaturated Fat:
2
g
Monounsaturated Fat:
5
g
Cholesterol:
7
mg
Sodium:
1510
mg
Potassium:
528
mg
Fiber:
3
g
Sugar:
4
g
Vitamin A:
7
IU
Vitamin C:
1
mg
Calcium:
45
mg
Iron:
2
mg
Handy Tools
Want to take your cooking game to the next level? Here's a list of some of the tools I use every time I make this recipe that help make this a breeze!