I didn't even realize I loved Mediterranean-style food until recently. I'm a relatively picky eater and have a lot of foods in the dislike category. Once I got more comfortable with the ideas of how the flavors worked together... boom. Done.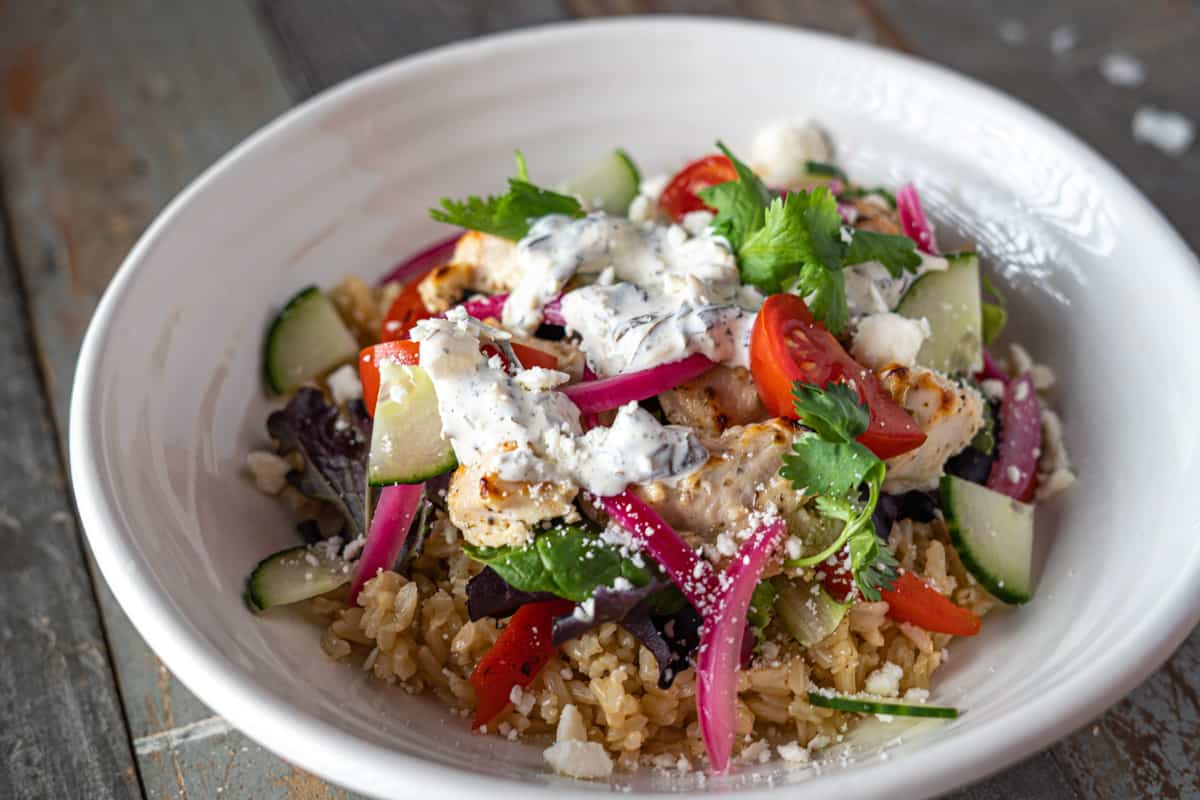 Hooked for life. This Mediterranean Rice Bowl is the love child that was made out of my new relationship with this amazing style of food. 
Jump to:
🛒 Ingredients
Olive Oil
Basmati Rice
Chicken Stock
Garlic
Lemon Juice - or fresh lemon to finish
Fresh Cilantro - chopped
Fresh Baby Spinach - or salad blend
Chicken Topping
Chicken Breast - cubed
Plain Greek Yogurt
Honey
Oregano - dried
Fresh Ground Pepper
Toppings & Garnish

Tzatziki
Kalamata Olives
Feta
📖 Instructions
This recipe has two main things you actually need to make by hand. The rice base and the greek yogurt chicken...
🍚 The Rice Base
I am using garlic, lemon, and basmati rice for this recipe. Using chicken or vegetable stock instead of water, plus finishing it with fresh chopped cilantro. We made this rice as full of flavor as we could. All without overpowering the rest of the bowl. 
You can also use brown rice if you'd prefer. Brown rice generally takes longer to cook than basmati, so just keep that in mind if you make the swap.
🥣 The Marinade
Start by cutting up either chicken breast or boneless chicken thighs into bite-size pieces. We'll be using plain yogurt as the base for our marinade. It adds a clean creamy base but also helps tenderize the chicken the longer it sits. Adding lemon, oregano, garlic, and honey round out this marinade, and goodness me I can't tell you how good it is. You'll just have to try it.
I know it's hard to think about dinner the day before. While you could absolutely use the chicken as soon as it's been all mixed together, I would suggest making it the night or day before. You don't have to... but it will taste better.
🔥 Cooking Your Chicken
The easiest way to make this chicken is to throw it on a foil or parchment-lined sheet tray and throw it in the oven at 400 for about 10-15 minutes. This all depends on the size of your chicken, but it shouldn't take much more time than that.
The goal is to have a good browning to your pieces. If your chicken is done, but it hasn't turned golden brown yet, turn the broiler on don't walk away! It will just take about 1 minute to get to the color you'll want. Browning = flavor so make sure you get some!
You can also move your chicken over to a skewer and grill them. It will get you the browning you are looking for, plus that fire or charcoal-kissed flavor you get when grilling. Make this recipe work for you!
The Toppings Choices for our Bowl
While you can get lost in making all the topping yourself, I need you to know I buy 90% of mine pre-made. I might be a Chef, but I also have a full-time job and two kids. With that said, here is a list of what I buy vs what I make from scratch.
🥗 Toppings
Tzaziki: A yogurt & cucumber-based thick dip. Rich, creamy, and zesty, all at the same time.
Feta: Cubes or crumbles.
Harissa: A spicy pepper paste that is perfect for adding heat!
Olives: Kalamata or whatever your personal preference is.  
Pickled Red Onions: It takes 5 minutes to make, and they stay in my fridge for a month.
Pickled Jalapenos: Same as the red onions. It takes 5 minutes to make, and they stay in my fridge for a month.
Cucumber & Tomato Salad: Exactly what it sounds like, but I also add in some feta & olive oil to hold it all together.
👩🏼‍🍳 Chef Tip
#1 I like to double the rice and save half (without adding lemon) and use it later in the week for tacos, burritos, or fried rice.
#2 Harissa is a deliciously spicy addition to Mediterranean dishes. If you've never tried it I highly recommend it!
🍽 Putting Your Bowl Together
Start by adding your rice & baby spinach to a nice wide bowl if you have one. The wider the bowl, the more room for toppings! Next up is your chicken. Add a nice even layer in the center of your bowl. Now, add your toppings to your heart's content.
Nobody's bowl will look the same. Everyone has preferences which is why I love this recipe so much. My kids, my husband, and I all make our own versions of what we want for dinner. I hope you create and enjoy the most delicious Mediterranean rice bowl for dinner tonight. You deserve it! Want to spice it up? Sub out the Herb Yogurt chicken for this spicy Harissa variation! 
📖 Recipe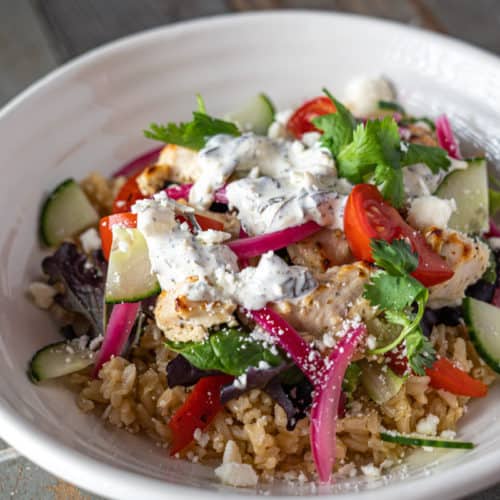 Mediterranean Rice Bowl
The perfect combination of flavors all come together to create something delicious. Yogurt honey chicken, brown rice, and baby spinach loaded with all your favorite toppings.
Ingredients
Bowl Base
2

tablespoon

Olive Oil

1

cup

Basmati Rice

2

cups

Chicken Stock

2

cloves

Garlic

Fresh Ground Pepper

1

teaspoon

Lemon Juice

-

or fresh lemon to finish

1

tablespoon

Fresh Cilantro

-

chopped

Fresh Baby Spinach

-

or salad blend
Chicken Topping
2

Chicken Breast

-

cubed

½

cup

Plain Greek Yogurt

1

tablespoon

Garlic

-

minced

1

tablespoon

Olive Oil

2

teaspoon

Honey

1

teaspoon

Oregano

-

dried

1

teaspoon

Kosher Salt

1

teaspoon

Fresh Ground Pepper
Optional Toppings
Tzatziki

Kalamata Olives

Feta

Avocado

Fresh Cilantro
Instructions
Cooking Your Rice
In a small saucepan, add your olive oil & garlic to medium heat. Sautee for 1-2 minutes or until you can really smell the garlic.

Add the rice and mix thoroughly covering each piece of rice in your garlic & olive oil.

Next, add your chicken stock, kosher salt, and fresh ground pepper and bring to a low boil.

Reduce your heat to a simmer & cover for about 20 minutes or until all the liquid is absorbed.

Add your lemon juice over top, but try not to mix as your rice will get sticky. Fluff with a fork instead.
Oregano & Honey Chicken
Preheat your oven to 400 degrees.

Cube your chicken breast into small bite sized pieces.

In a separate bowl, add all the yogurt, honey, olive oil, garlic, oregano, salt & pepper. Mix until combined.

Add your cubed chicken to your yogurt mixture. You can use this right away, or refrigerate it over night.

Line a sheet tray with parchment or foil and evenly spread out your chicken breast. Trying to give each piece plenty of space.

Bake for 10-15 or until the chicken is cooked all the way through.

For extra color & browning, I recommend just a minute or two under the broiler. Don't step away at this point as you can quickly burn your chicken.
Assembling Your Bowl
Using a mixture of your rice & baby spinach, start building your base layer.

Next, add your chicken followed by any and all of the topping ingredients that make you happy.

My personal favorites are pictured above and include tzatziki, pickled red onions, feta, fresh cilantro, avocado & harissa for an extra kick of spiciness.
Nutrition
Calories:
412
kcal
Carbohydrates:
48
g
Protein:
34
g
Fat:
8
g
Saturated Fat:
2
g
Polyunsaturated Fat:
1
g
Monounsaturated Fat:
4
g
Trans Fat:
0.02
g
Cholesterol:
77
mg
Sodium:
920
mg
Potassium:
829
mg
Fiber:
2
g
Sugar:
6
g
Vitamin A:
2863
IU
Vitamin C:
11
mg
Calcium:
97
mg
Iron:
2
mg