Game day and delicious finger foods go hand-in-hand. And what could be a better appetizer than Smoked Jalapeño Poppers? They're a classic appetizer with a smoky twist that's sure to impress everyone.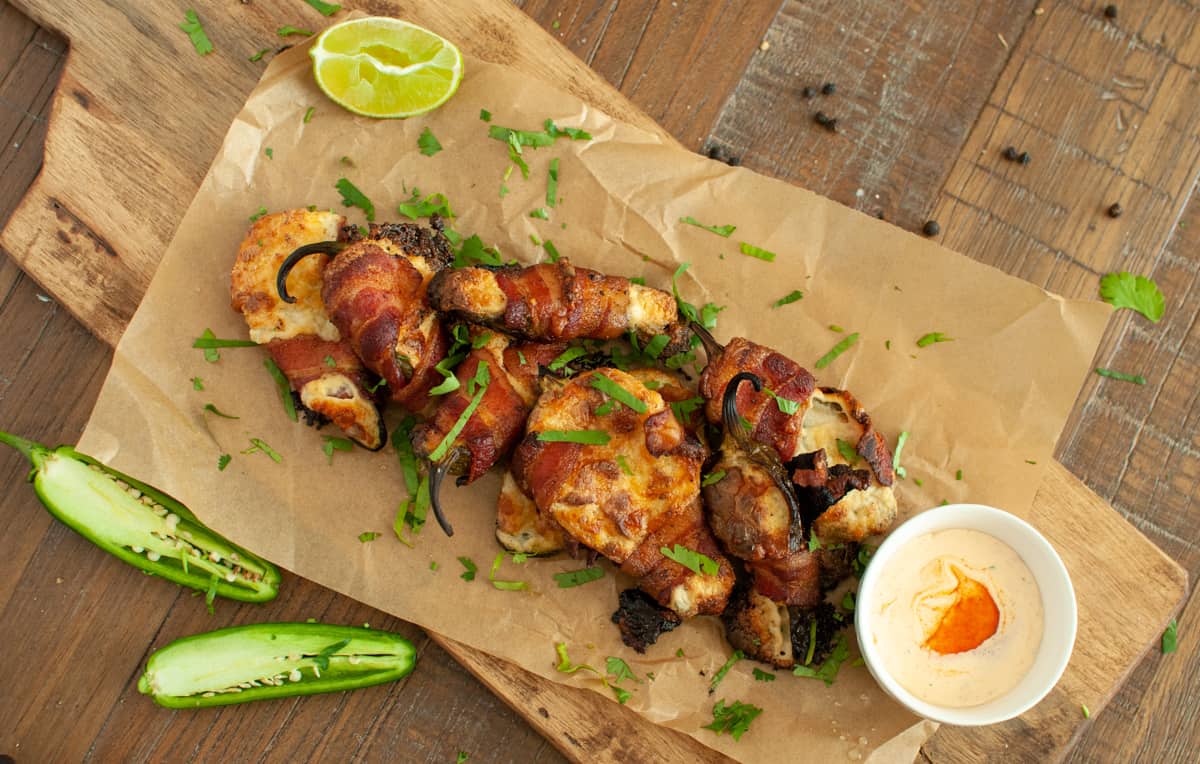 We decided to cook them on our camp chef smoker instead of just baking them in the oven, and oh my goodness we were glad we did. This crispy, smokey, bacon-wrapped, smoked jalapeno popper recipe is cream cheese-stuffed, spicy goodness and I'm here for it!
Jump to:
Ingredients
Jalapeño peppers, halved lengthwise and seeded
Full-fat cream cheese softened to room temperature
Shredded Sharp Cheddar cheese
Shredded Pepper Jack cheese
Garlic powder
Black pepper
Red pepper flakes (optional for extra heat)
Bacon - Thin cut if possible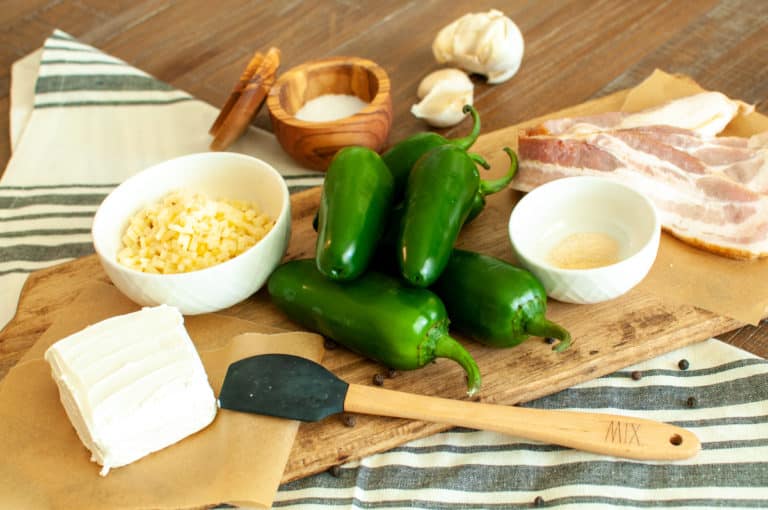 Instructions
Preheat your pellet grill or electric smoker to 350 degrees F.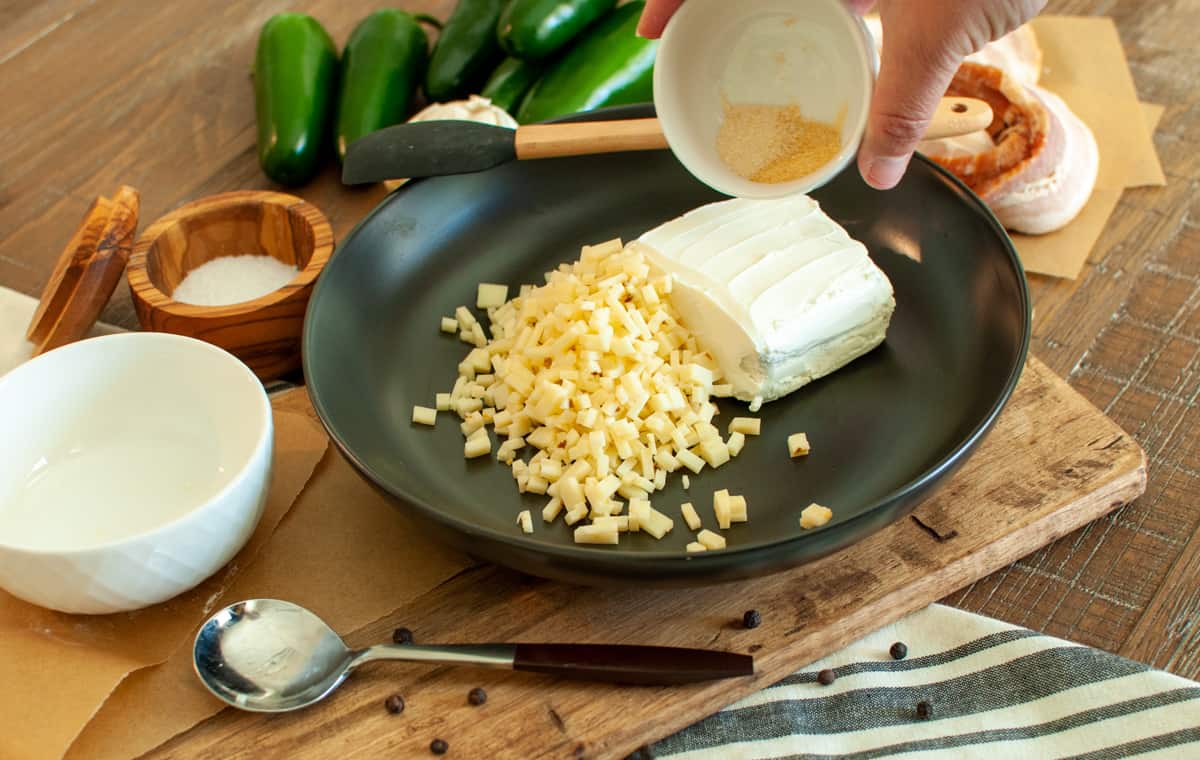 In a medium bowl, combine the cream cheese, shredded cheddar cheese, Monterey Jack, garlic powder, kosher salt, and black pepper.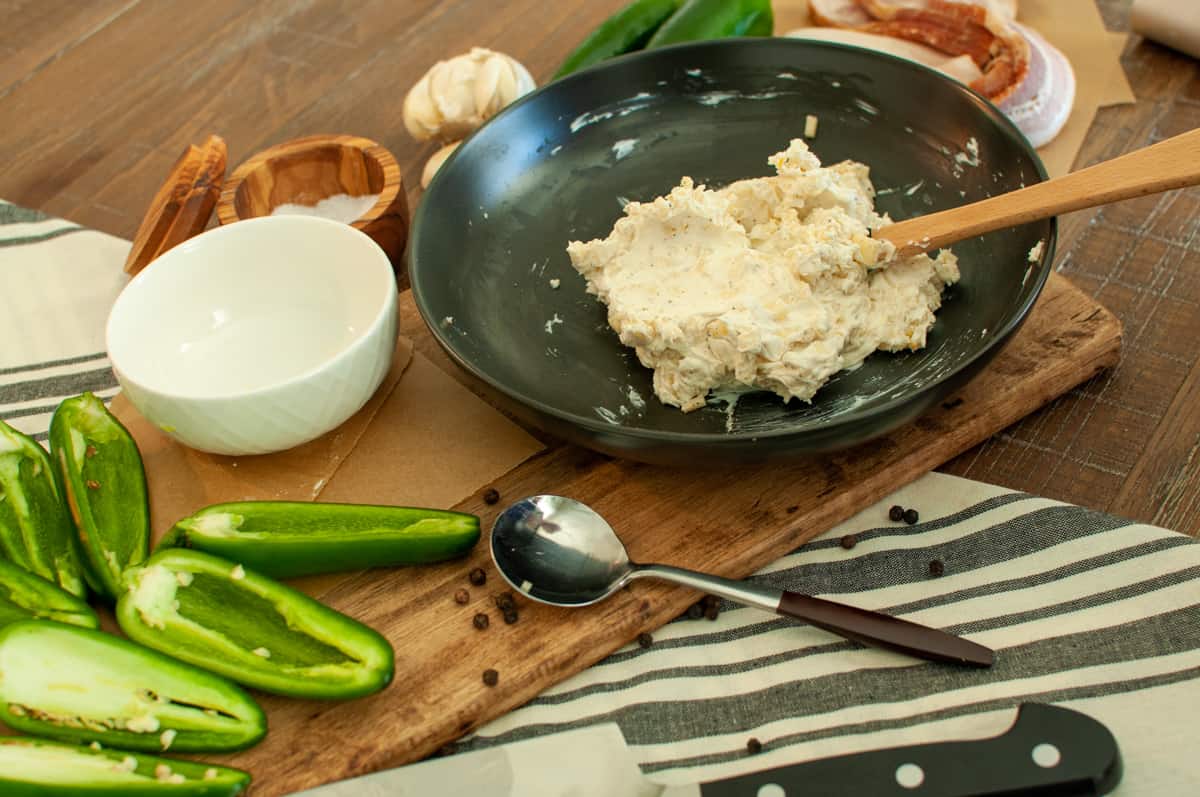 Stuff the cheese mixture into the jalapeño halves using a small spoon or by hand. Ensure each jalapeño half is filled with the delicious cream cheese mixture.
Wrap each jalapeño half with a strip of bacon, ensuring the cheese filling is fully covered, and the ends of the bacon are tucked under the jalapeno if possible.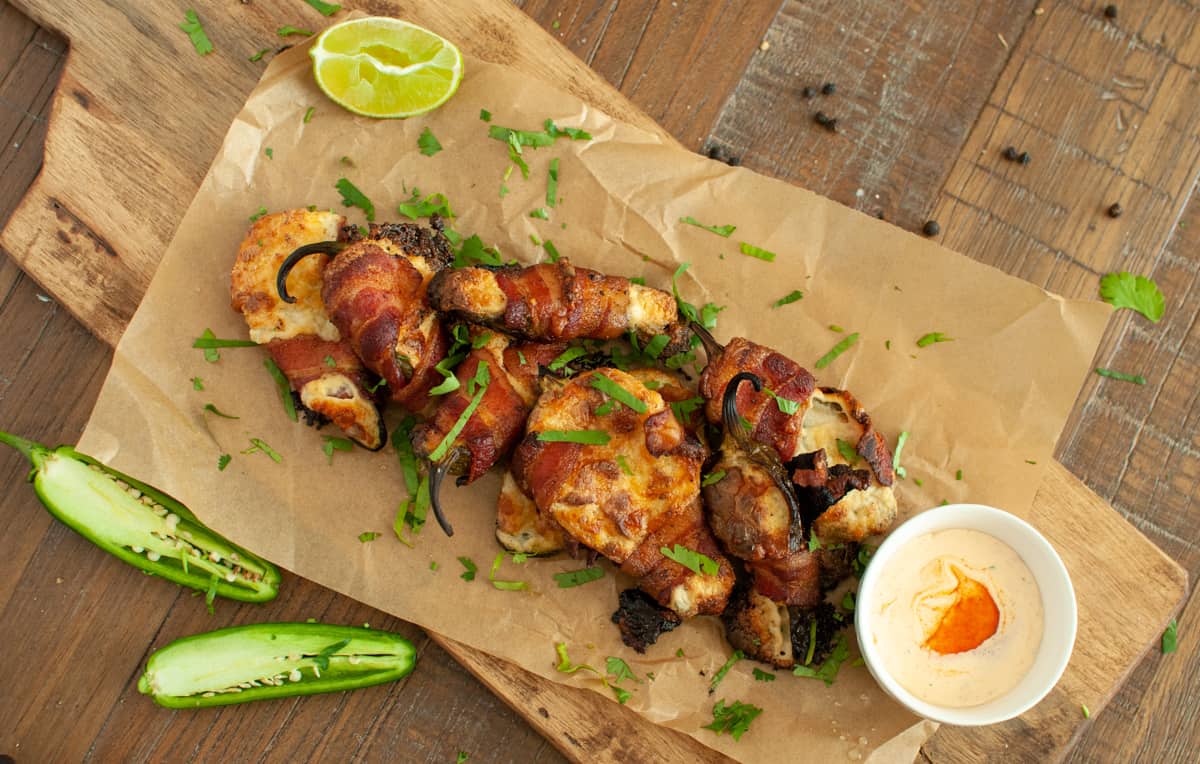 Place your wrapped jalapeños on a baking sheet or disposable aluminum pan in a single layer.
Put the tray on the preheated smoker and let the jalapeño poppers smoke for about 20-30 minutes, or until the bacon is crispy and the cheese is melty.
Jalapeno Safety
Wear gloves if possible when handling jalapeños, particularly when cutting and deseeding them. Capsaicin, the compound that gives peppers their heat, can really irritate the skin and cause an intense burning sensation.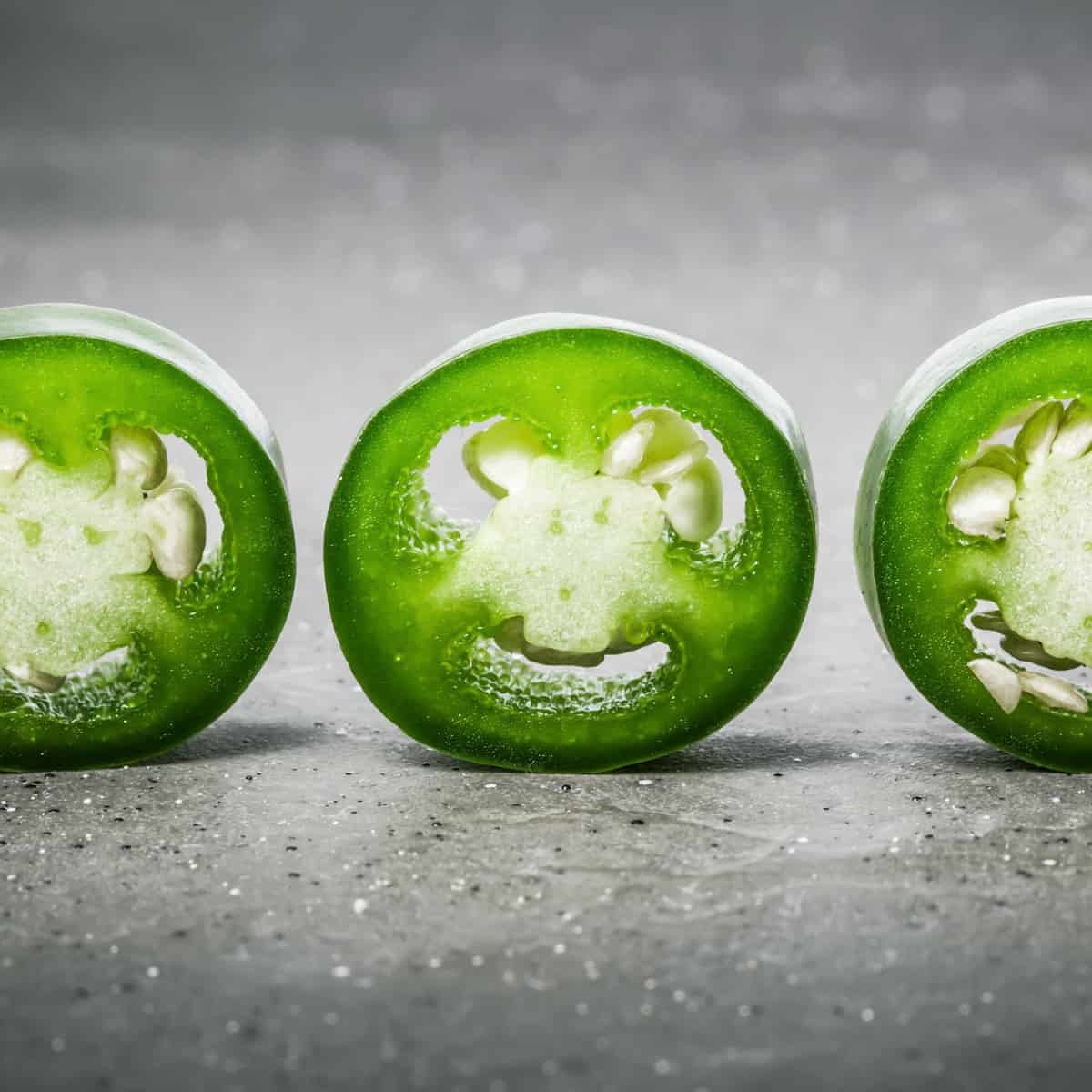 This effect can last for hours, well after you've forgotten about handling the spicy pepper, and is intensified if the skin is warm or damp. Avoid touching your eyes, nose, or mouth while handling jalapeños.
We have a box of latex gloves in our BBQ drawer that we use anytime we handle jalapenos. We've learned our lesson! 
Stretching Bacon
Stretching your bacon strips with a knife is a useful technique that helps when you have thicker slices of bacon. It helps make the bacon thinner. Resulting in a crispier, more even bacon layer around your jalapeno.  Here's how you can do it...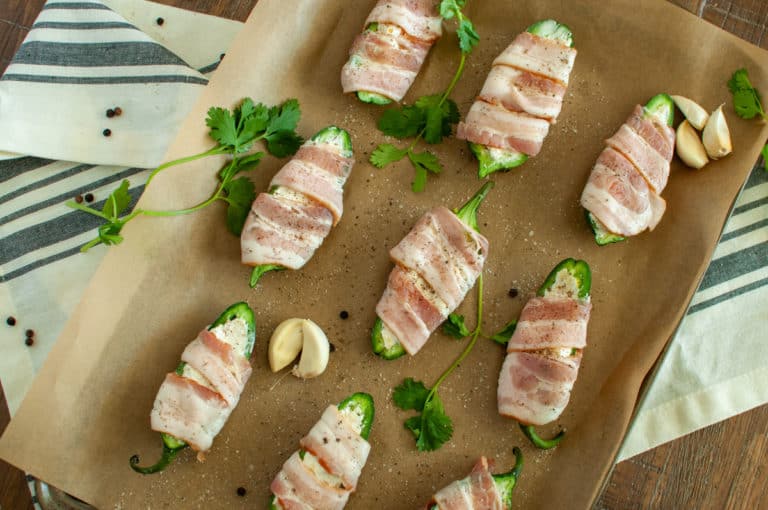 Place your bacon on a flat, clean surface, such as a chopping board.
Hold one end of the bacon slice steady with your hand.
Place the flat side of the knife on top of the bacon slice toward the end you are holding.
Apply gentle downward pressure on the bacon with the knife while simultaneously pulling the knife towards the other end of the bacon slice.
You want to stretch the bacon, not tear it, so be gentle. The bacon should extend under the pressure and the pulling motion, becoming longer and a bit thinner.
You can repeat the process if you require the bacon to be longer. However, be careful not to overstretch the bacon as it can tear or become too thin to handle properly.
I can generally wrap 2 poppers with one slice of bacon utilizing the stretch method. Just don't skimp if you have gigantic jalapeno peppers and I need to use a whole slice. Something to keep in mind before cutting all your bacon slices in half and you're struggling to finish wrapping up the last few.
Substitutions
You can easily adjust this smoked jalapeño poppers recipe according to your preferences. Try swapping the pepper jack cheese for cheddar, Mexican shredded cheese, or another type of cheese that you enjoy. You can also add a dollop of spinach dip or sour cream to the cream cheese mixture for an extra layer of flavor.
If you're vegetarian, skip the bacon and use a breadcrumb topping instead...
Jalapeño Popper Variations
Don't hesitate to add your personal touch to these jalapeño poppers. With their creamy, smoky base, they are a blank canvas for culinary creativity. Here are three exciting variations you can try:
Less Spicy Option
If you find regular jalapeños too spicy, substitute them with mini bell peppers. These small peppers have a sweet and mild flavor that beautifully complements the smoky cheese filling. You can also use Anaheim peppers, which offer a slight kick without overpowering heat. And remember, removing all seeds and membranes from the jalapeños will also significantly reduce the spiciness.
Sweeter Option
Adding a hint of sweetness to jalapeño poppers creates a delightful balance with the smoky, spicy, and savory elements. Try mixing in some pineapple or mango chunks to the cream cheese mixture, adding a tropical twist to your poppers. Alternatively, a drizzle of honey or maple syrup over the bacon-wrapped peppers just before they're done smoking can create a delicious sweet and salty combination.
Gourmet Option
For a more upscale take on the classic jalapeño popper, consider adding some gourmet ingredients to your cream cheese mixture. Crab meat, for instance, adds a rich and luxurious element that pairs beautifully with smoky peppers. Or try mixing in some blue cheese for a robust flavor profile.
You could also finely chop some sun-dried tomatoes and mix them into the filling for a pop of intense, tangy flavor. The gourmet possibilities are endless, allowing you to elevate the humble jalapeño popper to a whole new level of delicious sophistication.
Smokers & Pellets
We have had many smokers throughout the years. We started with a standard Webber tub smoker, moved to a Traeger pellet smoker, and we currently have a Camp Chef. I personally hated the idea of the Webber and never used it because it took too much work to get going, but the Trager and Camp Chef are both pellet smokers. Game. Changer.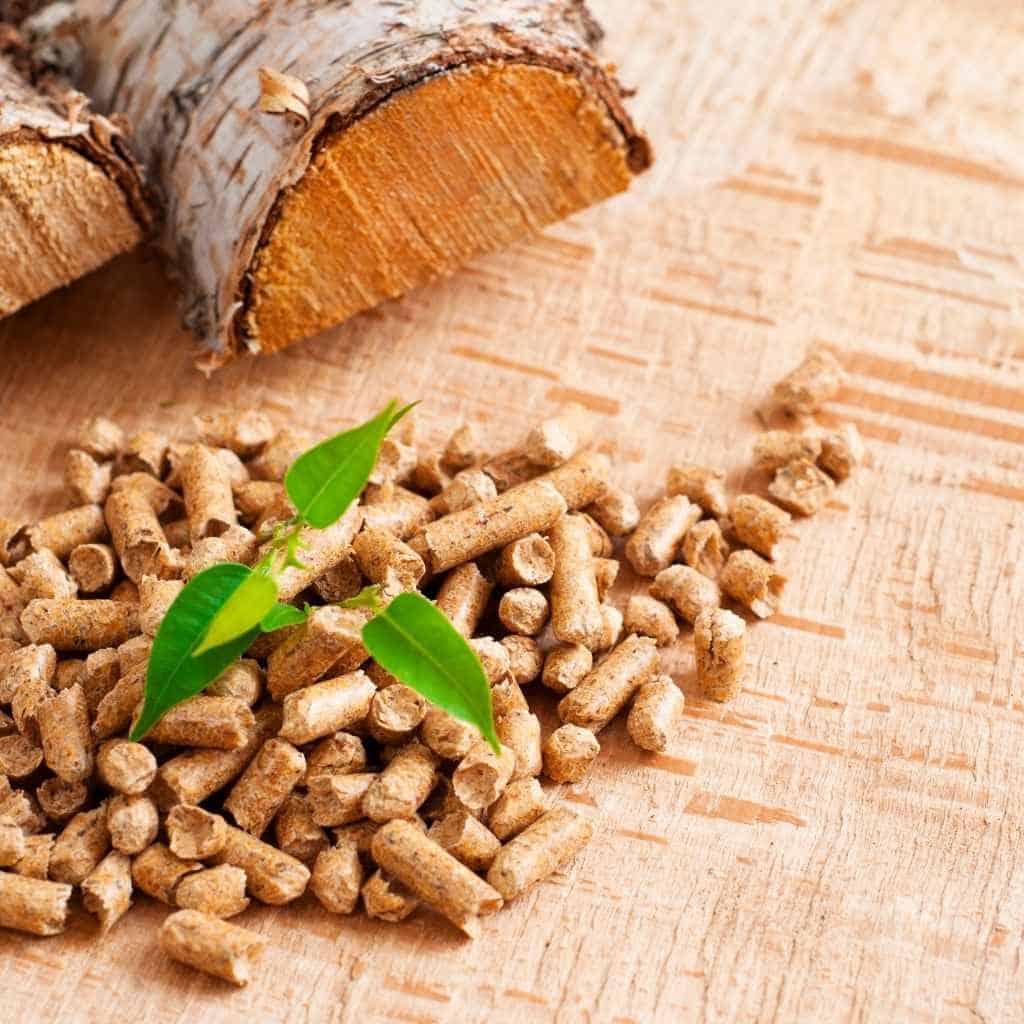 From the perspective of a busy mom who needs to get dinner done, and is generally in a hurry, the pellet smokers have turned into a second oven. You can pre-heat them, pick a temperature, and boom. The heat is created from burning the pellets, you could technically bake anything in there.
We typically use hickory pellets for our everyday cooking, including these smoked jalapeno poppers.
Serving
Adding to the delicious & spiciness levels, I highly recommend trying this sriracha aioli. It was creamy, garlicky, and spicy and went perfectly with the smoked jalapenos. Not necessary, but seriously upped the game.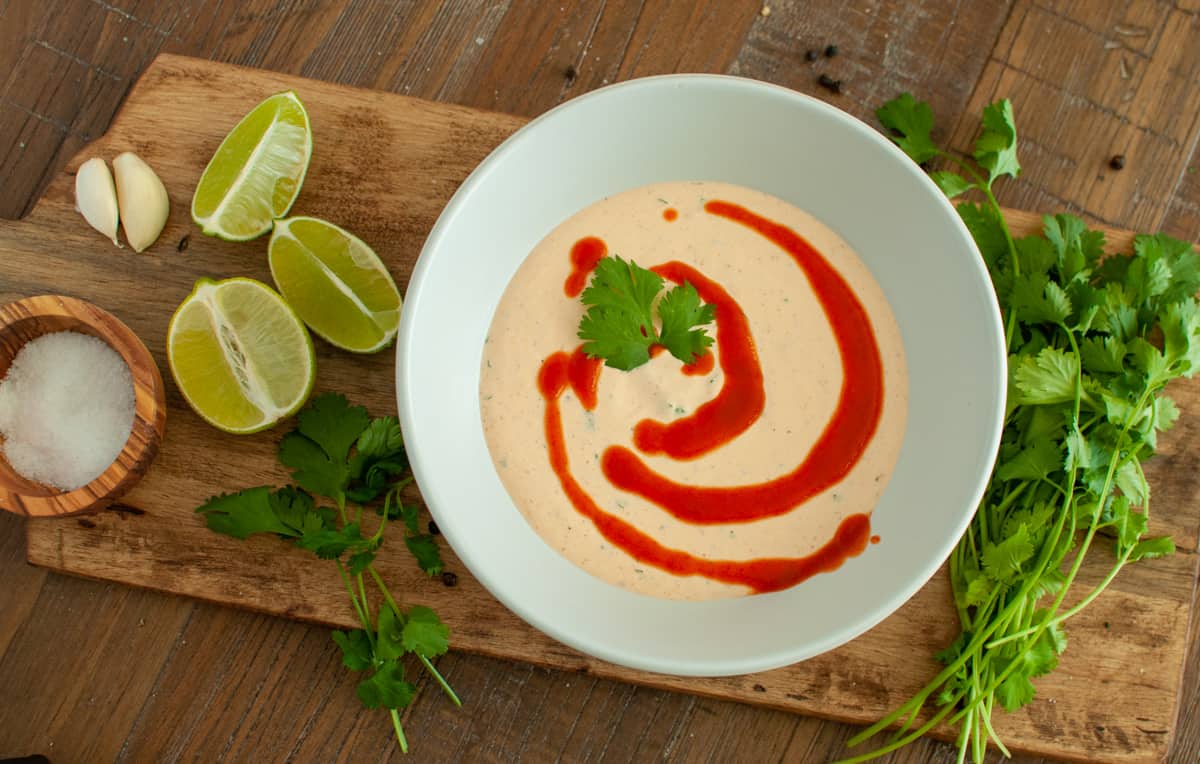 Leftovers and Storage
Leftover poppers can be stored in an airtight container or freezer bag of choice and refrigerated. They can be reheated in an air fryer or oven for a delicious next-day treat.
📖 Recipe
Smoked Jalapeno Poppers
Bacon Wrapped Jalapeno Poppers
Ingredients
6

Jalapenos

6-12

Strips

Bacon

8

oz

Cream Cheese

¼

cup

Mexican Cheese Blend

½

teaspoon

Garlic Powder

½

teaspoon

Salt

¼

teaspoon

Fresh Ground Pepper
Instructions
Mix the cream cheese, pepper jack cheese, garlic, salt, and pepper all together in a bowl until combined. This is significantly easier if the cream cheese is slightly warm. Set aside.

Cut just the very stem end off the jalapeno. The goal is to remove the stem, but not cut off the whole end so our cream cheese mix won't pour out.

Cut each pepper down the middle longways (stem to tip).

With a small spoon scoop out all the seeds & ribs (the white pieces inside). If playing Jalapeno Popper Roulet... this is your moment. Don't let me down.

Next, we will take our 6 slices of bacon and cut them in ½ so we have enough for each of our peppers. If you are an extra bacon-lover feel free to use a whole slice, it just may need a few extra minutes in the oven.

Get a sheet tray and line it with foil. The bacon will let off a lot of grease so choose a sheet tray that has some depth to it. NOT a cookie sheet.

Assembling is a little messy no matter how you swing it. I found the absolute fastest way is to just use your hands. Grab some cream cheese mix and just start filling those bad boys up. Note: You may not need all the cream cheese filling.

Wrap each pepper in bacon trying your best to keep the ends of the bacon on the bottom of the pepper. It helps the bacon not come all unraveled.

Smoke at 250 for 1-2 hrs to get a solid base smoke flavor.
Notes
Jalapenos contain natural oils on/in their seeds, ribs, and flesh. This oil can absorb into your skin, and even after washing can cause burns to your eyes or other sensitive areas. Be careful or use gloves.
Jalapenos can vary in their intensity of spiciness as well. I've made this recipe multiple times and sometimes they are barely spicy at all, while others will have you running for a glass of milk.
If you accidentally cut your bacon too short, give it a pull/stretch. It's mostly fat and sliced thin so it has a surprising amount of stretch to it. 
I highly recommend playing Jalapeno Popper Roulette. Read the post above for rules of engagement.  
If you end up having cream cheese mixture left over, this would be really yummy stuffed in a chicken breast, mushroom caps, or baked in a ramakin for some dip. 
Nutrition
Serving:
2
g
Calories:
364
kcal
Carbohydrates:
4
g
Protein:
9
g
Fat:
35
g
Saturated Fat:
17
g
Polyunsaturated Fat:
3
g
Monounsaturated Fat:
11
g
Trans Fat:
1
g
Cholesterol:
91
mg
Sodium:
741
mg
Potassium:
206
mg
Fiber:
1
g
Sugar:
3
g
Vitamin A:
1046
IU
Vitamin C:
25
mg
Calcium:
106
mg
Iron:
1
mg