If you love spice and creaminess, you will adore sriracha aioli. This sauce is a perfect condiment for so many dishes, from sushi rolls to fish tacos, and even potato salad. We'll share a homemade sriracha aioli recipe that is simple to make and bursting with flavor, plus what to serve it with!
Jump to:
🛒 Ingredients
With just a few simple ingredients, you can whip up a big batch of this creamy sauce that will take your favorite foods to the next level.
Mayonnaise
Traditional, full-fat mayo serves as the luscious foundation for this aioli. It's what gives the sauce its rich, velvety texture. Opt for a high-quality brand to elevate the overall taste.
Mexican Crema
This is like a thin sour cream but with a little extra flair. Mexican crema brings a tangy flavor to the aioli, making it smoother, brighter, and more complex. It's a nod to your love for Mexican flavors!
The star of the show! Sriracha adds that kick of heat and a touch of sweetness. Adjust the amount to your heat tolerance; a little goes a long way, but a lot makes it a firecracker!
Lime Juice
Freshly squeezed lime juice brightens up the aioli, cutting through the richness of the mayo and crema. It's like a splash of sunshine in every bite.
Fresh Cilantro
Chopped fresh cilantro adds a burst of green and a hint of earthiness. It's a divisive herb, but in this aioli, it's the tie that binds all the flavors together. If you're on Team Cilantro, this is non-negotiable!
A pinch of kosher salt wakes up all the other ingredients. It's coarser than table salt, allowing for better control when seasoning. Freshly ground black pepper adds a layer of mild heat and complexity. It's like the finishing touch, the last stroke on a masterpiece.
Substitutions & Variatios
Mexican Crema: If you can't find Mexican Crema, use sour cream with a tablespoon of water in it to thin it out. It's really what helps this aioli dip and drizzle.
Sriracha: There are lots of pepper sauces on the market and with the Sriracha shortage we've had to improvise. Any neutral pepper sauce will do, but we've made a similar version with Truff Hot Sauce & Franks Red Hot.
Roasted Garlic: Adding roasted garlic is an extra step, but it adds another deep layer of flavor we love. It's not necessary, but goodness it's delicious.
What is Sriracha?
Sriracha sauce is a type of hot sauce that originates from Thailand. The sauce is made from chili peppers, vinegar, garlic, sugar, and salt. Its sweet and spicy flavor makes it a popular condiment in many dishes worldwide.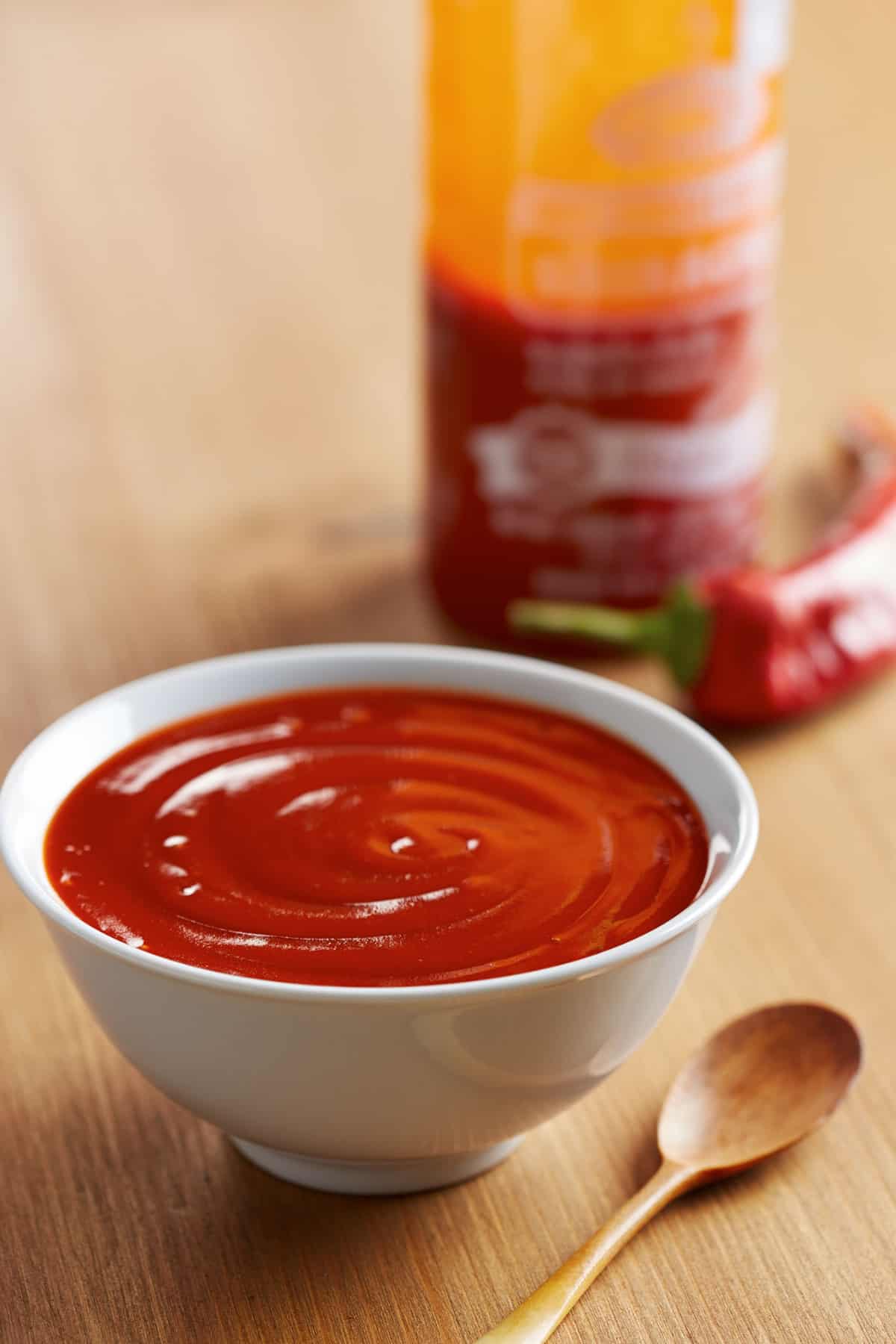 Sriracha sauce is now available in most grocery stores, and the most popular brand is Huy Fong Foods.
Mexican Crema
Where has this ingredient been my whole life... Seriously though. If you've never used it, it's kind of like sour cream & creme fraiche had a baby. We actually have an entire article about how sour cream and Mexican Crema are different if you want to check it out.
Slightly sour with a rich creamy consistency that is thin enough to pour. Excellent for that picture-perfect drizzle on tacos or nachos, or to cut the tongue-coating tendencies of mayo when making an aioli.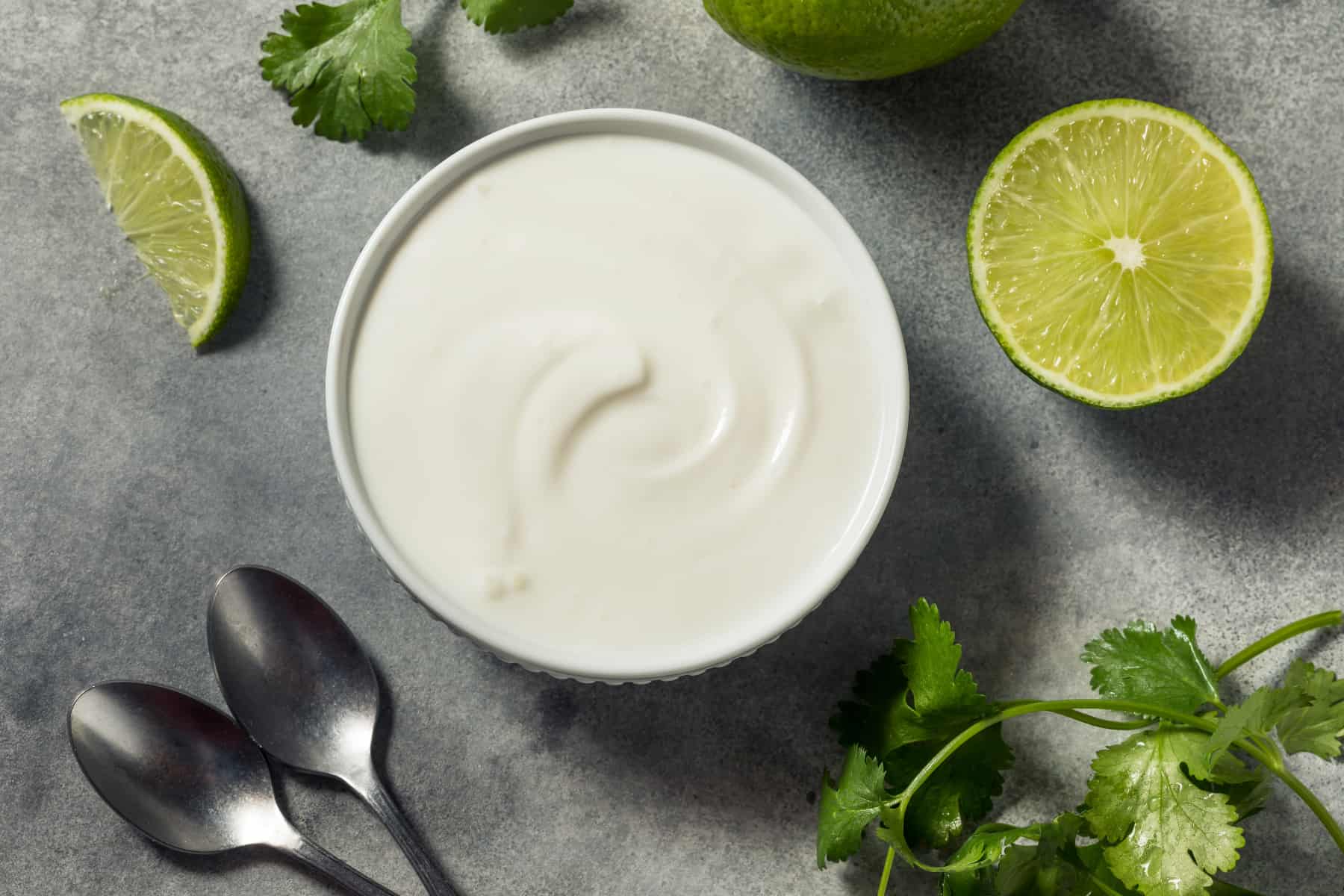 Quick Step-by-Step
To make sriracha aioli, you'll need the main ingredients: mayonnaise, crema, sriracha sauce, garlic, cilantro, and lime juice. You can use store-bought mayo, or you can make your own mayo if you're feeling adventurous.
Prep and Mix: In a medium bowl, mix together ½ cup mayonnaise and ½ cup Mexican crema. Add the chopped cilantro and freshly squeezed lime juice.
Spice to Taste: Start with 2 tablespoons of sriracha and mix well. Taste and adjust the spice level by adding more sriracha if desired.
Season: Add kosher salt and freshly ground pepper to taste, giving it a final stir to combine all the flavors.
If you prefer a healthier version, you can replace the mayonnaise with Greek yogurt or sour cream.
Adjusting Heat Level
For the spice level, you can adjust the ratio of mayo to sriracha to your liking. Typically, two tablespoons of sriracha sauce for every cup of mayo is a good starting point. If you like it spicier, add more sriracha sauce, or mix in other types of hot sauce like Tabasco for added depth of flavor.
To make the sriracha aioli, simply mix all the ingredients together in a small bowl until well combined.
Video
How to Store
To keep your sriracha aioli fresh, store it in an airtight container in the refrigerator. A mason jar, glass pop-top storage container, or small plastic container works well. The sauce will last for about a week, but it's so delicious that it's unlikely to last that long.
Mayo vs Aioli
Are mayo and aioli's the same? In the US the terms are thrown around a bit, and not always called out exactly right.
Mayonnaise and aioli are both creamy sauces that both use oil as the main ingredient. However, the main difference is that traditional aioli is made with garlic and olive oil, while mayonnaise is made with egg yolks, oil, vinegar, lemon juice, and mustard.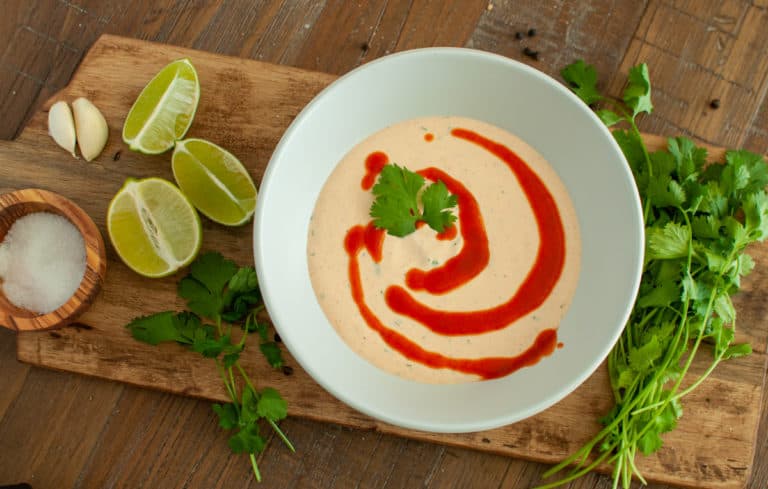 While traditional aioli is made with garlic and olive oil, there are many variations that use different ingredients like lemon juice, herbs, or even avocado. Similarly, mayonnaise can also have variations in flavor and texture, such as light or reduced-fat versions.
Our Sriracha Aioli recipe is the best of both worlds with garlic, herbs, and lime, but also the addition of mayo to make add richness.
Pairs Great With
Sriracha aioli can be used in many different ways. Here are some of our favorite recipes and ways to enjoy this creamy and spicy sauce: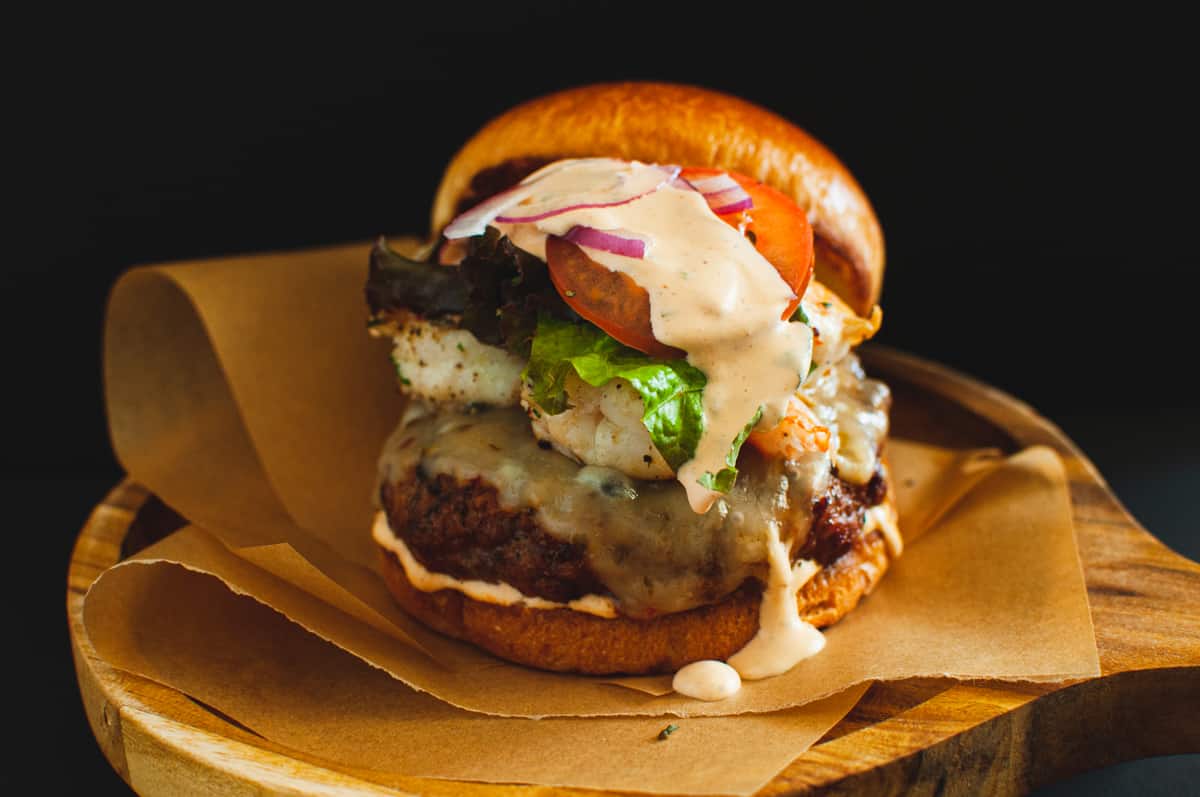 Our absolutely amazing Chorizo Burger recipe
Dip for our smoked jalapeno poppers
Dipping sauce for french fries or sweet potato fries
Topping for sushi rolls, fish tacos, or poke bowls
Dressing for potato salad or coleslaw
Substitute for mayo on sandwiches, hoagies, and subs
Sriracha aioli is a simple yet delicious sauce that adds a spicy kick to your favorite dishes. With its creamy texture and bold flavor, it's the perfect condiment for any occasion.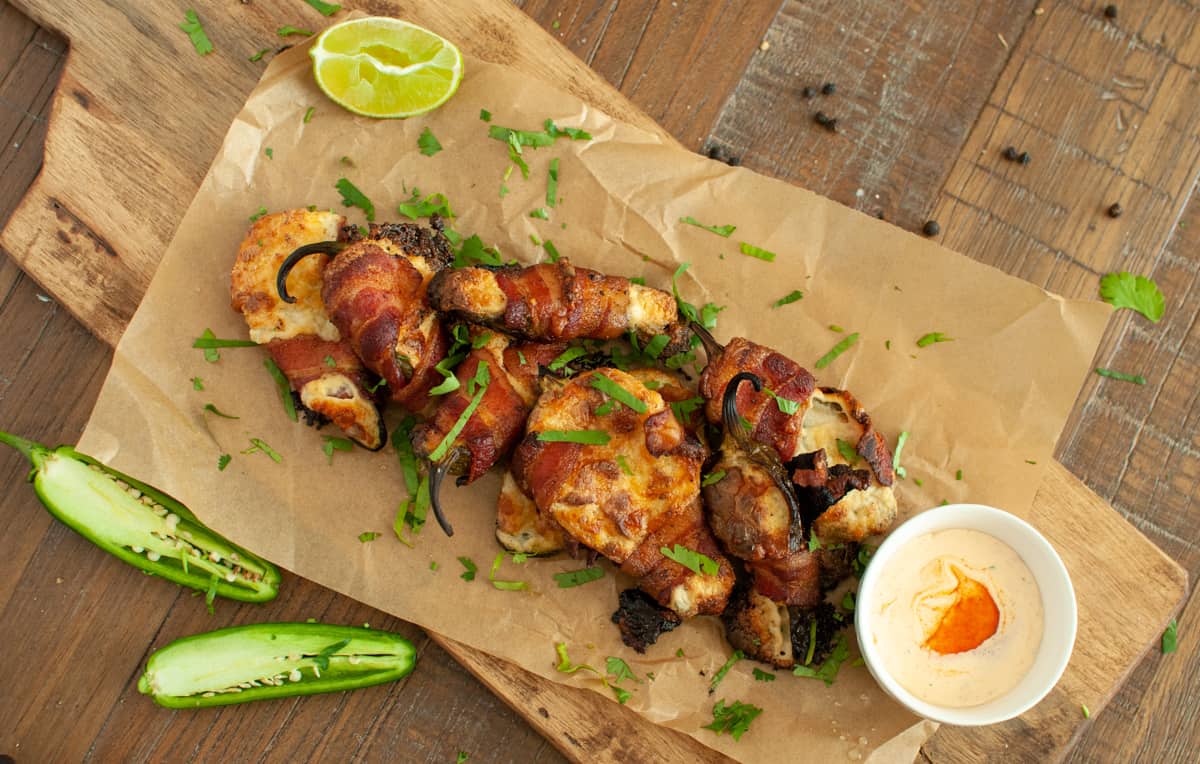 Give this spicy mayo recipe a try the next time you're looking for a quick and easy way to elevate your favorite foods. Don't forget to experiment with different spice levels and extra ingredients to find your perfect sriracha aioli recipe. 
📖 Recipe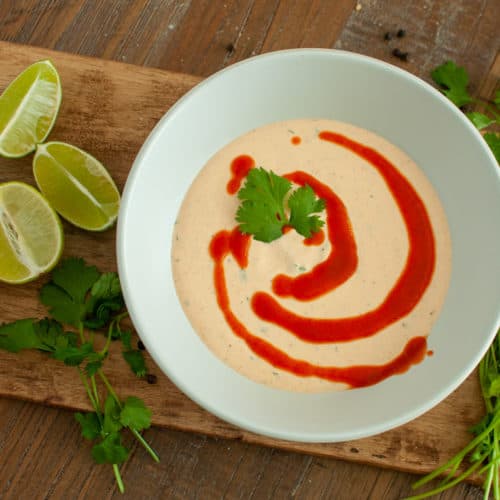 Easy Sriracha Aioli
This creamy spicy sauce is perfect for leveling up your dishes or adding that perfect dip for fries, veggies and more!
Ingredients
½

cup

Mayonaise

½

cup

Mexican Crema

2-4

tablespoon

Sriracha

-

adjust to your preferred heat tolerance

1

teaspoon

Lime Juice

1

tablespoon

Cilantro

-

chopped

tt

Kosher Salt

tt

Fresh Ground Pepper

-
Instructions
Mix together the mayo, Mexican cream, lime, and chopped cilantro.

Add 2 tablespoons to start, and add more until you hit your desired spice tolerance.

Don't forget to season with kosher salt & fresh ground pepper.

Garnish with a drizzle of sriracha and fresh cilantro and enjoy!
Nutrition
Calories:
196
kcal
Carbohydrates:
2
g
Protein:
1
g
Fat:
20
g
Saturated Fat:
3
g
Polyunsaturated Fat:
10
g
Monounsaturated Fat:
4
g
Trans Fat:
0.04
g
Cholesterol:
22
mg
Sodium:
377
mg
Potassium:
16
mg
Fiber:
0.03
g
Sugar:
1
g
Vitamin A:
130
IU
Vitamin C:
4
mg
Calcium:
41
mg
Iron:
0.1
mg