Welcome to your new favorite burger recipe! This isn't just any burger, it's a Chorizo Burger, a perfect blend of Mexican and American cuisine, with a twist of fresh shrimp and spicy sriracha aioli.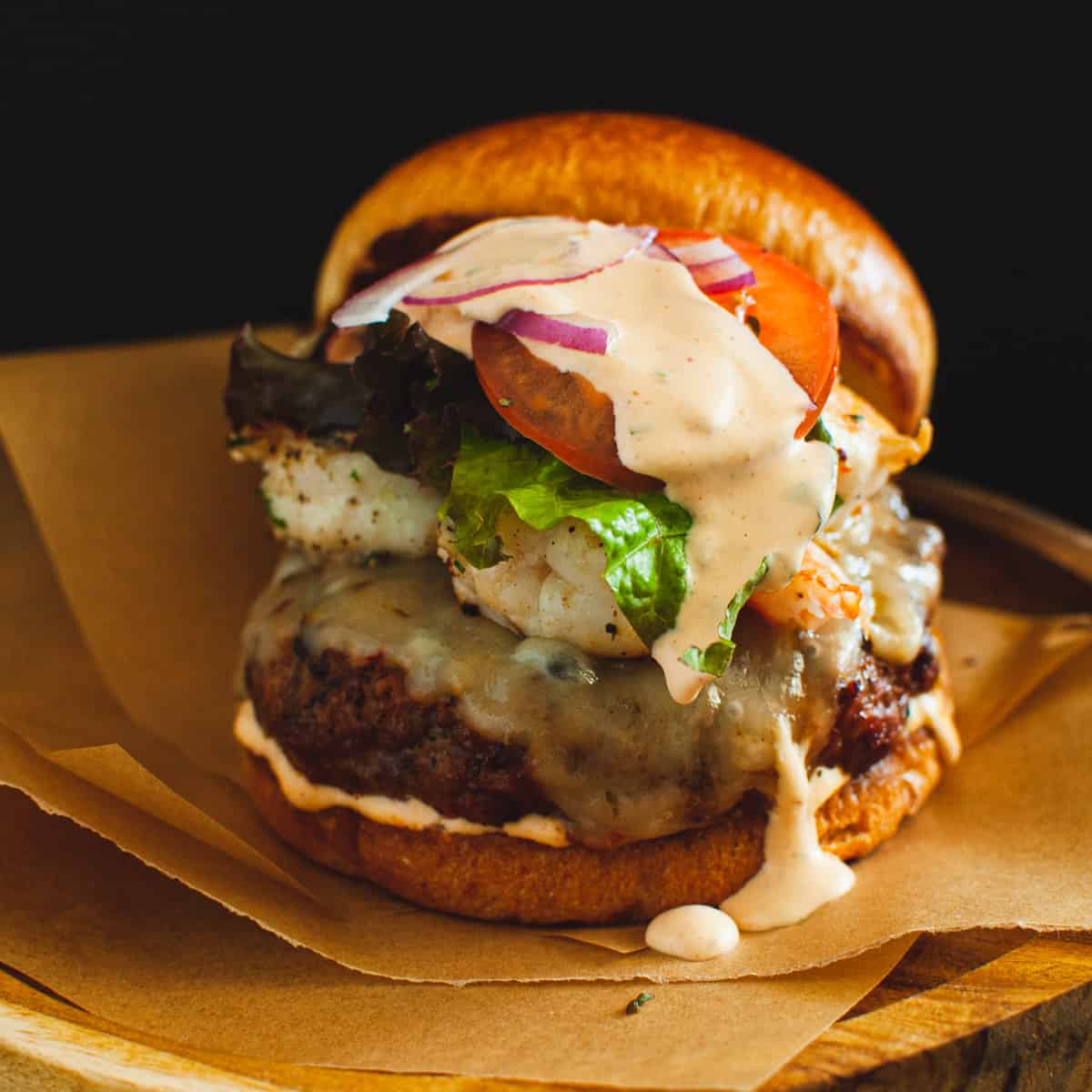 This combination of beef and chorizo patties, nestled in a toasted brioche bun, will send your taste buds on a delightful journey. Let's dive into this exciting new recipe!
Jump to:
Ingredients
Chorizo Burger
Fresh Shrimp - Peeled and Deveined
Fresh Cilantro
Fresh Thyme
Fresh Garlic
Lime Juice
Kosher Salt
Mexican Crema
Mayo
Lime Juice
Fresh Cilantro
Roasted or Fresh Minced Garlic
Sriracha
Toppings
Here are our top suggestions for toppings. We recommend you create a toppings bar and let everyone build their own.
Pepperjack Cheese
Lettuce
Slice Tomatoes
Red Onions
Feel free to go above and beyond with your customizations. Pico de gallo, slices of roasted poblano pepper, sour cream, or thick tomatillo salsa would all be amazing.
Instructions
Here is a quick recap of how this recipe works. You can find a full version of this recipe below as well as a video. Don't forget to save it on Pinterest or print it out and have it on hand while you are in the kitchen.
1. Mix the ground beef and chorizo in a large bowl until well combined. Form into patties and set aside.
2. Marinate the shrimp in a mixture of fresh cilantro and lime juice. Set aside.
3. In a small bowl, combine the Mexican crema, mayo, lime juice, fresh cilantro, and sriracha to make the aioli. Set aside.
4. Grill the chorizo patties on medium-high heat until they reach an internal temperature of 155°F-160°F. Don't forget to add your cheese at the last minute of cooking to ensure it melts perfectly.
5. Grill the shrimp for 2-3 minutes on each side or until no longer translucent in the middle.
6. Toast the brioche buns with a little butter on the grill for 1-2 minutes or until just golden.
Note: The Sriracha Aioli and the Cilantro Lime Shrimp are individual recipes that can also be found in separate blog posts as well if you want to save them for later!
Video
Assembling Your Chorizo Burger
Assembling your chorizo burger is straightforward. Here's the easiest way to do it:
1. Slice the brioche buns in half and toast them lightly on a grill or a cast iron skillet.
2. Spread a generous helping of sriracha aioli on the bottom half.
3. Place the chorizo patty on top.
4. Slice the cilantro lime shrimp in half and layer on top.
5. Add lettuce, a slice of tomato, and red onion.
6. Add another dollop of aioli if you dare!
7. Crown it with the top half of the bun.
And there you have it, a chorizo burger with cilantro lime shrimp and sriracha aioli on a brioche bun that will make you the star of any gathering.
The Chorizo Burger Patty
Creating the chorizo burger patty is probably one of the easiest ways to elevate your burger game. The patty ingredients are simple: a mixture of beef and ground chorizo. Chorizo, a pre-seasoned ground pork mixture, is packed with delicious spices that add a unique flavor to your burger patty.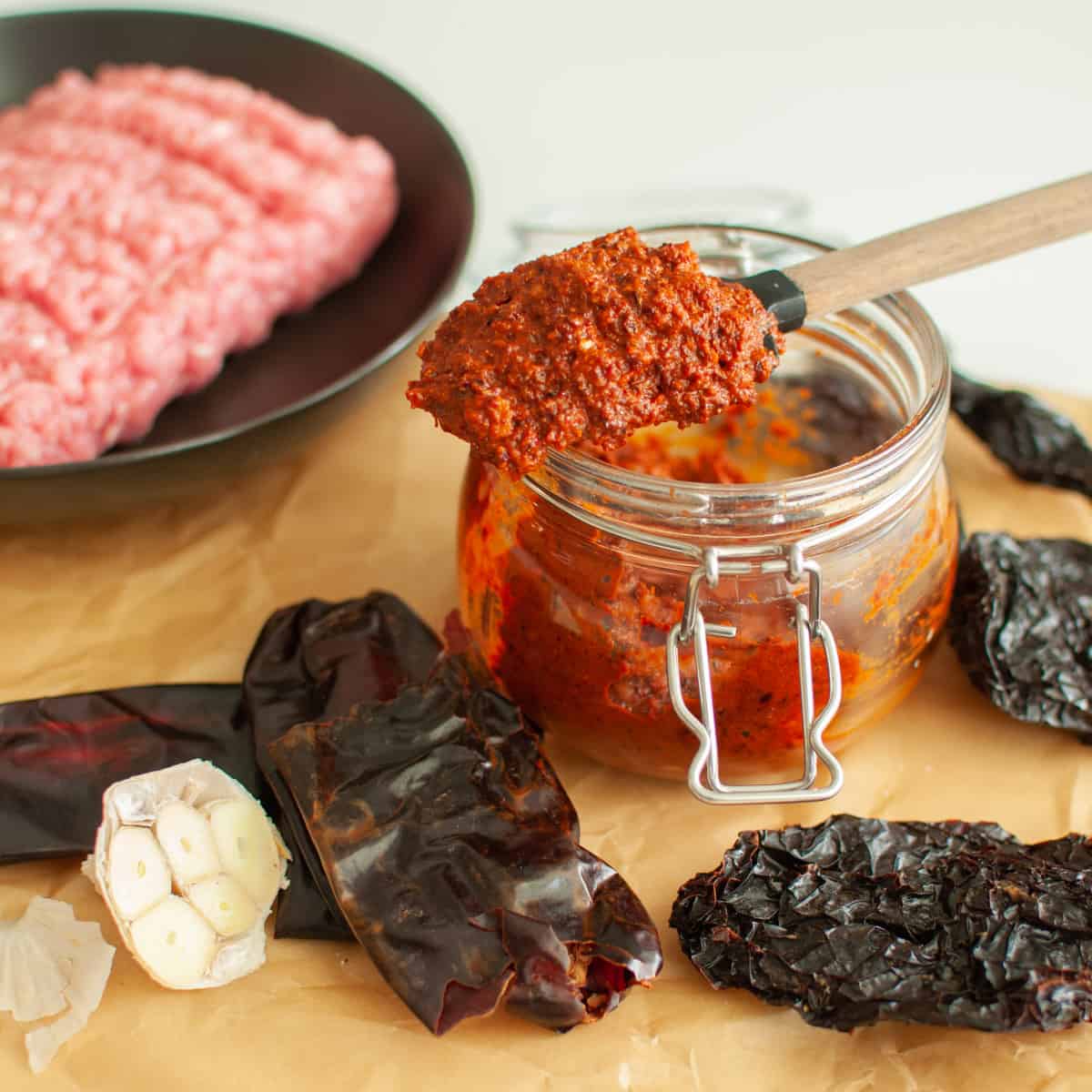 When it comes to chorizo, you have two choices: buy it from grocery stores or make your own. I recommend avoiding brands like Cacique, which come in a tube. If you're having trouble finding chorizo, don't worry! Making your own chorizo is an easy and fun process.
Making and Freezing Chorizo Patties
When it's time to make your chorizo patties, consider making a larger batch and freezing the extras. This is the easiest way to always have a chorizo burger at your fingertips. To do this, simply multiply the ingredients in your chorizo recipe according to the batch size you want.
Shape them into thick patties and place a square of parchment paper between each one before freezing. This prevents them from sticking together and makes it easy to pull out just the number you need. Store them in an airtight container or a freezer-safe bag. When you're ready to grill, thaw the patties at room temperature.
The Shrimp
While the cilantro lime shrimp is optional, I highly recommend it. The fresh ingredients of the shrimp marinate perfectly with the chorizo, and the spicy aioli brings out the flavors. Start by marinating the shrimp before you begin any other step. This ensures they soak up the most flavor possible.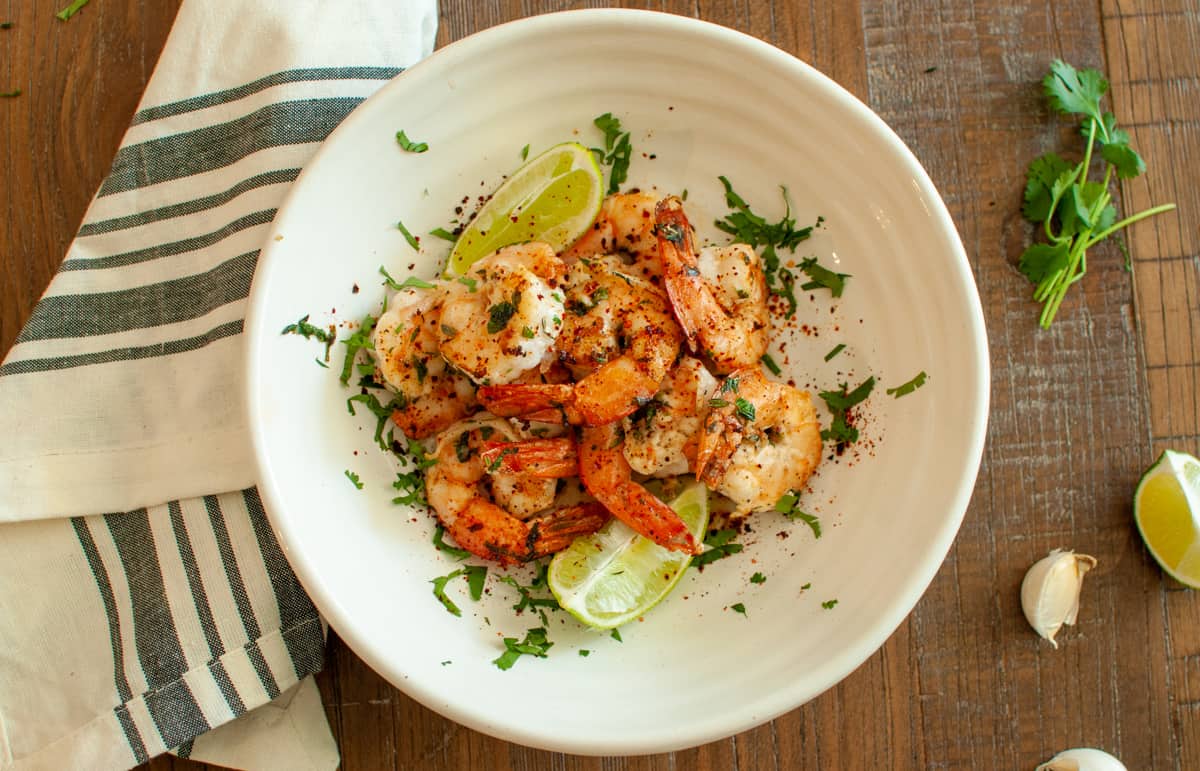 The Brioche Bun
When it comes to the bun, a brioche bun is the best choice for this chorizo burger. Brioche buns are light, tender, and have a beautiful look to them. They offer a different burger experience that I highly recommend. If you can't find brioche buns in your local stores, you can also make them from scratch.
The Sriracha Aioli
This sriracha aioli is a combination of Mexican crema, mayo, lime juice, cilantro, and of course, sriracha. It's a great match for the chorizo and shrimp burger. The creaminess of the aioli balances the spiciness of the chorizo, while the lime juice adds a citrusy element that lightens the dish.
The cilantro enhances the freshness of the shrimp, and the sriracha gives a spicy kick that complements the bold flavors of the chorizo.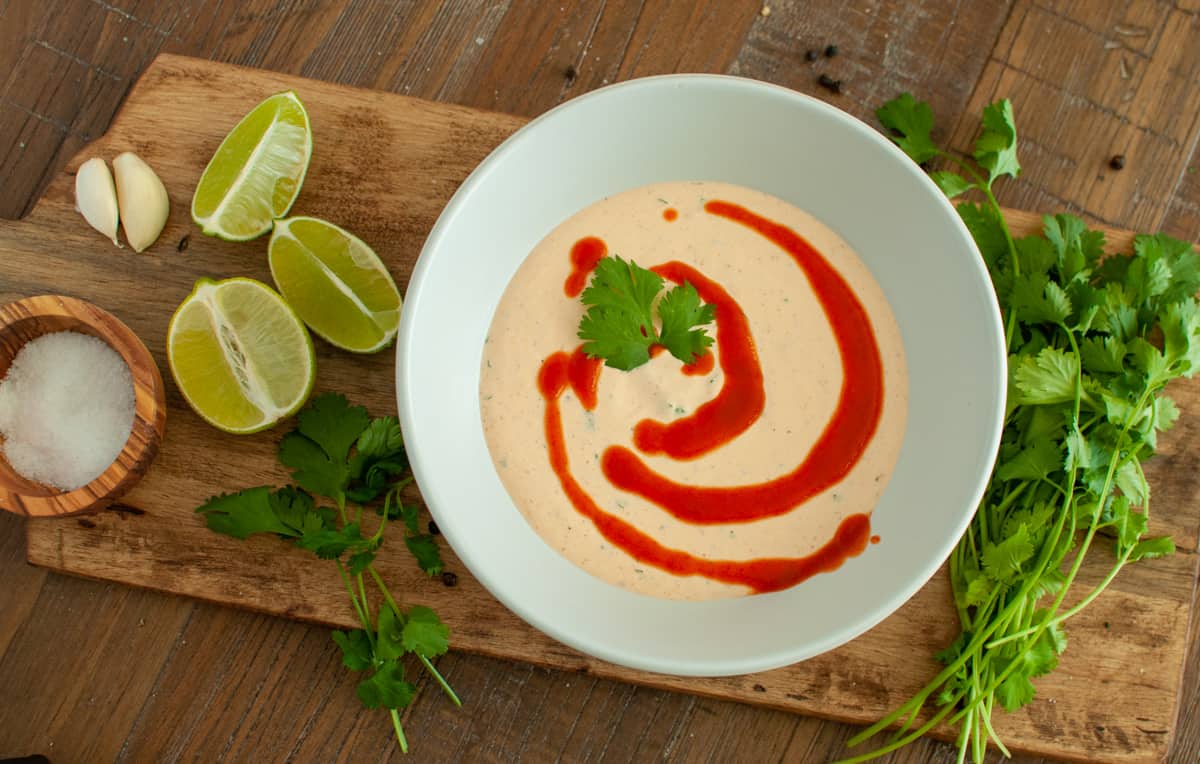 FAQ
What should the internal temperature of the burger be?
Using a meat thermometer, the internal temperature of the burger should reach 160°F to ensure it's fully cooked. This is based on the recommendations of the USDA. I personally prefer mine to be medium well, which would be 150 degrees, but this does present an increased risk for foodborne illness.
What is the best way to cook chorizo burgers?
The best way to cook the chorizo burgers is on a gas or charcoal grill over medium heat. The charcoal will give the burgers a nice extra smoky flavor. However, you can also cook them on a stovetop in a cast-iron skillet if you don't have a grill.
Can I use a food processor to mix the meat mixture?
Yes, you can use a food processor to mix the ground beef and chorizo, but I wouldn't recommend it. You can easily over-process the meat making it too fine and lose its texture. 
What type of cheese works best with this chorizo burger recipe?
Pepper jack cheese is a great choice for these burgers. It melts well and adds a nice spicy kick that complements the flavors of the chorizo. I've also used White American Cheese and sliced Gouda and had great results. 
Can I use hamburger buns instead of brioche buns?
While brioche buns are recommended for their light, tender texture, and slightly sweet flavor, you can certainly use regular hamburger buns or bread buns. Just make sure to toast them lightly for the best results.
What is the difference between Spanish Chorizo and Mexican Chorizo?
Spanish chorizo is a smoked, cured pork sausage flavored with smoked paprika. On the other hand, Mexican chorizo is fresh chorizo, often spicy, and needs to be cooked before eating. This recipe calls for Mexican chorizo, and I would not recommend substituting them as the textures are completely different. 
📖 Recipe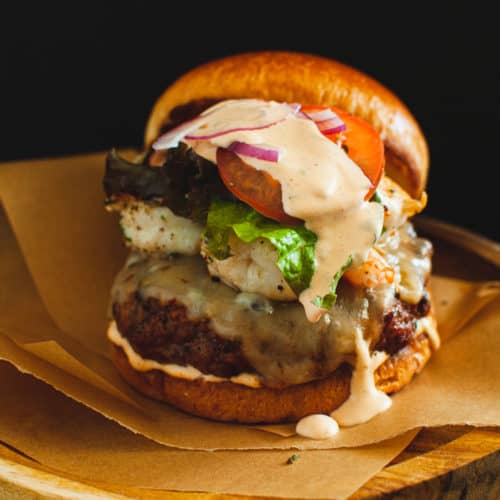 Chorizo & Shrimp Burger
Chorizo & Shrimp amp up the classic burger and set off your taste buds on an adventure you didn't know you needed.
Equipment
Grill

3 Mixing Bowls

Spatula
Ingredients
For the Burger
8

Brioche Buns

1

pound

Mexican Chorizo

1

pound

Ground Beef

8

slices

Pepper Jack Cheese

Fresh Ground Pepper
Shrimp Marinade
½

pound

Shrimp

-

Peeled and deveinded

2

teaspoon

Thyme

-

fresh

2

teaspoon

Cilantro

-

fresh

2

teaspoon

Lime Juice

2

teaspoon

Garlic

Fresh Ground Pepper
Spicy Cream Sauce
½

cup

Mayonaise

½

cup

Mexican Crema

2

cloves

Roasted Garlic

-

optional

1

tablespoon

Lime Juice

1

tablespoon

Sriracha

2

teaspoon

Cilantro

½

teaspoon

Kosher Salt

¼

teaspoon

Fresh Ground Pepper
Instructions
For the Shrimp
For the Sauce
For the Chorizo Burgers
Mix the chorizo and the ground beef in a bowl and mix until combined.

Form 6-8 burger patties, and set them aside on a plate.

Grill on medium heat for about 4-5 minutes per side or until they reach an internal temperature of 155.

Add the pepper jack cheese and allow to melt on top.

Toast the brioche buns lightly on the grill for 1-2 minutes or until just golden.
Nutrition
Calories:
772
kcal
Carbohydrates:
39
g
Protein:
39
g
Fat:
50
g
Saturated Fat:
24
g
Polyunsaturated Fat:
1
g
Monounsaturated Fat:
7
g
Trans Fat:
1
g
Cholesterol:
284
mg
Sodium:
1449
mg
Potassium:
257
mg
Fiber:
0.1
g
Sugar:
0.2
g
Vitamin A:
1116
IU
Vitamin C:
3
mg
Calcium:
237
mg
Iron:
3
mg