Seafood enthusiasts, get ready! This cilantro lime shrimp recipe is more than just a simple dish; it's a flavorful adventure that's sure to become one of your go-to favorites. Infused with fresh lime and aromatic cilantro, this easy shrimp recipe is a perfect blend of simple ingredients that come together in a matter of minutes.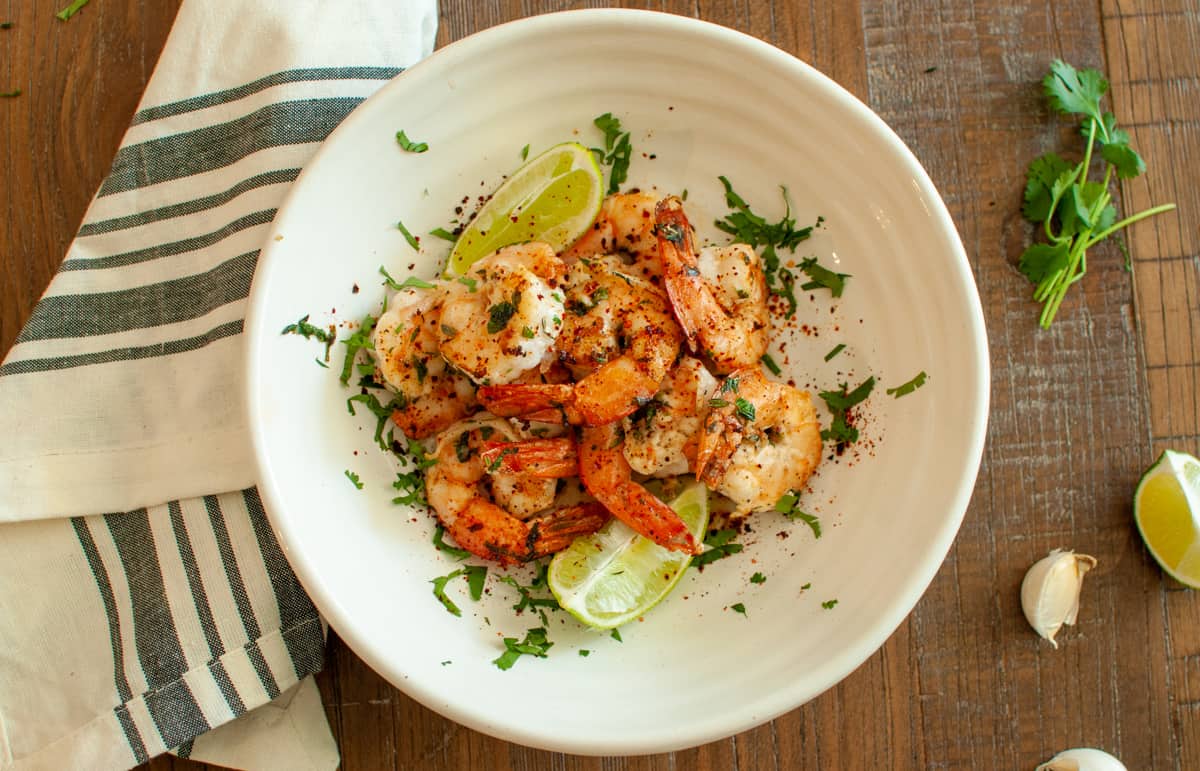 Whether you're turning them into tacos for a fun family dinner or serving them up as a light main dish on a busy weeknight, this recipe is a surefire way to bring smiles to the table. 
Jump to:
Ingredients
Olive oil
Fresh cilantro
Fresh thyme
Lime Juice
Garlic
Black pepper
Kosher salt
Preparing the Shrimp
1. Deveining Shrimp: Start with raw, uncooked shrimp, deveined shrimp.
2. Shrimp Marinade: In a large bowl, combine shrimp with olive oil, fresh lime juice, fresh cilantro leaves, thyme, garlic, kosher salt, and fresh ground pepper. Let it sit for at least 15-30 minutes.
3. Cooking Time: On medium-high heat, cook the shrimp in a large skillet for 1-2 minutes on each side. This will leave you with perfectly tender, juicy shrimp!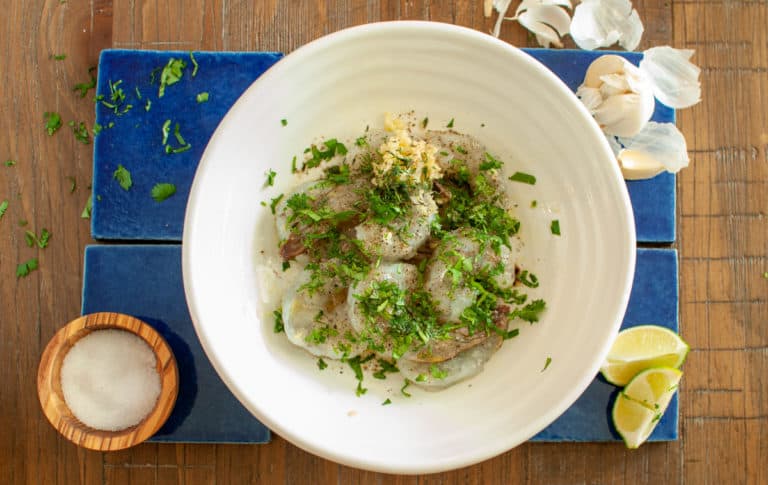 Different Ways to Enjoy
Cilantro Lime Shrimp Tacos
Serve them up with light brown rice for a classic touch, or opt for cilantro lime cauliflower rice for a fresh twist. Either way, you'll be savoring the vibrant flavors and simple ingredients that make this dish a standout.
Pair with a tangy cabbage slaw or a dollop of sour cream, and you've got a meal that's not only delicious but also quick and easy to prepare. It's a winning combination for seafood lovers and taco enthusiasts alike!
Southwest Salad
Finish off your salad with cilantro lime shrimp, and you've got a meal that's both satisfying and healthy. Start with a base of mixed greens or romaine lettuce, then add black beans, corn, guacamole, and any other fresh ingredients of your choice.
Finish with your favorite southwest-style dressing. The result is a vibrant and flavorful salad that showcases the shrimp in a whole new way.
As an Appetizer
Serve the shrimp with lime wedges and toothpicks for a simple appetizer to get dinner started.
One of our favorite ways to use this staple recipe in a completely new way is by adding them to our Chorizo Burger recipe for an extra burst of flavor. It adds a bright light flavor to a smoky spicy recipe and is absolutely irresistible.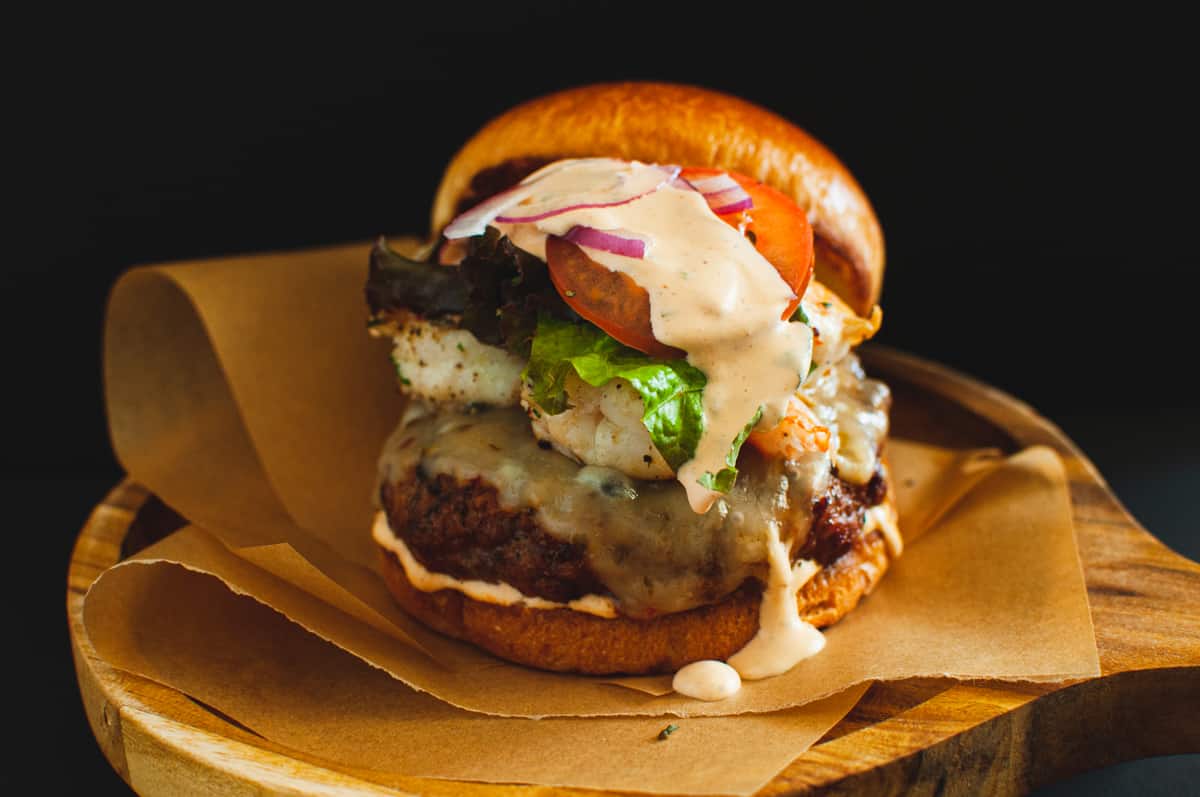 Storing and Reheating
Airtight Container: Store leftover shrimp in an airtight container.
Reheating: On medium heat, reheat shrimp for a couple of minutes in a medium bowl or skillet.
Farm-Raised vs Wild-Caught Shrimp
When it comes to selecting shrimp for this cilantro lime shrimp recipe, you might be wondering about the differences between farm-raised and wild-caught shrimp. Not only do these two types of shrimp vary in cost, but they also have distinct flavor profiles.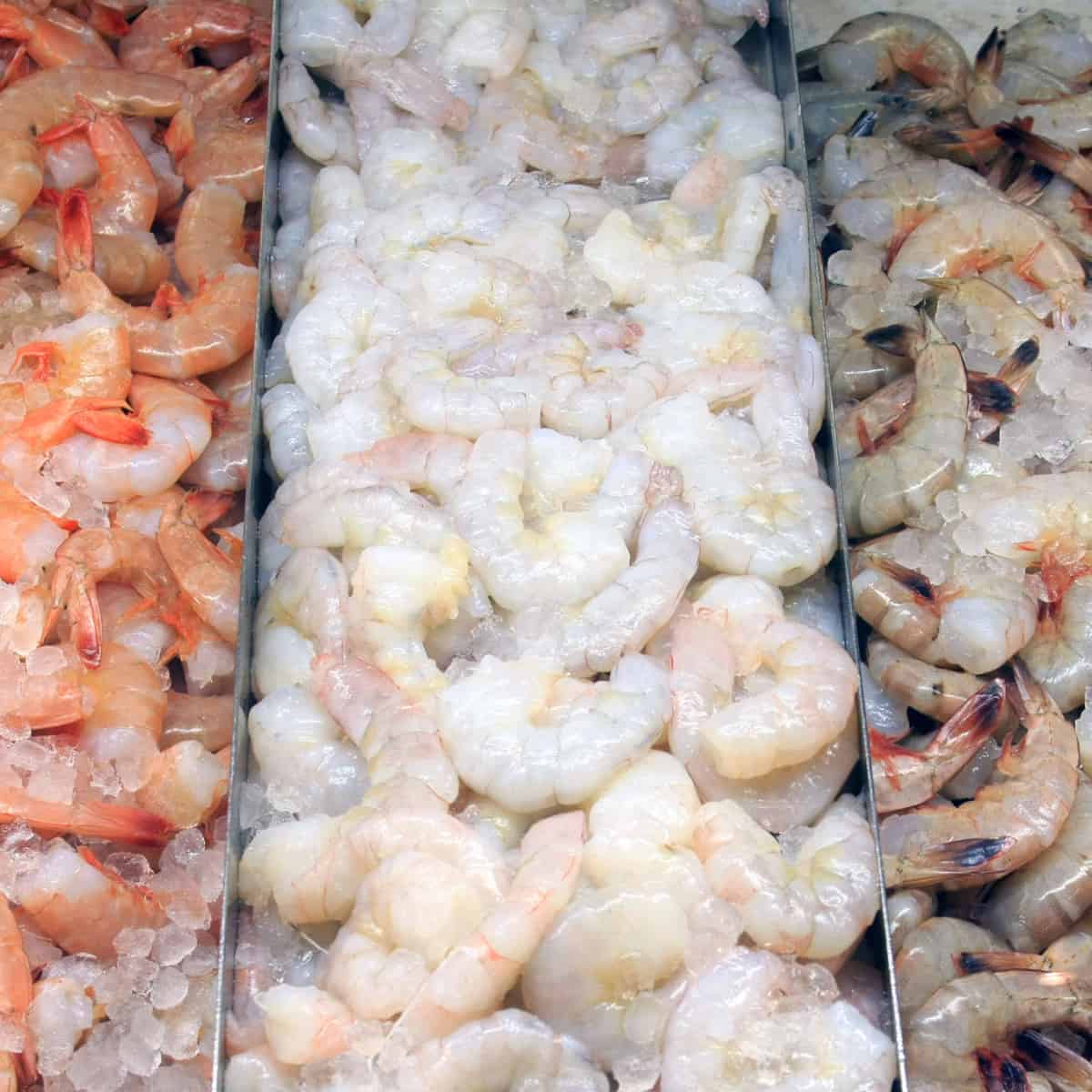 Farm-Raised Shrimp: Generally more affordable, farm-raised shrimp tend to have a milder flavor and a more consistent size. They are often readily available in most supermarkets.
Wild-Caught Shrimp: Known for their robust and briny flavor, wild-caught shrimp can be a bit more expensive. They often have a more complex taste that reflects their natural diet and habitat.
Want to dive deeper into this topic? Check out our detailed article where I explore the environmental, ethical, and culinary aspects of farm-raised vs wild-caught shrimp.
At the end of the day, this cilantro lime shrimp recipe is a good thing for anyone looking for simple recipes with fresh flavor. From cilantro-lime shrimp tacos to a main dish, the possibilities are endless. Don't forget to share your amazing recipes on social media and check the complete recipe card with affiliate links below.
📖 Recipe
Cilantro Lime Shrimp
This cilantro lime shrimp marinade is made with fresh cilantro and thyme, which gives it an herby base but when you add the garlic and lime it really makes it pop. Grilled or pan-seared, you can't go wrong.
Ingredients
Cilantro Lime Marinade
1

tablespoon

Olive Oil

1

pound

Shrimp

1

tablespoon

Thyme

-

fresh

½

cup

Cilantro

-

fresh

1

tablespoon

Lime Juice

1

tablespoon

garlic

-

minced

Fresh Ground Pepper
If Pan Searing
1

tablespoon

Olive Oil

½

tablespoon

Unsalted Butter
Instructions
Make sure the shrimp are peeled and deveined before getting started.

Add all the ingredients into a bowl and mix.

Let the shrimp take a bath in their yummy lime garlic bowl for 15-30 minutes. You can use them right away, but letting them sit adds an extra pop of flavor.

Pan-sear or grill for 2 minutes on each side, or until the center is no longer opaque.

Enjoy with salad, over rice, or on a burger. The sky is the limit...
Nutrition
Calories:
103
kcal
Carbohydrates:
1
g
Protein:
23
g
Fat:
1
g
Saturated Fat:
0.1
g
Polyunsaturated Fat:
0.2
g
Monounsaturated Fat:
0.1
g
Trans Fat:
0.01
g
Cholesterol:
183
mg
Sodium:
136
mg
Potassium:
333
mg
Fiber:
0.4
g
Sugar:
0.1
g
Vitamin A:
220
IU
Vitamin C:
5
mg
Calcium:
85
mg
Iron:
1
mg
Frequently Asked Questions (FAQs)
Can I use jumbo shrimp for this cilantro lime shrimp recipe?
Absolutely! Jumbo shrimp will add a luxurious touch to your cilantro lime shrimp tacos. Just remember to adjust the cooking time, as jumbo shrimp may take a little longer to cook.
How can I avoid overcooked shrimp?
Overcooked shrimp can become rubbery. To avoid this, cook the shrimp on medium-high heat for just 1-2 minutes per side. Keep an eye on them, as shrimp cook quickly!
What are some good sides to serving with cilantro lime shrimp tacos?
Some amazing recipes to pair with cilantro lime shrimp tacos include coconut rice, cilantro lime cauliflower rice, and simple cabbage slaw. For a complete meal, consider adding a side of garlic cloves sautéed in butter or a refreshing lime wedge salad.
Can I use this shrimp recipe for other dishes?
This versatile cilantro lime shrimp recipe can be used in different ways like a main dish served over white rice or as a flavorful topping on our Chorizo Burger recipe.
What if I want to make this recipe a little bit spicy?
If you love spicy shrimp, feel free to add a little bit more red pepper flakes or some hot sauce to the marinade. Adjust to your taste, and enjoy the flavor combination!
Can I use a food processor to make the marinade?
Yes, a food processor can be used to combine shrimp marinade ingredients quickly. It's a matter of minutes to blend the fresh cilantro, lime zest, olive oil, and other spices to create a flavorful marinade.