This is more than an ol' classic chili recipe. Our No Bean, Dutch Oven Chili, made in my beloved Dutch oven, might be your new favorite chili recipe! This chili combines the richness of Italian sausage, the smokiness of bacon, and a medley of spices to create a classic fall favorite that's just in time for football season.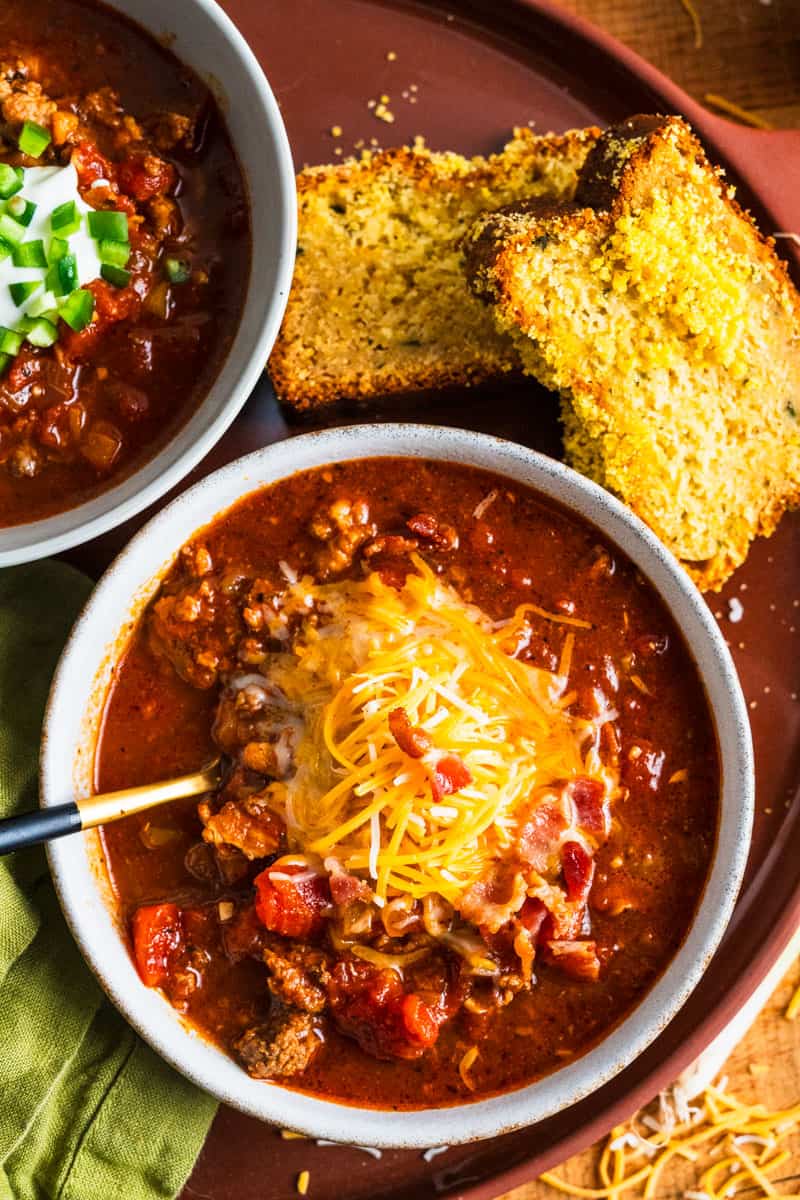 Jump to:
Ingredients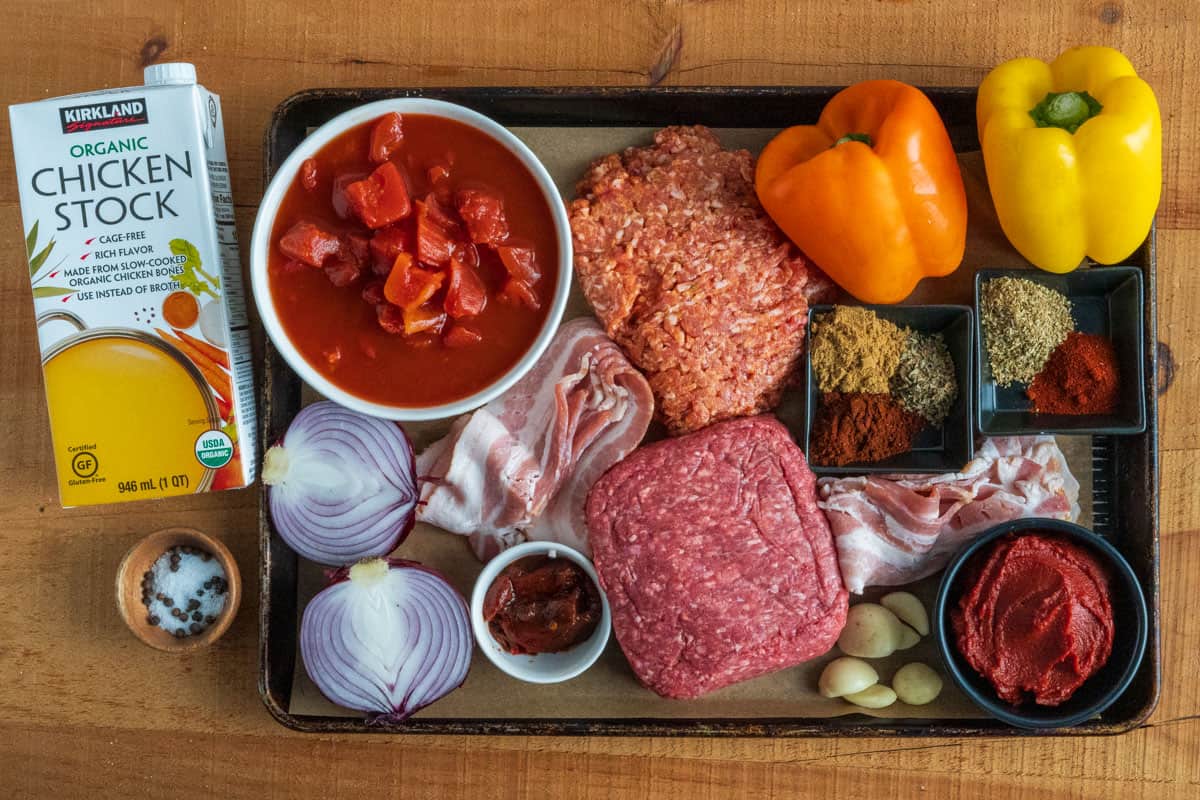 Olive Oil: The base for getting started sautéing your meats and veggies.
Bacon: Need little introduction. Adds a smoky, fatty richness.
Italian Sausage: Brings in extra seasonings and texture.
Ground Beef (90/10): A lean ground beef that is still flavorful.
Red Onion: Adds a touch of sweetness and color.
Red Bell Pepper: For a mild, sweet crunch.
Fresh Garlic: The aromatic backbone, but 1 teaspoon of garlic powder would be fine too.
Tomato Paste: The concentrated tomato flavor helps build the body of the chili.
Canned Tomatoes: Diced tomatoes, crushed tomatoes, or tomato sauce. They add texture and moisture, so pick your texture preference here. I prefer a mix of diced and sauce.
Herbs & Spices: Smoked Paprika, Chili Powder, Cumin, Oregano and Basil. The spice blend we love to use to elevate our chili. Cayenne if you want an extra pop level of heat.
Chicken Broth or Beef Broth: We prefer chicken stock, but use what you have! Both will be great.
Chili Pepper Paste: Optional, for those who like it hot. It's kind of a Tomato Paste and Hot Sauce combo.
Kosher Salt & Fresh Black Pepper: Because, always...
Equipment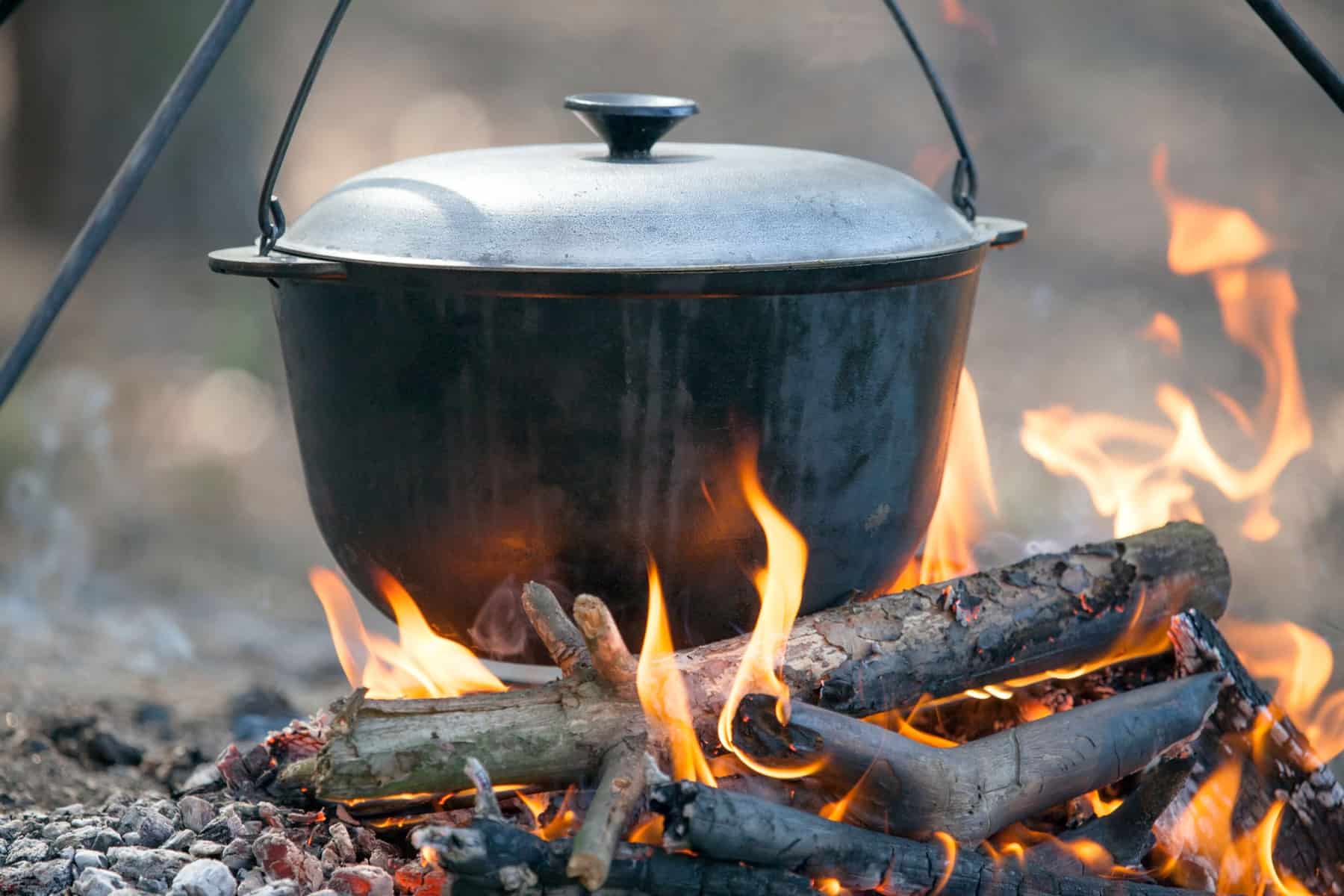 Dutch Oven: The star of the show and my kitchen. Dutch ovens offer even heat distribution and excellent heat retention, making them ideal for slow-cooking dishes like chili. The heavy lid seals in moisture, allowing flavors to meld together in a way that's simply magical. Cast Iron or enamel both work beautifully! 
Seriously, we love ours. We have lots of Dutch oven recipes if you are ever looking for more!
Slotted Spoon or Spider: For removing cooked meat.
Cutting Board and Knife: For all your chopping needs.
Step-by-Step 
Here is a step-by-step walk-through with pictures to help. You can also find all these steps in our recipe card below as well as a video to walk you through it.
Dice the bell peppers, and onion and set them aside. The size here is really a personal preference. Go ahead and mince your garlic as well if needed.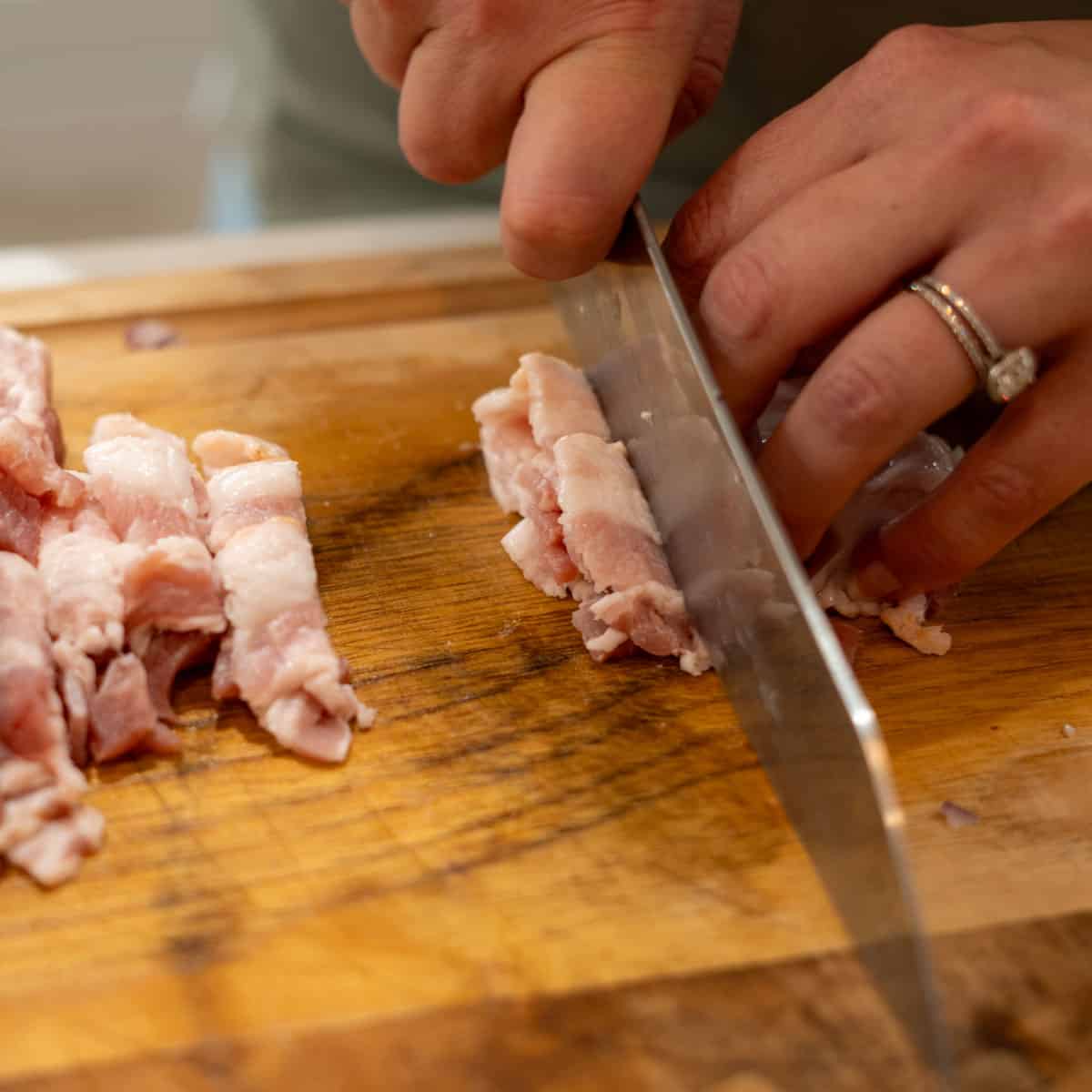 Slice your bacon into small strips keeping in mind the colder it is, the easier it will be to slice.
In your Dutch oven, heat olive oil over medium heat. Add bacon and cook until crispy and them remove.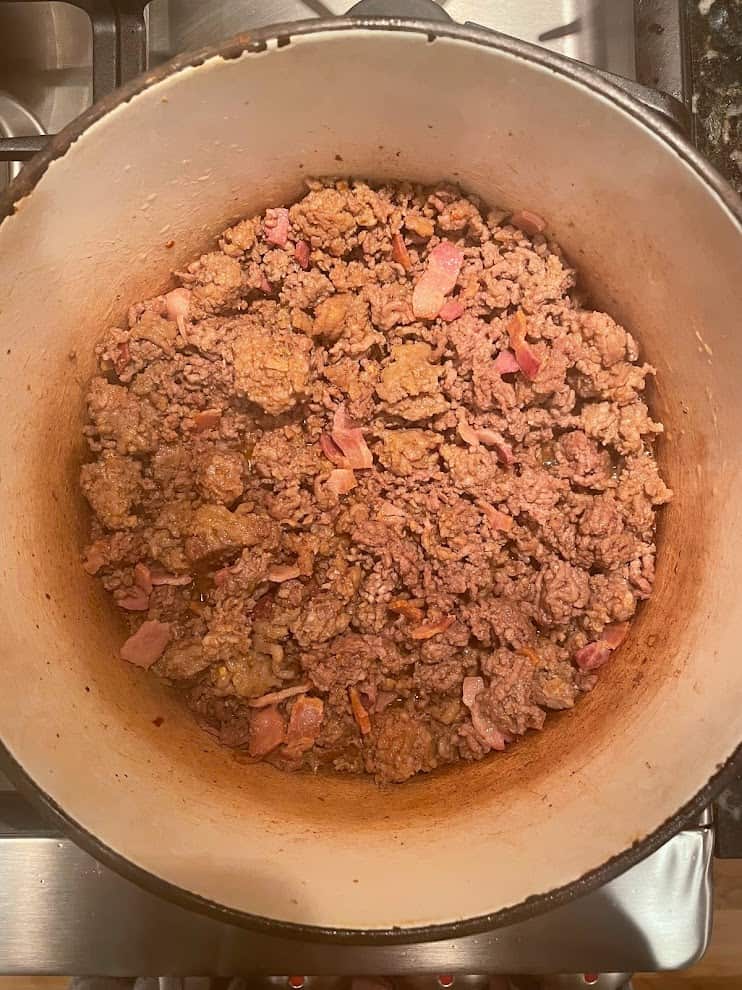 Add the Italian sausage and ground beef. Stirring minimally so we brown, not steam.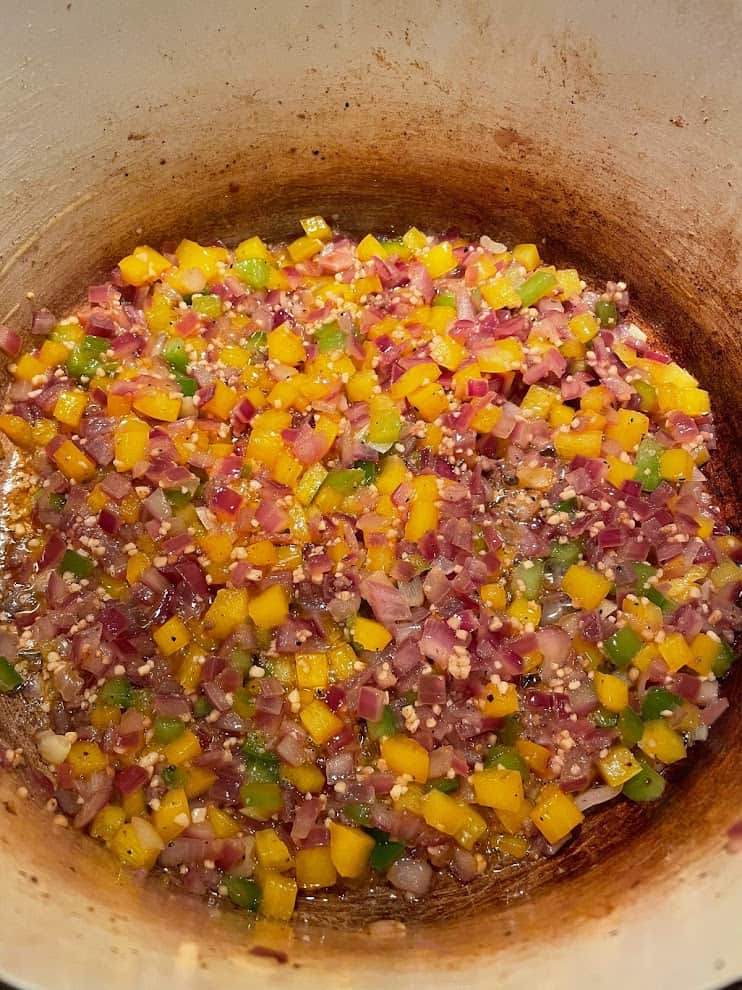 Remove your browned meat and add your peppers and onions to the remaining fat in the pan. Sauté until soft and stir in minced garlic, but don't let it burn!
Add tomato paste and let it brown slightly. Then, add diced tomatoes, chicken stock, meat, and spices.
Bring to a simmer for at least 45 minutes, then taste and adjust seasoning as needed.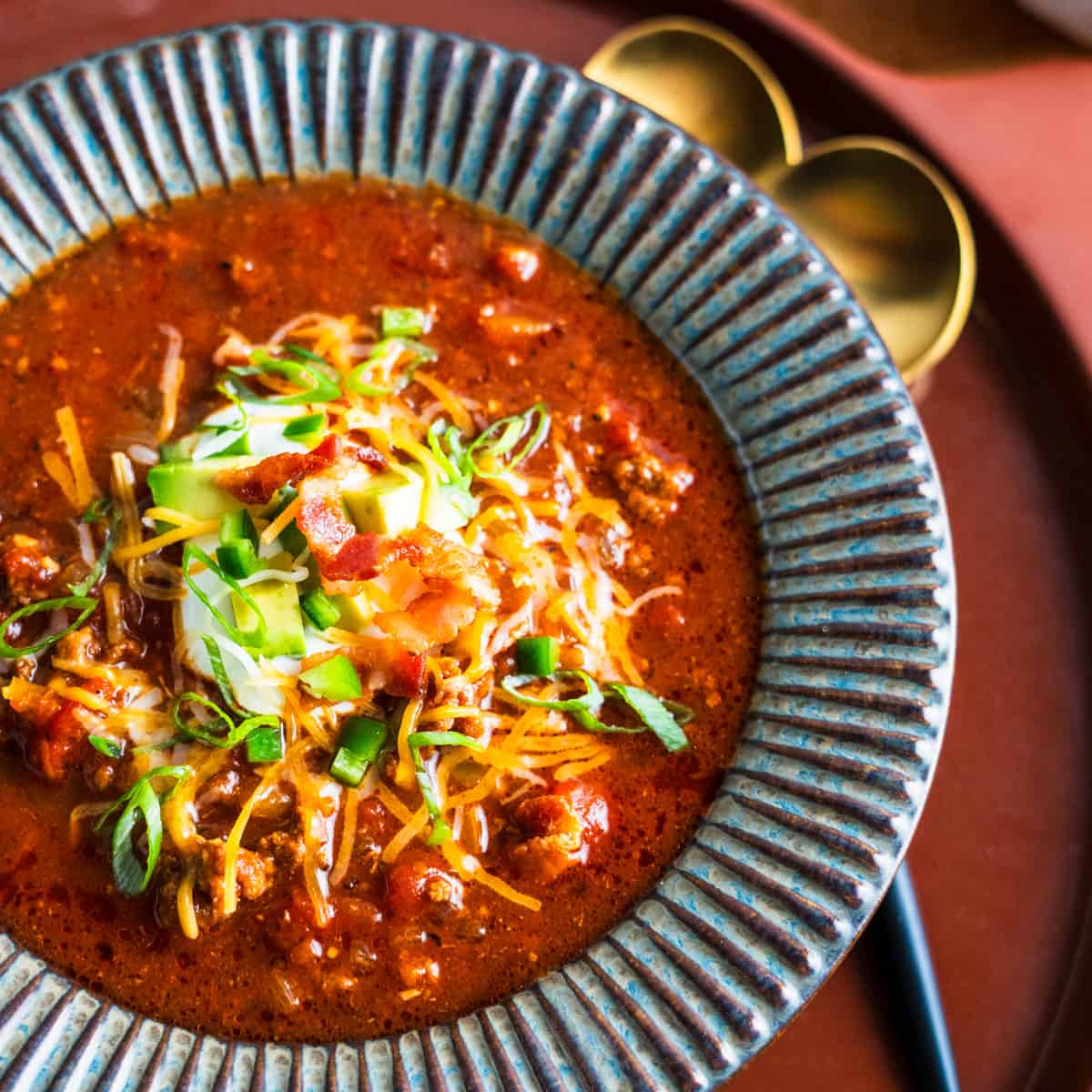 Garnish with your favorite toppings and enjoy!
🎥 How to Make It Video
Extras
Toppings
Shredded Cheese: A classic. Cheese adds a creamy, salty element. Choose from cheddar, Monterey Jack, or a Mexican blend.
Sour Cream: For a touch of tanginess and a creamy texture or Plain Greek Yogurt to keep it light.
Chopped Cilantro: Freshens up the dish and adds a pop of color. (Cilantro haters, you can skip this one!)
Sliced Jalapeños: For those who like to turn up the heat.
Diced Onion or Green Onions: A mild onion flavor that complements the chili without overpowering it. Green onion is even more mild.
Avocado Slices: Creamy and rich, they balance out the spiciness. A dollop of guacamole would also be great!
Sides
Cornbread: A Southern classic that pairs perfectly with chili.
Tortilla Chips: Great for scooping and adding a crunchy texture.
Smoked Veggies: For a healthier option, consider a side of roasted or even better smoked seasonal vegetables.
Substitutions & Variations
Swapping Out Meat: Ground Turkey, Ground Pork, or even Ground Bison are all great substitutions depending on your dietary preferences or restrictions. I've heard great things about using Beyond Meats too! Swap out with a 1-1 ratio and you'll be good to go.
Adding Beans: Totally your call. We originally developed this recipe during a Whole30 and designed it without beans. However, Kidney Beans are a classic chili ingredient and can add great texture. Black Beans or Pinto Beans can also be added at the same time as the tomatoes.
Spices: Chili is all about big flavor and spices matter a lot. Smoked Paprika can be substituted for regular paprika easily. Chili powder is actually a blend of a few different spices. It is only mildly spicy and still brings a punch of flavor. You can use more of it in a pinch!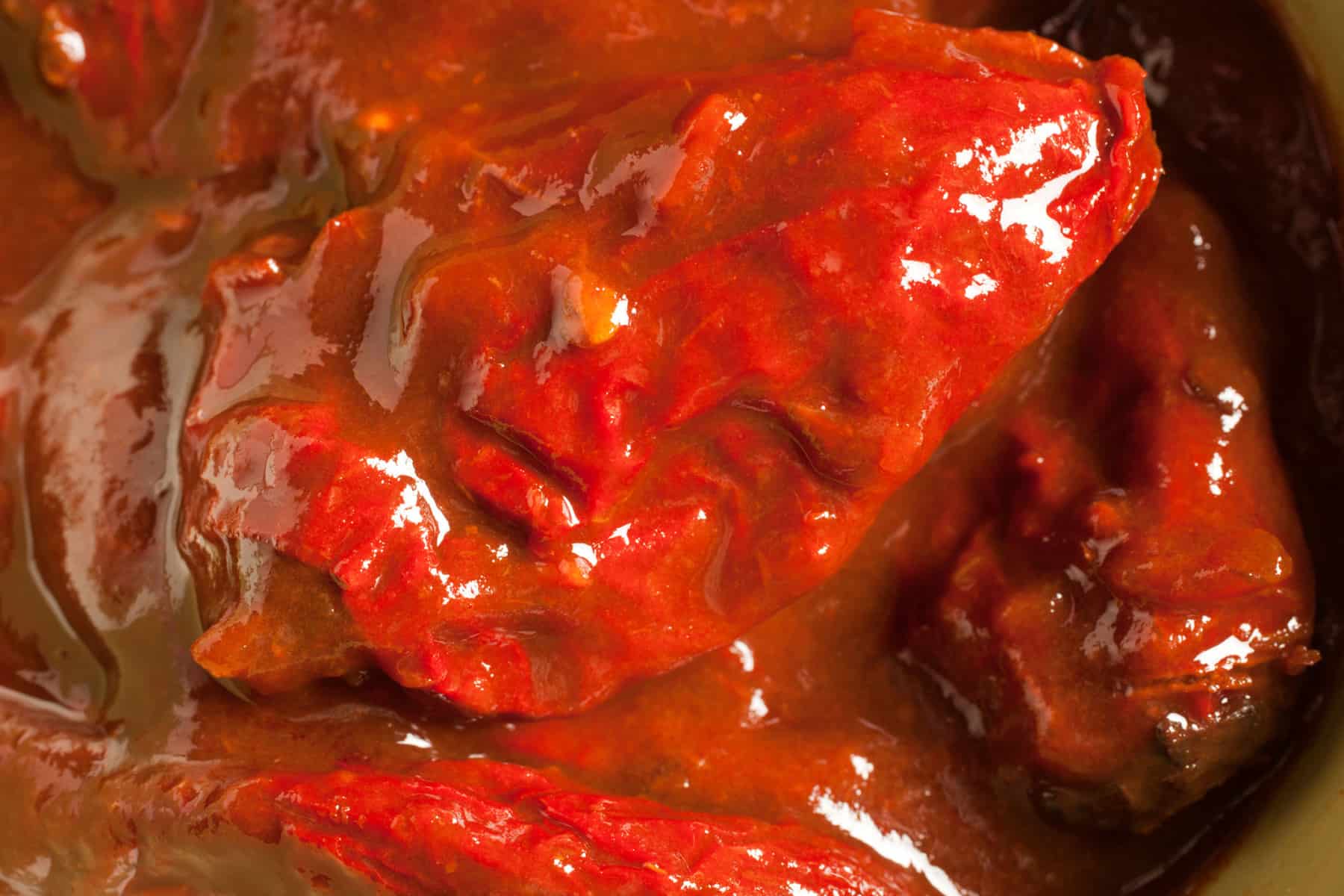 Adding Smoke & Spice: For those who like it really hot, feel free to add Cayenne Pepper or Red Pepper Flakes. Chipotle Peppers in Adobo can also add a smoky and spicy flavor twist. For a great breakdown of pepper spice levels, check out our breakdown of different pepper heat levels!
Peppers: Any color bell pepper will do. Poblano Peppers are also one of our favorites without adding too much spice. However, if spice is what you like Jalapeño or Fresno Peppers will for sure kick up the heat a notch. Just be cautious when handling hot peppers; consider using gloves and avoid touching your face.
Storage for Leftovers
After enjoying this hearty meal, store any leftover chili in an airtight container to keep it fresh. Place it in the fridge, where it will happily sit for up to 4 days. The flavors will continue to meld, making your next-day chili even more delicious as time goes by.
If you've made a big batch and want to save some for a rainy day, this chili is freezer-friendly! Portion it into individual servings or family-sized amounts and store it in airtight containers or heavy-duty freezer bags. Label with the date, and you've got a quick and tasty meal ready to go for up to 3 months.
Reheating & Reusing
Cool Before Storing: Allow the chili to come to room temperature before storing it in an air-tight container. It's a food safety thing.
Reheating: If you've frozen your chili, it's a good idea to thaw it in the fridge overnight for gentler reheating. When you're ready to dive back into your chili masterpiece, reheat it on the stove my to go. The microwave is fine, but I find that I have less control and can be left with cold spots.
Quick tip, you may need to add a splash of chicken or beef stock to help loosen the consistency. As always, with reheating, make sure your chili reaches an internal temperature of 165°F (74°C).
Repurposing: We love using our leftover chili for Chili Mac. American cuisine and Italian cuisine blended together for something the whole family can get behind. Because come on, it's basically Tex-Mex bolognese!
Flavor Boost Secret
If you're browning your meat correctly you'll notice those glorious little brown bits of fond sticking to the bottom of your pan. That's the Maillard reaction in action. Ha, that rhymed.
In technical terms, it's a chemical reaction between amino acids and reducing sugars that occurs when you brown your meat. This isn't just cooking; it's chemistry.
The Maillard Reaction creates big flavor. You can't buy it at the store. Making your skills in the kitchen the secret weapon.
Goal: Keep your heat high, work in batches if you need to, and leave some room for steam to escape and juices to evaporate!
Similar Recipes
FAQ
Can I make this chili in a slow cooker?
Absolutely, just brown your meat on the stovetop first for maximum flavor.
What's the best Dutch oven size for this recipe?
A large Dutch oven, around 6-8 quarts, is ideal. You can also use a standard large-size pot if you need to!
Is this chili kid-friendly?
Yes! We recommend going with crushed tomatoes or tomato sauce since kids tend to not like chunks of vegetables. Also, skip adding any extra spicy peppers or cayenne.
📖 Recipe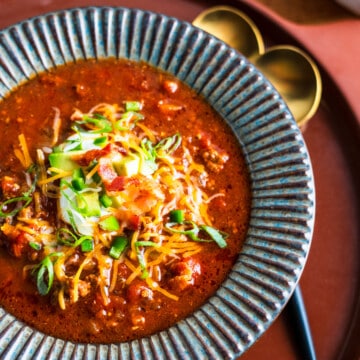 Dutch Oven Chili Recipe - Family Friendly
The ultimate comfort food! Our Dutch oven chili recipe is a no-bean favorite for family dinners and cozy gatherings.
Ingredients
2

tablespoon

Olive Oil

½

Pound

Bacon

1

Pound

Italian Sausage

1

Pound

Ground Beef

-

90/10 if possible

1

Red Onion

-

Diced

2

Bell Pepper

-

Diced

2

tablespoon

Garlic

-

Minced

2

Chipotles in Adobo

6

Ounces

Tomato Paste

-

1 small can

58

Ounces

Diced Tomatoes

-

4 small cans or 2 large

1

tablespoon

Dried Oregano

1

tablespoon

Cumin

1

tablespoon

Chili Powder

1

teaspoon

Smoked Paprika

1

teaspoon

Dried Basil

2

Cups

Chicken Stock

-

or beef

½

teaspoon

Cayenne

-

Optional to taste for spice
Instructions
Slice the bacon into strips and add it to a Dutch OvenDutch Oven with just enough olive oil to cover the bottom. Cook until crispy and remove from pan.

Next, add the Italian Sausage and Ground Beef to the pan. Try not to go crazy chopping it into a million small pieces as it will release too much moisture into the pan too quickly and your meat will steam instead of brown. Browning = Flavor.

Once the meat is cooked all the way through, chop it up into smaller pieces and then remove it with a slotted spoon or spider and set aside. DON'T throw the fat at the bottom of the pan away!

Add your garlic and tomato paste and stir into your pepper mixture. Let brown slightly for 1-2 minutes but don't let it burn!

Next, add your diced tomatoes, chopped chipotle in adobo, browned meat, chicken stock, and all of your spices.

Give it a good mix, let it come to a simmer, and reduce the heat to low for 1-2 hours, stirring every 20 minutes to so.

Taste as you stir. I can not express how important this is! You may need a pinch more salt or a few more cranks of pepper. Season, taste, adjust. Repeat.

The longer you let it simmer the more flavorful and tender your pot of chili will become.
Notes
Taste as You Go: The key to perfect seasoning. Under seasoning will be the death of any good chili.
Simmer Time: The longer you simmer, the better the flavors. We recommend at least 45 minutes, but ideally 2 or more hours.
Stir Regularly: Especially when using a cast iron Dutch oven, make sure to stir your chili regularly, and keep the temperature low to prevent it from sticking and burning at the bottom.
Check Expiry Dates: Always check the expiry dates on canned goods like diced tomatoes and tomato paste for the best flavor and quality.
Nutrition
Calories:
789
kcal
Carbohydrates:
28
g
Protein:
35
g
Fat:
61
g
Saturated Fat:
20
g
Polyunsaturated Fat:
7
g
Monounsaturated Fat:
28
g
Trans Fat:
1
g
Cholesterol:
138
mg
Sodium:
1611
mg
Potassium:
1548
mg
Fiber:
7
g
Sugar:
14
g
Vitamin A:
2669
IU
Vitamin C:
87
mg
Calcium:
170
mg
Iron:
8
mg