Comfort food—the two words that make any day better. And when it comes to comfort, nothing beats a hearty meal like our Loaded Chili Mac Recipe. It's perfect for busy weeknights and even better for using up last night's leftover chili. Trust us; this chili mac recipe is a family favorite you'll want to bookmark!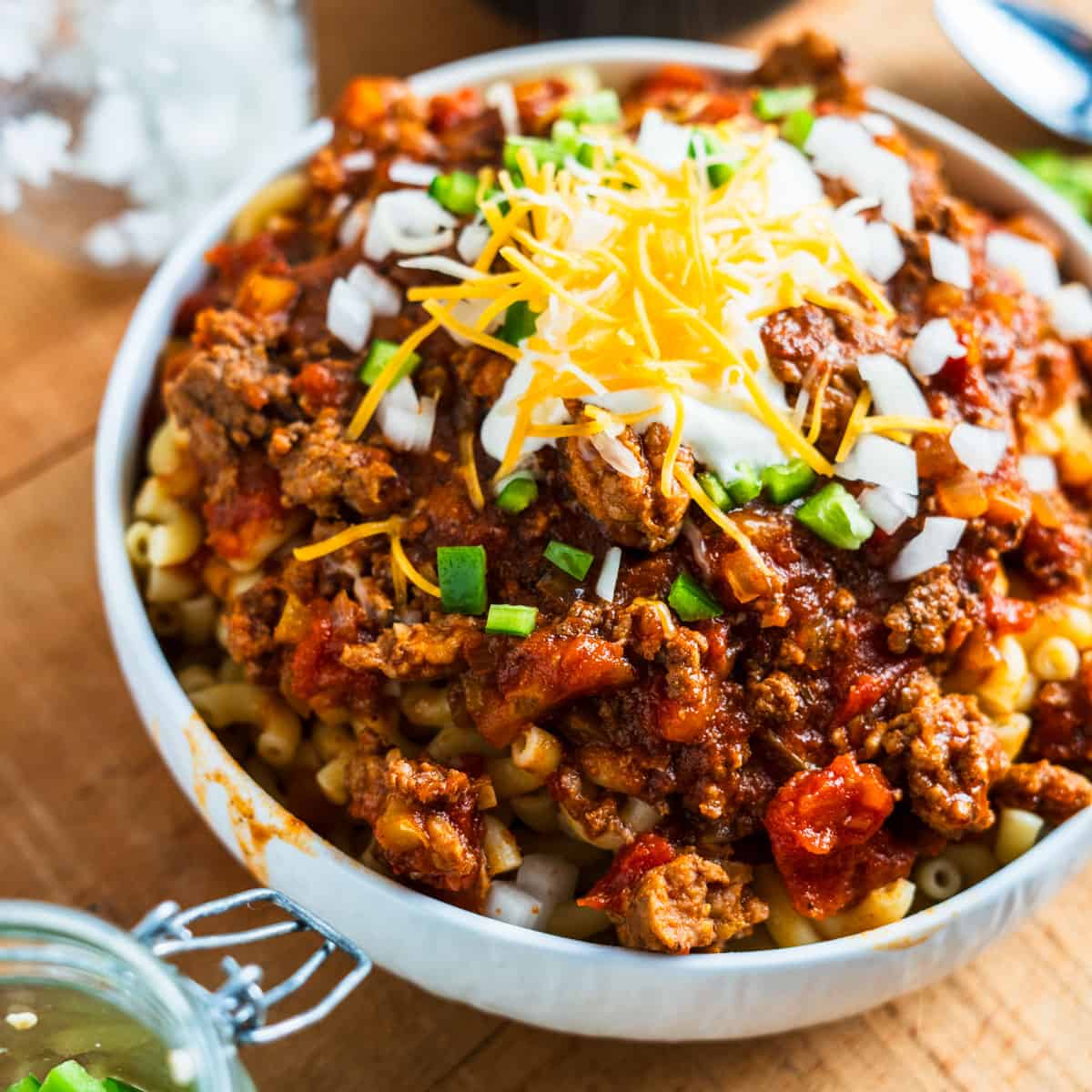 Jump to:
Chili Mac is the love child of two iconic dishes: chili, macaroni, and all the loaded toppings your heart desires. Originating from the fusion of American and Mexican culinary traditions, this dish is the epitome of comfort food. And the best part? We're using our Family Friendly (No Bean) Chili recipe as the base, making it a doubly delicious experience.
Quick Ingredient List
Your Favorite Chili: Don't worry, we included ours below! A pot of chili that's a blend of lean ground beef, Italian sausage, and a medley of spices like chili powder and cayenne pepper.
Elbow Macaroni: The classic pasta shape that holds onto that chili flavor.
Toppings
Cheddar Cheese: Sharp cheddar melts beautifully, adding a tangy creaminess.
Sour Cream: Adds a creamy, tangy element that balances out the richness of the chili.
Diced White, Red, or Yellow Onion: They add a crunch and a burst of flavor that cuts through the richness of the chili mac.
Diced Jalapeño: For that crunch but also some heat!
Green Onions: Sprinkle them on top for a burst of freshness that complements all the other hearty ingredients.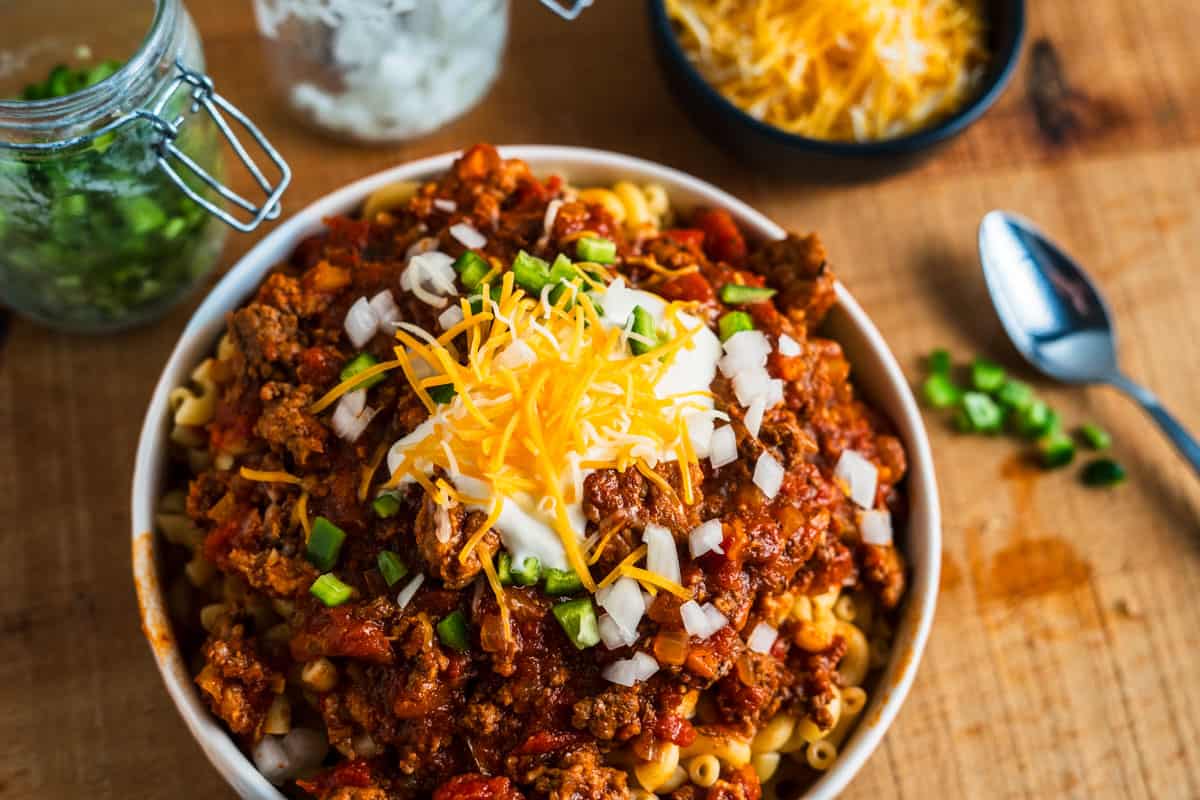 Equipment List
Large Skillet: For reheating chili and combining ingredients.
Dutch Oven: If making your own chili.
Large Pot: For boiling macaroni pasta.
Wooden Spoon: To stir the goodness together.
Cheese Grater: Optional if you're using pre-shredded cheese.
Collander or Spider: For draining your pasta.
Making Chili from Scratch
If you don't have leftover chili, no worries! We recommend our Family Friendly Dutch Oven Chili. This chili combines the richness of Italian sausage, the smokiness of bacon, and a medley of spices to create a classic fall favorite that's perfect for any time of year.
Chili Ingredients
Olive Oil: The base for sautéing your meats and veggies.
Bacon: Adds a smoky, fatty richness.
Italian Sausage: Brings in extra seasonings and texture.
Ground Beef (90/10): A lean but flavorful choice.
Red Onion: Adds a touch of sweetness and color.
Red Bell Pepper: For a mild, sweet crunch.
Fresh Garlic: The aromatic backbone. Garlic powder works too.
Tomato Paste: Builds the body of the chili.
Canned Tomatoes: Adds texture and moisture. A mix of diced and sauce is preferred.
Herbs & Spices: Smoked paprika, chili powder, cumin, oregano, and basil. Add cayenne for extra heat.
Chicken or Beef Broth: Both work beautifully.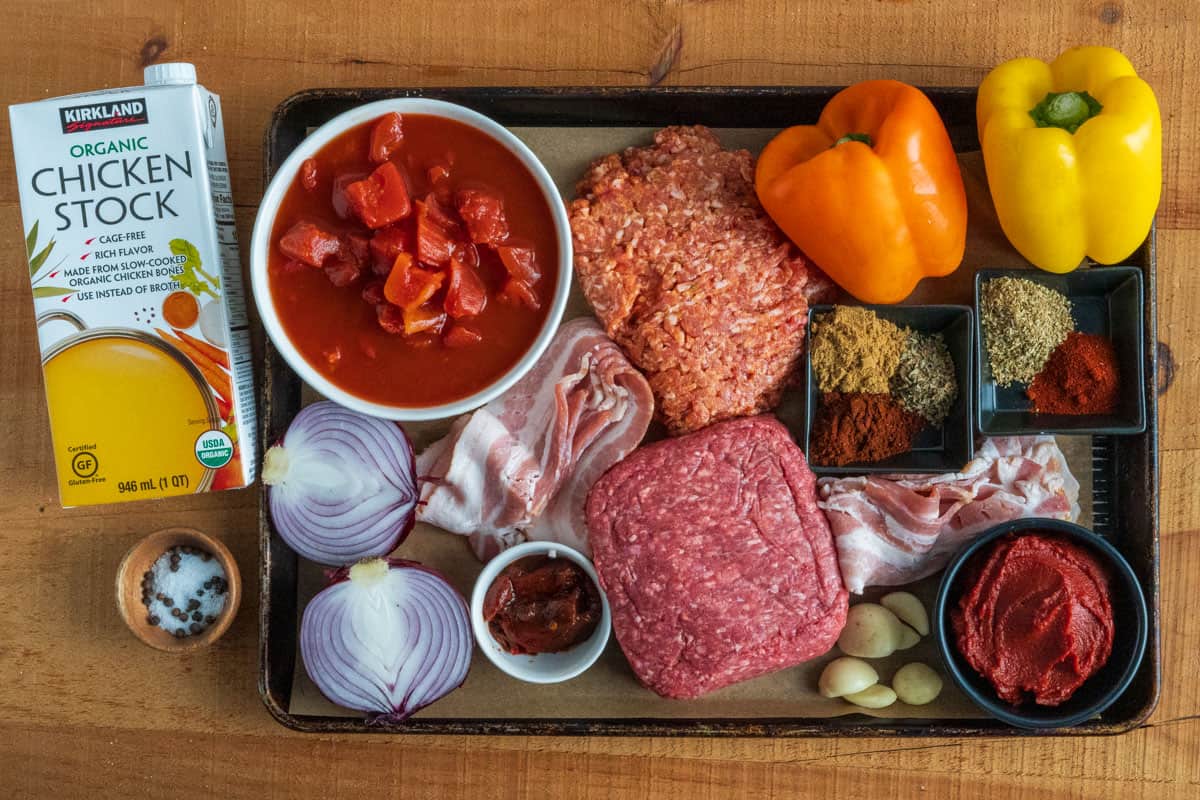 Equipment
Dutch Oven: The star of the show. Ideal for slow-cooking dishes like chili.
Slotted Spoon or Spider: For removing cooked meat.
Cutting Board and Knife: For all your chopping needs.
Step-by-Step
#1 Prep
Dice the bell peppers and onion. Mince your garlic.
#2 Slice Your Bacon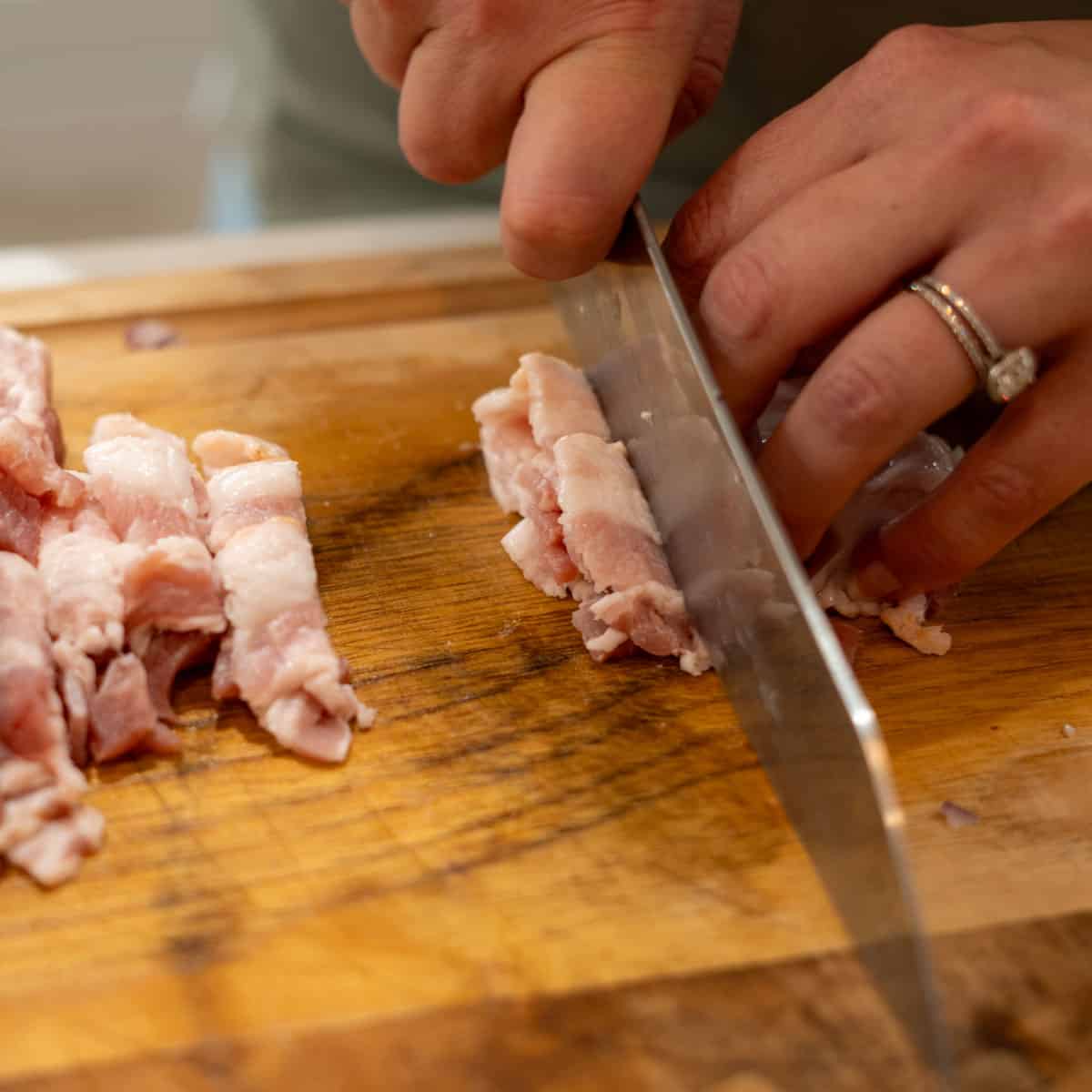 Slice your bacon into thin strips. Pro Tip, cold bacon is significantly easier to slice.
#3 Crispy Your Bacon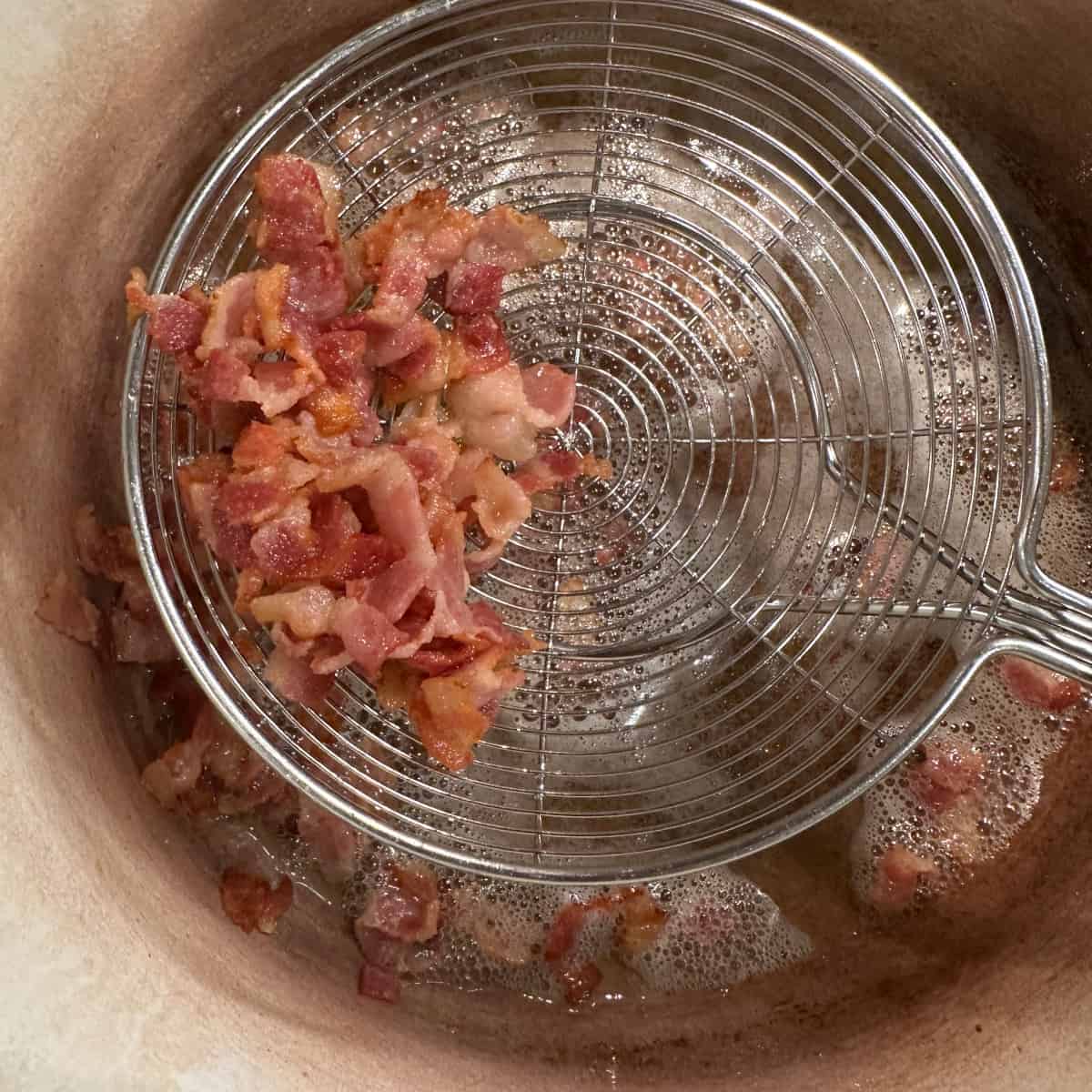 In your Dutch oven, heat olive oil over medium heat. Add bacon and cook until crispy, then remove.
#4 Browning Your Meat
Add the Italian Sausage and Ground Beef to the pan. Try not to go crazy chopping it into a million small pieces as it will release too much moisture into the pan too quickly and your meat will steam instead of brown. 
#5 Sauteeing Your Veggies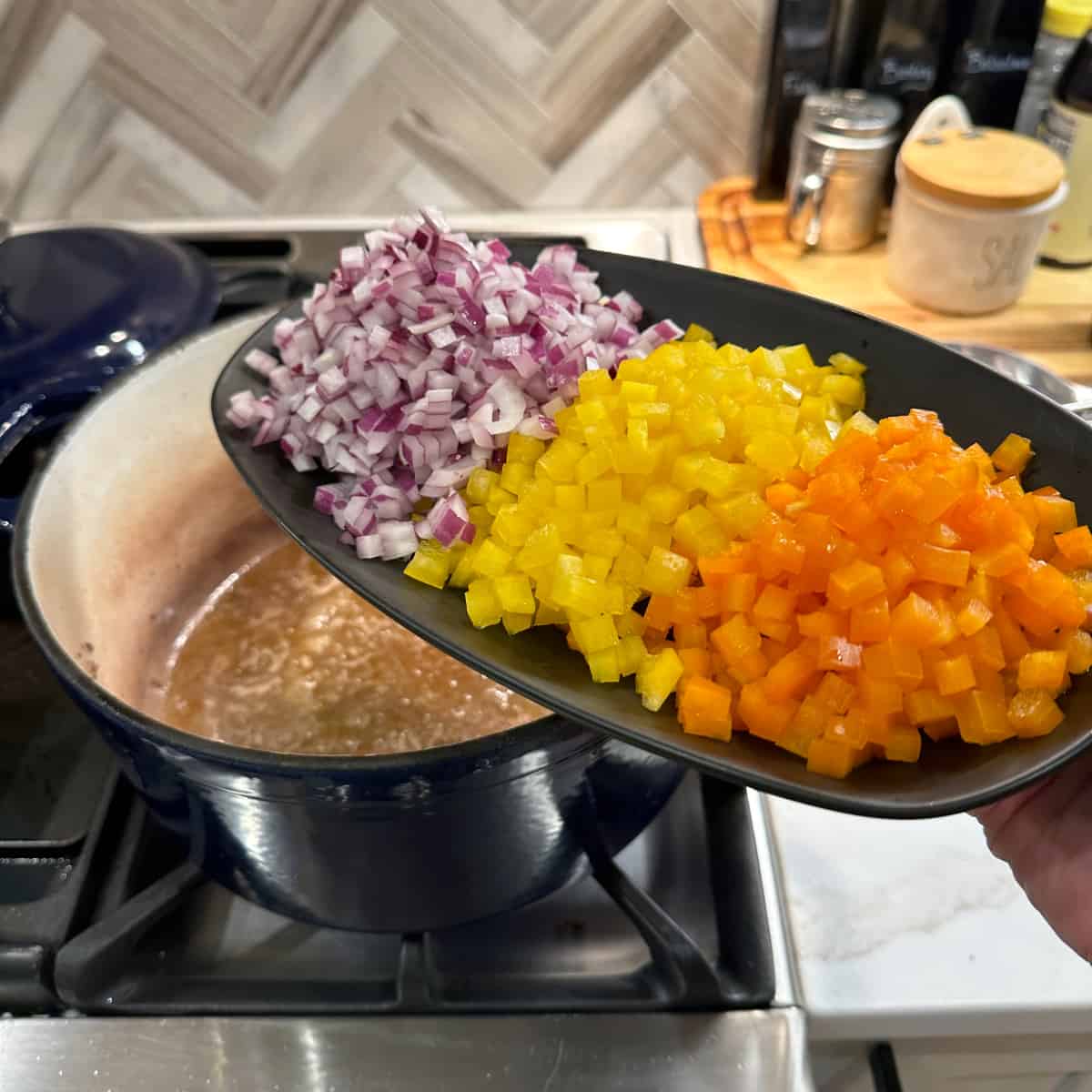 Remove the browned meat and add the peppers and onions to the remaining fat in the pan. Sauté until soft, then stir in minced garlic.
#6 Tomato Paste Browning
Add the tomato paste and let it brown slightly before adding diced tomatoes, chicken stock, meat, and spices.
#6 Deglazing
Next, add your diced tomatoes, and chopped chipotle in adobo. Scrapping the bottom to remove any browned bits.
#7 Adding it All Back In
Lastly add back the browned meat, chicken stock, and all of your spices.
#8 Simmer
Bring to a simmer for at least 45 minutes, then taste and adjust seasoning as needed.
#9 Enjoy
Garnish as you like with sour cream, shredded cheese, diced onion, jalapeno, or anything else you desire, and enjoy!
Now that you've got your chili ready, you can proceed with making your Loaded Chili Mac. Trust us, the extra effort is so worth it!
Assembling
#1 Boil the Pasta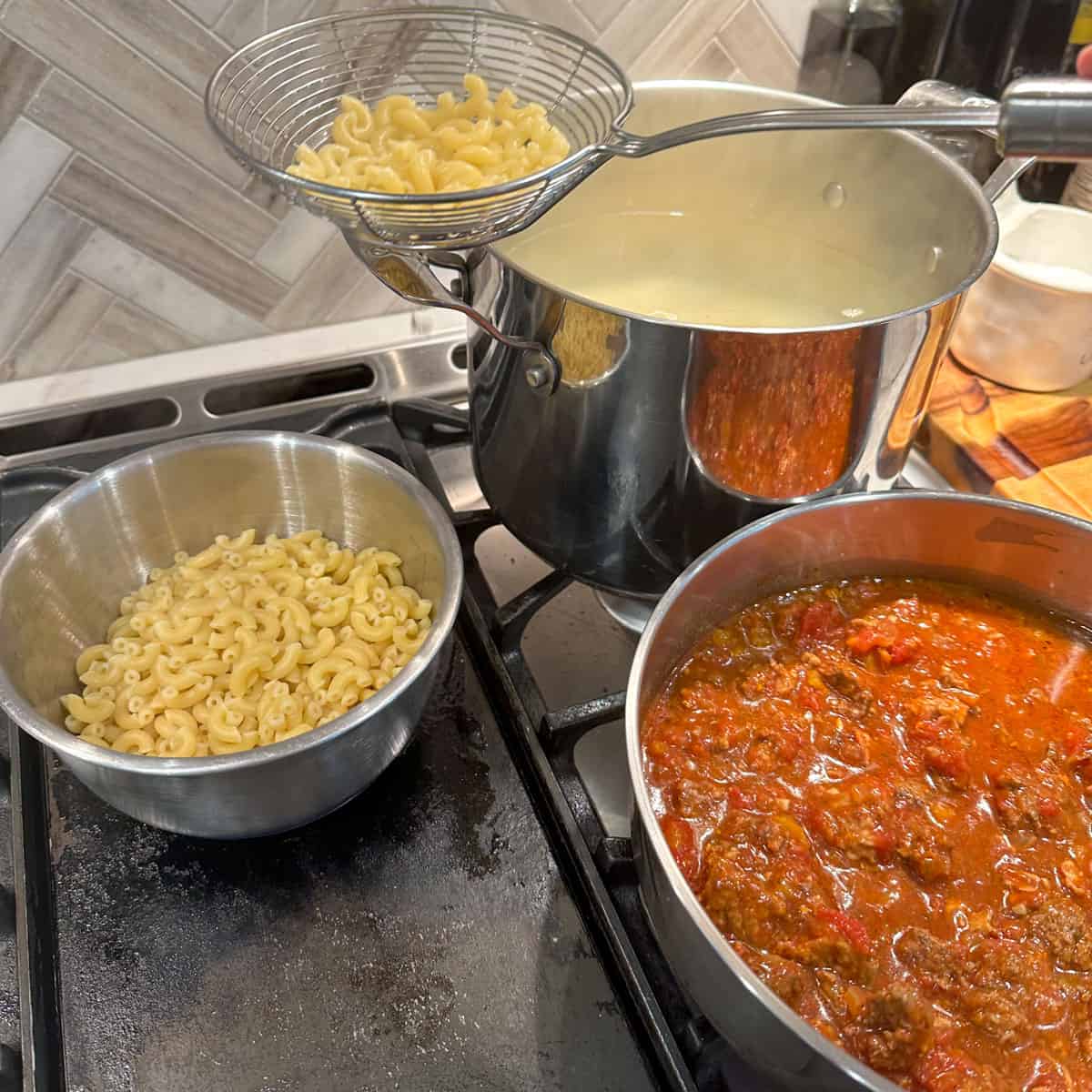 In a large pot, bring water to a boil and cook macaroni until al dente, following package directions. Once done, set it to the side.
#2 Get the Chili Ready
While your pasta is cooking, get your chili hot and ready. If you are reheating your chili, make sure it gets to at least 165 degrees
#3 Cheese It Up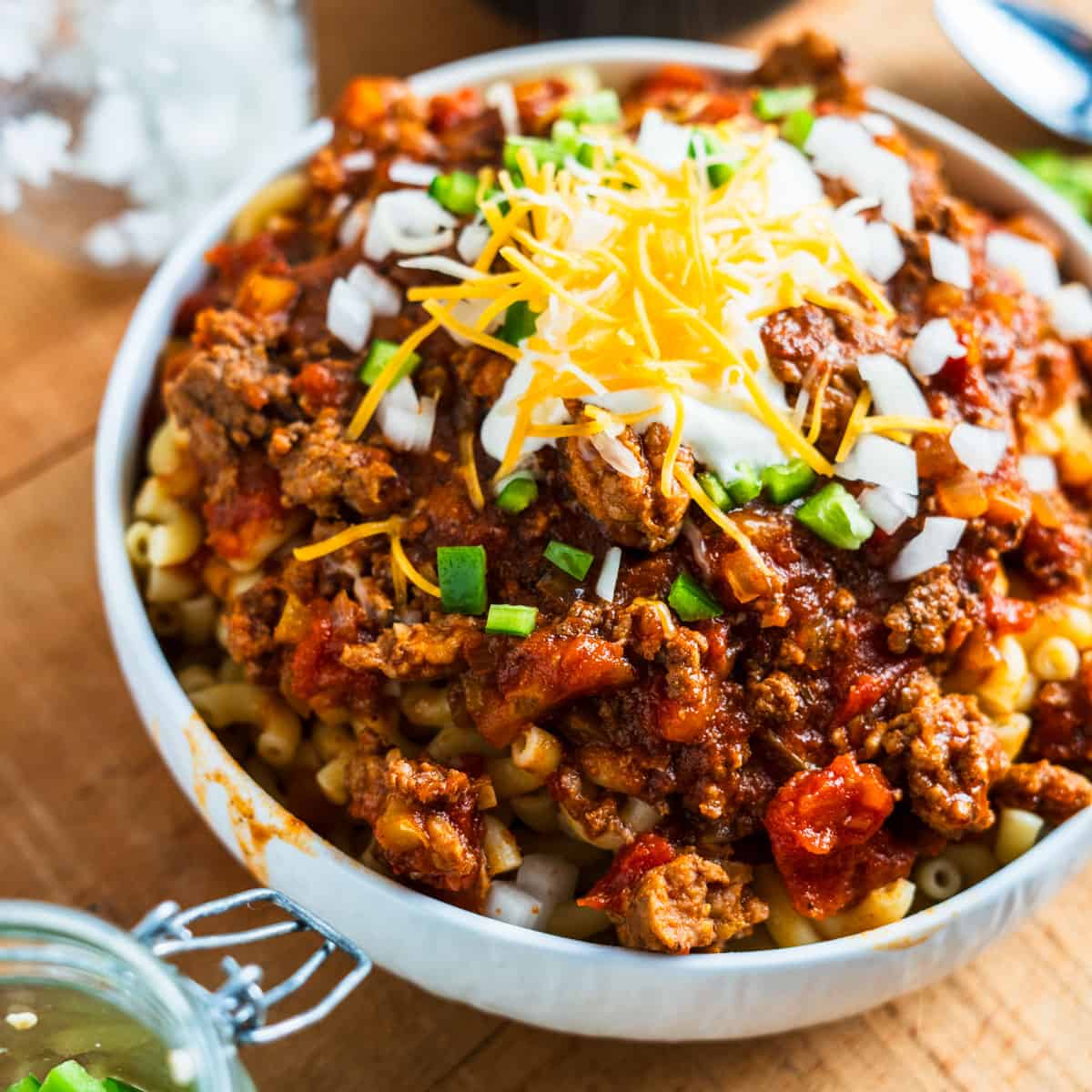 Put your pasta in a bowl and top generously with your Chili.
# 4 Enjoy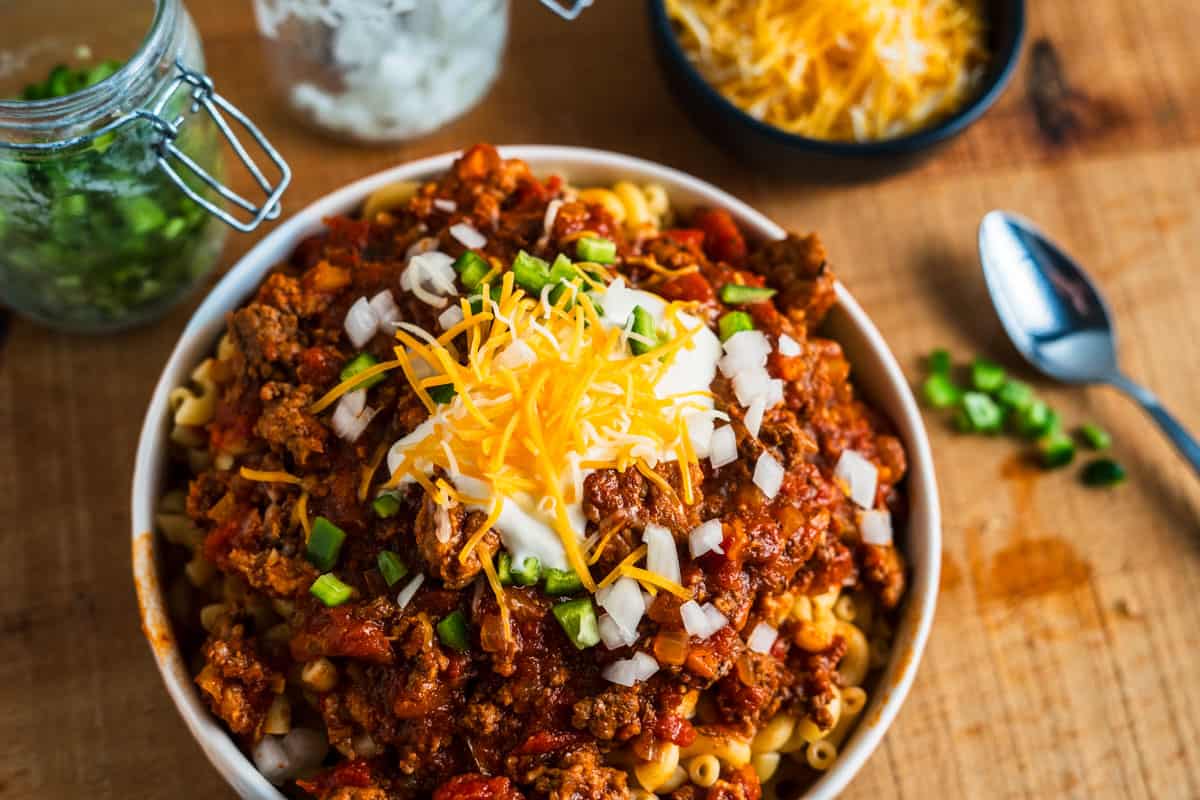 Add sour cream, cheddar cheese, diced jalapeno, onion, cilantro... whatever. Enjoy your hearty meal that is customizable to the whole family. 
Substitutions
Leftover night is all about using what you have, and this chili mac recipe is no exception. Feel free to swap out elbow macaroni for any pasta shape you have on hand—penne, fusilli, or even spaghetti can work.
The great thing about this dish is its flexibility. Have a few boxes of different pasta shapes? Mix 'em up for a fun and unique texture!
Making it Ultra Extra
Lots of Chili Mac recipes use a base of Mac and Cheese. We opted for adding all our extras on top BUT if you are feeling ultra extra try serving your Chili Mac on top of our Smoked Gouda Mac and Cheese.
Leftovers & Storage
If you're using leftover chili to make this dish, you'll need to take into consideration its age. Leftover chili has a fridge life of about 3-4 days. So, if your chili is reaching the end of that window, it might be time to bid it farewell after reheating and enjoying your Loaded Chili Mac.
On the other hand, if you've made fresh chili just for this recipe or used store-bought, you're in luck! Store any remaining chili mac in an airtight container and pop it in the fridge. It'll be good for another 3-4 days. Want to extend its life even further? You can freeze it! Just remember to thaw it in the fridge before reheating.
Reheating Leftovers
When it comes to reheating, a little separation can be a good thing. Store the bulk of your pasta and sauce separately to maintain their best qualities. A tiny bit of sauce mixed in with the pasta can prevent sticking, a little trick that works wonders.
To reheat your chili, place your sauce in a large skillet over medium heat. Aim for a temperature of 165°F to ensure it's heated safely. If it's looking a bit dry or thick, a splash of beef or chicken broth can bring it back to its original glory.
For the pasta, a quick microwave or if you want to get really fancy a plunge in boiling water for about 30-60 seconds will bring it back to life without making it overcooked.
Combine the heated sauce and pasta when you're ready to serve. And for that extra touch of creaminess, a dollop of sour cream mixed in while reheating works like a charm.
More Easy Dinner Recipes
FAQ
What can I serve as a side dish?
A simple green salad or some garlic bread makes an excellent side dish.
Can I add some veggies?
Of course! Add what you love, or serve as a side. Our smoked vegetables would be perfect for this!
Is this similar to ragu?
I mean, yeah! It's a tomato and meat-based sauce. The biggest difference is we used a variety of spices you don't see in traditional ragus. Think of it as TexMex Bolognese!
📖 Recipe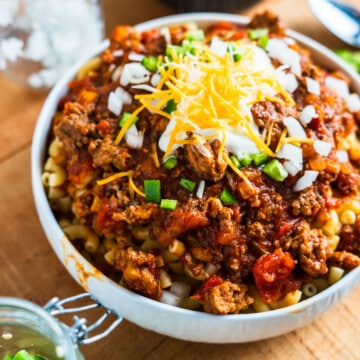 Loaded Chili Mac
Loaded Chili Mac combines the rich, spiced flavors of our signature No Bean Chili with the comforting embrace of tender pasta. Perfect for using up leftovers, this dish is a family favorite that brings everyone to the table. Top with sour cream, diced onions, and jalapeños for an extra burst of flavor
Ingredients
Chili
2

tablespoon

Olive Oil

½

Pound

Bacon

1

Pound

Italian Sausage

1

Pound

Ground Beef

-

90/10 if possible

1

Red Onion

-

Diced

2

Bell Pepper

-

Diced

2

tablespoon

Garlic

-

Minced

6

Ounces

Tomato Paste

-

1 small can

58

Ounces

Diced Tomatoes

-

or mix of diced and sauce

1

tablespoon

Dried Oregano

1

Tbsp

Cumin

1

tablespoon

Chili Powder

1

teaspoon

Dried Basil

1

teaspoon

Smoked Paprika

½

teaspoon

Cayenne

-

optional for heat

2

Cups

Chicken Stock

-

or beef
Pasta
1

Pound

Macaroni

-

substitute for whatever pasta you love or have
Garnishes
1

tablespoon

Shredded Cheddar Cheese

-

optional

1

tablespoon

Sour Cream

Jalapeno

-

diced

White Onion

-

diced

Green Onion
Instructions
Chili Instructions
Dice the bell peppers and onions and set them aside. The size here is really a personal preference. I dice mine pretty small to hide them from the kids.

Slice the bacon into strips. Again, personal preference on size. If you want big chunks of bacon or smaller pieces throughout, it's your call.

In the pan, pour just enough olive oil to cover the bottom of your dutch oven or large pot and put on medium heat.

Next, add the Italian sausage and ground beef to the pan. Try not to go crazy chopping it into a million small pieces as it will release too much moisture into the pan too quickly and your meat will steam instead of brown. Browning = Flavor.

Once the meat is cooked all the way through, chop it up into smaller pieces and then remove it with a slotted spoon or spider and set aside. DON'T throw the fat at the bottom of the pan away!

This is a great time to get all your cans of diced tomatoes and paste open and ready.

Add your garlic and tomato paste and stir into your pepper mixture. Let brown slightly for 1-2 minutes but don't let it burn!

Add garlic and cook 1-2 more minutes but don't let it burn!

Next, add your diced tomatoes, chopped chipotle in adobo, browned meat, chicken stock, and all of your spices.

From here on out the flavors only become more intense, but now that we are simmering we can start to taste and adjust. TASTE AS YOU GO. I can not express how important this is. You may need a pinch more salt or a few more cranks of pepper. Season, taste, adjust. Season, taste, and adjust.
Chili Mac Instructions
Notes
Pasta Choice: Feel free to substitute elbow macaroni with any pasta shape you have. Mixing different shapes can add a fun twist and help use up all those leftover bits! Chili Age: If using leftover chili, make sure it's within its 3-4 day fridge lifespan for optimal flavor and safety. Reheating: Store pasta and sauce separately for the best reheating results. Aim for a sauce temperature of 165°F and avoid overcooking the pasta. Toppings: Have sour cream, diced onions, and jalapeños on hand for garnish. They add layers of flavor and texture. Broth Splash: Keep some beef or chicken broth handy. A splash can revive the sauce if it's too thick or dry during reheating. Cheese Options: While sharp cheddar is recommended, a Mexican cheese blend or pepper jack can add a different flavor profile. Skillet Size: Use a large skillet for reheating to ensure even heat distribution. You can also just mix everything all together at once.  Food Thermometer: It's a good idea to have one to check the sauce temperature during reheating. Safety first! 
Nutrition
Calories:
813
kcal
Carbohydrates:
63
g
Protein:
34
g
Fat:
48
g
Saturated Fat:
16
g
Polyunsaturated Fat:
6
g
Monounsaturated Fat:
22
g
Trans Fat:
1
g
Cholesterol:
105
mg
Sodium:
1203
mg
Potassium:
1316
mg
Fiber:
7
g
Sugar:
12
g
Vitamin A:
1983
IU
Vitamin C:
66
mg
Calcium:
146
mg
Iron:
7
mg