Welcome to the world of homemade meatballs, where ground beef meets ground pork and Italian seasoning dances with fresh herbs. This easy meatball recipe can be served classically on its own as a primary dish, or used for meatball subs, spaghetti nights, or even a meatball sliders party.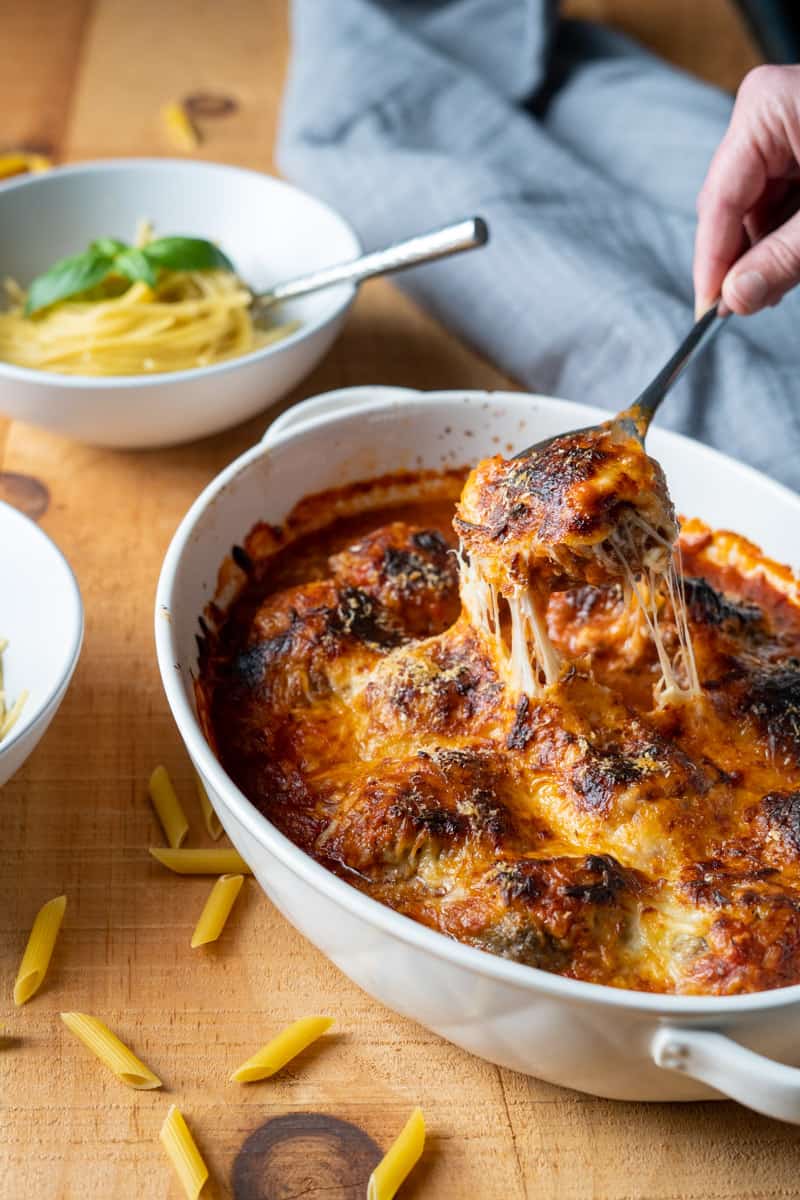 Grab a big bowl, and let's dive into the great flavor of these classic Italian meatballs!
Jump to:
Ingredients
Creating the perfect homemade Italian meatballs requires a blend of flavorful ingredients that come together to form a delicious symphony in your mouth. Here's exactly what you'll need for this classic recipe:
For the Meatballs:
Ground Beef: for a rich and juicy base.
Ground Pork: to add tenderness and flavor.
Parmesan Cheese: for a salty cheesy flavor boost.
Panko Bread Crumbs: for binding and texture.
Garlic: freshly minced or jarred.
Italian Seasoning: for that authentic Italian flavor
Large Eggs: to hold everything together.
Kosher Salt and Fresh Black Pepper: to taste.
Toppings
Mozzarella Cheese: or an Italian blend will work just fine.
Fresh Parsley: roughly chopped and sprinkled for garnish. 
For the Sauce:
Marinara Sauce: 2 cups, homemade or your favorite store-bought variety.
Olive Oil: 2 tablespoons, for sautéing.
Red Pepper Flakes: A pinch, for a touch of heat (optional).
Meat Substitutions
When it comes to making homemade Italian meatballs, the choice of ground meat plays a starring role in the flavor and texture of the final dish. We suggest the combination of ground beef and ground pork for a classic Italian flavor, but we don't want to overlook alternative substitutions.
Ground Turkey
Ground turkey offers a leaner option, with a milder flavor that can be a great canvas for herbs and seasonings. For health-conscious meals or when a lighter taste is preferred. Turkey meatballs can be a delightful alternative without sacrificing much flavor.
Ground Chicken
Even leaner than turkey, ground chicken has a subtle flavor that can be easily enhanced with the right seasonings and fresh ingredients. For those looking for a delicate and less meaty taste. It can be used in combination with other meats or on its own for a unique twist.
Ground Bison
Ground bison is lean yet offers a distinct and slightly sweet flavor. It's a more exotic option that brings a gourmet touch to your meatballs. For special occasions or when you want to impress with something different. Bison meatballs can add a touch of luxury to your meal.
🎥 Video
Instructions
Creating the perfect homemade Italian meatballs is more than just following a recipe; it's about savoring the process and enjoying the delicious results. Here's a step-by-step guide to crafting your meatball masterpiece:
Prepare the Breadcrumb Mixture: In a large bowl, mix together the breadcrumbs and milk. Let sit for about 5 minutes to absorb.
Combine Ingredients: Add all remaining meatball ingredients to the bowl and combine thoroughly.
Taste Test: Cook a small piece as a mini hamburger-style patty, adding a little tomato sauce once cooked through. This will help you gauge the flavors and adjust the salt, pepper, or garlic if needed.
Prepare Baking Dishes: Line 2 large baking dishes with pasta sauce, using about ½ cup in each to cover the bottom.
Shape Meatballs: Portion out meatballs into about 2" circles. A portion scoop can be a lifesaver for this step.
Add Toppings: Top the meatballs with the remaining sauce, followed by a generous sprinkle of mozzarella and Parmesan cheese.
Bake: Place in a preheated oven at 375°F (190°C) and bake for 40-50 minutes or until the internal temperature of the meatballs reaches 165 degrees and the cheese has golden brown edges.
Serve: These meatballs can be enjoyed as-is, served alongside roasted potatoes, or on top of pasta. Dealer's choice!
Serving Suggestions
When it comes to serving homemade Italian meatballs, the possibilities are as endless as your culinary imagination. But there are a few classic pairings that elevate the meatballs to a whole new level of deliciousness. Let's explore some of the best ways to enjoy these tender meatballs...
Spaghetti and Meatballs: A classic recipe that never goes out of style. Serve the meatballs over freshly cooked pasta with plenty of sauce and a sprinkle of Parmesan cheese.
Meatball Sliders: Perfect for parties or a fun family dinner. Serve the meatballs on slider buns with a dollop of sauce and a slice of mozzarella.
Caesar Salad: A traditional Caesar salad with crisp romaine lettuce, crunchy croutons, and creamy dressing adds a fresh twist to the meal. It's a great way to balance the richness of the meatballs and sauce.
For an extra flavor twist, try grilling the romaine lettuce before assembling the salad. The charred edges add a smoky flavor that pairs wonderfully with the meatballs.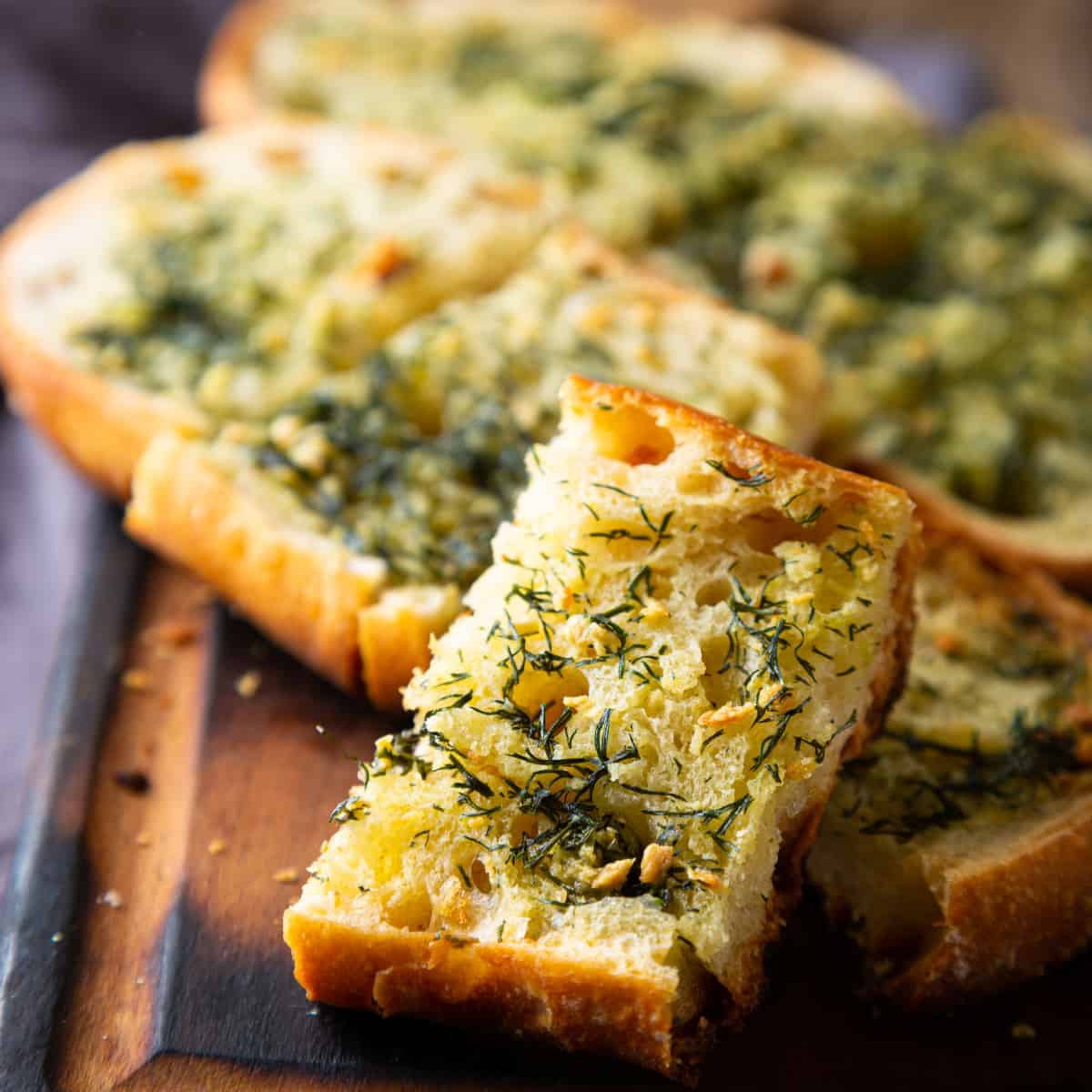 Garlic Bread: Serve your meatballs with a side of warm, buttery garlic bread. The combination of crispy crust and soft, garlic-infused interior is perfect for soaking up that extra marinara sauce.
Storage & Reheating
Leftover meatballs? No problem! In fact, some say meatballs taste even better the next day. Here's how to store and reheat those extra meatballs, ensuring they remain as tasty as when they were freshly cooked:
Storing Leftover Meatballs
Airtight Container: Place the cooked meatballs in an airtight container, separating layers with parchment paper to prevent sticking. Store in the refrigerator for up to 3-4 days.
Freezer Bag: For longer storage, place the meatballs in a single layer in a freezer bag. Squeeze out the air, seal, and freeze. They'll keep for up to 3 months, ready for a quick meal anytime.
Reheating Options
Stove Top: Reheat the meatballs over medium heat in a large skillet with some sauce. Cover and simmer until heated through, about 10-15 minutes.
Oven: Preheat the oven to 350°F. Place the meatballs on a baking sheet and cover with foil. Bake for 15-20 minutes or until heated through.
Similar Recipes
Today, Italian meatballs have taken on new forms, from turkey meatballs to meatball sliders, and have become a favorite way to bring family and friends together.
Whether served with marinara sauce, tucked into a sub with red sauce, or enjoyed with garlic bread, the meatball's journey from humble beginnings to a beloved classic recipe is a testament to its timeless appeal.
📖 Recipe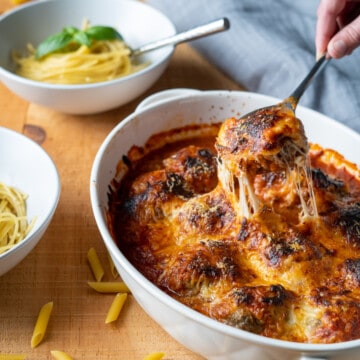 Baked Italian Meatballs
Indulge in the ultimate comfort food with these Homemade Italian Meatballs. Tender, juicy, and bursting with flavor, they'll become a staple in your dinner rotation. Crafted with a blend of ground beef and pork, and seasoned with garlic, Italian herbs, and Parmesan, these meatballs are top-notch.
Ingredients
Meatball Mixture
1

cup

Panko Bread Crumbs

1

cup

Milk

2

Eggs

-

beaten

1

Pound

Ground Beef

1

Pound

Ground Pork

½

cup

Parmesan Cheese

2

tablespoon

Minced Garlic

2

tablespoon

Italian Seasoning

1

tablespoon

Diamond Kosher Salt

-

2 teaspoon if using table salt

2

teaspoon

Fresh Ground Pepper
Base & Topping
32

oz

Pasta Sauce

-

2 jars or a double batch the marinara recipe linked in post

Mozzarella Cheese

Parmesan Cheese
Serve With
Fresh Basil

-

optional

Pasta

-

optional
Instructions
In a large bowl, mix together the breadcrumbs and the milk and let sit for about 5 minutes to absorb.

Add all remaining meatball ingredients and combined thoroughly.

I highly recommend cooking a small piece at this point and tasting it to make sure you don't want to adjust the salt & pepper (or garlic). Make a mini hamburger-style patty, and add a little tomato sauce once it's cooked through so you can get an idea of all the flavors together.

Now that you are happy with the flavor we are going to line 2 large baking dishes with the pasta sauce. About a ½ cup in each one. Just enough to cover the bottom.

Portion out meatballs into about 2" circles. The portion scoop linked above is a life saver for this step.

We are going to top the meatballs with the remaining sauce, and then give a heavy sprinkle of mozzarella and parmesan cheese.

Bake for 40-50 minutes or until the internal temperature of the meatball hits 145 degrees and the cheese has goldened.

These can be eaten as-is, served alongside roasted potatoes, or on top of pasta. Dealers choice.
Notes
Bread Crumb Choices: While Panko breadcrumbs are recommended for their light texture, you can also use regular breadcrumbs or even stale bread pulsed in a food processor. Each choice will slightly alter the texture but not the deliciousness! Meat Alternatives: If you prefer a leaner option, ground turkey or chicken can be used in place of pork or beef. Just be mindful that leaner meats might result in slightly drier meatballs. Cheese Matters: Freshly grated Parmesan cheese is always a winner over pre-grated options. The flavor is more robust, and you avoid the anti-caking agents found in pre-grated cheese. Seasoning: Don't skip the taste test! Cooking a mini patty before shaping all your meatballs allows you to adjust the seasoning. Remember, you can always add more salt, but you can't take it away. Freezer Tips: If freezing, consider portioning the meatballs into family dinner sizes or individual servings. This way, you can defrost exactly what you need. Also, don't forget to date the package! Wine Pairing: For an elevated dining experience, pair these meatballs with a glass of Chianti or Montepulciano. The acidity and fruitiness of these wines complement the rich flavors of the meatballs beautifully. Kid-Friendly: If you're cooking with little ones, let them help with shaping the meatballs. It's a fun activity and a great way to get them involved in the kitchen. Cast Iron Option: If you're a fan of cast-iron pans like me, you can sear the meatballs on the stovetop before transferring them to the oven. This adds an extra layer of flavor due to the Maillard reaction. Serving Suggestions: These meatballs are versatile! Serve them over spaghetti, in a sub, or even as an appetizer with toothpicks. The possibilities are endless.
Nutrition
Calories:
438
kcal
Carbohydrates:
19
g
Protein:
27
g
Fat:
28
g
Saturated Fat:
11
g
Polyunsaturated Fat:
2
g
Monounsaturated Fat:
12
g
Trans Fat:
1
g
Cholesterol:
130
mg
Sodium:
834
mg
Potassium:
770
mg
Fiber:
3
g
Sugar:
7
g
Vitamin A:
674
IU
Vitamin C:
9
mg
Calcium:
200
mg
Iron:
4
mg