Homemade Marinara sauce is a simple, classic sauce that the world has come to love. The ingredients remain simple with the standard tomato, onion, garlic, and herbs. I'd say the primary difference that sets it aside is its lack of meat. Use my Pasta Bolognese recipe for example. It's filled with meat & dairy. Still delicious, but very different.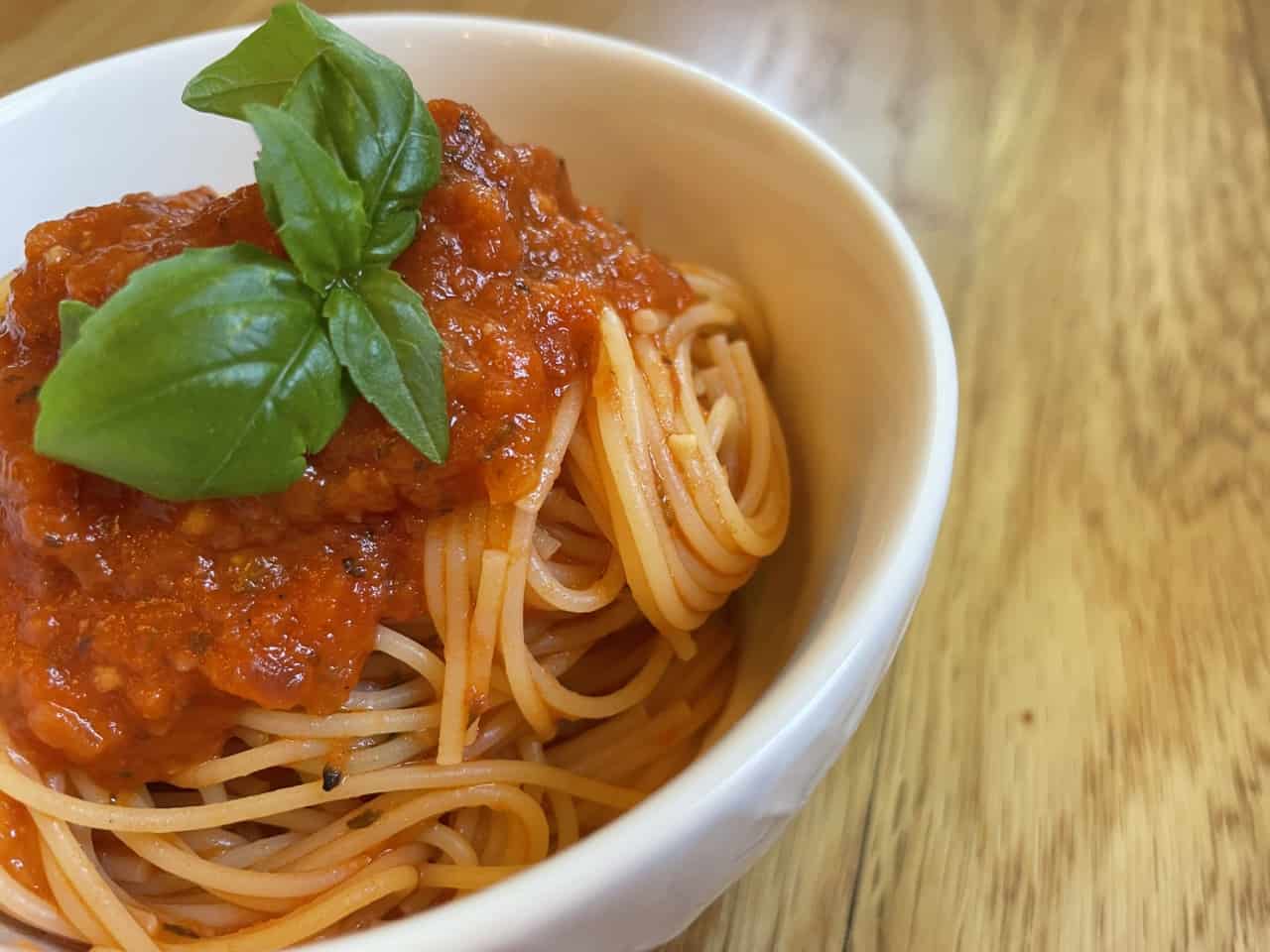 Ingredients Matter
This recipe could taste different in almost every kitchen. Tomatoes matter. Fresh vs dried basil matters. The good news? You will still end up with an exceptional taste. Just know that it could taste different every single time you make it depending on what you substitute.
Sauce Tips and Tricks
I left this recipe open for some personal preference. When it comes to tomatoes you have so many options. Dice, crushed, whole... At the end of the day, whatever you decide is fine. If you like a very smooth/no-chunk sauce, I would stick with crushed. 
Keep in mind, that I am somewhere in the middle. In the video attached, I use diced, and then once it has simmered I use an immersion blender to smooth it out to my liking. I'm obsessed with my immersion blenders, and I highly recommend them.
Recipes to Try With
I also love the Homemade Marinara Sauce recipe with my Baked Italian Meatballs. It stays clean and classy and props up the meatballs to shine.
Storing Your Homemade Marinara Sauce
This recipe can 100% be stored in your fridge for 5-7 days. Don't feel like pasta again? You could easily use this for marinara sauce on a pizza or dip for garlic bread. Don't throw away something like this... if you even have any left in the first place.
Bon Appetit
📖 Recipe
Homemade Marinara Sauce
Nobody said it has to be hard to make a marinara sauce at home. Let's get back to the basics and make a super simple, but delicious Italian Classic.
Ingredients
1

tablespoon

Olive Oil

1

tablespoon

Unsalted Butter

½

cup

Red Onion

-

diced

2

tablespoon

Garlic

-

minced

56

oz

Diced or Crushed Tomato

-

4 standard cans

2

tablespoon

Italian Seasoning

-

or Basil

3

teaspoon

Diamond Kosher Salt

1

teaspoon

Fresh Ground Pepper

Fresh Basil

-

optional
Instructions
Start by adding the butter and olive oil into the pan on medium heat.

Add the diced onions and cook for 3-4 minutes or until translucent and slightly tender.

Incorporate the garlic and cook just until fragrent.

Next, add the tomatoes and basil. Mix, and season with kosher salt & fresh ground pepper.

Let simmer for about 20-30 minutes and then taste to adjust the seasoning.

Blend for smoother texture if desired.
Nutrition
Calories:
126
kcal
Carbohydrates:
16
g
Protein:
3
g
Fat:
7
g
Saturated Fat:
2
g
Polyunsaturated Fat:
1
g
Monounsaturated Fat:
3
g
Trans Fat:
1
g
Cholesterol:
8
mg
Sodium:
461
mg
Potassium:
672
mg
Fiber:
4
g
Sugar:
8
g
Vitamin A:
460
IU
Vitamin C:
31
mg
Calcium:
152
mg
Iron:
5
mg