We're diving into a bowl of comfort food that's perfect for a chilly day—the Easy Italian Sausage and Tortellini Soup. If you're making this delicious soup for the first time, you're in for a treat! This hearty soup is a family favorite and a perfect meal that the whole family will enjoy. Let's get cooking!
Jump to:
The Ingredients
Most of these ingredients are pantry staples, especially if you opt for frozen tortellini. If you're an avid home cook, you're likely already halfway there!
Cheese-Filled Tortellini
Fresh cheese tortellini or frozen—either works. Cook until al dente for best results. We love the frozen Seviroli 5 Cheese Tortellini from Costco. When we moved to North Carolina from Maryland, our local Costco didn't carry it. Just find your favorite and roll with it!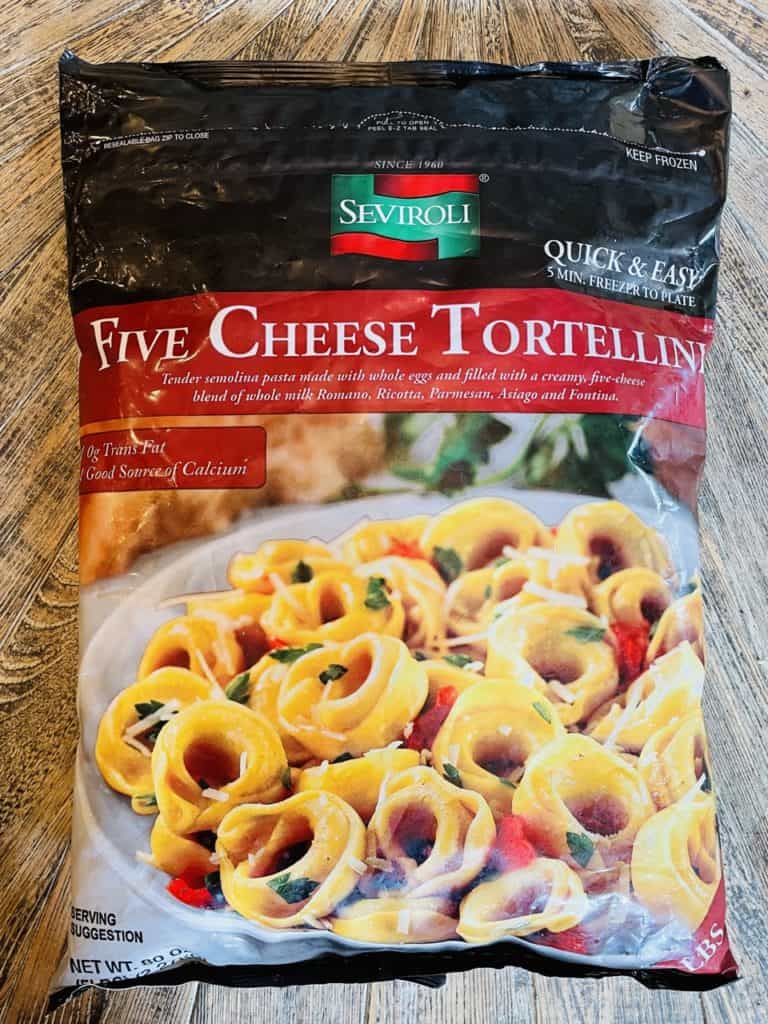 Italian Sausage
Whether you prefer hot Italian sausage, mild Italian sausage, or sweet Italian sausage, this is the star of your tortellini soup recipe. We personally use mild sausage over spicy sausage, but only for the kids.
Bell Pepper & Red Onion
Fresh veggies that add color and crunch. The color of the bell pepper doesn't matter, however, we really do prefer red onion instead of white or yellow onion in this recipe. Dice 'em up!
Tomato Paste & Diced Tomatoes
Tomato paste gives us that "cooked all-day flavor". Not to be confused with tomato sauce. Diced tomatoes add body to the soup. The combination of the two works perfectly for this recipe.
Chicken Stock
Chicken stock is classic, but vegetable broth works for a lighter touch. Low-sodium chicken broth is also an option for those with salt concerns.
Garlic, Herbs, and Spices
Minced garlic or crushed garlic will work. I'm also not above using jarred garlic in this recipe. It's the aromatic backbone of this dish and the amount you add is measured with your heart. Our recipe is merely a guideline.
Dried basil, thyme, rosemary, oregano, and a bay leaf. If you don't have these, Italian seasoning is a great substitute!
Olive Oil
The base of any good Italian dish. It's what you'll use to sauté your spicy Italian sausage and veggies.
Optional Add-ins
Fresh baby spinach - 1 cup
Parmesan cheese - as desired
Red pepper flakes - 1 tsp
Heavy cream for a creamy tortellini soup - ¼ cup
Fresh basil for garnish - as desired
Equipment List
Here are the kitchen tools you'll need to make this comforting soup effortlessly.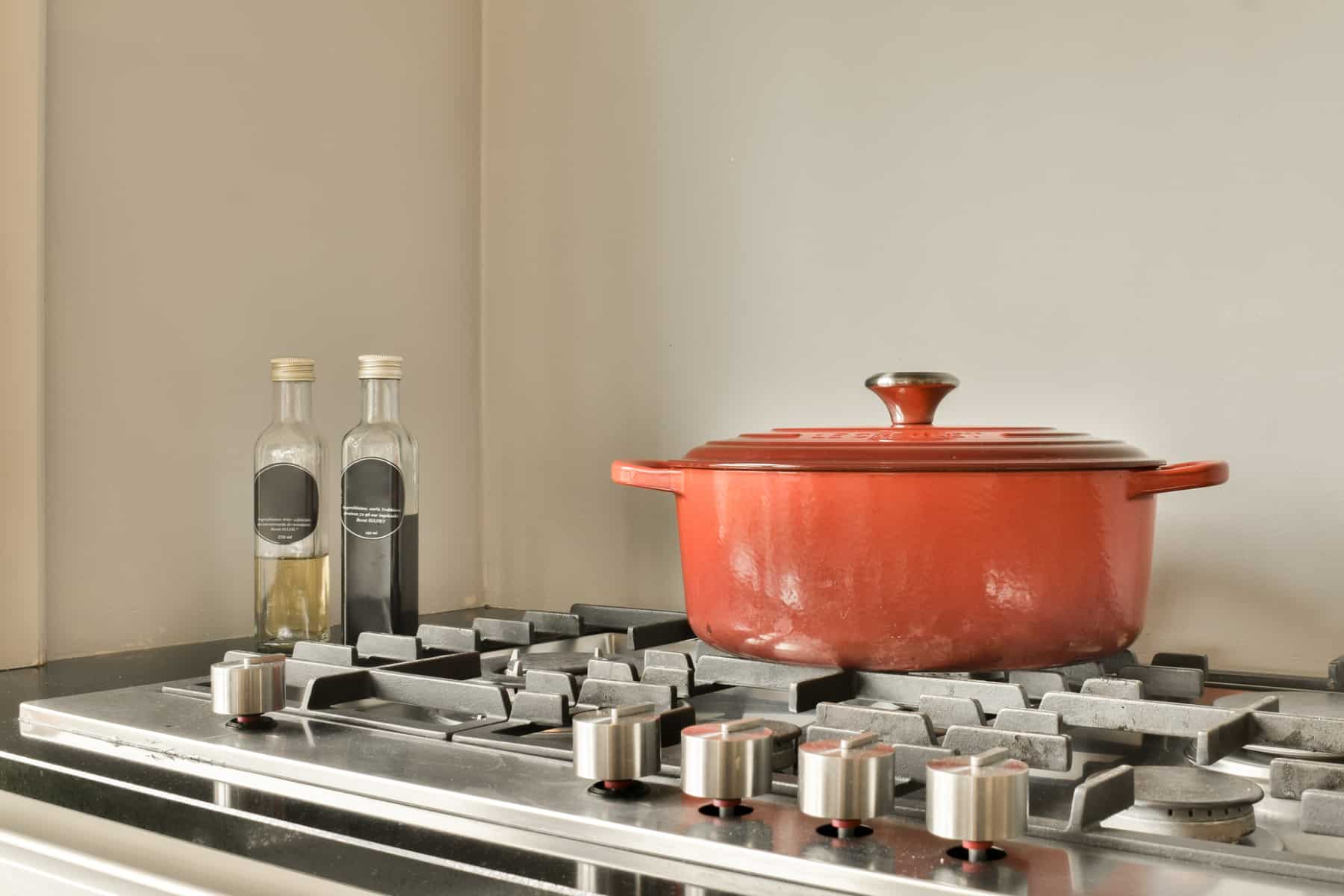 The soup pot is where all the magic happens and a large Dutch oven is our recommendation. We are absolutely obsessed with ours, but if you don't have one, a large pot will work just fine.
Wooden Spoon & Ladle
For stirring and scraping those browned bits at the bottom of the pot. A heat-resistant rubber spatula will also do the trick. Oh, and don't forget a ladle is helpful when it comes time to serve it up!
Slotted Spoon or Spider
Helpful for easily removing the Italian sausage from the pan, making room for your bell peppers and onions to sauté to perfection.
Optional
Cheese grater for fresh Parmesan
Fresh Spinach - add at the very end
Food processor for quicker veggie chopping
Step-by-Step Instructions
Before you dive into the cooking, know that we've got you covered. Below is a more detailed walk-through of each step to guide you through the process. If you're a visual learner, don't miss the video below to follow along. And for those who like to keep things short and sweet, there's a printable recipe card at the end of the post.
Prepping the Ingredients
Chop Your Veggies: Small dice your bell pepper and medium onion. Mince or crush the garlic, and set to the side.
Measure Your Spices: Have your Italian spices ready to go.
Find Your Can Opener: Make sure to open all your tomato and chicken stock cans ahead of time.
Sautéing the Sausage and Veggies
Heat the Olive Oil: Over medium-high heat in your Dutch oven.
Brown the Sausage: Add the Italian sausage - we prefer breaking off tiny pieces and adding them to the pan until browned. It ensures bit-sized pieces and better browning.
Remove the Sausage: Using a slotted spoon or spider (can't live without it) remove the sausage and place it in a bowl to the side. Don't drain off the excess grease!
Add the Veggies: Toss in your chopped onion, and bell pepper, in the remaining grease and sauté for 3-5 minutes. If the pan looks dry, add a tablespoon of olive oil. Add your garlic last and cook for 1 additional minute.
Adding Tomato & Stock
Stir in Tomato Paste: Mix into the bell pepper and onion mixture and cook for 1-2 minutes until the tomato paste starts to brown.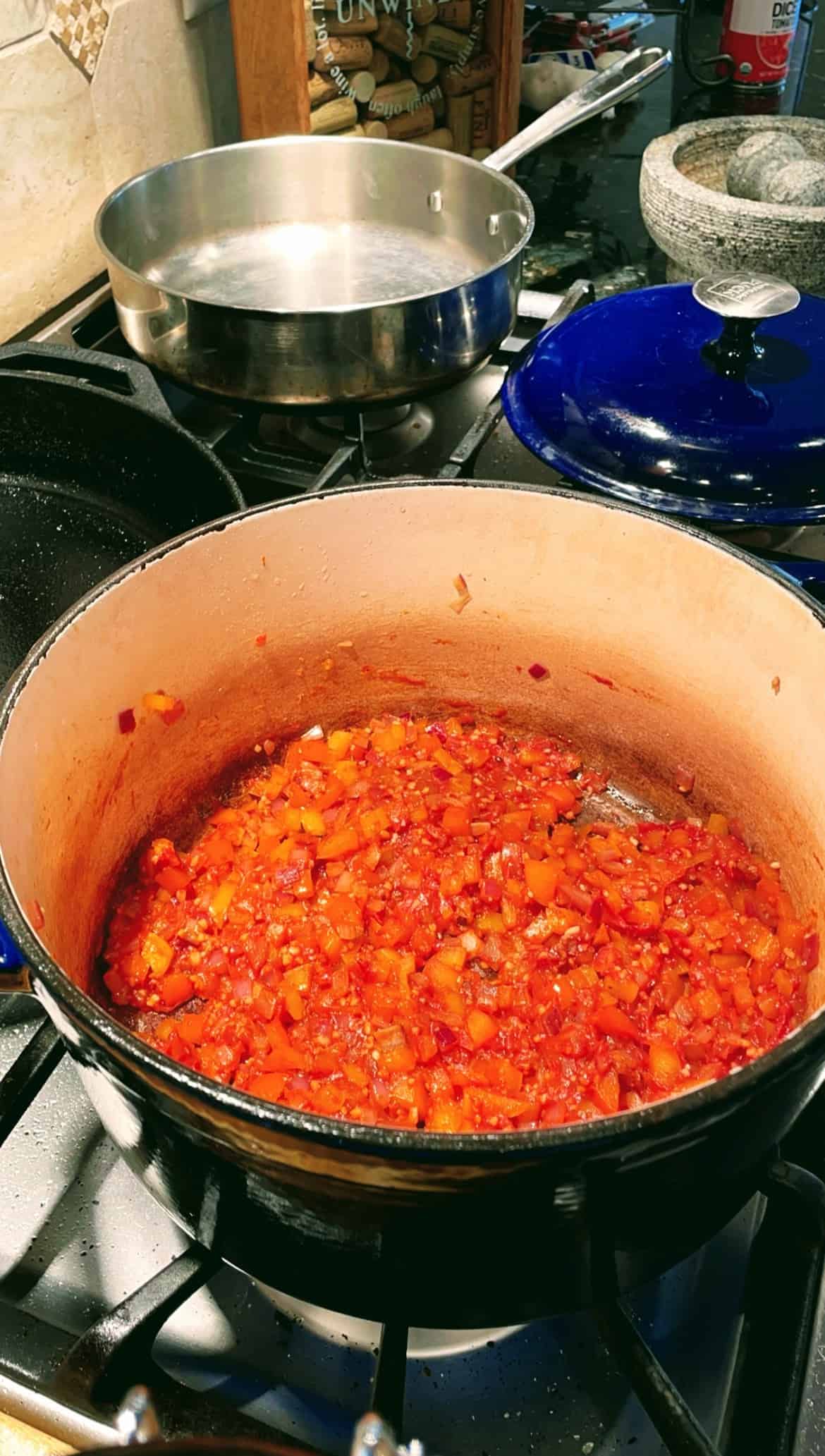 Add Diced Tomatoes & Stock: Deglaze with your stock and tomatoes. Make sure to scrape up all the browned bits left on the bottom of the pan from cooking the sausage and browning the tomato paste.
Add Herbs: Dried basil, thyme, rosemary, oregano, and a bay leaf. Don't forget your kosher salt & fresh ground pepper! Stir well and cover.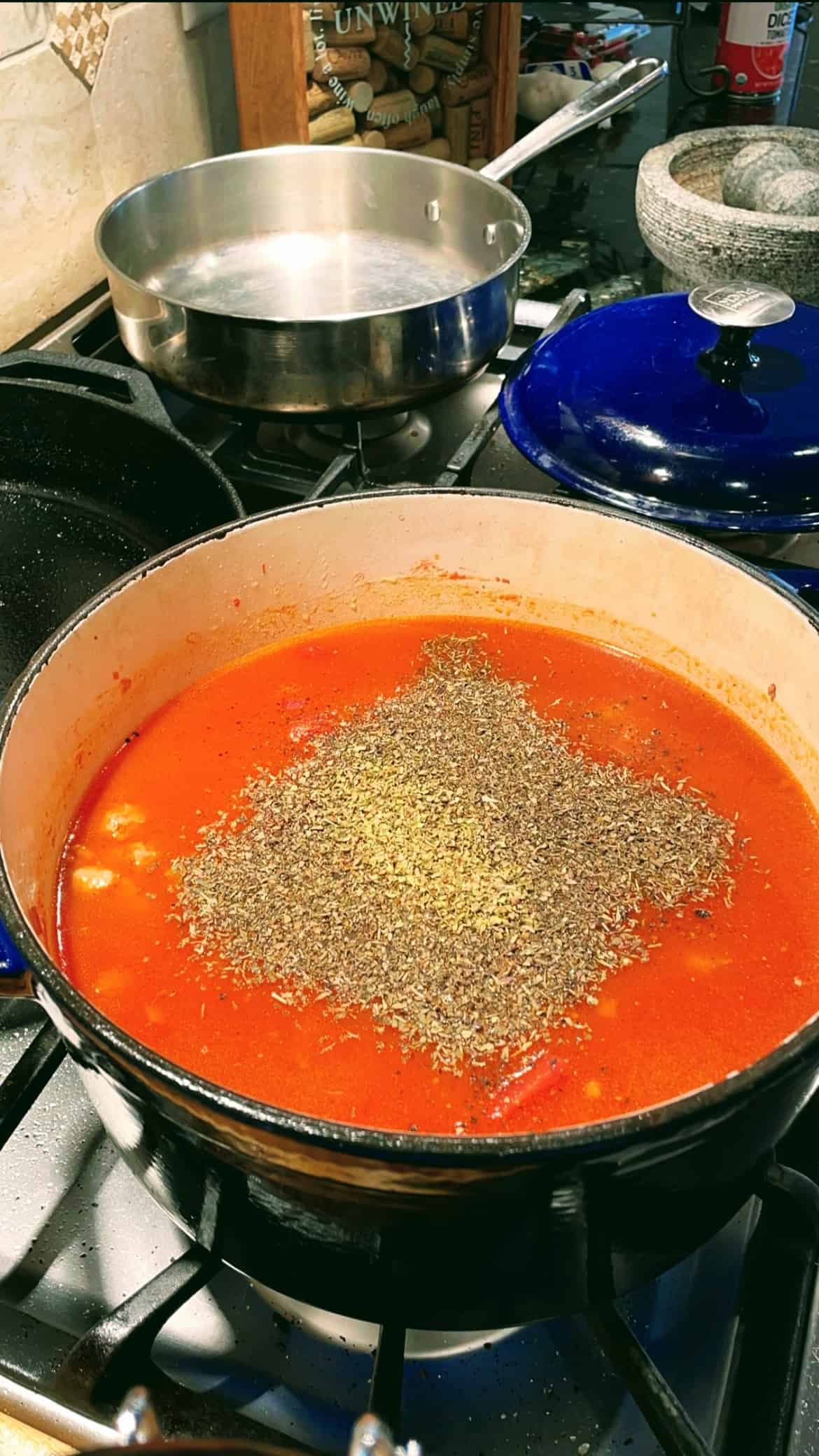 Let It Simmer: Reduce heat and let your soup simmer for 15-20 minutes. This is when those Italian flavors really come alive.
Introducing the Tortellini
Add Tortellini: Fresh tortellini or frozen, add them to the pot. Cook until al dente. A good indication they are done is when they float to the top.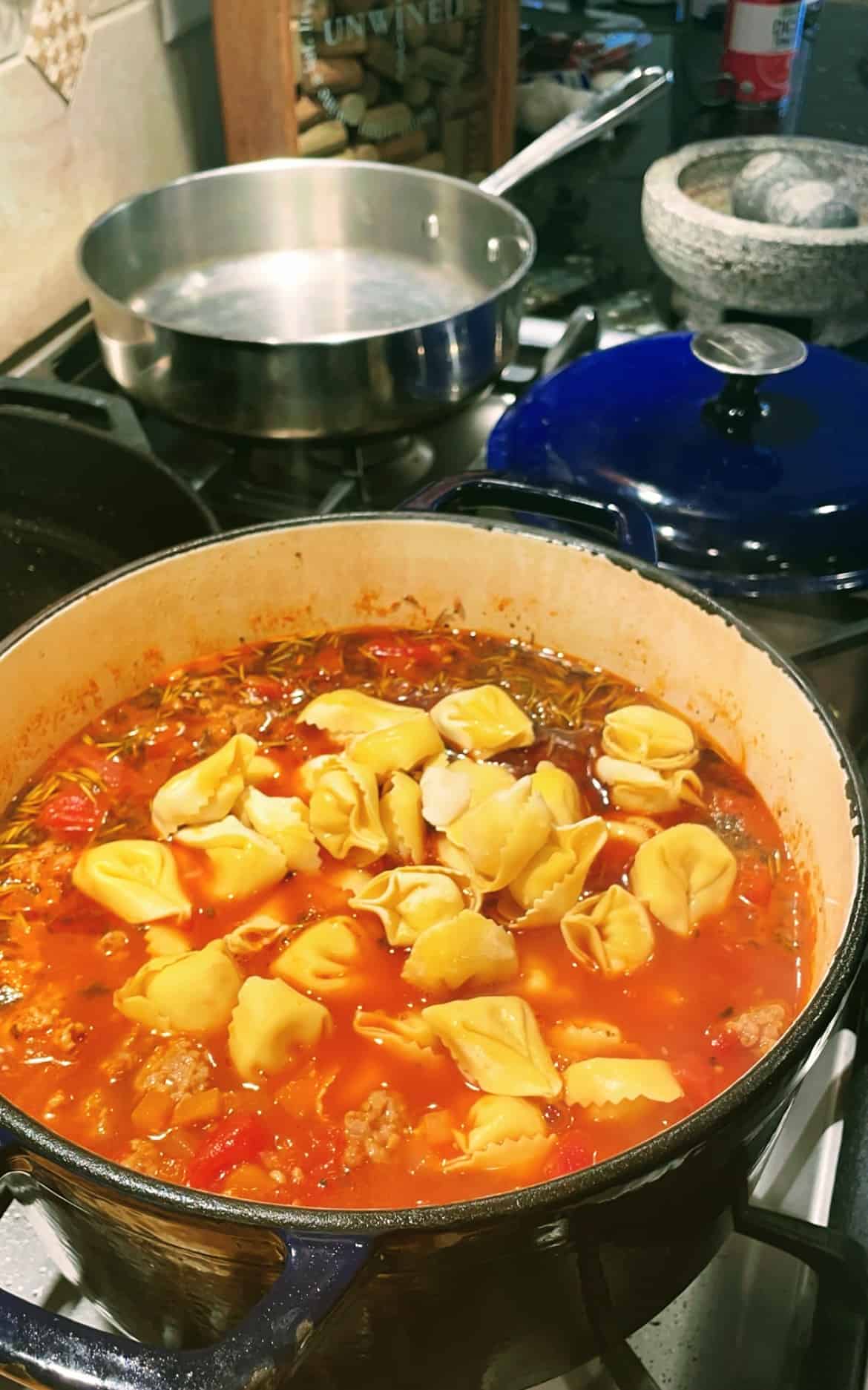 Optional: For a creamier sausage and tortellini soup, stir in some heavy cream, about ¼ cup should do.
Taste and Adjust: Adjust your kosher salt, fresh ground black pepper, and optional red pepper flakes for heat.
​Tips & Tricks
The Importance of Browning
When you brown the sausage, you're doing more than just cooking it—you're creating what's known as "fond." These browned bits at the bottom of the pot are culinary gold.
Fond is a layer of caramelized sugars and proteins that forms as the meat cooks, and it's a flavor base you simply can't buy at the store. Incorporating this into your soup elevates the dish to a whole new level of deliciousness.
The Role of Tomato Paste
Tomato paste might seem like a simple ingredient, but it's a powerhouse when it comes to adding depth and richness. When you brown the tomato paste, you're essentially doing the same thing as browning the meat—you're creating a fond of tomatoey goodness.
This process unlocks a deep, rich flavor "umami" flavor which adds complexity and a savory note to your soup that's different from what you'd get with just tomato sauce.
Layering Herbs
Using a mix of dried herbs or Italian seasoning creates a complex flavor profile. You can absolutely adjust this to your personal preferences. More garlic, less thyme, fresh herbs vs. dried, it's all up to you.
🎥 Video
Storage & Reheating
We all know that sometimes, the only thing better than a freshly cooked meal is enjoying the leftovers the next day.
Short-Term Storage
For keeping your soup fresh for the next day or two, an airtight container is your best friend. Simply let the soup cool to room temperature before sealing it up and popping it in the fridge. It'll stay delicious for 3-4 days. We use these glass pop-top-style containers and love them.
Freezer-Friendly
If you're planning for the long haul, this soup is freezer-friendly! Once the soup has cooled, ladle it into a freezer container or a heavy-duty freezer bag. Make sure to leave some space at the top for expansion. Your future self will thank you when you rediscover this comfort food gem on a day you don't feel like cooking.
Reheating
When you're ready to dive back into this delicious soup, reheating is simple. If it's coming from the fridge, a few minutes on medium heat on the stovetop will do the trick.
For frozen soup, it's best to thaw it in the fridge overnight and then reheat it on the stove. Either way, you might find that the flavors have melded even more, making for an even tastier experience.
Pairings
Whether you're whipping this up for a quick weeknight dinner or hosting friends this weekend, we have some pairing possibilities for you. For a casual evening, this soup pairs wonderfully with good, crusty bread that can sop up every last bit of broth from the bottom of everyone's bowl.
If you're looking to elevate the experience, why not consider a small cheeseboard or charcuterie board? It's a delightful way to start the meal and keeps the Italian theme going strong. For inspiration, check out our charcuterie board posts to make your spread as irresistible as the soup itself.
For those who enjoy a glass of wine with dinner, a light Italian white wine like Pinot Grigio or Pinot Gris would complement the flavors beautifully, balancing the richness of the sausage and the acidity of the tomatoes.
Kid-Friendly Modifications
For picky eaters, you can omit the red pepper flakes and opt for mild Italian sausage. Also, consider using petite diced or crushed tomatoes instead of diced. I've found the smaller the pieces the less scary kids think they are.
Similar Recipes
Thank you for cooking along with me! I hope this Italian Sausage Tortellini Soup becomes a staple in your home. Don't forget to check out the printable recipe card and affiliate links for equipment below.
📖 Recipe
Italian Sausage & Tortellini Soup
Tender tortellini paired with Italian sausage and tomatoes makes this dish perfect for warming up on a cold day. Kid-approved, this is one of those dishes the kids specifically ask for.
Ingredients
2

tablespoon

Olive Oil

1

pound

Italian Sausage

-

broken into small pieces

1

Bell Pepper

-

diced

2

tablespoon

Garlic

1

Red Onion

-

diced

3

oz

Tomato Paste

-

½ small can

2

cans

Diced Tomatoes

6

cups

Chicken Stock

2

teaspoon

Dried Basil

1

teaspoon

Dried Thyme

1

teaspoon

Dried Rosemary

1 ½

teaspoon

Dried Oregano

1

Bay Leaf

Fresh Ground Pepper

3

cups

Tortellini
Instructions
Mince your garlic, use a garlic press, or you can use pre-minced and set aside.

Using a dutch oven or a large pot, add olive oil to the pan and put on medium/high heat.

Add the Italian sausage to the pan. Try not to stir around in the pan, and let it get a good brown color to it. Browning = Flavor.

Once browned, remove the Italian sausage from the pan and set it to the side.

Let this brown a little, for around 2 minutes.

Next, add your diced tomatoes, chicken stock, Italian sausage, and spices into your pot and bring it all up to a simmer. Season with kosher salt & fresh ground pepper.

Turn the heat down to medium-low and let simmer for 15-20 minutes.

Taste for seasoning! This is important. Don't forget to stop now and see if you need another pinch of salt, a crank of pepper, or if you want to spice it up with some red pepper flake, now is a great time.

Add your tortellini and cook until done. The cook time will depend on if they are frozen, refrigerated, or fresh.
Notes
Spice It Up
If you're a fan of heat, feel free to add about 1 teaspoon of red pepper flakes or about 1 tablespoon of your favorite hot sauce to this dish. It'll give your soup that extra kick!
My Costco Favorites
I'm a Costco girl through and through. I highly recommend their chicken stock, tortellini, and Italian sausage. It's not just about the convenience of getting them all in one place; they genuinely offer superior quality for this recipe.
Smooth vs Chunky
If you're not a fan of tomato chunks, opt for crushed tomatoes instead of diced. You'll get a smoother finish that's just as delicious.
These notes are your key to customizing this Italian Sausage & Tortellini Soup to your own taste and preferences. Enjoy!
Nutrition
Calories:
608
kcal
Carbohydrates:
44
g
Protein:
27
g
Fat:
36
g
Saturated Fat:
11
g
Polyunsaturated Fat:
4
g
Monounsaturated Fat:
16
g
Cholesterol:
85
mg
Sodium:
1436
mg
Potassium:
934
mg
Fiber:
5
g
Sugar:
12
g
Vitamin A:
1016
IU
Vitamin C:
45
mg
Calcium:
165
mg
Iron:
5
mg