Italian Sausage and tortellini soup is absolutely my favorite soup, hands down. An added bonus is you can control your protein, pasta, the heat of your sausage, and the chunkiness of your tomatoes. You don't need to feel locked in. Let your culinary juices flow and make this recipe your own. This Italian Sausage & Tortellini Soup is so well-loved, in this house at least, that I make it with my family in mind.
Family & Budget Friendly Recipe
My 11-year-old son Noah is actually the reason this post is even up today. He loves this recipe so much and specifically requested it for dinner a few nights ago. I wasn't feeling it and pushed it off so I decided to surprise him with it last night. He came thumping down the stairs shouting "Mmmmmmm, that smells delicious! What is it?" When he heard sausage and tortellini soup, his response was " YAAASSSSSS". Love that kid.
The Tortellini Makes or Breaks It
Funny story, Noah is literally so obsessed with this recipe that he was upset we needed to use a different type of tortellini than he usually likes due to Costco in NC not selling it. Well, guess who just had 2 bags delivered to their mother-in-law's house so she can bring them down tomorrow when they come to visit?
Correct. Me. Mom win. Along with 2 bottles of basting oil from Wegmans because while the downsides of living here are small, not having a Wegmans is on the top of my list. Ocean and beach make up for it though.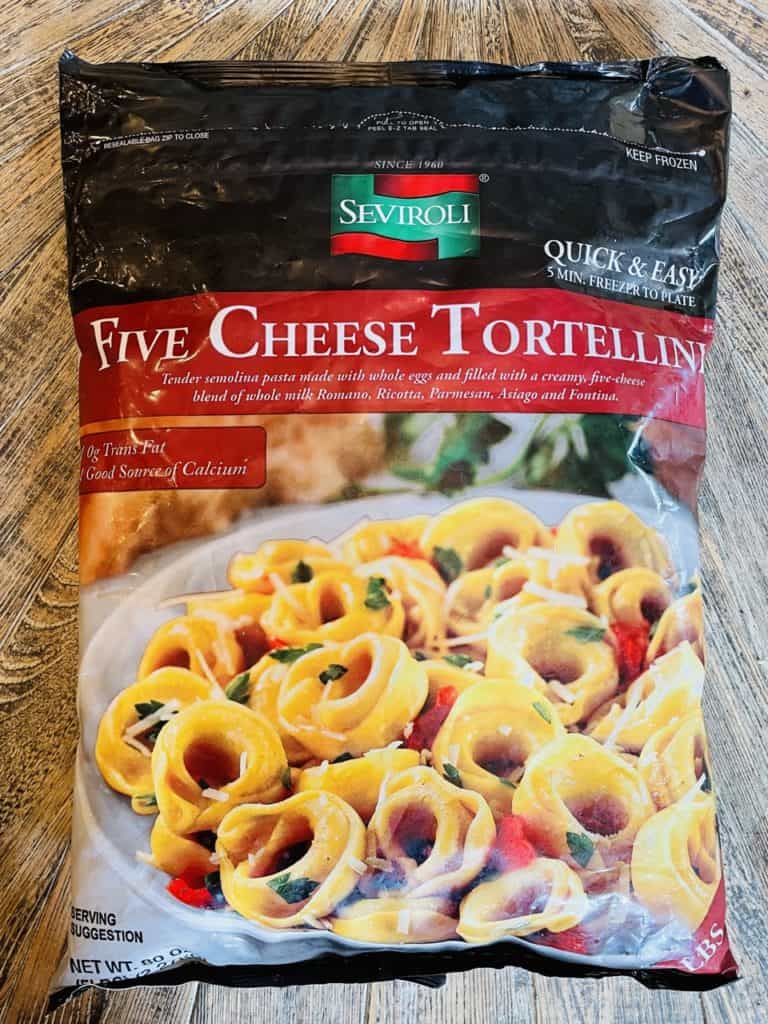 NOTE: The bag below is NOT the same as the tortellini photographed. This is what my mother-in-law brought me down from MD. I have gone through both bags and my life is in shambled and my son is generally displeased.
We use this exact same tortellini for our Shrimp & Andouille Pesto recipe! Another personal favorite that's ready in under 30 minutes.
Serving Your Soup
Any soup can be bland if you are nervous about adding too much seasoning. I highly recommend adding Diamond kosher salt & a pepper grinder to your kitchen. These two alone will level up every dish you are currently making. When it comes to herbs and spices, don't be shy. Add a little more, taste... a little more, taste. You aren't going to ruin a big old pot of soup by adding 1 teaspoon of thyme, garlic, or rosemary to it. Experiment. It's worth it!
📖 Recipe
Italian Sausage & Tortellini Soup
Tender tortellini paired with Italian sausage and tomatoes makes this dish perfect for warming up on a cold day. Kid-approved, this is one of those dishes the kids specifically ask for.
Ingredients
2

tablespoon

Olive Oil

1

pound

Italian Sausage

-

broken into small pieces

1

Bell Pepper

-

diced

2

tablespoon

Garlic

1

Red Onion

-

diced

3

oz

Tomato Paste

-

½ small can

2

cans

Diced Tomatoes

6

cups

Chicken Stock

2

teaspoon

Dried Basil

1

teaspoon

Dried Thyme

1

teaspoon

Dried Rosemary

1 ½

teaspoon

Dried Oregano

1

Bay Leaf

Fresh Ground Pepper

3

cups

Tortellini
Instructions
Mince your garlic, use a garlic press, or you can use pre-minced and set aside.

Using a dutch oven or a large pot, add olive oil to the pan and put on medium/high heat.

Add the Italian sausage to the pan. Try not to stir around in the pan, and let it get a good brown color to it. Browning = Flavor.

Once browned, remove the Italian sausage from the pan and set it to the side.

Let this brown a little, for around 2 minutes.

Next, add your diced tomatoes, chicken stock, Italian sausage, and spices into your pot and bring it all up to a simmer. Season with kosher salt & fresh ground pepper.

Turn the heat down to medium-low and let simmer for 15-20 minutes.

Taste for seasoning! This is important. Don't forget to stop now and see if you need another pinch of salt, a crank of pepper, or if you want to spice it up with some red pepper flake, now is a great time.

Add your tortellini and cook until done. The cook time will depend on if they are frozen, refrigerated, or fresh.
Notes
If you would like to add some heat to this dish, add about 1 teaspoon of red pepper flakes or about 1 tablespoon of your favorite hot sauce to this dish.
I am a Costco girl, and really prefer their chicken stock, tortellini, and Italian sausage. Not because it's the most convenient to get them all from one place, but because they are generally superior.  
If you don't like chunks of tomato, use crushed vs diced and you will get a smoother finish. 
Nutrition
Calories:
608
kcal
Carbohydrates:
44
g
Protein:
27
g
Fat:
36
g
Saturated Fat:
11
g
Polyunsaturated Fat:
4
g
Monounsaturated Fat:
16
g
Cholesterol:
85
mg
Sodium:
1436
mg
Potassium:
934
mg
Fiber:
5
g
Sugar:
12
g
Vitamin A:
1016
IU
Vitamin C:
45
mg
Calcium:
165
mg
Iron:
5
mg
Handy Tools
Want to take your cooking game to the next level? Here's a list of some of the tools I use every time I make this recipe that help make this a breeze!