Most beef stew recipes are similar. There are only so many "secret" ingredients you can add or different cooking methods (dutch oven vs InstaPot) you can use to something that is a classic like this.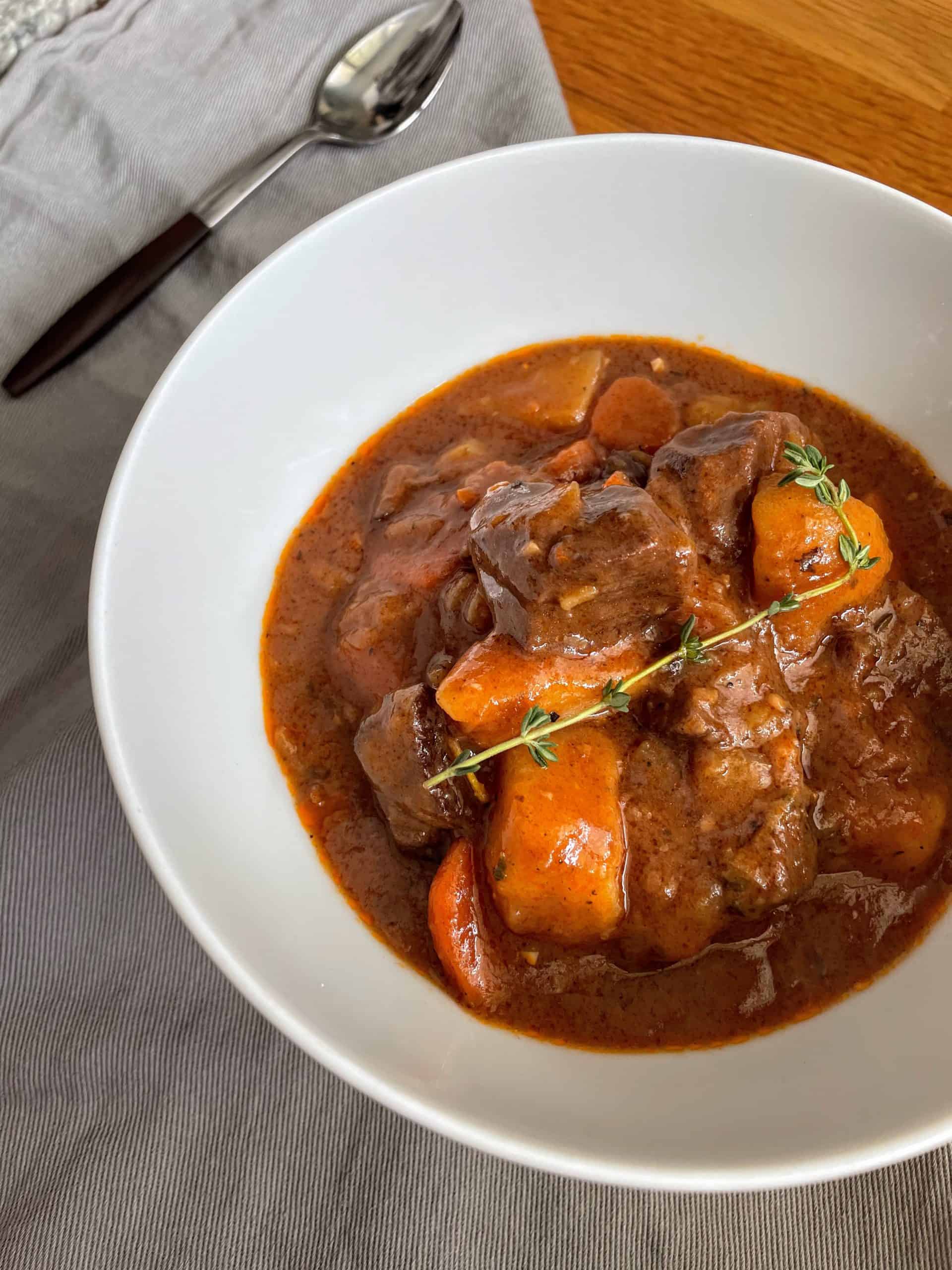 The trick here isn't adding something so drastically new that all of a sudden you have something better than anyone else. It's all about how to develop these flavors and deepen them with the same ingredients as everyone else. 
Keeping it really simple is key. That all comes down to technique. I can help you there. Follow along and I'll show you how.
Good to Know
Ingredients matter. Good beef, stock, and good red wine MATTER. Now, does that mean you need to buy a $30 bottle of wine for this to turn out okay? Absolutely NOT. Just don't expect to buy the $4 bottle of wine from Trader Joe's and expect high quality out of it. I live in North Carolina, and recently found a local wine Biltmore they have a Red Blend I really enjoy and used for this recipe.
The beef that you use in the beef stew is usually a chuck. You can get this pre-cut at most grocery stores. Chuck is generally not considered the best cut of meat, and the only reason that isn't a make-it-or-break-it here is that you are basically braising it in red wine and beef stock until it's tender. All this to say, you don't have to buy $20+ in beef for this recipe, so don't go buying tenderloin for this.
Note: I was also making a potato pie the day I made this and the cheese & bacon made their way into this picture. Disregard. Or don't because it was actually super delicious cheese... just saying.
Using a Dutch Oven
If you know you know. Dutch ovens are excellent, and I now have two I love them so much. It has a more non-stick surface than stainless steel while still giving you a beautiful sear. I make all my soups and stews in them. For example, in this recipe, we brown out beef and then use red wine to deglaze the pan (when you add a liquid to a pan that has brown bits on the bottom) and capture an absolutely fantastic amount of flavor. 
While you can do this in stainless steel pans, dutch ovens are also made out of iron and offer wonderfully even cooking. It's just a 10/10 for me. You also don't need to spend $400 on them. Amazon and Home Goods have them for around $50 and they still work just fine!
Substitutions
For the carrots, you could absolutely use the baby carrots or the one's pictures below. I actually found that the big ones are cheaper, but if I would have had baby carrots in the house, I would have used those vs buying new ones. Just use what ya have! The same goes for potatoes. Baby potatoes, red potatoes, or russets. All would do well in this recipe if you are looking to use what you have around.
Don't Forget
The wine you used in the recipe should pair beautifully with your meal. You'll have undertones of it soaked all through your dish. If you are the type to panic about what wine to accompany your dinner, this one will be an easy target.
I would also suggest a yummy crusty bread like a baguette or French loaf for dragging through the bottom of your bowl (or the pan) to soak up all the little bits left.
Leftovers?
This will taste just as good the next day for certain. Simply reheat on the stove or microwave and you're done.
Want to level up? By the next day, this natural coagulates and thicken up. If you have any pie crust in the fridge/freezer this would be an excellent filling for a beef pie. I'll work on a recipe for that for ya.
📖 Recipe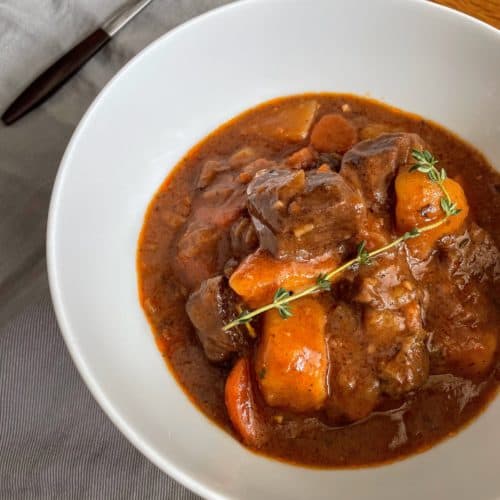 Beef Stew
Most beef stew recipes are the same. There are only so many "secret" ingredients you can add to something that is a classic like this. The trick here isn't adding something so drastically new that all of a sudden you have something better than anyone else. It's all about how to develop these flavors and deepen them with the same ingredients as everyone else. 
Ingredients
2

lbs

Stew Beef

-

chuck or shoulder

2

tablespoon

Olive Oil

-

for meat browning

2

tablespoon

Butter

2

Small Yellow Onion

-

diced

1

tablespoon

Garlic

2

tablespoon

Flour

½

cup

Red Wine

2

cups

Beef Stock

2

tablespoon

Tomato Paste

2

large

Carrots

3

medium

Potatoes

1

tablespoon

Brown Sugar

2

Bay Leaves

4

sprigs

Fresh Thyme

1

tablespoon

Worchester Sauce

Fresh Ground Pepper
Instructions
Start by removing your meat from the packing and placing it on a paper towel lined plate or tray. Use an additional paper towel to place on top of the meat to absorb as much excess moisture as possible.

Place your Dutch Oven or large pot on high heat and add enough olive oil to coat the bottom of the pan.

Wait until your pan is just about ready, and then season ONLY the meat that you are about to put into the pan. If salted too early, the meat will start to release additional moisture and it will stick.

Add your first batch of beef to the pan and flip only once you have achieved a nice golden crust. Remove and set aside.

Repeat until all of your meat is browned. Mine took 3 batches. Don't rush. This is how you level up your dish.

Set the beef aside, as we will return it to the pan a bit later.

Add the butter and onions to the pan. Stir and cook for around 3-5 minutes or until golden grown.

Add the garlic and cook for an additional 1-2 minutes.

Mix in the flour until all the moisture has been absorbed.

Pour in your red wine, beef stock, tomato paste, and mix. Once combined you can add everything else.

Once it comes to a simmer, taste and adjust the kosher salt & fresh ground pepper to your liking.

Simmer for 3-4 hrs or until the beef and potatoes are tender.

Serve with a glass of the same red wine you used for the recipe and some crusty bread.
Nutrition
Calories:
432
kcal
Carbohydrates:
28
g
Protein:
38
g
Fat:
16
g
Saturated Fat:
6
g
Polyunsaturated Fat:
1
g
Monounsaturated Fat:
8
g
Trans Fat:
1
g
Cholesterol:
104
mg
Sodium:
377
mg
Potassium:
1307
mg
Fiber:
3
g
Sugar:
5
g
Vitamin A:
4246
IU
Vitamin C:
25
mg
Calcium:
71
mg
Iron:
5
mg
Handy Tools
Want to take your cooking game to the next level? Here's a list of some of the tools I use every time I make this recipe that help make this a breeze!