If you're looking for an easy, healthy, and delicious way to enjoy salmon, you've come to the right place! This baked pesto salmon recipe is perfect for busy weeknights. When you want to put together a healthy dinner, but without a lot of fuss. The best part? You can customize the recipe with your own homemade pesto or store-bought.
Jump to:
🛒 Ingredients
Fresh Atlantic Salmon 
Pesto
Unsalted Butter - Softened
Fresh Ground Pepper
Fresh Lemon Juice to Finish
📖 Instructions
To start, preheat your oven to 425 degrees. While our oven is preheating, prepare your salmon filet by placing them on a foil or parchment-lined baking sheet or Pyrex baking dish. In a small bowl mix together pesto & softened butter and set it aside. Boom. Pesto butter. 
Gentle run your hand overtop of your salmon, making sure the butcher didn't leave any tiny bones behind. If you happen to find one, a pair of tweezers is a great tool to help pluck them out.
Generously season the salmon with kosher salt & fresh ground pepper, then evenly spread your pesto butter mixture over the top of your salmon with the back of a spoon or spatula. If you have any leftover pesto, you can save it in an airtight container for later use. 
Move your salmon into the oven for 10-12 minutes keeping in mind that the thicker pieces can take longer. For a crispier top, carefully broil for 30 seconds. Keeping your eyes on it the whole time so as to not accidentally burn!
👩🏼‍🍳 Chef Tip
As mentioned above, make sure you check your salmon for any small bones that may have been missed. You can easily do this by running your hand over the top of the fish and feeling for any hard, needle-like bones. If you find one, no worries! You can easily remove it with tweezers. 
🍃 Making Pesto Butter
This pesto salmon recipe was designed to be a quick weeknight dinner option, so we opted for a store-bought pesto. You are obviously more than welcome to make your own pesto, but with the cost of fresh basil and pinenut being exceptionally high right now ($6.99 for a 2 oz jar of pinenuts), I'll double down on our recommendation to source a quality pre-made option. 
Here at Tabetha's Table, we are obsessed with the Costco brand. The flavor is amazing, and the value per dollar is high ($10 for this 22oz jar). Far better than almost any store brand we've found AND it tastes better!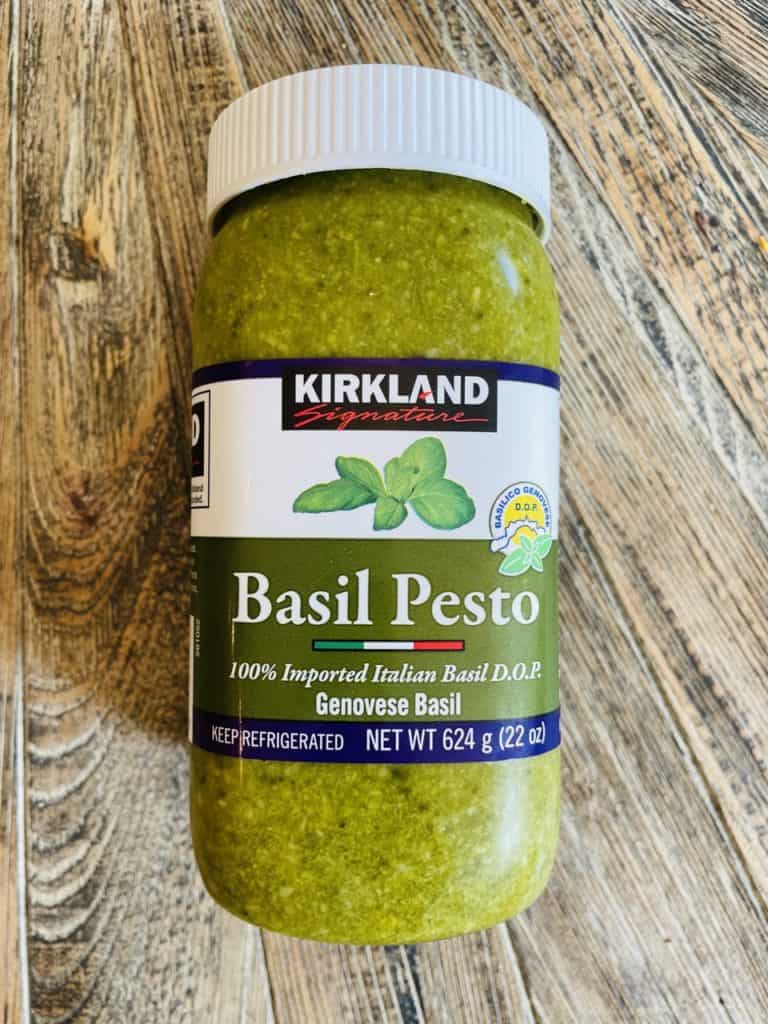 The spread used for this pesto salmon is a combination of pesto & softened butter. We found that a 1:1 ratio of pesto & softened butter was the perfect mixture. However, if you are looking to cut down on calories, you could cut back on the butter if needed.
🔥 Cooking Your Salmon
Cooking salmon to the perfect degree of doneness can be a challenge, especially if you're not sure how long to cook it or to what temperature. Have you ever been asked "How would you like your salmon?" at a restaurant and not been sure how to answer? 
First, it's important to understand that salmon is not prone to the same types of bacteria that are commonly found in meat and poultry. This means that salmon can usually be safely consumed when it is cooked to medium doneness, similar to steak.
Medium for salmon is between 120-135°F (49-57°C) which allows the salmon to be safe to eat while retaining more of its natural moisture and tenderness. Long story store, extra moist salmon. 
It's important to use an instant read thermometer to check the internal temperature. Placing it in the thickest part of the salmon fillet to get an accurate reading. An oven-safe thermometer would also work perfectly here as it can be placed and remain in the oven the whole time, alerting you when it's done.
Salmon Interal Temp
The cooking time & temperature doneness can vary depending on personal preference and the type of salmon being cooked.
Medium: 125°F to 130°F (52°C to 54°C) - The flesh will be opaque pink on the outside and slightly translucent in the center.
Medium-Well: 130°F to 135°F (54°C to 57°C) - The flesh will be mostly opaque pink with just a hint of translucency in the center.
Well-Done: 140°F or higher (60°C or higher) - The flesh will be fully opaque and light pink in color all the way through.
It's important to note that the USDA does recommend cooking salmon to an internal temperature of 145°F (63°C) for food safety reasons. However, many people (including myself) prefer their salmon cooked to a lower temperature to achieve a more tender and moist texture.
If you decide to cook your salmon to a lower temperature, it's important to purchase high-quality, fresh salmon. Follow proper food safety practices, such as using a meat thermometer to ensure the internal temperature has reached the desired level.
🥗 Sides
While the salmon is baking, you can also prepare some side dishes, such as sauteed green beans, roasted bell peppers, or cherry tomatoes to make it a complete low carb meal. You can also serve the salmon over a bed of pasta with your any leftover pesto sauce if carbs aren't a worry. 
The world is your oyster when it comes to sides, we recommend pairing this dish with something like our parmesan mashed potatoes or our spicy balsamic Brussels recipes.
​Health Benefits
Salmon baked with pesto butter on top is a delicious and healthy meal option that is packed with nutrients.
Salmon: It's an excellent source of protein, healthy fats, and essential nutrients such as vitamin D and omega-3 fatty acids. A 3-ounce (85-gram) serving of salmon provides about 17 grams of protein, 7 grams of healthy fat, and more than 100% of the recommended daily intake of vitamin D. Salmon also contains antioxidants that can help protect against chronic diseases such as heart disease and cancer.
Pesto: Pesto is made with fresh basil, pine nuts, olive oil, and Parmesan cheese, all of which offer nutritional benefits. Basil is rich in vitamins A, C, and K, as well as antioxidants that can help reduce inflammation. Pine nuts are a good source of healthy fats, fiber, and protein, while olive oil is high in monounsaturated fats that can help lower cholesterol levels. Parmesan cheese provides protein and calcium, which is important for bone health.
Butter: The use of butter in this recipe adds richness and flavor, but it's important to note that it also adds calories and saturated fat. However, using a small amount of butter (like in this recipe) can be part of a balanced and healthy diet.
Overall, this basil pesto salmon dish is an easy recipe to add to your collection of simple recipes for easy weeknight dinners. It's easy to make, delicious, and a great way to enjoy the health benefits of salmon in a delicious way. Try it out and let us know what you think!
📖 Recipe
Pesto Butter Salmon
Are you in need of a quick and flavorful dinner idea? Look no further than this Pesto Salmon recipe! It's easy to prepare, delicious, and ready in 30 minutes!
Ingredients
4

pieces

Salmon

-

or 1 whole side

½

cup

Pesto

½

cup

Unsalted Butter

-

Softened

tt

Kosher salt

tt

Fresh ground pepper

1

Lemon

-

freshly squeezed at serving
Instructions
Preheat the oven to 425 degrees.

In a small bowl mix together pesto & softened butter.

Lay out your salmon on a parchment lined sheet tray and season with kosher salt & fresh ground pepper.

Evenly spread your pesto butter mixture over the top of your salmon.

Bake your salmon at 425 for 10-12 minutes depending on the thickness.

For a crispier top, carefully broil for 30 seconds. Keeping your eyes on it the whole time as to not accidentally burn!
Nutrition
Calories:
326
kcal
Carbohydrates:
3
g
Protein:
2
g
Fat:
35
g
Saturated Fat:
17
g
Polyunsaturated Fat:
1
g
Monounsaturated Fat:
6
g
Trans Fat:
1
g
Cholesterol:
64
mg
Sodium:
473
mg
Potassium:
14
mg
Fiber:
0.5
g
Sugar:
1
g
Vitamin A:
1335
IU
Calcium:
57
mg
Iron:
0.2
mg