Hello, fellow cooking enthusiasts! Today, we're taking a thoughtful and exciting dive into the makings of classic comfort food with a twist - our Smoked Gouda Mac and Cheese recipe. This is not just about mixing cheese and pasta; it's about understanding how the smoky richness of Gouda elevates a beloved classic to new heights. Let's get started on this flavorful journey.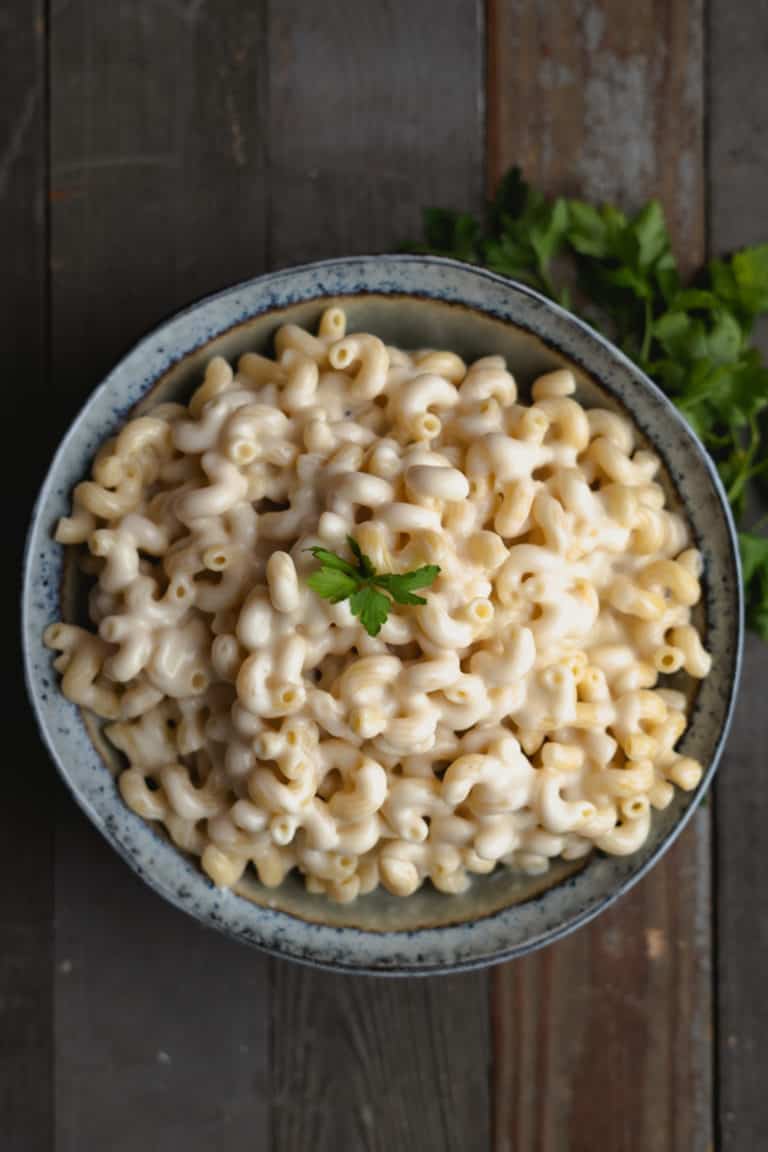 Jump to:
🛒 Ingredients
Ribbed Pasta of Your Choosing
Unsalted Butter
All Purpose Flour
Whole Milk
Parmesan Cheese
Sour Cream
Garlic Powder
Onion Powder
Kosher Salt
Fresh Ground Pepper
📖 Instructions
Alright, let's talk about the pièce de résistance - the creamy cheese sauce which is technically a bechamel sauce. It's a basic sauce made from a roux of butter and flour cooked in milk. The sauce is one of the "mother sauces" in French cuisine and is used as a base for many other sauces and dishes, such as macaroni and cheese, lasagna, and chicken pot pie.
Start by melting the butter in a large saucepan over medium heat. Now here's a tip: use unsalted butter. You want to control the saltiness with the actual salt! Stir in the flour with a wooden spoon. This is our thickening agent (roux) and it's going to make our sauce lusciously thick.
When adding milk, make sure it's warm. The roux blends better using a whisk and adding your milk ⅓ of a cup at a time, waiting until it's slightly thick between additions. This is how I avoid clumps of roux or grittiness in my sauce!
Finish up by adding your cheese, sour cream, garlic, and onion powder. And here's a golden nugget of wisdom: grate your own cheese. I don't know the last time I have ever seen pre-shredded Gouda, let alone Smoked Gouda at the store anyway. The pre-shredded stuff has its place, but not in our béchamel sauce. Oh no, we are going classy.
🍝 The Pasta
Now, I'm gonna be honest and let you know I'm not an elbow macaroni kind of gal. I am a big fan of using fun-shaped noodles. The days are gone of the standard spaghetti & elbow macaroni in my house. There are so many other worthy contenders.
People eat with their eyes and this Cavatappi is not only beautiful, but it also has ribs which makes it perfect for holding onto our cheese sauce. Penne and fusilli are also great choices. Just cook the pasta in a large pot of salted water according to package directions until al dente, which means it should still have a bite to it.
🧀 Smoked Gouda
We have arrived at the crowning glory of our dish - the smoked Gouda. You might struggle to find smoked gouda already shredded in your local grocery store. This is exactly the brand I used, which I shredded at home using my grater attachment on my KitchenAid.  When you grate your own cheese at home, so many more options for flavors come available. 
Its smoky flavor is what makes this dish a king among mac and cheese. But fret not, if smoked Gouda is not your jam, regular Gouda, sharp cheddar cheese can find a home in this dish. It's all about what makes your heart sing!
🔥 Baked Alternative
After you've combined the cooked macaroni with that cheesy sauce of dreams, take a bite. You deserve it. Then transfer it into a baking dish. But wait, we aren't done. Mix some panko bread crumbs with a little melted butter or olive oil, season with kosher salt & fresh ground pepper, and sprinkle it on top.
You can also choose to add an extra sprinkle of smoked gouda mixed with some parmesan cheese on top before baking as well. I know, crazy talk. Bake this beauty until it's golden brown and bubbling. The crunch on top is what elevates this from delicious to divine. 
A great option to shortcut this step but still be able to enjoy that toasted breadcrumb top is to melt butter in a saute pan and then add panko breadcrumbs and toast them for 2-3 minutes on medium-high heat or until golden brown.
👩🏼‍🍳 Chef Tip
One of the hardest parts about making your own bechamel is the sauce turning out gritty. This can be for a few reasons like not cooking your roux long enough, or adding the milk too quickly. As long as you cook the roux for more than 2-3 minutes, that should solve that problem. When adding the milk I like to add about ⅓ of my milk to start. It will get thick quickly, but give you a chance to really mix everything together. After adding the remaining milk, you will be left with a nice smooth sauce.
If you really want to add some extra calories and another level of richness, add ¼ cup of heavy cream to finish your sauce. You can never go wrong with heavy cream!
Pre-shredded cheese can sometimes have anti-caking agents which can thicken your sauce. Don't panic, you can always add a splash of milk to thin it out!
For an extra smoky flavor, smoke your Smoked Gouda Mac in a pellet smoker for 15-20 minutes or until browned and bubbling.
🍽 Serving
While you can absolutely eat this mac & cheese all on its own, smoked vegetables or a seared protein of your choice would be a perfect accompaniment. If you are interested in recreating the plate below check out our Smoked Vegetables & Smoked Pork Tenderloin recipes!
And there you have it! My journey to making the ultimate comfort food, the Smoked Gouda Macaroni and Cheese. May your kitchen be filled with laughter, love, and a whole lot of cheesy goodness.
📖 Recipe
Smoked Gouda Mac and Cheese
Smoked Gouda Mac and Cheese is a delicious twist on the classic comfort food that is sure to satisfy your cheese cravings. The smoky flavor of the gouda pairs perfectly with the creamy, rich sauce, making this dish a true delight for the taste buds.
Ingredients
Mac & Cheese
1

Pound

Pasta

-

any ribbed variety

2

tablespoon

Unsalted Butter

2

tablespoon

All-Purpose Flour

2

Cups

Milk

8

oz

Smoked Gouda

1

tablespoon

Parmesan Cheese

¼

Cup

Sour Cream

¼

Cup

Heavy Cream

¼

teaspoon

Onion Powder

¼

teaspoon

Garlic Powder

tt

Kosher Salt

1

Pinch

White Pepper
Instructions
Bring a large pot of water to boil for the pasta, and cook for the recommended time.

While your pasta is cooking, add your butter to a saucepot over medium heat.

Once melted add your flour and whisk for 2-3 minutes or until you smell a light sightly nutty aroma coming from your pan.

Next, you will add about ½ cup of the milk while whisking quickly. Once thickened, add your remaining milk and whisk again until smooth

Your smoked gouda is up next, and we will also add about ½ of the cheese and mix until incorporated, and then the other ½.

Once it's smooth, add your heavy cream and sour cream, kosher salt, and fresh ground pepper to taste.

When your pasta is done, add it to your cheese sauce and mix. I like to add slowly so if I've made too much pasta I don't throw off my sauce to noodle ratio.
Nutrition
Calories:
890
kcal
Carbohydrates:
96
g
Protein:
38
g
Fat:
39
g
Saturated Fat:
24
g
Polyunsaturated Fat:
2
g
Monounsaturated Fat:
10
g
Trans Fat:
0.2
g
Cholesterol:
136
mg
Sodium:
687
mg
Potassium:
563
mg
Fiber:
4
g
Sugar:
11
g
Vitamin A:
1080
IU
Vitamin C:
0.3
mg
Calcium:
697
mg
Iron:
2
mg