When it comes to cheese, few varieties can rival the popularity and versatility of Gouda and Cheddar. Both hail from rich cheese-making traditions. Gouda and Cheddar offer distinctive flavors, textures, and characteristics that cater to the taste buds of cheese lovers worldwide. Let's dive into the captivating world of Gouda vs Cheddar. Explore their histories, production processes, flavor profiles, and unique qualities that set them apart.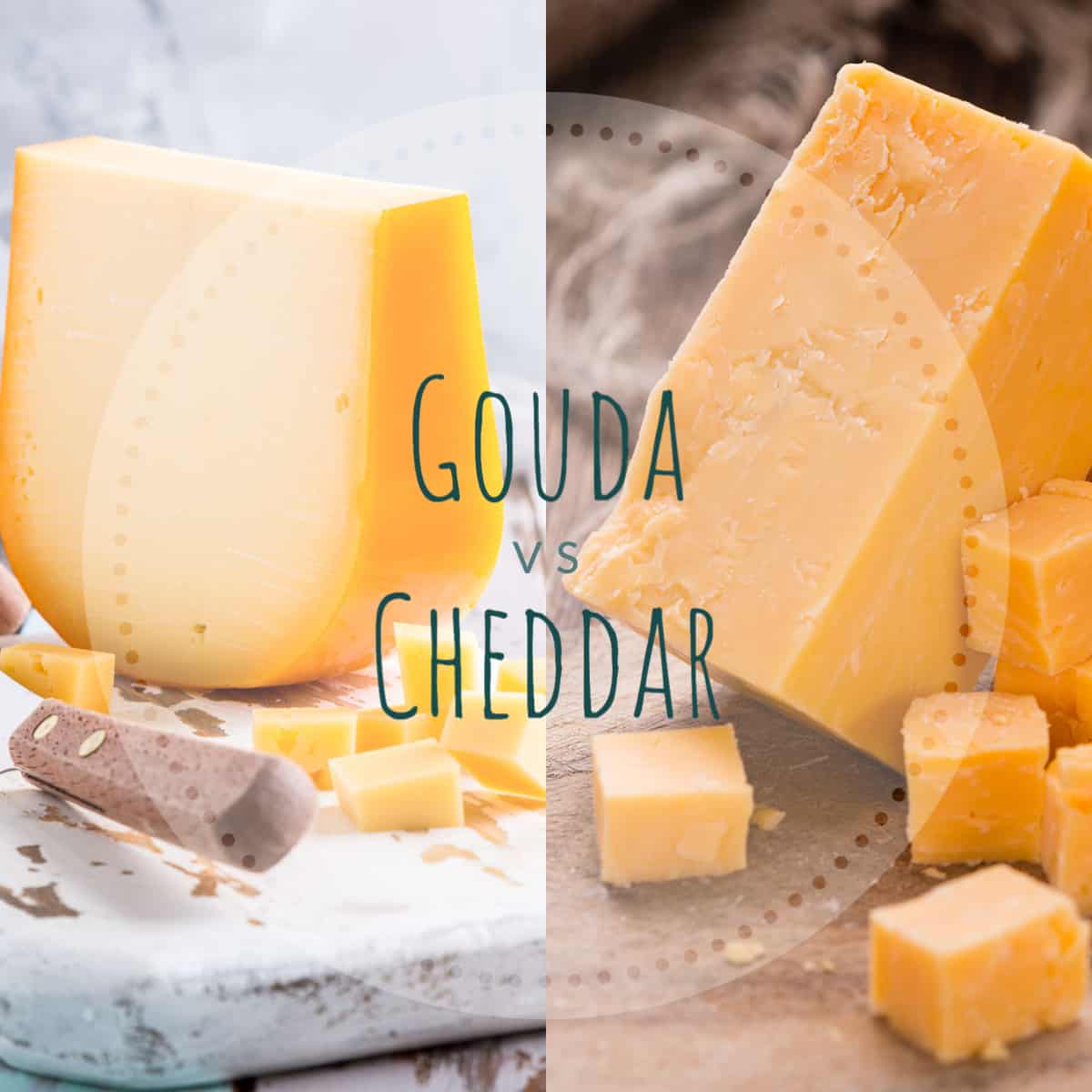 Jump to:
Gouda: A Dutch Delight
Originating from the city of Gouda in the Netherlands, Gouda cheese holds a significant place in Dutch culinary heritage. Made from cow's milk, Gouda is a semi-hard cheese with a broad range of styles and flavors. From young Gouda, which is mild and creamy, to aged Gouda, which boasts complex flavors and a firm texture, there is a Gouda cheese to suit every palate.
Gouda cheese offers a delightful nutty flavor with hints of sweetness, making it a versatile cheese for various culinary applications. It pairs well with crusty bread, fruits, and nuts, and can be grated, melted, or enjoyed on its own.
Young Gouda is smooth and buttery, while aged Gouda showcases caramel-like flavors. Occasional crunchy protein crystals, adding an intriguing texture to the cheese. Gouda is a popular choice for cheese boards, sandwiches, pasta dishes, and more, reflecting its wide appeal among cheese enthusiasts.
Cheddar: A British Icon
Cheddar cheese traces its roots back to the English village of Cheddar in Somerset. With a history that dates back to the 12th century, Cheddar has become one of the most popular and beloved cheeses worldwide. Made primarily from cow's milk, Cheddar is renowned for its versatile flavor profiles. Ranging from mild and creamy to sharp and robust.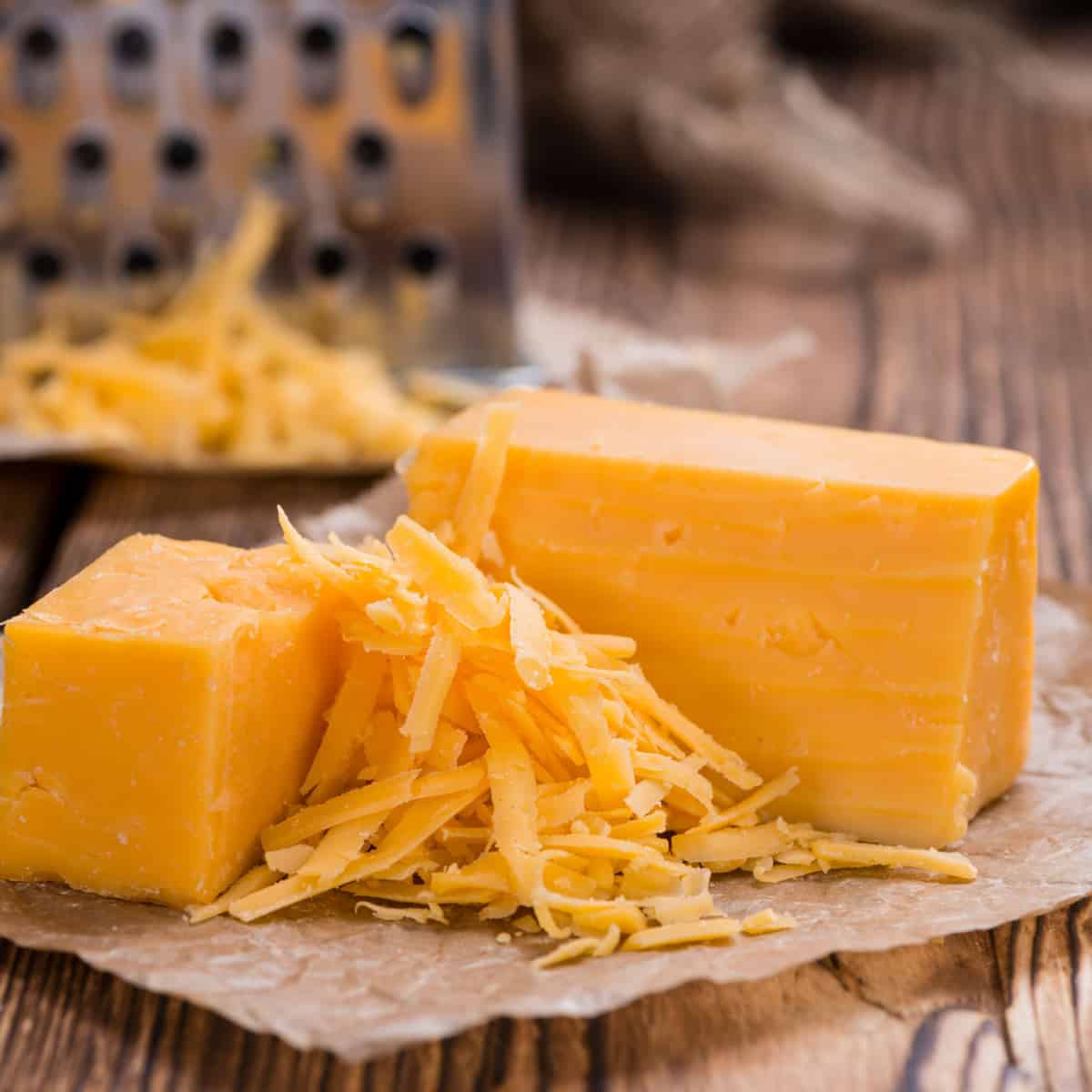 Cheddar cheese offers a range of flavors and textures depending on its aging time. Young Cheddar tends to be mild and creamy, making it an excellent choice for melting or incorporating into dishes. As Cheddar ages, it develops a sharper flavor and crumbly texture, allowing for easy grating and adding depth to recipes. The aging process, which can span several months to several years, imparts complex flavor notes, including a tangy and sometimes slightly spicy taste. Cheddar is a versatile cheese that complements sandwiches, burgers, pasta, and more, making it a staple in many kitchens around the world.
Biggest Differences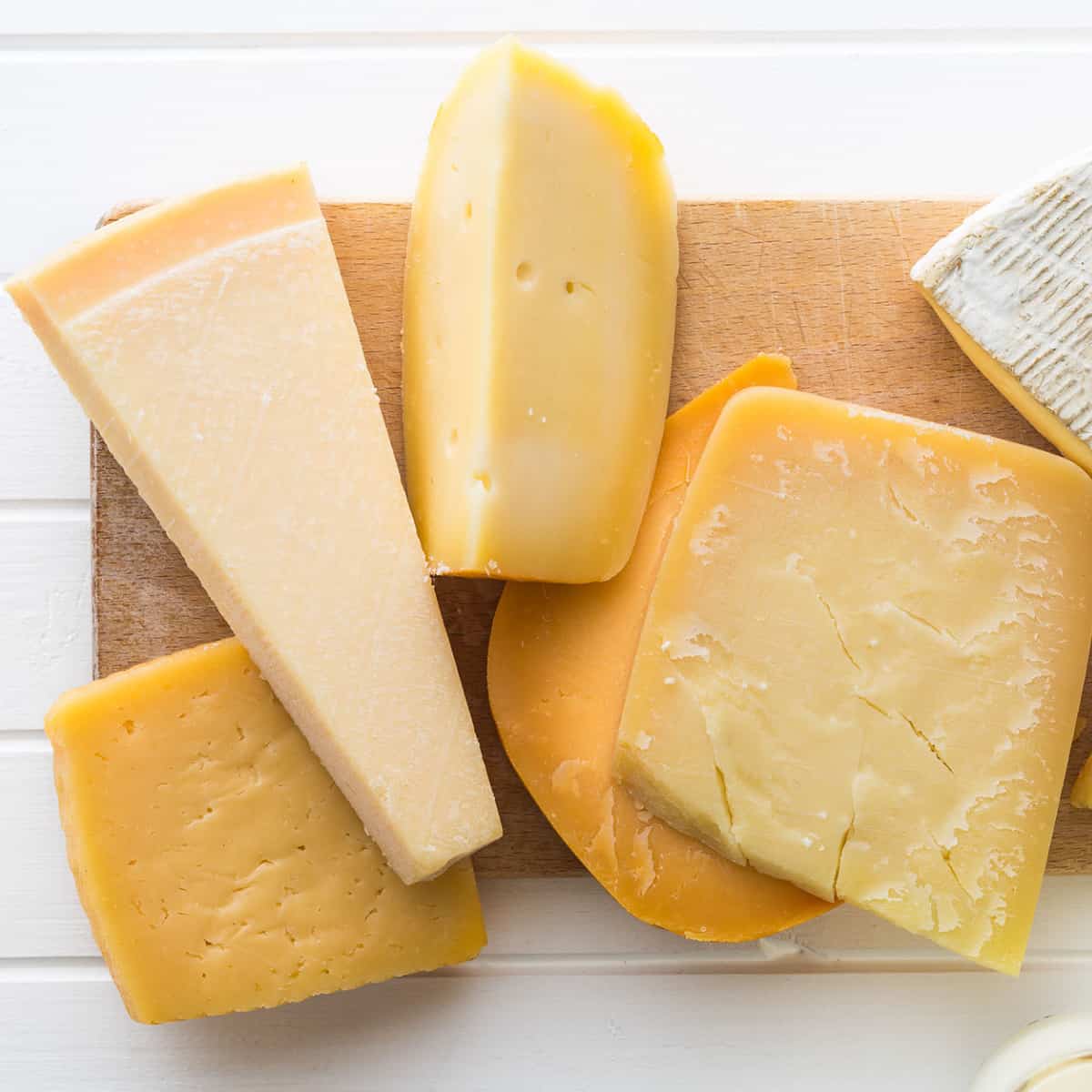 Production
The production processes of Gouda and Cheddar are slightly different. Gouda cheese often involves washing the cheese curds with warm water, which reduces the lactose content and gives Gouda its characteristic sweet flavor. Cheddar cheese, on the other hand, goes through a process called cheddaring, where the curds are stacked and turned to expel whey and create a firm texture.
Milk Used
While both cheeses are typically made from cow's milk, the specific type of milk used can vary. Gouda cheese is traditionally made from cow's milk, while Cheddar cheese can be made from cow's milk as well as goat's milk or sheep's milk in some variations.
Flavor
Gouda cheese has a rich, nutty flavor with a hint of sweetness. It can range from mild and creamy when young to bold and caramel-like when aged. On the other hand, Cheddar cheese has a sharper, tangier flavor profile. It can vary from mild and creamy in younger varieties to robust and intense in aged versions.
Gouda and Cheddar cheeses have captivated cheese lovers worldwide with their rich histories, unique flavors, and diverse textures. Whether you prefer the nutty sweetness of Gouda or the tangy complexity of Cheddar, both kinds of cheese have a place on cheese boards, in recipes, and as standalone delights.
Recipes
Honestly, we wouldn't be going cheese-deep if we weren't absolutely head over heels for both Gouda and Cheddar. And when it comes to personal favorites, our Smoked Gouda Mac & Cheese is right there at the top of the list.
It's the stuff of dreams, guys! Imagine, rich and creamy pasta loaded with that smoky, slightly sweet Gouda. It's like a comforting hug in a bowl. If that doesn't make you go "Yum!" I don't know what will. Trust me, once you dive into the world of cheeses, there's no going back, and why would you want to? It's cheesy goodness all the way!
Our White Cheddar Mac & Cheese is another classic. The sharpness from the cheddar comes through and contrasts beautifully with the creaminess of the sauce without being overpowering. The addition of toasted panko breadcrumbs is always a favorite as well. Creamy, crunch, cheesy, yum.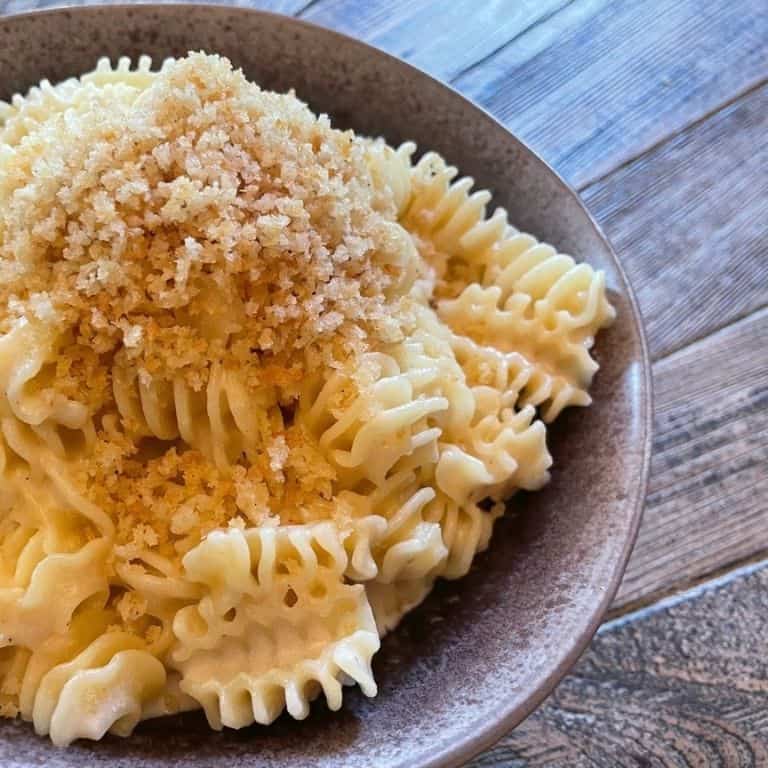 Gouda Deep Dive
The production process of Gouda involves several key steps. Firstly, fresh cow's milk is heated and combined with natural bacteria to initiate the fermentation process. Warm water is then used to wash the curds, reducing the lactose content and resulting in a sweeter taste.
The curds are shaped into large blocks, pressed, and brined in saltwater to enhance the flavor and preserve the cheese. Finally, Gouda goes through an aging process that can range from a few weeks to several years, developing its distinct characteristics and flavors.
Aged Gouda
Aged Gouda, often matured for two years or more, is a world apart from its younger counterpart. It takes on a hard, almost granular texture, and the flavor intensifies dramatically. The sweetness of young Gouda evolves into a deep, caramel-like flavor, with a hint of butterscotch.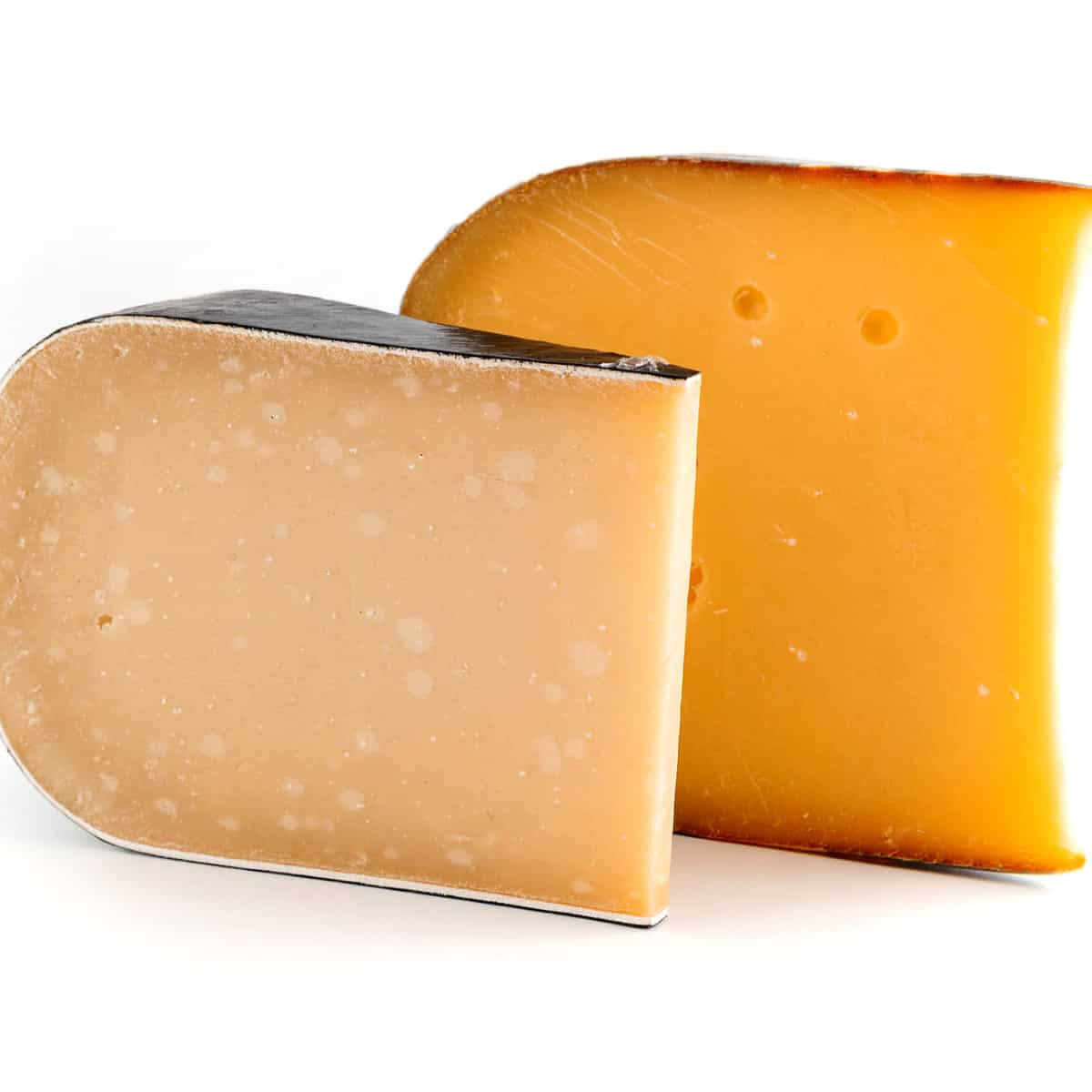 It can even exhibit notes of crunch, courtesy of the protein crystals that form during the lengthy aging process. An aged Gouda is an excellent addition to a cheese board and pairs wonderfully with bold, red wines.
Formation of Crystals in Aged Gouda
The crystals found in older Gouda cheese are calcium lactate crystals, which form naturally during the aging process. As Gouda cheese ages, the lactic acid present in the cheese converts to calcium lactate. Over time, the calcium lactate crystallizes and forms tiny crunchy crystals within the cheese. This is one of my absolute favorite types of cheese!
Remember, the taste and texture of Gouda can vary greatly depending on its age and the process used to make it. Whether you prefer a young, creamy Gouda or an aged, flavorful one, there's a variety out there for everyone.
Gouda's Texture
Young Gouda has a soft, almost springy texture, while aged versions become harder and can even develop crunchy protein crystals, a sign of a well-aged cheese.
Gouda cheese is known for its smooth and creamy texture, which is a defining characteristic of this delightful cheese. The texture of Gouda can vary depending on its age. Young Gouda cheeses tend to have a softer and more supple texture, while aged Gouda develops a firmer and denser texture.
In general, Gouda cheese has a pleasantly pliable and slightly elastic texture that lends itself well to slicing and melting. When you cut into a wheel or wedge of Gouda, you'll find a smooth and cohesive interior with a gentle resistance to the knife.
Cheddar
The production process of Cheddar cheese involves several distinct steps. After the milk is pasteurized, it is transformed into curds through the addition of starter cultures and rennet. The curds are then cut into small pieces to release whey and heated to expel more moisture.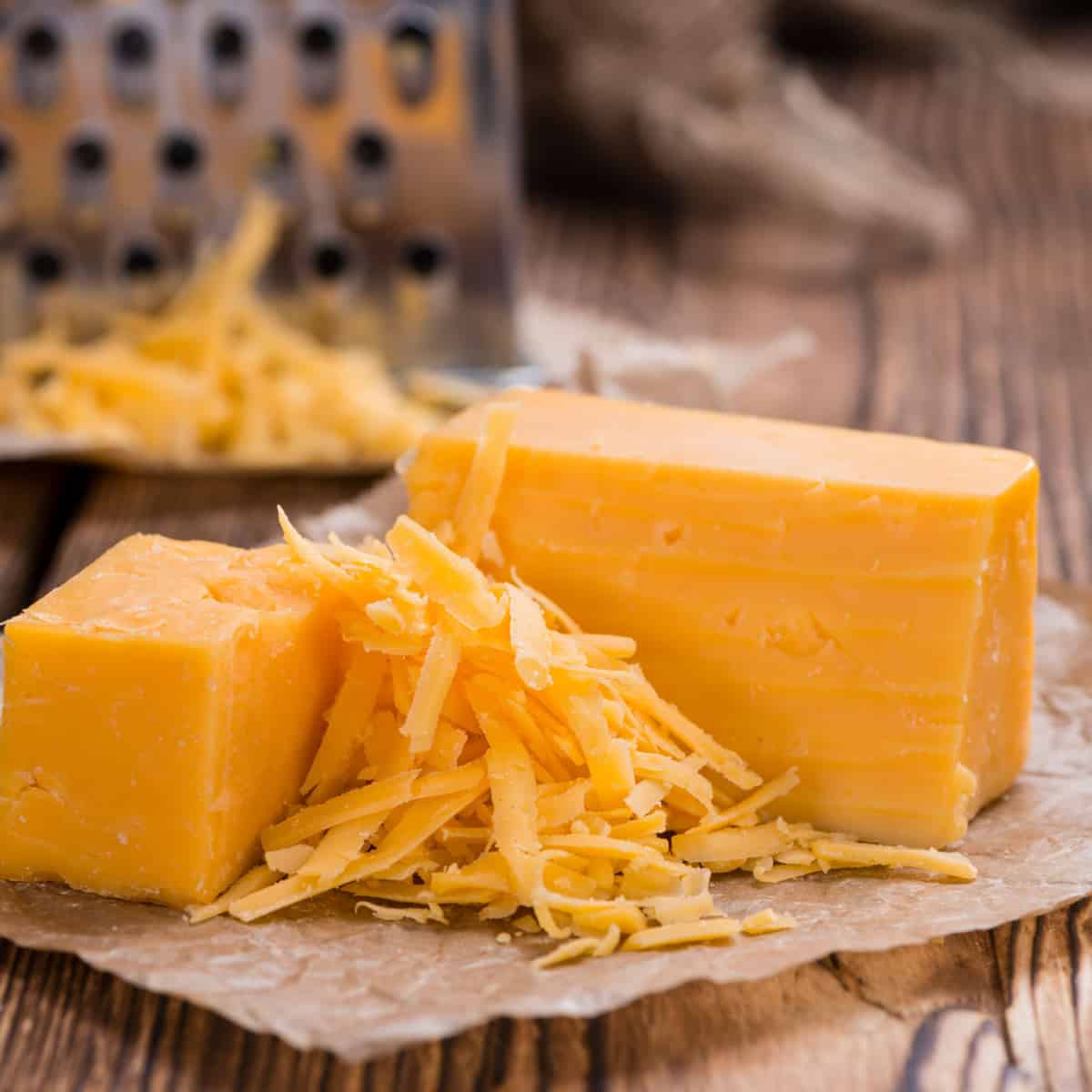 This cheddaring process involves stacking and turning the curds, resulting in a unique texture and flavor development. The curds are then pressed, molded, and aged to achieve the desired taste and texture.
Aged Cheddar
Aged Cheddar is a cheese that only improves with time. The aging process, which can last anywhere from a year to a decade or more, brings out a complex array of flavors in the cheese. The mild, creamy taste of young Cheddar transforms into a sharp, robust flavor that can be slightly tangy or even spicy.
Aged Cheddar also takes on a crumbly texture, and like aged Gouda, it can develop crunchy protein crystals. It's great for grating over dishes or simply enjoying with a slice of crusty bread and a glass of full-bodied wine.
The aging process of both Gouda and Cheddar truly exemplifies the phrase "good things come to those who wait". Both of these cheeses develop intriguing and complex flavor profiles that make them a delight to the palate. Whether you're more inclined towards the caramel-like sweetness of an aged Gouda or the robust, tangy flavor of an aged Cheddar, you can't go wrong when it comes to these matured cheeses.
Cheddar's Texture & Color
In contrast, Cheddar has a crumbly texture that becomes more pronounced with age. It's also known for its characteristic orange color, though this is often the result of adding annatto, a natural colorant. You'll see more about this in a bit.
Vermont, a state in the northeastern United States, has a long-standing tradition of producing high-quality cheddar cheese. These cheeses are renowned for their consistency, high quality, and distinctively sharp flavor. The unique climate and geography of Vermont contribute to the high-quality milk produced by local cows, which in turn influences the quality and flavor of the cheese.
One characteristic of Vermont cheddar that often sparks curiosity is the difference in color between varieties. Some Vermont cheddars are white, while others are orange. However, the color of the cheddar does not necessarily indicate a difference in taste or quality.
White Cheddar
Traditional cheddar cheese is naturally white or slightly yellow. The color comes from the natural color of cow's milk, which can vary slightly depending on the cow's diet and breed. Vermont white cheddars are known for their sharp, complex flavor and firm, slightly crumbly texture.
Orange Cheddar
The bright orange color found in some cheddar cheese, including some Vermont cheddars, is the result of a natural dye called annatto. Annatto is derived from the seeds of the achiote tree, and it has been used to color cheese for centuries.
The use of annatto began as a way for cheesemakers to create a consistent color in their cheese year-round, as the natural color of milk can change with the seasons based on the cow's diet.
Despite the difference in appearance, the addition of annatto does not significantly alter the flavor or quality of the cheese.
Nutritional Differences
Both Gouda and Cheddar are nearly identical when it comes to calories, saturated fat, cholesterol, sodium, protein, and calcium. Each is rich in protein and calcium, and their nutritional values can vary slightly due to the different types of milk, recipes used, added flavor, and the aging processes being used. It's always a good idea to check the nutritional information when choosing a cheese.
The Nutritional Aspect and Lactose Intolerance
When comparing the nutritional values of Gouda and Cheddar, it is essential to consider factors such as fat content, protein content, and calcium levels. Gouda cheese, being made from cow's milk, is a rich source of protein and calcium. It provides essential nutrients that contribute to bone health and overall well-being. Gouda and Cheddar cheese have similar nutritional profiles, but the specific values may vary depending on factors such as the fat content and aging process.
Lactose intolerance is a common concern for individuals who are sensitive to lactose, the natural sugar found in milk and dairy products. Both Gouda and Cheddar cheese have lower lactose content compared to fresh milk. The fermentation and aging processes involved in cheese production help to break down lactose, making it easier for lactose-intolerant individuals to digest. However, it is important to note that individual tolerance levels may vary, and those with severe lactose intolerance should exercise caution when consuming cheese.