Welcome to my go-to favorite garlic butter rice recipe! A few simple ingredients take a typical rice side dish and elevate it to one you can't stop eating. A blend of buttery toasted rice infused with fresh garlic and chicken stock.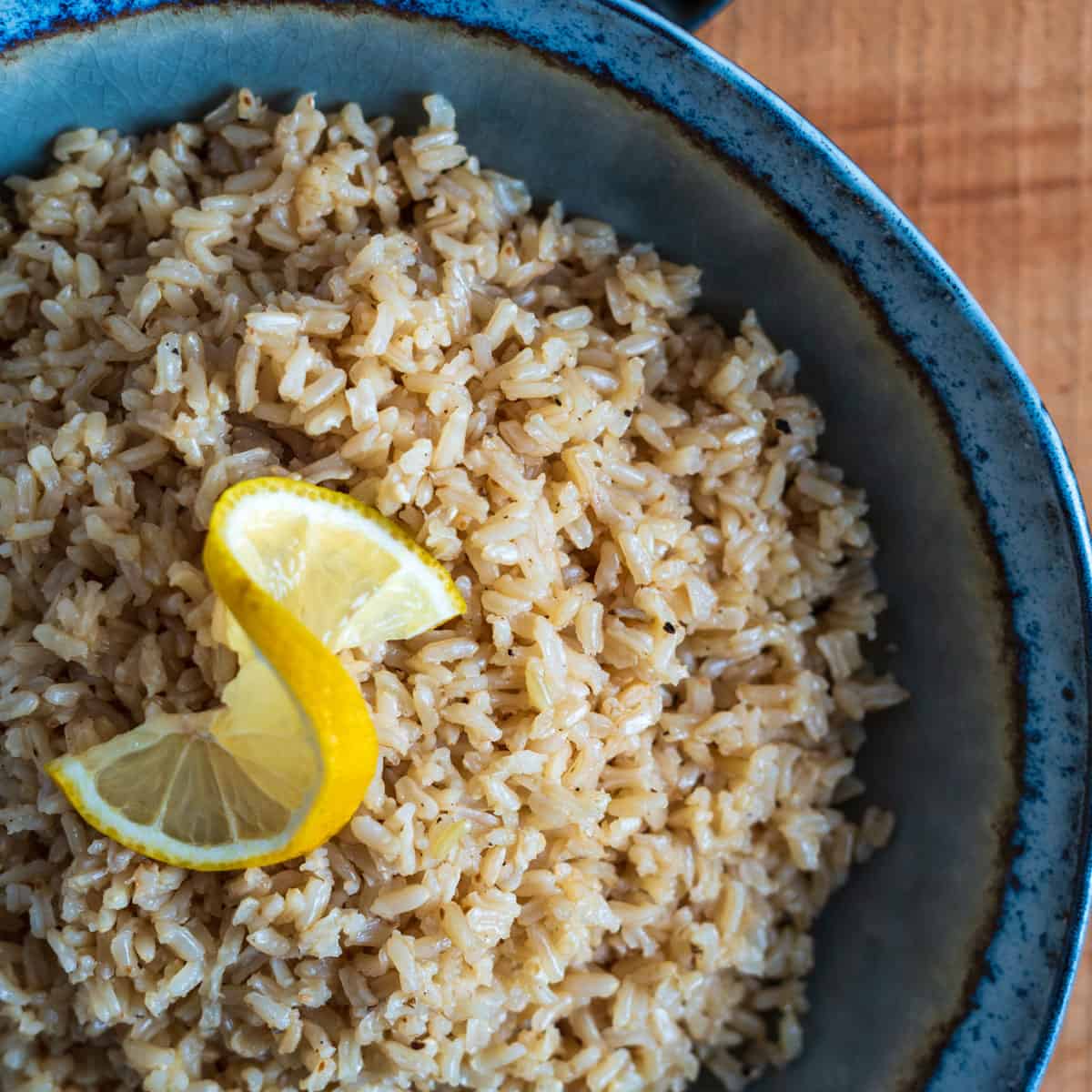 A weekly staple in our kitchen, this easy rice recipe will transform your dinner table and become a family favorite.
Jump to:
Ingredients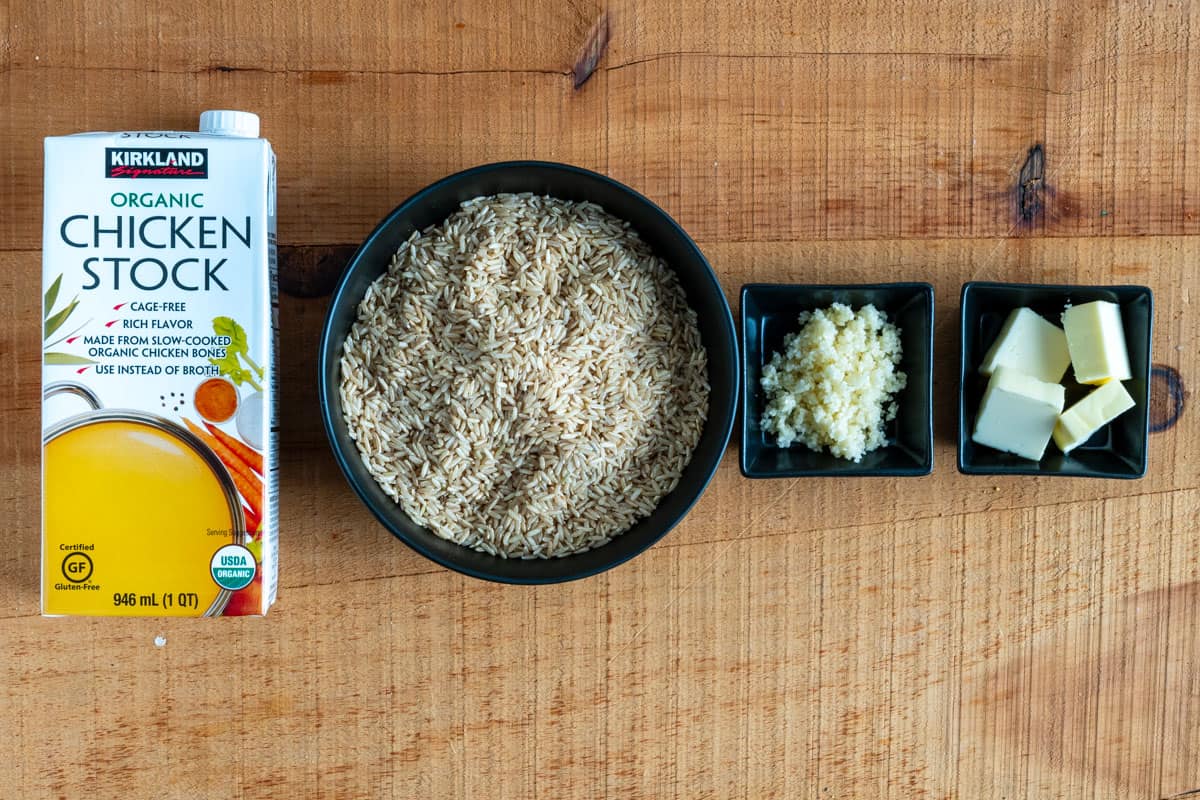 Jasmine Rice or Light Brown Rice: This long-grain rice is your canvas. It has a subtle nutty flavor and provides the perfect texture for soaking up that glorious garlic-butter combo.
Fresh Garlic: The aromatic superstar. Fresh garlic cloves infuse the dish with that signature flavor.
Unsalted Butter: Opt for unsalted so you can control the amount of salt in the recipe. Typically, you'll start with about a tablespoon of butter.
Chicken Stock or Chicken Broth: A liquid gold that elevates the dish. Chicken stock adds extra flavor, plus some hidden protein.
Salt and Pepper: The most basic yet essential of seasonings. A pinch of salt and a dash of pepper make all the difference.
Fresh Parsley (Optional): For a pop of color and freshness, consider garnishing your finished dish with some chopped parsley.
Lemon Zest (Optional): A little zest can add a fresh, citrusy note, brightening up the overall flavor profile.
Della Organic Light Brown Rice
This Della Organic Light Brown rice is what I like to use (no affiliation, just love it). It has more "bite" than standard white rice and a more manageable cooking time than full-on brown rice. Nutritious, quick, cheap.
Equipment List
Medium Saucepot with Lid
Measuring Cups and Spoons
Garlic Press - optional, a knife works too
Rubber Spatua
Large Fork - for fluffing
Step-by-Step Instructions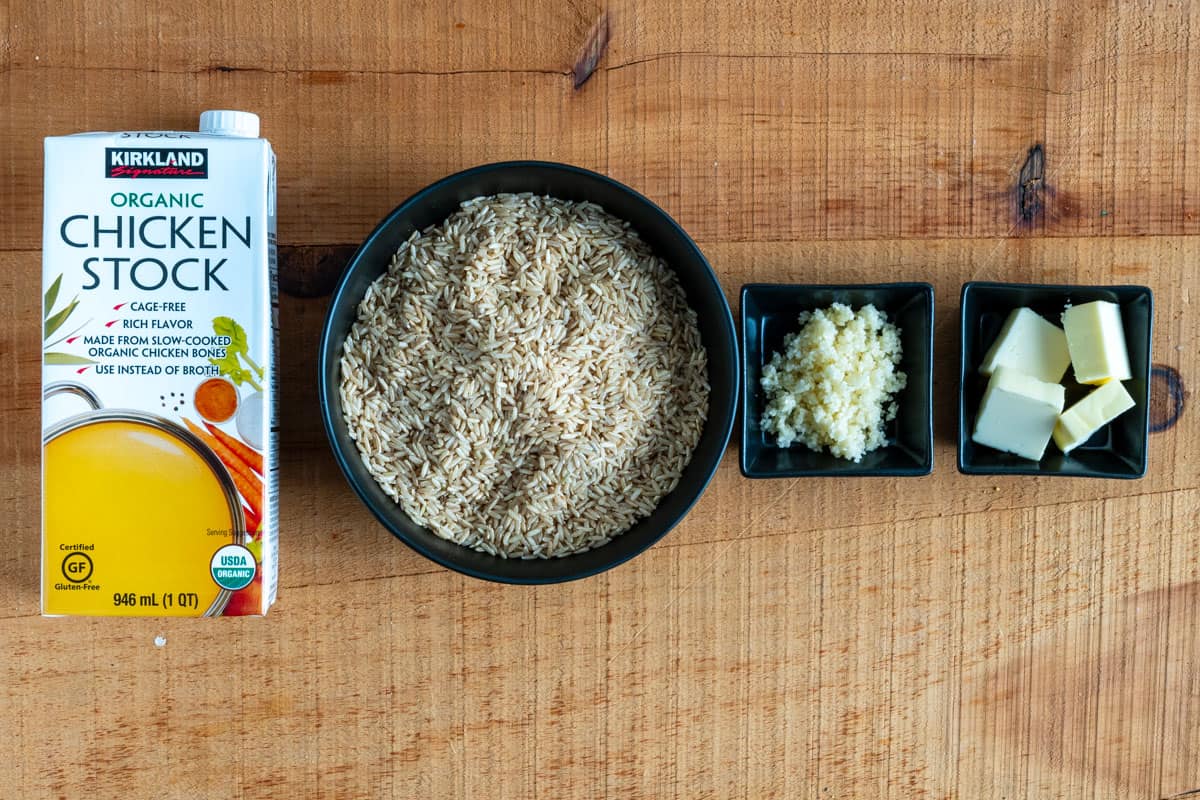 Step 1: Prep Your Ingredients
Chop or crush your fresh garlic, measure out your jasmine rice, chicken stock, and unsalted butter.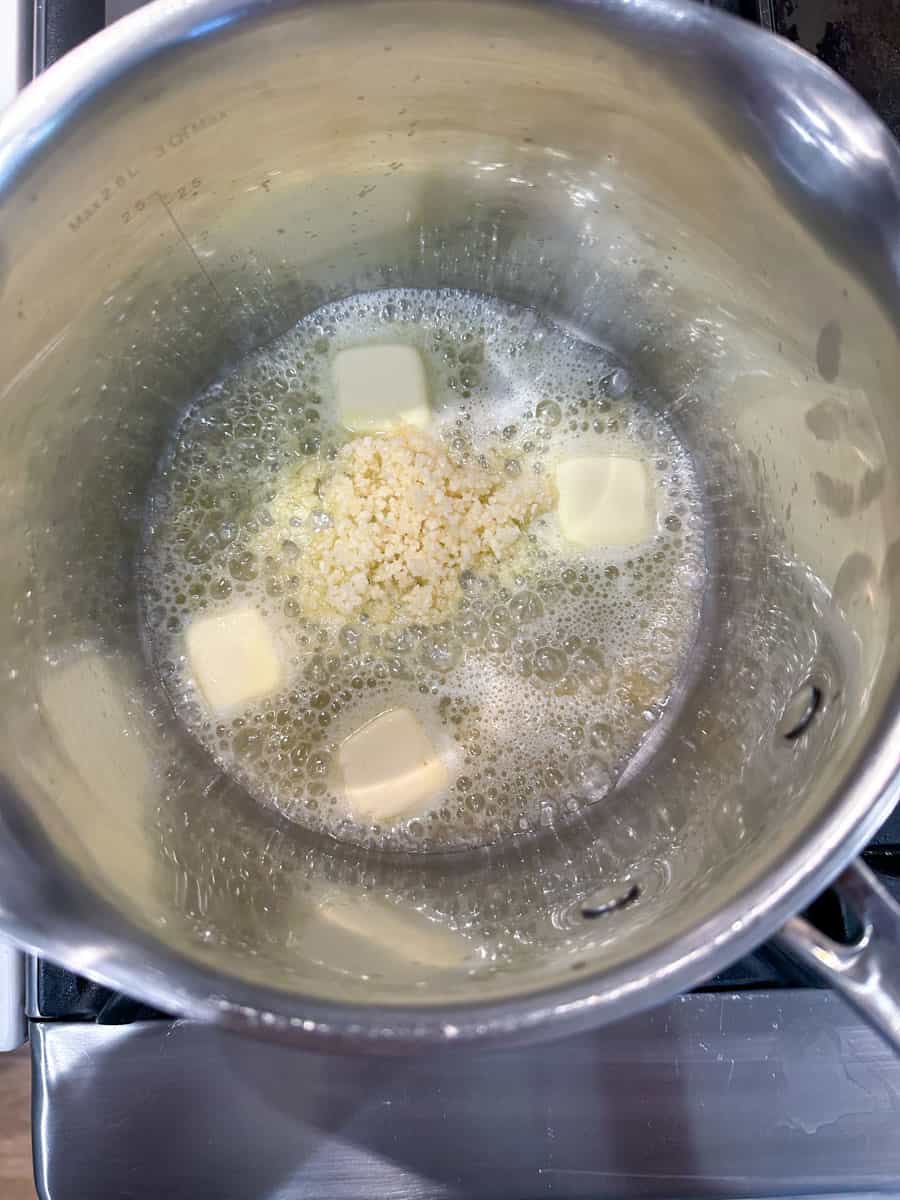 Step 2: Sautee the Garlic
Heat a medium saucepan over medium heat. Add your butter or olive oil. Once the butter melts, add the garlic and let simmer slightly.
Step 3: Sauté the Aromatics
Add your rice and stir thoroughly to coat every piece of rice. Lightly toast the rice for 1-2 minutes, making sure not to let it burn.
Step 4: Add Liquids
Pour in the chicken broth (or vegetable broth, if preferred) and season with kosher salt and fresh ground pepper. Bring the mixture to a simmer, and cover.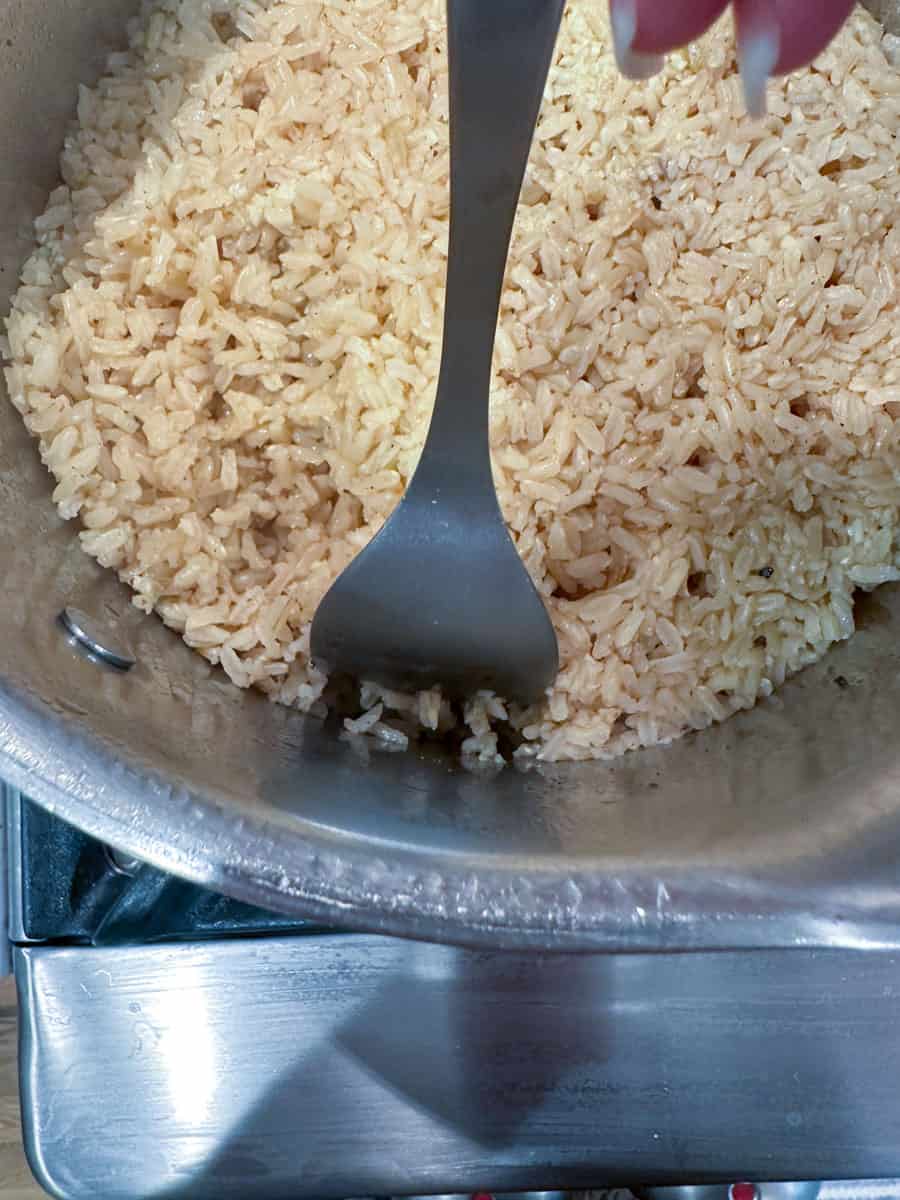 Step 5: Check for Doneness
After the cooking time has passed, check to ensure all the liquid has been absorbed and the rice is tender by using a fork to gently push the rice off the side of the pot.
Step 6: Fluff and Serve
Remove the saucepan from the heat. Gently fluff the rice with a fork, taking care not to stir. If desired, add an extra tablespoon of butter for that final touch of richness.
Variations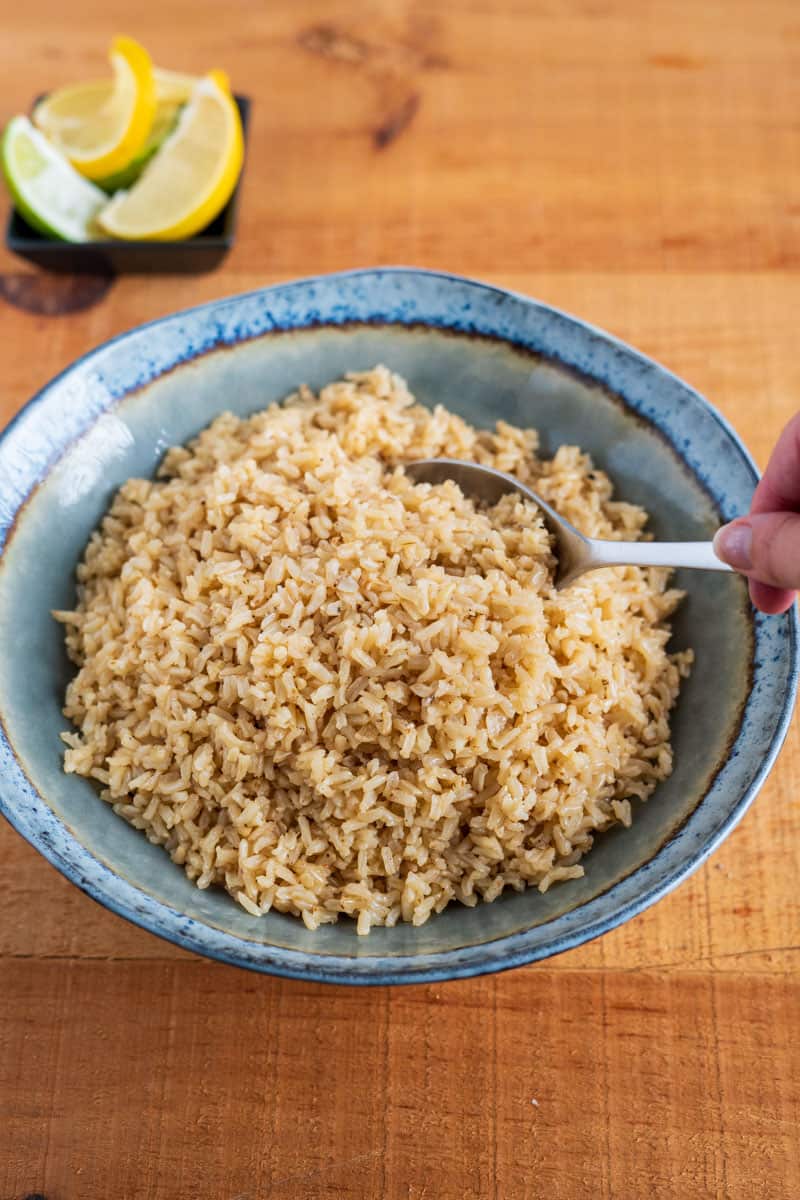 Mexican Cilantro Lime Rice: Add in some fresh cilantro and a splash of lime juice at the end to instantly turn this into a Mexican-inspired side. It's the perfect companion to dishes like tacos or fajitas.
1 teaspoon Lime
2 tablespoon Cilantro
Greek Lemon Brown Rice: A sprinkling of lemon zest and a squeeze of lemon juice just before serving brightens up the dish and pairs beautifully with Mediterranean or Greek meals like Greek Chicken Bowls.
1 teaspoon Lemon Juice
1 tablespoon Chopped Parsley or Dill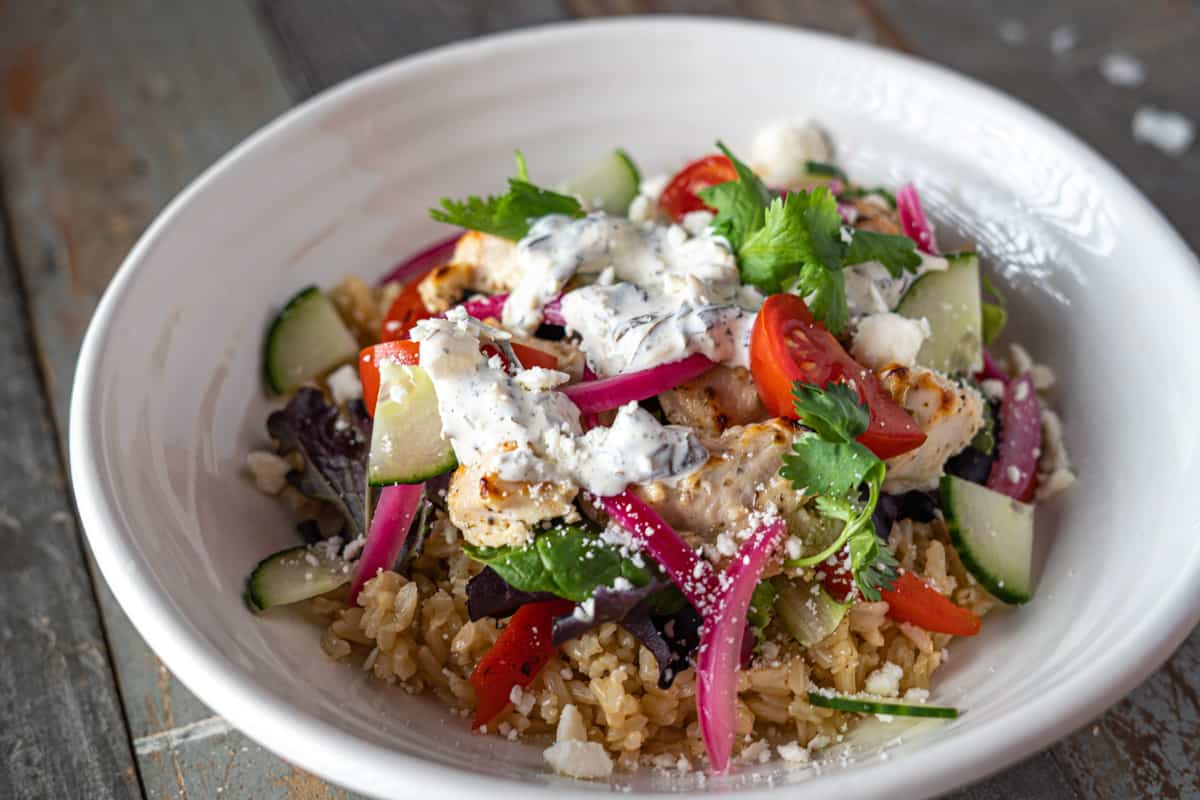 Substitutions
Rice: If jasmine rice is unavailable, basmati rice or even medium-grain brown rice are great options.
Fresh Garlic: In a pinch, you can use garlic powder or even pre-minced garlic. However, the more fresh, the better!
Unsalted Butter: Olive oil can be used for a dairy-free version, but it will alter the flavor profile somewhat.
Chicken Stock: For a vegetarian or vegan dish, vegetable broth can be swapped in without much flavor loss.
TOP TIPS
Don't Stir, Just Fluff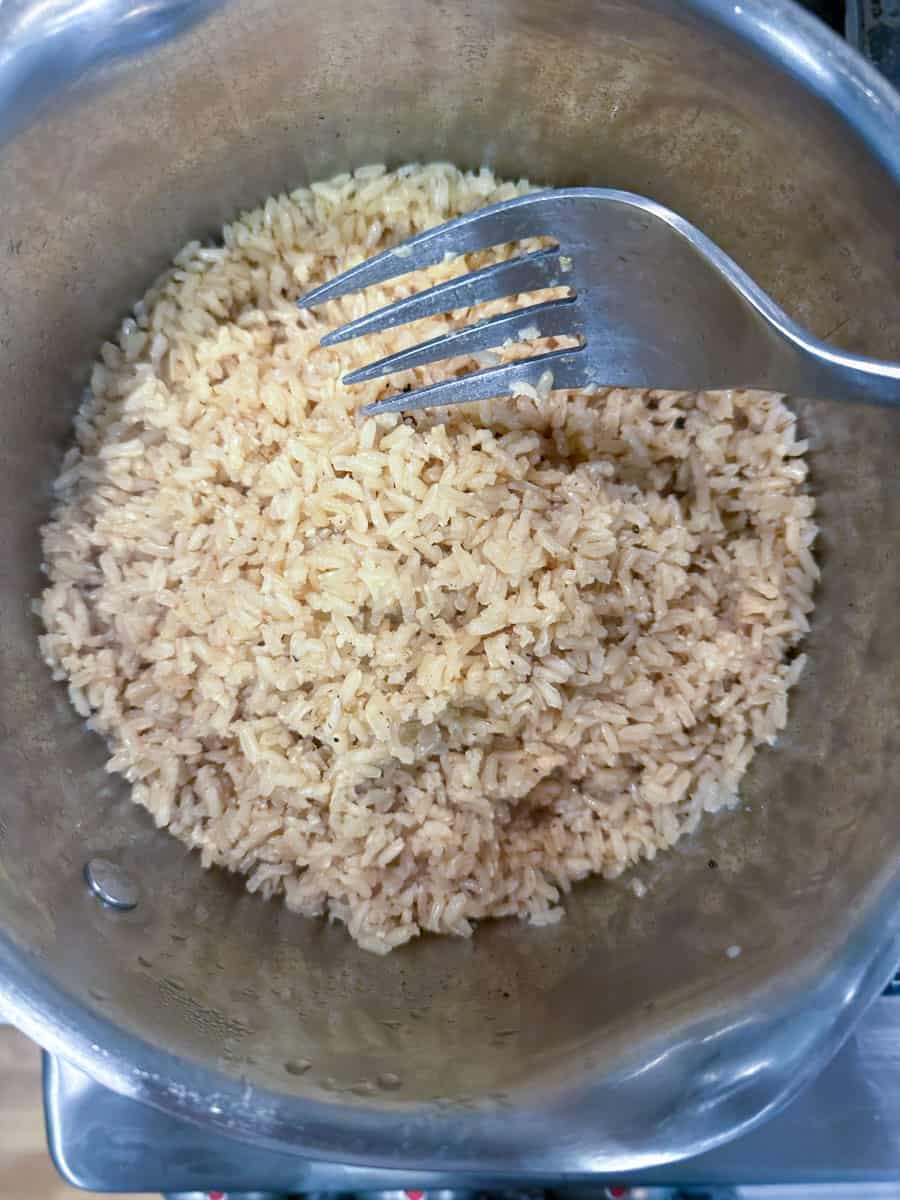 Resist the urge to stir the rice while it's cooking. Stirring releases starch, turning your rice into a gooey, sticky mess. Instead, gently fluff the rice with a fork when it's done. This helps keep those grains separate, light, and airy.
Season
It might seem like a trivial step but don't underestimate the power of kosher salt and pepper. Proper seasoning enhances the natural flavors of the rice and your added ingredients. A well-seasoned dish needs fewer added flavors to shine. Make sure to taste and adjust before you serve.
Toast Your Rice
Before adding the liquid, lightly toast the uncooked rice in your butter and garlic mixture over medium heat. This not only infuses the grains with garlic flavor but also adds a subtle nutty aroma to the dish. Toasting the rice creates an extra layer of flavor that makes all the difference.
Food Safety Tips
Cooked rice can be safely stored in the refrigerator for about 3-4 days. Make sure to use an airtight container to maintain both the quality and safety of the rice. If you're planning on freezing it, opt for freezer-safe containers or freezer bags, and consume within one month for best results.
Old rice can harbor Bacillus cereus, a bacteria that can lead to food poisoning. Symptoms include stomach cramps, vomiting, and diarrhea. The bacteria can survive the cooking process and multiply if the rice is left standing at room temperature for too long.
Reheating & Reusing
Always reheat rice to at least 165°F (74°C), and make sure it's steaming hot throughout and avoid reheating more than once. If the cooked rice smells off, is discolored, it's better to err on the side of caution and discard it.
Don't let any rice go to waste! Leftover garlic butter rice can be transformed into incredible new meals. Use it as a base for our mouthwatering Carnitas Street Tacos or turn it into a Mediterranean feast by incorporating it into our Mediterranean Rice Bowl.
Serve Alongside
📖 Recipe
Garlic Butter Rice
Welcome to my go-to favorite Garlic Butter Rice recipe! A few simple ingredients take a typical rice side dish and elevate it to one you can't stop eating. A blend of buttery toasted rice infused with fresh garlic and chicken stock.
Ingredients
2

cups

Light Brown Rice

-

I love Della Organic

4

cups

Chicken Stock

2

tablespoon

Unsalted Butter

-

or olive oil

1

tablespoon

Garlic

-

minced

2

teaspoon

Kosher Salt

1

teaspoon

Fresh Ground Pepper
Instructions
Add the olive oil and garlic to a pot on medium heat.

Stir with a rubber spatula and cook until it smells uterly delicous.

Add the rice and mix. Coating all the rice in the delicous garlic flavored oil.

Add the chicken stock, salt, and pepper.

Bring to a simmer, put the lid on, and turn down the heat to low.

Cook until all the liquid is absorbed which is around 20 minutes. This will really depend on the type of rice you used.

To check if it's done, use a large fork to push the rice off the side of the pot and see if there is any remaining liquid at the bottom of the pan. DO NOT STIR.

When done, turn off the heat and add any additional flavorings if desired (lemon, lime, cilantro, parsley, etc).

Using a meat fork or large serving fork gently fluff the rice to incorporate.
Notes
Type of Rice: Light brown rice or jasmine rice is recommended for its fluffy texture and aromatic flavor, but you can also use basmati or long-grain white rice. Cooking times may vary.
Butter: Using unsalted butter allows you to control the amount of salt in the recipe. If you only have salted butter, adjust the added salt accordingly.
Storing Leftovers: Keep any leftover rice in an airtight container in the refrigerator for 3-4 days or in the freezer for up to a month. Reheat to at least 165°F before serving.
Variations: For a citrusy twist, add lemon zest or juice. Cilantro and lime juice make for a delicious Mexican-inspired version.
Toasting the Rice: Don't skip this step—it's key for adding a layer of nutty, toasted flavor to your rice.
Seasoning: Don't forget to season your rice with salt and pepper to taste, after adding the chicken broth and before covering to simmer.
Fluff, Don't Stir: Fluff the rice gently with a fork to avoid releasing extra starch and making it sticky.
Nutrition
Calories:
482
kcal
Carbohydrates:
85
g
Protein:
14
g
Fat:
9
g
Saturated Fat:
2
g
Polyunsaturated Fat:
2
g
Monounsaturated Fat:
5
g
Cholesterol:
7
mg
Sodium:
1510
mg
Potassium:
528
mg
Fiber:
3
g
Sugar:
4
g
Vitamin A:
7
IU
Vitamin C:
1
mg
Calcium:
45
mg
Iron:
2
mg