Charcuterie, which comes from the French word "chair cuite" or "cooked meat," has been a beloved part of French cuisine since the 15th century. A question we get asked a lot though is "Can you make a charcuterie board in advance"? The short answer... Absolutely!
A classic charcuterie board showcases a variety of meats, cheeses, olives, and fruits. Bringing different textures and flavors to your guests' palates. Not only is it the perfect appetizer, but it's also a great way to impress at holiday gatherings and parties. Let's work through what it takes to prep one ahead of time and some bumps you may encounter along the way.
Jump to:
Benefits of Building in Advance
When one of my good friends was moving into her new home, I knew I wanted to surprise her with a super yummy surprise. Her absolute favorite thing is a charcuterie board or, as she calls it, "char-coots."
We pack, organize, and unpack all day. Knowing that we would both be exhausted, I planned ahead. I assembled her favorite cheeses, meats, and fruits, and wrapped it all up for transport. My husband Jon was in charge of bringing over later that evening along with a bottle of bubbly rosé to celebrate.
These moments, planning a simple yet thoughtful surprise, make this advanced preparation method so handy in our home. It turned an ordinary moving day into a sweet memory of their first meal, all thanks to a little foresight and a lot of love for good charcuterie. If it worked for me on such a hectic day, it might just become a staple practice in your home too. After all, it's the thoughtful touches that turn a meal into a memory.
Time-Saver for Busy Days
Whether it is after work or just a busy day with the kids, preparing a charcuterie platter in advance can be a game-changer. Here are some things to consider...
Minimal Effort, Maximum Joy
The good news is with a little bit of planning, charcuterie boards don't have to take a ton of time to make. You can have a solid charcuterie board ready to serve in under 30 minutes. Wrap it up for later, and enjoy it when you are ready.
Don't Rush Detail
Making your charcuterie board in advance allows you to arrange each component carefully. From adding cute salami roses, to carefully cutting your cheese, you can craft the best charcuterie board without feeling rushed.
Those little details that make a board pop can turn the entire board into a visual and culinary masterpiece. It's the secret to effortlessly taking your board to the next level, even on a busy day!
The Downsides to Prepping Early
Of course, not everything is sunshine and cheese wedges. Here's what to watch out for...
Stale Crackers
Crackers may lose their crispiness due to moisture from the other accompaniments. You can solve this by waiting to add your crunch side items for later. Individually wrap them up and still set them in place to unwrap later.
Temperature Matters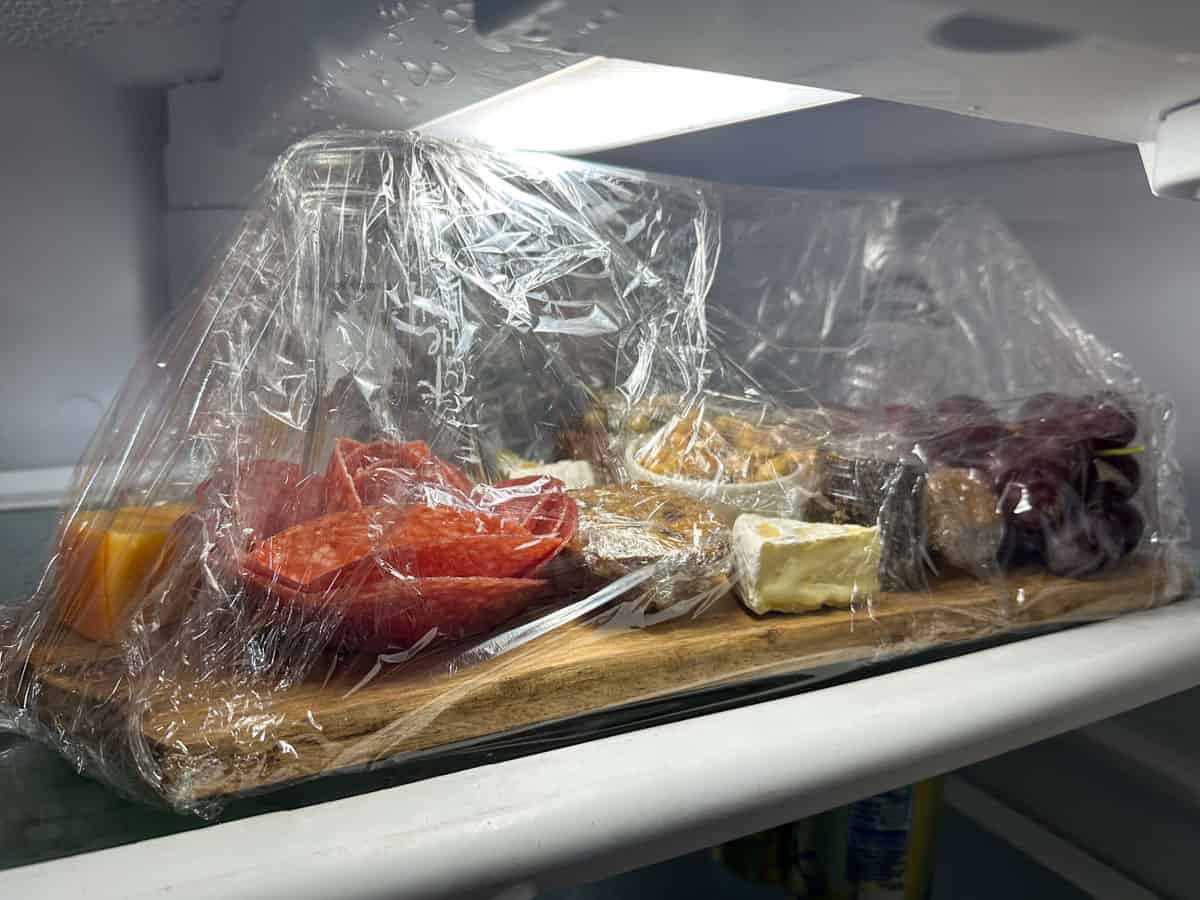 While serving your charcuterie ingredients at room temperature is essential to bring out the best flavors, safety should never be compromised. If you need to prepare your charcuterie board ahead of time, it's vital to keep it in the refrigerator to ensure freshness.
Condensation Troubles
Once you remove your board from the fridge, I recommend keeping an eye on condensation that may build under the plastic wrap. If it goes from too hot, to too cold quickly you can end up with big water droplets leaving marks all over your cheese and meats. Not a huge issue, but something to keep your eye on.
Choosing Your Board & Essentials
How many people? Dinner or an appetizer? All these are great questions to ask yourself before diving in.
Do you need a Large Board or Smaller Board? Choosing the right board size is mission-critical. Depending on the number of guests, and if you are serving a snack or your board is the main event, choose your board wisely. We have an entire guide dedicated to our recommendations on this very topic if you need more help.
Assembly Guide
The easiest and best way to store your charcuterie board once it's all set and ready to go, is to wrap your finished board tightly in plastic wrap. If you are skimming through this article, make sure to jump back up to the downsides of prepping early to some tips before wrapping!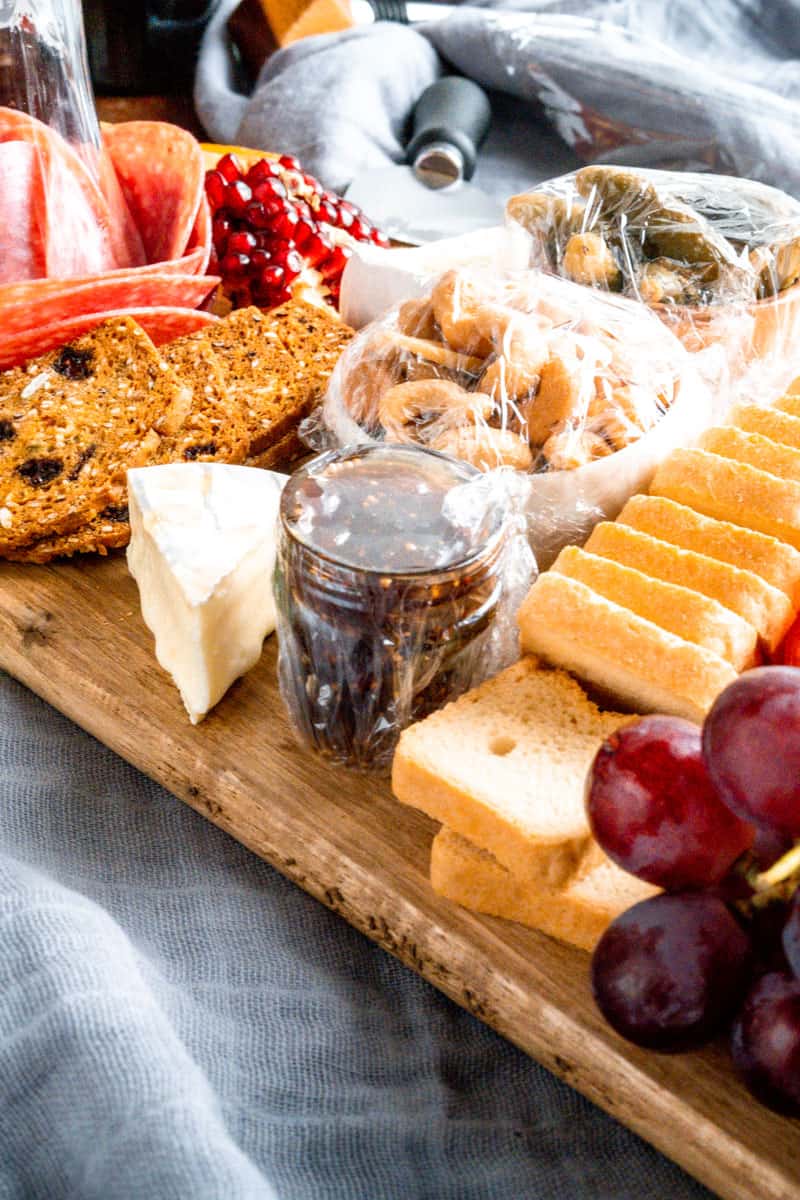 Make sure to cover all edges and corners. For an extra layer of protection, consider adding an upside-down cup or popsicle sticks in the middle to create a tent-like structure over your board.
When I make a salami flower using a small-mouthed glass, I will actually leave it upside down on the platter as extra support. This will help keep the ingredients fresh but also prevent them from getting damaged in the fridge. That will ensure that any delicate folding work or artful arrangements stay intact.
As far as what to put on your board, we have a list of some great suggestions below broken down it categories...
Select Your Meats
Choose diverse flavors and textures. You can find premade variety packs or choose individually to put a truly unique spin on your board. Salamin, chorizo, spicy capicola, or prosciutto great options.
You can find multiple posts here at Tabetha's Table to help you if you need a hand in building out your boards. We even have some great ideas for pork-free options as well if you are sharing with someone who may have dietary restrictions.
Add Cheeses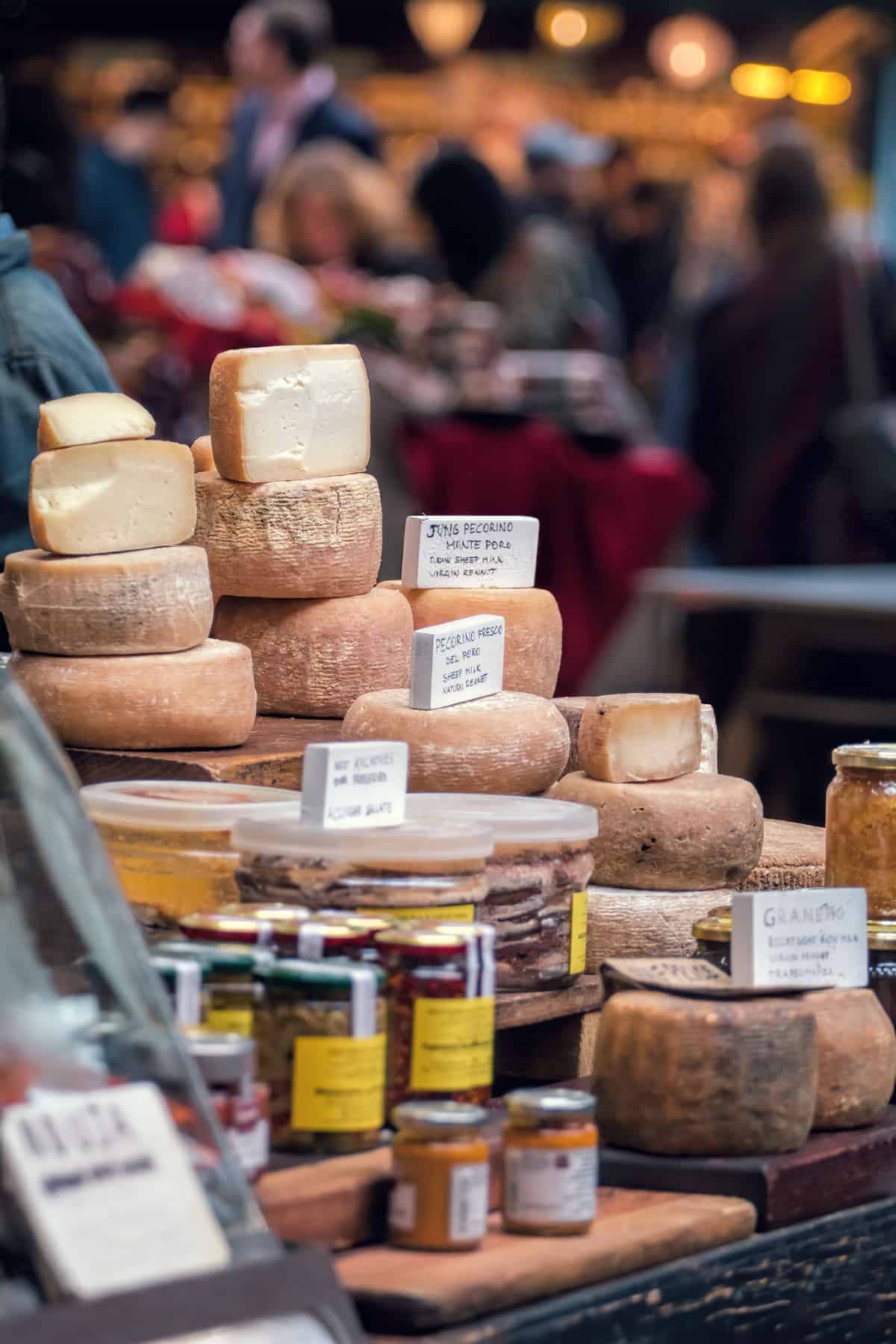 From triple cream brie to sharp cheddar, tailor your selection of cheeses to match your personal preferences. We love incorporating favorites like aged gouda, herbed goat cheese, marinated mozzarella balls, and aged white cheddar.
Include Extras
Pick from a variety of nuts, fresh fruit, pita chips, gluten-free crackers, or fresh veggies. You can add all your favorites and completely personalize them to your needs. Try to find at least one that is fun-shaped to add a fresh look to your board.
Don't forget a cheese knife for any type of cheese that isn't presliced is always a must. Little bowls for olives and other small accompaniments can add an extra pop of color too. Spoons or picks for scooping olives, mini plates for those who don't want to stand around the table, and napkins for greasy fingers will make your or your guest's experience much easier.
Finish with Style
Drizzle some extra virgin olive oil for a gourmet touch, or honey for a pop of sweetness.
Finishing Touches & Tips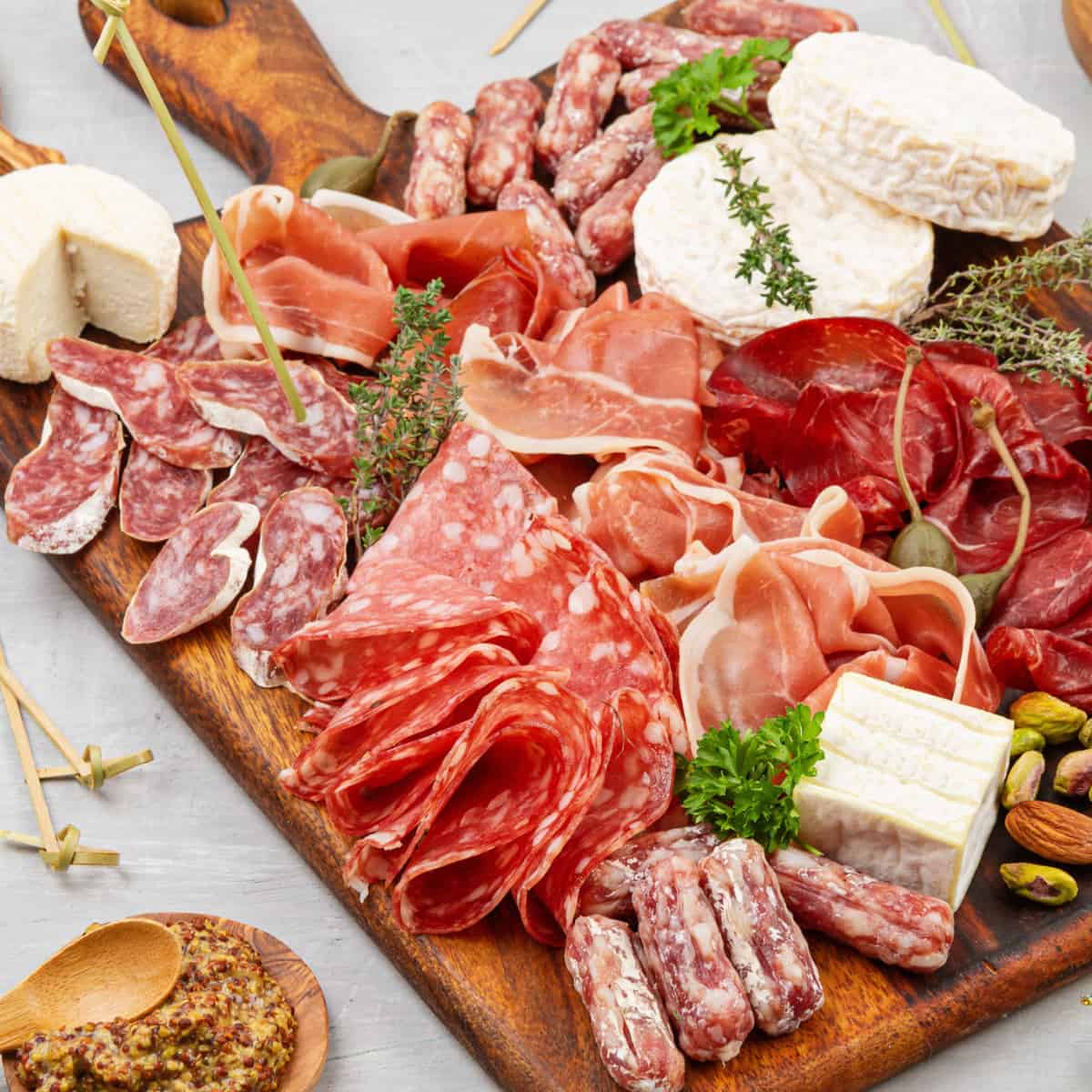 Fresh Herbs and Last-Minute Additions: Fresh herbs can add a delightful fragrance and pop of color. Fresh rosemary, basil, or thyme are all great options.
The Great Options Awaiting at Your Local Store: From Trader Joe's to Whole Foods, you should be able to find a great variety at almost any grocery store. Aldi is another great and inexpensive option, not just for meats and cheese but also for smaller items. Plus, depending on your location you can easily place a delivery order leaving you with even more time.
Freedom to Explore Variety: Selecting a new variety of cheeses or meats each time you build your board is my secret to finding your next favorite charcuterie board staple.
The Perfect Charcuterie
Since I started making charcuterie boards at home, I have expanded my palate significantly. Trust me, I was one to play it safe! I knew which cheeses I liked, and I am relatively picky, so getting too far out of the box wasn't an option. Now, my staples include aged gouda and truffle goat cheese which I could eat all day.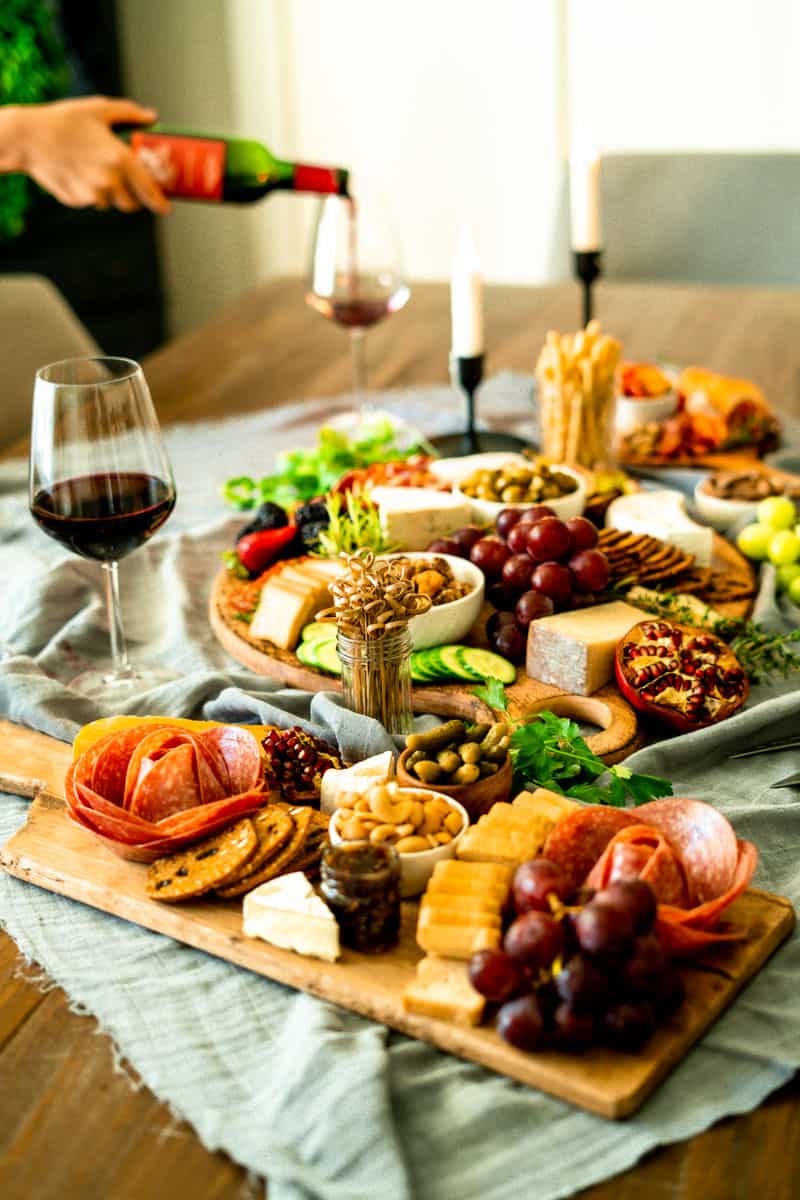 As far as design, we are working on templates for you right now to help anyone who is new on their charcuterie board journey. Until then, grab inspiration from the charcuterie boards on this post, or jump over to Pinterest and look around. Just make sure to use anything you find as a guideline, not a test of your skills. Learn and have fun!
Creating a good charcuterie board in advance is both a joy and a convenience. From picking the best parts at the deli counter to understanding the general rule of thumb for different flavors, it's an adventure in flavors.