How much does a charcuterie board cost? Great question! We put together a How To Pricing Guide including price ranges for what you can expect to pay per person. Not only for making your own perfect board at home but also what to expect if you have one catered for a special occasion.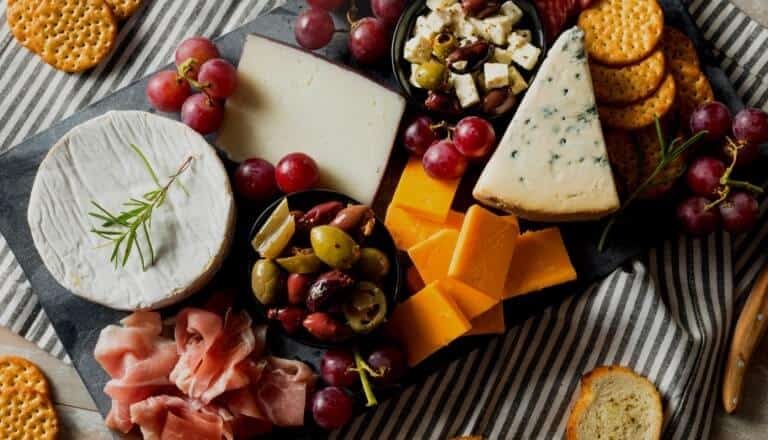 How Much is a Charcuterie Board Per Person?
Charcuterie boards have become increasingly popular in recent years as the perfect way to serve a selection of delicious bites to your guests. The best ways to create a charcuterie board will depend on a number of factors, including the board's size, the dietary restrictions of your guests, and your personal preferences.
Jump to:
Average Charcuterie Board Costs: PrePackaged
In the last few years, many companies have popped up capitalizing on the love of charcuterie boards. They package them up in adorable to-go cardboard boxes with windows on top so you can see their artistry. If you were ever thinking about getting into the charcuterie business, the time is now. I reached out and found some base prices you should expect (based on 2023 prices) when ordering charcuterie to go.
Small Boxes for 2 - $45-75 (per person cost between $22-36)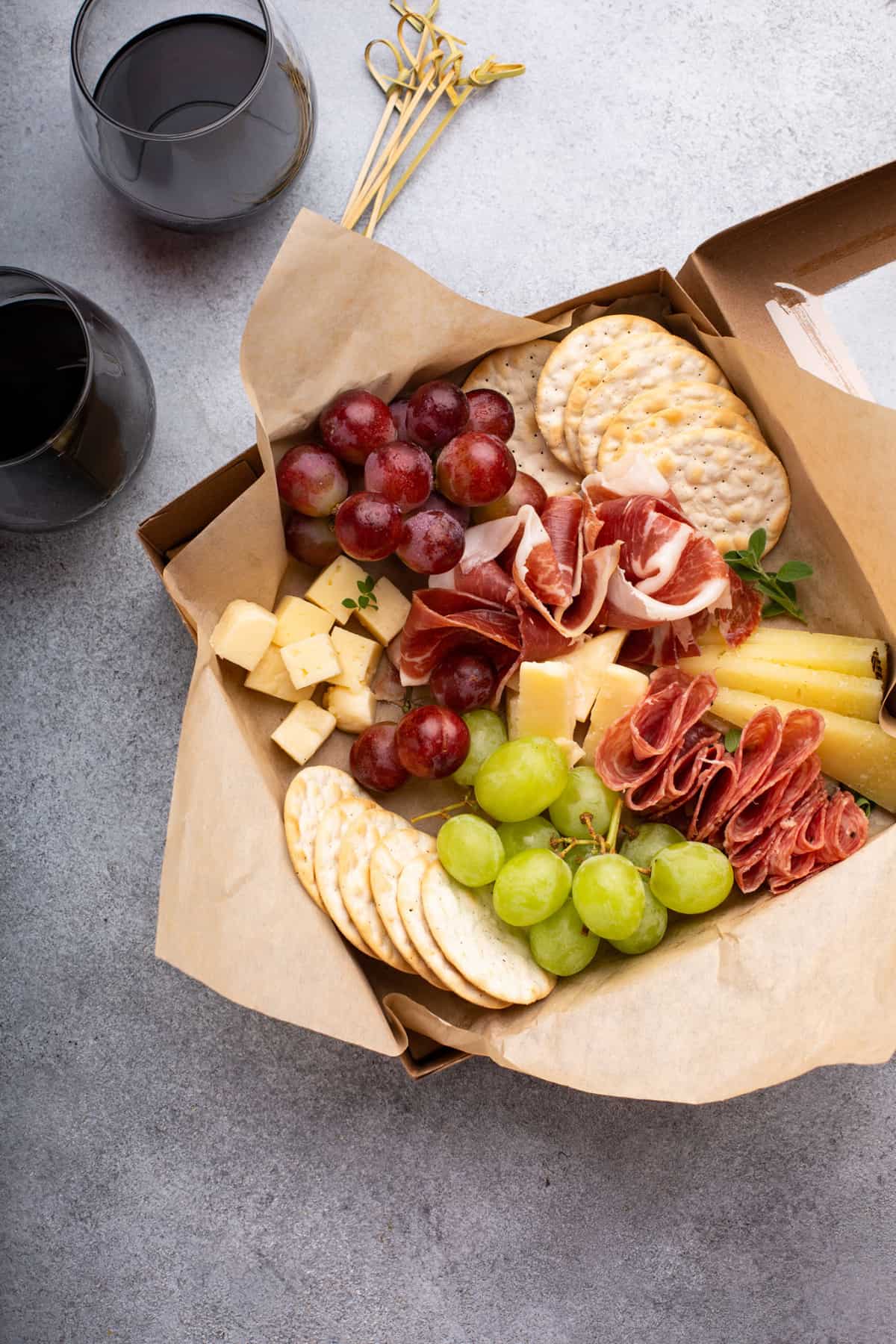 These adorable pre-packaged boxes had a combination of meats, cheese, fruits, jams, and nuts. Beautifully decorated and ready to go. That cost was if you picked it up, no different than take out. Just really pretty takeout ready to be shared in a park with a bottle of wine.
Extra Large Boxes - $80-$150
Again, pre-packed with a customizable combination that fits your needs.
Catering Style Grazing Boards - $250-$2,000+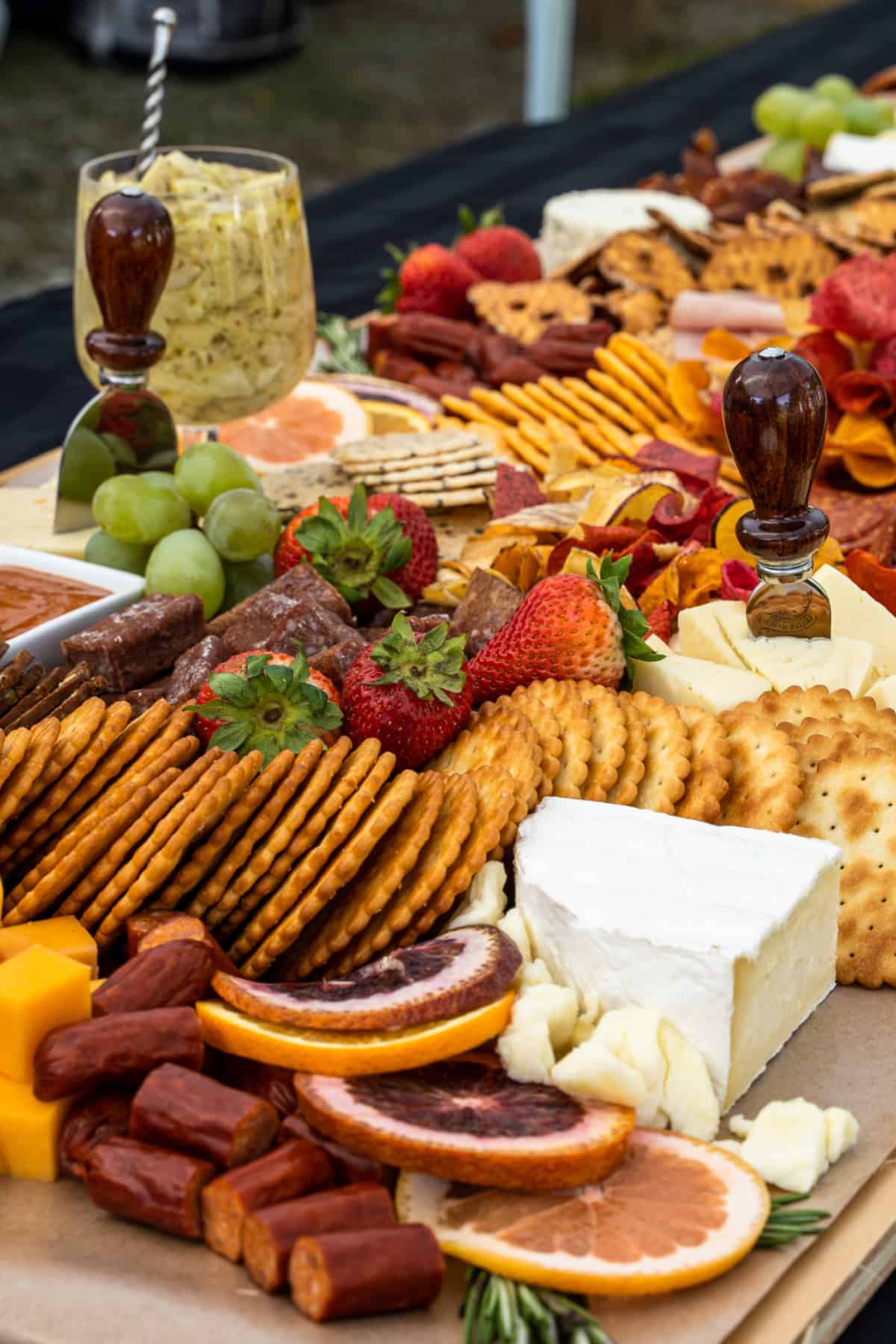 If you are looking to have an event catered you might need more than 2-3 charcuterie boards. A stunning new trend is grazing boards. Long swaths of meats, cheese, and fruits. Jams, and jellies. Gerkins and spreads... Literal heaven. Being fully custom, plan to pay that higher price.
Making & Pricing Your Own Charcuterie Board
The Boards
When trying to choose the best wooden board to enjoy at home there are a few different categories to consider, #1 is your board. Gourmet stores such as William & Sonoma have gorgeous Olivewood Rectangular boards for $140. Or you can head to your local Home Goods and have a shopping day sifting through all the different shapes and sizes until your heart's content. I just bought a large size round board I'm pretty obsessed with for $35.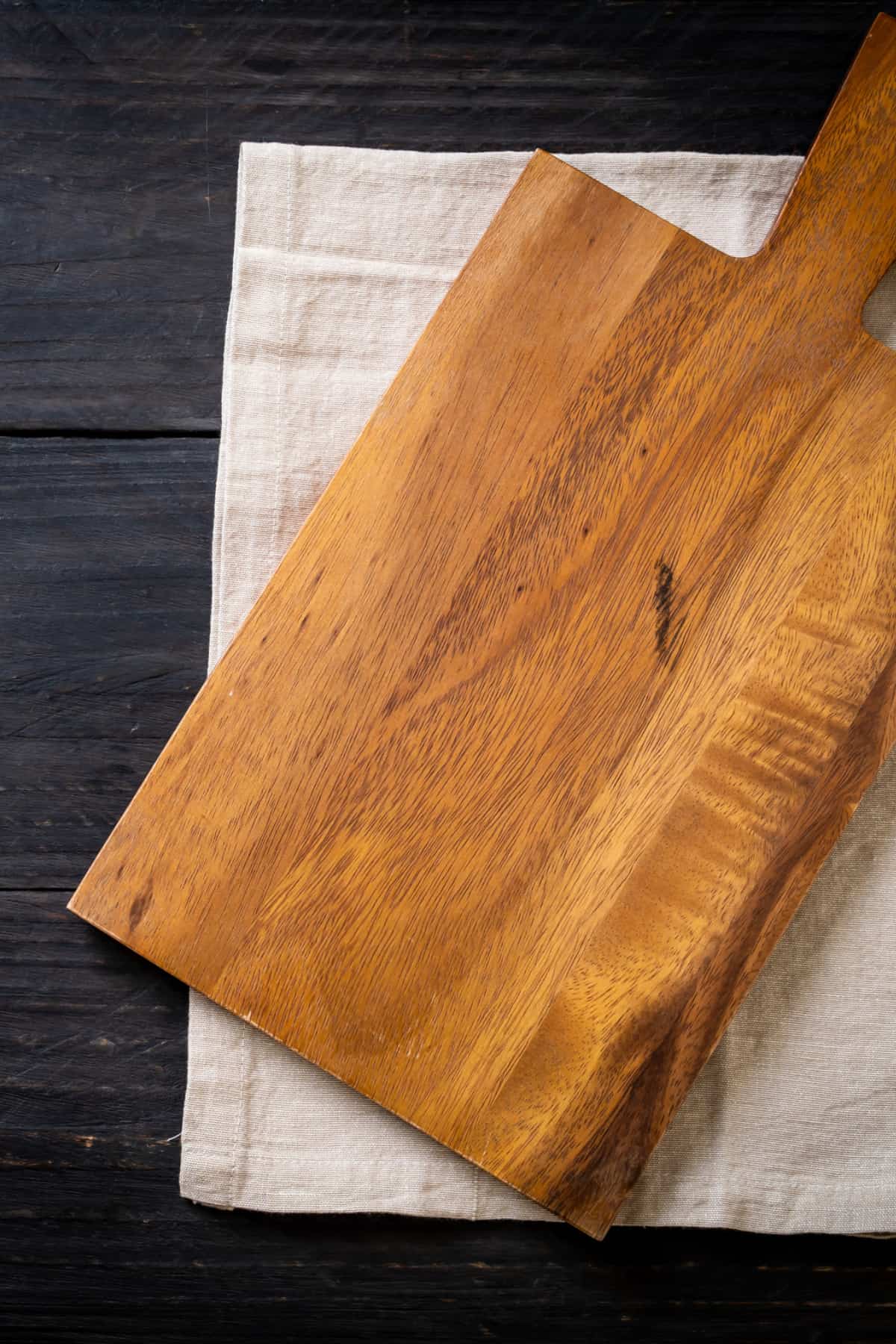 Regardless of your personal tastes, you should be able to find a gorgeous board between $40 - $140. Keep in mind that the size of the board will have an impact on price, and larger boards generally cost more. The best news is this is a one-time cost, and you can continue to enjoy it for years to come. You can also absolutely use a platter or cutting board if you are under pressure and need to make it happen.
As we move into the pricing breakdown we are going to plan on building a board for 4 people, as a hearty appetizer. Enough of a snack to solidly hold off dinner for a few hours, if not replace the entire meal.
The Cheese: 2 to 3 Selections
Picking the best artisian cheeses for your board doesn't have to be hard. As far as quantity, we will work with around 4-6 ounces of cheese per person. Types of cheeses also play a huge role in cost, but we've worked out a few different options for you each with a solid variety.
Even if you're just creating a cheese platter, you'll want to have a variety of cheeses ranging from soft to firm. Think goat cheese as a great example of soft cheese, and aged gouda (my favorite) as firm or hard cheese. Here is a short list to consider in order of soft to firm…
Goat cheese
Bree
Blue cheese
Cheddar cheese
Grueyer
Aged Goudas (one of our personal favorite cheeses)
Parmesan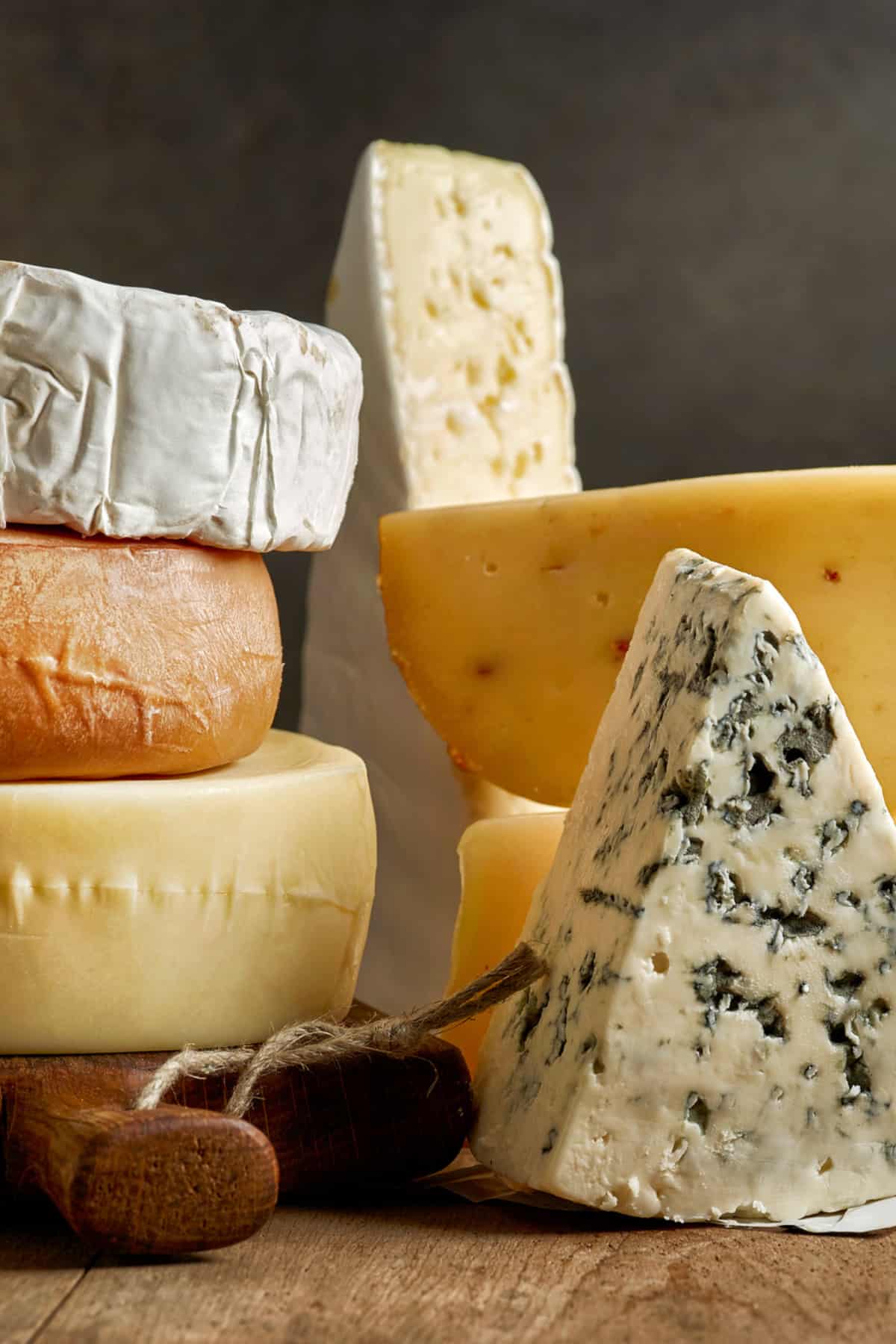 Charcuterie (or meats): 3 to 4 Selections
Having a variety of meats is always a good idea. I generally recommend about 4 oz per person. The amount of charcuterie truly depends on if this will be a very light appetizer or a main course. With 3 to 4 selections, each around 4 Ounces of meat, gives each person around 4 oz per person. Here are some options we would recommend…
Sopresatta
Salami
Chorizo
Capicolla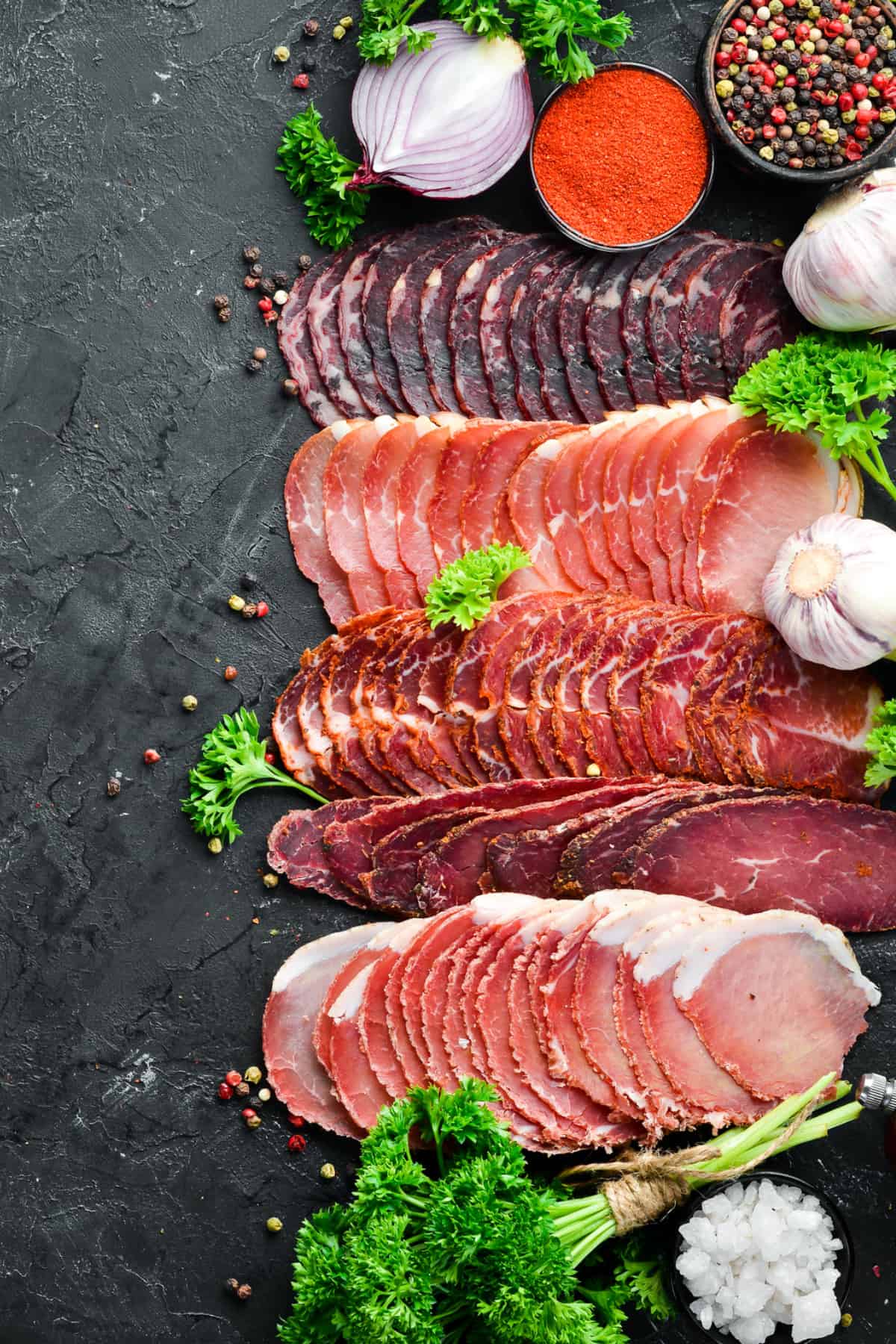 Fresh Fruit & Dried Fruit: 1 to 2 Selections
Adding fresh and dried fruits adds you pop of color and sweetness to the board. Helping cleanse your pallet in between bites of creamy cheese and heavy meats. Here are some suggestions we've enjoyed…
Dates
Figs
Grapes
Raspberries
Blueberries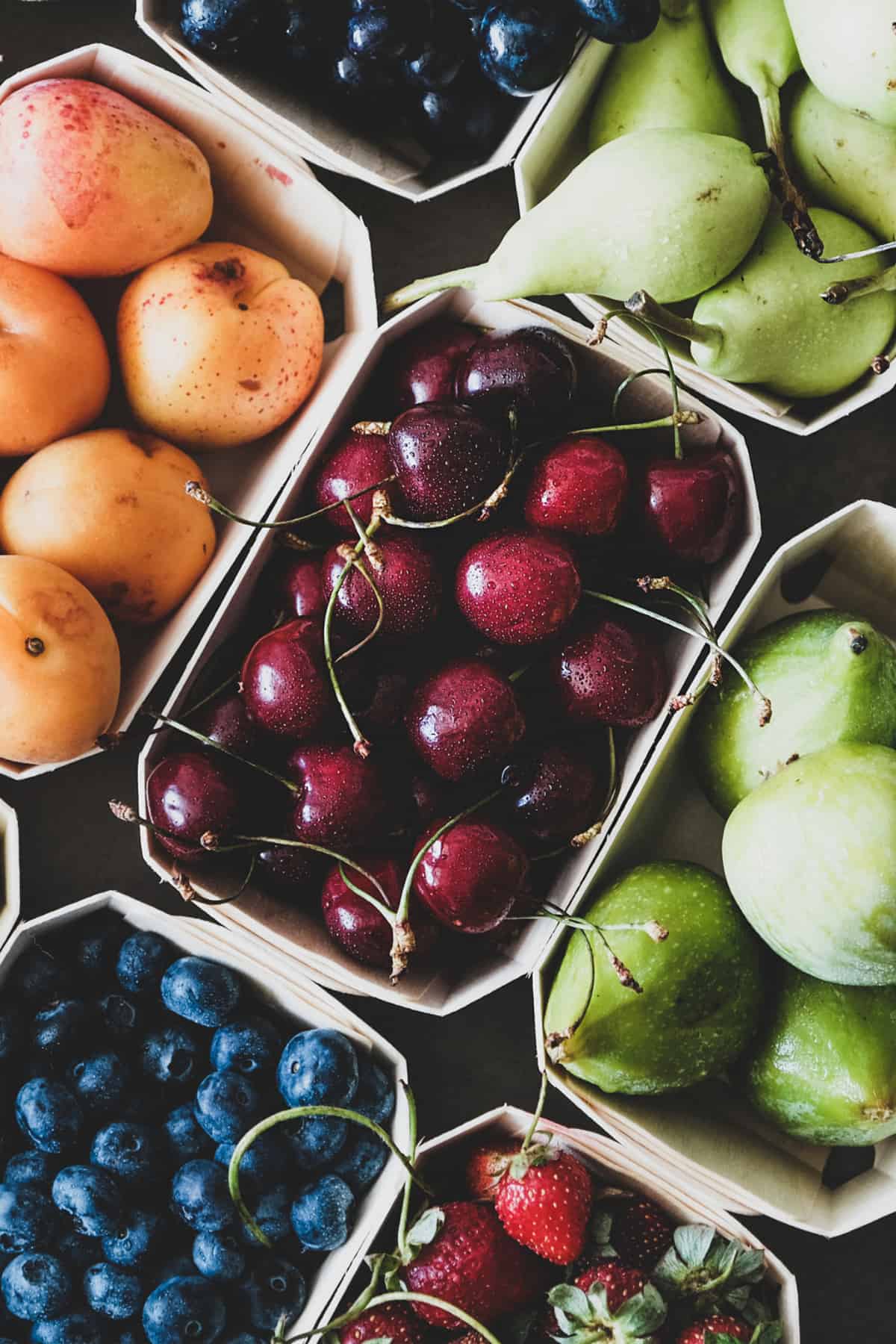 Extras
Filling in the gaps and adding flavor at the same time! We've found adorable mini-sized jams and jellies that are perfect for layering on top of your cheese or spreading on crackers. Depending on how often you create your boards, this cost can actually be used multiple times as you only need a few…
Fig Jam
Fresh Sprigs of Rosemary
Whole Grain Mustard
Olives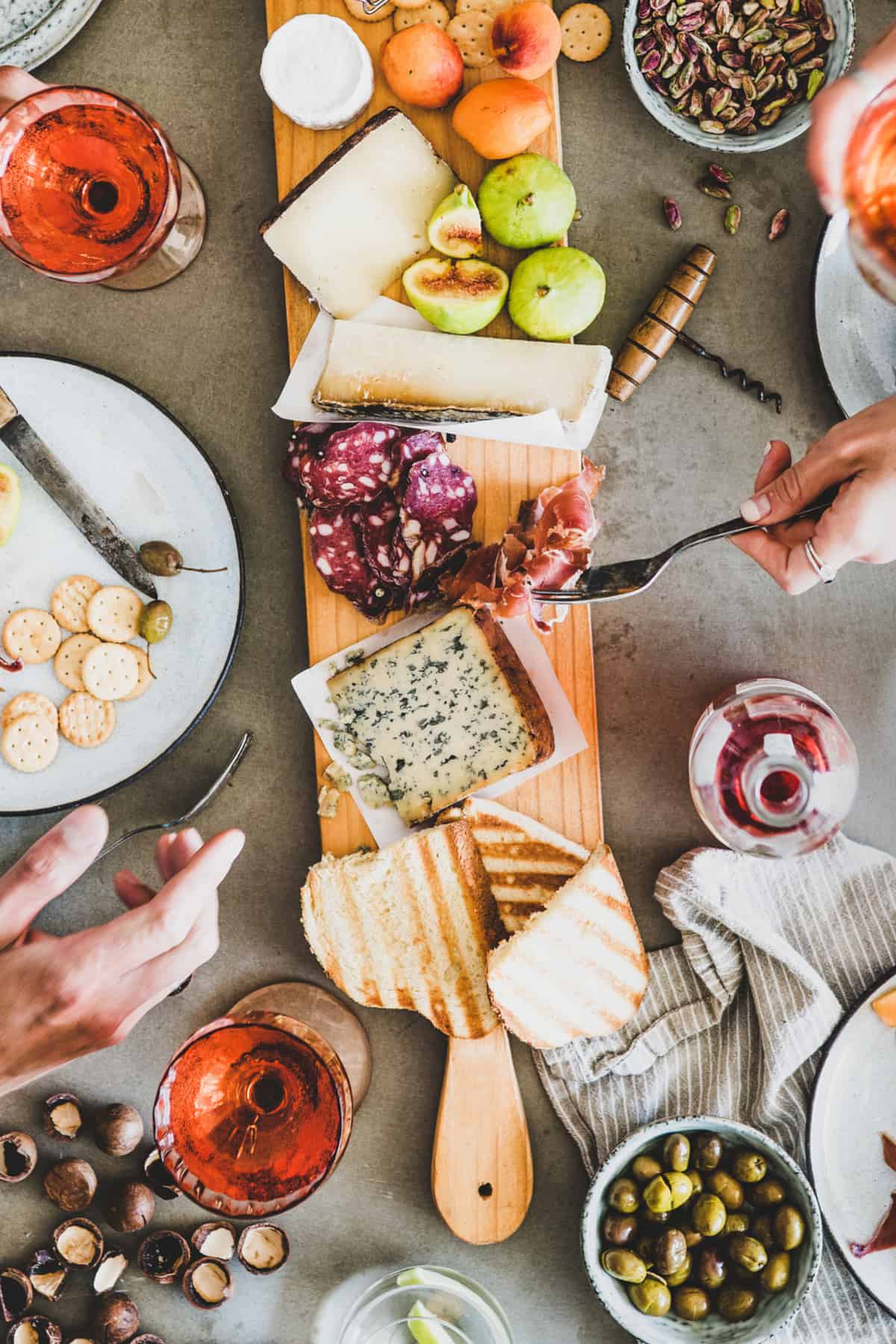 The size of your charcuterie board will depend on the number of guests you are serving. A small charcuterie board may be suitable for a more intimate gathering, while a larger board may be necessary for larger parties or special events.
The price of a charcuterie board can also vary depending on the board's size and the total amount of food products you are using. To keep things budget-friendly, you might consider creating a board with low-risk foods like crackers and cheese that don't require a lot of prep time or additional cost.
Best Grocery Stores to Shop
Depending on where you shop is drastically going to affect the cost of making a charcuterie board. When I used to live in Maryland, our local Wegman's was my favorite place to shop. However, it was so easy to get caught up in the wide variety of cheeses they offered. I'll never forget the time my husband came home with an $18 block of aged gouda... displeased (at the price, not the cheese).
In the last few years, Aldi has entered the picture, and become a great option for working on a budget. We quickly realized their prices were very competitive even for similar products, especially in the charcuterie department. Easily costing 50% less in most instances. While their selection isn't as vast as Whole Foods or Wegman's if you need to feed a crowd and still maintain the quality I recommend swinging by.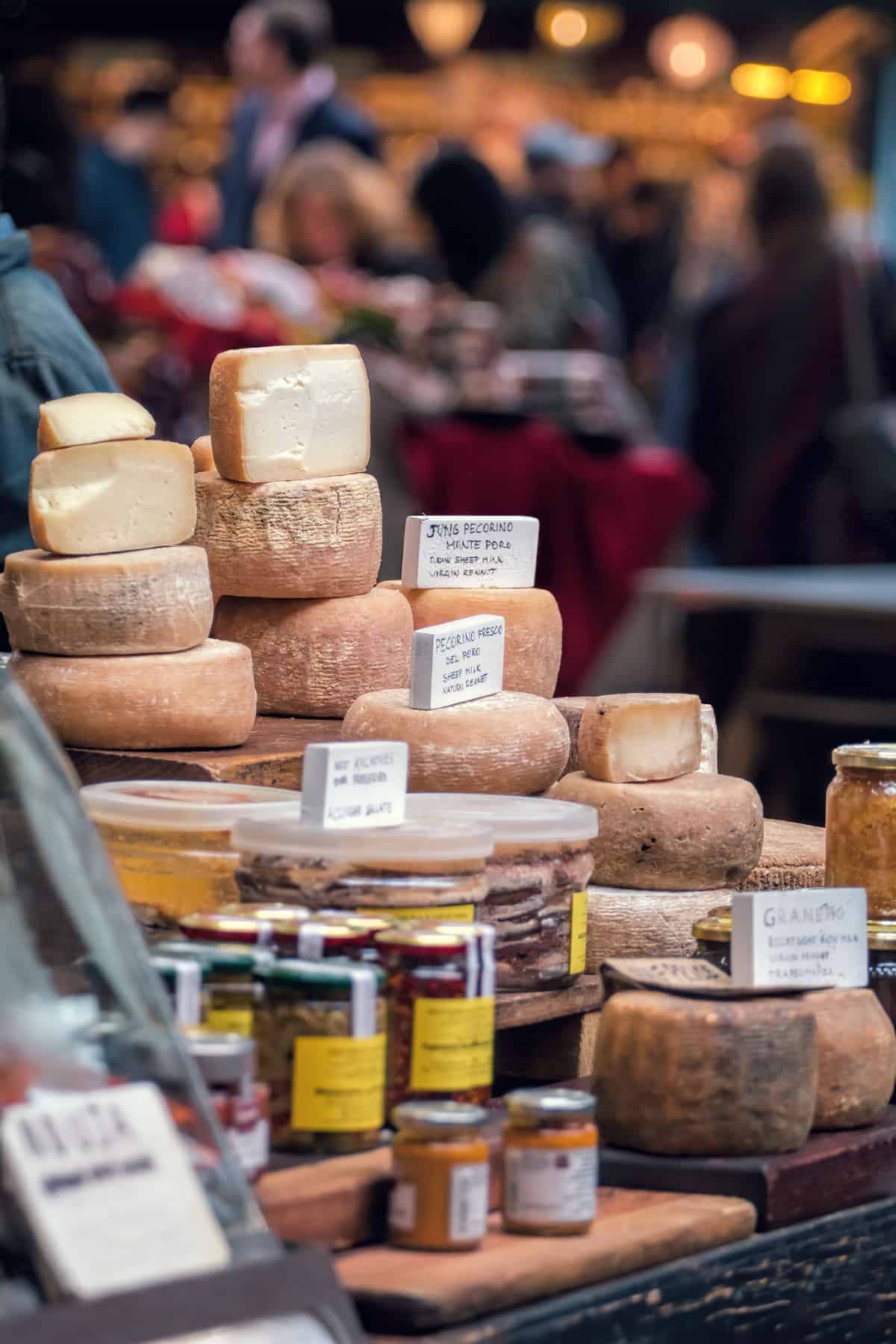 Recently we also went to our local World Market and found some really amazing charcuterie imported from Spain along with lots of crackers, spreads, and sides that would have made an amazing board on their own! Just to say, don't forget to look outside of your normal grocery from time to time.
Overall Average Cost
Let's break down the cost of making your own charcuterie board. Keep in mind this is all just a general rule of thumb, and you can customize and make your board completely your own. These prices are based on InstaCart which means you may even be able to find them for less per item.
This is meant to show a baseline price for each option to get a feel of what the total cost per person would be. Prices will vary wildly depending on the store and location which is why I priced out two different options at two different stores.
Quality is something to also take into consideration as some may be nitrate-free, free-range, or organic. I tried to compare apples to apples as much as humanly possible...
Small Board- 3 oz of charcuterie per person, 2 oz of cheese, plus bread, olives, and fresh fruit
Large Board- 4 oz of charcuterie per person, 4 oz of cheese, plus bread, olives, and more fresh fruit
Discount Grocer Pricing (ex: Aldi or Lidle)
Small Board- Meats (3), Cheeses (2), Crackers (2), Sides (2)
Salami Italiano 3oz, Proscuitto 4oz, Capicolla 6oz, Herb Goat Cheese 4oz, Aged Gouda 4oz, Rosemary Breadsticks, Parmesan Garlic Pita Chips 9oz, Green Assortment 7oz, Red Seedless Grapes ~ $33 (approximately $8.25 per person)
Large Board - Meats (4), Cheeses (3), Crackers (2), Sides (4)
Salami Italiano 3oz, Proscuitto 4oz, Capicolla 6oz, Speck Italiano 3oz, Herb Goat Cheese 4oz, Aged Gouda 4oz, Smoked Cheddar 8oz, Rosemary Breadsticks, Parmesan Garlic Pita Chips 9oz, Green Olive Assortment 7oz, Apricot Jam, Red Seedless Grapes, Fresh Raspberries 6oz ~ $47 (approximately $11.75 per person)
High-End Grocer Pricing (ex: Wegman's or Whole Foods)
Small Board- Meats (3), Cheeses (2), Crackers (2), Sides (2)
Salami Calabrese 4oz, Proscuitto 4oz, Capicolla 4oz, Herb Goat Cheese 4oz, Aged Gouda 4oz, Rosemary Crackers, Bruschettini, Green Olives 6oz, Red Seedless Grapes ~$55 (approximately $13.75 per person)
Large Board - Meats (4), Cheeses (3), Crackers (2), Sides (4)
Salami Calabrese 4oz, Proscuitto 4oz, Capicolla 4oz, Spanish Chorizo 8oz, Herb Goat Cheese 4oz, Aged Gouda 4oz, Truffle Gruyere 8oz, Rosemary Crackers, Bruschettini, Green Olives 6oz, Fig Spread, Red Seedless Grapes, Fresh Raspberries 6oz ~ $90 ( approximately $22.50 per person)
When Planning an Event
Soft cheeses that aren't pasteurized aren't ideal for pregnant women, so make sure to keep that in mind if you're planning a large event that may include pregnant women or a baby shower.
Charcuterie boards work well for vegetarians as well as cheese and fruits are also available. You may want to create a separate board just for them though!
Consider religious preferences as well! Not everyone eats pork, and a large portion of charcuterie selections contain pork products. Being considerate of individuals' views is a great way to let them know they are being cared for.
Charcuterie Boards vs Grazing Table
While most are familiar with a classic charcuterie board, grazing table or grazing board are here be a main event and I'm here for it. Perfect for feeding a large number of people at events such as a wedding or baby shower, while also being a decorative focal point. These give the traditional meat and cheese boards a run for their money.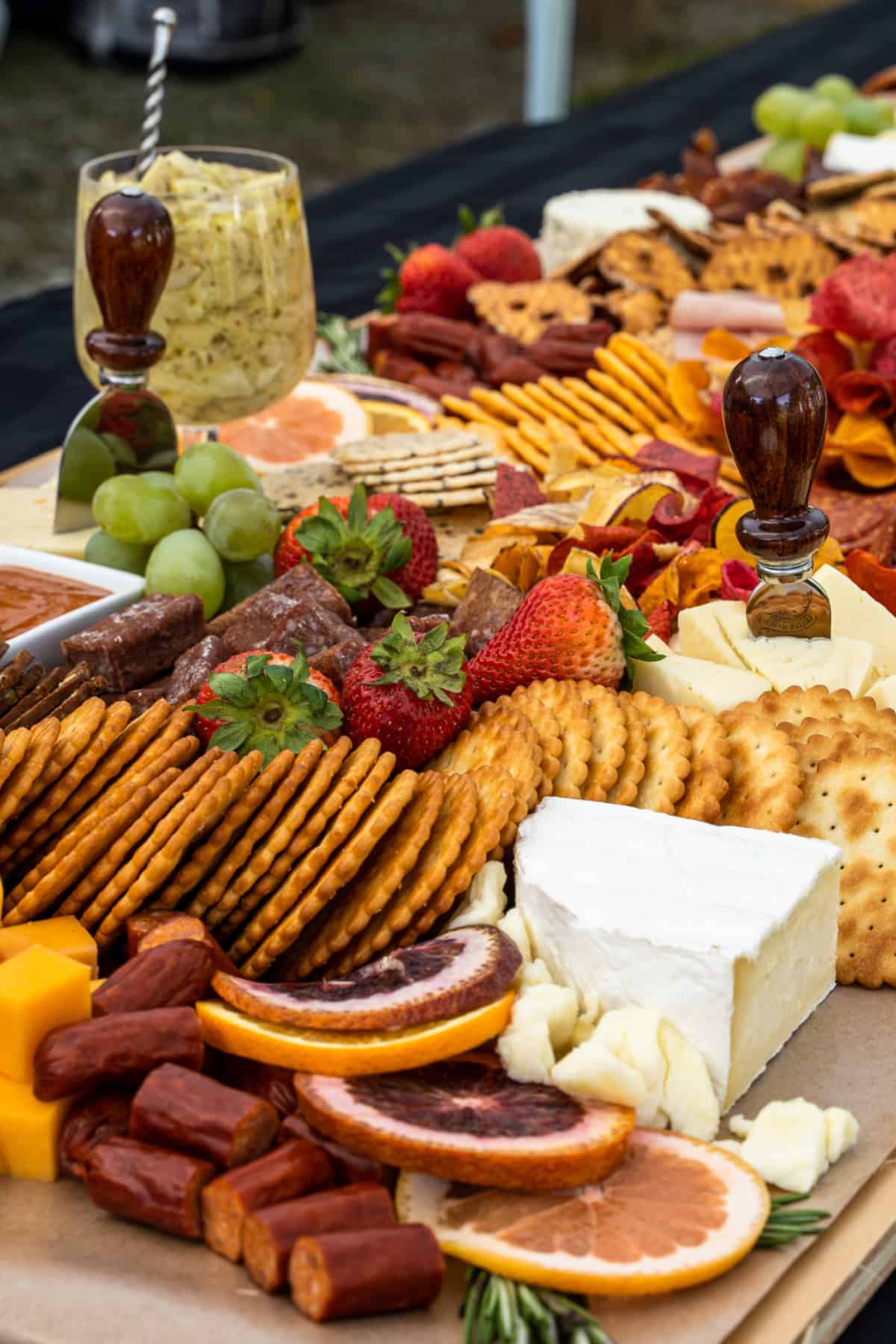 Similar Articles
🧐 Fun Charcuterie FAQ
What Does Even Mean?
Charcuterie is a French word, defined by Merriam-Webster as "a delicatessen specializing in dressed meats and meat dishes", or the products sold in said shop. So really when you order charcuterie, you are really only ordering the meat.
When did Charcuterie Become a Thing?
While the first known use was in 1825, it didn't really become popular in the United Started until the 1990s. My personal opinion is they become super popular in the 2000s due to kids like me who grew up with a love of Lunchables and once we had grown-up money we decided this is how we wanted to eat forever... No? Just me?