Creating a New Year's Eve Charcuterie Board doesn't have to be complicated. From your favorite cheeses to tasty treats, here's how to put together a delightful charcuterie board to keep you snacking while you ring in the new year with style!
We've created our ideal board below as a delicious but easy New Year's Eve Charcuterie Board. You'll find everything to recreate this below, plus suggestions on changing it up or creating your own custom board. So keep scrolling!
Jump to:
Building Your Charcuterie Board
Starting with a large charcuterie board is the ideal first step, but if you don't have one, a large cutting board or small platter can work in its place. We have guides to help you select based on how many people you're feeding and whether you're transporting your creation to a friend's New Year's Eve party. 
Below we will go over the options for meats and cheese we recommend with flavor breakdowns of each. The beauty of charcuterie boards is you really can make it your own. Feel free to change it up to fit your personal preferences.
A Variety of Cheeses
Soft cheese, hard cheeses, goat cheese, blue cheese, and cheese slices are just a few delicious choices. The best part? Mixing and matching different types of cheeses for a good mix of textures for your charcuterie board.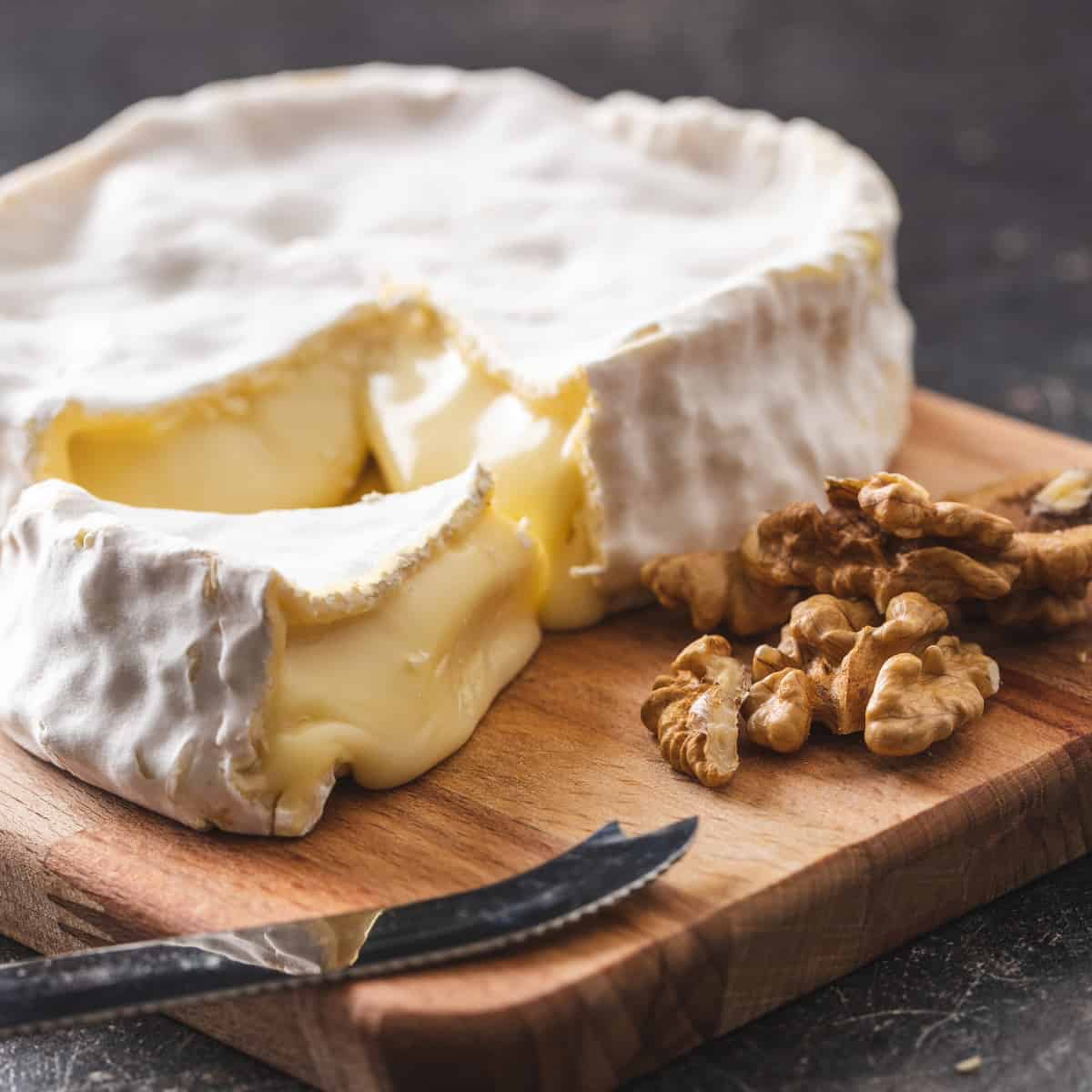 Brie: A soft and creamy cheese with a mild yet rich flavor. Its velvety texture makes it a crowd-pleaser and a luxurious addition to any cheese board. Perfect with crackers or fresh fruit.
Aged Cheddar: This firm and slightly crumbly cheese offers a robust and tangy taste. Aged to perfection, it brings depth and character to the cheese selection. Pairs wonderfully with spicy mustards or fig jam.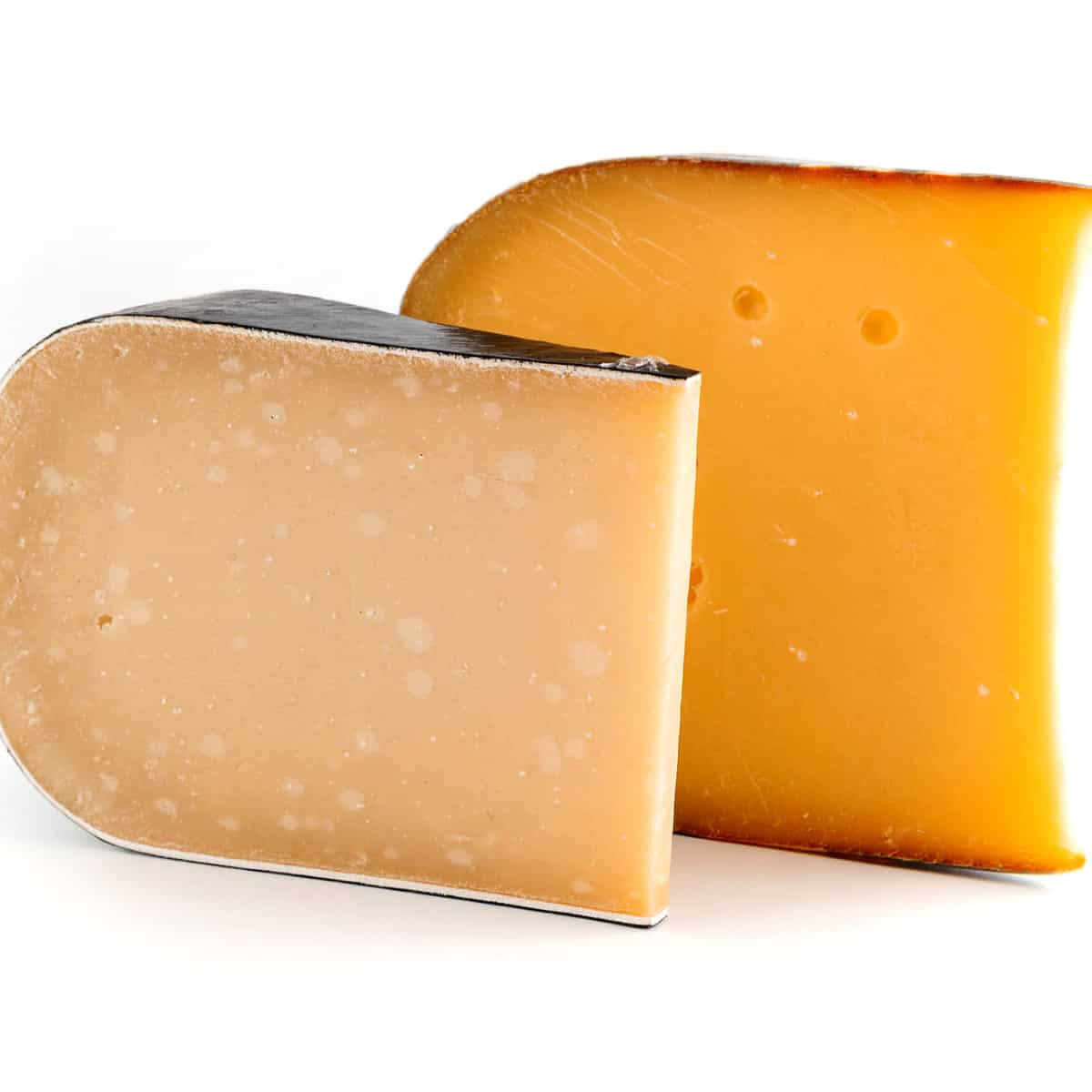 Gouda: Known for its smooth and buttery flavor, Gouda is a versatile cheese that ranges from mild when young to caramel-like when aged. Its unique taste complements both meats and fruits.
Smoked gouda is also a great way to add a different flavor dynamic while sticking with a neutral flavor profile.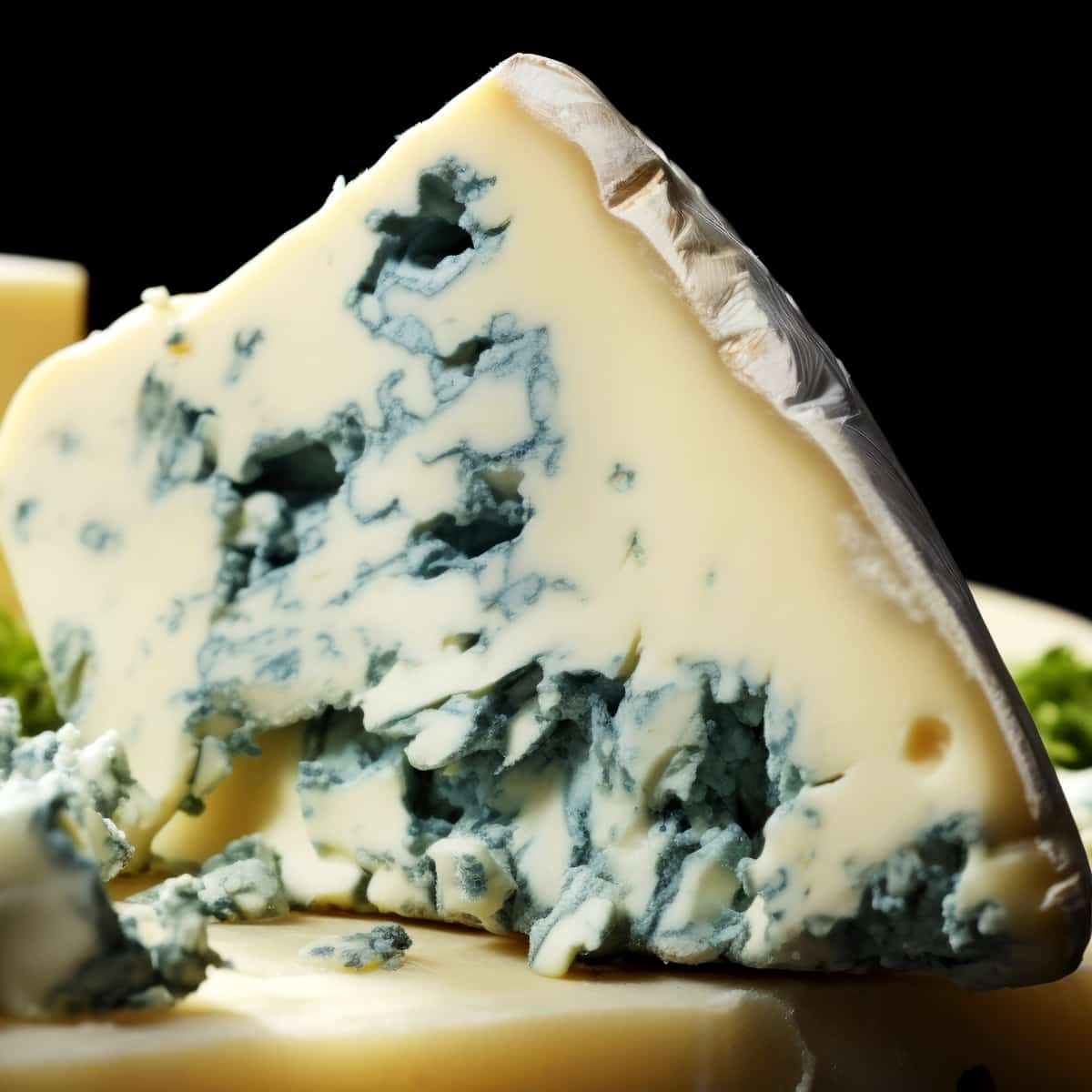 Blue Cheese: While not my personal favorite, for those who enjoy a bit of a kick, blue cheese provides a bold and complex flavor with a pungent aroma. Its distinctive blue veins add a visual flair. Try it with honey or dried fruits for a delightful contrast.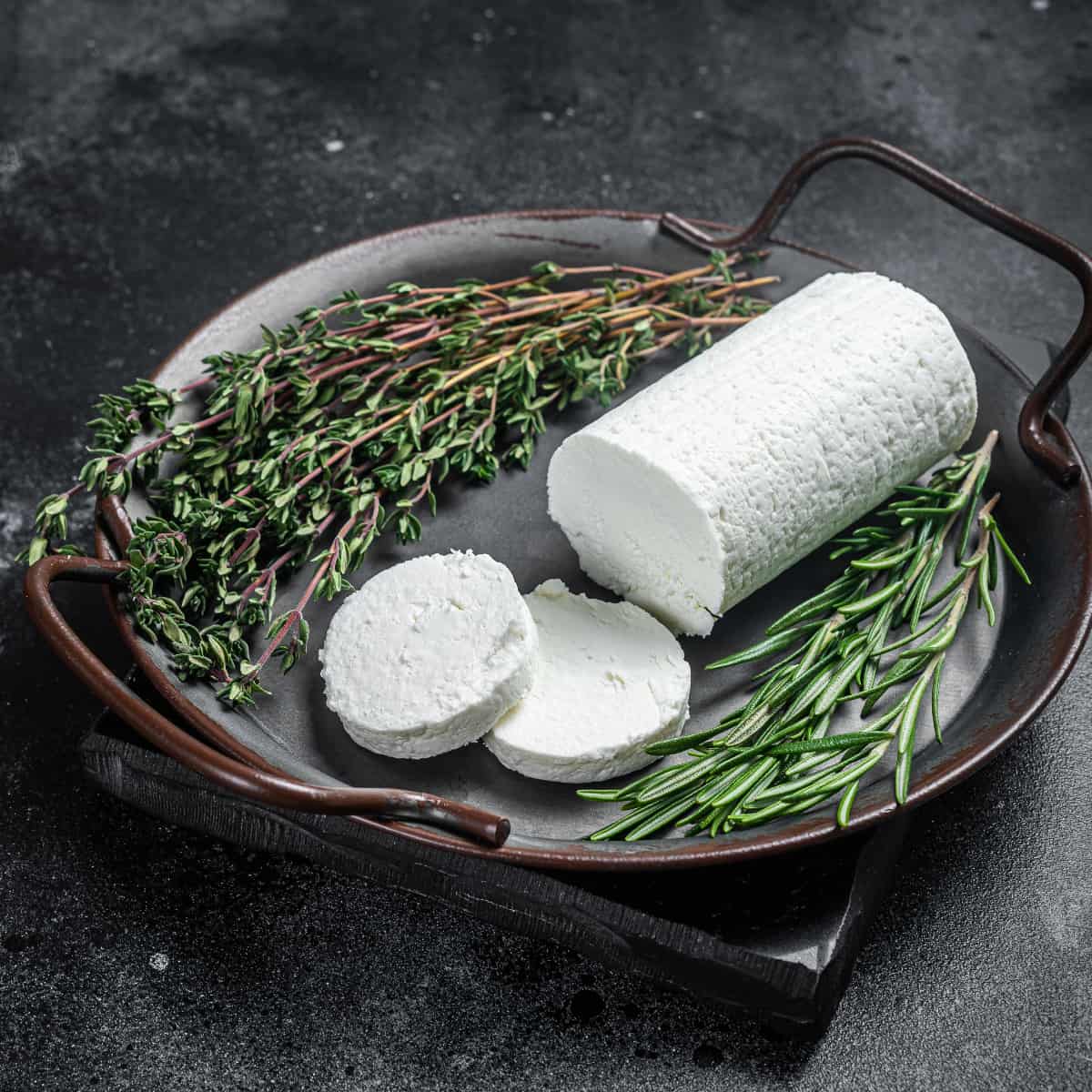 Goat Cheese: Fresh and tangy, goat cheese (or chèvre) adds a lively zing to your cheese board. Its light texture can be spread or crumbled, and its flavor dances well with olive oil and fresh herbs. Experiment with different flavors like honey, cranberry, herb, or truffle goat cheese (my favorite).
Meats and Savory Snacks
Salami roses, sausage slices, roast beef canapes, and types of olives are savory finger foods that'll delight the taste buds. Don't forget to leave room for the rest of the board!
Prosciutto: Thinly sliced and delicate, prosciutto offers a buttery and salty taste. Draped over melon or wrapped around breadsticks, it's a timeless classic.
Salami: With its rich flavor and satisfying texture, salami is the life of the charcuterie party. Whether spicy or mild, it's a versatile favorite.
Soppressata: A rustic Italian salami with bold flavors and a touch of heat. Pair it with cheeses or olives, and it'll dance across your taste buds.
Spanish Chorizo: This Spanish sausage adds a smoky and spicy kick. Whether sliced or spreadable, chorizo brings warmth and excitement to the charcuterie experience. Keep in mind this is different from Mexican chorizo which is a ground, uncooked sausage which we also love, but not on our charcuterie boards.
Capicola: Also known as coppa, capicola is a tender and flavorful cured meat that's perfect for layering with cheese. Its sweet and spicy notes make it a sophisticated choice.
Fruits and Sweet Delights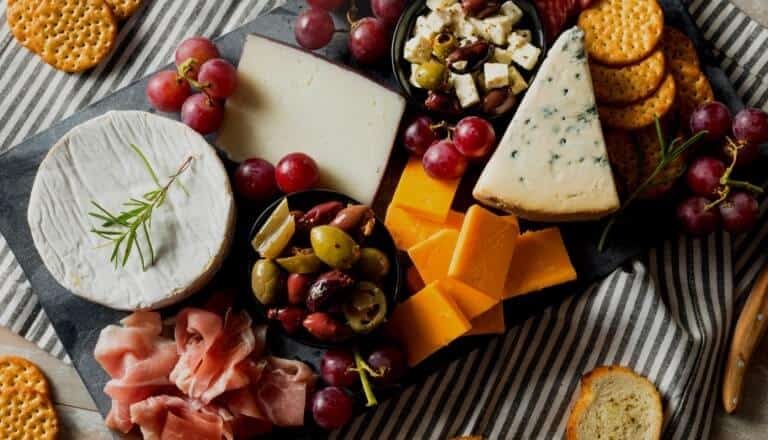 Fresh fruit like apple slices, dried fruit, and fig jam provide a refreshing contrast. Use what's in season, or whatever jumps out to you when you are at your local market. Here are some suggestions to get you going...
Apple Slices: Crisp and sweet, apple slices provide a refreshing bite. They're a beautiful cheese board companion, especially with blue cheese or soft cheese.
Fresh Berries: Fresh, bright, and sweet, berries add a pop of color and help cleanse your pallet in between bites.
Fig Jam: Rich and luscious, fig jam goes beautifully with hard cheeses and prosciutto. It's a sweet touch that'll elevate your charcuterie experience.
Olives: Whether you prefer green or black, olives bring a briny and satisfying touch. Explore types of olives that match your favorite meats and cheeses.
Marinaded Cherry Tomatoes: Juicy and colorful, cherry tomatoes add a burst of freshness. Toss them in olive oil and season with kosher salt and fresh ground pepper for an extra boost of flavor. Pair them with goat cheese or mozzarella for a perfect bite.
Sparkling Wine to Pair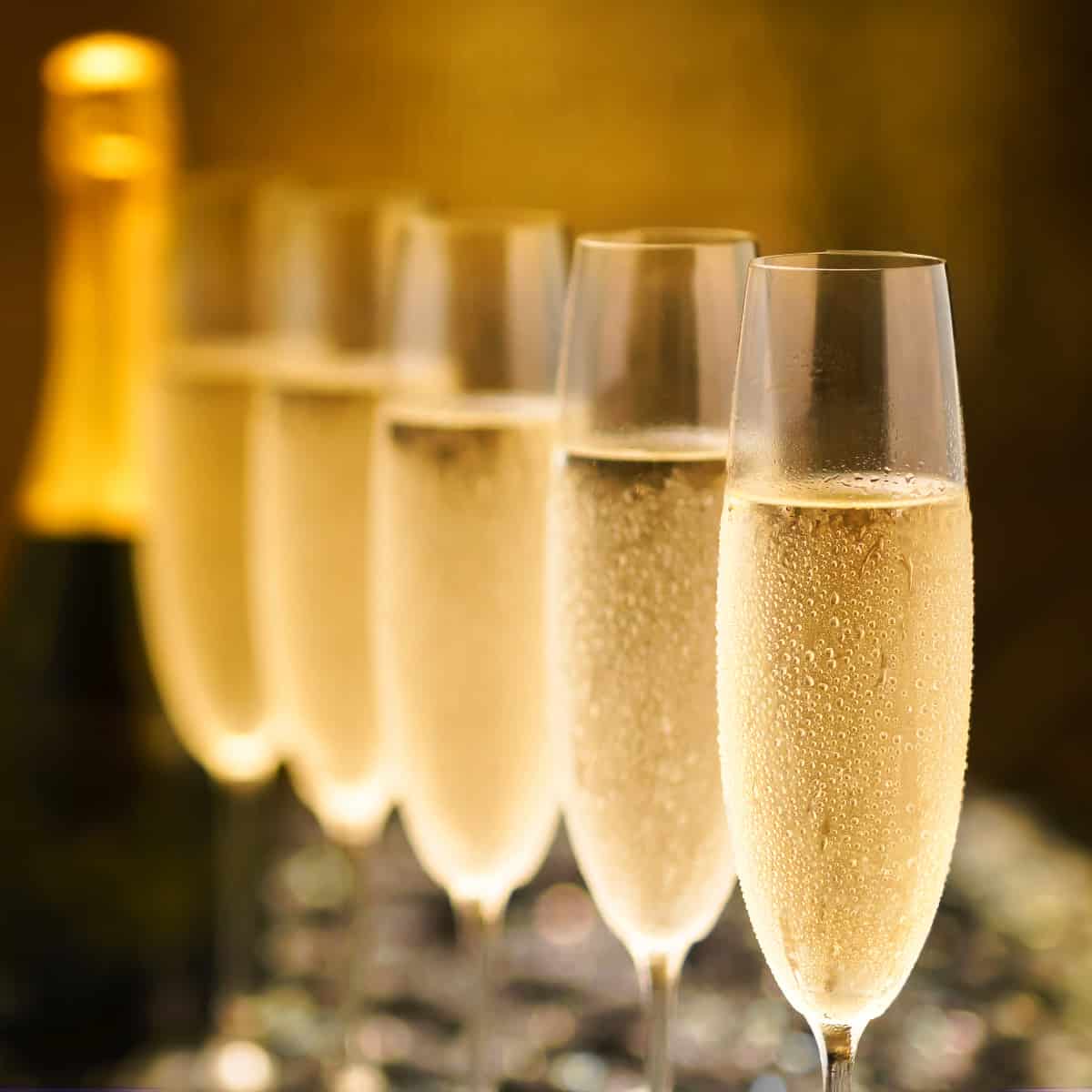 Sparkling wines are my favorite and pairing wines with your charcuterie spread is an art in itself. Whether you're seeking a budget-friendly option or a luxurious treat, here are some selections, including pricing, that'll take your New Year's Eve party to the next level.
We also included an alcohol-free option for anyone with dietary restrictions or child-friendly parties who also want to partake!
Family-Friendly Fizz
Budget-Friendly Sparklers
Mid-Range Bubbles
Premium Champagne Choices
Transporting Charcuterie Boards and More
If you're not hosting this year and need to bring a charcuterie board along to the party, check out our guide on how to transport charcuterie boards. Plus find help with choosing the right size board, and even how to price how much it might cost to make a charcuterie board for your next get-together.
If you don't want to have to worry about lugging your favorite charcuterie board to an event, we also have a bunch of ideas of disposable charcuterie board ideas that don't compromise on style.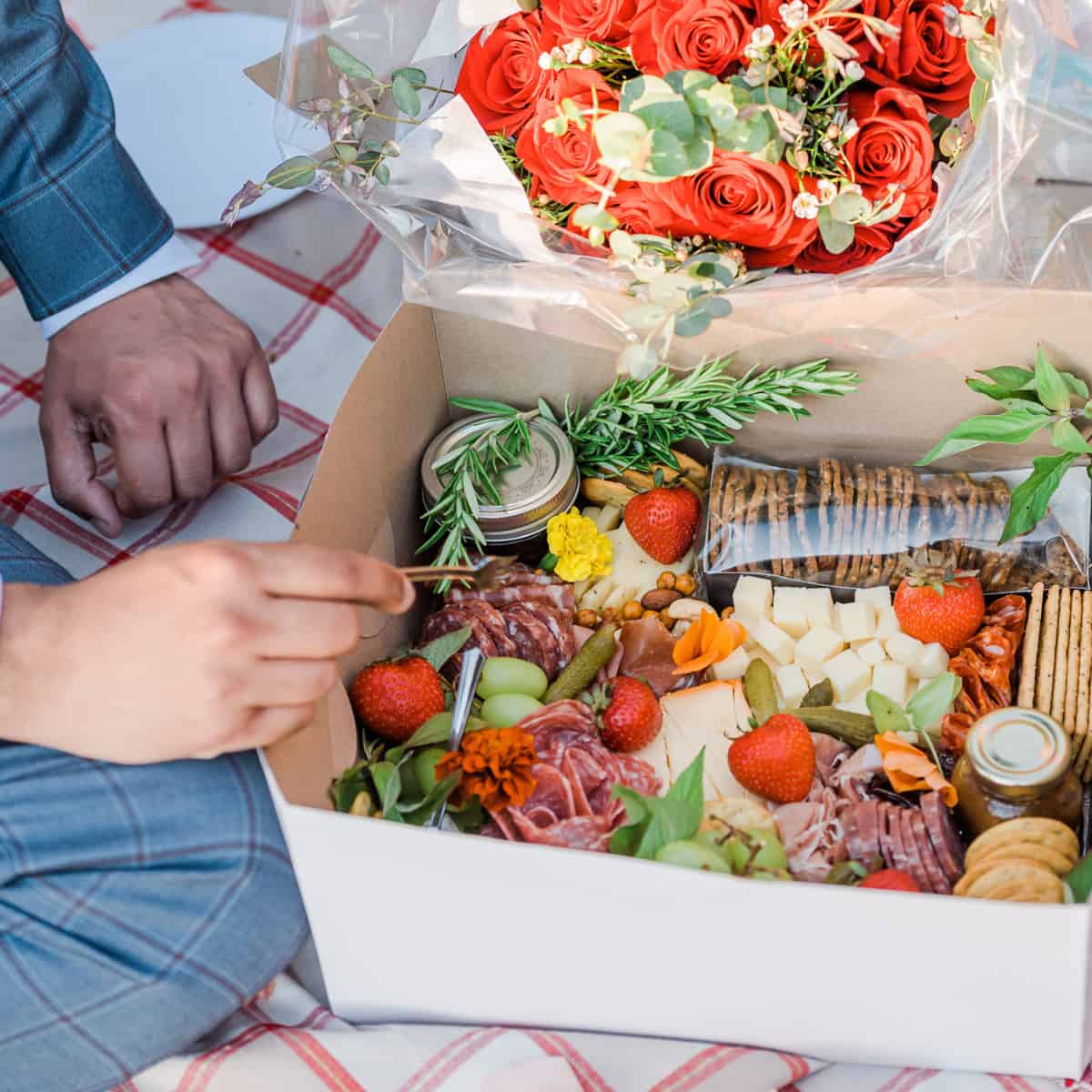 New Year's Eve Dessert Board Ideas
Take all of your fun New Year's Eve desserts and transform them into an unforgettable charcuterie board. Imagine a dessert board brimming with sweet treats like cheesecake, cookies, fresh fruit, and more. Fill in any gaps with delightful nibbles like M&Ms, chocolate chips, butterscotch chips, or even Macarons and cookie dough bites. Add Ferrero Rocher chocolates and fortune cookies for a fun twist.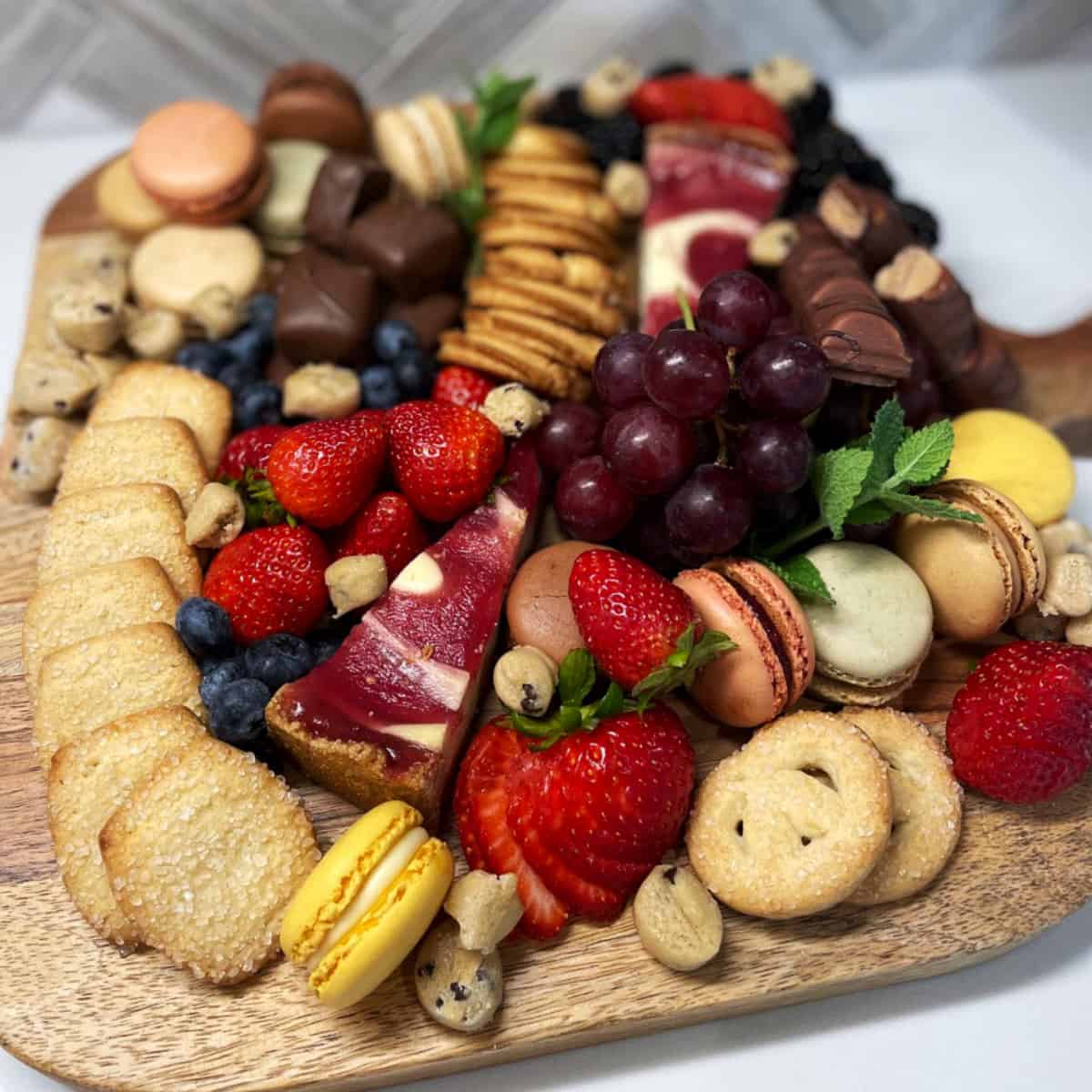 📖 Recipe
New Year's Eve Charcuterie Board & Wine Pairing
Everything you need to make your own charcuterie board to ring in the new year, plus a sparkling wine suggestion to set it all off.
Equipment
Large Charcuterie Board

Cheese Knifes

Small Serving Bowl

optional

Mini Forks

Mini Spoons
Ingredients
4

oz

Truffle Goat Cheese

7

oz

Brie

-

with honey drizzle

4

oz

Bleu Cheese

4

oz

Aged Parmesan

-

or aged gouda

4

oz

Spanish Chorizo

4

oz

Salami

4

oz

Capicolla

-

spicy or regular

8.5

oz

Fig Jam

-

or apricot

½

cup

Almonds

-

or Candied Walnuts

1

bunch

Grapes

4

oz

Berries

-

blackberries or raspeberries

1

Pomegranite

4

Figs

-

Fresh or dried

½

cup

Candied Walnuts

12

oz

Gerkins

6

oz

Olive Tapande

Rosemary Crackers

Raisin Pumpkin Crackers
Instructions
Choose a large charcuterie or serving board.

Start by laying our your cheese making sure to leave space to slice them if needed.

Lay out your meats, either in a sliced line, folded or in a classic rose shape.

Add your small-filled bowls or larger accompaniments.

Fill any small remaining spaces with berries, nuts, or fresh herb.
Notes
Quick Substitutions
Cheese: Try to replace hard with hard and soft with soft. If you can't find Manchego, a good Pecorino will work. Similarly, Brie can be swapped for Camembert.
Meats: No prosciutto? Serrano ham or even smoked salmon can be a fabulous alternative.
Fruits: Use what's in season! Just remember to get a variety of colors that will pop off of each other. 
Nuts: Almonds can easily be replaced with walnuts, pecans, or pistachios.
Embracing Unique or Fun Finds
Cheese: If you stumble upon a lavender-infused goat cheese or a truffle Gouda, don't hesitate! Unique flavors can make your board a talking point.
Crackers: Specialty stores often carry unique flavors or shapes—think rosemary-infused or even pumpkin crackers.
Spreads: Jams and mustards with intriguing flavors, such as fig or spicy mango, can bring an unexpected twist.
Cracker Substitutions
Basic: If you're out of simple salted crackers, toasted pita or even pretzels can work in a pinch.
Flavored: If you don't have rosemary crackers, add a sprinkle of dried rosemary to plain ones for a quick fix.
Gluten-Free: Rice cakes or vegetable slices (like cucumber or bell pepper) are great alternatives.
Mid-Range Sparkling Wine Selection 
Here is a quick recap of some of the mid-range sparkling wines we recommend to pair with this board. For more options check out the Sparkling Wines to Pair section above!
Chandon Brut Classic (California): A versatile American sparkling wine with a rich and creamy texture. Perfect with savory snacks and hard cheeses. ($20-$30)
Mumm Napa Brut Prestige (California): Fresh and lively with notes of citrus and peach. It complements a delicious charcuterie board nicely. ($25-$35)
Roederer Estate Brut (California): A sophisticated option with complex flavors. Ideal with prosciutto and blue cheese. ($25-$35)
Nutrition
Calories:
860
kcal
Carbohydrates:
61
g
Protein:
39
g
Fat:
54
g
Saturated Fat:
22
g
Polyunsaturated Fat:
4
g
Monounsaturated Fat:
19
g
Trans Fat:
0.002
g
Cholesterol:
112
mg
Sodium:
3070
mg
Potassium:
671
mg
Fiber:
8
g
Sugar:
42
g
Vitamin A:
1896
IU
Vitamin C:
16
mg
Calcium:
507
mg
Iron:
4
mg
From planning to pairing to enjoying the perfect appetizer, we hope this blog post inspires you to create beautiful and delicious charcuterie boards. Happy New Year! Enjoy the celebration and the delightful tastes! For more fun holiday charcuterie boards, from Easter to Halloween and Valentine's Day, check out our full article on Fun & Easy Ideas for Your Next Charcuterie Board. 
As the New Year approaches, there's no better way to celebrate than with beautiful spreads of delicious bites on this New Year's Eve charcuterie board. Whether it's an NYE party or an intimate gathering, these ideas will make it a night to remember.