Charcuterie, a French term, has become a popular culinary trend across the United States. The secret to a perfect charcuterie board lies in the variety of meats, different shapes, unique flavors, and textures it offers.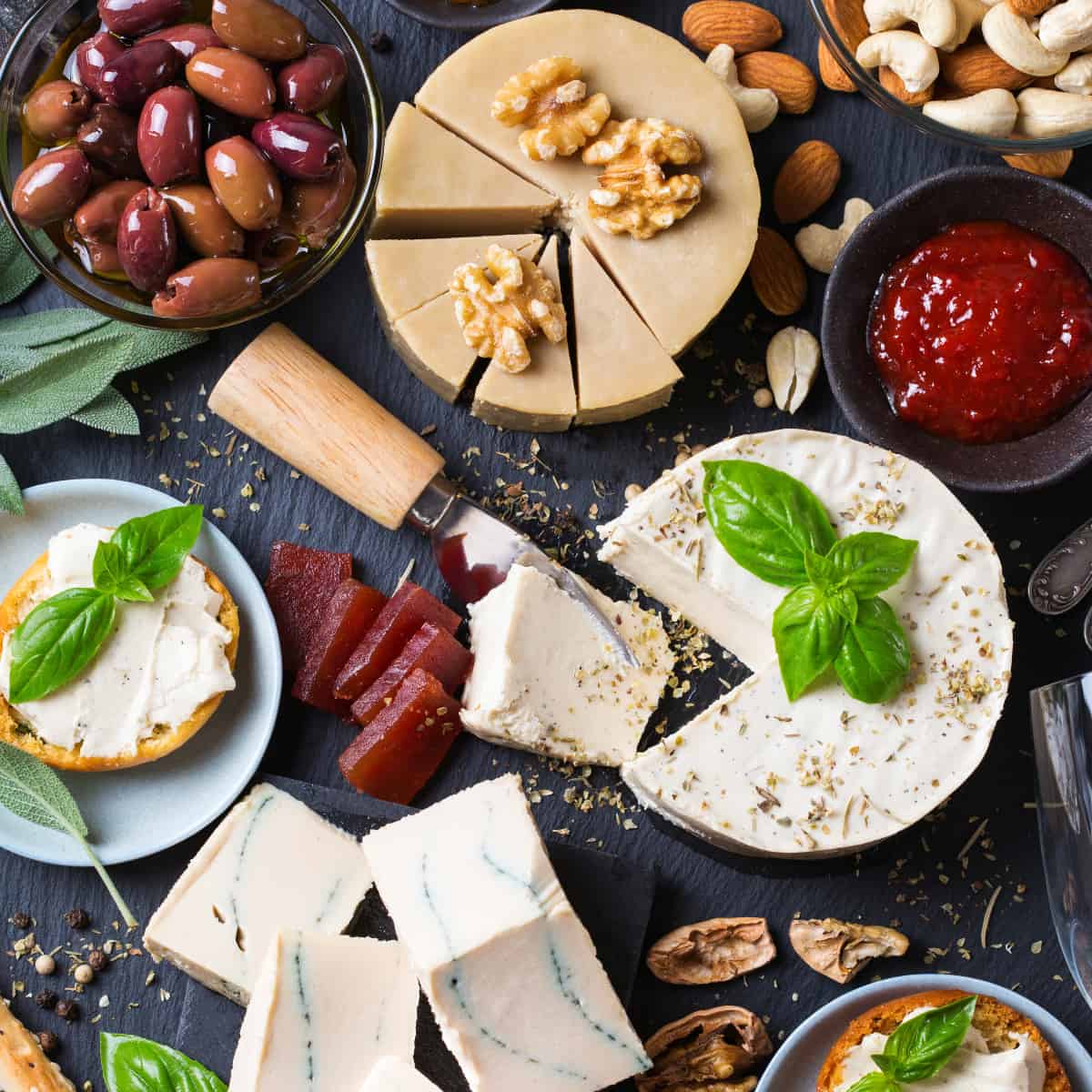 For many, however, a challenge arises when it comes to excluding pork products from the lineup, as traditional options such as pork salami and Italian ham are among the most popular charcuterie meats. This article will guide you through making a beautiful charcuterie board at home without a sliver of pork.
Jump to:
Understanding Charcuterie
While "charcuterie" is often associated with pork meat, the French term actually refers to any type of cured or smoked meat. The curing process, which often includes sea salt and drying, gives each type of salami and other cured meats their unique flavor and dense texture. As such, opting for the best meats and best-cured meats that fit your dietary needs is vital to curating your own charcuterie board.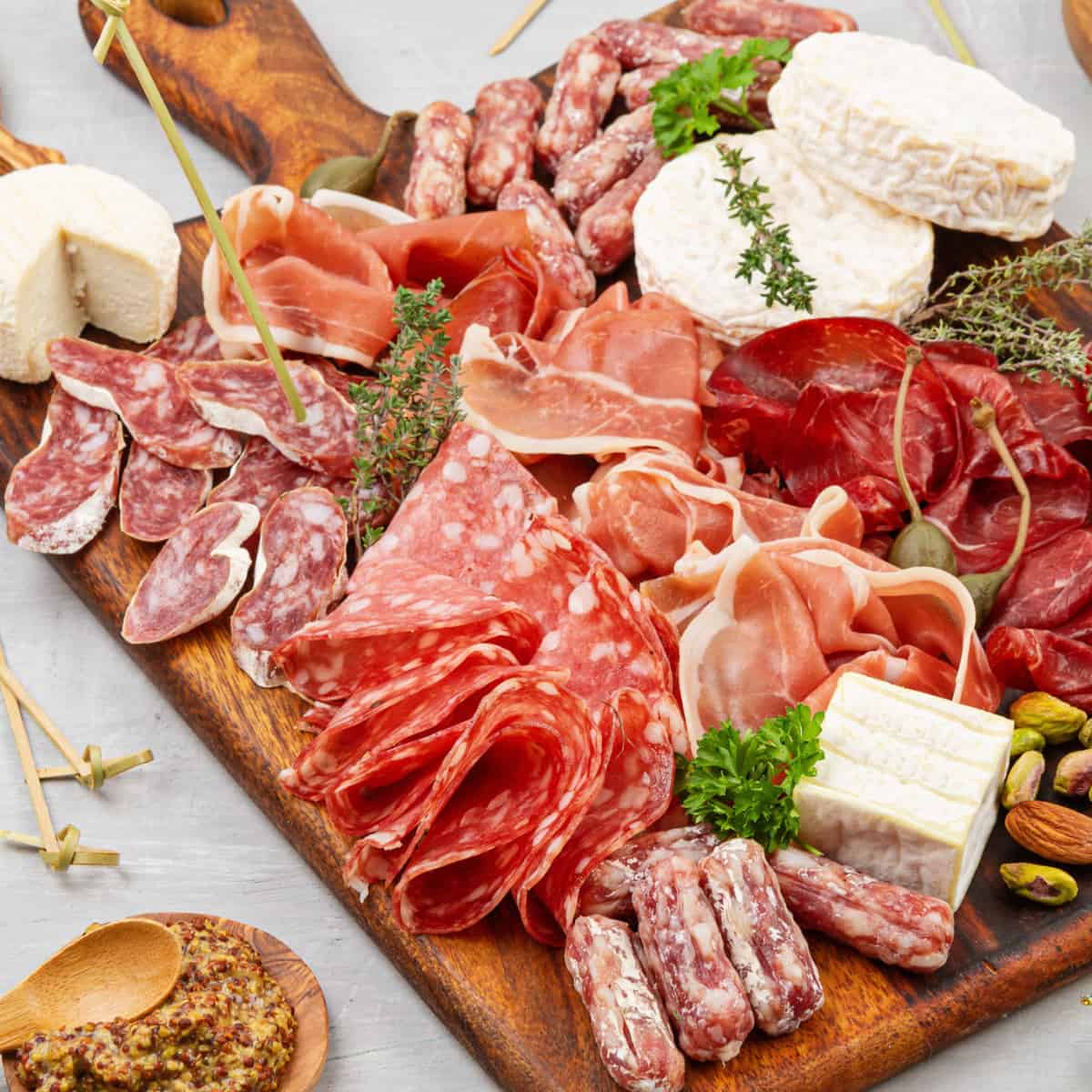 Need to take your charcuterie board to your next event? We have a full guide to help you transport your charcuterie board as well as how to make it in advance!
Choosing the Right Meats
Choosing the right meats for a pork-free charcuterie board can seem daunting at first, especially when confronted with the deli counter at your local grocery store or butcher shop. Fortunately, there are plenty of options available. Your board can feature a wide variety of meats such as:
Duck Delights
From duck bacon to duck salami and duck prosciutto, these products offer a unique flavor profile and are a great addition to any charcuterie board. Foie gras, a luxury product made from the liver of moulard ducks, is a perfect addition for an upscale touch.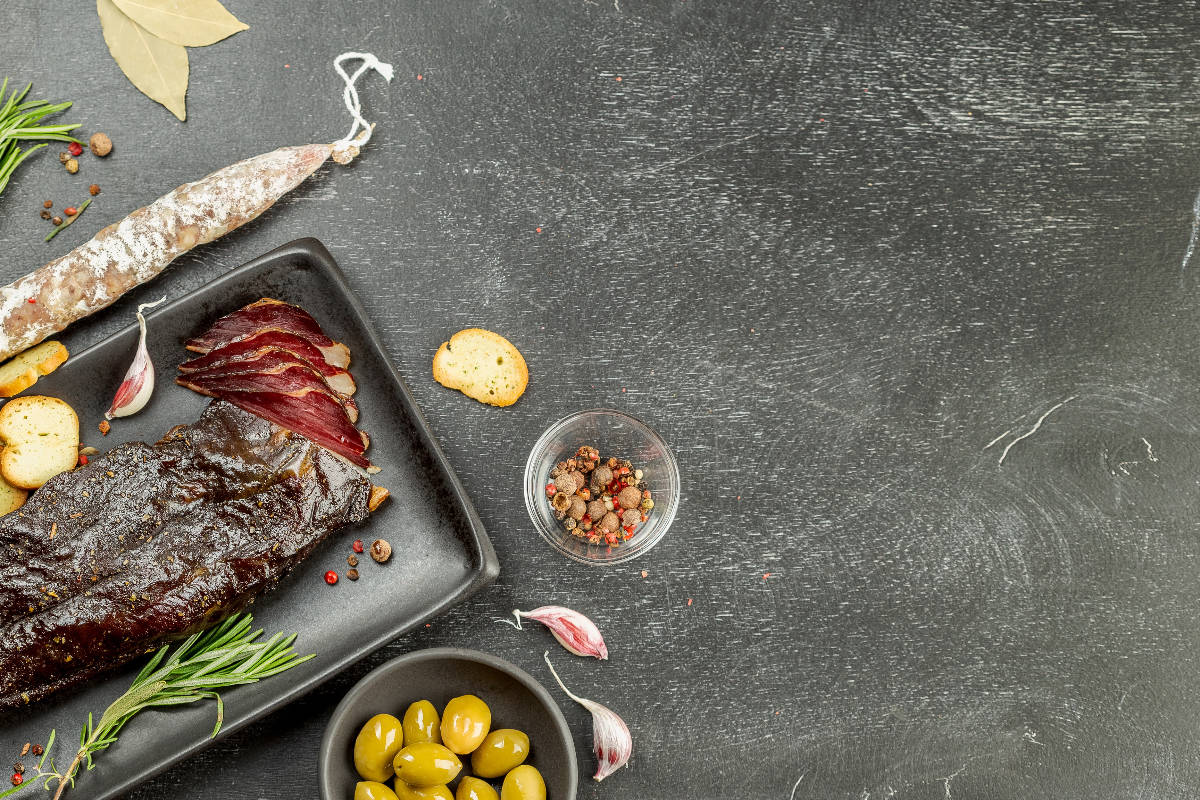 Beef and Chicken Offerings
Beef salami and roast beef are robust meat products that are readily available at most upscale grocery stores. Chicken breast, whether smoked or roasted, is another versatile choice. For the more adventurous, chicken liver pate can introduce a lot of flavors and unique textures to your board.
Exploring Wild Game
Meats from wild game like deer or elk can give your board a truly unique character. Their curing process often involves ingredients like juniper berries and chili pepper, leading to a unique flavor.
Sites like Angel's Salumi & Truffles have an entire section specifically dedicated to pork-free options.
Seafood
While not a traditional part of charcuterie in the strictest sense, smoked or cured seafood like salmon or anchovies can add another level of sophistication and taste to your pork-free charcuterie board.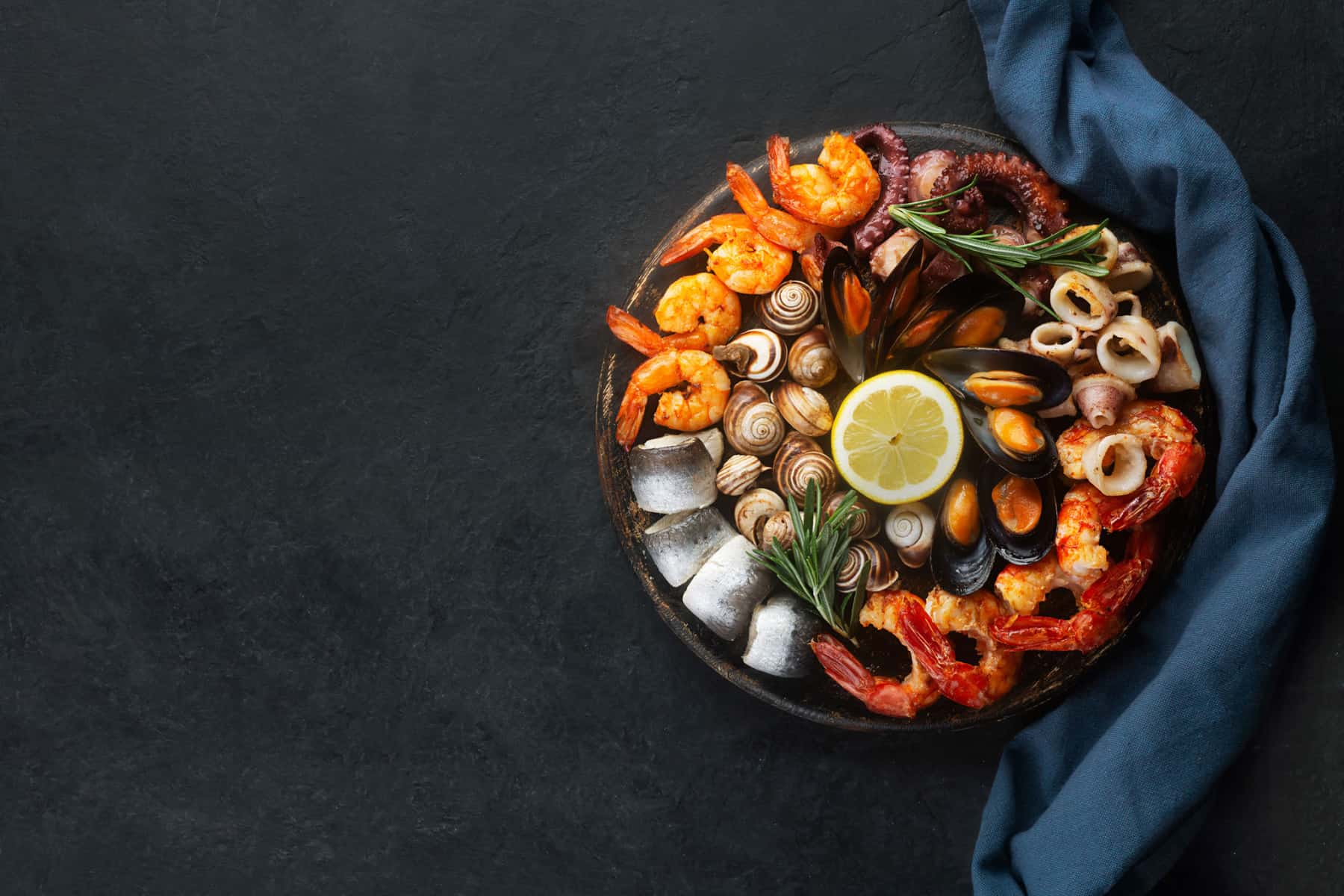 Vegetarian Options
Creating a charcuterie board isn't limited to those who enjoy their meat products. There are plenty of ways to make an enticing, vegetarian-friendly board that doesn't skimp on variety or flavor.
Cheese Galore
Cheese is a vegetarian staple for a reason. From soft cheeses like brie and goat cheese to firmer choices such as aged cheddar or Pecorino Romano, there's a cheese for every palate. Creamy cheeses are an excellent substitute for the richness of meat, while hard cheeses provide a satisfying bite. And don't forget the blue cheese — its strong, unique flavor can stand up to any charcuterie meat.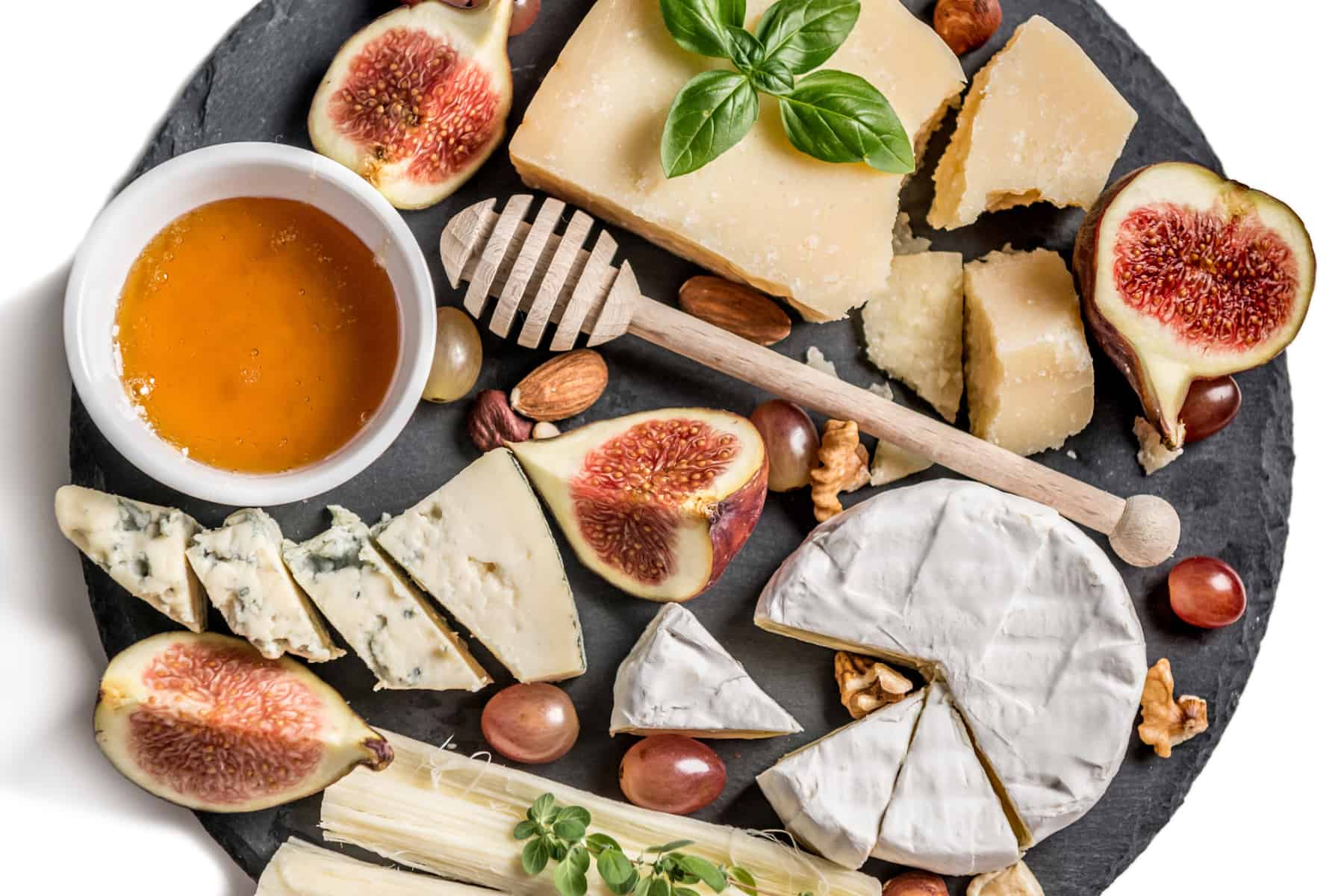 Plant-Based Meats
Many local grocery stores and specialty shops now carry plant-based meats, which mimic the texture and flavor of traditional meats. They make a great addition to a vegetarian charcuterie board, offering a lot of flavors while respecting dietary choices.
Fruits, Vegetables, and More
Fresh fruits add a sweet contrast to the salty flavor of cheeses and plant-based meats. Opt for grapes, apple slices, and berries for a refreshing bite. Vegetables like bell peppers, cherry tomatoes, and cucumbers add crunch and color. Don't forget to include pickled vegetables for an added tang!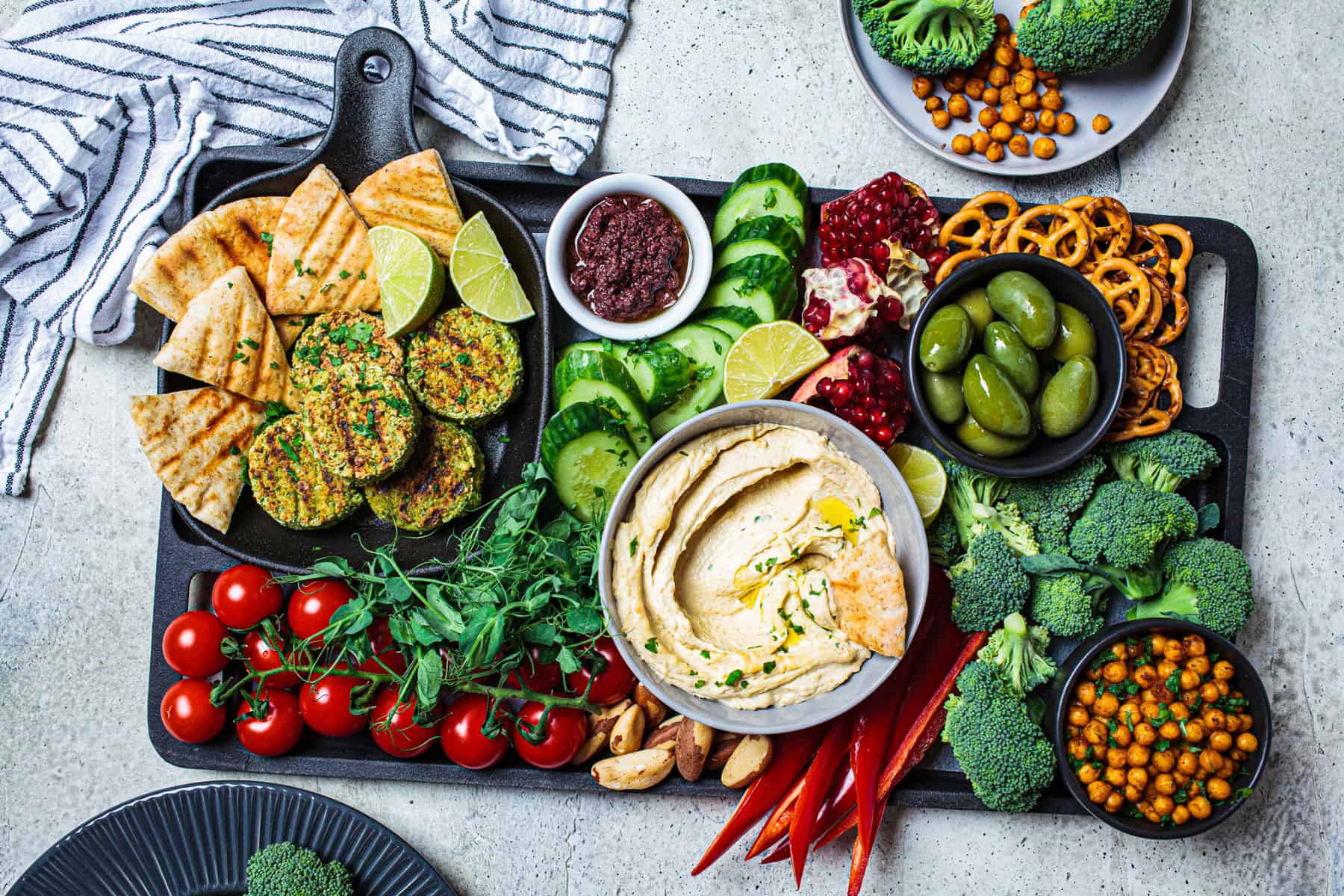 Nuts and Spreads
Nuts add a welcome crunch and are a good source of protein for a vegetarian charcuterie board. Almonds, cashews, or even spiced pecans can make your board more interesting. Spreads like hummus, guacamole, or a rich olive tapenade can also replace pâtés and foie gras from traditional boards.
Butter, Bread, and Crackers
Finally, include a variety of bread and crackers. These not only act as a vehicle for your cheeses and spreads but can also add unique textures to your board. Consider thin, crispy crackers, slices of crusty baguette, or even flavored breadsticks.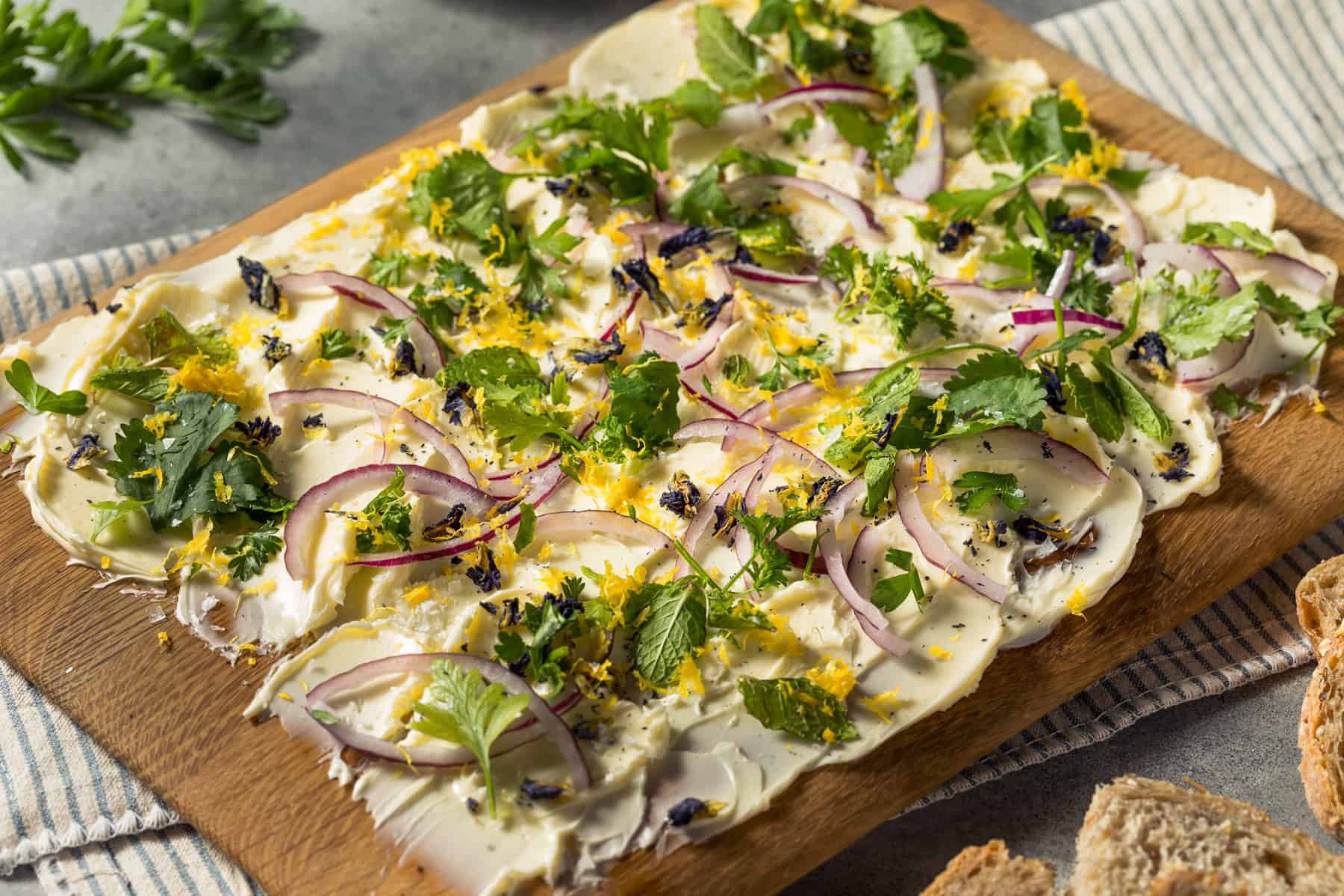 Presentation is Key
Arrange your chosen meats, cheeses, and accompaniments in different shapes and sizes across the board. Place a little bit of everything throughout so each guest can try different flavors and textures without having to reach too far.
Exploring International Flavors
Whether it's pork-free, meat-free, or laden with a variety of cured delicacies, another fantastic way to elevate your charcuterie board is by incorporating a global touch. Exploring the rich, varied flavors of international cuisine can lead to a unique and intriguing feast that's sure to impress your guests.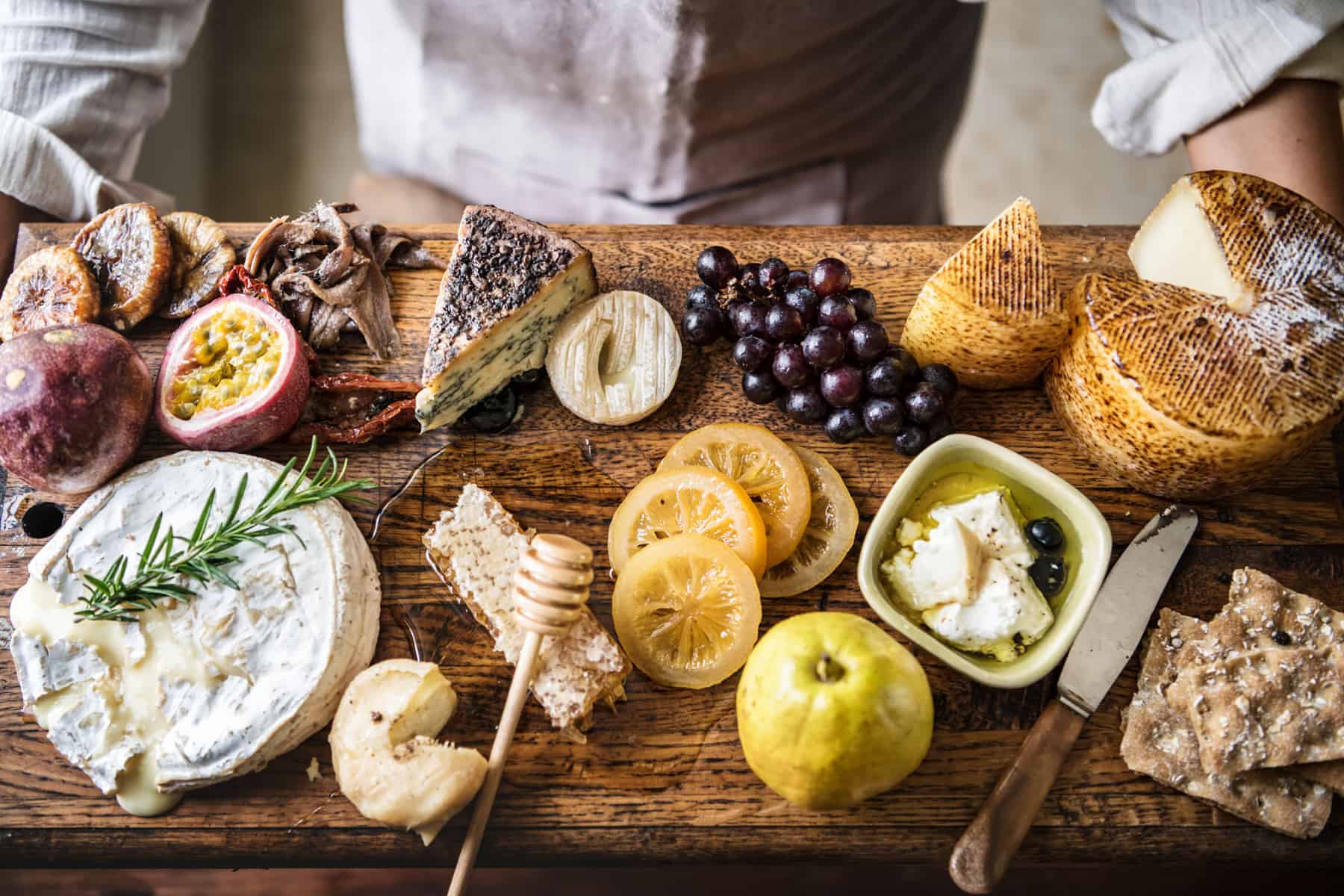 Spanish Flavors
Spain is famous for its love of cured meats, and many of these can be enjoyed even on a pork-free board. Spanish Cecina, a sliced and cured smoked beef made from beef available and brings a lovely smoky, spicy flavor. The same can be said for jamón ibérico made from wild game. The inclusion of Manchego cheese, Marcona almonds, and quince paste will further enhance the Spanish vibe.
Italian Inspiration
Although Italian charcuterie is often pork-centric, there are still options available for those looking for alternatives. Beef bresaola is a superb addition, offering a salty flavor and firm texture. Include a rich, crumbly Parmigiano Reggiano or a creamy Gorgonzola cheese for an authentic taste of Italy. Marinated artichokes, sundried tomatoes, and quality olive oil will transport your guests straight to an Italian piazza.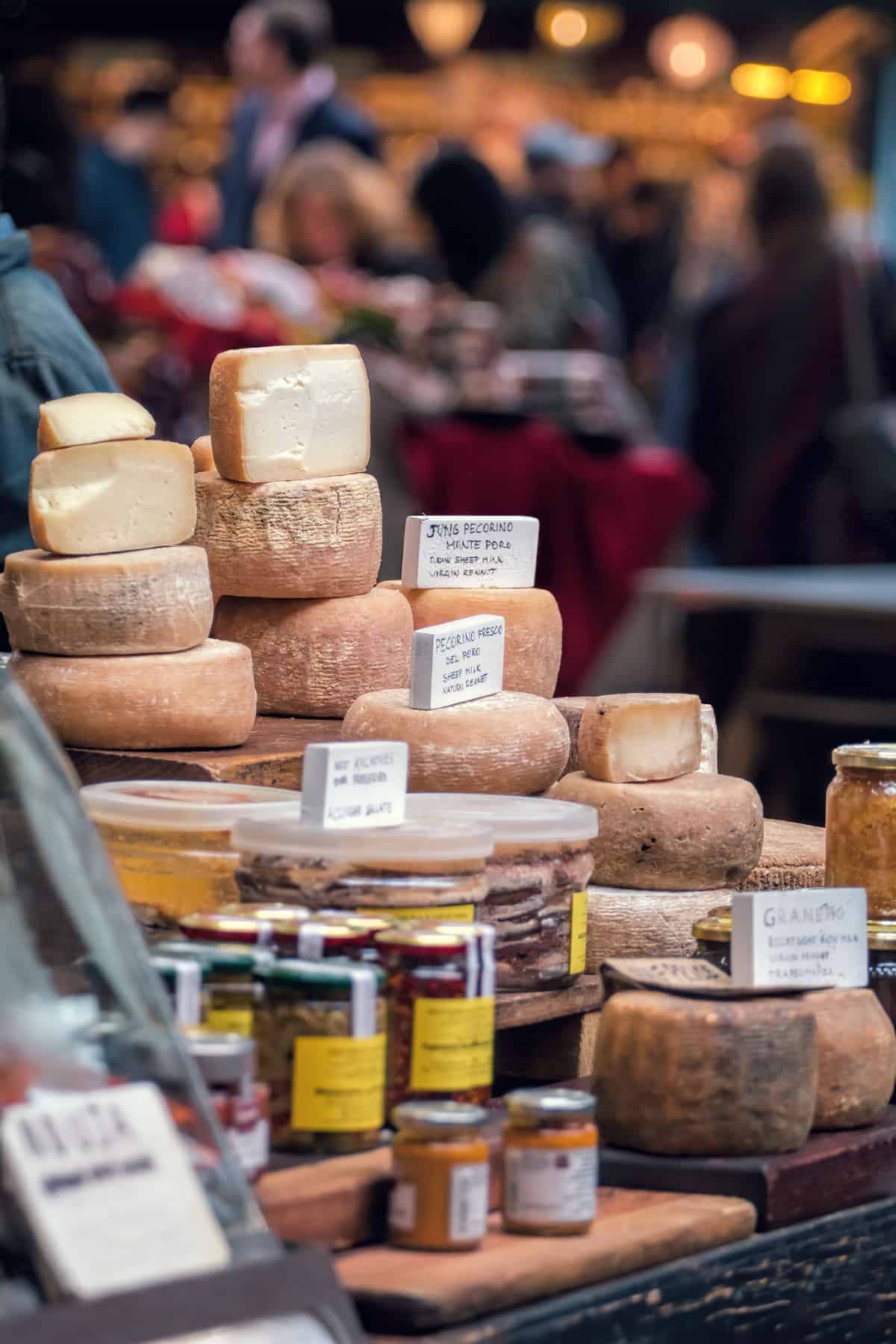 French Gourmet
France is another country famous for its charcuterie, and it's certainly possible to put together a French-inspired spread without the pork. Duck salami or duck prosciutto offers a unique flavor and is reminiscent of French patisserie. Brie, Camembert, and Roquefort cheeses all provide an authentic taste of French cuisine. Round off your board with cornichons, Dijon mustard, and a crusty baguette.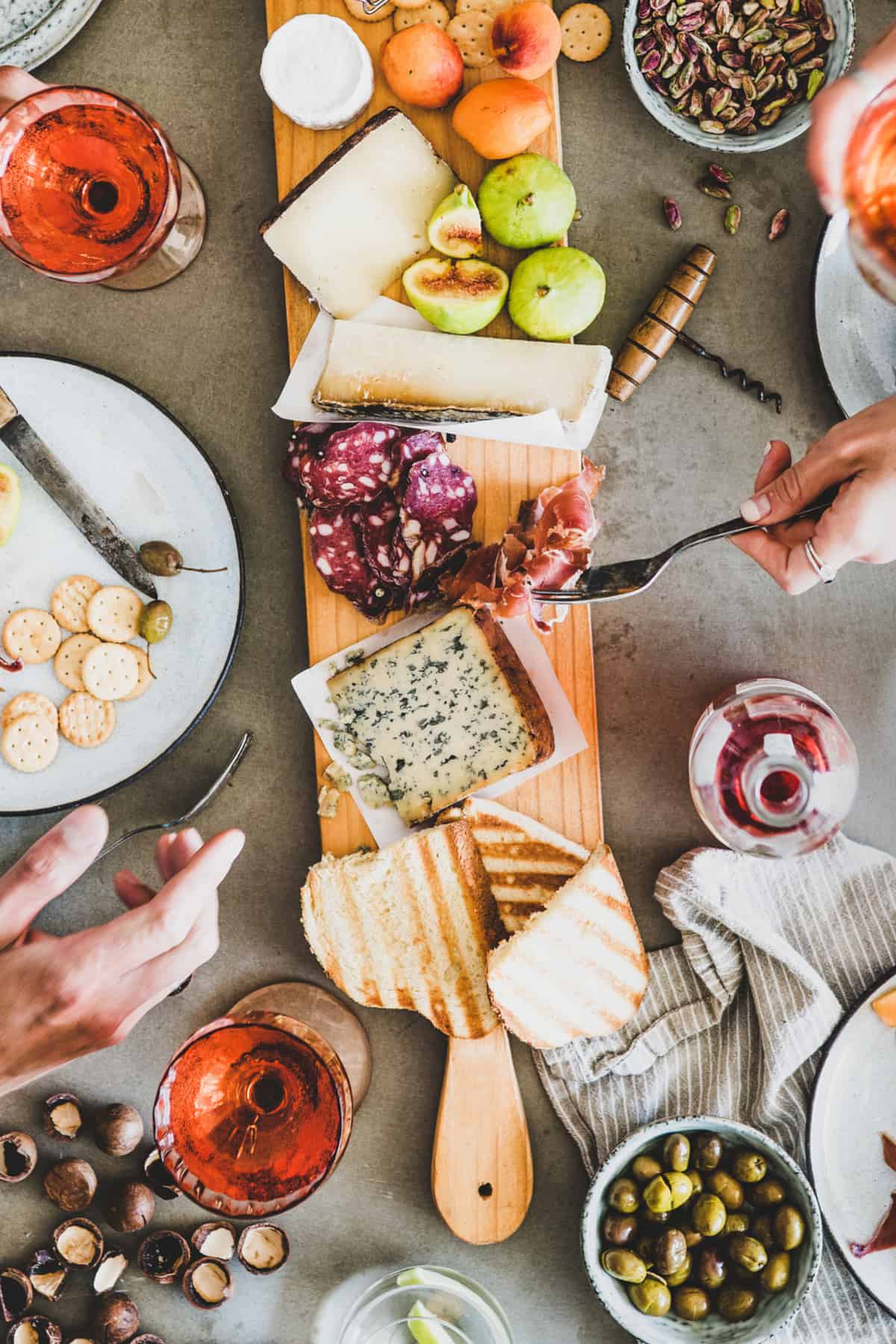 American Twist
Finally, why not take inspiration from your own backyard? American cuisine offers plenty of options for your charcuterie board. Turkey bacon or roast beef is a great alternative to traditional pork-based options. Cheeses like Monterey Jack, Colby, or a high-quality cheddar are a nod to home, while local fruits and pickles will give your board an American touch.
Wrapping It Up
Remember, the ultimate goal of a charcuterie board, whether it's packed with a variety of meats, completely pork-free, or even entirely vegetarian, is to provide a spread of delicious, varied treats that will delight your guests' taste buds. It's all about balance, creativity, and making sure there's a little something for everyone. Enjoy the process of arranging and, most importantly, savoring your tailor-made charcuterie spread.
Frequently Asked Questions (FAQs)
I'm vegetarian, what can I put on my charcuterie board?
Vegetarian boards can be just as vibrant and flavorful as their meat-filled counterparts. A crudite board is a great example of that! Use a variety of cheeses, plant-based meats, fresh fruits, and vegetables, spreads like hummus or tapenade, and a mix of bread and crackers to create a mouthwatering spread.
Where can I buy charcuterie meats?
Charcuterie meats can be found at your local grocery store, upscale grocery stores, or specialty butcher shops. Look for cold cuts at the deli counter, or ask a butcher for recommendations. We added some suggestions for great online options as well.
How should I store my charcuterie items?
Most charcuterie meats should be stored in the refrigerator. Check the expiration date and follow any specific storage instructions on the packaging. Cheeses should also be refrigerated but let them come to room temperature before serving for the best flavor.
How can I make my charcuterie board look appealing?
Presentation is key with charcuterie. Arrange your items in different shapes and patterns, and don't be afraid to stack and overlap. Color is also important - use fresh fruits, vegetables, and different cheeses to create a vibrant display.
How long before my event should I prepare my charcuterie board?
Charcuterie boards are best assembled relatively close to serving time, perhaps an hour or two in advance. However, we do have some great recommendations on how to prepare them ahead of time.
Can I include hot foods on my charcuterie board?
While traditional charcuterie boards are more focused on cold cuts, there's no rule that says you can't include hot items. For instance, you could include some warm bread or roasted vegetables. Just be sure they don't overwhelm or heat up the other elements of your board.
Final Thoughts
Remember, the best charcuterie board is one that appeals to your tastes and dietary needs. With a little bit of planning and creativity, you can prepare a pork-free charcuterie board that's as impressive as it is delicious.
The key is to explore the many alternatives to pork products, visit your local grocery store or specialty shops for the best-cured meats, and present your meats, cheeses, and accompaniments in a way that invites everyone to sample a bit of everything.
Take your dinner party or casual gathering to the next level with your easy, pork-free charcuterie board. Enjoy the process and the guaranteed compliments that come with it!