The holiday season is upon us! Like so many others, the Grinch is one of my favorite movies. Jim Carrey's version will always be the best one, and nothing anyone can say will change my mind. This Grinch Mimosa recipe is simple and delicious. Made with literally two ingredients, you can have a festive cocktail without being a master in cocktail making or buying random blue liquor you will never use again.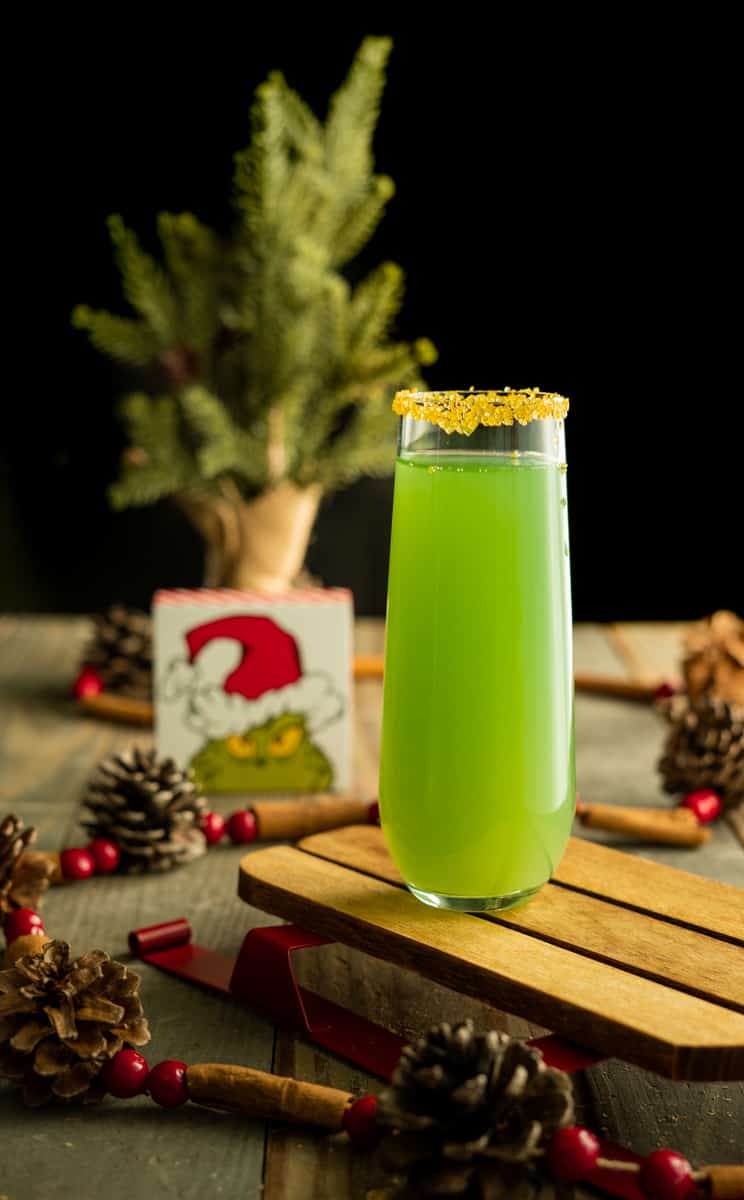 Ingredients for Your Grinch Mimosa... Blanc de Bleu Sparkling Wine
This beautiful bottle of sparkling wine is where this recipe was born from. I was at a local shop and it immediately caught my eye. Blue wine?! WHAT IS HAPPENING? I sparked a conversation with the wonderful woman behind the counter, and we chatted about how stunning it was. Then she said something that caught my interest...
She mentioned someone had been in previously and made mimosas with it and it turned green! I guess, thinking about basic color theory, it totally makes sense. Blue & yellow make green!
She also made them into little Holiday gifts. Giving away little mini "Grinch Mimosas" to clients & friends. BRILLIANT *in full Grinch character*!
All this to say, I have to give credit to this human I don't know. You can thank her, whoever she is for this brilliant idea. I am simply a messenger (and photographer) of it.
The Orange Juice
Using your favorite orange juice is perfectly fine. I would recommend staying away from anything artificially orange-flavored though. We used Simply Orange in our recipe just to give you a baseline.
Keep in mind you don't need a lot either. If you are going out to buy orange juice specifically for this recipe, just buy an individual-sized bottle as you would get from Mcdonald's of Chic-Fil-A. You need just over a tablespoon per glass, so even then individual size will be good enough for multiple bottles of sparkling wine.
The Sprinkles
Whenever you want to rim a glass with sprinkles, I would always recommend something a bit more crystal-like. The main reason being they don't dissolve as quickly as the finer dusty sprinkles. These specific sprinkles surprisingly enough came from Walmart!
These gold sprinkles stood up for hours! They clung to the glass wonderfully with just a quick dip of the rim into some water. Obviously, these aren't necessary but they do add just a perfect holiday flair.
The Touch of Red
If you want a pop of red carefully (over the back of a spoon) added a splash of grenadine to the bottom of each one as well. Important to note, if you are making a lot of these or they need to sit for 5-10 minutes before serving them DON'T add the grenadine. The bubbles from the wine will slowly mix it over time.
Enjoying Your Grinch Mimosa
This mimosa recipe is a perfect idea for a holiday event, party, or to drink alongside the family to survive the chaos of opening presents.
The individual smaller bottles are enough for one mimosa. The full-size bottle makes four large mimosas. If you are having a brunch party or using smaller glasses you could get probably 8 out of it. As always drink responsibly, and enjoy!
📖 Recipe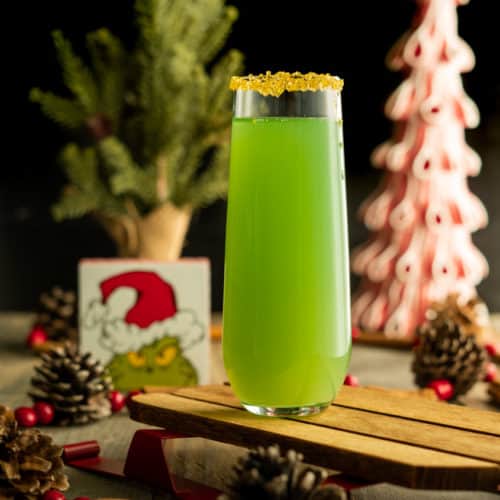 Grinch Mimosa
This simple holiday drink is so much fun to make! Grinch-themed, and no additional food dye is needed! Just blue sparkling wine & O.J!
Ingredients
1

bottle

Blanc de Bleu Sparkling Wine

8

oz

Orange Juice

Grenadine

-

optional

Gold Sprinkles

-

optional
Instructions
To rim your glass in sprinkles dip the top of your glasses in water, and then roll the lip into the gold sprinkles and spin.

Carefully open your bottle of sparkling wine.

Slowly pour the wine into each champagne flute. This may take a few tries as the bubbles calm down. Don't forget to leave enough room for the orange juice!

Add about 1 tablespoon of ornage juice per drink or until your drink is officially Grinchy enough.

Finally, if you'd like to add the grenadine to the bottom, ever so slowly pour the syrup over the BACK of a spoon. Let the syrup fall off the spoon and slide down the side of the glass.

Sip and enjoy your festive Grinch Mimosa!
Nutrition
Calories:
176
kcal
Carbohydrates:
22
g
Protein:
1
g
Fat:
0.1
g
Saturated Fat:
0.03
g
Polyunsaturated Fat:
0.04
g
Monounsaturated Fat:
0.03
g
Sodium:
17
mg
Potassium:
522
mg
Fiber:
1
g
Sugar:
19
g
Vitamin A:
215
IU
Vitamin C:
82
mg
Calcium:
38
mg
Iron:
1
mg
Handy Tools
Want to take your cooking game to the next level? Here's a list of some of the tools I use every time I make this recipe that help make this a breeze!