What better way to get into the holiday spirit than with a festive Grinch Mimosa? This delightful Christmas morning cocktail is not only a feast for the eyes but also a treat for the taste buds. And guess what? It's incredibly easy to make and only has two ingredients! So, grab your favorite champagne flute, and let's get started.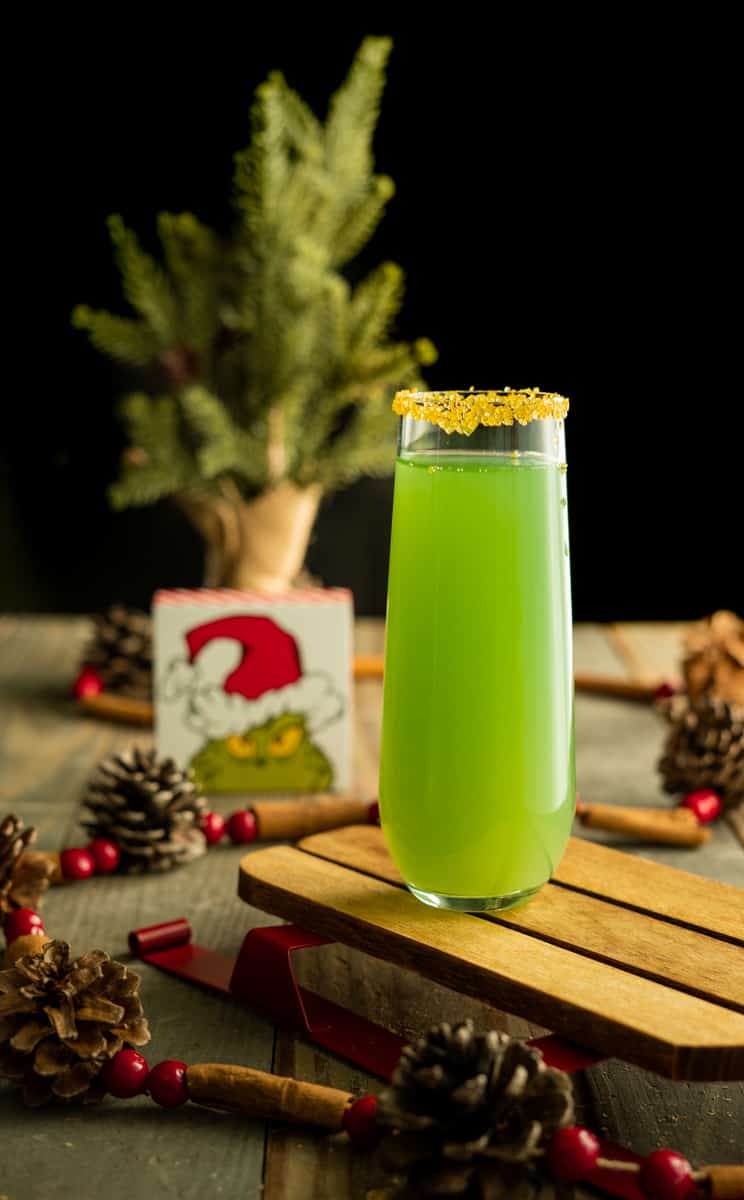 Jump to:
Ingredients
Most Grinch cocktail recipes out there rely on blue liquor like UV Blue Vodka or Blue Curaçao. Not this one! Which saves you a trip to the liquor store as well. Our recipe uses just two main ingredients—Blanc de Bleu sparkling wine and fresh orange juice—to naturally create that bright green color we all associate with our favorite Dr. Seuss character.
Blanc de Bleu Sparkling Wine
This isn't just any sparkling wine; it's blue wine! Blanc de Bleu is a sparkling wine that is made from Chardonnay grapes, and what sets it apart from other sparkling wines is its vibrant blue color. The blue color is derived from the addition of a natural blueberry extract during the winemaking process, which gives the wine a unique and eye-catching appearance.
In terms of taste, Blanc de Bleu is a dry wine with flavors of green apple, lemon, and pear, with a hint of sweetness and a subtle blueberry undertone. It has a moderate alcohol content of around 11.5% by volume, making it easy to drink and a great choice for celebrating special occasions.
Fresh Orange Juice
For this delicious drink, fresh orange juice is the way to go. It adds a natural sweetness that complements the sparkling wine beautifully.
Optional Add-ins
Grenadine: For a splash of red, reminiscent of cranberry juice.
Gold Sprinkles: To add that festive touch we all love during the holiday season.
Equipment List
Champagne Flute: The classic choice for any mimosa recipe.
Optional: Spoon (for adding grenadine)
Optional: Small plate (for rimming the glass with sprinkles)
Suggested Substitution: If you don't have a champagne flute, wine glasses can also work.
Step-by-Step Instructions
1. Rim the Glass: Use a small plate to rim your champagne flute with gold sprinkles for that extra festive touch.
2. Open the Sparkling Wine: Carefully open your bottle of Blanc de Bleu.
3. Pour the Wine: Slowly pour the sparkling wine into your champagne flute.
4. Add the Orange Juice: Add about two ounces of orange juice to achieve that bright green color.
5. Optional: Add a splash of grenadine for a pop of red.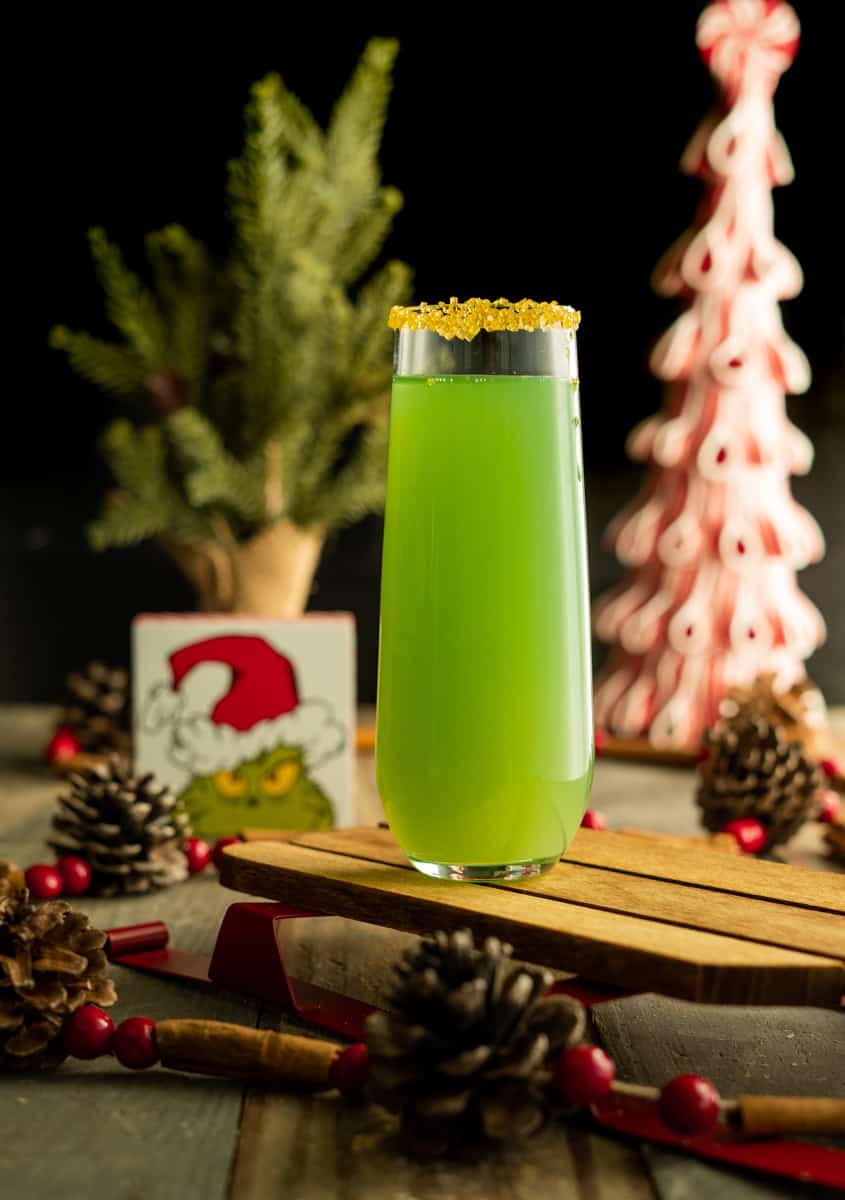 Why It's a Green Mimosa
The magic of this green drink lies in the color theory, a fascinating subject that's not just for artists but also for cocktail enthusiasts. When you mix the blue wine, specifically Blanc de Bleu, with orange juice, you're engaging in subtractive color mixing.
The blue wine and the yellowish hue of the orange juice combine to create a bright green color. It's a natural transformation that doesn't require any green food coloring or blue liqueurs, making it perfect for any Grinch-themed holiday festivities.
Tips for Adding Flair
We all love a drink that not only tastes good but also looks Instagram-worthy. Adding flair to your mimosa is not just about aesthetics; it's about creating a full sensory experience. From the choice of sprinkles to the optional splash of grenadine, each element contributes to making your Grinch Mimosa a memorable part of your holiday season.
Choosing Your Sprinkles
When it comes to adding that festive touch, crystal-like sprinkles are your best bet. They don't dissolve quickly, making them the perfect addition to your Grinch Mimosa. We found ours at Walmart but we also linked to some on Amazon as well.
Adding Grenadine
If you're looking for a pop of red, grenadine is a great way to go. Just remember, this is not ideal if your cocktails need to sit for a while. The bubbles from the bottom circulate the grenadine and you lose that layered effect also resulting in a muddied color.
Holiday Gift Idea
Why not create a Grinch Mimosa gift basket? Include a personal-sized bottle of orange juice, a split-sized mini bottle of Blanc de Bleu, and perhaps a candy cane for that extra holiday flair. It's a wonderful recipe for spreading holiday cheer!
Green Mimosa for All Seasons
While the Grinch Mimosa is the perfect addition to your Christmas brunch or holiday parties, don't limit yourself to just the winter months. This bright green cocktail is versatile enough to be enjoyed during other green-themed holidays as well.
St. Patrick's Day
Imagine sipping on this vibrant green mimosa while donning your best green attire. It's a festive drink that can easily replace the traditional Guinness float for those looking for something lighter and fruitier.
Earth Day
What better way to toast to Mother Earth than with a naturally green drink? The Grinch Mimosa is a great way to celebrate Earth Day, offering a delicious alternative to the usual green juices or smoothies.
Dr. Seuss Day: A Toast to Teachers
Ah, Dr. Seuss Day—a day filled with whimsical rhymes and colorful characters. Teachers, after you've closed your classroom doors and the final school bell rings, why not celebrate the joy of reading and imagination with a Grinch Mimosa? It's a fun and festive way to unwind after a day of "Oh, the Places You'll Go!" and "Green Eggs and Ham."
So, whether it's Christmas Eve, St. Patrick's Day, or Earth Day, this Grinch Mimosa is a delightful way to add some color and cheer to your celebrations. We're always looking for a reason to enjoy mimosas, and now you have a few more to add to your list!
FAQ
📖 Recipe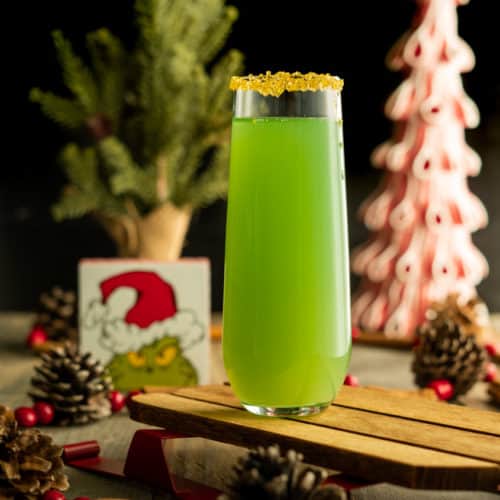 Grinch Mimosa
This simple holiday drink is so much fun to make! Grinch-themed, and no additional food dye is needed! Just blue sparkling wine & O.J!
Ingredients
1

bottle

Blanc de Bleu Sparkling Wine

8

oz

Orange Juice

Grenadine

-

optional

Gold Sprinkles

-

optional
Instructions
To rim your glass in sprinkles dip the top of your glasses in water, and then roll the lip into the gold sprinkles and spin.

Carefully open your bottle of sparkling wine.

Slowly pour the wine into each champagne flute. This may take a few tries as the bubbles calm down. Don't forget to leave enough room for the orange juice!

Add about 1 tablespoon of ornage juice per drink or until your drink is officially Grinchy enough.

Finally, if you'd like to add the grenadine to the bottom, ever so slowly pour the syrup over the BACK of a spoon. Let the syrup fall off the spoon and slide down the side of the glass.

Sip and enjoy your festive Grinch Mimosa!
Notes
Color Magic: No need for green food coloring or melon liqueur. The natural color transformation from blue to green is a delightful application of subtractive color mixing.
Flair Tips: If you're using gold sprinkles for rimming the glass, opt for crystal-like ones. They adhere better and won't dissolve quickly.
Grenadine Timing: If you're adding grenadine for a pop of red, do so just before serving. The bubbles from the sparkling wine can cause it to mix if left to sit.
Serving Size: A full-size bottle of Blanc de Bleu makes about four large mimosas or up to eight small ones. If you're hosting a larger holiday party, plan accordingly.
Versatility: This isn't just a Christmas cocktail. Consider serving it on St. Patrick's Day, Earth Day, or even Dr. Seuss Day for a whimsical green treat.
Gift Idea: A Grinch Mimosa gift basket with a mini bottle of Blanc de Bleu and a personal-sized bottle of orange juice makes a delightful holiday gift.
Teacher's Note: For educators celebrating Dr. Seuss Day, this mimosa is a fun and festive way to unwind after the final school bell rings.
Nutrition
Calories:
176
kcal
Carbohydrates:
22
g
Protein:
1
g
Fat:
0.1
g
Saturated Fat:
0.03
g
Polyunsaturated Fat:
0.04
g
Monounsaturated Fat:
0.03
g
Sodium:
17
mg
Potassium:
522
mg
Fiber:
1
g
Sugar:
19
g
Vitamin A:
215
IU
Vitamin C:
82
mg
Calcium:
38
mg
Iron:
1
mg