Have you ever smoked a whole chicken before? I know it can seem a bit daunting, so I am here to calm all of those fears. To be completely honest, I would never have even considered it before buying our pellet smoker though.  It makes it so easy and straightforward that it's now my favorite way to cook a whole chicken (or turkey).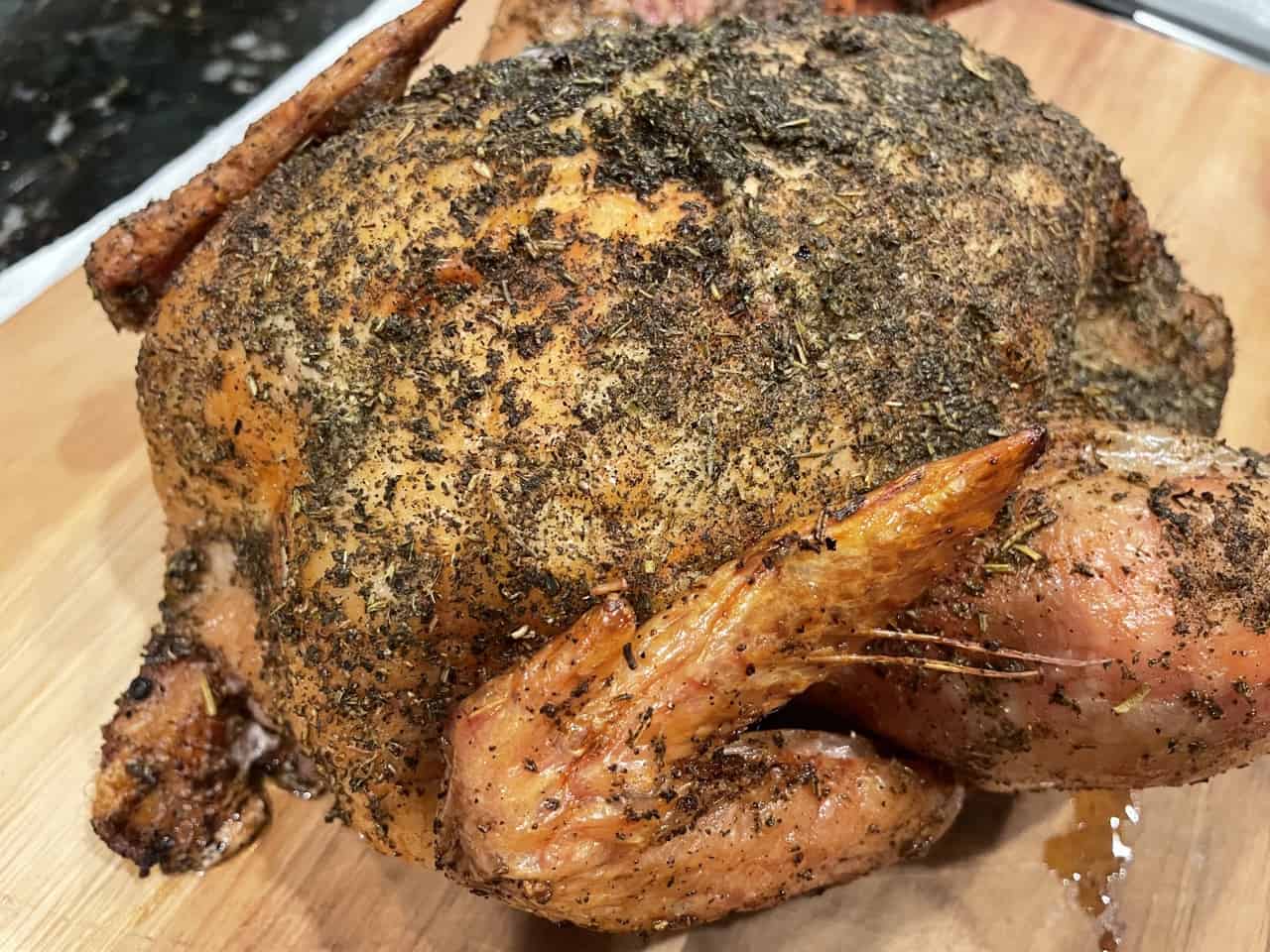 Smokers: Traeger vs Camp Chef
We recently switched from a Traeger to a Camp Chef but honestly, I have loved both. We started with a Traeger from Costco. It wasn't as big as my husband originally wanted, but I was trying to be realistic. Did we really need the biggest smoker Costco had? In retrospect yes, but at that moment absolutely not.  
The Camp Chef ended up having a few more bells and whistles, like the ability to empty the pellet hopper by pulling a lever at the bottom. Super handy if you are swapping our one-flavored pellet for another. 
There are hours and hours of videos you could watch giving you a better breakdown than I could, but from one cook to another, both are going to do the job and provide an excellent product.
Smoking Isn't Just for the Boys
Not that I wasn't capable of going out and starting up charcoal or log-burning smoker, to be honest, I just wasn't going to. I had two small kids and if I was going to be cooking dinner I needed to do it in a relative hurry.
The pellet smokers are where it's at in my opinion. It functions as my second oven. You plug it in, set the temp and you're done... Literally. This is how my husband got me on board, and this is why I am now the one who uses it more than him. It's also super helpful around Thanksgiving. 
That Chicken 165 Life
Stays in the Chicken the whole time. Has an app so you can be alerted when it's done.
Gives you an accurate temperature in seconds, with a digital screen so there is no guesswork.
One thing I hear a lot is people being concerned about their chicken not being cooked all the way through. I highly recommend purchasing an Instant Read Thermometer. With the food safety temperatures labeled on the side, you won't have to cross your fingers and hope your chicken, pork, or steak is cooked to the perfect temp.
We use it probably 3-4 times a week. Ours is half melted from leaving it too close to the grill, has been dropped, accidentally submerged in water, left outside... you name it.
Now, the Camp Chef has a built-in Thermometer that we use, but before with the Traeger, I bought my husband a WiFi Thermometer which he loved. You shove it in the deepest part of the chicken and then you can watch the temp from your phone. NOTE: We STILL use. the Instant Read to double-check. Safety first! 
It Doesn't Have to Take Forever
Whenever I thought about a whole smoked chicken (or smoking anything really), I assumed that meant it was going to take a long time. Now, that can be true when you're talking about a whole pig or something like ribs that need time to break down all low and slow.
You don't have that problem with chicken. Or sausages, pizza, mac & cheese, or anything else you can basically bake in an oven. You are just baking as normal, but letting the smoker add another level of flavor to it.
📖 Recipe
Smoked Whole Chicken
An inexpensive chicken, a few spices, and a smoker... So easy and delicious.
Ingredients
1

tablespoon

Olive Oil

1

tablespoon

Unsalted Butter

1

tablespoon

Basil

2

teaspoon

Thyme

2

teaspoon

Dried Rosemary

1

teaspoon

Oregano

1

teaspoon

Sage

1

whole

Chicken

Fresh Ground Pepper
Instructions
Remove your chicken from the packaging and place it on a foil-lined sheet tray.

Using paper towels, pat the chicken completely dry.

Add the olive oil and butter, and using your hands, make sure it's rubbed all over the skin.

After washing your hands very well, sprinkle with kosher salt, fresh ground pepper, and your spice blend.

Using your hands again, make sure that your rub is covering every inch of the chicken.

Put into a 350-degree smoker for about an hour, or until the internal temperature has reached 165 degrees which can take about 45 minutes to 1 hour.

Let rest for just a few minutes, carve, and enjoy!
Nutrition
Calories:
60
kcal
Carbohydrates:
1
g
Protein:
1
g
Fat:
6
g
Saturated Fat:
2
g
Polyunsaturated Fat:
1
g
Monounsaturated Fat:
3
g
Trans Fat:
1
g
Cholesterol:
8
mg
Sodium:
23
mg
Potassium:
18
mg
Fiber:
1
g
Sugar:
1
g
Vitamin A:
172
IU
Vitamin C:
2
mg
Calcium:
18
mg
Iron:
1
mg