In my opinion, this is the perfect pumpkin pie. The addition of cream cheese makes it rich and creamy but doesn't take over the pumpkin flavor. After adjusting my recipe over the years to make ME happy, I found I am not a huge fan of nutmeg or cloves but goodness me I love cinnamon. Funny enough, I found most other people share similar tastes. Come see how this cream cheese pumpkin pie comes together plus lots of tips we've learned along the way!
Cream Cheese in The Secret to This Pumpkin Pie
The not-so-secret ingredient is cream cheese which makes the texture extra smooth and creamy. Almost as if pumpkin pie and pumpkin cheesecake had a baby... A delicious, creamy, pumpkin baby.
Funny enough the most technically tricky part of this recipe is working with the cream cheese. If it isn't room temperature it doesn't mix in nicely. You want the sugar and cream cheese to be smooth before slowly adding the pumpkin, bit by bit, waiting for it to incorporate fully.
If you rush this, you will end up with bits of cream cheese floating around your pie. I don't want to admit how many pies I've presented with little bits of white speckled across the top.
Picking the Perfect Pumpkin
You will need to use 100% canned pumpkin, NOT pumpkin pie mix. Pumpkin pie mix already contains spices and sometimes sugar. I've used name brands and store brands and never had a huge difference in turnout. The use of fresh pumpkin puree can also make a big difference! While I am all about fully committing to a recipe, I have not tried using homemade pumpkin in this recipe.
If you decide to use homemade pumpkins, be very aware of the consistency. A thinner puree than the normal store-bought can absolutely have an effect on the final product. Using a cheesecloth or towel to strain extra moisture could be an option if you run into this problem at home.
Heads up, in 2021 the stores in our area were running low on pumpkin mix toward Thanksgiving. Once you see it, grab a few extras just in case.
Making Your Pie Crust from Scratch
Another good side note, if you have a few days until you are planning on making this, do yourself a favor and make our Pate Brisee pie crust recipe. It will keep you from having to buy pre-made, it will taste better, and you can really show off.
You don't HAVE to make your own crust though. If you go with buying one at the store, just make sure to not use the foil pan pie crust option. Instead, opt for the refrigerated rolled-out version. That way you can still add it to a pretty pie dish and pretend you made it all yourself 😉 It can be our secret.
How to Tell When Your Pumpkin Pie is Done
I would highly suggest you watch the video linked in the recipe. I always give my pie the most gentle giggle. If the center giggles by itself, it is still not done. If the WHOLE pie giggles, you're good to go. It's not the easiest to explain, but the video will show you everything you need to know.
Clarification Update from Our TikTok Community
This TikTok that went along with this video reached over 200,000 people, and was saved over 4,000 times! Crazy, I know. With that comes lots of feedback from people who have tried this recipe. Which was overall amazing! There is always room for improvement as far as I'm concerned.
A follower had mentioned the pie being runny, even when baked for an additional 30+ minutes. This led us down a deep deep rabbit hole, a reply that got 600,000 views, and me remaking this recipe at 8:30 am Live with over 2,000 friends watching along the way. The recipe turned out perfect but we picked up some solid feedback & notes along the way!
Tip # 1 - Cooling
This recipe is a custard-style pie, which means it uses eggs to thicken up the pie mixture. If not baked properly and subsequently cooled completely, it could absolutely be runny when sliced.
Suggestion: As I mentioned above, look for the whole pie giggle vs just the middle. We ended up referring to it as "Jurassic Park" in the Live. If it's rippling like the cup of water when the t-rex comes... let it bake a bit longer.
Also, cooling it on the counter until room temperature and then letting it hang out in the fridge for a few hours is the most ideal for a thick sturdy pie that 100% should not be runny!
Tip # 2 - Altitude
We live at sea level and can't quite recipe-test this pie until we head back to visit family in Colorado. From all the research I've done (which doesn't mean I'm correct), altitude normally only affects baking recipes with leveling agents such as yeast, baking soda, and baking powder.
It is all Science and has to do with pressure and gases... With that being said, this recipe "shouldn't" be affected by altitude.
Tip # 3 - Our Website vs Whisk
The Whisk app saves recipes in a single snapshot when they are uploaded. If I were to notice an error at any point past posting, they will not let us edit without either deleting or reposting. Which is exactly what happened. I originally said 2 cans vs 2 cups, and within 5 minutes corrected it.
We have a ticket to support asking to fix the issue, but can't guarantee this issue can be fixed. However, we are working on it!
Suggestion: Always end up right back here! On the website for the most up-to-date recipe. While I promise I am giving you my very best, I am also very much so human. Simple mistakes can make or break a recipe, and I will take feedback and update recipes along the way!
Tip #4 - Making Yourself a Sample Mini Pie
If you have a small pyrex or ceramic dish, I highly recommend baking a small mini pie (no pie crust needed) at the same time. That way you can taste how your final pie will turn out without cutting into the main event. This also means you get to eat pie before everyone else. Benefits of being the chef 🙂
What to do if you have Pumpkin Pie left?
I'll start by saying if you have any of this pumpkin pie left, it would surprise me. However, if you do find yourself in the possession of extra pumpkin pie, make a milkshake guys. That's all I have to say. Put vanilla ice cream in a blender with your last slice of pie and some milk and lie your best life.
Blend. Enjoy. *drooling*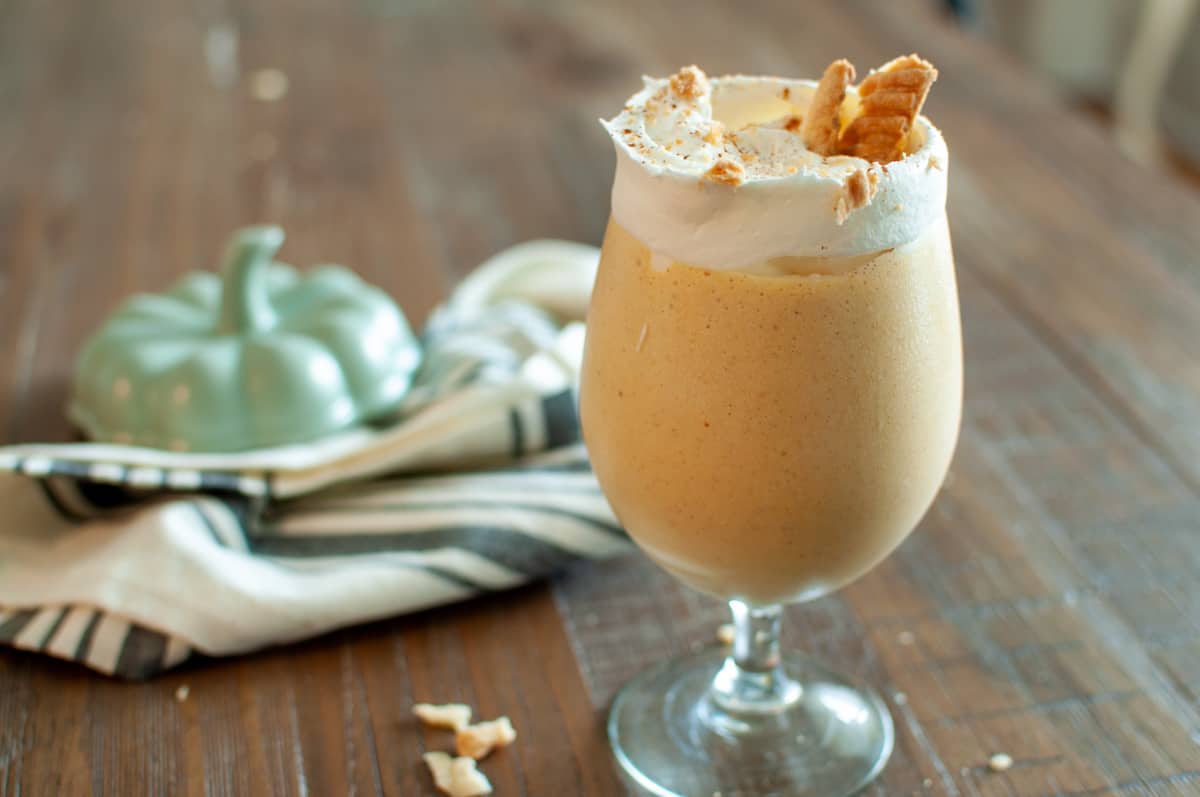 Rounding Out Your Cream Cheese Pumpkin Pie
Well, obviously you will need some homemade whipped cream to finish off your perfect pumpkin pie. Don't worry, it's 3 ingredients and you can make it in about 5 minutes.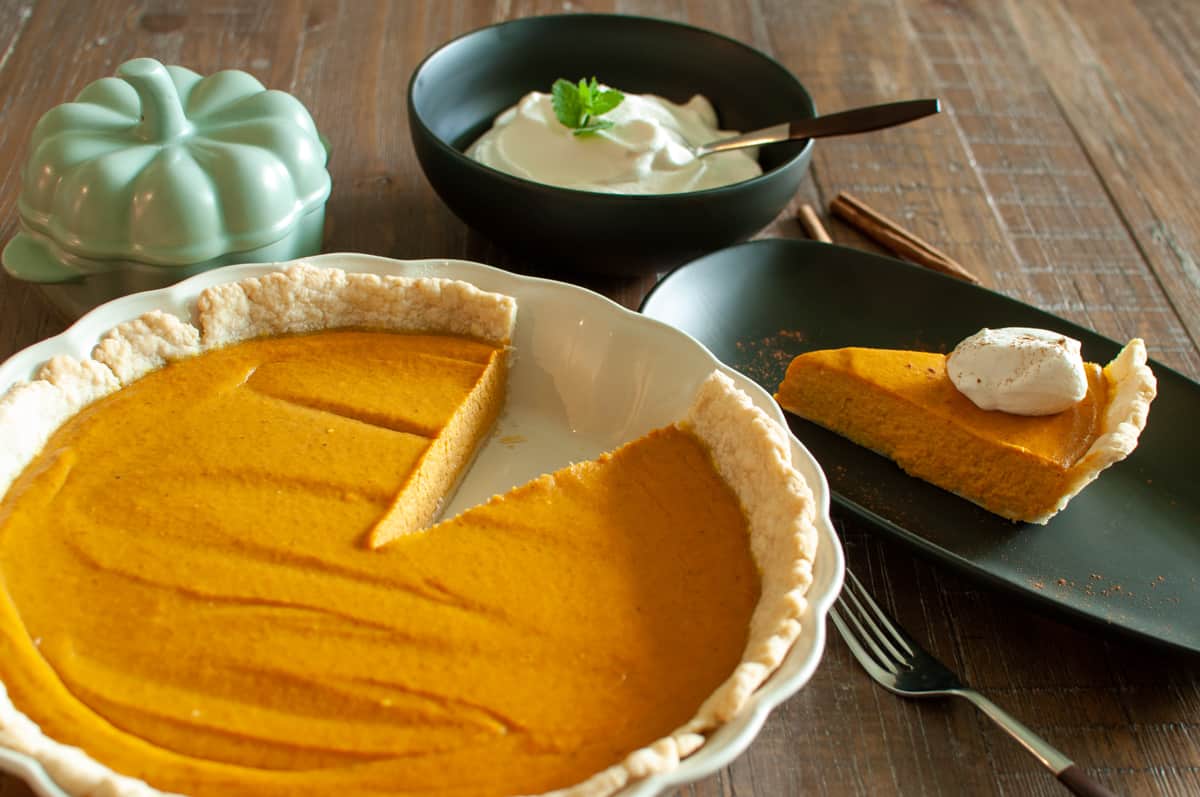 Leftover Pumpkin Pie
A simple layer of plastic wrap will keep your pie fresh for days. However, if you have a decent bit of pie left and are looking to repurpose it, seriously check out that Pumpkin Pie Milkshake!
📖 Recipe
Cream Cheese Pumpkin Pie
Hands down the best pumpkin pie I've ever had. By adding cream cheese you add to get a rich and creamy texture that really sets this recipe apart. I ruined myself for being able to enjoy it out. Make with caution.
Ingredients
1

cup

Sugar

¼

teaspoon

Salt

8

oz

Cream Cheese

-

room temperature

16

oz

Canned Pumpkin

2

Egg

1

Egg Yolks

1

cup

Heavy Cream

¼

cup

Unsalted Butter - Melted

-

½ Stick

1

teaspoon

Vanilla

1

teaspoon

Cinnamon

¼

teaspoon

Nutmeg
Instructions
Preheat oven to 350 degrees.

In a mixing bowl with a hand or stand mixer, add the cream cheese, sugar & salt to the bowl and mix until smooth.

Scrape the bottom of the bowl to confirm we didn't leave any chunks on the bottom.

Continue mixing adding large spoonfuls of pumpkin one at a time, making sure the last spoonful is fully incorporated before adding the next. This is mission-critical to make sure you don't get lumps of cream cheese.

Next, add the eggs + additional egg yolk and mix until smooth.

Add the melted butter and heavy cream next.

Finish with vanilla, cinnamon, and nutmeg.

Pour mixture into a pie crust (recipe available) and bake for 50 minutes or until the center doesn't giggle when you give it a little shake.

Let cool on the counter until room temp, and then move to the fridge if desired.

Pile that thing up with whipped cream, and a little pinch of cinnamon, and enjoy!
Nutrition
Calories:
411
kcal
Carbohydrates:
37
g
Protein:
5
g
Fat:
28
g
Saturated Fat:
17
g
Polyunsaturated Fat:
1
g
Monounsaturated Fat:
7
g
Trans Fat:
0.2
g
Cholesterol:
147
mg
Sodium:
186
mg
Potassium:
316
mg
Fiber:
3
g
Sugar:
31
g
Vitamin A:
18739
IU
Vitamin C:
5
mg
Calcium:
90
mg
Iron:
2
mg
Handy Tools
Want to take your cooking game to the next level? Here's a list of some of the tools I use every time I make this recipe that help make this a breeze!