Pâte brisée, with its flaky layers and buttery taste, holds a special place in our kitchen. It's our go-to crust for our family's favorite pumpkin pie recipe, and its classic French history resonates with my time attending culinary school. Whether for savory pies or sweet tarts, this simple yet elegant recipe has become a cherished family staple.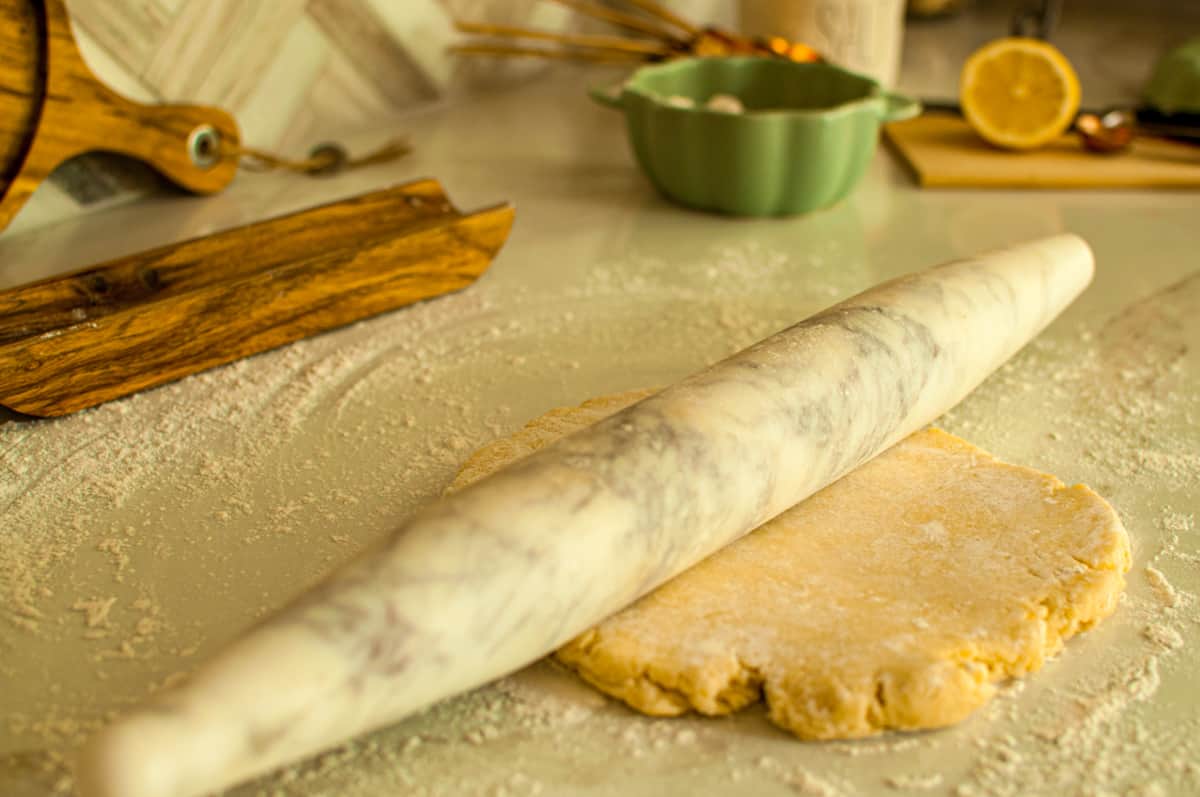 Jump to:
Ingredients
Purpose Flour: 3 cups of all-purpose flour, the foundation of the crust.
Sugar: 1 tablespoon, just enough to balance the flavors.
Salt: 1 teaspoon to enhance the taste.
Unsalted Butter: 1 cup (2 sticks) - super cold. We freeze ours ahead of time for the coldest possible butter, perfect for a flaky crust.
Egg Yolk: 1 yolk, to enrich the dough.
Water: ½ cup - Super cold ice water is best, to bring the dough together without developing too much gluten.
Lemon: 1 teaspoon, for controlling gluten development and adding a subtle brightness.
Equipment
Large Mixing Bowl: The starting point for mixing your dry ingredients.
Grater (KitchenAid or Handheld): For achieving small consistent butter pieces.
Pastry Blender or Metal Blade: If using a food processor, these tools help achieve the right texture.
Rolling Pin: For rolling out your dough to the perfect thickness.
Tart Pan or Pie Plate: Depending on what you're making, have the right pan on hand.
Wire Rack: For cooling your crust to perfection after baking.
Food Processor: Optional, but can make blending the butter and flour a breeze.
Pie Weights: Optional, but needed for blind baking if you're pre-baking the crust.
Preparing the Dough
In a large bowl, combine flour, a tablespoon of sugar, and a teaspoon of salt. These dry ingredients will form the base of your pastry dough.
Working with Cold Butter
Critical step! In our kitchen, we take the butter preparation seriously to achieve the perfect texture. We freeze our butter ahead of time to get it as cold as possible. Then, we grate it using the grating attachment on our KitchenAid, a method that ensures uniform, pea-sized pieces of butter.
If you don't have a KitchenAid, you can also cut the butter into very small pieces or freeze and grate it with a hand-held grater. Once you have your cold, grated butter ready, add the butter pieces to the flour mixture.
Creating the Dough
Add the butter mixture to the flour mixture. Using only your fingertips or a pastry cutter, work the butter into the flour until it resembles coarse crumbs. Create a small well (small hole) in the center for the wet ingredients we will be adding next.
A food processor is also a good option to incorporate butter into the flour. Pulsing slowly to make sure to not overwork the mixture.
Combining Wet Ingredients
In a small bowl, separate your egg yolk and combine it with ½ cup ice water and lemon. Add your wet ingredients to the well you created, and slowly mix in the surrounding flour.
Remember we want to touch the dough as little as possible so as not to transfer too much heat from our hands to the dough, melting the butter.
If your dough is too shaggy and isn't coming together, add a small about of water to your hands, and continue to work it together until it forms a dough ball.
Wrapping and Chilling
Cut the dough ball in half as this recipe is enough for 2 - 9" pie pans. Lay down a layer of plastic wrap, add your dough, and smush it into thick disks. Chill for at least an hour in the refrigerator.
You can leave this dough in your fridge for 2 days if needed, or freeze it for up to 3 months to use at a later time.
Rolling and Baking the Pâte Brisée
On a floured board, and with a floured rolling pin, roll out the chilled dough. Keeping in mind that it may be too firm to roll out as soon as it comes out of the fridge as the butter has firmed completely.
It's too cold you may find it cracks, so give it a little time on the counter to acclimate.
Filling the Tart or Pie Shell
Place the dough in a tart pan or pie dish. The need for blind baking depends on the type of pie or tart you're making:
Blind Bake Required: For pies and tarts with moist fillings that don't require long baking, or for fillings that are cooked separately, blind baking is essential. This includes quiches, lemon tarts, and some custard or cream-filled pies. Blind baking ensures that the crust is fully cooked and won't become soggy when the filling is added.
No Blind Bake Needed: For pies with fillings that bake along with the crust, like traditional apple pie, pumpkin pie, or other fruit pies, blind baking is generally not required. The crust and filling bake together, allowing the flavors to meld and the crust to cook evenly.
If you are making a tart shell or pie shell that requires blind baking, use pie weights to prevent the crust from puffing up or shrinking as it bakes.
Blind Baking Instructions
Preheat the Oven: You'll want to preheat the oven to around 375°F.
Prepare the Crust: Line the pie crust with parchment paper or aluminum foil, making sure to cover the edges to prevent over-browning. Fill with pie weights, dried beans, or uncooked rice to keep the crust from puffing up.
Bake with Weights: Bake for about 15-20 minutes with the weights. This sets the crust and helps it hold its shape.
Remove Weights and Continue Baking: Carefully remove the parchment paper and weights, then return the crust to the oven. Continue baking for another 10-15 minutes, or until the crust is golden brown and fully cooked.
Cool Before Filling: Allow the crust to cool completely before adding your filling, especially if it's a no-bake filling like a cream or custard.
Filled Baking Instructions
Each pie or tart recipe is going to be different depending on what filling you've selected. We suggest following your specific recipe as far as baking temperatures and times. For example, our pumpkin pie recipe bakes for around 45-50 minutes.
Video
Making Ahead and Freezing for Later
Life in the kitchen can be bustling, especially when juggling family meals, new recipes, and culinary adventures. That's why making pâte brisée ahead of time and freezing it for later can be a game-changer. Here's how we do it in our kitchen:
Preparing the Dough
Follow the recipe as usual, mixing the dry ingredients, working with the cold butter, and forming the dough. Instead of using it right away, you can prepare it for freezing. Shape the dough into thick disks, as this shape makes it easier to roll out later. Wrap each disk tightly in plastic wrap, ensuring that it's well-sealed to prevent freezer burn.
Labeling & Freezing
Don't forget to label the wrapped dough with the date and type of pastry (especially if you have variations like pâte sucrée). This way, you'll know exactly what you have on hand and which to use first.
Place the wrapped dough disks in a freezer-safe bag or container and freeze. The dough can be stored in the freezer for up to three months.
Thawing and Using
When you're ready to use the frozen pâte brisée, transfer it to the refrigerator to thaw overnight. If you're in a hurry, you can also thaw it at room temperature for a few hours. Once thawed, roll and bake as usual.
Adding Lemon Juice
Lemon juice in a pie crust recipe, especially in a classic pâte brisée, might raise some eyebrows, but there's a delightful science behind this citrusy addition. The acidity in lemon juice can help limit the development of gluten in the dough.
Gluten is a protein that forms when flour and water are mixed, providing structure and elasticity. However, too much gluten can make a pie crust tough and chewy. The acid in lemon juice helps to "shorten" the gluten strands, keeping the crust tender and flaky.
Some bakers use vinegar for the same purpose as lemon juice. Both are acidic and can control gluten development, but lemon juice offers a more pleasant and complementary flavor, especially in sweet pies.
Unsalted vs. Salted Butter
Butter is undoubtedly one of the stars in pâte brisée, imparting richness and flakiness to the crust. But the choice between unsalted and salted butter can make a difference in the final product. Here's why: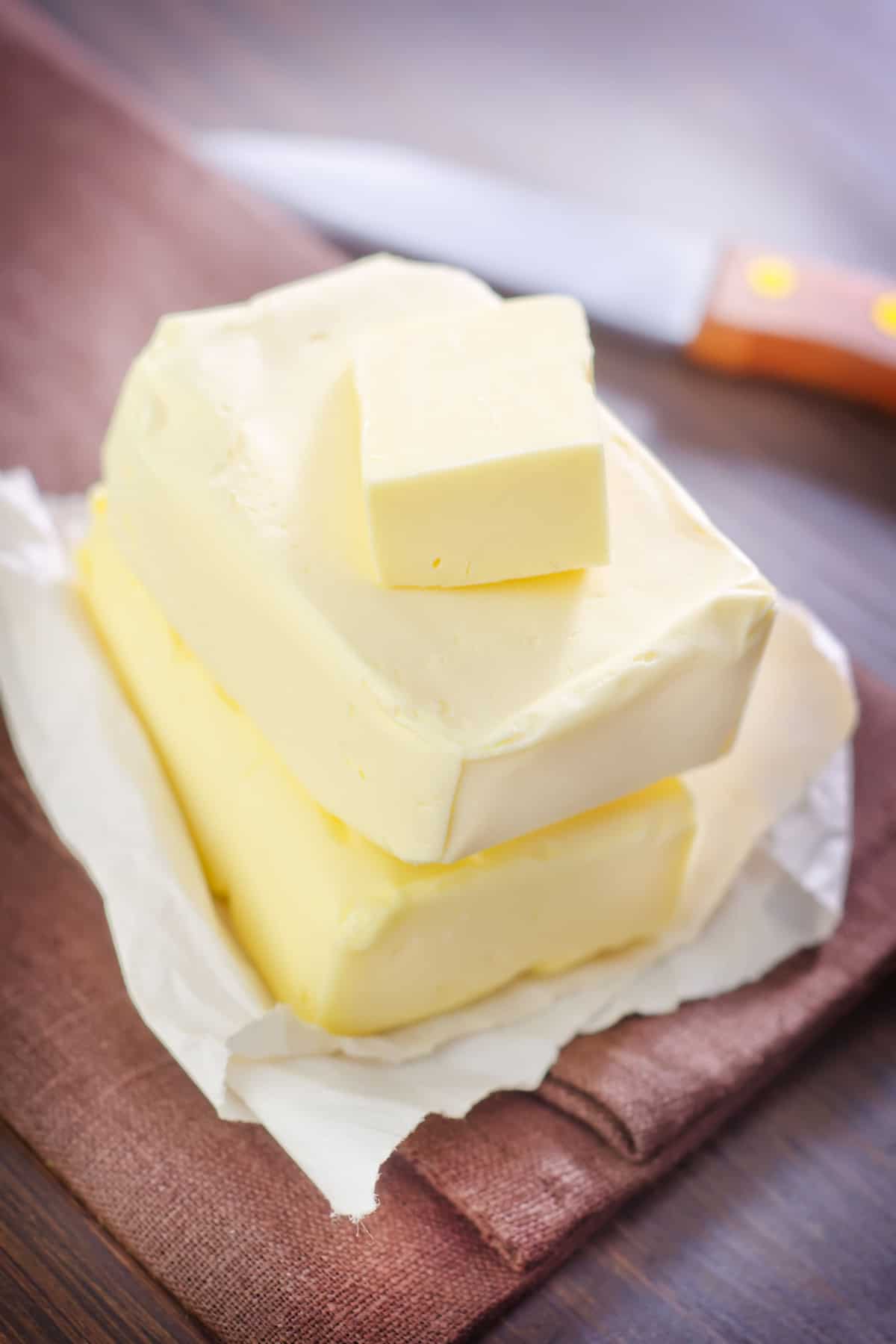 The Salt Content
Salted butter contains varying amounts of salt depending on the brand, making it challenging to control the exact salt content in your recipe. Unsalted butter, on the other hand, allows you to add the precise amount of salt you desire, ensuring consistency in flavor.
Flavor Considerations
Unsalted butter often has a fresher, sweeter cream flavor, allowing the true buttery taste to shine through. Salted butter can sometimes mask subtle flavor nuances, especially in delicate pastries like pâte brisée.
Why I Prefer Unsalted Butter
In our kitchen, we opt for unsalted butter when making our beloved pâte brisée for pumpkin pie or any other dish. It gives me more control over the final product, ensuring that the salt level is just right. It's not just about reducing the salt; it's about crafting a balanced flavor that complements the fillings without overpowering them.
A Note for Those Using Salted Butter
If salted butter is all you have on hand, it can still be used in pâte brisée. Just be mindful of the additional salt in the recipe, and consider reducing or even eliminating the added salt to compensate.
The Art of Short Dough
Pâte brisée falls into the category of "short dough," a term that might sound peculiar but is central to the texture and quality of many pastries. But what exactly makes pâte brisée a short dough, and why is this important?
What is Short Dough?
Short dough refers to a pastry that has a high fat-to-flour ratio, resulting in a tender, crumbly, and flaky texture. The term "short" in baking lingo means "tender," and it's this tenderness that distinguishes short dough from other types of pastry.
The Role of Fat
In pâte brisée, cold butter plays a crucial role. When the butter is cut into small pieces and mixed with flour, it coats the flour particles, limiting the development of gluten. This results in a dough that is less elastic and more crumbly. Think pizza vs pie crust.
The Importance of Technique
Avoiding Overworking: Working the dough too much can develop more gluten, leading to a tougher crust. The goal is to form the dough just until it comes together, preserving those pea-sized pieces of butter.
Keeping Ingredients Cold: Using cold butter and ice water helps keep the fat solid, preventing it from being fully incorporated into the flour. This creates pockets of fat that melt during baking, leading to flaky layers.
Resting the Dough: Chilling the dough allows the fat to solidify and the gluten to relax, enhancing the short, tender texture.
Compared with Other Doughs
Unlike puff pastry or croissant dough, which has many more layers and a more complex folding process, pâte brisée is simpler to make. It offers a balance between the tender crumb of a tart pastry and the layered richness of puff pastry.
Understanding what makes pâte brisée a short dough adds a new layer of appreciation to this classic French technique. It's a dance between ingredients, temperature, and handling, all coming together to create a pastry that's tender to the bite yet strong enough to hold fillings. Whether you're crafting a savory tart or a sweet pie, the principles of short dough are key to achieving that perfect flaky crust.
Pairing Suggestions
Savory Pies and Tarts
Try your pâte brisée with a classic Quiche Lorraine or as a base for savory dishes filled with seasonal vegetables.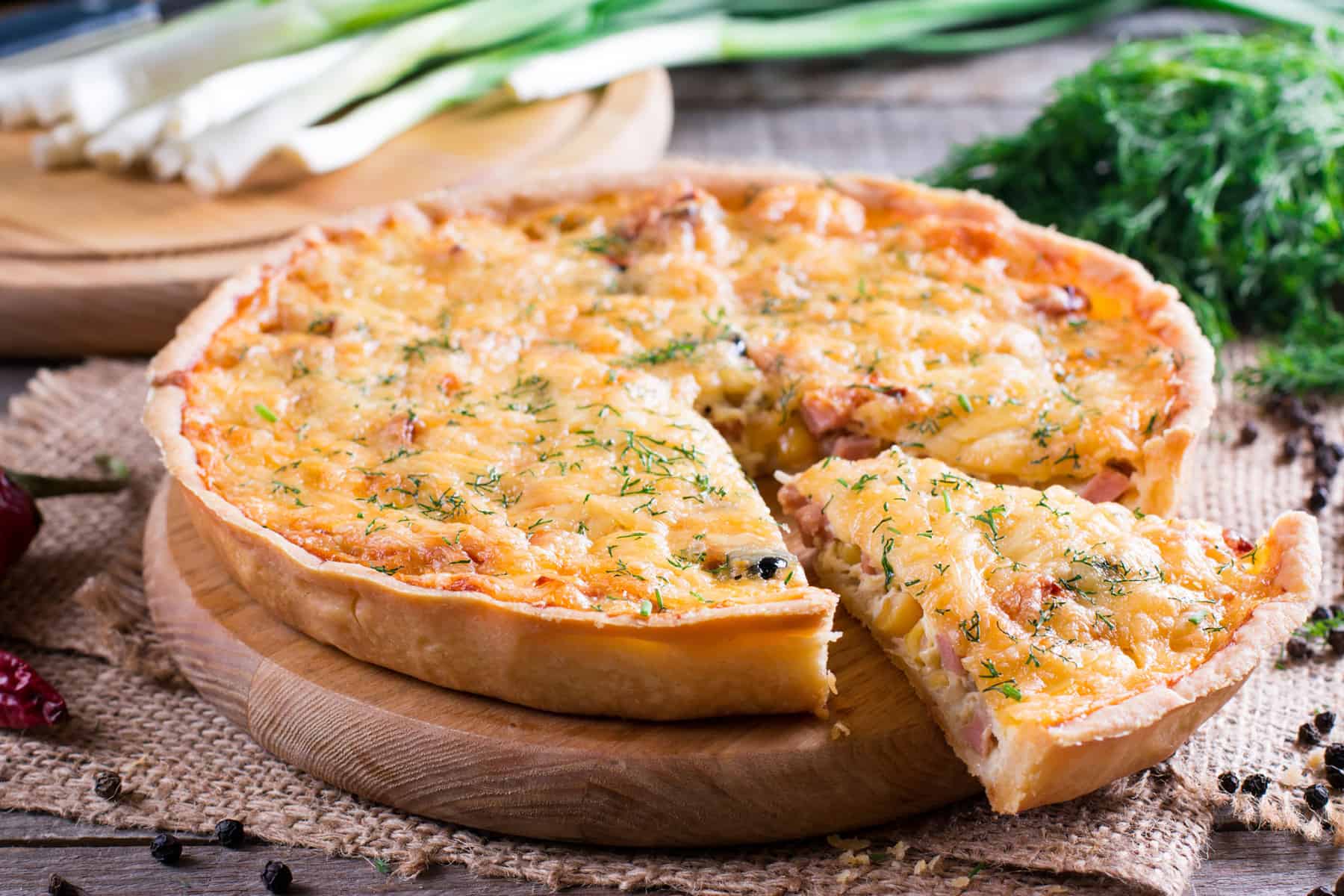 Sweet Pies
From the traditional apple pie to a delightful pumpkin pie, your flaky pie crust will be the talk of the dessert table.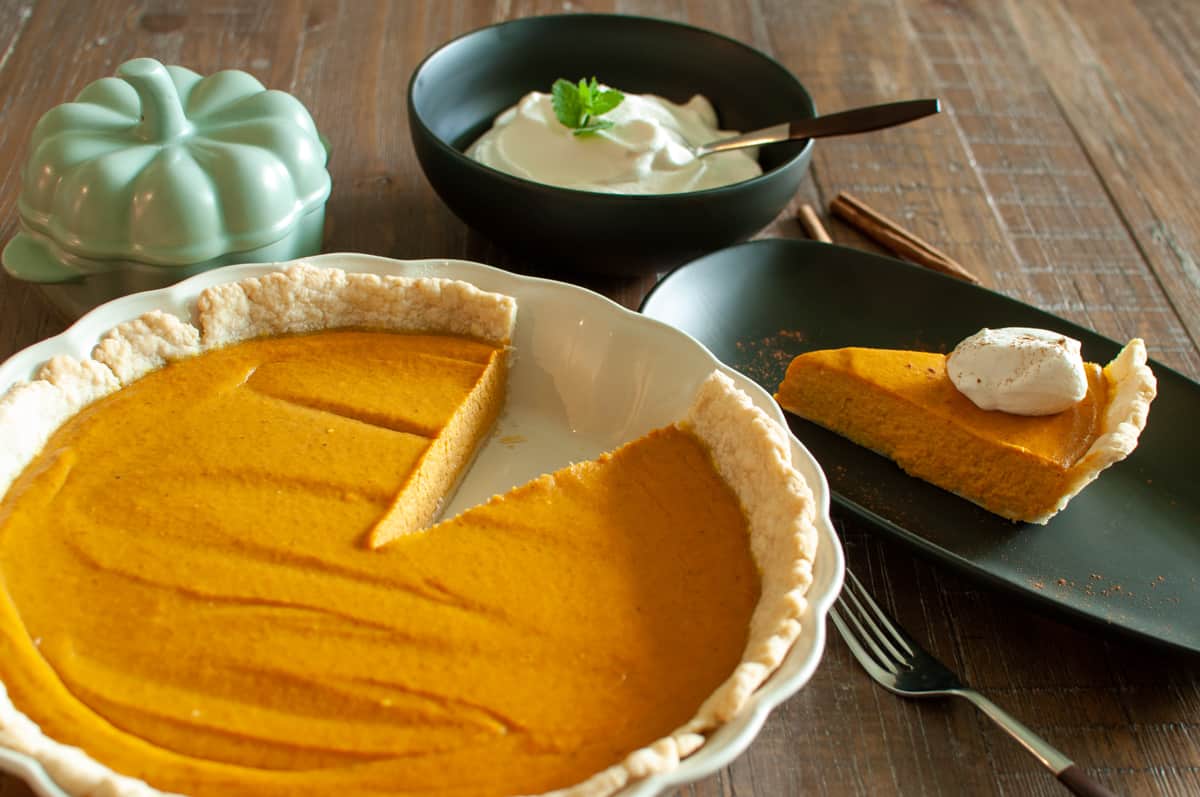 Whether you're a seasoned baker or trying a new recipe, pâte brisée offers endless possibilities. From the coarse meal texture to the flaky layers, each step is a culinary adventure. Embrace the French technique, and don't be afraid to put your own twist on this classic. Bon appétit!
📖 Recipe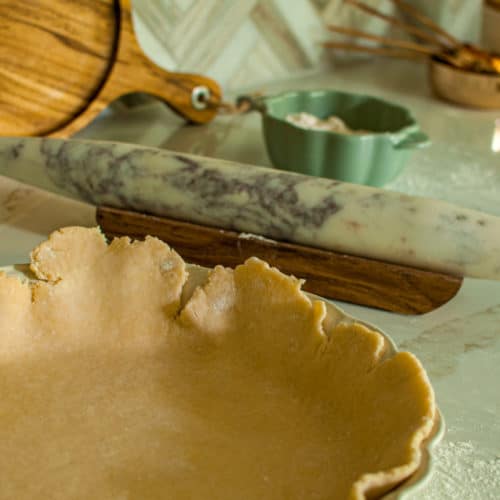 Pate Brisee Pie Crust
This is a classic dough that is perfect for pies and tarts. It has a wonderful crispness while still being flakey.
Ingredients
3

cups

All-Purpose Flour

1

tablespoon

Granulated Sugar

1

teaspoon

Salt

1

cup

Unsalted Butter

-

2 sticks - super cold

1

egg yolk

½

cup

Water

-

Super cold ice water is best

1

teaspoon

Lemon
Instructions
Get all the dry ingredients measured and in a large mixing bowl. Set that to the side to hang out for a few minutes.

In a small bowl separate your egg yolk from the white. We are only keeping the yolk, but feel free to keep the while for an omelet or something tomorrow.

To your egg yolk add the water and lemon, give it a mix and let it hang out next to your flour bowl.

Critical step! Make sure your butter is super cold, borderline frozen. Grate it, or cut it into super small pieces. I love using my kitchen aid grater attachment for this if you happen to have one.

Add the butter into your flour mixture, and using only your fingertips rub the flour into the butter pieces.

Next, create a well in the middle of your flour and add your water/lemon/egg soup.

Mix this as little as possible until it just starts to come together. Turn it over onto your countertop and kneed JUST until it forms a ball.

Lay down a layer of plastic wrap, add your dough and smush it down into a thick circular disk. Finish wrapping it up in plastic (I do a few layers) and chill for at least an hour (or overnight).

See the post above for baking recommendations for different pies and tarts. Enjoy!
Nutrition
Calories:
3099
kcal
Carbohydrates:
300
g
Protein:
44
g
Fat:
193
g
Saturated Fat:
119
g
Polyunsaturated Fat:
9
g
Monounsaturated Fat:
50
g
Trans Fat:
7
g
Cholesterol:
682
mg
Sodium:
3802
mg
Potassium:
476
mg
Fiber:
10
g
Sugar:
14
g
Vitamin A:
5932
IU
Calcium:
136
mg
Iron:
18
mg