As you stroll through the bakery section of your local grocery store, you're likely to encounter a variety of breakfast pastries, from English muffins to flaky croissants and puff pastries. While all are delicious, today we'll explore the intricacies of two types of laminated dough: croissant vs puff pastry dough.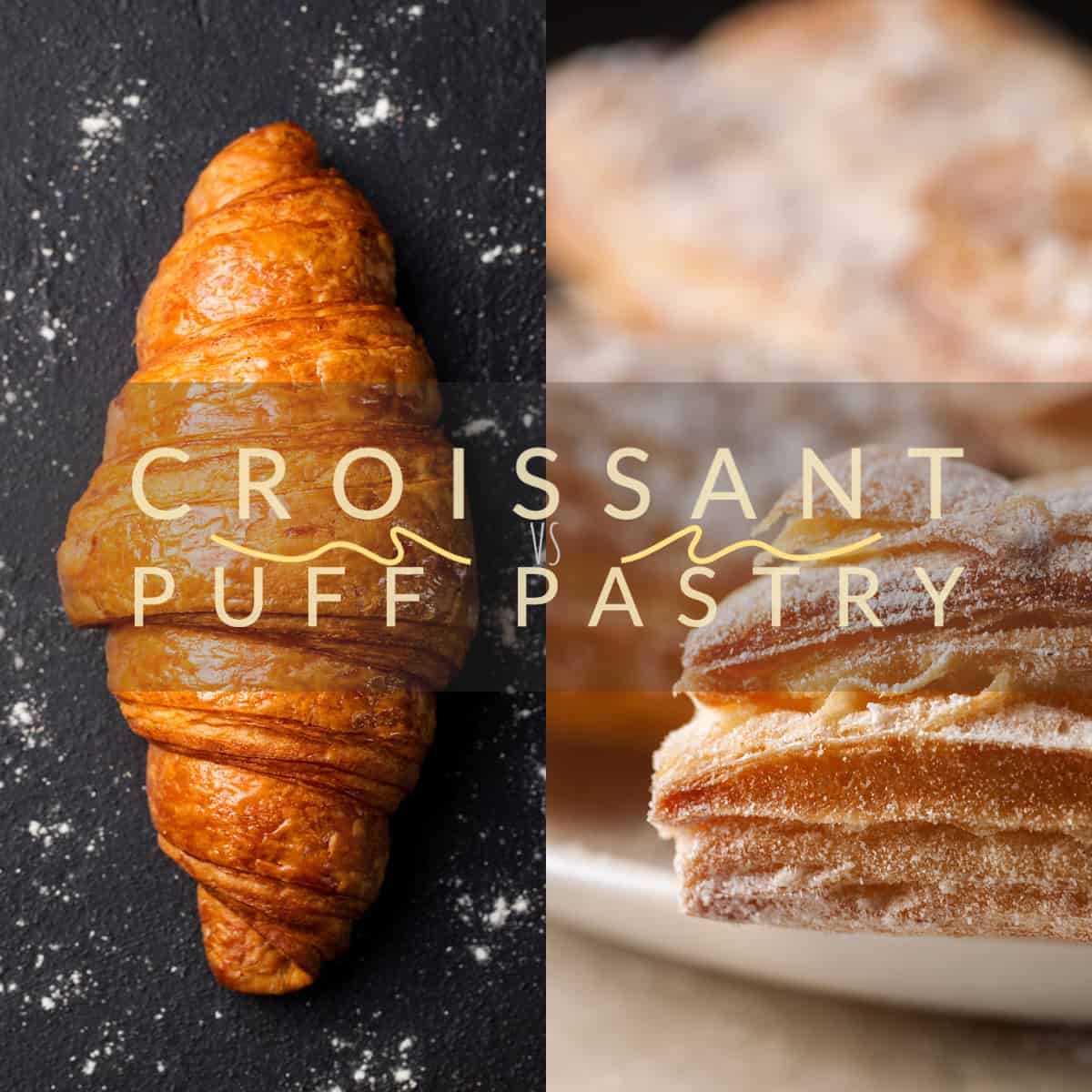 Both doughs result in a flaky texture, but their preparation methods and uses are distinct, with croissants often appearing in the form of crescent rolls and puff pastries used in both savory dishes and desserts like cream puffs.
Jump to:
Understanding Laminated Doughs
Laminated doughs are a type of pastry characterized by its multiple thin layers of dough and butter. The lamination process involves folding butter into the dough numerous times to create dozens of layers. When baked, the water in the butter turns to steam, causing the dough to rise and resulting in the flaky, airy texture that's characteristic of laminated pastries.
The Art of the Croissant
A classic croissant is a marvel of the pastry world. Originating from France, the croissant is celebrated for its rich buttery flavor, flaky texture, and iconic crescent shape. A traditional croissant recipe involves a process of layering bread dough with butter, then folding and rolling repeatedly. This method is known as 'turns', with each turn creating more layers. The dough is then allowed to rest in between turns, which can be a single fold (also known as a single turn), letter fold or book fold.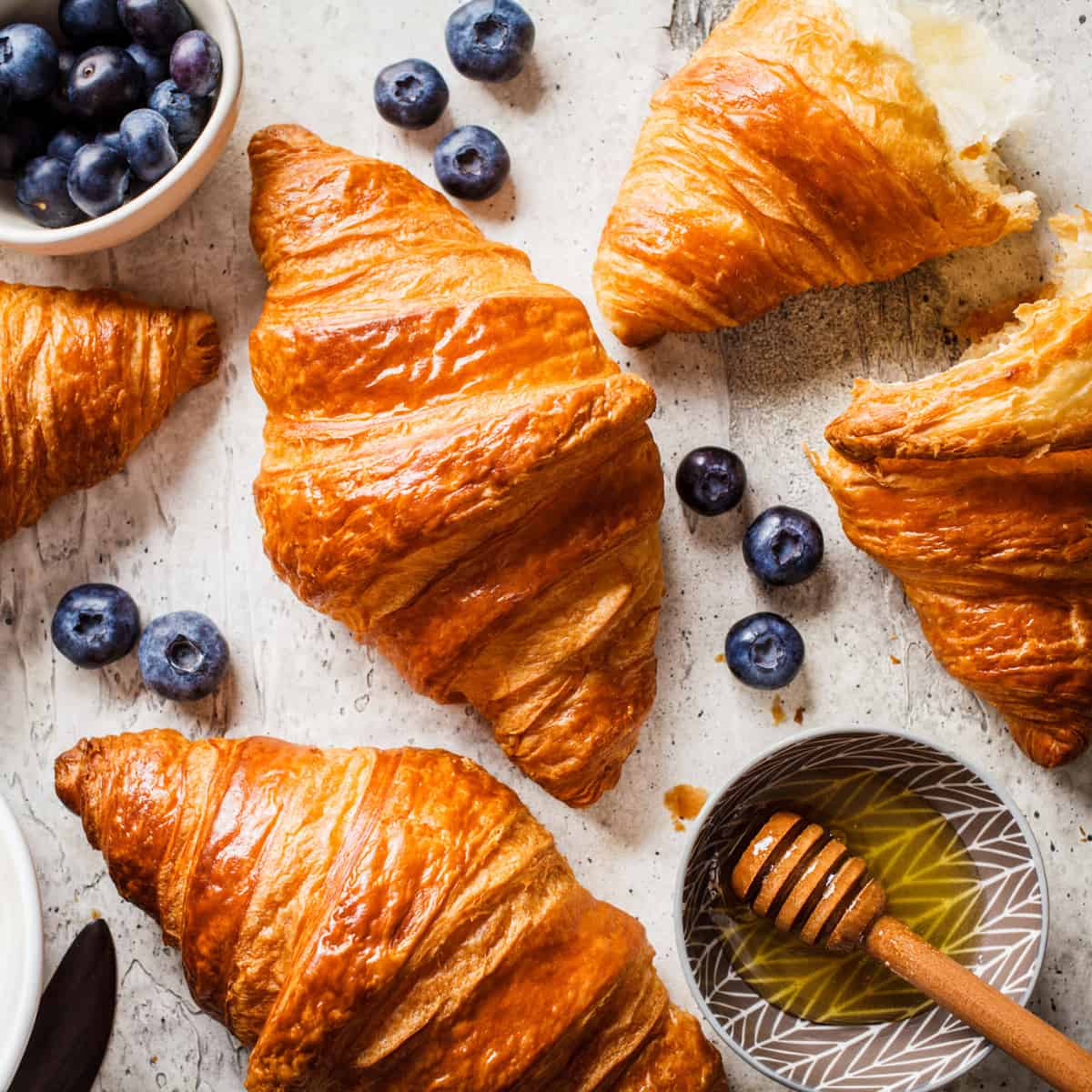 Croissants require a specific type of dough: a yeasted dough, enriched with milk and sugar. The dough's yeast allows for fermentation, which contributes to the croissant's unique flavor and airy texture. During the baking process, the yeast helps the dough rise, and the water in the butter layers turns into steam, pushing the dough layers apart to create the classic flaky, buttery layers we love.
Puff Pastry, the Versatile Dough
Classic puff pastry, known as 'pâte feuilletée' in French, is another form of laminated dough. It's frequently used in both sweet and savory dishes, from apple turnovers to Beef Wellington. Unlike croissant dough, puff pastry dough does not contain yeast, making it a bit more accessible for the home cook. The ratio of flour to butter is also different, with puff pastry containing more butter.
The process of making puff pastry is similar to that of croissants, but it typically involves more folds – often six or more – which leads to a final product with hundreds of thin layers. With each fold or turn, the number of layers doubles, leading to a light, flaky pastry. It can be a bit more time-consuming, but the end result is worth the effort.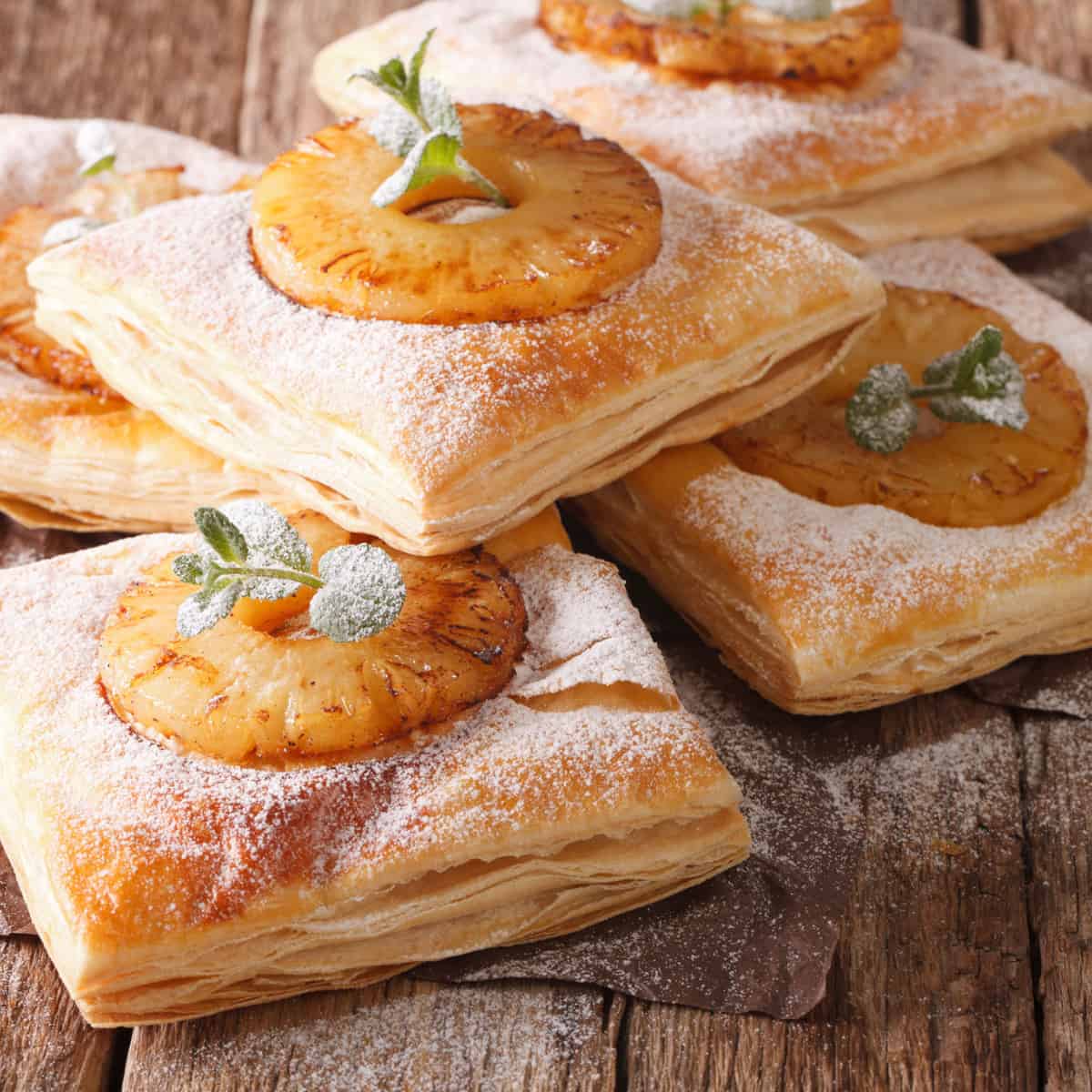 Main Differences: Croissant Vs. Puff Pastry
The significant difference between the two lies in the type of dough used and the number of folds or turns. While puff pastry is typically made from a simple dough of flour, water, and a lot of butter, croissants require a yeast-based dough enriched with milk and sugar. The yeast in croissant dough allows it to rise, creating a lighter, airier pastry than puff pastry.
In terms of process, croissants typically involve fewer folds than puff pastry. Fewer layers mean a denser, richer pastry, while the many layers in puff pastry lead to a lighter, flakier result. However, both methods require a lot of time and patience as the dough must rest between each set of turns.
Nutritional Differences
In terms of nutrition, both croissants and puff pastries are high in fat and calories due to the significant amount of butter used in the lamination process. Puff pastries, however, may be slightly higher in fat and calories because of their higher butter content.
The specific nutritional content can also vary depending on other ingredients used. For example, a croissant au chocolat or chocolate croissant will have more sugar and calories than a plain croissant. The same applies to puff pastries – a savory version filled with spinach and feta will have different nutritional content than a sweet version filled with almond paste or fruit.
While the exact nutritional content can vary by individual recipe and preparation methods, generally both puff pastry and croissants are rich in calories and fats due to the high butter content. Here's a rough comparison between a 4 oz portion of each:
Puff Pastry:
Calories: Around 600
Fat: Around 40g
Carbohydrates: Around 50g
Protein: Around 7g
Croissant:
Calories: Around 500
Fat: Around 27g
Carbohydrates: Around 55g
Protein: Around 10g
Again, these values can vary based on the recipe, but generally, puff pastry tends to be higher in calories and fat due to the higher ratio of butter to dough. On the other hand, croissants, while still high in fat and calories, often have slightly more protein due to the use of yeast and milk in the dough, which adds a small amount of additional protein.
Preparing and Baking
After the lamination process, shaping the dough is the next step. For croissants, the dough is cut into triangles and rolled into the familiar crescent shape. Puff pastry can be left as a sheet or cut into various shapes, depending on the final product.
Before baking, both types of pastries are typically brushed with an egg wash, which gives them a glossy, golden finish. They are then baked on a baking sheet lined with parchment paper until they've puffed up and turned a beautiful golden brown.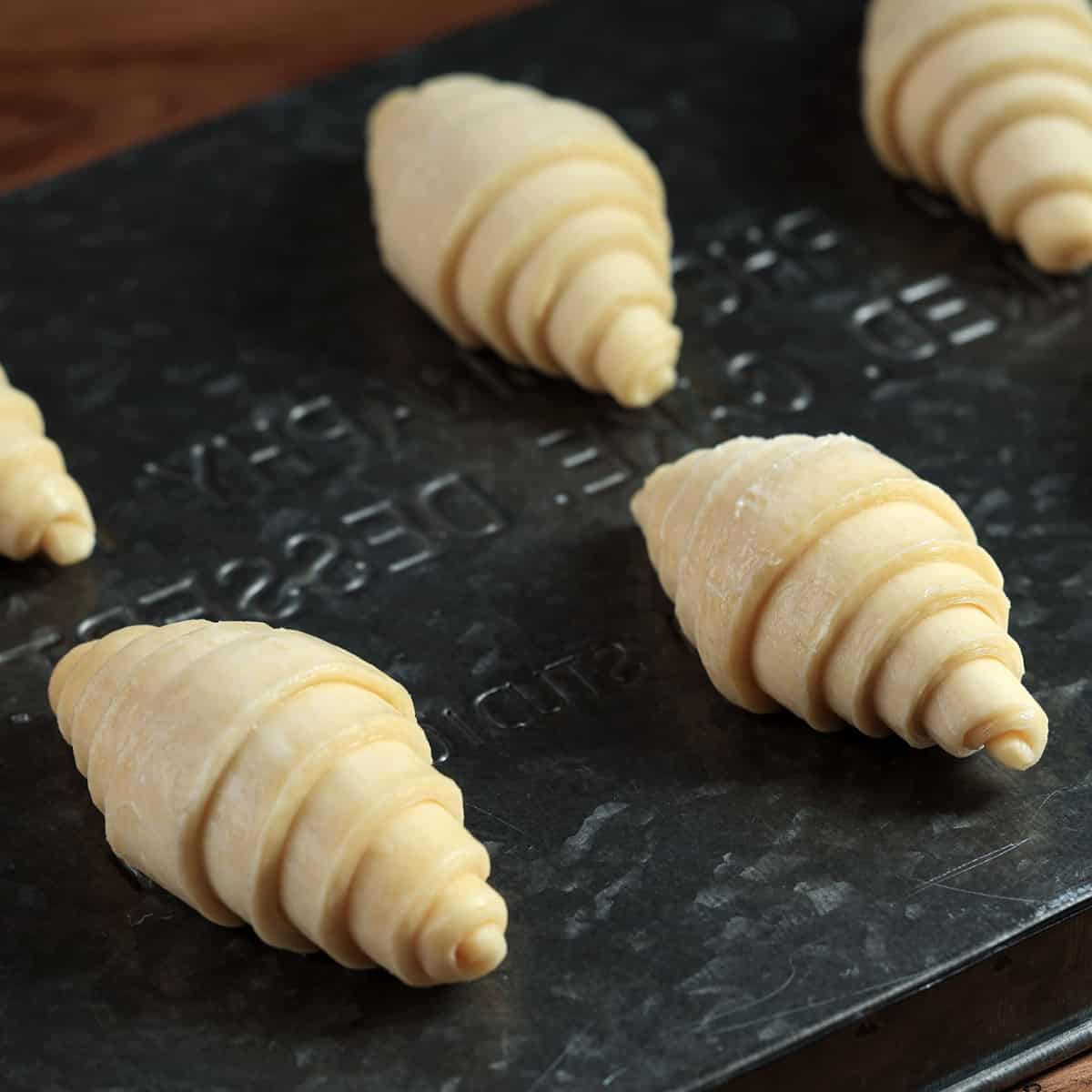 Whether you're making savory dishes or sweet breakfast pastries, it's important to keep the dough cold as you work with it. This ensures the butter doesn't melt into the dough, which would result in a less flaky final product.
Store-Bought Vs. Homemade
Making your own croissant or puff pastry dough can be a rewarding endeavor, but it's also time-consuming and can be tricky for beginners. Luckily, store-bought versions of both are widely available and offer a convenient shortcut. Brands like Pepperidge Farm provide excellent quality store-bought puff pastry, and you can usually find both types of dough in the freezer section of your grocery store.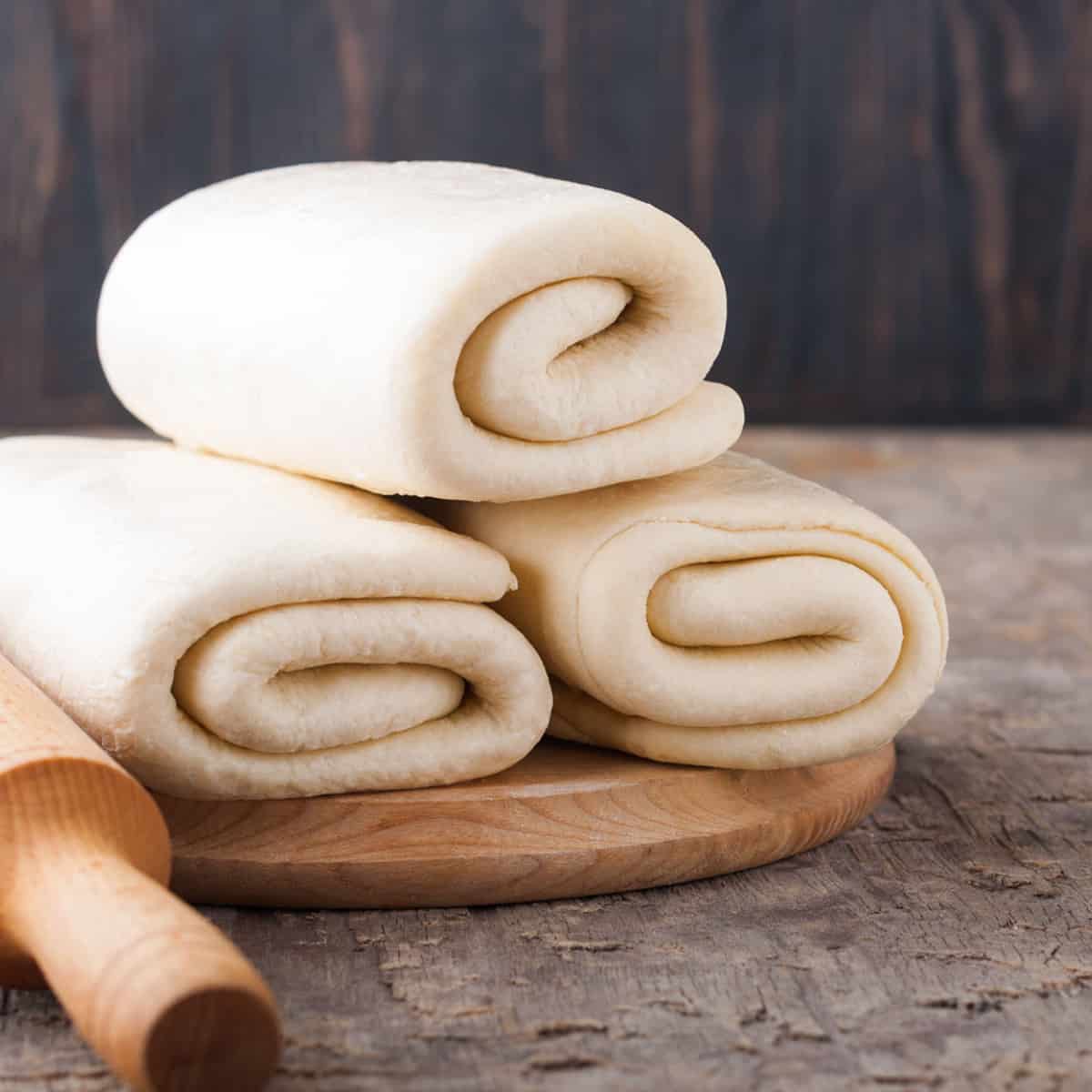 While store-bought dough might not match the flavor and texture of a pastry made from scratch, it can come pretty close, especially when you're a busy home cook. Plus, having a package of puff pastry or croissant dough in your freezer can open up a world of easy, delicious recipes to try.
A World of Pastry Possibilities
From Danish pastries to almond croissants and savory pie crusts, the applications of croissants and puff pastry dough are virtually endless. By understanding the differences between these two types of laminated dough, you can choose the right one for your baking project and create a delicious treat that's sure to impress.
While both types of dough require a bit of effort and skill, there's nothing quite like the sense of accomplishment that comes from pulling a tray of golden, flaky pastries out of the oven. Whether you're a seasoned pastry chef or a baking enthusiast, working with these doughs is a delightful experience that allows you to create a wide range of delicious pastries. And with a bit of practice, you might just find that you've become the Goldilocks of the pastry world, turning out croissants and puff pastries that are just right.
Other Doughs to Know About
While we've focused on croissant dough in this recipe, it's worth noting that the world of pastry is vast, and there are many other types of dough to explore. For instance, pâte brisée is a type of shortcrust pastry dough that's commonly used for pie crust and tarts. Unlike croissant dough, pâte brisée doesn't require lamination, but it does involve cutting cold butter into the flour to create a flaky texture.
Phyllo dough (or filo), on the other hand, is a paper-thin dough used in Middle Eastern and Balkan pastries like baklava and spanakopita. Rather than being laminated with butter, individual sheets of phyllo are brushed with melted butter and stacked to create flaky, multi-layered pastries.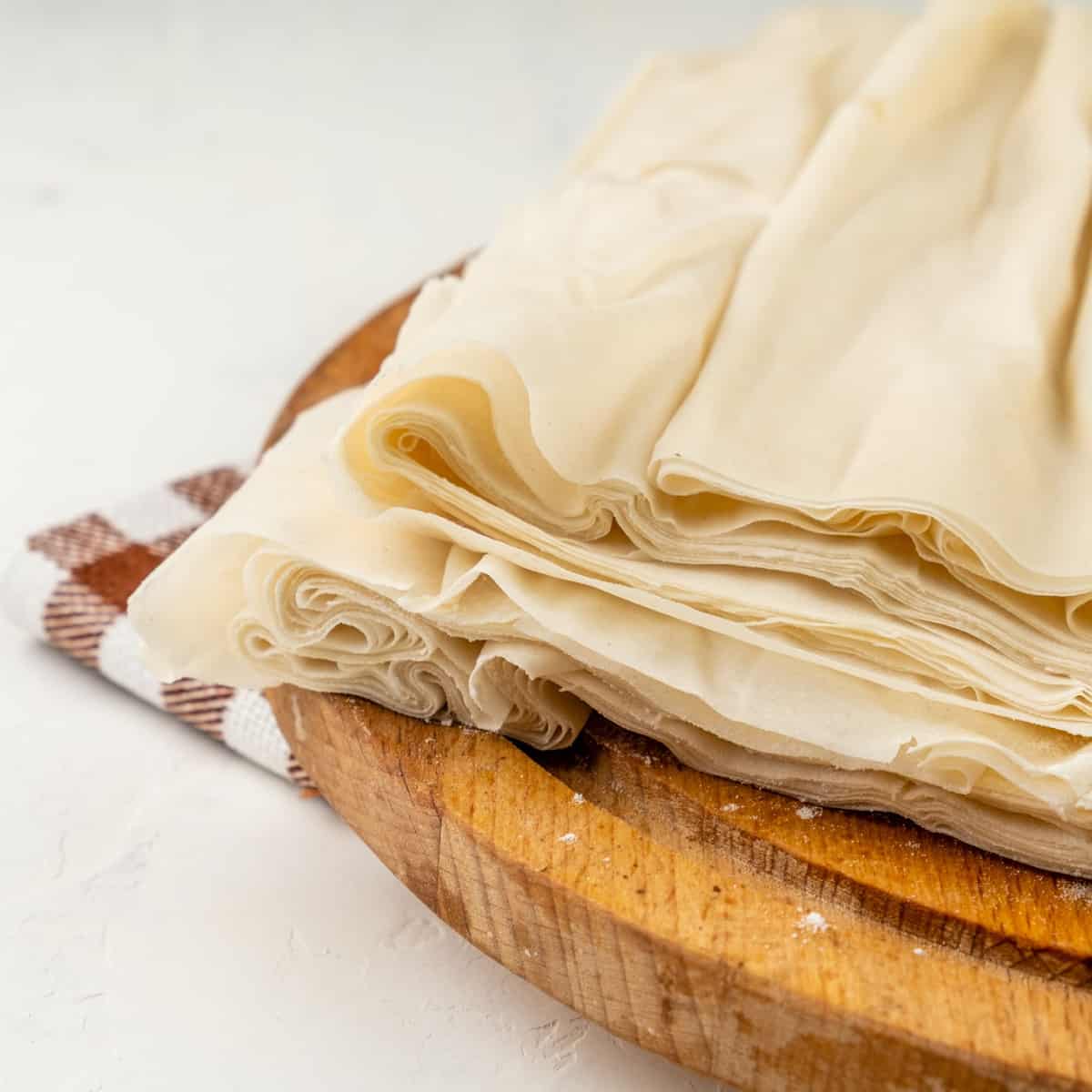 Each of these doughs offers unique characteristics and flavors, making them ideal for different types of pastries. Understanding these differences and knowing when to use each type of dough is an essential part of mastering the art of baking.
Simple Homemade Croissant Recipe
This recipe might seem a bit complicated, but the end result is absolutely worth it. If this is overwhelming, you can absolutely find delicious local croissants. However, I think anyone who loves baking should try it at least once!
Ingredients
1 package active dry yeast (2 ¼ teaspoons)
¼ cup warm water (110°F)
¼ cup granulated sugar
2 teaspoons salt
1 ½ cups warm milk
1 egg
4 cups all-purpose flour
1 cup unsalted butter, cold
1 egg (for egg wash)
Instructions
Dough Preparation: Dissolve the yeast in the warm water in a large mixing bowl. Stir in the sugar, salt, warm milk, and egg. Gradually add 2 cups of the flour, stirring until the dough is smooth.
First Rise: Cover the dough with a clean towel and let it rise in a warm place until it doubles in size, about 1 to 1.5 hours.
Butter Incorporation: While the dough is rising, prepare the butter. Place it between two sheets of parchment paper and pound it with a rolling pin until it's about ½-inch thick. Shape it into a 6-inch square, wrap it in plastic wrap, and refrigerate.
Laminating the Dough: After the dough has risen, turn it out onto a floured surface and roll it into a 12-inch square. Place the chilled butter in the center of the dough at a 45-degree angle. Fold the corners of the dough over the butter to meet in the middle, and pinch the edges to seal.
Roll and Fold: Roll the dough into a 20x8-inch rectangle. Fold it in thirds, like a letter, and turn it 90 degrees. This completes the first turn. Wrap the dough in plastic wrap and chill for 30 minutes.
Repeat the Process: Remove the dough from the refrigerator and repeat the rolling and folding process two more times. After each turn, wrap the dough and chill it for 30 minutes.
Second Rise: After the final turn, let the dough rise in the refrigerator for at least 2 hours or overnight.
Shaping the Croissants: Roll the dough into a 20x18-inch rectangle. Cut the dough into triangles, each base should be about 5 inches. Starting from the base, roll each triangle into a croissant shape. Place the shaped croissants on a baking sheet.
Final Rise: Let the croissants rise until they are puffy and light, about 1 hour.
Bake the Croissants: Preheat the oven to 375°F (190°C). Beat the remaining egg and brush it onto the croissants. Bake for 15 to 20 minutes or until golden brown.
Simple Homemade Puff Pastry Recipe
This recipe is a bit complicated due to the repeated rolling and chilling, but the light, buttery, flaky end result is worth every bit of effort. The process of making puff pastry is a labor of love, but once you've mastered it, the sky's the limit for delicious pastries!
Ingredients
2 cups all-purpose flour, plus more for dusting
½ teaspoon salt
½ cup very cold water
1 cup (2 sticks) unsalted butter, cold
Instructions
Preparing the Dough: In a large bowl, combine the flour and salt. Gradually add the cold water, stirring until the dough comes together. Turn the dough out onto a lightly floured surface and knead it a few times to bring it together. Shape the dough into a square, wrap it in plastic wrap, and refrigerate for about 30 minutes.
Preparing the Butter: While the dough is chilling, prepare the butter. Place the sticks of butter between two sheets of parchment paper and pound them with a rolling pin until they're about ½-inch thick. Shape the butter into a square that is ¾ the size of your dough square. Refrigerate until needed.
Incorporating the Butter: Roll out the corners of your dough square, leaving a thicker "hill" of dough in the middle. Place your chilled butter square on the "hill" and fold the corners of the dough over the butter, sealing the edges.
Creating the Layers: Roll the dough into a rectangle about ½-inch thick. Fold the dough in thirds like a letter, then rotate the dough 90 degrees. This completes the first turn.
Chilling the Dough: Wrap the dough rest in plastic wrap and refrigerate for 30 minutes.
Repeating the Process: Remove the dough from the refrigerator and repeat the rolling, folding, and chilling process at least five more times. Remember: the more turns, the more layers your puff pastry will have.
Baking: When you're ready to bake, roll the dough to your desired thickness, cut it into desired shapes, and bake at 425°F (220°C) until puffed and golden, about 15-20 minutes.