Fall is that magical time of year when the air gets crisp, and pumpkin recipes start to fill our kitchens. What better way to celebrate than with the ultimate pumpkin treat? This pumpkin pie milkshake recipe made best with an actual slice of pumpkin pie, is the real deal and the perfect fall dessert to satisfy your sweet tooth.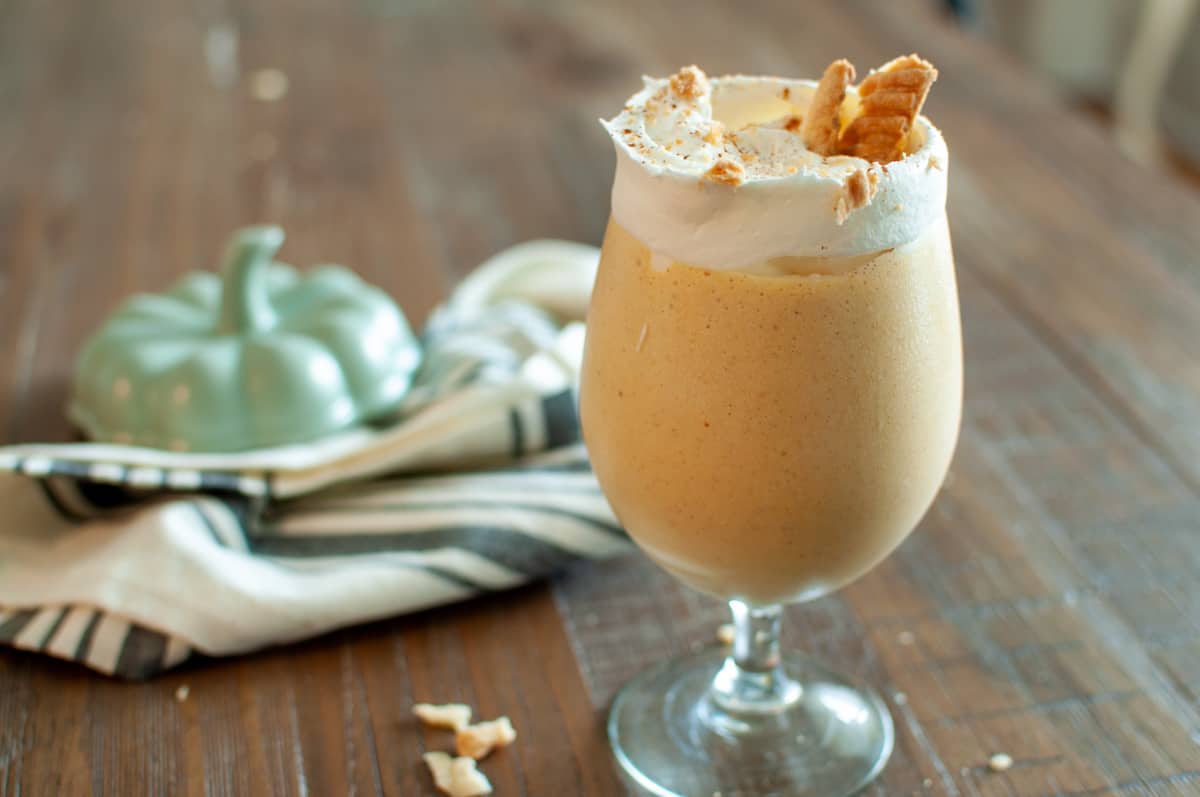 Jump to:
Ingredients: Simple Ingredients for a Delicious Milkshake
Pumpkin Pie: A slice of your amazing cream cheese pumpkin pie (recipe linked here) or canned pumpkin puree for the dairy-free option.
Creamy Vanilla Ice Cream: Or non-dairy vanilla ice cream if you prefer.
Milk: Whole milk, skim milk, or almond milk as a milk substitute.
Whipped Cream: Reach and creamy to finish off the top and set the stage for garnish.
Pie Crust: Use the crust from the pumpkin pie slice as a garnish.
Pumpkin Spice or Ground Cinnamon: A sprinkle of cinnamon or pumpkin pie spice to garnish for those classic fall flavors.
Caramel Sauce: A drizzle of caramel for extra indulgence.
Instructions: The Perfect Way to Blend
1. Prep Your Ingredients: Gather your pumpkin pie shake ingredients from the grocery store or your pantry.
2. Blend: In your high-speed blender, combine the pumpkin pie, vanilla ice cream, vanilla, and milk in the blender until smooth. Add a little milk if it's too thick until it's your perfect consistency.
3. Serve: Pour into glasses and top with whipped cream, pie crust garnish, a sprinkle of pumpkin pie spice, and a drizzle of caramel. Enjoy this creamy treat as a fall treat with family and friends.
Full Recipe Video
The Best Pumpkin Pie to Use
When it comes to making the perfect pumpkin pie milkshake, the choice of pumpkin pie is crucial. We highly recommend using a slice of our Cream Cheese Pumpkin Pie. This pie is the real deal, with a rich and creamy texture that blends beautifully into a milkshake.
The cream cheese adds a luxurious touch, and the blend of cinnamon and nutmeg creates a flavor that's truly out of this world. It's the perfect way to elevate your pumpkin milkshake recipe and turn it into an ultimate pumpkin treat.
While you can obviously use any leftover pumpkin pie you have around, you can also use canned Pumpkin Pie Mix. Add ⅓ cup in place of the pie slice. It won't be as good, but it will do in a pinch.
Join the Pumpkin Shake Revolution
This pumpkin milkshake recipe is a great way to use leftover pumpkin pie and is just a great milkshake for anyone who loves pumpkin in general. With options for non-dairy milk and real pumpkin, it's adaptable to many tastes. Sign up for our email list for new recipes and great additions to your fall menu. Next time you have a craving for a slice of pie, why not try it in milkshake form? Happy blending!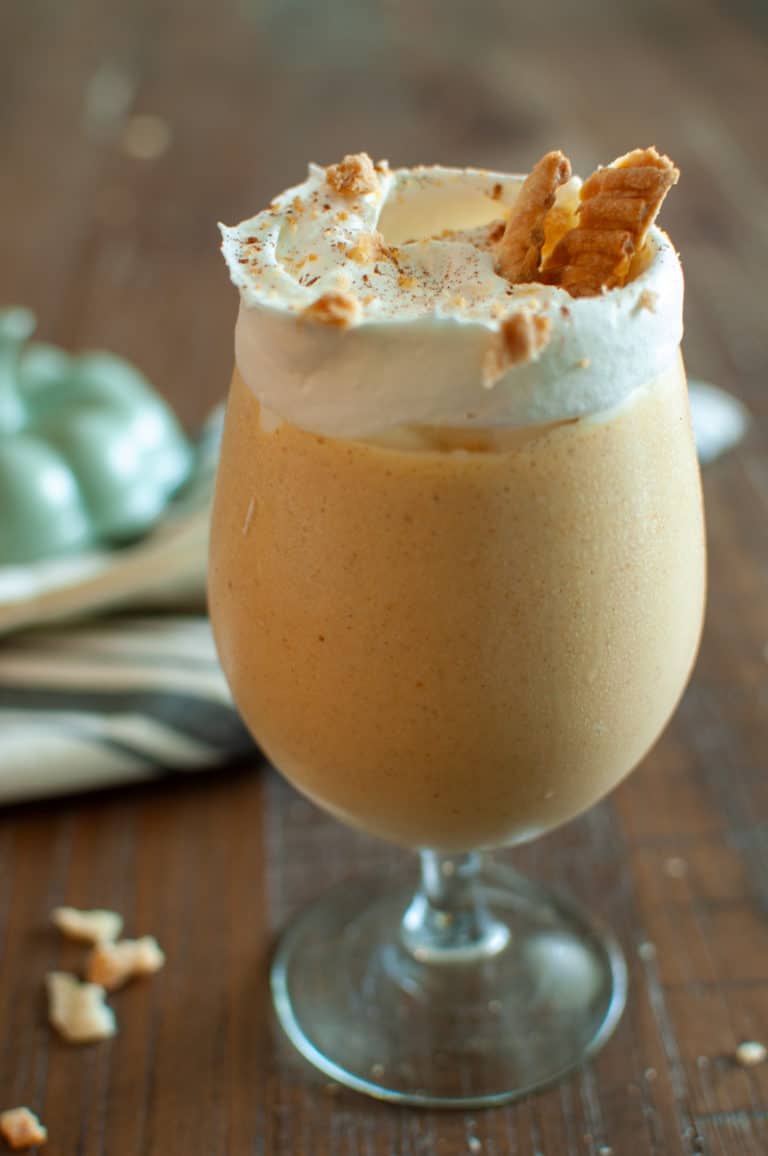 📖 Recipe
Pumpkin Pie Milkshake
The perfect use of leftover pumpkin pie. Ice cream + pumpkin pie = Always the right choice.
Ingredients
Toppings
Ground Cinnamon or Pumpkin Pie Spice
Instructions
Add all the milkshake ingredients into a blender.

Blend for 15-30 seconds until completely smooth.

Feel free to add more milk until it reached your desired consistancy.

Pour into a glass and top with whipped cream & extra pie crumbs.

Drink slowly and enjoy thoroughly.
Nutrition
Calories:
490
kcal
Carbohydrates:
73
g
Protein:
15
g
Fat:
15
g
Saturated Fat:
9
g
Polyunsaturated Fat:
1
g
Monounsaturated Fat:
4
g
Cholesterol:
76
mg
Sodium:
217
mg
Potassium:
662
mg
Fiber:
1
g
Sugar:
57
g
Vitamin A:
1302
IU
Vitamin C:
3
mg
Calcium:
518
mg
Iron:
0.4
mg
FAQ
Can I use canned pumpkin puree instead of a slice of pumpkin pie?
No, but you can use canned pumpkin pie mix as a substitute. However, using a slice of our Cream Cheese Pumpkin Pie will give you the best pumpkin pie shake. Sub out your pie slice for ⅓ cup Pumpkin Pie mix, and add an extra pinch of cinnamon and a splash of vanilla.
How much milk should I add to get the right consistency?
Start with ½ cup of milk, and feel free to add a little milk until it reaches your desired consistency. Whether you use whole milk, skim milk, or almond milk, it's all about finding your perfect ratio.
Can I add any other fall flavors to this milkshake?
If you're feeling adventurous, you could turn it into a boozy milkshake with a shot of Rumchata!
Can I use chocolate ice cream instead of vanilla?
While vanilla bean ice cream or creamy vanilla ice cream is the traditional choice, substituting it with chocolate ice cream could be a good idea for chocolate lovers. It'll add a new twist to this fall treat.