Have you ever wanted to make homemade ice cream at home but didn't want to use the same method you did in elementary school? Were you added salt and ice to a bag and shaken it for 30 minutes? Same. Making this KitchenAid Ice Cream recipe is as easy as it gets.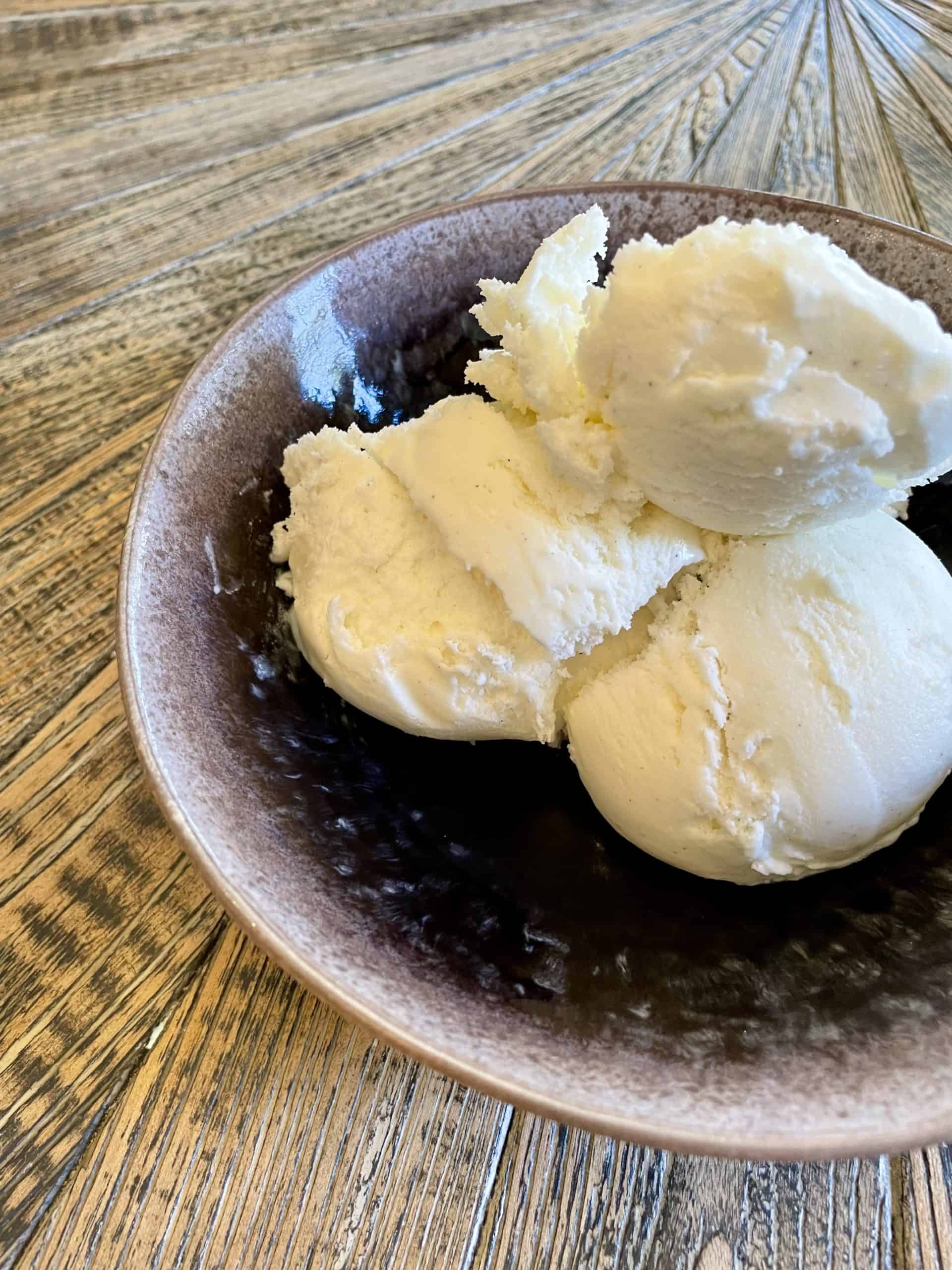 With an Ice Cream Bowl attachment from KitchenAid, you can make ice cream from start to finish in 30 minutes (for soft-serve at least). This vanilla ice cream recipe is made specifically with the KitchenAid Ice cream attachment in mind!
Is Making Ice Cream Complicated?
Funny enough, this whole recipe from start to finish is probably one of the easiest on this whole site to date.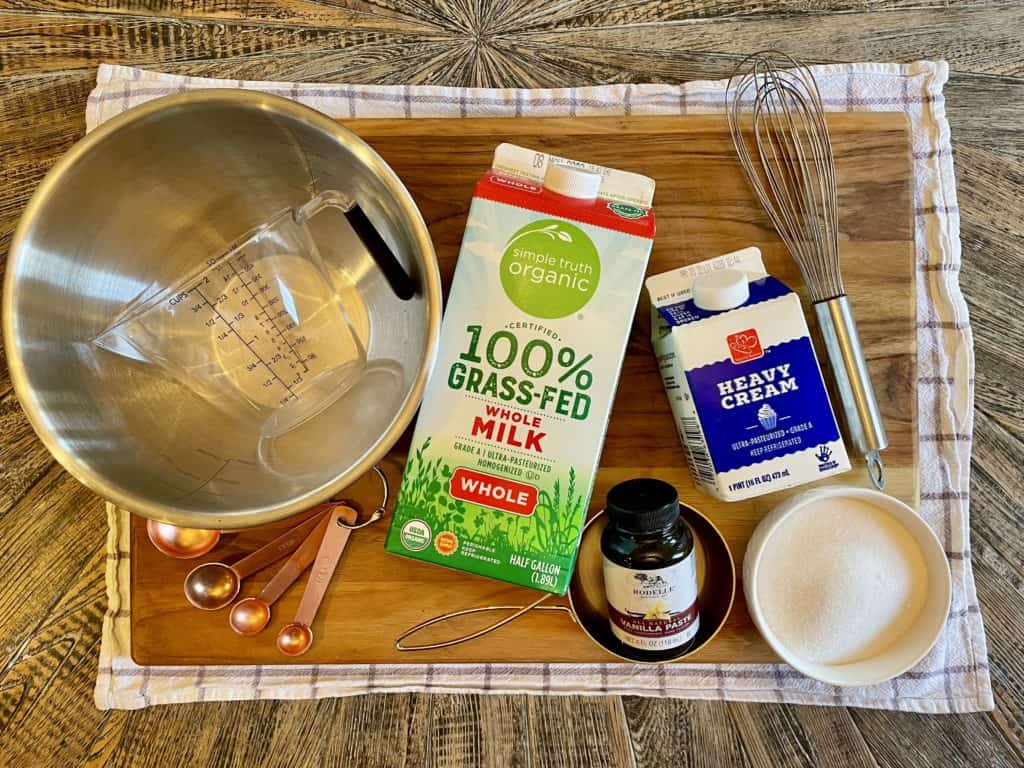 It's all of 4 ingredients, no cooking is required. You simply pour the sweetened/flavored milk mixture into the KitchenAid Attachment Bowl and let it do the hard work for you. Making this KitchenAid Ice Cream recipe one of the easiest homemade ice cream recipes ever in my opinion.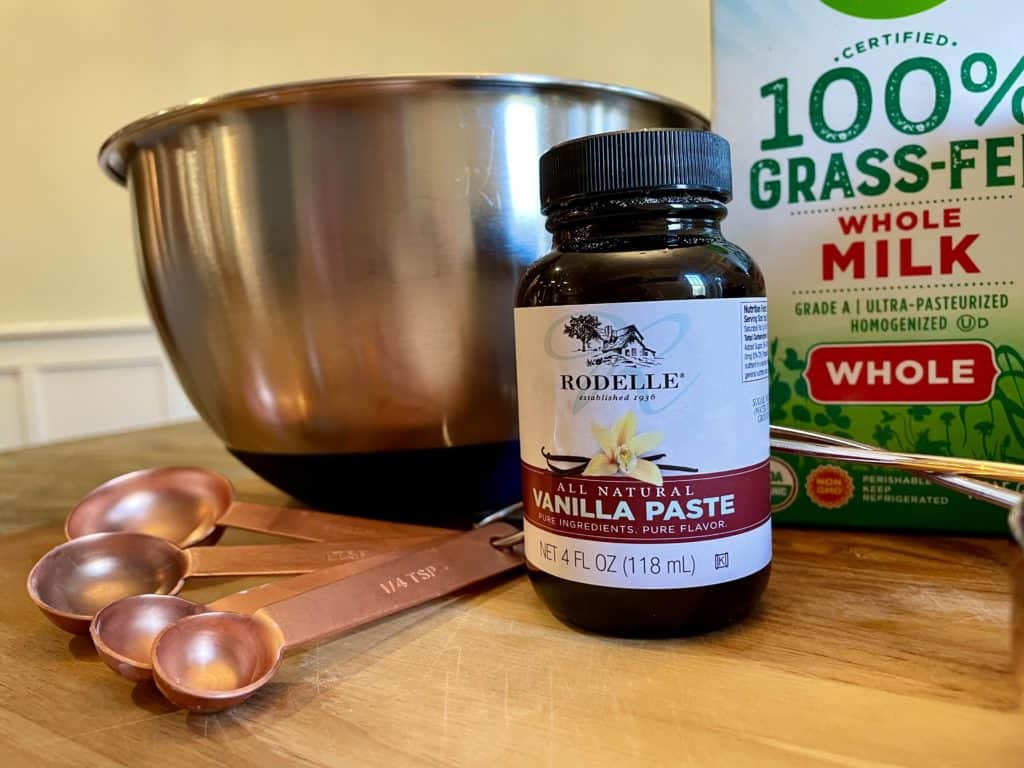 Do I Have to Have a KitchenAid?
Yes, at least for this exact version. You can absolutely still use this ice cream base below with the shaking method, but I won't be going into full detail about it in this post.
You will also need the Ice Cream Bowl attachment that comes with everything you'll need.
Now I am not generally a fan of big bulky kitchen gadgets. I literally sold my InstaPot because I never used it. If it takes up space in my kitchen, it needs to earn its keep. All this to say, I've had this bowl for a few years now and I've made ice cream 10+ times with it. The kids love it, so it stays.
It has to be in the freezer for 24 hrs before use, and I generally don't think that far ahead when it comes to wanting ice cream. The bowl lives in my freezer. Ready and waiting for me to have all the ingredients in my house and realize... HEY! Does anyone feel like ice cream?!
Storing Your Ice Cream
While you can eat this soft-serve style as soon as it's done, it is VERY soft. I highly recommend throwing it in the freezer for an hour or two after you make it.
To speed up the process even further, I will put whatever bowl/storage container I'll be using into the freezer to start getting cold too. That way you aren't cooling a bowl & ice cream at the same time.
It can stay in the freezer for up to a few weeks. You can avoid some freezer burn by adding a layer of plastic on top and pressing it all the way down onto the ice cream. Removing as much air as possible.
Variations
After a few rounds of recipe testing, we made what should be the next viral recipe. Introducing Starbucks Pumpkin Spice Latte Ice Cream...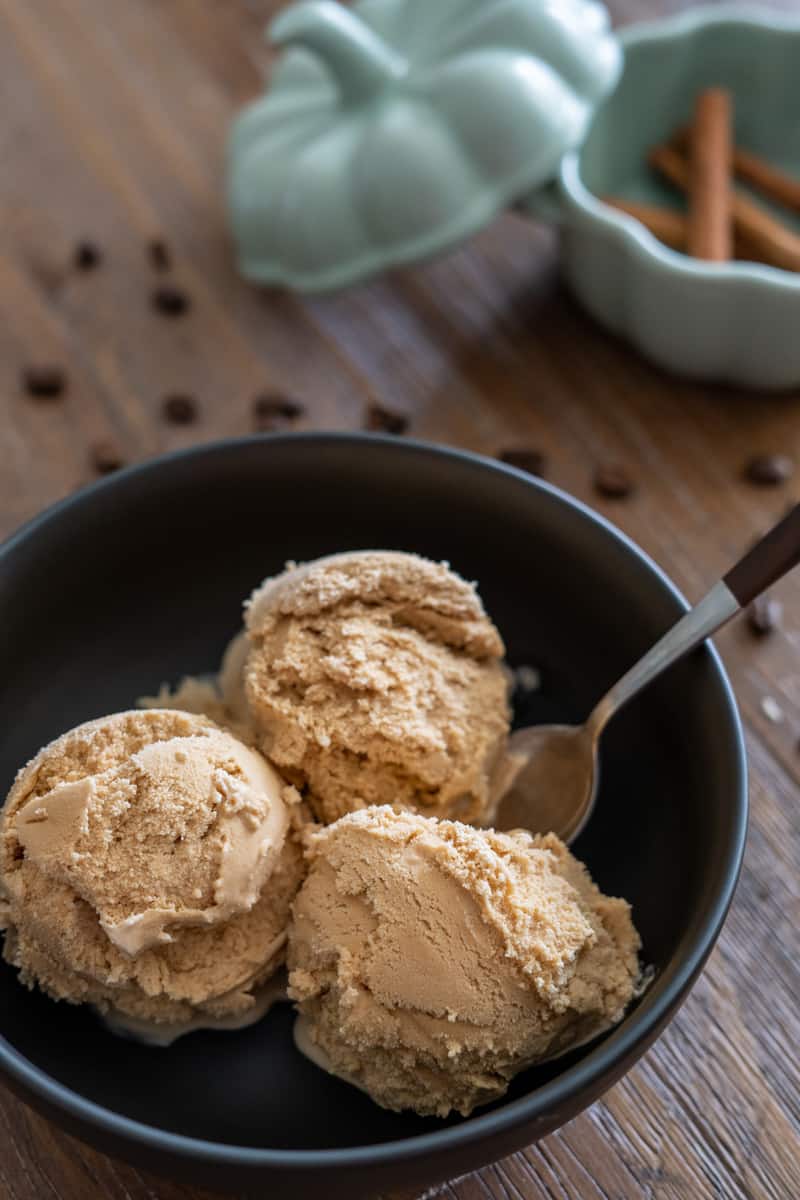 Enjoy!
Ice cream is one of my favorite things. It baffles me that people ruin perfectly good ice cream with chocolate syrup. Just why?!? This is more to point out that the mix in's you add, the syrups you drizzle, and the things you want to dip into your ice cream are all up to you.
Make it your own. Make it delicious. Just... make it!
Bon Appetit!
📖 Recipe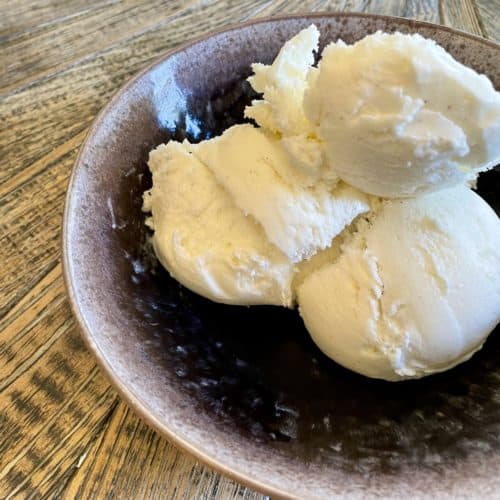 Vanilla Ice Cream - KitchenAid Edition
Try this homemade ice cream recipe using your KitchenAid ice cream bowl attachment! It's easy, delicious, and can be ready in 20 minutes!
Ingredients
2

Cups

Whole Milk

2

Cups

Heavy Cream

1

Cup

Sugar

2

teaspoon

Vanilla Paste

-

or 1 teaspoon vanilla extract

1

pinch

Kosher Salt
Instructions
Mix all ingredients in a bowl and stir until dissolved.

Turn your KitchenAid on its lowest setting.

Slowly add the ice cream base down the side of the bowl.

Let churn for 15-20 minutes or until it looks like it is about to overflow.

At this point, you can stop, and enjoy as soft serve.

For a more traditional ice cream, transfer to a freezer-safe, air-tight bowl and leave for a few hours or overnight.
Notes
Mix-In's
Once the ice cream is done churning you can always add more! Make your own Rocky Road or Cookie Dough.
Things to add...
Cookie Dough Bites
Smashed Oreo Cookies
Fudge Swirl
Sprinkles
Strawberry Jelly
Lemon Extract 
Nutrition
Calories:
454
kcal
Carbohydrates:
40
g
Protein:
5
g
Fat:
31
g
Saturated Fat:
20
g
Polyunsaturated Fat:
1
g
Monounsaturated Fat:
8
g
Cholesterol:
99
mg
Sodium:
59
mg
Potassium:
198
mg
Sugar:
40
g
Vitamin A:
1298
IU
Vitamin C:
1
mg
Calcium:
153
mg
Iron:
1
mg
Handy Tools
Want to take your cooking game to the next level? Here's a list of some of the tools I use every time I make this recipe that help make this a breeze!