There's nothing like the sweet taste of fresh strawberries to make any dish come alive. Today, we're diving into a delicious Strawberry Compote recipe that's as versatile as it is easy. Whether you're a first-time compote maker or a seasoned chef, this simple strawberry compote recipe is for you.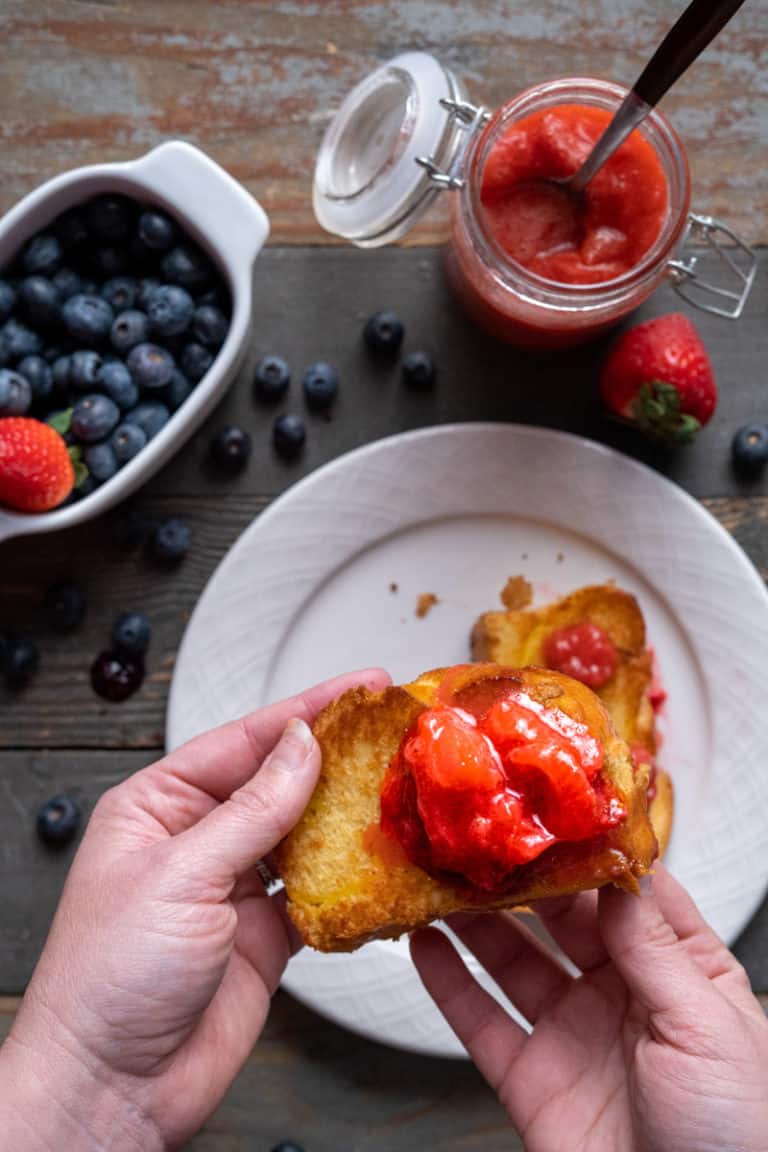 My little sous-chef Noah, who's 12 as I'm writing this, and I have tested this recipe to perfection. This one will always be close to my heart for many reasons, so here we go!
Jump to:
Ingredients
Fresh Strawberries: Fresh strawberries are the heart and soul of this delicious strawberry compote recipe. While you can use frozen berries, nothing beats the fresh strawberry flavor you get from those ruby-red beauties straight from the grocery store or, better yet, a local farm.
Lemon Juice: A splash of lemon juice adds the perfect acidic balance to the sweet strawberries. If you're feeling adventurous, lemon zest is a great addition for an extra citrusy kick.
Sugar: Granulated sugar is our go-to, but if you're looking to sub this out, maple syrup, agave, or organic cane sugar are great alternatives. A little sugar goes a long way!
Note, that maple syrup will add a different flavor profile but can be used as a more natural alternative to sugar. Adding that classic rustic, woodsy flavor to the compote.
Cornstarch: Want a super thick compote? A cornstarch slurry will do the trick. Mix it in a small bowl with a splash of water before adding it to the pot.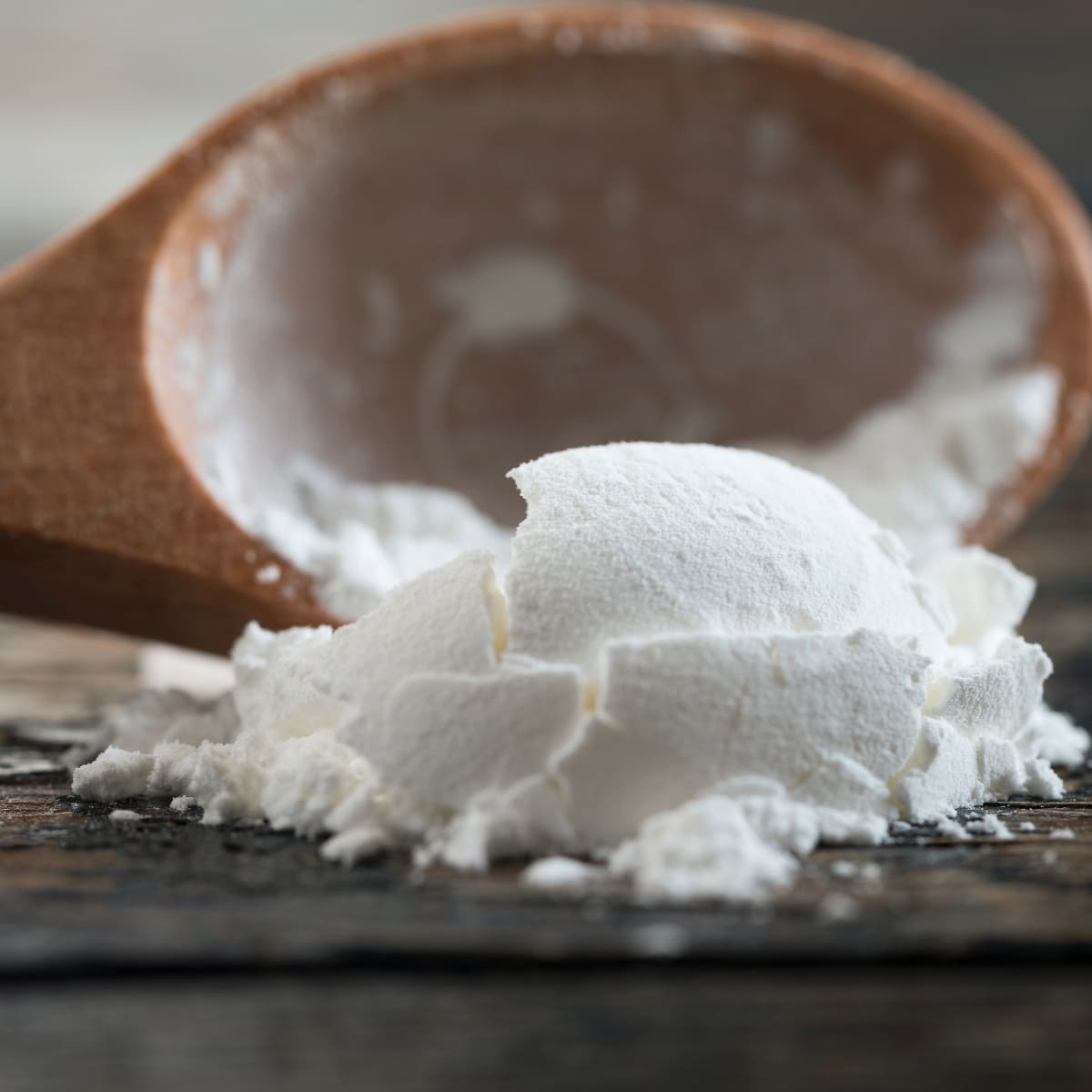 Substitutions: If you have a corn allergy, leave out the cornstarch! Alternative thickening agents include arrowroot powder or a chia seed slurry.
A Pinch of Salt: Never underestimate the power of a pinch of salt. It's the simplest way to make all those fruity flavors pop.
Equipment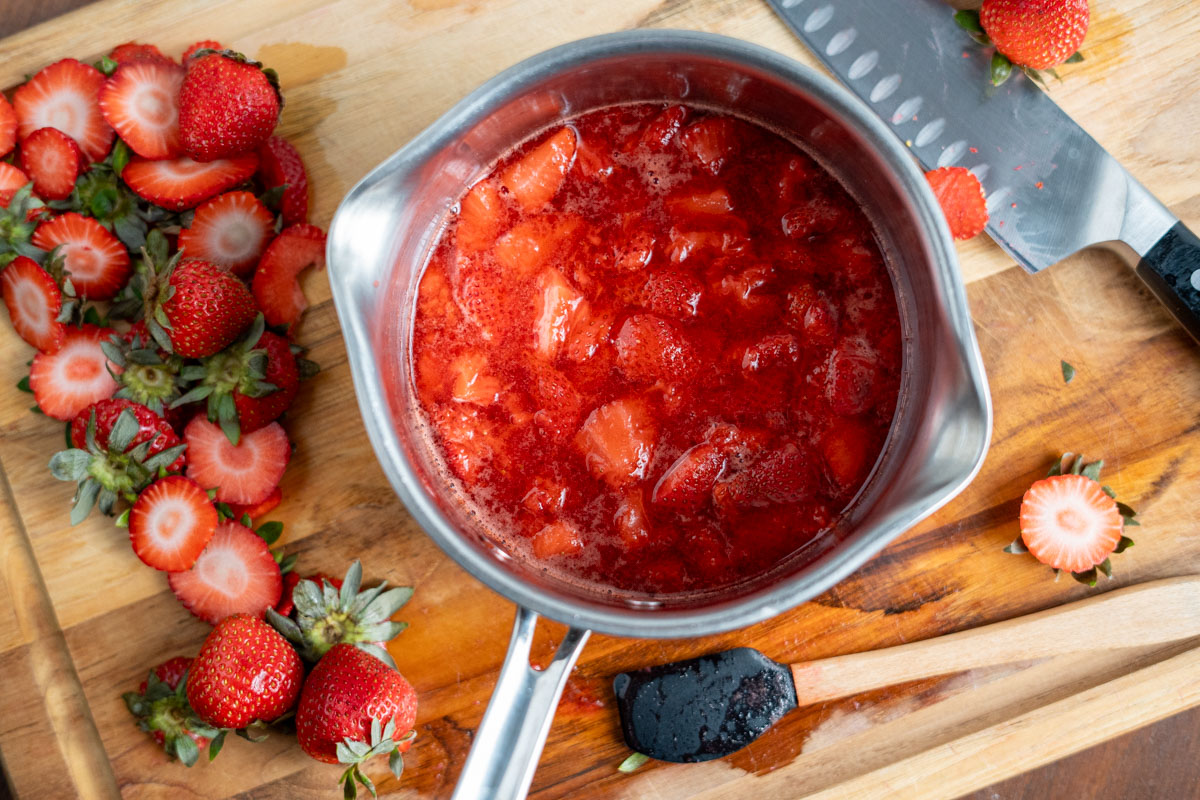 Small Pot: A medium saucepan is your best friend for this recipe. It provides enough room for stirring without spilling.
Stirring Tools: A wooden spoon, or rubber spatula.
Optional: Immersion Blender or potato masher for a smoother compote.
Step-by-Step Instructions
If you're eager to get cooking, feel free to jump down to the recipe card at the end of this post for the full rundown. It's easy to save or print out for later, so you'll always have this delightful strawberry compote recipe at your fingertips!
Step 1
Start by washing your fresh strawberries and cut them into quarters.
Step 1
In a medium saucepan, combine strawberries, lemon juice, your choice of sugar, and a pinch of salt.
Step 3
Cook on medium-low heat for 5-6 minutes, covered, stirring gently until the strawberries start to break down.
Step 4
For a thicker compote, add the cornstarch slurry and continue to cook for another minute.
Thick or Thin
If your compote is too thick, you may need to add a teaspoon or two of water at this point. For more body to your sauce, try smashing some of the strawberries against the side of the pan or mashing them slightly with a potato masher.
Remember, always mix your cornstarch with a bit of water to make a slurry before adding it to your compote. This prevents any lumps and makes for a smooth, delicious sauce. Take a taste, and adjust sugar and lemon juice to taste.
Cooling & Storing
Airtight Container: Transfer the cooled compote into an airtight container. Mason jars work wonderfully for this and add a rustic touch. I also love the glass pop-top-style containers with the rubber seals.
Refrigeration: Store the compote in the refrigerator if you plan to use it within a week. The cold temperature slows down the spoilage process.
Freezing: For longer storage, you can also freeze the compote. Just make sure to leave a little bit of space at the top of your container for expansion.
Label & Date: Labeling and dating your stored items is always a good idea. That way, you'll know exactly when you made it and how long it's been stored.
Serving Suggestions
This versatile homemade strawberry compote is the perfect topping for a range of breakfast foods like Grandad's Buttermilk Biscuits or Brioche French Toast. Think about putting it on top of Greek yogurt or even chia pudding, the possibilities really are endless.
It's also a great addition to desserts like angel food cake, pound cake, and vanilla ice cream.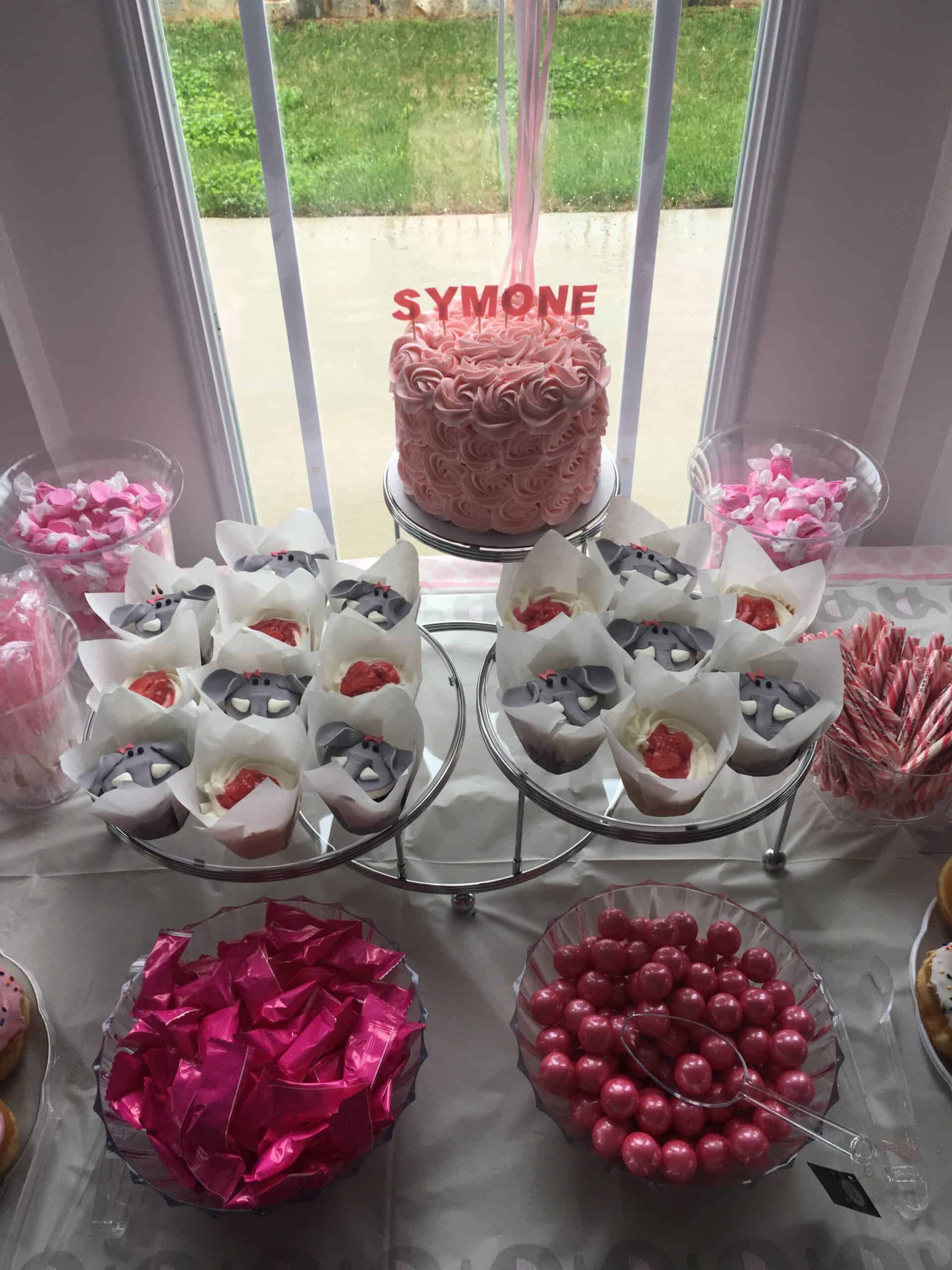 We made these adorable Strawberry Shortcake Cupcakes for a baby shower a few years back. We took our signature Vanilla Honey Cupcake and added the strawberry compote on top of stabilized whipped cream frosting.
Compote vs. Coulis
Both compote and coulis are fruit-based sauces that can elevate a variety of dishes. They often use similar simple ingredients like fresh fruit, sugar, and some form of citrus juice.
Differences
Texture: Compote is a chunky fruit sauce that retains pieces of the original fruit. Coulis, on the other hand, is a smooth, strained sauce.
Cooking: Compotes are usually cooked, allowing the natural pectin in the fruit to thicken the sauce. Coulis can be cooked or raw, often requiring additional thickeners like simple syrup.
Use: Compote is great as a topping for breakfast foods or desserts. Coulis is often used as a decorative drizzle or a base for other sauces.
Compote vs. Jam, Jelly, and Preserves
Jam: Made from crushed fruit and sugar, cooked down to a spreadable consistency. It's less chunky than compote but not as smooth as jelly.
Jelly: Made from fruit juice and sugar, resulting in a clear, smooth spread.
Preserves: Similar to jam but contains larger chunks of fruit or whole fruit, like berries.
Similar Recipes
With minimal effort, you can whip up this strawberry compote that's perfect for enhancing a variety of dishes. So, why not give it a try? And when you do, don't forget to leave a star rating and share your favorite ways to use strawberry compote!
📖 Recipe
Strawberry Compote
Made with fresh strawberries, sugar, and a touch of lemon juice, this compote is bursting with fruity flavor and can be used to add a touch of sweetness to everything from pancakes and waffles to ice cream and yogurt.
Ingredients
2

Cups

Strawberries

½

teaspoon

Lemon Juice

2

tablespoon

Granulated Sugar

1

pinch

Kosher Salt

2

teaspoon

Water

-

optional

1

teaspoon

Cornstarch

-

optional
Instructions
Start by washing your strawberries, and cutting each one into quarters.

In a small pot combined your strawberries, lemon juice, sugar, and a pinch of salt. Cook on medium heat for 5 minutes.

If you prefer your strawberry compote to be slightly thicker, mix the water and cornstarch in a small bowl and slowly pour into your strawberry compote mixing continuously.

Serve immediately or store in a sealed container in the fridge for 3-5 days.
Notes
Peak Strawberry Season: Want the sweetest, juiciest compote? Aim to make this recipe between April and June when strawberries are at their peak ripeness. Acidic Twist: The lemon juice isn't just for flavor; it also helps preserve the vibrant red color of the strawberries. Talk about a win-win! Natural Sweeteners: If you're going the natural route with honey or maple syrup, be aware that these sweeteners may require a slight adjustment in cooking time due to their water content. Spice It Up: For a cozy, aromatic twist, consider adding a dash of vanilla extract or a sprinkle of ground cinnamon. Your taste buds will thank you! Freezing is a Breeze: Made too much? No problem! Freeze your compote in ice cube trays for easy, portion-controlled servings. They're perfect for adding a burst of flavor to oatmeal, yogurt, or even cocktails!
Nutrition
Calories:
50
kcal
Carbohydrates:
12
g
Protein:
0.5
g
Fat:
0.2
g
Saturated Fat:
0.01
g
Polyunsaturated Fat:
0.1
g
Monounsaturated Fat:
0.03
g
Sodium:
1
mg
Potassium:
111
mg
Fiber:
1
g
Sugar:
10
g
Vitamin A:
9
IU
Vitamin C:
43
mg
Calcium:
12
mg
Iron:
0.3
mg