Different from so many of my other articles or recipes on my site, this recipe for easy biscuits wasn't made with the world in mind. Honestly, I don't even mind if you don't like it. I made it for me... This one is for you, Grandad!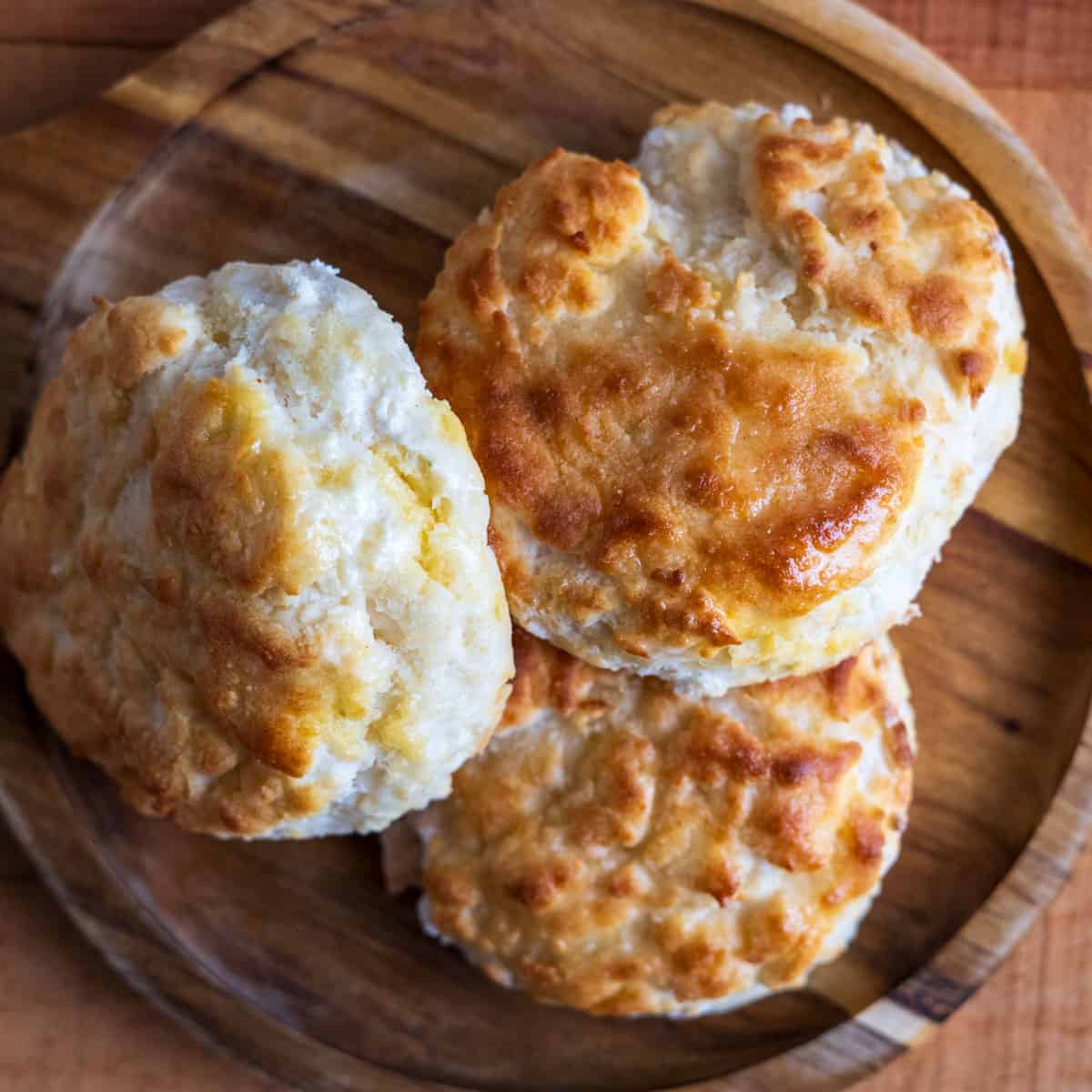 Our whole family loves these biscuits, especially covered in homemade strawberry compote. Every single time we went to visit Grandad he'd make them and we would fight over them. Literally, holding back tears. Feel free to make fun of me now.
Jump to:
Ingredients
Being this is a recipe for easy biscuits, it should have minimal ingredients. This one has two.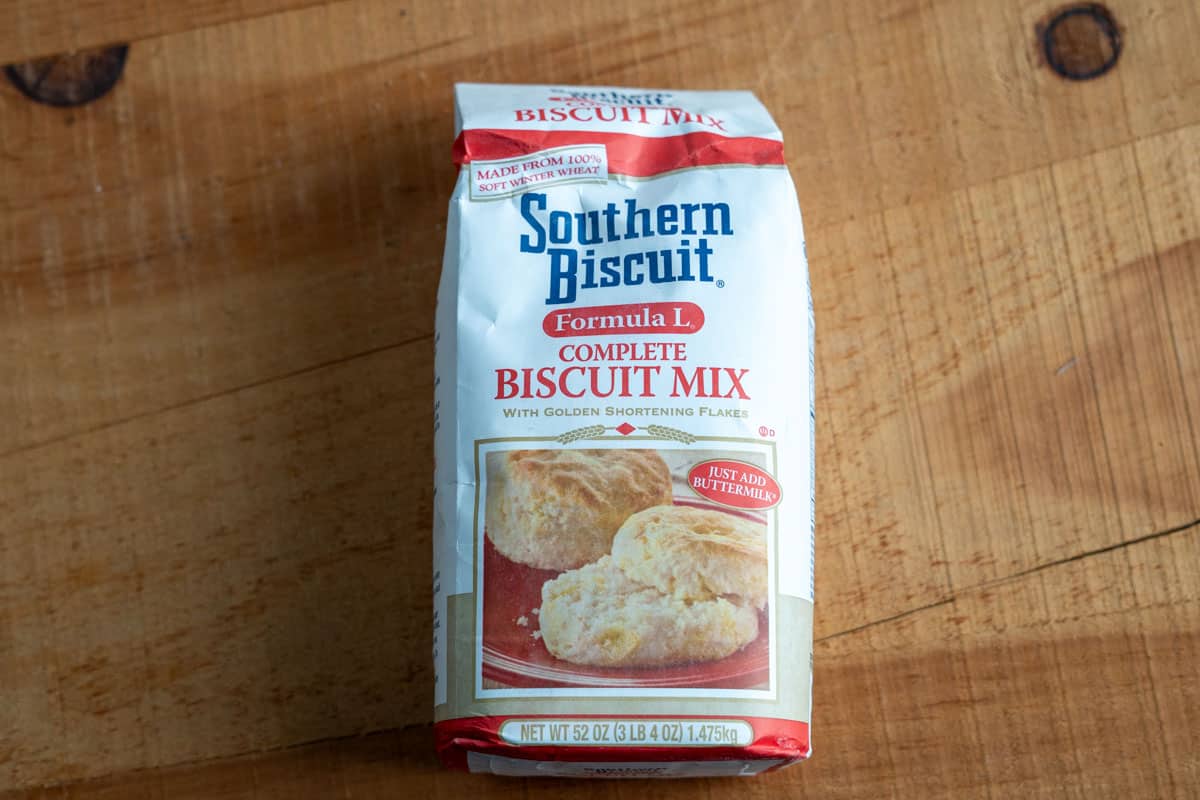 Southern Biscuit Mix - Formula L: I linked to it, but it's cheaper at the store if you live in the South and can find it.
Buttermilk: Full fat, because you only live once.
Equipment
Mixing Bowl: To keep the mess minimal.
Your Hands: Your built-in spatula.
Biscuit Cutter or Mason Jar Lid: Use what you have to cut your biscuits to size. A pint glass will also work in a pinch.
Step By Step
Step 1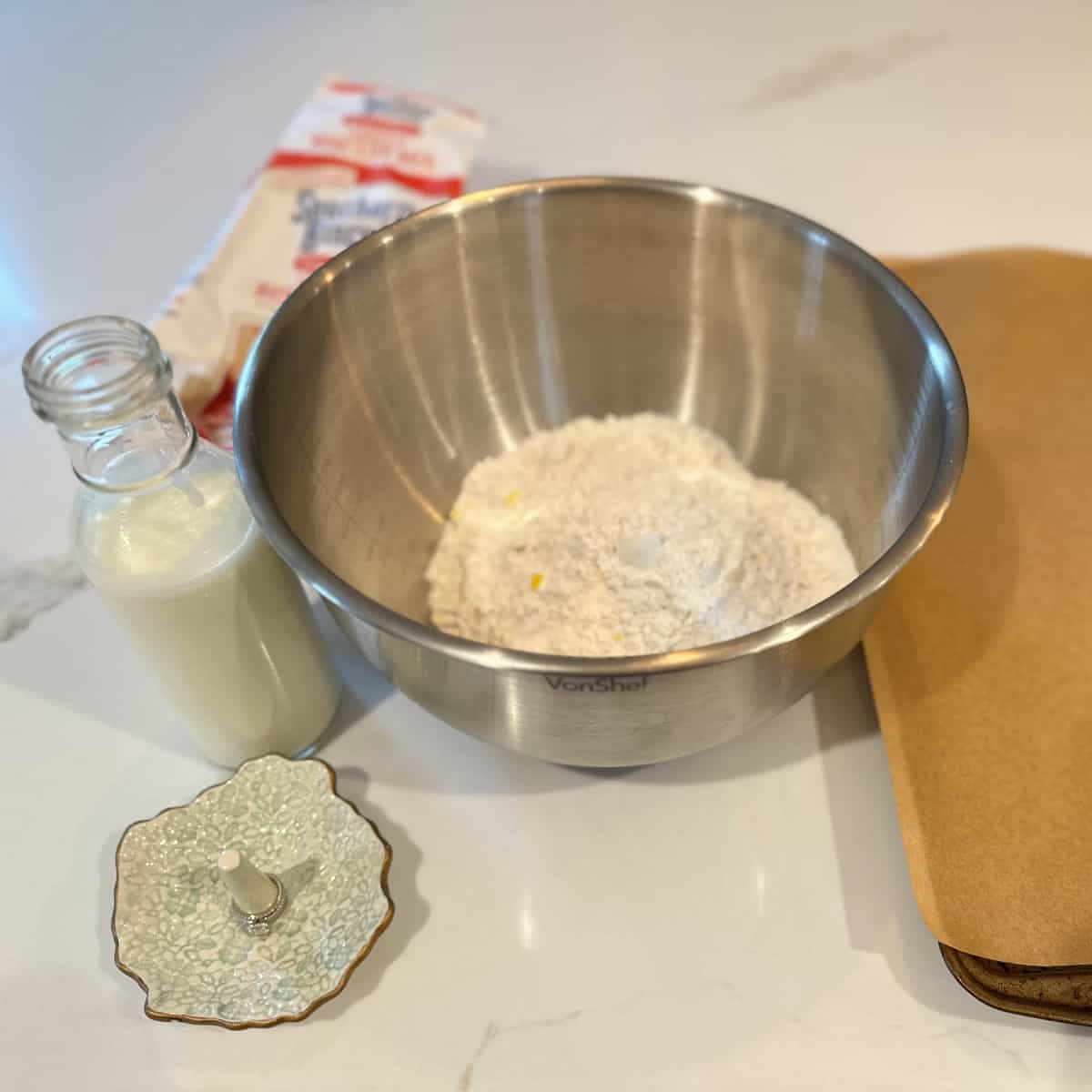 In a large bowl add 3 ¼ cups of biscuit mix. Don't forget to take off any rings as well so they don't get gummed up!
Step 2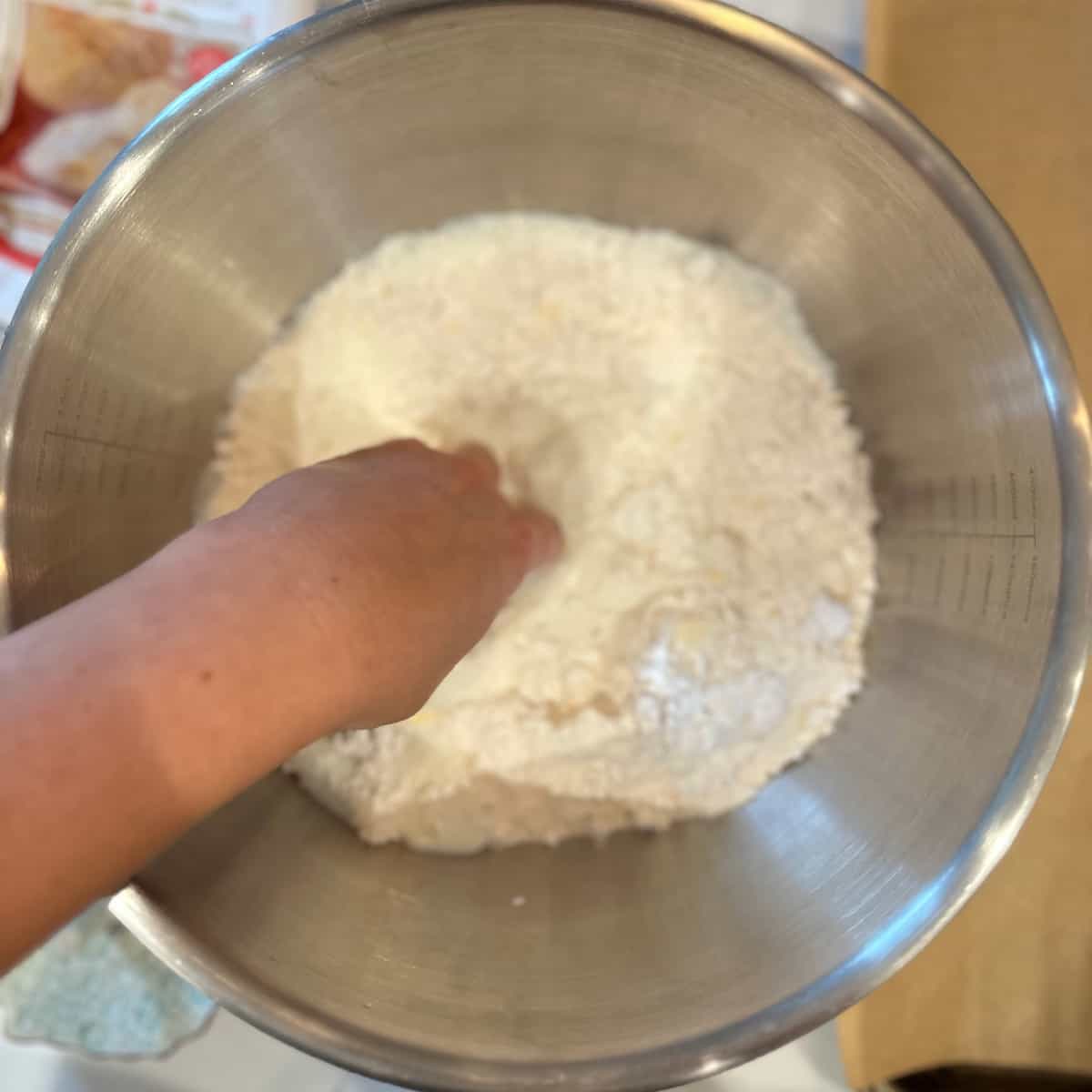 Add 1 ¼ cups of buttermilk, and with a shaggy hand, start to mix together.
Step 3
Sprinkle a little extra biscuit mix onto the counter and turn your bowl over.
Step 4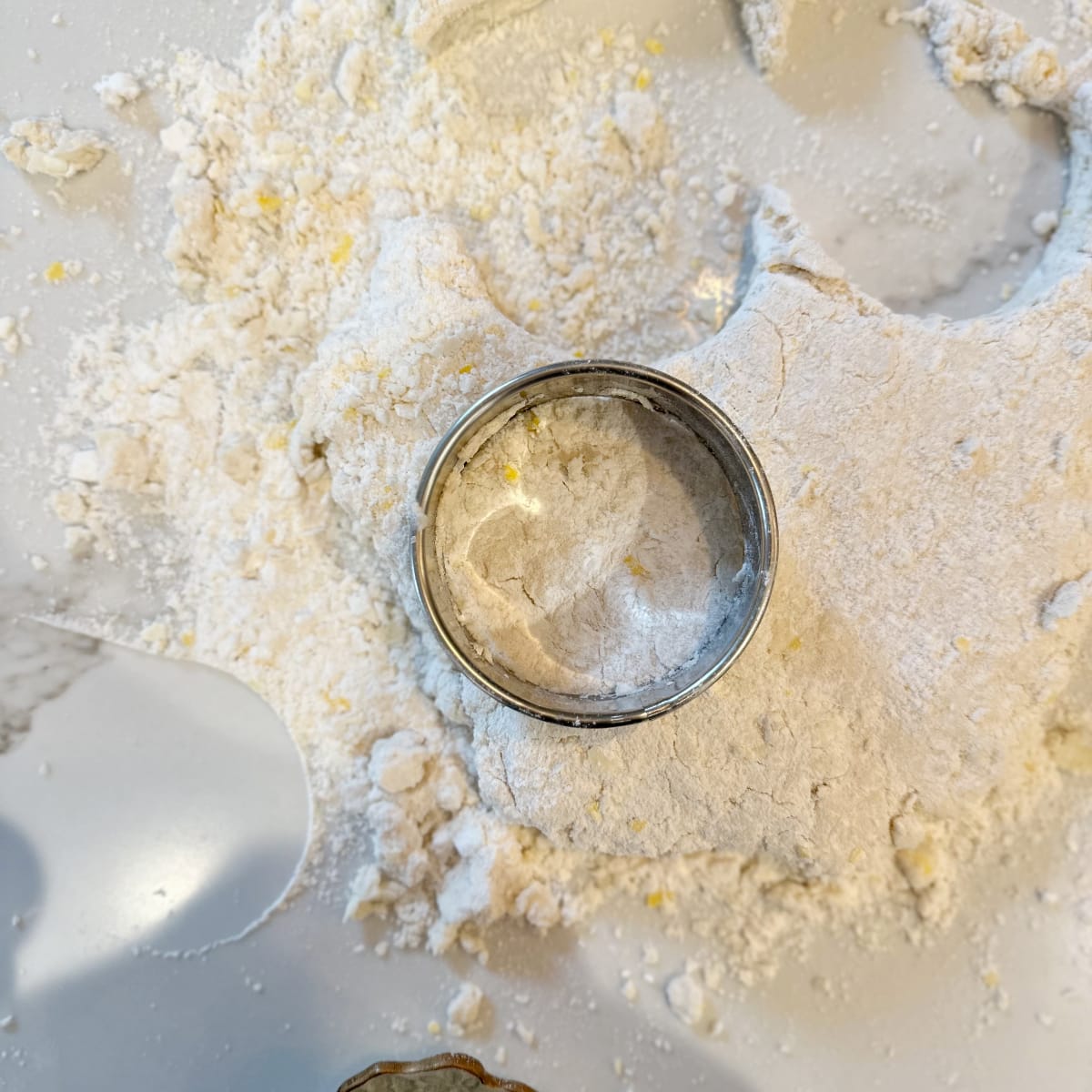 Gentle pat with your hands, until about ½" thick.
Step 5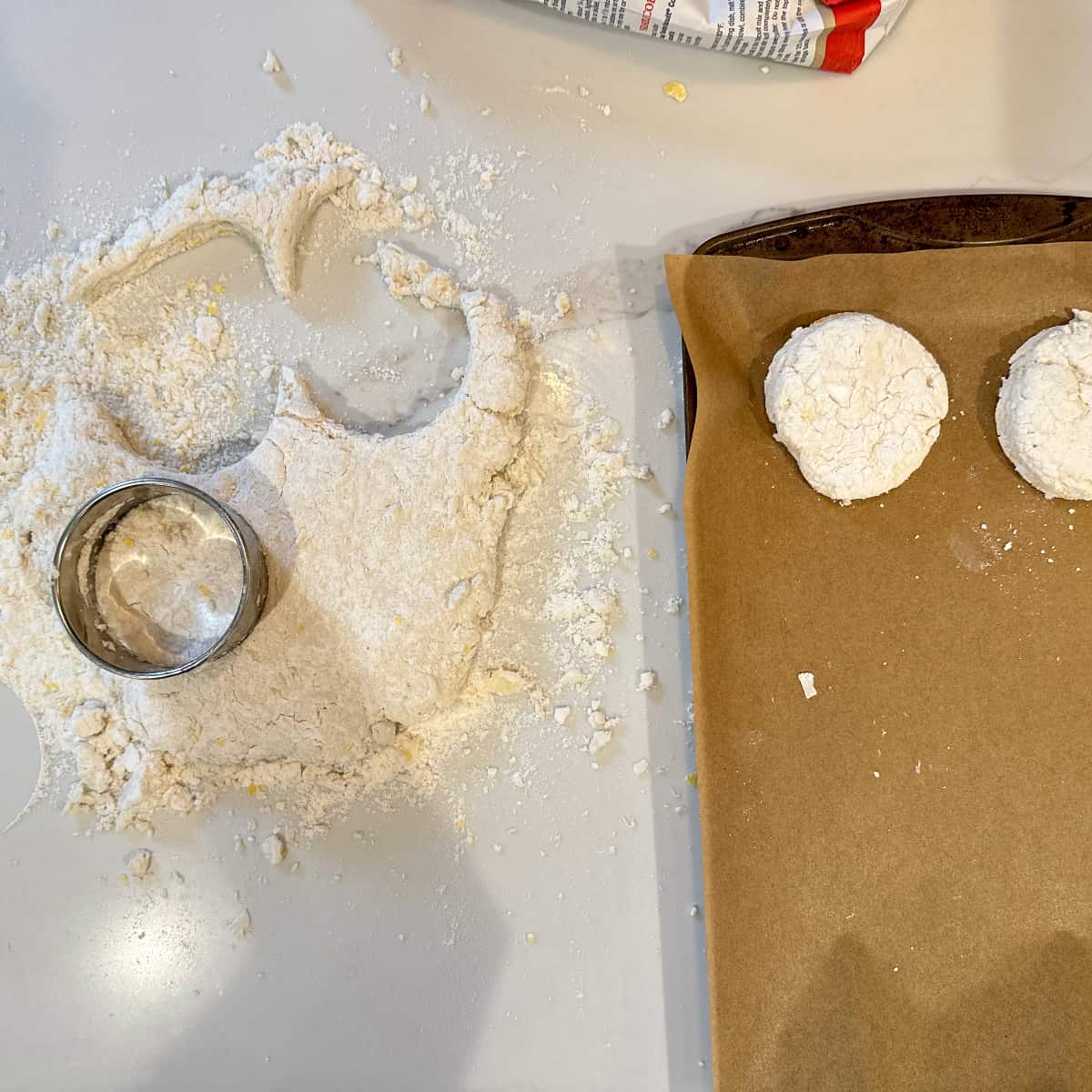 Using a 3" cutter or the lid of a mason jar, cut out your biscuits and move to a lined backing sheet
Step 6
Cook at 425 degrees for about 10-12 minutes or until golden brown.
At this point, you can brush them with a little melted salted butter and eat them right away. Or you can follow along with what we did this particular Saturday morning and make Chorizo Sausage Gravy.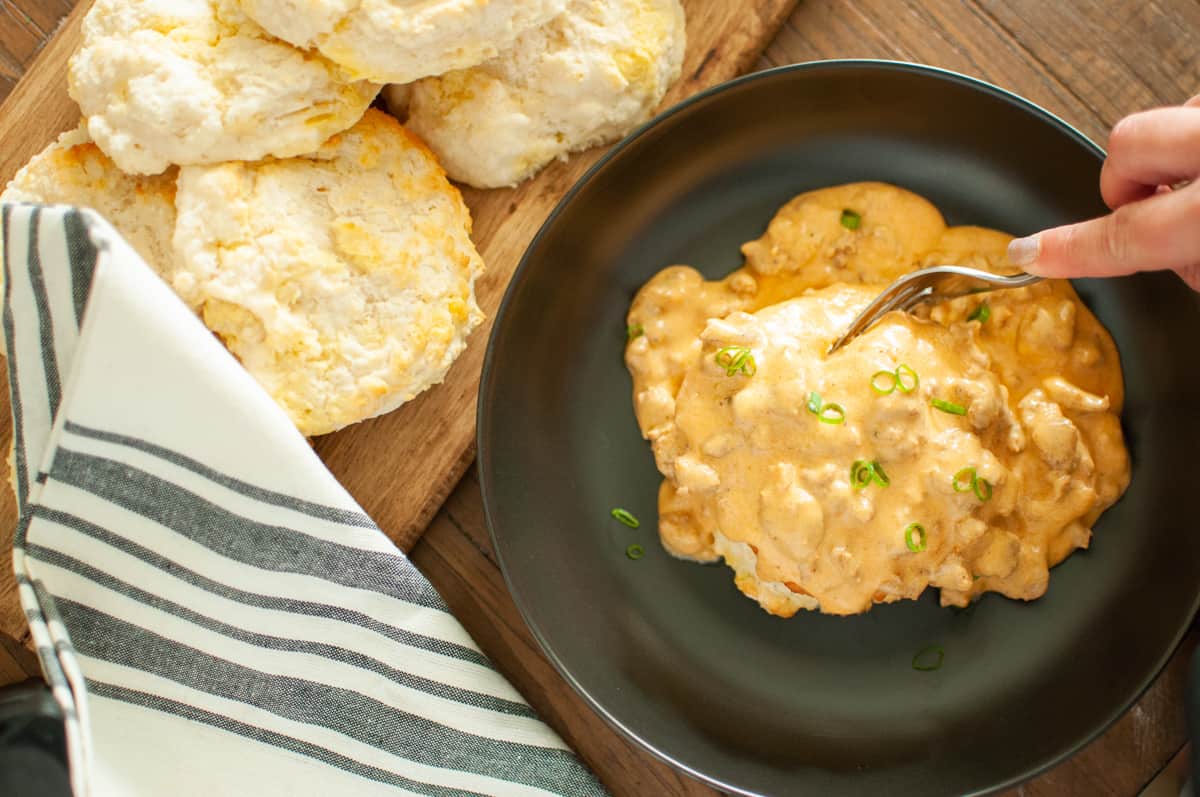 Variations
My brothers and I always joked that Grandad's "secret ingredient" was a little dirt from the garden. Some people think it's super funny, others get really grossed out. Our official recommendation is to wash your hands, haha.
Joking aside, the only thing that makes these biscuits better is being brushed with salted butter as soon as they come out of the oven.
Family Recipe Tips
Ask for the Recipe: When food is your family's love language, make sure to learn the recipe. Write it down, make 10 copies, and lock one in a safe.
I asked my Grandma if I could go through her recipe box a few years back. Sifted through all her handwritten favorites and asked if I could keep them. She thought it was the silliest thing ever. I think it's the best part of the kitchen.
Take Notes or a Video: Recipes are just a list of ingredients and instructions. The hands behind them make them extra delicious. Make sure not to lose the little tips and tricks that make it special.
Make Them Often: Every single time I make these biscuits I think of my Grandad, the cabin, and the best parts of my childhood. Sometimes you need pops of joy, and smell and taste can bring you right back to those perfect little moments.
Serve With
Meet the Family
These are my lovely Grandparents. They brought me homegrown flowers to every musical, play, or pageant when I was little. I'm happy to say Grandma is still going strong! We spent this past Thanksgiving at the family Cabin together, and I made sure to go big.
Grandad passed away before Jon and I got married. He loved to work with his hands, hence gardening and building my favorite place in the world, our Family Cabin. His ashes rest in his garden there. Next to a bench where everyone can still go and talk to him. *actually crying now*
On one of our last trips, I was cleaning out the kitchen cabinets and found the back of the Southern Biscuit Mix package at the bottom of a drawer. I gasped, yelled, and cried. I got a little bit of my Grandad back that day.
Hopefully, you enjoy this recipe and stick around to see what other yummy recipes we design to go along with these treasured biscuits. Love you Grandad!
FAQ
How many biscuits does this recipe make?
Exactly eight 3" biscuits! In our last batch I had absolutely no dough left, with 8 perfect 3" biscuits. The bag mentions it will make twelve 2" biscuits, but we haven't tried that size yet.
📖 Recipe
Grandad's Recipe for Easy Biscuits
This is Grandad's recipe for easy biscuits. With secret ingredients like the perfect biscuit mix, buttermilk, and a whole lot of love.
Equipment
2 Hands

- or whatever you got!

1 Biscuit Cutter

- or mason jar lid

Parchment Paper

- or foil
Notes
Southern Biscuit Mix - Formula L: This particular mix is a staple in Southern kitchens and is the backbone of this recipe. If you can't find it, you can use a blend of all-purpose flour, baking powder, and salt as a substitute. But trust me, the Formula L mix adds that authentic Southern touch. Buttermilk: Using full-fat buttermilk not only adds richness but also reacts with the leavening agents in the biscuit mix to create a fluffier biscuit. If you're in a pinch, you can make your own buttermilk by adding a tablespoon of lemon juice or white vinegar to a cup of whole milk. Hand Mixing: The recipe calls for mixing the dough with your hands. This is crucial. Overmixing with a machine can activate the gluten in the flour, making your biscuits tough instead of tender. Thickness Matters: When patting out your dough, aim for about ½" thickness. This ensures that your biscuits will rise enough but won't turn into biscuit skyscrapers. Temperature: Cooking at 425°F ensures a quick rise and a beautiful golden-brown top. Make sure your oven is fully preheated before popping them in. Butter: Brushing the biscuits with salted butter right out of the oven adds a layer of flavor and gives them a beautiful sheen. It's like the cherry on top! Family Tips: This recipe is more than just ingredients and steps; it's a family heirloom. Feel free to add your personal touches and make it your own. After all, the secret ingredient is always love.
Nutrition
Calories:
279
kcal
Carbohydrates:
37
g
Protein:
6
g
Fat:
12
g
Saturated Fat:
4
g
Polyunsaturated Fat:
1
g
Monounsaturated Fat:
6
g
Trans Fat:
0.1
g
Cholesterol:
10
mg
Sodium:
756
mg
Potassium:
149
mg
Fiber:
1
g
Sugar:
9
g
Vitamin A:
123
IU
Vitamin C:
0.2
mg
Calcium:
149
mg
Iron:
2
mg