Fresh Blueberry Compote screams "Summer is Here!" With peak season for blueberries between June and August, you might be in need of a recipe that will use up lots of blueberries all at once.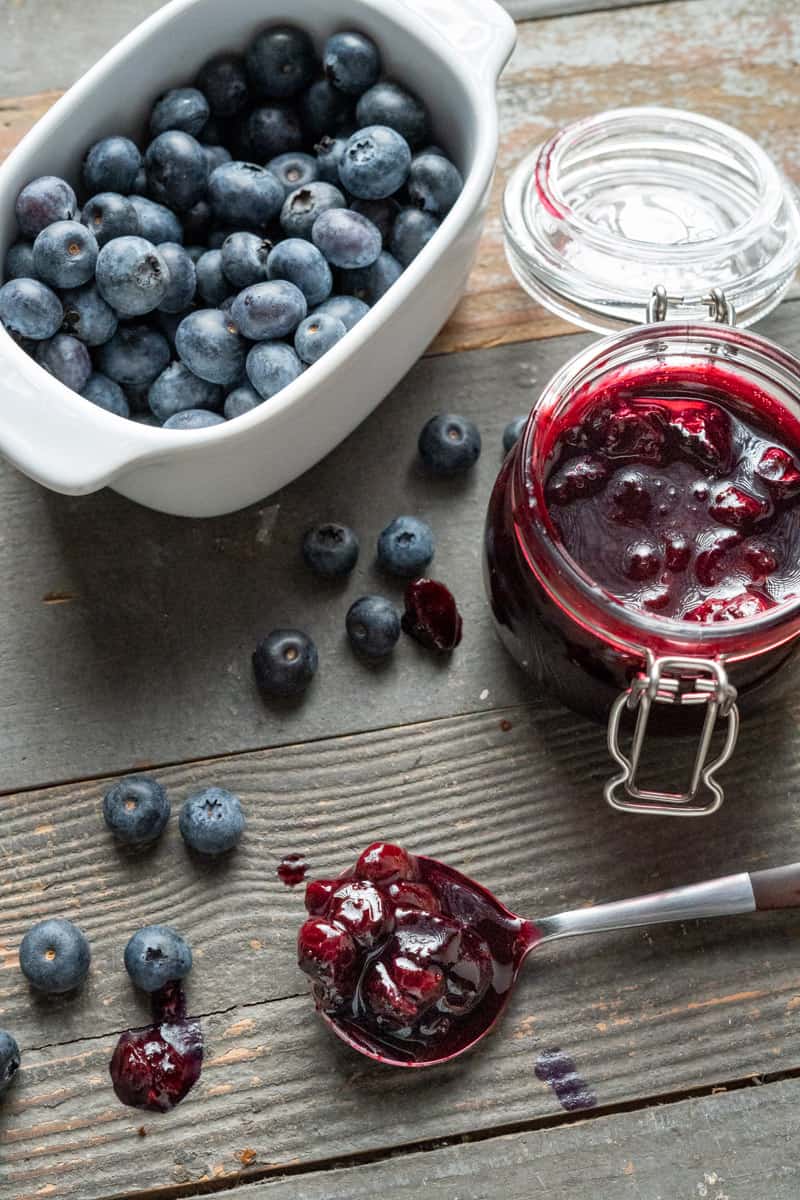 With just a handful of ingredients and minimal cooking time, you can make your own homemade blueberry compote quicker than you think. 
Jump to:
You can make a lot of different fruit compote using the same method/recipe as this one. Raspberry, strawberry, or mixed berries are all great choices. We make them literally almost every weekend with whatever leftover berries we have from lunch boxes.
Pancake Sunday is a big deal around here and now we can't be without compote. So be creative and use what you have in the house, or what's in season at your local farmers market or grocery store.
Ingredient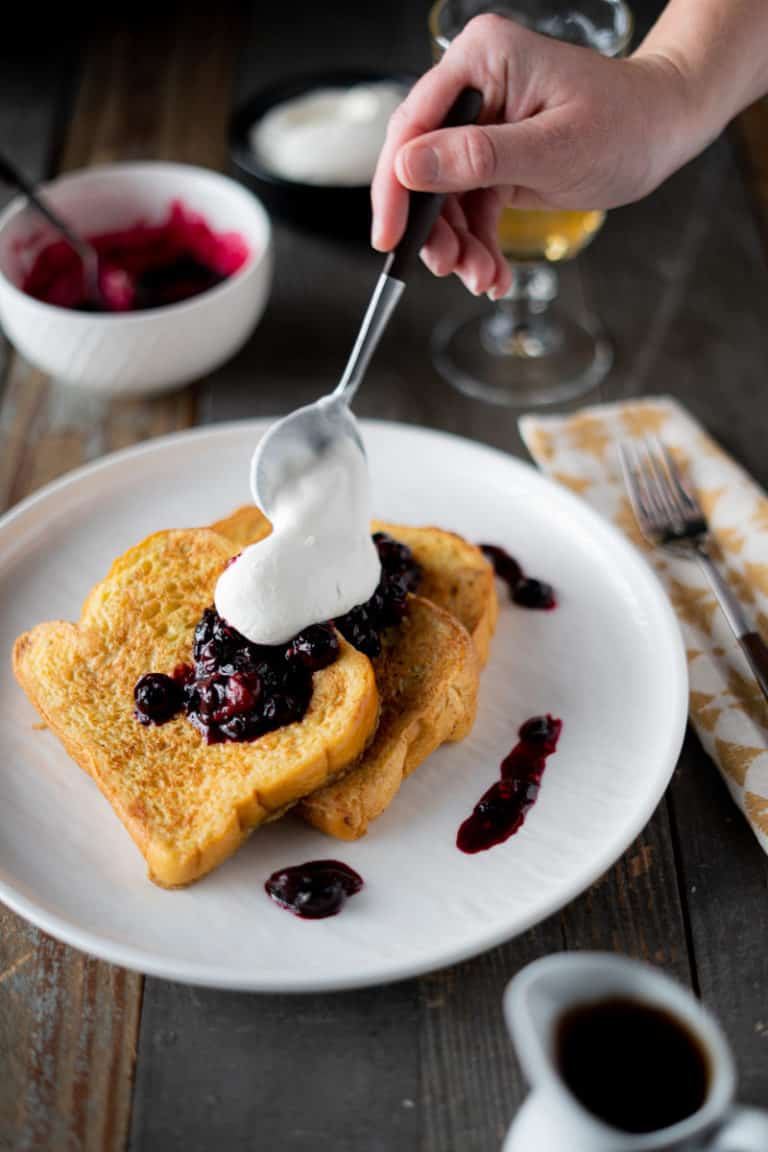 Fresh Blueberries: Fresh is our preferred, but you can use frozen if needed
Sugar: for sweetness, but adjust as necessary, see substitutions below
Lemon Juice: for a pop of acidity
Water: a splash if needed
Cornstarch: optional as a thickening agent, mixed with water for a slurry
You could use a combination of almost any fresh berries in this specific recipe. I have 100% made almost this exact same recipe but swapped out the fruit for strawberries, raspberries, blackberries, and wineberries and it's been amazing. Use what you have!
Instructions
Step 1
Start by washing your fresh blueberries.
Step 2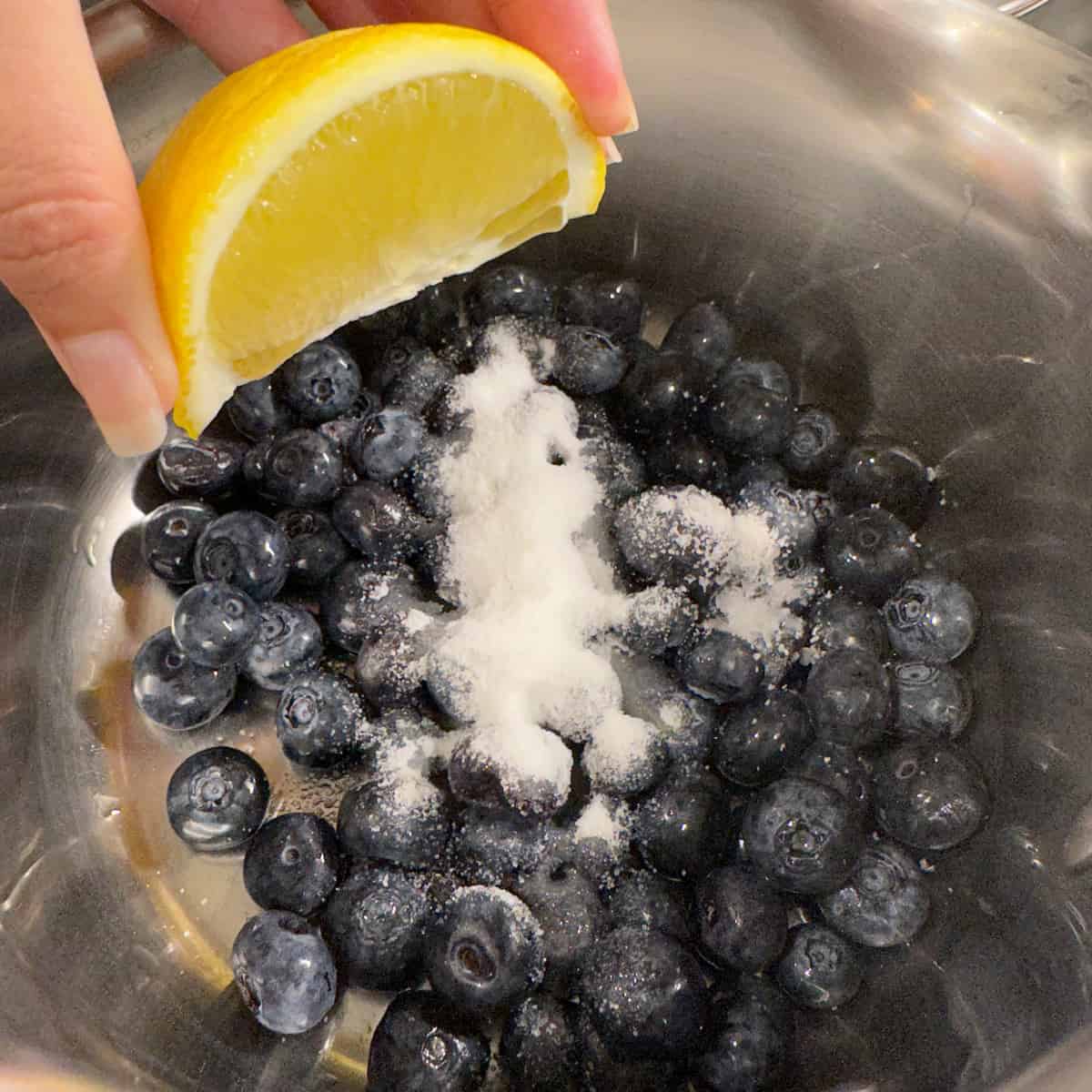 In a small saucepan, combine blueberries, lemon juice, your choice of sugar, and a pinch of salt.
Step 3
Cook on medium-low heat for about 5 minutes, covered, making sure to stir your blueberries every so often.
Step 4
For a thicker consistency, mix cornstarch and water. Slowly, add your cornstarch slurry mixing continuously.
As your compote cools it will naturally thicken as well. If you plan on eating yours warm and you want it thicker, simply add more cornstarch slurry and mix!
Substitutions
Lemon Juice: All out of lemon juice? No worries. Use orange juice in its place to still give it a pop of acidity. We wouldn't however recommend lime as it's a bit too overpowering for the blueberries.
Sugar: There are several sugar alternatives that can be used in place of traditional granulated sugar that you can use while making blueberry compote. When using sugar alternatives, it's important to note that they may have different flavors and textures than traditional sugar, which can affect the final product.
The amount of sweetener necessary may need to be adjusted as well, so start little by little if you're making a substitution...
Honey: Honey is a natural sweetener and can be used in place of sugar in equal parts. It also adds a subtle flavor that complements the blueberries.
Maple Syrup: Maple syrup is another natural sweetener that works well in blueberry compote. Use it in equal parts as a substitute for granulated sugar.
Stevia: Stevia is a low-calorie sweetener that comes from the stevia plant. It is much sweeter than sugar, so use it sparingly. Start with a small amount and adjust to taste.
Agave Nectar: Agave nectar is a natural sweetener that has a lower glycemic index than sugar. It also adds a subtle flavor that complements the blueberries.
Coconut Sugar: Coconut sugar is a natural sweetener that is made from the sap of coconut palm trees. It has a lower glycemic index than sugar and can be used in equal parts.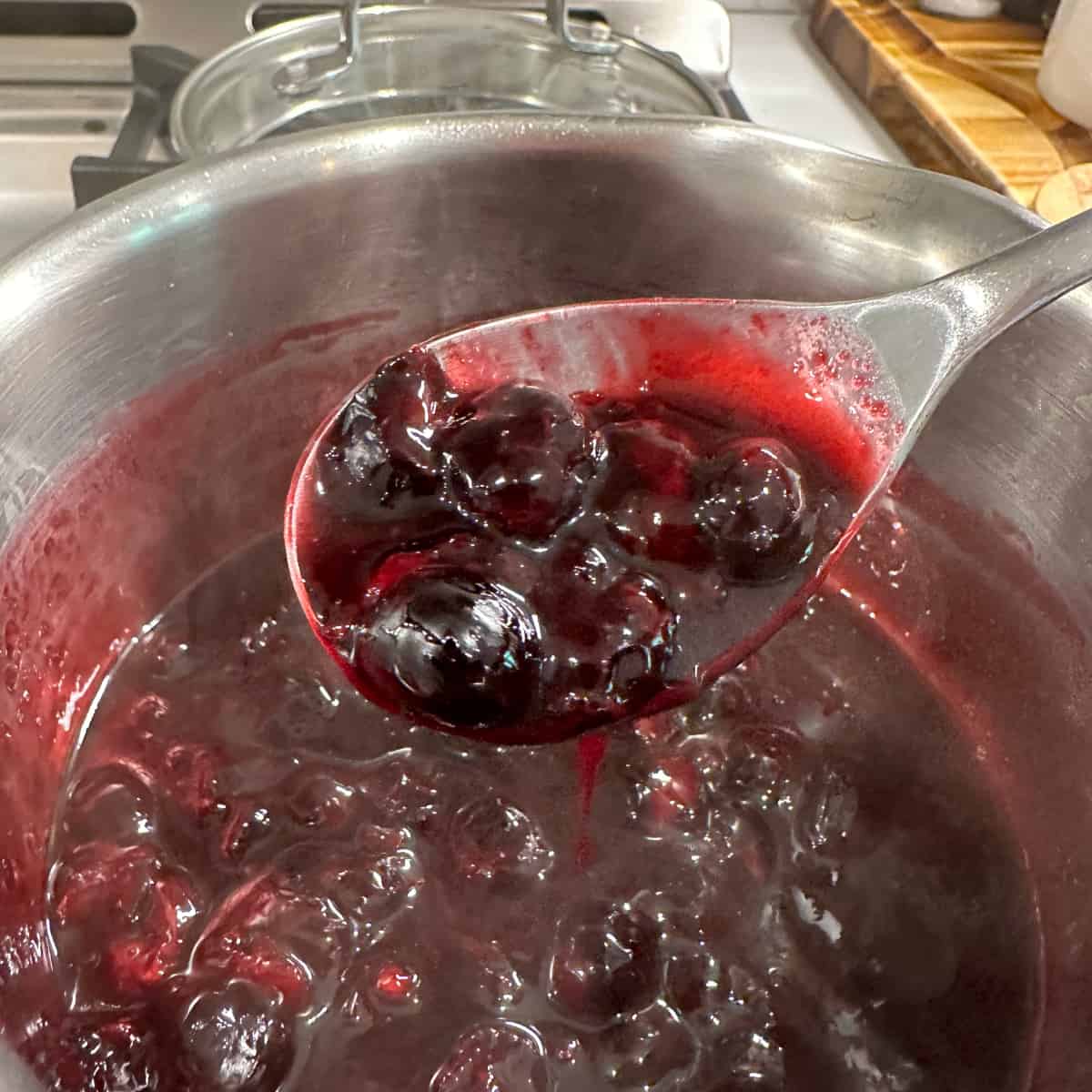 Cornstarch: A little cornstarch isn't the only way to thicken up your sauce. Here are some alternative options you may have around the kitchen.
Arrowroot: Add ½ teaspoon of arrowroot to a small bowl and mix with a splash of water. Stir, and slowly add at the end of cooking.
Gelatin: Add a small amount of gelatin to water, mix, and then slowly add at the end of cooking.
Tapioca starch: Add 1 teaspoon of cornstarch to a small bowl and mix with a splash of water. Stir, and slowly add at the end of cooking
Variations
One of the best things about blueberry compote is that it can be easily customized to suit your personal preferences. You can add other fruits like raspberries or strawberries to the mixture for more of a berry compote, or use less sugar and more lemon for a tart lemon blueberry compote.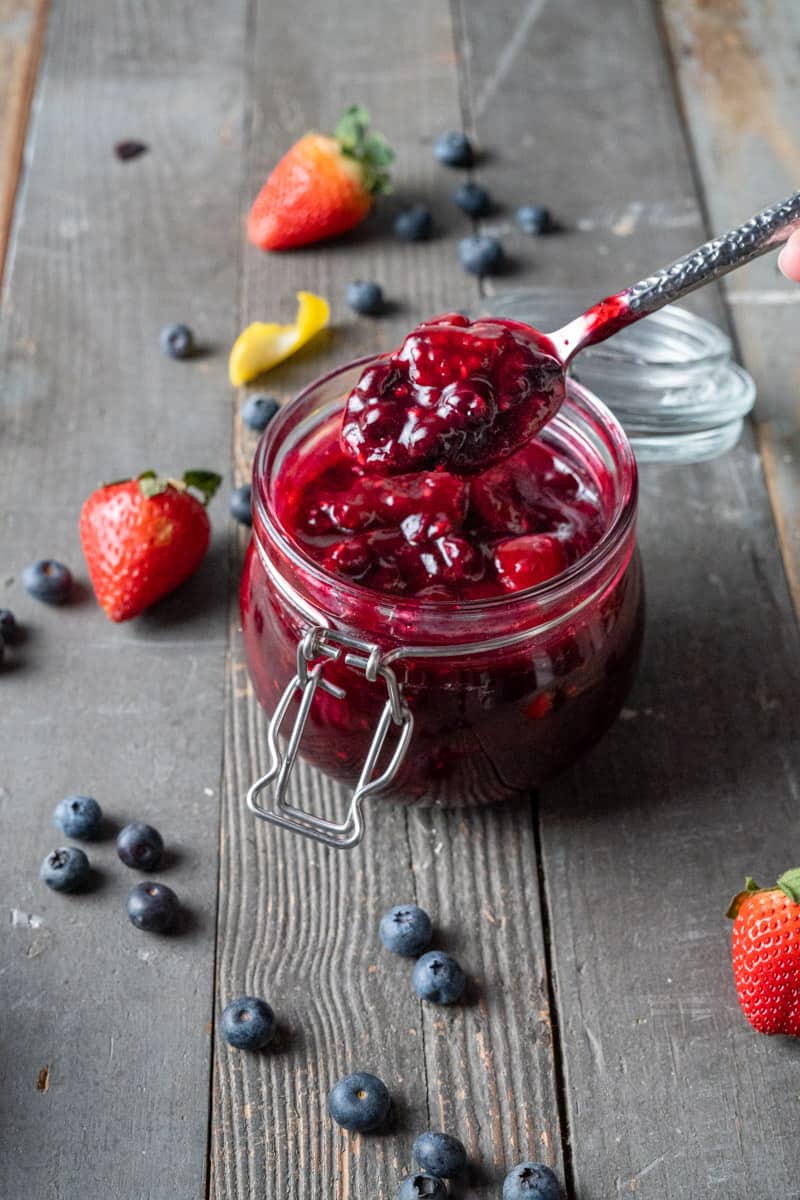 You can use pure maple syrup or brown sugar in place of white sugar for a deep warm flavor, or a splash of vanilla extract for more of a dessert vibe.
We have a strawberry compote recipe available which we love using in very similar ways, as well as a raspberry compote. The recipes are nearly identical outside of some adjustments to the additional sugar being added.
Compote vs. Syrup
Blueberry syrup shares similar ingredients with blueberry compote but with different ratios. The syrup is made by cooking fresh or frozen blueberries with more sugar and water than a compote.
Usually, until the fruit breaks down into much smaller pieces and the mixture thickens into a syrup. Resulting in syrup that is smoother and thin making it perfect for waffle nooks and pancakes.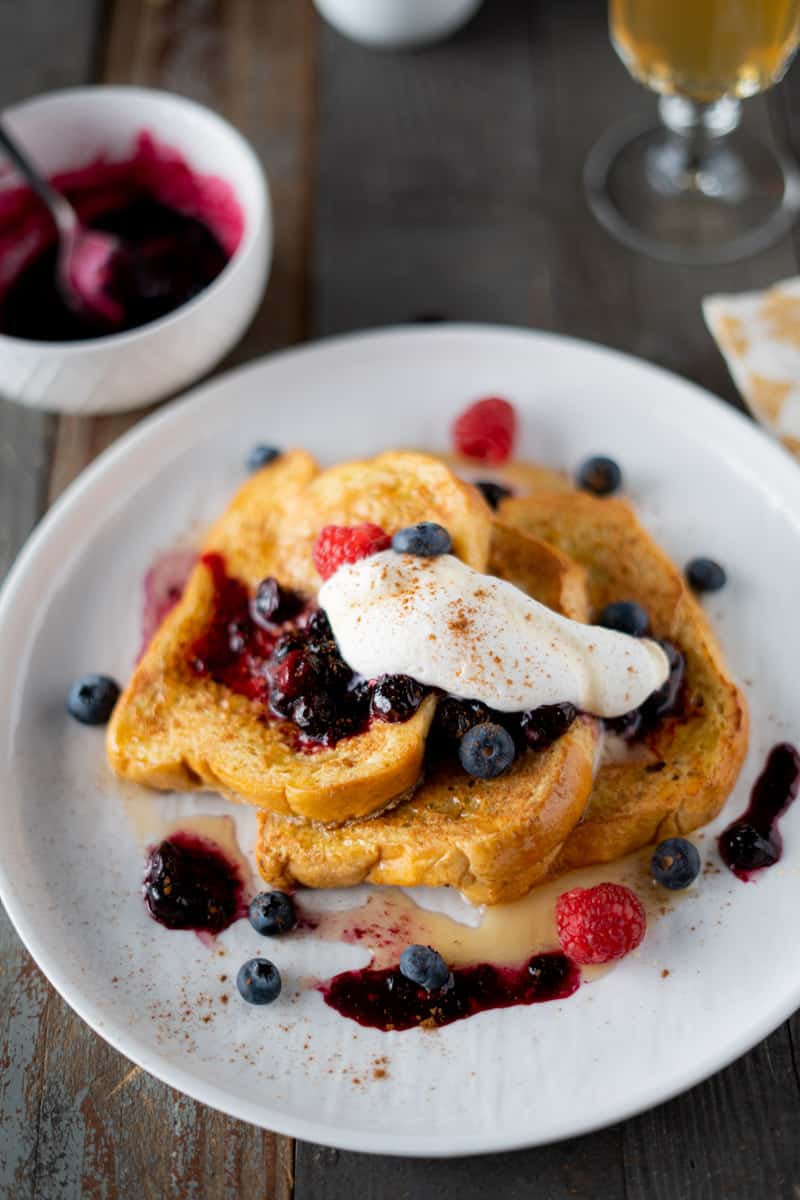 On the other hand, blueberry compote is more of a quick and simple blueberry sauce. Made by cooking the blueberries with sugar and lemon juice for a shorter time leaving it a thicker, chunkier sauce.
Serving
The possibilities are endless as this really is a perfect topping. I threw together a few ideas below. If you make this recipe and use it in a unique, way please share so I can add it to the list! I also attached some recipes below that would pair perfectly.
Storing Your Compote
To store your blueberry compote, transfer it to an airtight container and store it in the fridge for up to two weeks, or freeze it in ice cube trays for longer storage. Then use your leftover blueberry compote on top of pound cake or stir it into rice pudding for a delicious treat. If at any point it smells boozy (like wine or beer) it's time to throw it out.
Whether you are looking for a tasty topping for your morning pancakes or a sweet sauce to top off your favorite dessert, homemade blueberry compote is a wonderful way to add fresh fruit flavor to any dish. With just a few simple ingredients and a little bit of cooking time, you can make a delicious blueberry sauce that will impress your family and friends.
Similar Recipes
👩🏼‍🍳 Chef Tabi Tip
If you have any fresh lemons lying around try adding a little bit of lemon zest as well! It's an extra bright pop that adds more punch than just the hint of lemon juice.
📖 Recipe
Easy Blueberry Compote
Blueberry compote is a simple yet delicious fruit sauce that can be used in a variety of ways, from topping French toast or pancakes to adding flavor to overnight oats or Greek yogurt.
Equipment
Small Sauce Pan

Glass Storage Jar
Ingredients
1

cup

Fresh Blueberries

-

or 5 oz

1

tablespoon

Granulated Sugar

1

teaspoon

Lemon Juice

1

tablespoon

Water

1

teaspoon

Cornstarch

-

optional
Instructions
Add your fresh blueberries, sugar, and water into a sauce pot over medium-low heat.

Cook for 5 minutes making sure to stir your blueberries every 30 seconds or so.

As your compote cools it will thicken naturally. If you plan on eating it warm and you'd like a thicker consistency, mix a little bit of cornstarch in a small bowl with a splash of water.

Slowly add your cornstach slurry into your compote mixing continuously.

Add on top of all your favorite things and enjoy!
Notes
Seasonal Peak: Did you know blueberries are at their juiciest and most flavorful between June and August? Make the most of the season by whipping up this compote during those sunny months. Acidity Balance: The lemon juice in this recipe does double duty! It adds a zesty kick and balances the natural sweetness of the blueberries, giving you a compote with a beautifully complex flavor profile. Natural Sweeteners: If you're opting for natural sweeteners like honey or maple syrup, keep in mind that they may alter the cooking time slightly due to their different water content. Spice It Up: Want a warm, spiced version of this compote? Feel free to add a pinch of cinnamon or nutmeg. It's a game-changer, especially during the cooler months. Freezing Tips: Love this compote so much you made extra? No worries! You can freeze individual portions in ice cube trays for easy use later. Just pop a cube or two whenever you need a fruity boost!
Nutrition
Calories:
28
kcal
Carbohydrates:
7
g
Protein:
0.2
g
Fat:
0.1
g
Saturated Fat:
0.01
g
Polyunsaturated Fat:
0.04
g
Monounsaturated Fat:
0.01
g
Sodium:
1
mg
Potassium:
24
mg
Fiber:
1
g
Sugar:
5
g
Vitamin A:
16
IU
Vitamin C:
3
mg
Calcium:
2
mg
Iron:
0.1
mg