Fresh raspberries are a summertime favorite for so many people (me, I'm the people). If you're my kids you like to put them on the ends of your fingers and pretend to be an alien from outer space. But what do you do when you have leftover fresh berries at the end of the week? Great question. We use them up by making raspberry compote! Less waste, extra flavor = Double Win!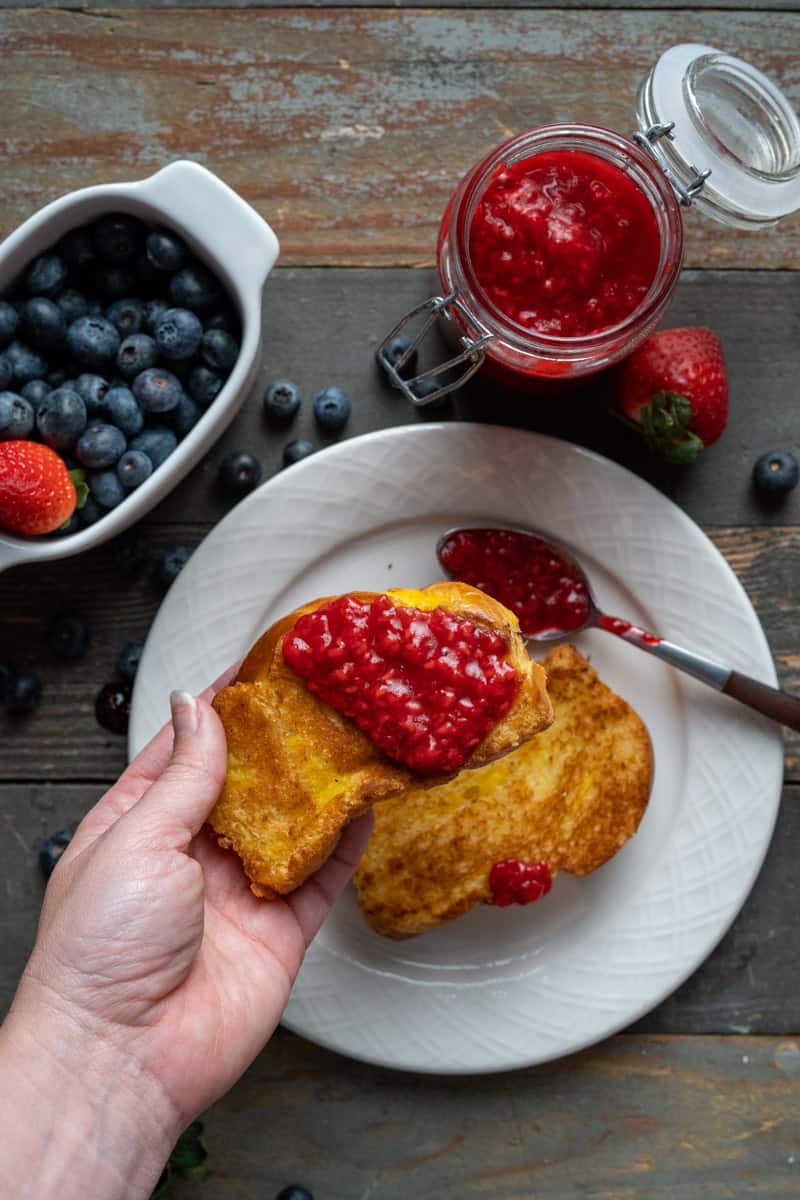 Behind the Scenes: We make some form of compote almost every week. It takes 5 minutes, helps reduce waste, and tastes amazing.
This raspberry compote was inspired by our berry compote recipe, both of which pair well with our Brioche French Toast. My daughter doesn't like blueberries and we were trying to find something just for her, so it all worked out perfectly.
Jump to:
🛒 Ingredients
This is a super easy recipe that comes together in about 5 minutes. Let's go over the ingredients we'll be using...
Fresh Ripe Raspberries
Lemon Juice (or Orange Juice)
Sugar
Cornstarch (optional)
Water
See the recipe card below for all the details and measurements.
📖 Instructions
Whether you've gone for seeds or seedless (making it more of a Coulis style) you should be left with a stunning thick sauce full of fresh fruit, a little sugar, and a whole lot of yum.
In a small saucepan over medium-low heat add your fresh raspberries, lemon juice, and sugar. Mixing to coat, and cook for 4-5 minutes or until the raspberry mixture has broken down.
You may have noticed your sauce has quite a few seeds. While I don't mind seeds in my compote, not everybody loves them. If you'd like a seedless version, simply pour your raspberry mixture through a fine mesh sieve or use an immersion blender to smooth it out. This will give you a smooth sauce, seed free!
To make a thicker sauce you want to add a little bit of a cornstarch slurry. Simply add a little bit of water (or even some of our homemade raspberry sauce) into a small mixing bowl and mix with a little cornstarch until smooth.
On low heat, slowly add the slurry back into your compote, mixing continuously. You should immediately notice the sauce thicken, giving it a nape consistency (fancy word for coating the back of a spoon). Leaving you with a smoother sauce that is just next level.
🍓 Substitutions
Missing an ingredient or do you have a dietary restriction? Here are a few substitutions to help you on your way!
Strawberry - If you are fresh out of raspberries but have strawberries, blackberries, or blueberries this recipe will still work! Naturally sweeter fruits will just require less sugar.
Orange Juice - as a replacement for lemon juice in a pinch.
Honey or Agave - For those trying to stay away from processed sugar, honey or agave would be a great substitute!
🥘 Equipment
Outside of a small pot and a spatula, this recipe doesn't need any special tools. Unless you'd prefer your compote seedless, which would require a blender or sieve of sorts. Even so, minimal tools are required.
Compote vs Coulis: The Search for the Perfect Sauce
To keep it short (and sweet) the main difference between a coulis and a compote comes down to the seeds. A coulis is basically a seedless compote. Now you could do that by pureeing your seeds to oblivion with an immersion blender or removing them via a fine-mesh strainer. Both are delicious, wonderful recipes. It really becomes more of a personal preference.
I recently made a compote bar to go with our Brioche French Toast for a family event. My Father-in-Law specifically didn't eat the raspberry or blackberry due to his dislike of seeds... a case in point. So if you are looking for an easy raspberry coulis recipe, just strain or blend this one, and you're good to go!
Make sure to store your compote in the fridge, sealed, and use it all up within the week. I promise it's not as hard as it sounds 😉
🥡 Storage
To make the most of your compote let's talk about storage. In our kitchen, we love to use a glass airtight container for storage. They clean easily, are naturally BPA-free, and come in different sizes.
The most important thing you'll want to keep in mind is to wait until your compote is at room temperature before closing the lid. If not, you risk the possibility of the glass breaking in the fridge.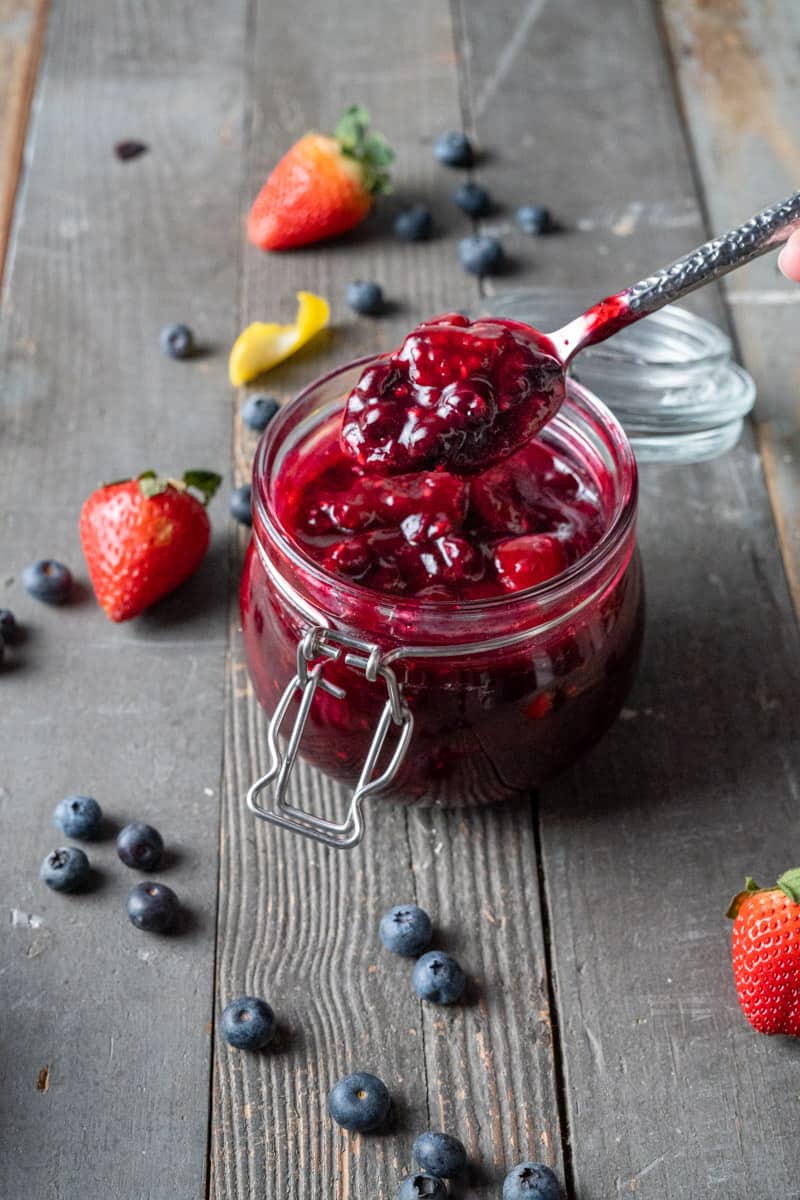 At its core, raspberry compote is nothing more than a simple raspberry sauce that's ready to enjoy in minutes. Next time you find yourself with a surplus of fresh raspberries, give any of these recipes a try and elevate your favorite treats.
👩🏼‍🍳 Chef Tip
If you are having a brunch event make a variety of different compotes. Each sauce takes about 5 minutes to make, all using similar ingredients. Having a variety of homemade gives people options plus it looks gorgeous on the table.
Related
Looking for other recipes like this? Try these...
Pairing
These are my favorite dishes to serve raspberry compote alongside...
📖 Recipe
Easy Raspberry Compote (Sauce) Recipe
Raspberry compote is a simple and delicious sauce made with fresh raspberries, sugar, and lemon juice. Serve this compote warm or chilled. It's great for drizzling over ice cream, pancakes, waffles, cheesecake, or any other sweet treats.
Ingredients
1 ½

Cups

Fresh Raspberries

-

or 8 oz

1

tablespoon

Granulated Sugar

½

teaspoon

Lemon Juice

1

tablespoon

Water

1

pinch

Kosher Salt
Instructions
Add all ingredients to a small pot and place on medium heat.

Cook gentle for 4-5 minutes or until all the raspberries have broken down.

Carefully taste it as it will be very hot, and adjust the sugar as needed. Depending on the ripeness of your raspberries, you may need to add another teaspoon or so.

Move to a glass storage container, and let come to room temperature before putting on your lid and moving to the refridgerator.
Nutrition
Calories:
28
kcal
Carbohydrates:
7
g
Protein:
0.4
g
Fat:
0.2
g
Saturated Fat:
0.01
g
Polyunsaturated Fat:
0.1
g
Monounsaturated Fat:
0.02
g
Sodium:
8
mg
Potassium:
55
mg
Fiber:
2
g
Sugar:
4
g
Vitamin A:
12
IU
Vitamin C:
10
mg
Calcium:
9
mg
Iron:
0.3
mg
Food Safety