Welcome to your new favorite way to elevate breakfast foods, desserts, and more! Today, we're diving into a quick Berry Compote that's the perfect addition to everything from French toast to vanilla ice cream. This easy recipe uses simple ingredients and takes no time at all.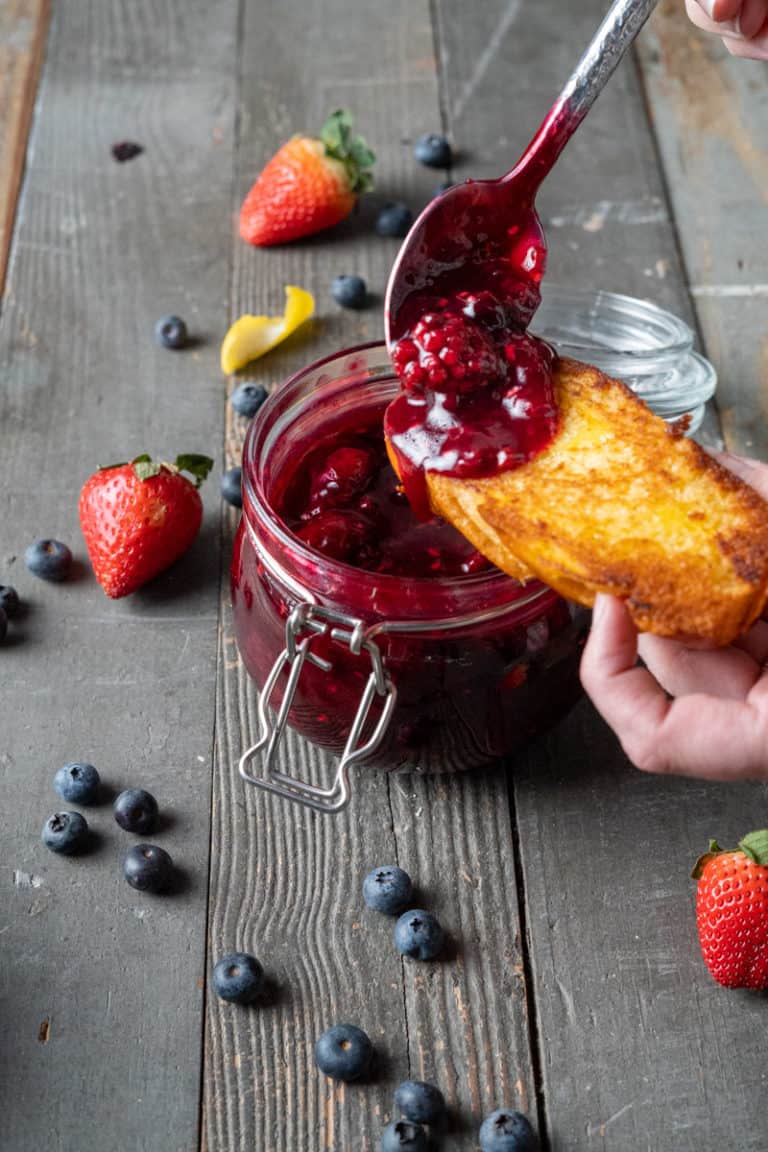 We find ourselves making this compote almost every time we have leftover berries from the kids' lunchboxes. It's a fantastic way to cut down on food waste while whipping up something scrumptious. Trust us, once you try this, you'll be way more excited to see leftover fruit in your fridge. Let's get started!
Jump to:
Ingredients
Mixed Berries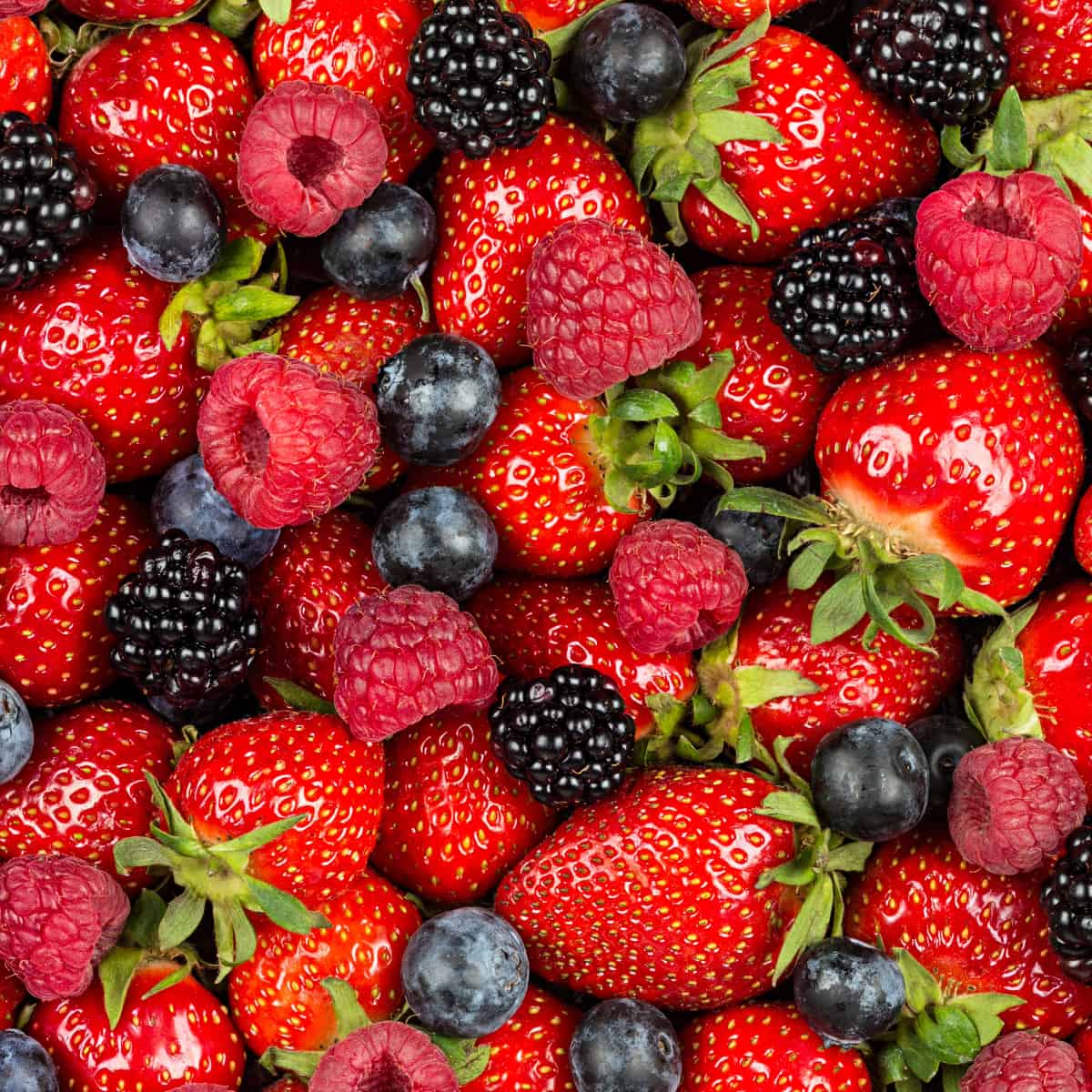 The star of this fruit compote recipe, mixed berries bring vibrant colors and natural sweetness. You can use fresh berries or frozen berries, depending on the time of year. We love a mix of fresh strawberries, blueberries, raspberries, and blackberries.
Sugar
A little sugar goes a long way in enhancing the flavors. Brown sugar is a great option for a deeper, molasses-like sweetness.
Substitution: Maple syrup can be used as a natural alternative to sugar, adding a rustic, woodsy flavor to the compote.
Fresh Lemon Juice
A little lemon juice adds a touch of acidity, balancing out the sweetness. If you're feeling adventurous, try adding some lemon zest or even orange zest for an extra zing.
Vanilla Extract
Vanilla adds body and an extra layer of flavor to the compote. Adding it gives me Disney Berry Compote vibes from when we stayed at Disney's Port Orleans Resort.
Cornstarch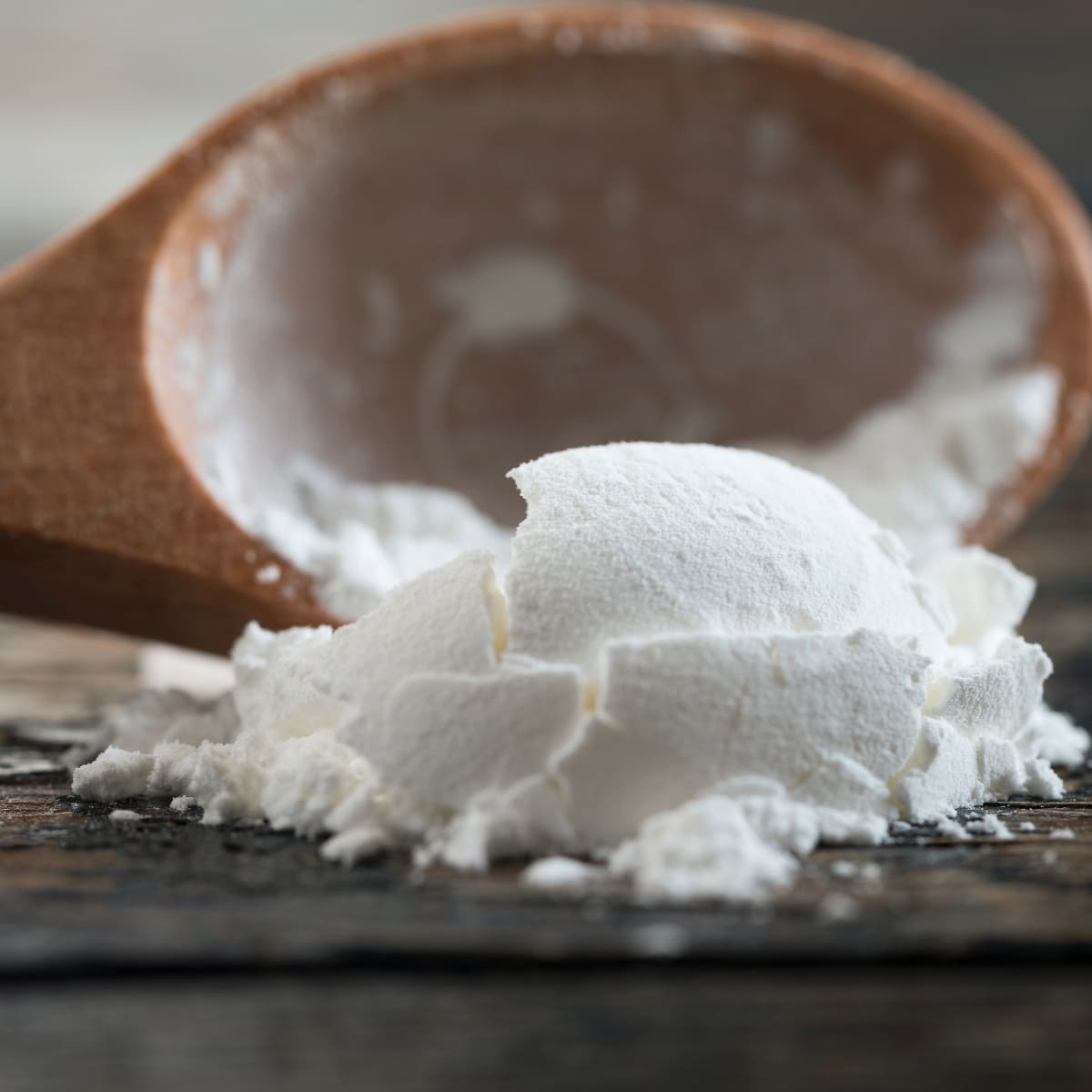 A simple cornstarch mixture is your go-to for thickening up the compote to your desired consistency. However, if you have a corn allergy, this can be left out without much fuss.
Substitutions: If you have a corn allergy, this can be left out. Alternative thickening agents include arrowroot powder or a chia seed slurry.
Add-Ins & Substitutions
Spices: Cinnamon or nutmeg can be added for extra depth.
Salt: A pinch of salt can balance flavors and enhance the natural sweetness of the berries.
Water: A little water can help if you find your sauce reduced to much or thickened too much.
Equipment List
Medium Saucepan: For simmering the berry mixture.
Wooden Spoon: Perfect for stirring without scratching your saucepan.
Measuring Cups and Spoons: Essential for getting your proportions just right. A kitchen scale is also helpful as we provided fruit weights as well.
Optional: Potato Masher, if you prefer a less chunky fruit sauce.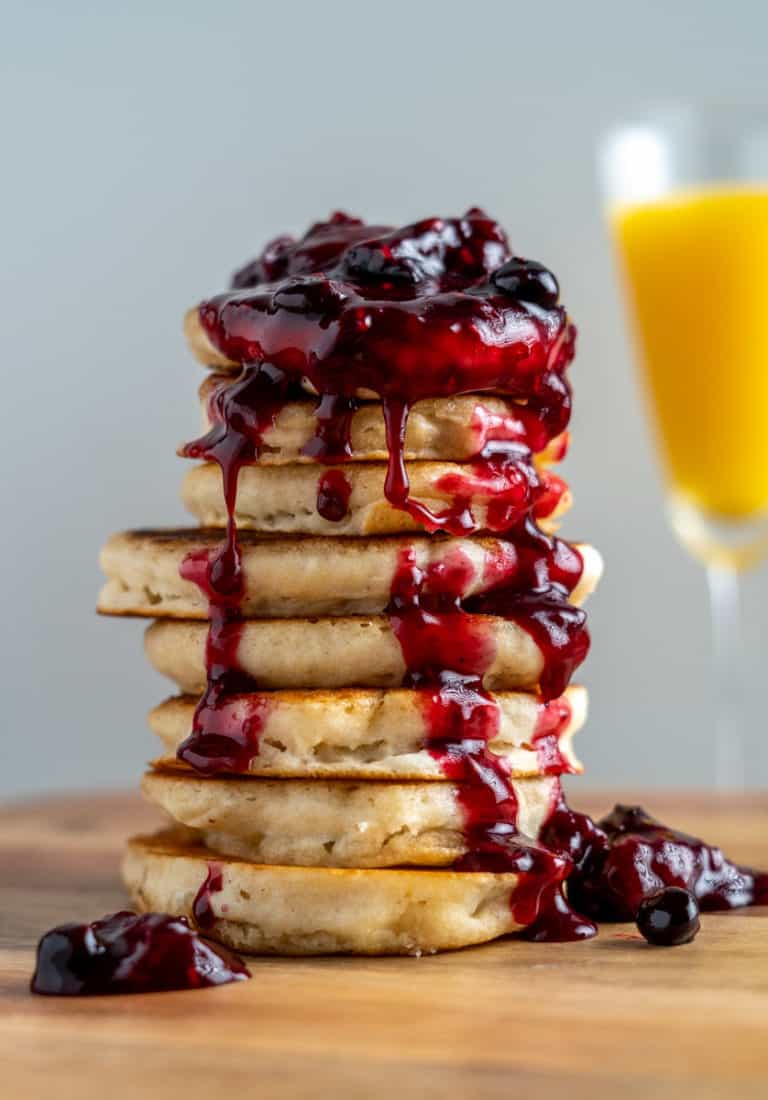 Step-by-Step Instructions
Preparing the Berries
In a large bowl, start by washing your fresh berries under cold water. If you're using whole fruit like strawberries, go ahead and cut them into smaller pieces. Once they're clean, and chopped as you're ready!
Combining Ingredients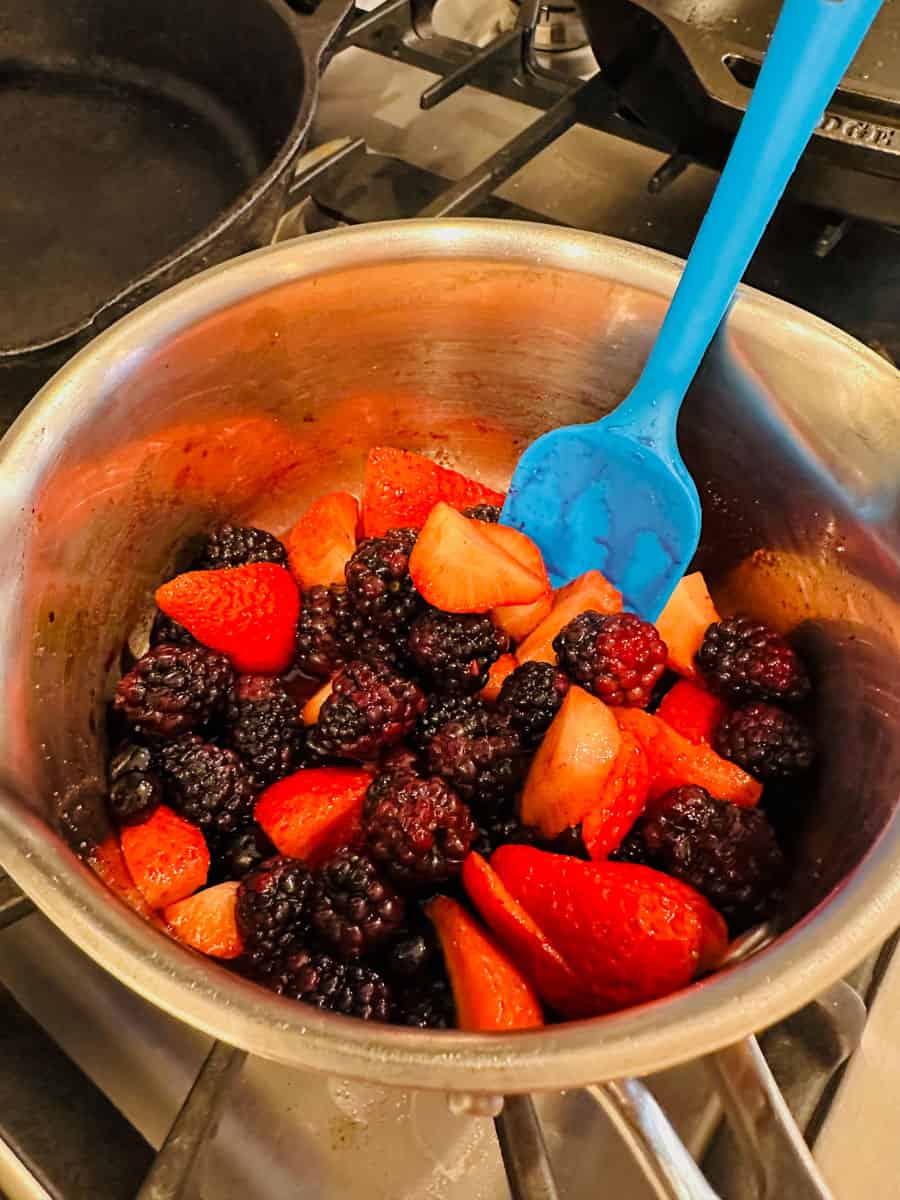 Place your mixed berries, sugar, lemon juice, pinch of salt, and a bit of water into a medium saucepan. Mix all together with a wooden spoon or rubber spatula.
Simmering
Cook the compote mixture over medium heat until it starts to bubble. Reduce the heat to medium-low and let it simmer, stirring occasionally. Once simmering you can add your cornstarch slurry (cornstarch and a splash of water) to thicken. Remember to mix continuously as you add your slurry to make sure you don't get cornstarch clumps.
We also like to smush some of our berries to add body to the sauce. However, leaving some of the larger blackberries or strawberries whole will give the finished product a beautiful finish.
Last add your vanilla, taste, and add another pinch of salt if needed.
Cooling and Storing
Room Temperature: Once your compote is done cooking, remove it from the heat and allow it to cool to room temperature. This is important because cooling it too quickly can affect its texture and flavor.
Stir Occasionally: As it cools, give it a gentle stir every now and then with a wooden spoon. This helps with cooling and prevents skin from forming on the top.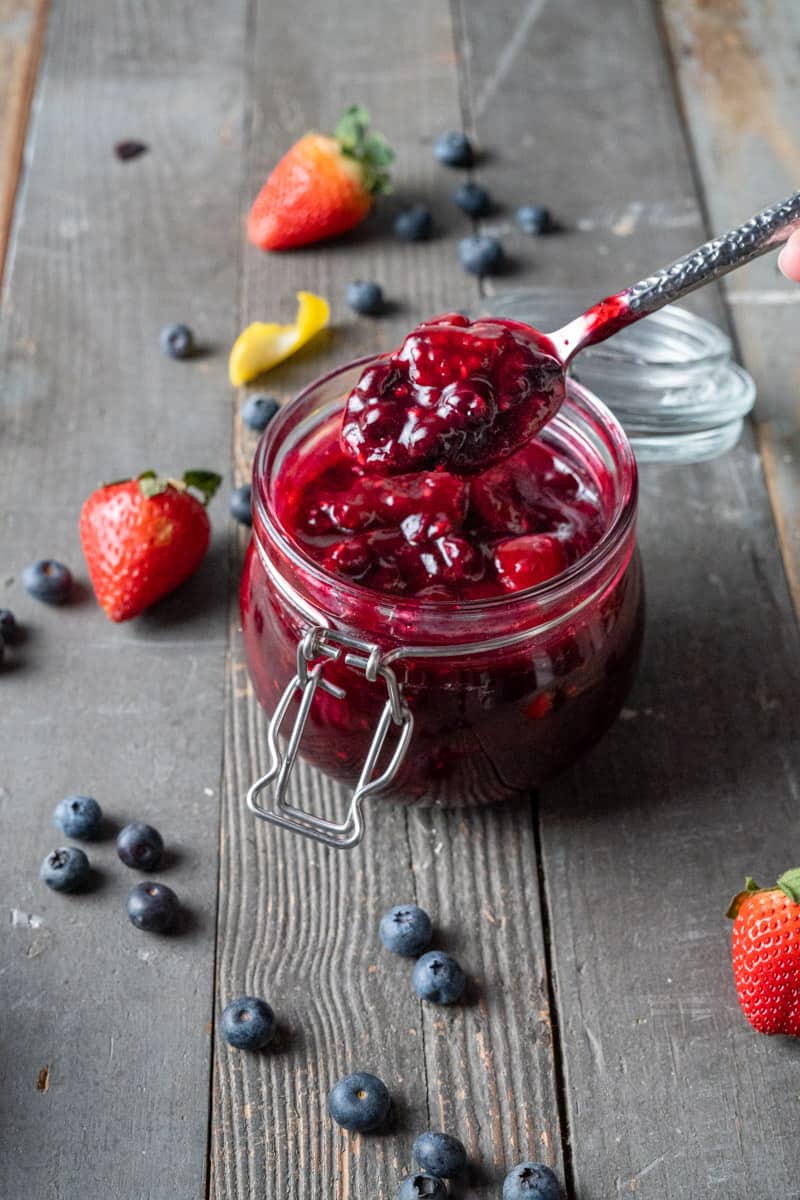 Storing Your Compote
Airtight Container: Transfer the cooled berry compote into an airtight container. Mason jars work wonderfully for this and add a rustic touch. I also love glass pop-top-style containers with a rubber seal.
Refrigeration: Store your compote in the refrigerator for about a week.
Freezing: For longer storage, you can also freeze the compote. Just make sure to leave a little bit of space at the top of your container for expansion.
Label and Date: Labeling and dating your stored items is always a good idea. That way, you'll know exactly when you made it and how long it's been stored.
Video
Compote vs Coulis
Both compote and coulis are fruit-based sauces. They generally use similar ingredients like fresh or frozen fruit, sugar, and some form of citrus juice like lemon or orange juice. Ever wondered what sets a compote apart from a coulis, jam, jelly, or preserve? Let's break it down:
Differences
Texture: Compote is a chunky fruit sauce that retains pieces of the original fruit. Coulis, on the other hand, is a smooth, strained sauce.
Cooking: Compotes are usually cooked, allowing the natural pectin in the fruit to thicken the sauce. Coulis can be cooked or raw, often requiring additional thickeners like simple syrup.
Use: Compote is versatile, and great as a topping for breakfast foods or desserts. Coulis is often used as a decorative drizzle or a base for other sauces.
Compote vs. Jam, Jelly, & Preserves
Jam: Made from crushed fruit and sugar, cooked down to a spreadable consistency. It's less chunky than compote but not as smooth as jelly.
Jelly: Made from fruit juice and sugar, resulting in a clear, smooth spread.
Preserves: Similar to jam but contains larger chunks of fruit or whole fruit, like berries.
Tips and Tricks
Sweetness: Adjust the sugar to your liking. Fruit that is in season, and at its peak of ripeness is naturally more sweet. This means you could use less added sugar or even substitute alternatives like coconut sugar if you prefer.
Thickening: A cornstarch slurry or chia seeds can be added for a thicker sauce.
Variations: Feel free to experiment with different ways to flavor your compote. Orange juice can be used instead of lemon for a different twist.
Serving Suggestions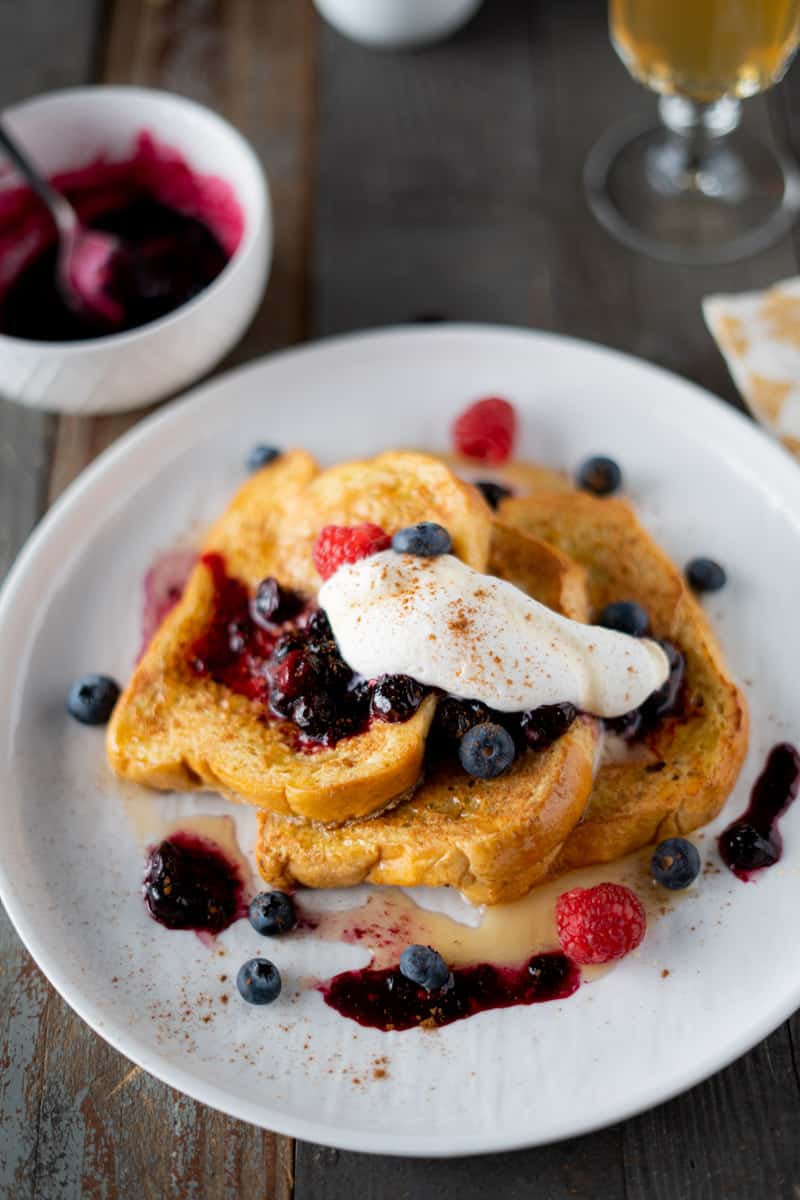 This delicious sauce is the perfect topping for a range of dishes. Here are some of our favorites:
Breakfast: French toast, pancakes, or chia puddings.
Desserts: Vanilla ice cream, pound cake, or angel food cake topped with whipped cream.
Others: It even works as a delicious dessert sauce over brie on a cheese board or as a simple syrup in cocktails.
This easy mixed berry compote recipe is a great way to add a burst of flavor to various dishes. It's a simple sauce made from simple steps, and it's the perfect way to use fresh fruit or clean out all your leftover frozen berries. So, give it a try for the first time, and don't forget to leave a star rating on the recipe card!
Similar Recipes
📖 Recipe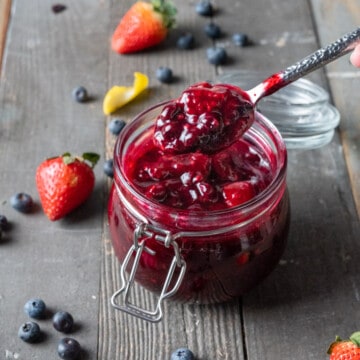 Berry Compote
Perfect for topping pancakes, yogurt, or ice cream. Made with fresh berries and a touch of sweetness, this berry compote it's the perfect comfort food.
Ingredients
6

oz

Strawberries

6

oz

Blueberries

2

oz

Raspberries

2

oz

Blackberries

¼

cup

Granulated Sugar

1

teaspoon

Lemon Juice

¼

teaspoon

Vanilla Extract

Water

1

tablespoon

Cornstarch

-

optional

pinch

Kosher Salt
Instructions
In a small pot mix everything except the vanilla & the cornstarch.

Cook on medium-low heat for 5 minutes, stirring every minute.

Once removed from heat, add your vanilla & taste.

If you prefer your sauce to be thicker in consistency, pour a small about of liquid from your compote into a small bowl and mix it with the cornstarch.

Slowly mix your cornstarch/berry mixture back into your sauce until it coats the back of your spatula or spoon.

Enjoy it right away, or store it in a sealed container in the fridge.
Nutrition
Calories:
429
kcal
Carbohydrates:
107
g
Protein:
4
g
Fat:
2
g
Saturated Fat:
0.1
g
Polyunsaturated Fat:
1
g
Monounsaturated Fat:
0.2
g
Sodium:
6
mg
Potassium:
575
mg
Fiber:
14
g
Sugar:
81
g
Vitamin A:
253
IU
Vitamin C:
145
mg
Calcium:
69
mg
Iron:
2
mg