Breakfast is the most important meal of the day. It can also be the most luxurious, especially when you have Brioche French Toast on the menu. This easy recipe takes regular French toast and transforms it into something extraordinary. A delicious breakfast that's perfect for a special occasion, or when you just want to spoil your loved ones with something special.
Jump to:
🛒 Ingredients
Here is a quick list of everything you're going to need. The full recipe can be found below with all the measurements.
Brioche Bread or Brioche Loaf - sweeter & lighter than normal bread
Whole Milk
Eggs
Vanilla
Cinnamon
Real Butter for Frying
Pure Maple Syrup, for serving
Fresh Berries, for serving
📖 Instructions
In a shallow dish like a 9x9 Pyrex or pie dish, whisk together the eggs, milk, and vanilla extract. This forms your sweet egg custard mixture.
Melt a tablespoon of butter in a large skillet over medium heat.
One at a time, dip your brioche slice into your egg mixture and say "1 Mississippi", flip it over, and repeat. If you're using stale bread, you might need to let it soak a bit longer. Our flavored egg mixture will soak into our brioche. If you let it sit for too long, your French toast will be soggy. Too short, and it won't be custardy all the way through! One Mississippi guys!
Once the butter has melted, add your soaked brioche slices. Be sure not to crowd the pan; you might have to work in batches. Cook each side until it is a delicious golden brown, about 3 to 4 minutes per side.
Serve your perfect French toast hot, with a generous drizzle of maple syrup and a scattering of fresh berries.
🍞 Sourcing Your Brioche
The very first step will be finding a loaf of brioche in your local grocery store. Bonus points if you find one with vanilla swirls pictured below, chocolate chips, or cinnamon swirls. The Vanilla Brioche Loaf from Aldi is hands down my favorite.
Our local grocery store has been carrying the St Pierre brand lately for around $5 a loaf. It comes with 18 slices which should be enough for 4 adults to have 4 slices each.
If you go the brioche loaf style, I like to make pretty thick slices. That will end up only making about 3 servings out of one loaf.
🍳 Equipment
A non-stick pan is an absolute but if you are a big breakfast person in general, I would suggest using a non-stick flattop like the one below. This is how we make all our pancakes, french toast, and even quesadillas for family meals. It's big, it's easy to clean, and we can get done cooking in ⅓ of the time.
BELLA XL Electric Ceramic Titanium Griddle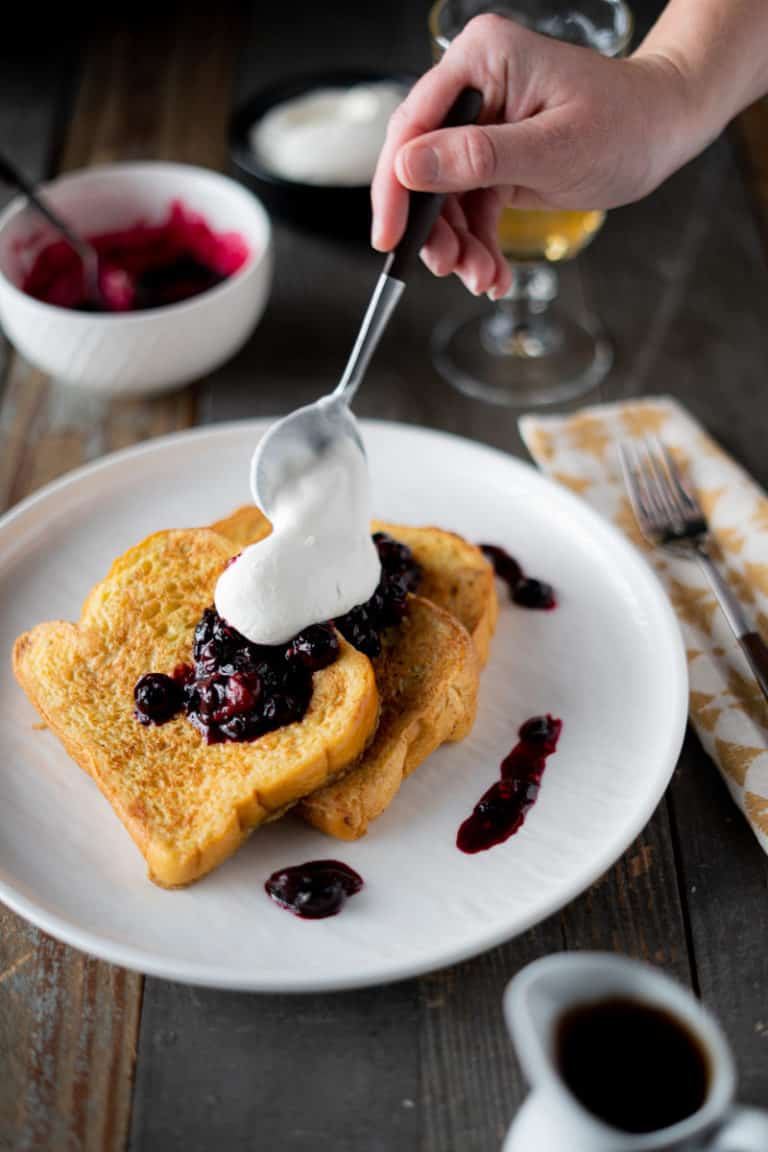 🍥 Topping & Garnishes
Cinnamon Sprinkle
Fresh Berries
Maple Syrup
Homemade whipped cream is made so often in our house that my kids now make it by themselves, without measuring as it's become second nature. I'd be mad, but really I'm just proud. We always add it to our pancakes, ice cream, waffles, and of course Brioche French toast.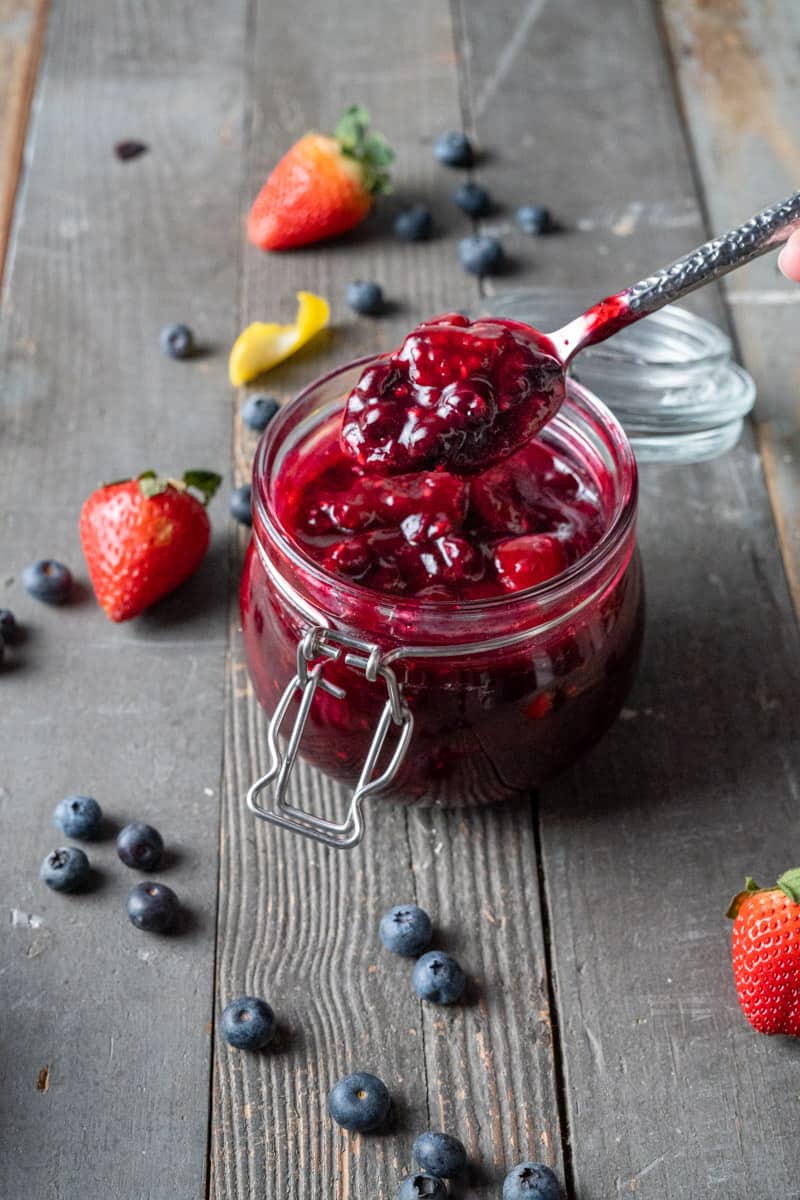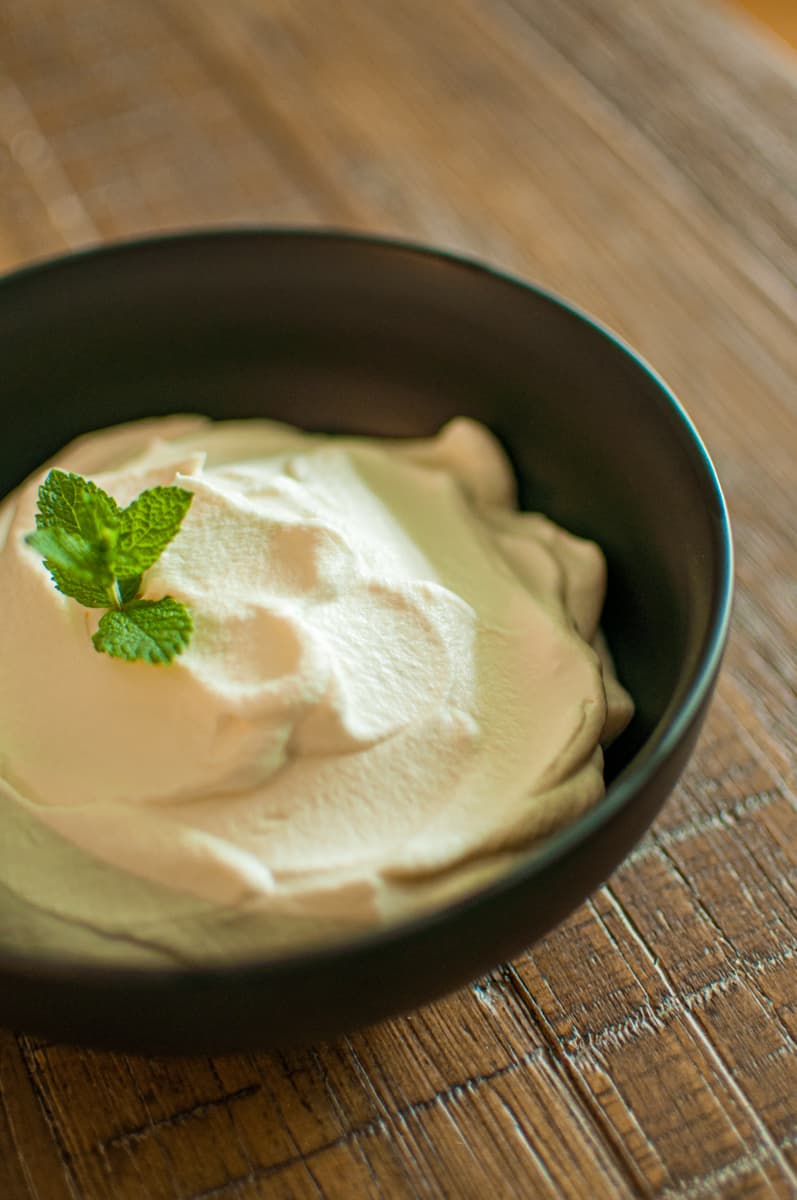 Whenever I have fresh fruit that is on the way out and needs to be used up I like to make a quick sauce out of it for breakfast. I had never measured any of the ingredients before but felt if I was going to show it to you alongside our French toast I should also share what went into it.
Find our Homemade Whipped Cream & Berry Compote that which are featured on top of our epic breakfast. 
Substitutions
This recipe is easily customizable to your personal preferences. For those who prefer a richer texture, consider substituting whole milk with heavy cream. Or, for a major upgrade, try using egg yolks only for a super-rich custard.
Substitute the brioche with another type of enriched bread, like Challah bread or even Texas toast. They're thicker and will hold up better to the soaking and frying process.
The vanilla extract and orange zest can be swapped out for other flavors. Try almond extract, lemon zest, or even a dash of cinnamon for a different flavor profile.
🥡 Leftovers and Storage
Leftover French toast can easily be stored in an airtight container, separated by parchment paper, and placed in the fridge. When ready to eat, just reheat them in a toaster oven or frying pan until they're warmed through.
👩🏼‍🍳 Chef Tip
Use the Vanilla Brioche Loaf! It's hands down the best version of this recipe to date and will change the way you eat breakfast. Seriously ruined ourselves for ever being able to order French toast for breakfast ever again...
If you mix the vanilla and cinnamon first it prevents the cinnamon from clumping in the custard mixture! Thanks to TikTok for this epic tip!
📖 Recipe
Brioche French Toast
Brioche french toast takes a classic recipe and levels it up. Topped with a fresh berry sauce and homemade whipped cream, this breakfast is a real treat!
Ingredients
1

loaf

Brioche

3

eggs

Eggs

½

cup

Milk

½

teaspoon

Vanilla Extract

¼

teaspoon

Cinnamon

1

tablespoon

Unsalted Butter
Instructions
In a flat dish (think 9x9 cake pan or pie dish) mix together the eggs, milk, vanilla, and cinnamon. Keep a fork or whisk nearby as the cinnamon likes to clump.

Turn your griddle to 300-350 degrees or medium heat for a stovetop.

Generously coat your skillet with butter right when you are ready to start cooking.

One at a time, dip your brioche slice into your egg mixture and say "1 Mississippi", flip it over, and repeat.

Move each slice onto your buttered skillet and cook for around 2 minutes per side or until lightly crisp and golden.

Serve with warm syrup, whipped cream, powdered sugar, cinnamon, or berries. Or all of them. No judgment.

Live your best life and have a beautiful day!
Nutrition
Calories:
670
kcal
Carbohydrates:
42
g
Protein:
34
g
Fat:
41
g
Saturated Fat:
19
g
Polyunsaturated Fat:
4
g
Monounsaturated Fat:
8
g
Trans Fat:
0.2
g
Cholesterol:
835
mg
Sodium:
681
mg
Potassium:
299
mg
Fiber:
0.1
g
Sugar:
2
g
Vitamin A:
1850
IU
Vitamin C:
0.01
mg
Calcium:
190
mg
Iron:
4
mg