When we moved last year I was on a mission to find all the amazing restaurants close to our new house. We happened upon one down the street and it was shockingly good. Chorizo gravy was on the menu and it popped out to me right away. Confusion, followed by intrigue, followed by my brain exploding. How could anything be THIS good...
I was raised on biscuits and gravy. As an adult, I've become quite obsessed with the spicy, smokey goodness that is chorizo. This match was made in actual heaven. I would have never thought to put them together myself but goodness gracious this is going to be something we will continue to make for a long long time.
If you've never worked with Mexican chorizo before, this next section is for you. I Do NOT recommend cacique for this recipe. Cacique is a brand of chorizo that is most commonly found in grocery stores. It comes in a skinny tube and is generally found near the breakfast sausage.
One of the main reasons it's not my favorite is that it doesn't crumble as it cooks like most ground sausages. The best way I can explain it is that it melts or dissolves into almost a paste. Now to be fair, that could be delicious in something like queso or a sauce.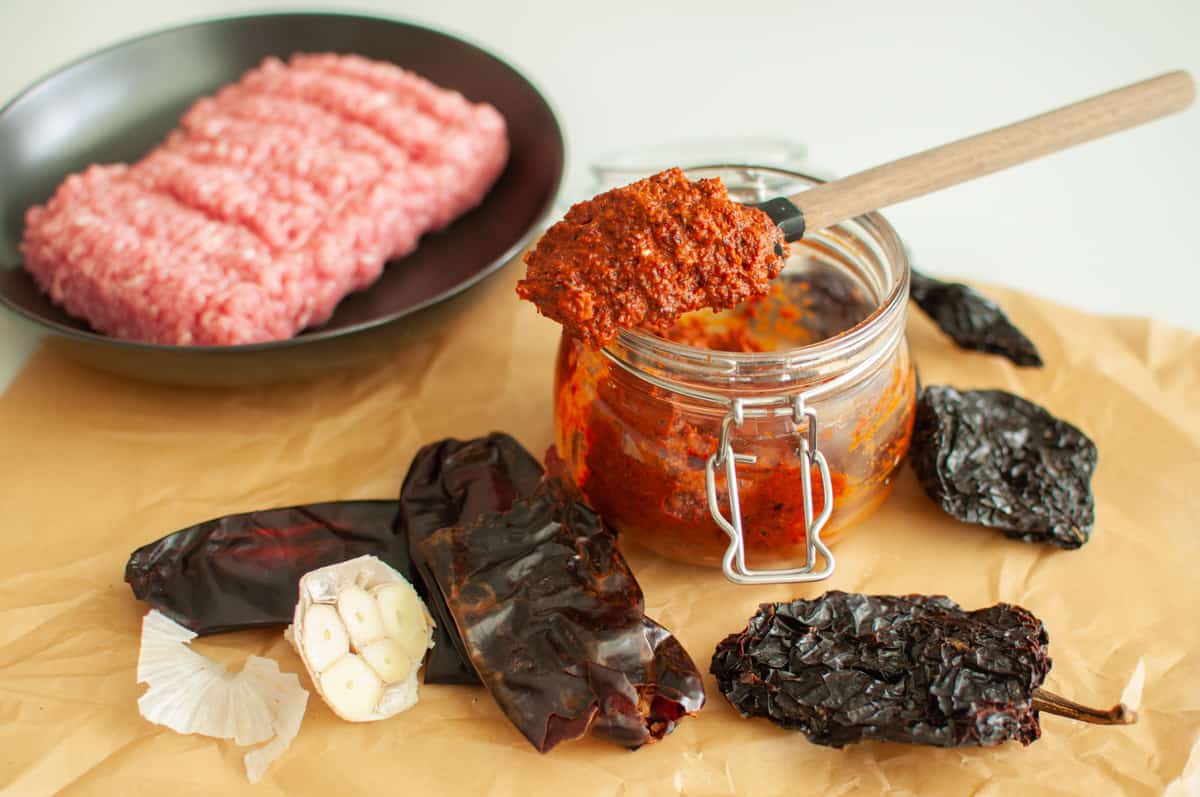 In this chorizo gravy though, we want something that will hold up and have texture. We want something that will brown and break up similarly to the classic breakfast sausage we all know and love. The good news is that I have been able to find decent store-bought chorizo at Harris Teeter recently. It comes in a pre-package square similar to some ground beef.
If you can find it, YAY! If not... I got a homemade Mexican Chorizo recipe for you as well!
The Biscuits
I can't stress enough how important these biscuits are to me. I know that seems really silly, but I'm wholeheartedly being serious. This is the recipe I grew up on. My Grandad would make them every time we came to visit. I always joked the secret ingredient was dirt from the garden since he mixed them by hand. He passed away a while back and I've always missed them.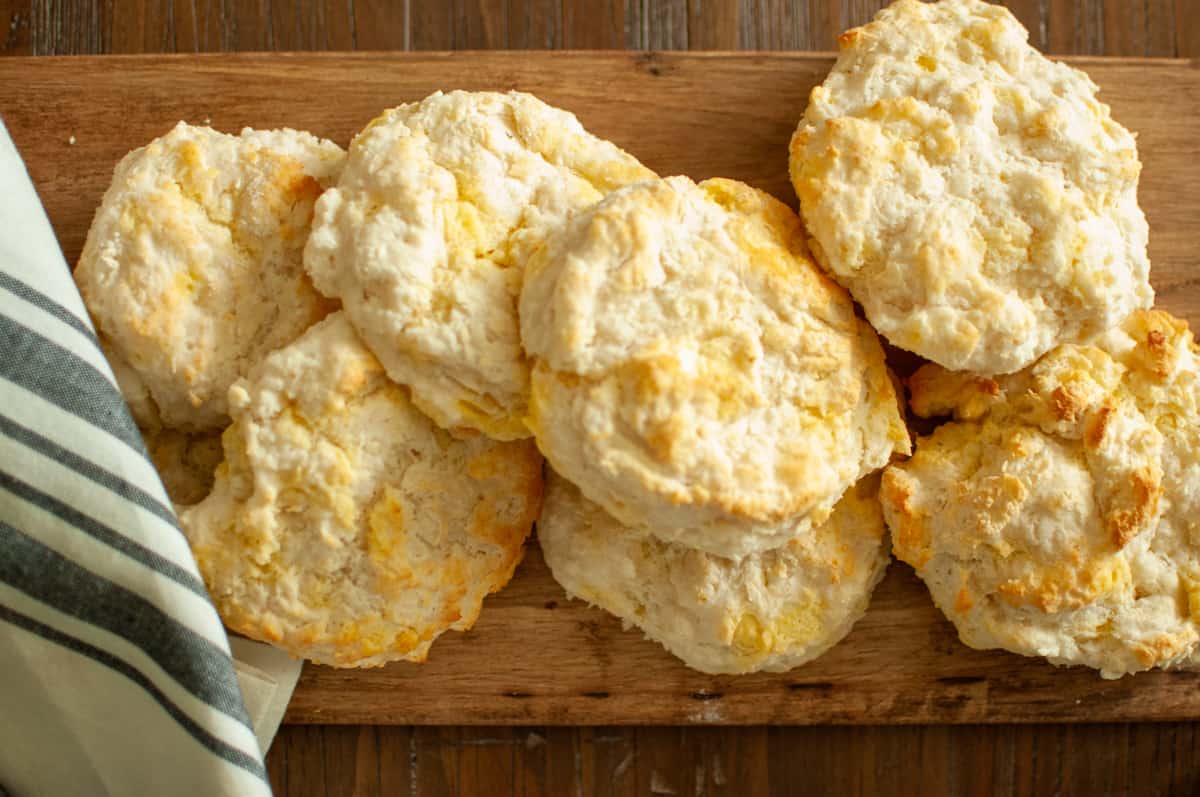 I was recently on a trip to our family cabin and decided to deep clean the kitchen (very Tabi of me) and I found it. His recipe (or at least the recipe he used). Shoved in the back of a drawer, waiting for me to find it. I almost cried.
Now, feel free to use any biscuit recipe you see fit. Frozen, fresh, or straight from a busted open tube that might give you a heart attack when you open it. Biscuit preference is a real thing.
Leftover Chorizo Biscuits & Gravy
The gravy will just need to be stored in a covered container in the fridge. When you want to reheat it, add a splash of milk to thin it out as it will get thicker overnight.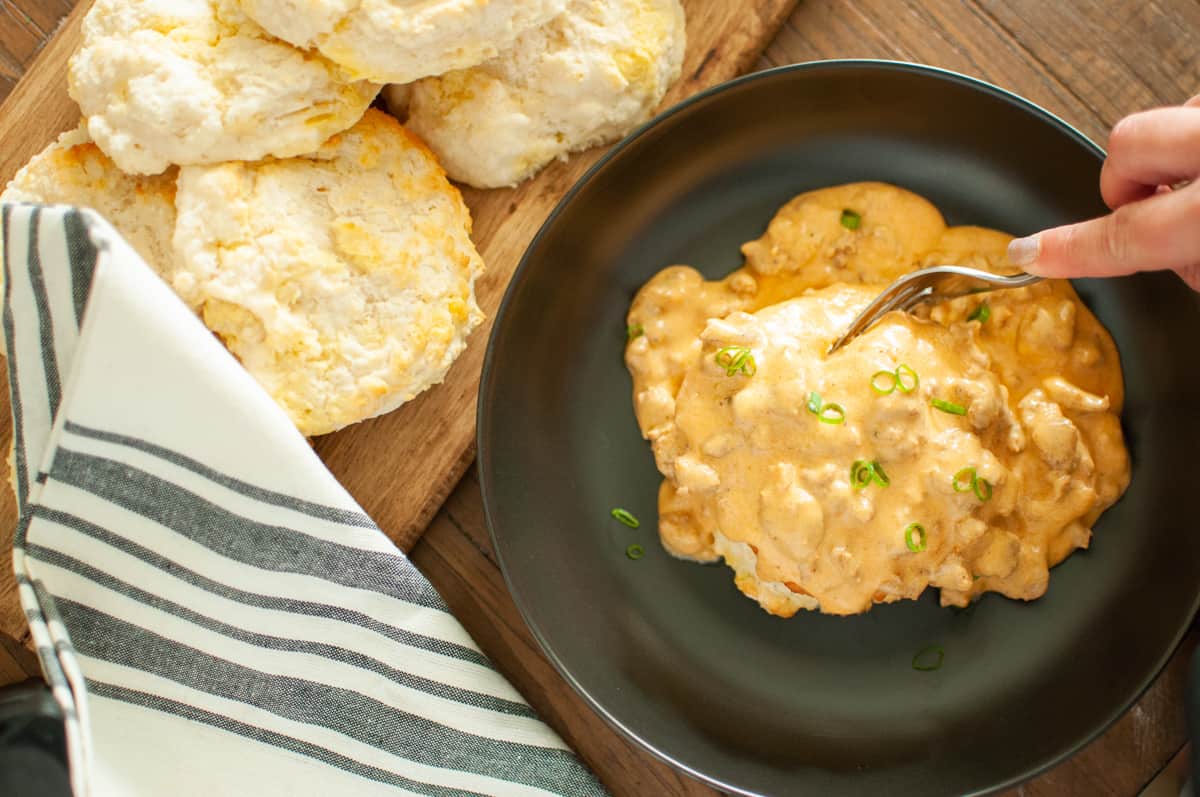 The biscuits can be stored in a ziplock bag as long as they are completely cooled. I've never tried to freeze them as they don't survive that long in my house. Reheat them in the oven for just a few minutes and enjoy them with your leftover gravy or with strawberry jelly and butter. Yum.
📖 Recipe
Chorizo Sausage Gravy
Chorizo gravy served over buttermilk biscuits is the smoky spicy gravy of your dreams. A match made in heaven fluffy biscuit heaven.
Instructions
Start by browning the chorizo in a pan. I recommend breaking it into small pieces and adding it to the pan bit by bit. Throwing in the whole pound and then breaking it up, can lead to a less browned chorizo.

Once browned, add the flour and mix until it's completely absorbed.

Next add the milk, 1 cup at a time. Mixing until slightly thickened.

Let simmer for around 10 minutes.

Taste it!! Add salt and pepper as needed.

Serve over biscuits and thoroughly enjoy!
Nutrition
Calories:
316
kcal
Carbohydrates:
11
g
Protein:
15
g
Fat:
23
g
Saturated Fat:
9
g
Polyunsaturated Fat:
0.1
g
Monounsaturated Fat:
1
g
Cholesterol:
62
mg
Sodium:
1362
mg
Potassium:
187
mg
Fiber:
0.1
g
Sugar:
6
g
Vitamin A:
603
IU
Calcium:
151
mg
Iron:
1
mg
Handy Tools
Want to take your cooking game to the next level? Here's a list of some of the tools I use every time I make this recipe that help make this a breeze!