Say hello to Chorizo Sausage Gravy, a delicious spin on the classic sausage gravy that's a breakfast game-changer.
Welcome to one of my favorite places in the culinary world, savory breakfast! We're taking the concept of traditional sausage gravy and giving it a fun twist. If you've ever wondered how to elevate your breakfast sausage game, this chorizo gravy recipe is your golden ticket.
Jump to:
Ingredients
With just a few ingredients, you should be ready to get breakfast on the table in no time! Here is everything you'll need to get started.
Mexican Chorizo Sausage: The star of our gravy recipe, Mexican chorizo sausage brings smoky and spicy notes that make this dish unforgettable. Note: We do not recommend using cacique for this recipe!
When it comes to chorizo, you generally have two options. Spanish Chorizo or Mexican Chorizo. In this recipe, we're using Mexican Chorizo sausage. It crumbles beautifully but holds up in this creamy gravy.
Pork Sausage: We like a 50/50 blend of chorizo and breakfast sausage.
Unsalted Butter: To add flavor and keep the sausage from sticking to the pan.
All-Purpose Flour: We'll use all-purpose flour to thicken our creamy gravy.
Whole Milk: With high-fat content, whole milk adds the creaminess we all crave in a gravy recipe.
Seasoning: The chorizo comes heavily seasoned so only kosher salt and fresh ground pepper are needed.
Equipment: Your Culinary Toolkit
Large Skillet: A Dutch oven or cast iron skillet are great substitutions here
Wooden or Slotted Spoon: For breaking up the chorizo.
Measuring Cups and Spoons: For measuring the milk and flour
Whisk: Optional, but it helps to whisk flour into the gravy smoothly. A fork can also be used.
Step-by-Step Guide
Place your large skillet on the stove and add the butter or olive oil. Heat it over medium-high heat until it's shimmering.
Step 1
Add the Mexican chorizo & sausage to the skillet. I broke mine into tiny pieces and added them to the pan for better browning. Cook until it's golden brown and fully cooked through.
Step 2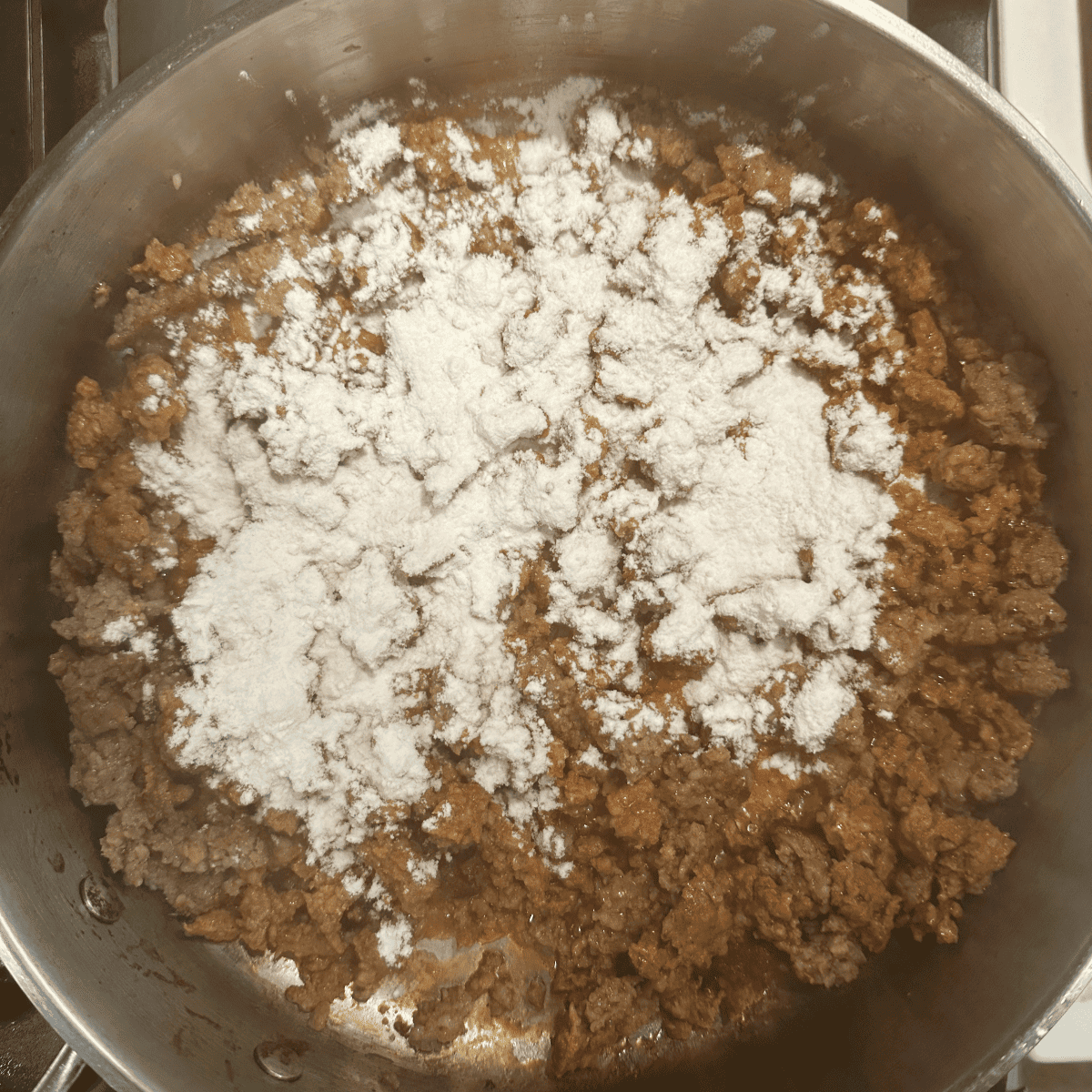 Lower the heat to medium. Sprinkle the purpose flour over the browned sausage and mix until it's fully incorporated and covers all the chorizo & sausage pieces.
Step 3
Slowly pour in your milk, one cup at a time. Mix continuously and let thicken slightly between each addition of milk to avoid lumps.
Step 4
Let simmer over medium heat until it thickens into a creamy gravy.
Season the mixture with kosher salt & fresh ground pepper. Serve over flaky buttermilk biscuits and finish with thinly sliced green onions or a splash of your favorite hot sauce.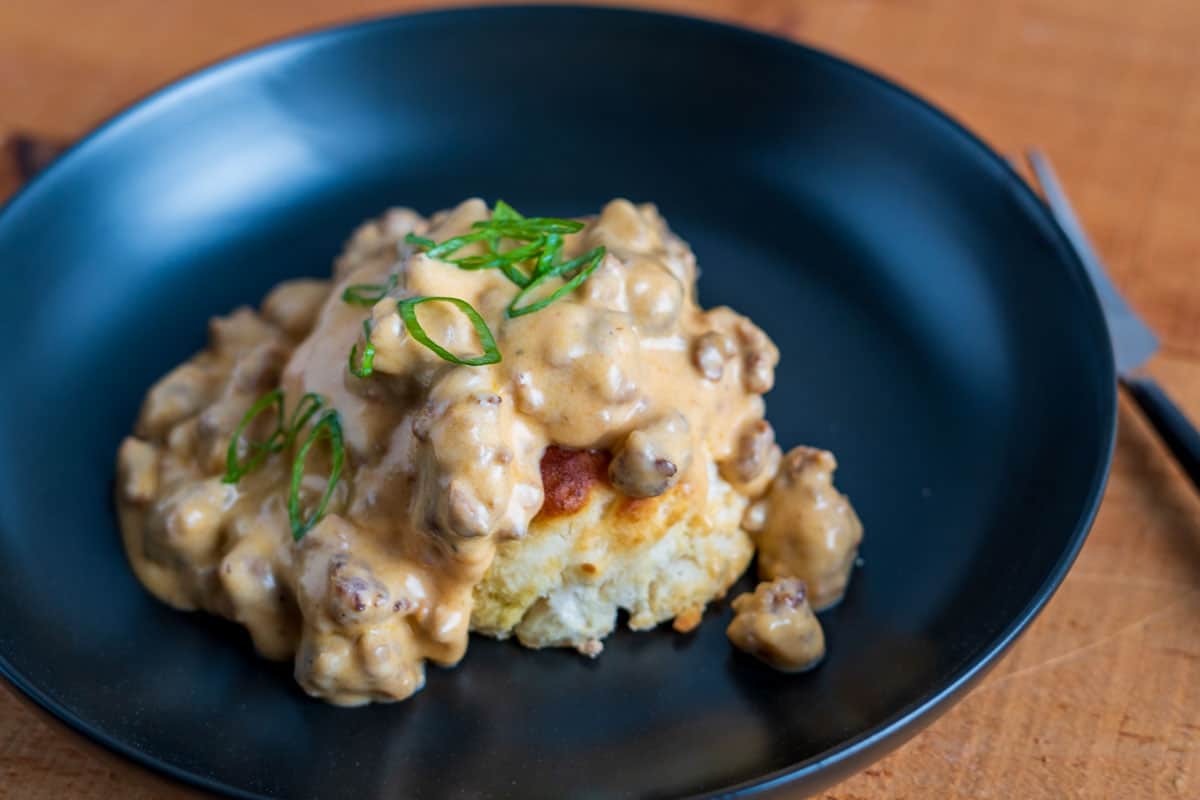 Biscuit preference is a real thing, and this is mine. Feel free to use any biscuit recipe you see fit. Frozen, fresh, or straight from a busted open tube that might give you a heart attack when you open it.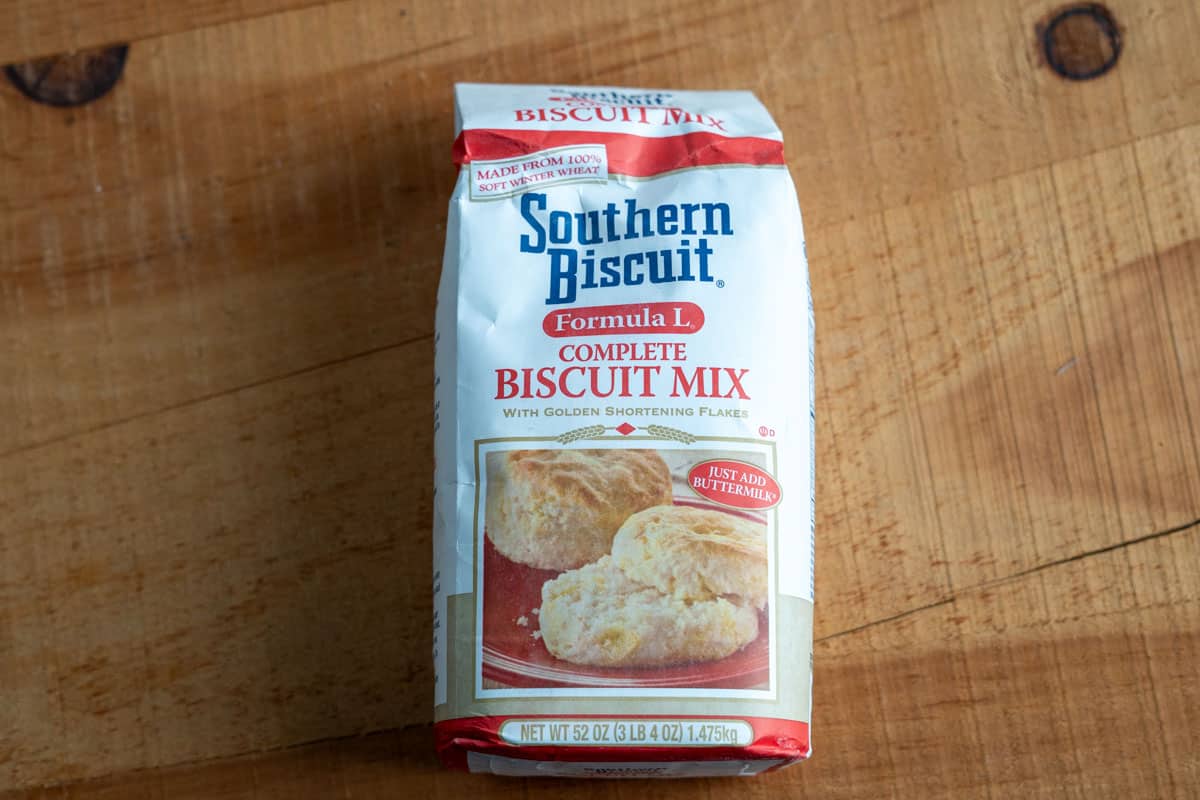 This is Southern Biscuit Formula L Complete Biscuit Mix. I'm copying the directions straight off the back of this bag! I also have a full recipe for making these biscuits if you need some extra tips.
Biscuit Mix: 3 ¼ cups
Buttermilk: 1 ¼ cups
Preheat your oven to 450°F (220°C).
Stir together biscuit mix and buttermilk using as few strokes as possible just mix until completely combined.
Turn the dough onto a lightly floured surface
Gently roll the dough to ½" thick
Using a flowered biscuit cutter cut biscuits and place them on a baking sheet so the sides are lightly touching.
Bake for 10 to 12 minutes or until lightly browned brush the tops of melted butter for extra richness.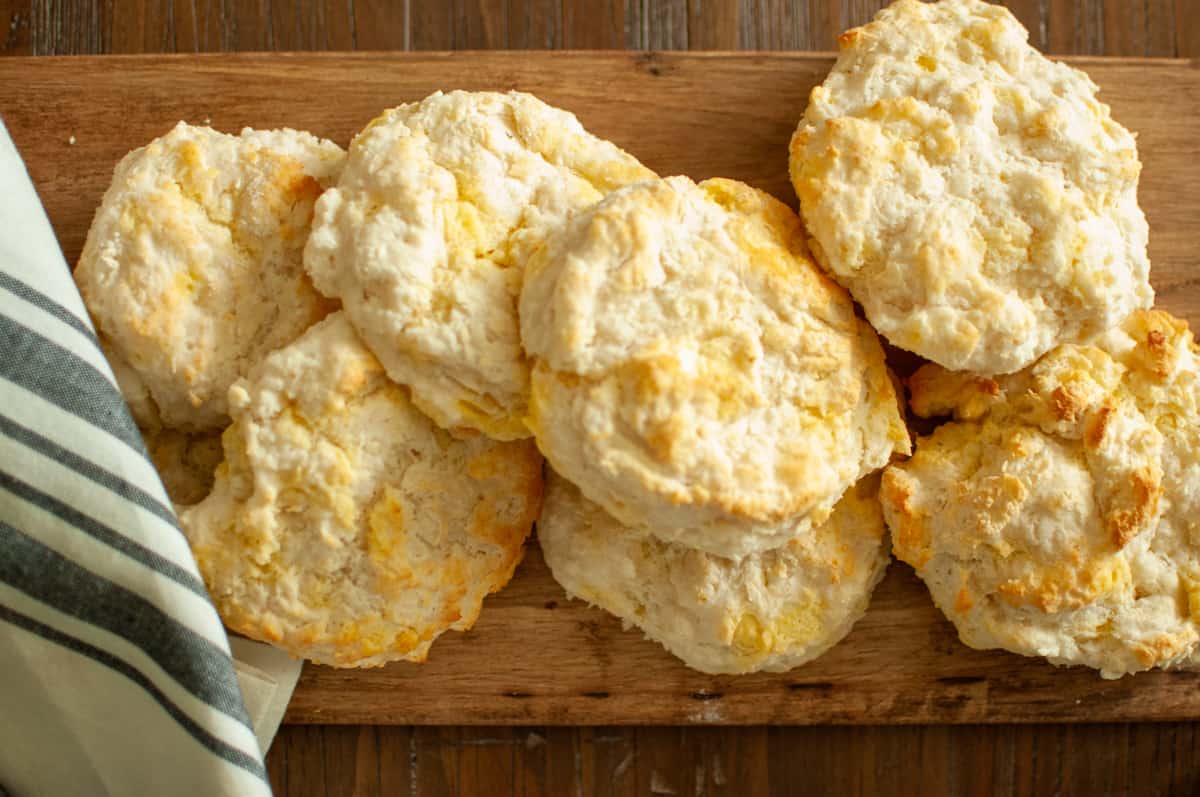 Before you even think about saying anything about these not being fully from scratch homemade biscuits, I can't stress enough how important these biscuits are to me. I know that seems really silly, but I'm being serious. The story is in the recipe.
Storing
If you have any leftover chorizo gravy, store it in an airtight container in the fridge. It's perfect for those mornings when you need a quick and delicious breakfast.
Biscuits can stored in a plastic zip-lock bag to keep out as much air as possible so they stay fresh and are perfect with strawberry jelly.
Reheating
You'll want to avoid the microwave, which can make your gravy separate or become grainy. Instead, pour the gravy into a medium skillet and warm it over medium heat.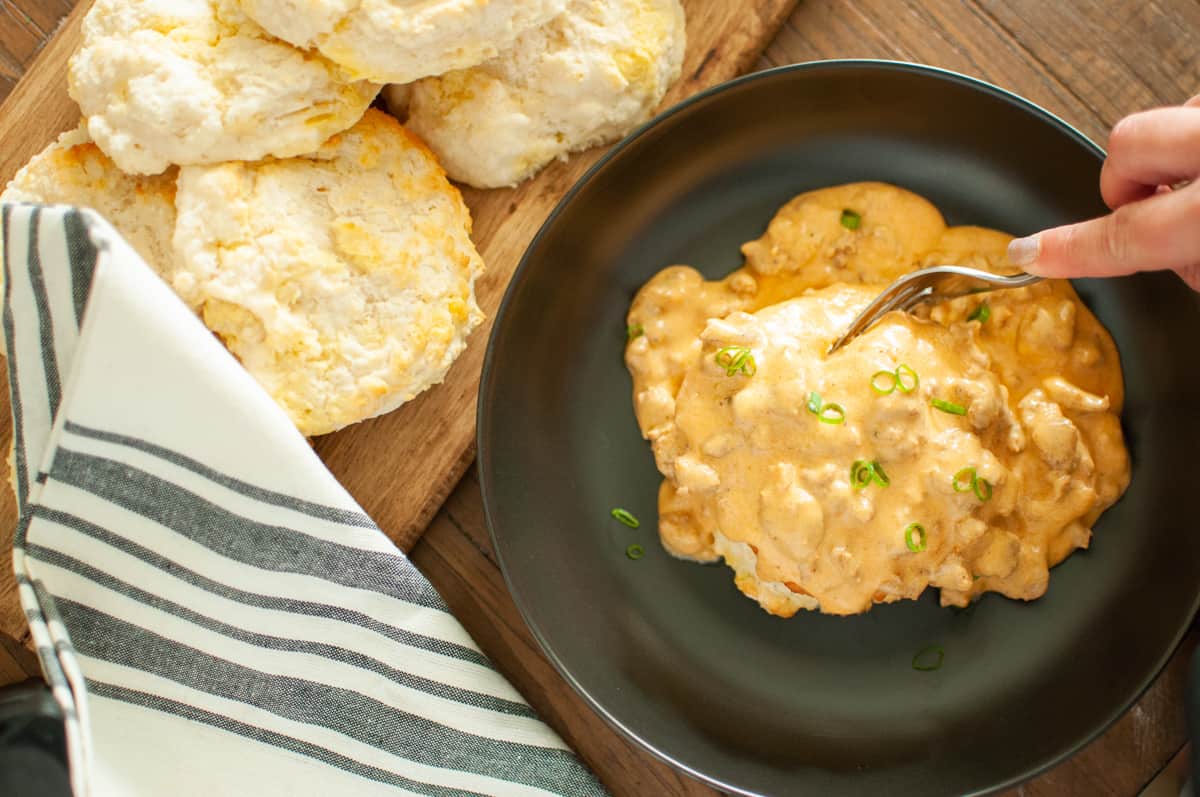 Gravy will thicken when cold, so you may need to add a splash of milk to bring it back to its original creamy glory. Stir frequently to ensure even heating and to prevent sticking. Your gravy will be as good as new in just a few minutes!
Reheat your biscuits by warming them up in a 300-degree oven for just a few minutes and enjoy them with your leftover gravy or with strawberry compote and butter. Yum.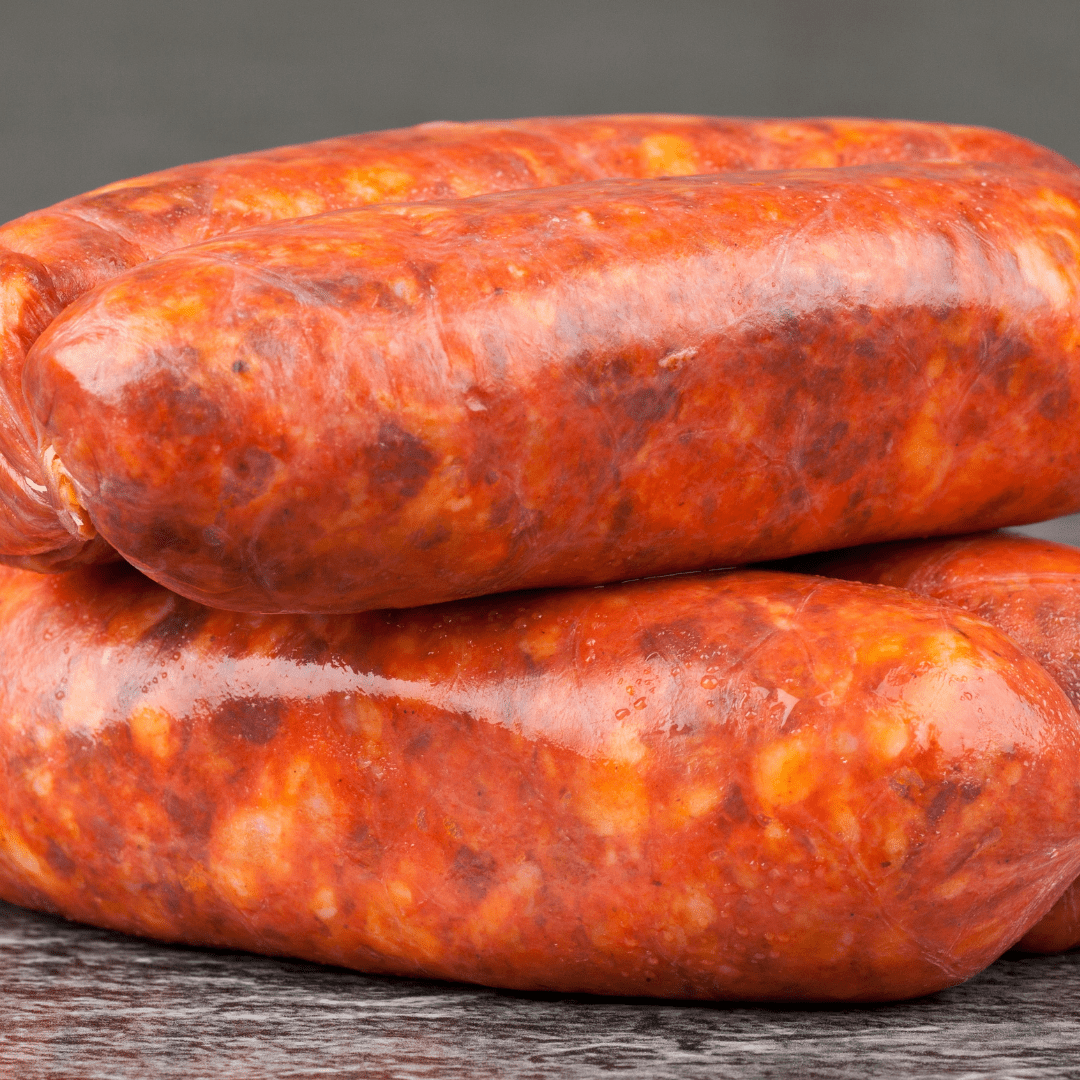 In the past, I haven't always been able to find Mexican chorizo at my grocery store. Recently I have seen more store-bought options pop up. The one I like comes in a pre-package square similar to some ground beef. If you can find it, YAY! If not... I got a homemade Mexican Chorizo recipe for you as well!
Spanish Chorizo is cured and is ideal for charcuterie boards or snacking. Also delicious and we recommend trying it if you haven't had the opportunity!
More Chorizo Recipes
So there you have it, folks! A hearty chorizo gravy and buttermilk biscuits recipe that's a fun twist on a southern classic. Whether it's your first time making gravy or you're a seasoned pro, this dish is sure to become one of your new recipes for a breakfast that's anything but ordinary.
FAQ
Can I use this gravy in other dishes?
This gravy is so versatile! Try it on chicken-fried steak or even over sweet potatoes for a fun twist.
Can I use heavy cream instead of milk for a richer gravy?
You can but I don't think it's necessary. If you are out of milk, substitute ¾ cup heavy cream and ¼ water for every 1 cup of milk needed. 
Brunch Recipes
📖 Recipe
Chorizo Sausage Gravy
Chorizo gravy served over buttermilk biscuits is the smoky spicy gravy of your dreams. A match made in heaven fluffy biscuit heaven.
Ingredients
2

tablespoon

Unsalted Butter

½

pound

Mexican Chorizo -

not cacique!

½

pound

Pork Sausage Roll

3

tablespoon

All-Purpose Flour

3

cups

Milk

2

teaspoon

Kosher Salt

1

teaspoon

Fresh Ground Pepper
Instructions
Start by adding your butter to a medium-sized saucepan on medium heat.

Start breaking your chorizo and sausage first into small pieces, adding them to the pan as you go. Adding all the meat at once, then breaking it up, can lead to less browning and reduced flavor.

Once browned, add the flour and mix until it's completely absorbed.

Next add the milk, 1 cup at a time. Mixing until slightly thickened.

Let simmer for around 10 minutes.

Taste it!! Add salt and pepper as needed.

Let cool slightly, serve over biscuits, and thoroughly enjoy!
Notes
Type of Chorizo: Opt for Mexican chorizo sausage for the best flavor and texture. Avoid Cacique as it doesn't crumble well, and remember Spanish chorizo is different from Mexican chorizo! 
Flour: All-purpose flour is used for thickening. For a gluten-free option, you can use a gluten-free flour blend.
Milk: Whole milk is recommended for creaminess, but heavy cream can be used for a richer gravy.
Seasoning: Adjust salt and black pepper to taste. Feel free to add hot sauce for extra heat.
Equipment: A large skillet or Dutch oven is essential. A whisk is optional but helpful for smooth gravy.
Biscuits: Use your favorite biscuit recipe or store-bought options. Scratch biscuits or flaky buttermilk biscuits are great choices.
Storing: Leftover chorizo gravy can be stored in an airtight container in the fridge for up to 3 days.
Reheating: Reheat in a medium skillet over medium heat, adding a splash of milk to thin if needed.
Nutrition
Calories:
316
kcal
Carbohydrates:
11
g
Protein:
15
g
Fat:
23
g
Saturated Fat:
9
g
Polyunsaturated Fat:
0.1
g
Monounsaturated Fat:
1
g
Cholesterol:
62
mg
Sodium:
1362
mg
Potassium:
187
mg
Fiber:
0.1
g
Sugar:
6
g
Vitamin A:
603
IU
Calcium:
151
mg
Iron:
1
mg