Savory breakfast is my jam (my lady jam). I love Southwest flavors, have a love affair with chorizo, and can't live without pepper and onions in my house. Hence the natural progression to making this Southwest Omelet for breakfast all the time.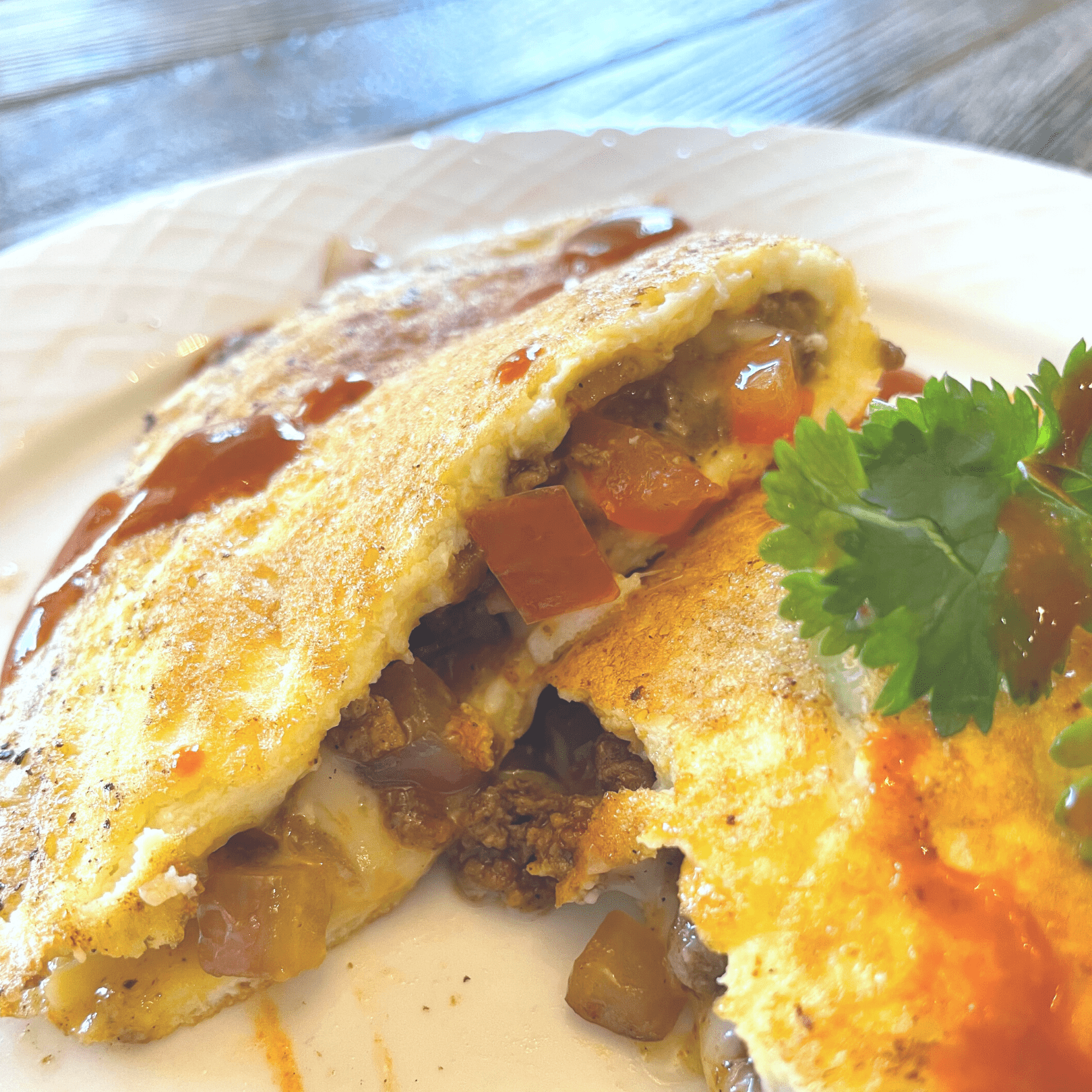 If you haven't caught on yet, this blog is quite literally food I make for myself, my family, and my friends. These are all recipes I've made dozens and dozens of times. As this blog grows, I'm sure I will have to reach out past that, but for now, you are getting all my favorites.  
Chorizo Selection
The hardest part about this Southwest Omelet is honestly finding good chorizo. While I am sure they exist on the market, I just can't find them.
When we lived in Maryland, Wegman's had one that was slightly firm but not a full-on Spanish Chorizo. Now here in North Carolina, all I have been able to find is Cacique which is just too greasy for me. I know it's a huge brand, and people will wholeheartedly disagree, but I haven't been able to use it successfully.
So I did what any good Culinarian would do... spent 3 days making 6 versions of chorizo until I found a substitution. For those who are interested, here is my Homemade Mexican Chorizo.
It's full of flavor and crumbly. Works so well in Chori Pollo, but also a perfect way to spice up your queso. I digress...
Spanish Chorizo vs. Mexican Chorizo.
Spanish chorizo is a firmer sausage link similar to hard pepperoni or similar charcuterie. It doesn't require cooking and might find it on a charcuterie board along with some delicious cheese. It would not be something you would want to dice up and add to your eggs.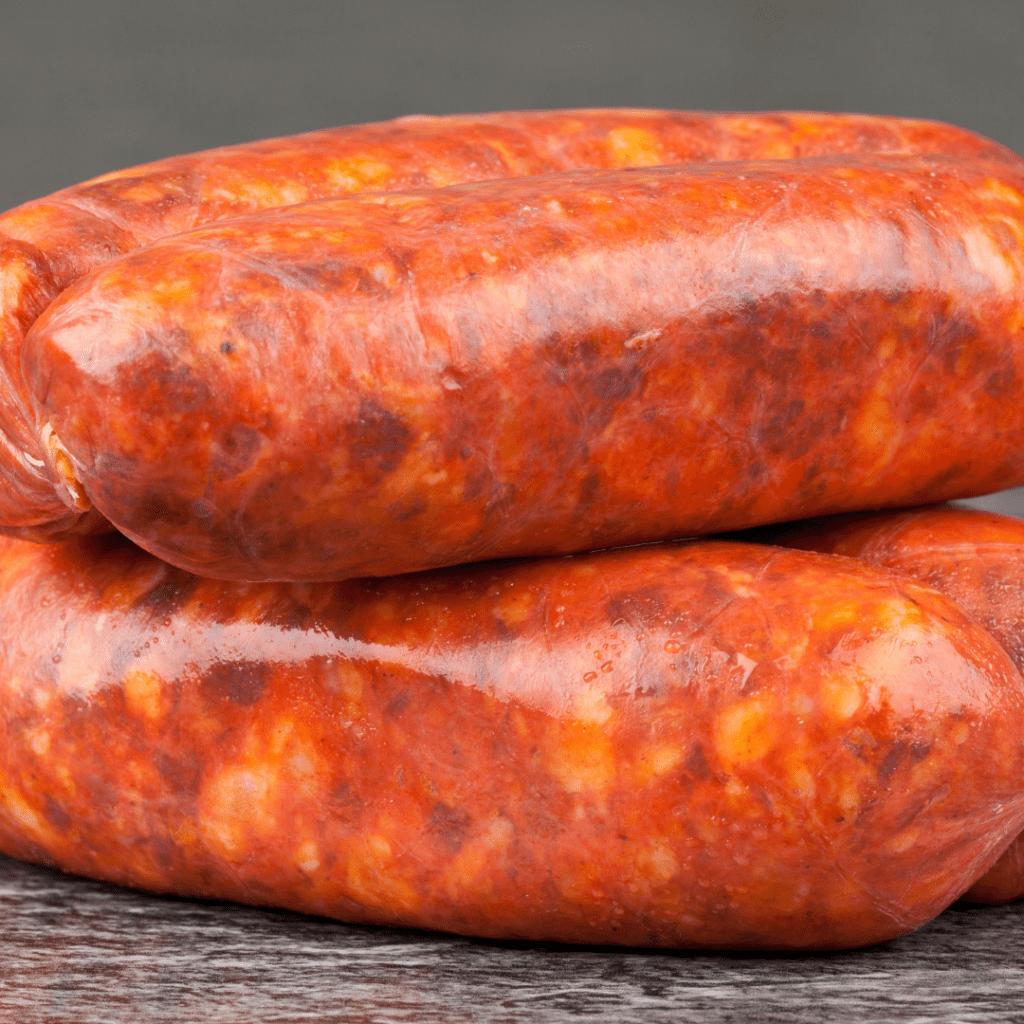 Mexican chorizo is a raw sausage, and when cooked it should be crumbly in consistency and is the perfect ingredient to sub out ground beef or ground pork when you are looking at adding a ton of flavor or spice. Mexican chorizo is decently hard to find in the American market. Refer back to my comments above about Cacique.
Make Your Own Chorizo
As a true lover of chorizo, I have found myself more than once unable to track down Mexican chorizo. I was left with no other choice than to make it myself. After multiple rounds of recipe testing we are so happy with how it turned out!
Leftovers?
If you have any leftover filling or decide to make a larger batch, it would be perfect to mix in queso or put on some rice for lunch. Or ya know, just eat it with a spoon because... chorizo *drolling*.
I hope you enjoy!
📖 Recipe
Southwest Chorizo Omelet
Easy southwest style omlete that is full of flavor.
Ingredients
Filing
1

teaspoon

Unsalted Butter

-

for filling

2

tablespoon

Bell Pepper

-

diced - or sub for your favorite pepper

1

tablespoon

Red Onion

-

diced

2

tablespoon

Mexican Chorizo -

recipe for homemade on Tabetha's Table!

1

slice

Pepper Jack Cheese

-

or 2, live your best life
Egg Portion
2

Eggs

1

teaspoon

Unsalted Butter

-

for Omelet time

Kosher Salt -

as needed

Fresh Ground Pepper

-

as needed
Instructions
Prep
Dice up your bell pepper & onion and set to the side.

Go ahead and whisk up your egg and add kosher salt & pepper to season.
Filling
Heat your non-stick pan to medium heat, and add the butter.

Once melted, add the peppers and onions and cook down to YOUR liking. I can't stress enough that it's ready when you want it to be. My husband likes them mushy, and I like a bit of bite to it... 3-7 minutes.

Add the chorizo, and cook 2-3 minutes or until browned. This shouldn't take very long. Store bought "tube" style will be very greasy just a heads up. I highly recommend trying the Chorizo recipe on Tabetha's Table!

Remove your filling from the pan and wipe out with a papertowel (just be careful).
Omelet Time
Heat pan to medium heat and add butter until melted.

Add your egg mixture and swirl around the pan slightly.

Cook for 2-3 minutes or until the bottom is set and the top is still slightly runny.

To one half of the egg, add ½ your filing mixture, then the cheese, then the remaining filling.

Carefully flip the empty side of the omelet over the filled side.

Let this cook for a minute or so, and then flip the entire omelet over.

Serve immedately with a sprinkle of silantro & hot sauce if desired.
Notes
Chorizo:
Please read the blog post about my chorizo preferences. I spent 3 days recipe testing and eating more chorizo than any person should work on making something easy & delicious to share with you all. 
This all stemmed from really hating how greasy the only store-bought I could find was. With that said, I hope you guys loved it!
Nutrition
Calories:
285
kcal
Carbohydrates:
3
g
Protein:
17
g
Fat:
23
g
Saturated Fat:
12
g
Polyunsaturated Fat:
2
g
Monounsaturated Fat:
7
g
Trans Fat:
1
g
Cholesterol:
368
mg
Sodium:
316
mg
Potassium:
195
mg
Fiber:
1
g
Sugar:
2
g
Vitamin A:
1469
IU
Vitamin C:
25
mg
Calcium:
212
mg
Iron:
2
mg