Fall is the time of year for pumpkin recipes, and if you're craving something creamy, cold, and pumpkin-flavored, you're in luck! Introducing our homemade pumpkin ice cream recipe with a twist! A perfect fall dessert to enjoy on a cozy fall day. Put your ice cream machine to work and let's churn some pumpkin goodness!
Jump to:
Ingredients
Pumpkin Spice: 4 Pumps from Starbucks
Instant Coffee: 2 Packs Veranda from Starbucks
Whole Milk: 2 Cups
Heavy Cream: 2 Cups
Sugar: 1 Cup
Vanilla Extract: 1 teaspoon
Special Equipment
Ice Cream Maker: a stand-alone version or a KitchenAid Ice cream bowl (make sure it's in the freezer overnight!)
Rubber Spatula: for scooping out every single bite
Loaf Pan or Freezer Safe Bowl: for storing your ice cream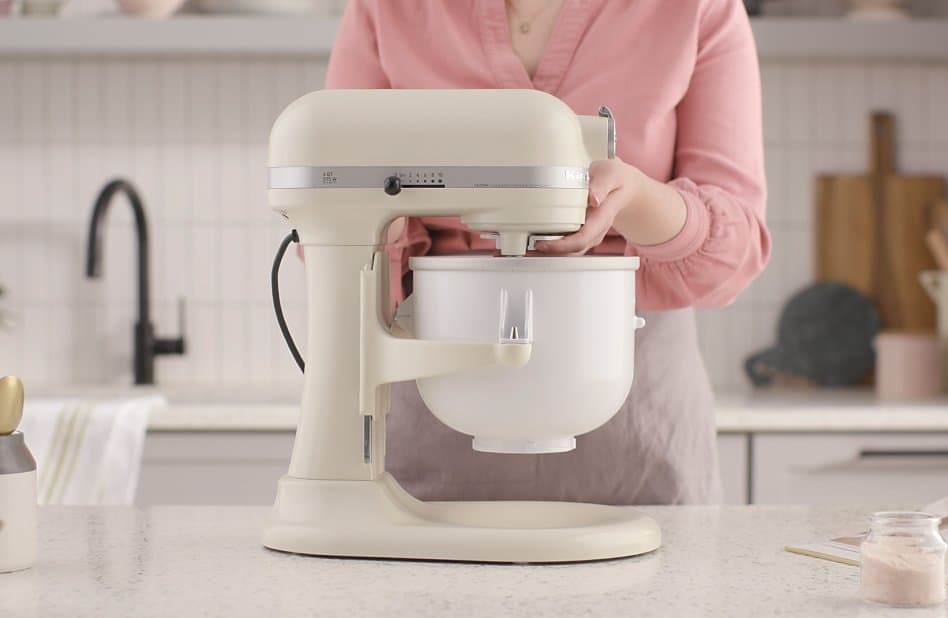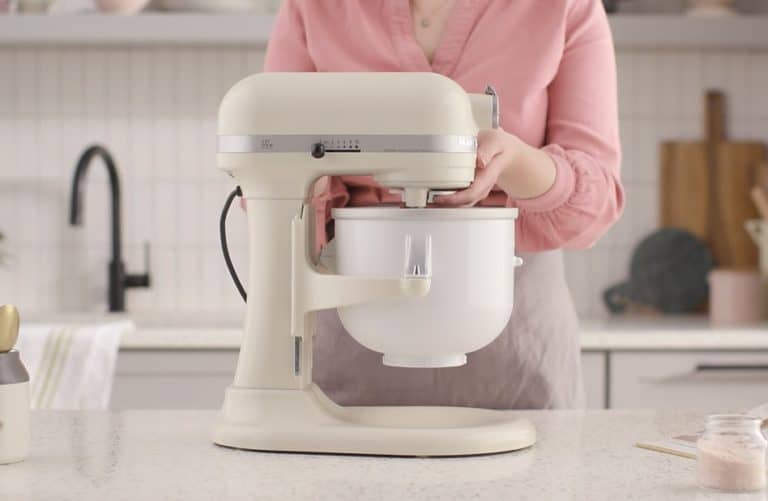 Pumpkin Spice Latte Syrup
You might be thinking, "Pumpkin Spice Latte Ice Cream? Can I just pour my favorite Starbucks latte into the ice cream maker?" Hold that delicious thought! While we're capturing the essence of your beloved pumpkin spice latte, using an actual latte can lead to an icy disaster.
Why, you ask? Coffee and espresso in a latte contain water, and when frozen, water forms hard ice crystals. This will turn your creamy pumpkin ice cream into a less appealing icy texture.
We solved this problem by using the same Veranda coffee Starbucks uses in their PSL, and dissolving it straight into the milk and heavy cream. By adding the pumpkin spice latte syrup, we found 4 was perfect and cost less than $1, you get the perfect flavor balance.
Prepping the Ice Cream Maker Attachment
Your ice cream freezer bowl needs some attention too! Ensure your ice cream maker attachment gets to be in the freezer overnight to get the best results. Here at Tabetha's Table we just leave ours in the freezer all the time. That way we never have to think about it. Use it, wash it, dry it, and back to the freezer it goes until next time!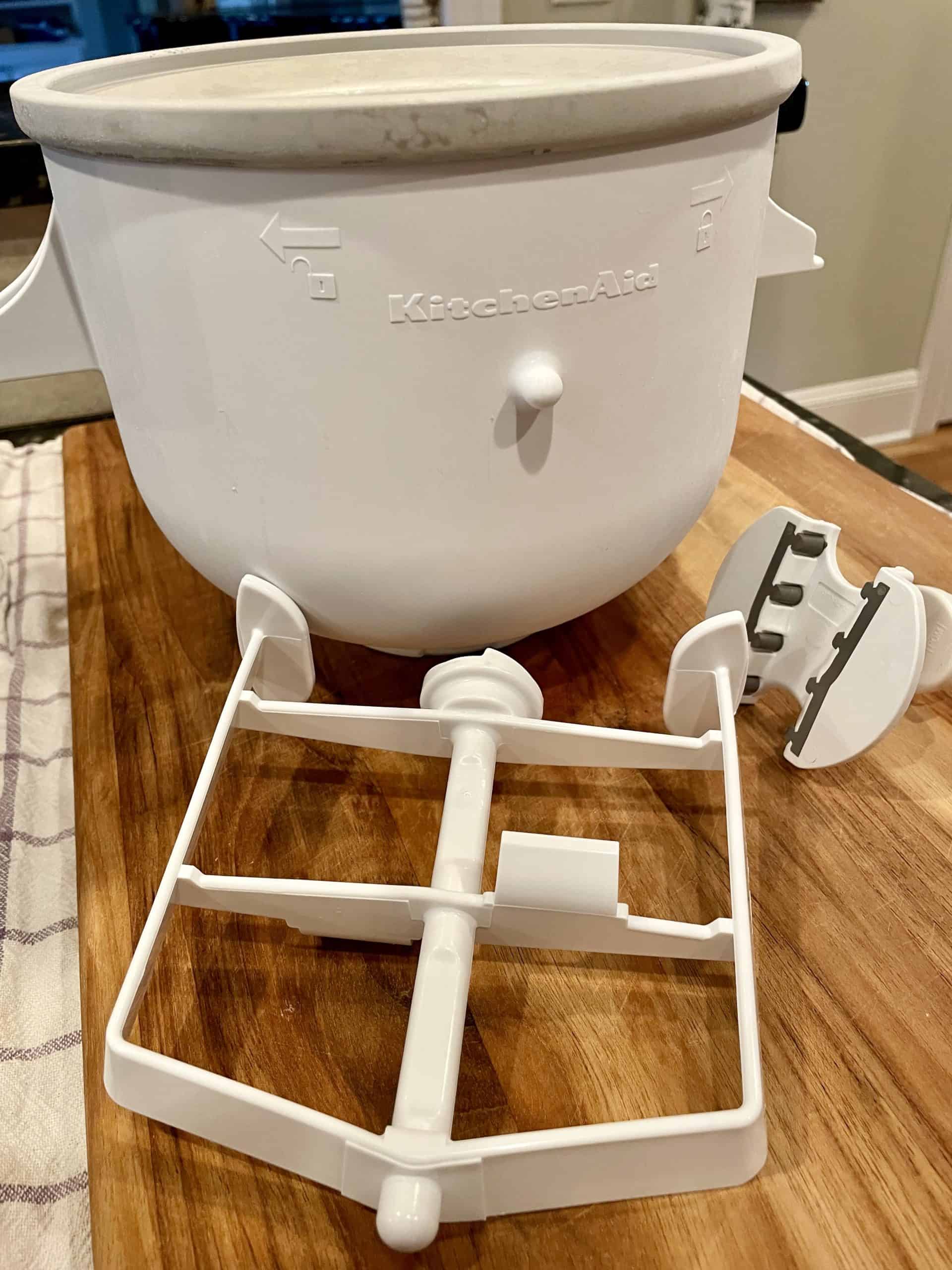 We've got a cool tip for you! Pop the container you'll be storing your finished ice cream in right into the freezer beforehand. It's like rolling out the frosty red carpet for your homemade pumpkin ice cream. That way, your scrumptious scoop will feel right at home and stay perfectly chilled.
Creating the Ice Cream Mixture
In a medium saucepan on medium heat, combine the whole milk, heavy whipping cream, pumpkin spice latte syrup, instant coffee, sugar, and vanilla. Stir with a wooden spoon until dissolved (3-5 minutes). Make sure not to let it simmer or boil for the best flavor and texture.
Once the sugar has completely dissolved, the ice cream base is ready to cool down in the fridge for at least an hour, or overnight if possible. The goal is for it to be back in the refrigerator cold.
Churning
Set up your ice cream machine with the chilled ice cream maker bowl. Turn it onto the lowest setting, and slowly add the ice cream mixture down the side of the bowl using a hand mixer.
Let the ice cream churn for about 15 -20 minutes, or until it looks like it's about to overflow.
Serving & Storage
Eat Immediately
If you love a soft serve texture, grab your favorite ice cream bowl and enjoy it immediately.
Or Freeze
For scoopable ice cream, add it to a parchment paper-lined loaf pan, and move it to a freezer container wrapped tightly in plastic. Leave it in the freezer for 6-12 hrs. Serve with some homemade whipped cream and you're all set!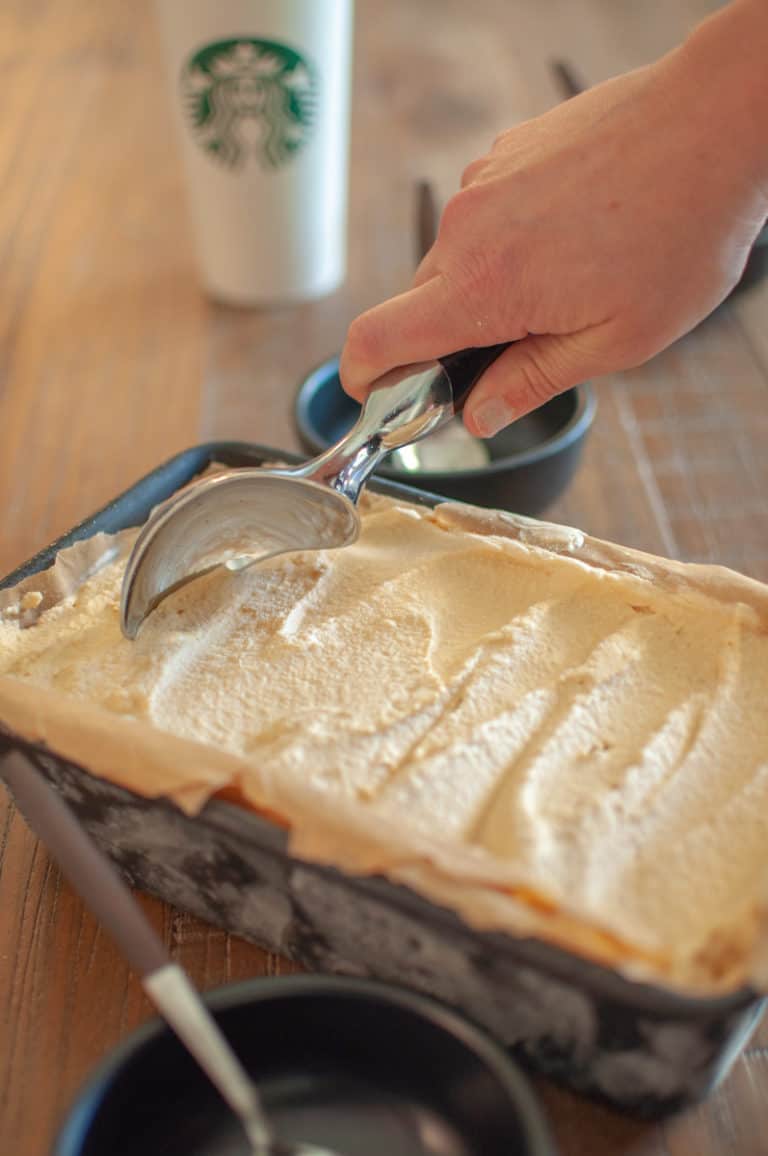 Pro Tips
Chill Out with Your Ingredients: For the best results, make sure your ingredients are chilled to perfection. Start with cold heavy cream and whole milk, and chill your ice cream base until it's cold. Remember, the ice cream maker bowl needs an overnight stay in the freezer, too!
​Low Heat, High Reward: Cooking your ice cream mixture over low heat ensures that all the flavors meld together without any burnt or overly caramelized notes. Patience is the key!
​Sweeten with Love: Whether you prefer dark brown sugar, coconut sugar, or classic granulated sugar, sweeten to taste. Remember, the sweetness dulls when frozen, so a little bit more sugar can go a long way.
Churn Like a Pro: When churning your ice cream, take your time. It's not a race! Let the ice cream machine do its magic and churn to a soft-serve consistency.
Egg-less Ice Cream
Eggs, particularly egg yolks, are often considered the creamy backbone of many classic ice cream recipes. They add a rich, velvety texture and help emulsify the ice cream mixture. But what happens when an ice cream recipe, like our Homemade Pumpkin Spice Latte Ice Cream or classic vanilla ice cream, goes eggless? Let's crack into this intriguing culinary conundrum!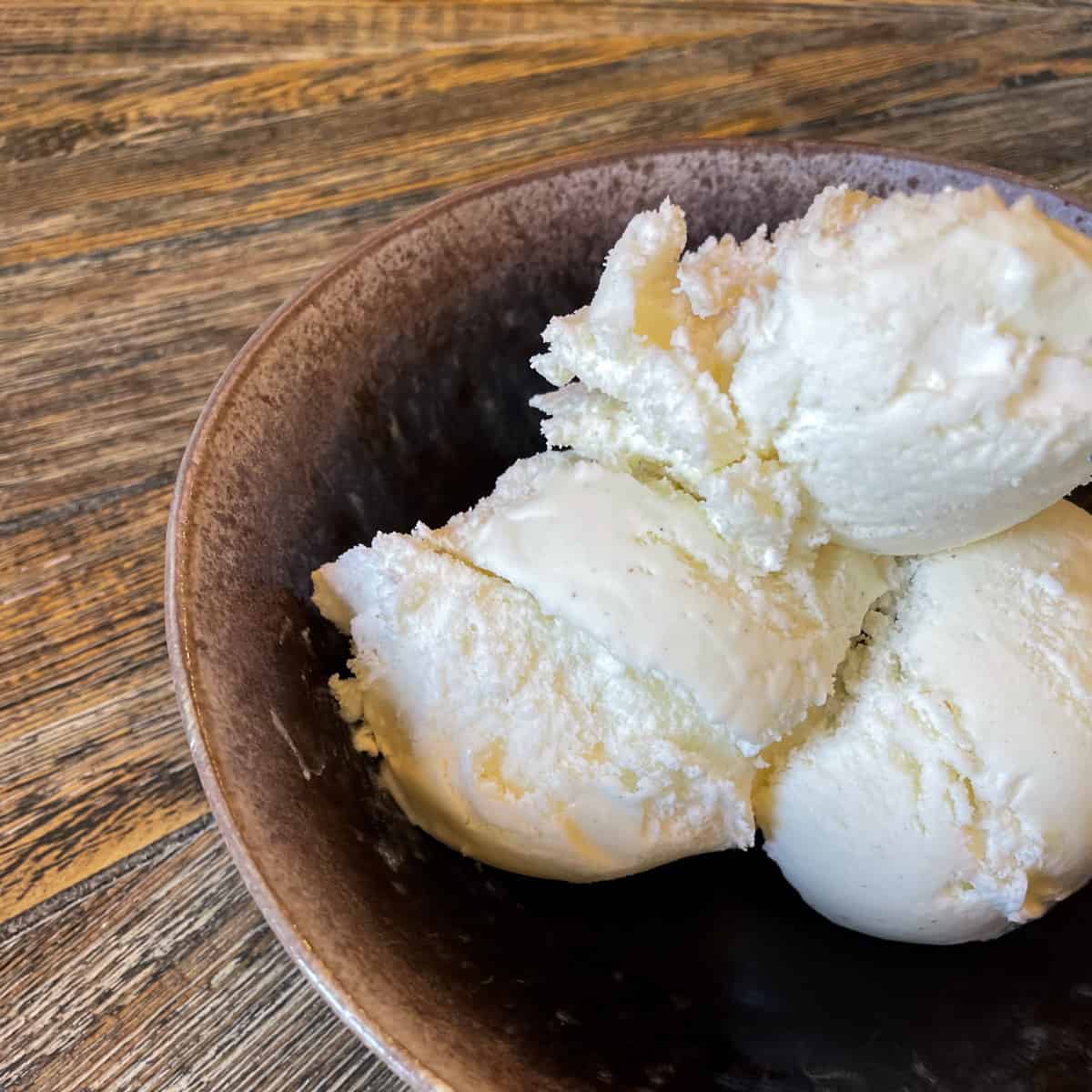 The Texture Twist
Ice creams made without eggs tend to have a lighter, more delicate texture. While egg yolks create a custard-like richness, going eggless can result in a fresher, cleaner taste that allows the primary flavors (like pumpkin purée and pumpkin spice) to shine through.
Simplicity Wins
Egg-less ice creams are often easier and quicker to prepare. There's no need to temper egg yolks or worry about them scrambling. If you're looking for an easy pumpkin ice cream recipe that still delivers on flavor, skipping the eggs can be the way to go.
Different Creamy Roads
While eggs add a certain creaminess, other ingredients like heavy whipping cream and sweetened condensed milk can achieve a creamy texture, too. The right combination can lead to a luscious ice cream base without eggs.
Dietary Restrictions
For those with egg allergies or specific dietary choices, egg-less ice cream opens the door to delicious dessert enjoyment. It's an inclusive way to churn pumpkin ice cream recipes for everyone at the table.
Video
For a visual guide, check out our accompanying YouTube video. And if you're interested in more churn pumpkin ice cream recipes and the why behind this homemade pumpkin pie ice cream, our privacy policy has all the details.
Similar Recipes
Pumpkin season is upon us, and it's the perfect time of year to indulge in all things pumpkin-flavored. From the vibrant orange hues to the rich, comforting taste, pumpkin truly symbolizes the heart of fall.
And guess what? Our pumpkin adventure doesn't have to end with this delicious Homemade Pumpkin Spice Latte Ice Cream Recipe. There's so much more to explore in our pumpkin-infused culinary world!
Pumpkin Pie – A Classic Reimagined: Our homemade pumpkin pie recipe takes the classic dessert and elevates it to new heights. Made with real pumpkin and a blend of warm spices and cream cheese, it's a slice of heaven that you'll crave all season long. Perfect with a dollop of whipped cream!
Pumpkin Milkshake: If you've ever wondered how a pumpkin ice cream tastes in shake form, you're in for a treat. Our pumpkin milkshake recipe combines vanilla ice cream, whole pumpkin pie slices, and extra fall spices to create a drink that's both refreshing and comforting. It's a different way to enjoy pumpkin flavor and a hit with the kids, too!
Pumpkin isn't just about pies and pumpkin spice lattes; it's about creating connections, and memories. Enjoying the flavors of the season with loved ones. Whether you're using a pumpkin mixture in a savory dish or transforming pumpkin cravings into a delicious dessert, these recipes offer something special for everyone.
So grab a wooden spoon and let's dive into pumpkin recipes that satisfy both the heart and the belly. Whether it's your first time or next time, there's always a new way to enjoy pumpkins during this beautiful time of year.
📖 Recipe
Starbucks Pumpkin Spice Coffee Ice Cream
We took the ice of making ice cream with a Pumpkin Spice Latte and ran with it! This sweet, pumpkin, coffee ice cream is pure homemade magic.
Equipment
KitchenAid Ice Cream Attachement
Ingredients
4

Pumps

Pumpkin Spice from Starbucks

2

Packs

Veranda Instant Coffee from Starbucks

2

Cups

Whole Milk

2

Cups

Heavy Cream

1

Cup

Granulated Sugar

1

teaspoon

Vanilla Extract
Instructions
Prepping
Make sure your Ice Cream attachment is in the freezer! They generally need to be in the freezer overnight.
Ice Cream Base
Get started by adding everything to a saucepan on medium heat, to dissolve the sugar and also the instant coffee about 3-5 minutes

Once dissolved, let the mixture cool down in the fridge for at least an hour or overnight if you'd like.
Churning
Set up your ice cream maker, and turn it onto the lowest setting.

Slowly add the ice cream down the side of the bowl.

Let the ice cream churn for about 15 minutes, or until it looks like it's about to overflow.

Eat immediately OR add to a parchment paper lined pan and move to the freezer wrapped tightly in plastic.

For scoopable ice cream, leave it in the freezer for 6-12 hrs.
Nutrition
Calories:
676
kcal
Carbohydrates:
60
g
Protein:
7
g
Fat:
47
g
Saturated Fat:
30
g
Polyunsaturated Fat:
2
g
Monounsaturated Fat:
12
g
Cholesterol:
149
mg
Sodium:
79
mg
Potassium:
299
mg
Sugar:
60
g
Vitamin A:
1947
IU
Vitamin C:
1
mg
Calcium:
229
mg
Iron:
0.1
mg
FAQ
Can I use pumpkin puree instead of pumpkin spice for this homemade pumpkin ice cream recipe?
This recipe is specifically designed to use Pumpkin Spice Latte syrup and coffee to achieve the perfect fall flavor. I will update this recipe as soon as we recipe test one we love! 
What if I don't have an ice cream machine or ice cream maker attachment?
The unpopular answer here is no, we wouldn't recommend making this recipe without an ice cream machine or something similar. There are old-fashioned methods that involve ice, salt, and a lot of shaking, but we don't recommend them. 
How can I avoid ice crystals in my pumpkin ice cream pie?
Using plastic wrap to cover the ice cream surface before sealing it in an airtight container can minimize ice crystals.
Can I add extra fall season spices to this pumpkin spice ice cream?
​Spice it up! Feel free to sprinkle a little bit of teaspoon ground cinnamon or a teaspoon of ground ginger to enhance those warm spices. Make it your own ice cream and enjoy experimenting with flavors.