While both Bellinis and Mimosas are undeniably popular drinks that have become synonymous with brunch, they each have their unique history, flavor profile, and charm. Both of these lovely cocktails are served in a champagne flute and feature sparkling wine as a key ingredient, but the similarities largely end there.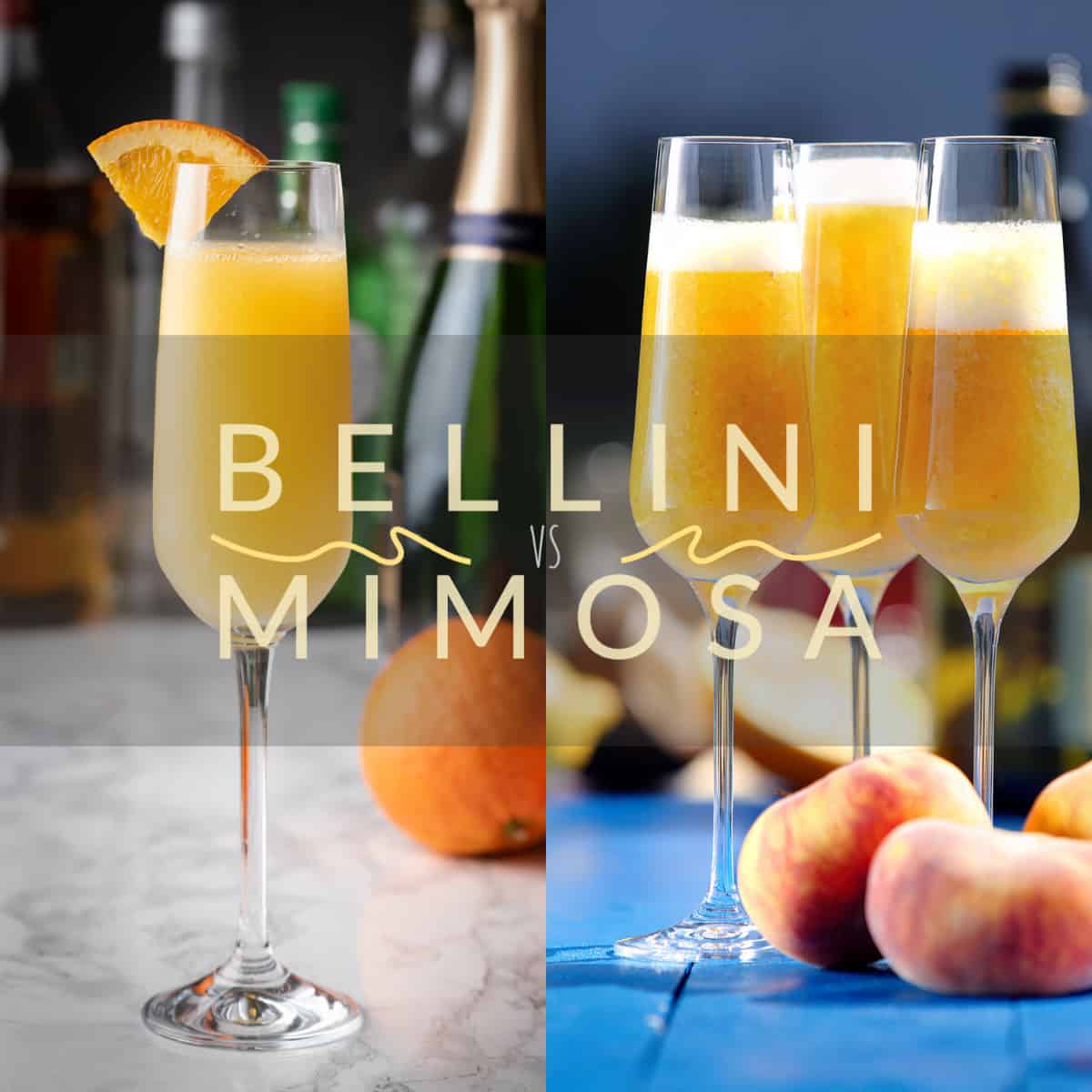 Jump to:
The Bellini Cocktail: An Italian Classic
The Bellini is a famous cocktail hailing from Italy. Giuseppe Cipriani, the founder of the legendary Harry's Bar in Venice, first created this classic Italian cocktail in the 1940s. The inspiration behind the name is as artistic as the drink itself. The color palette of the cocktail, a soft, unique pink, reminded Cipriani of the hues used by the 15th-century Italian Renaissance painter, Giovanni Bellini.
The traditional Bellini recipe is simplicity itself, combining just two main ingredients: Prosecco, an Italian sparkling white wine, and fresh white peach puree. It was said that Cipriani preferred using white peaches for his Bellini cocktail as they were more fragrant and had a softer pulp, making for a smoother puree. The pale pink color of the drink came from adding a bit of raspberry or cherry juice to the mixture.
However, the classic Bellini has seen many variations over the years, with some recipes suggesting the use of peach juice, peach nectar, or even peach schnapps in place of fresh peach puree. Yellow peaches, while a little different, can also be used, but white peaches remain the traditional choice. A top tip for the perfect Bellini is to ensure the peaches are ripe for the sweetest flavor.
Classic Bellini Recipe
Ingredients:
2 Ripe Fresh Peaches (white preferably)
Chilled Prosecco
Raspberry or cherry juice (optional)
Instructions:
Start by peeling and pitting the peaches. Then, puree them in a blender or food processor until smooth.
If desired, add a splash of raspberry or cherry juice to give the drink its classic pale pink color.
Place 1-2 tablespoons of the peach puree into a chilled champagne flute.
Slowly top up the flute with chilled Prosecco, being careful not to let it overflow.
Stir gently to mix the peach puree with the Prosecco.
Serve immediately and enjoy!
The Mimosa: A Brunch Staple
While the Bellini was being enjoyed in Italy, another champagne cocktail was gaining popularity across the border in France. Known as the Buck's Fizz in the United Kingdom, this simple yet refreshing cocktail was created at the Ritz Hotel in Paris in 1925.
The classic Mimosa, much like the Bellini, is a simple cocktail, traditionally made with equal parts of champagne and orange juice. This morning-friendly cocktail is often served at brunch, making it a delightful alternative to the heavier Bloody Mary.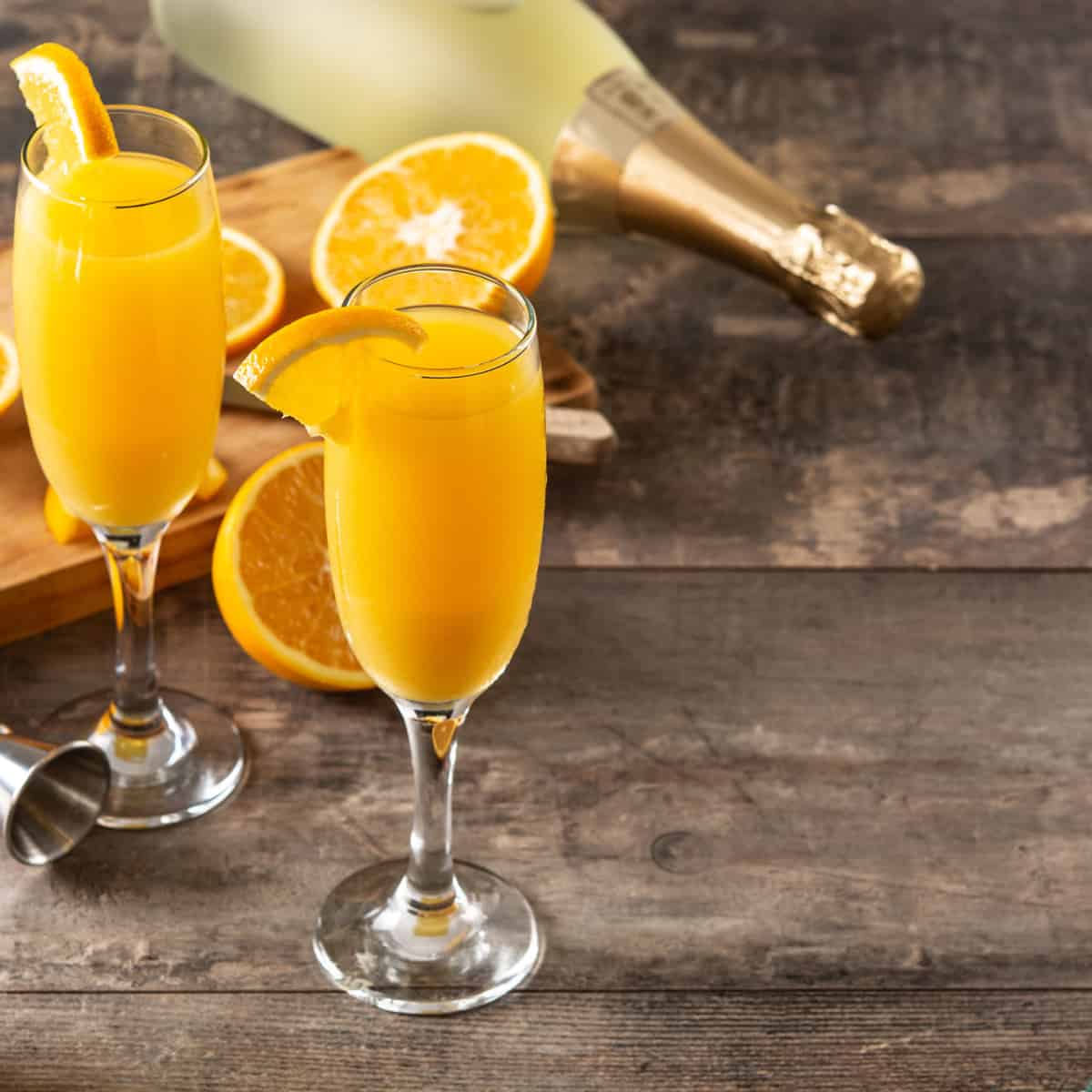 One variation of the classic Mimosa is the addition of a splash of Grand Marnier (a personal favorite) or triple sec, giving it a slightly sweeter, more complex flavor. Some also prefer adding a bit of simple syrup or using other juices like grapefruit or pineapple for a different flavor profile. The cranberry Mimosa, a mix of champagne, cranberry juice, and sometimes a splash of lemon juice, is a popular variant, especially around the New Year.
The French version of this cocktail, known as the Kir Royale, was named after Canon Felix Kir, a Catholic priest, and ally in the French Resistance during World War II. The Kir Royale combines crème de cassis, a blackcurrant liqueur, with champagne, for a delicious twist.
Classic Mimosa Recipe
Ingredients:
Chilled Champagne or another type of Sparkling Wine
Freshly squeezed or high-quality store-bought orange juice
Instructions:
Fill a champagne flute halfway with chilled champagne or sparkling wine.
Top the flute off with orange juice, filling it up to the brim.
Stir gently to mix the champagne and orange juice.
Serve immediately, ideally with a slice of fresh orange on the rim of the glass for garnish.
Please note, the traditional recipe calls for equal parts champagne and orange juice, but feel free to adjust the ratio according to your preference. Some people prefer more champagne for a bubbly, less sweet Mimosa, while others might like more orange juice for a fruitier, more refreshing drink.
Bellini vs Mimosa: Compare and Contrast
While both cocktails are served chilled and are perfect for a cocktail party or a lazy Sunday brunch, their flavors cater to different taste buds. The Bellini, with its fruity peach puree and the bubbly flavor of Prosecco, offers a slightly sweeter, richer taste. The Mimosa, on the other hand, has a more straightforward and refreshing orange flavor, with the tartness of the orange juice balancing the sweetness of the champagne.
The alcohol content in both cocktails is relatively low, making them a great choice for daytime events. However, the alcohol content can slightly vary depending on personal preferences and the proportions of ingredients used. Mimosas traditionally have equal parts champagne and orange juice, while Bellinis feature more prosecco than peach puree.
Fun Variations and Personal Touches
While the traditional recipes for both drinks are relatively straightforward, there's room for experimentation. For instance, you can substitute the main ingredient, champagne or prosecco, with another type of sparkling wine, like a Spanish Cava or even an American sparkling wine. We've created a Grinch Mimosa swapping out champagne for Blanc de Bleu! Perfect for the holiday season, delicious, and visually stunning.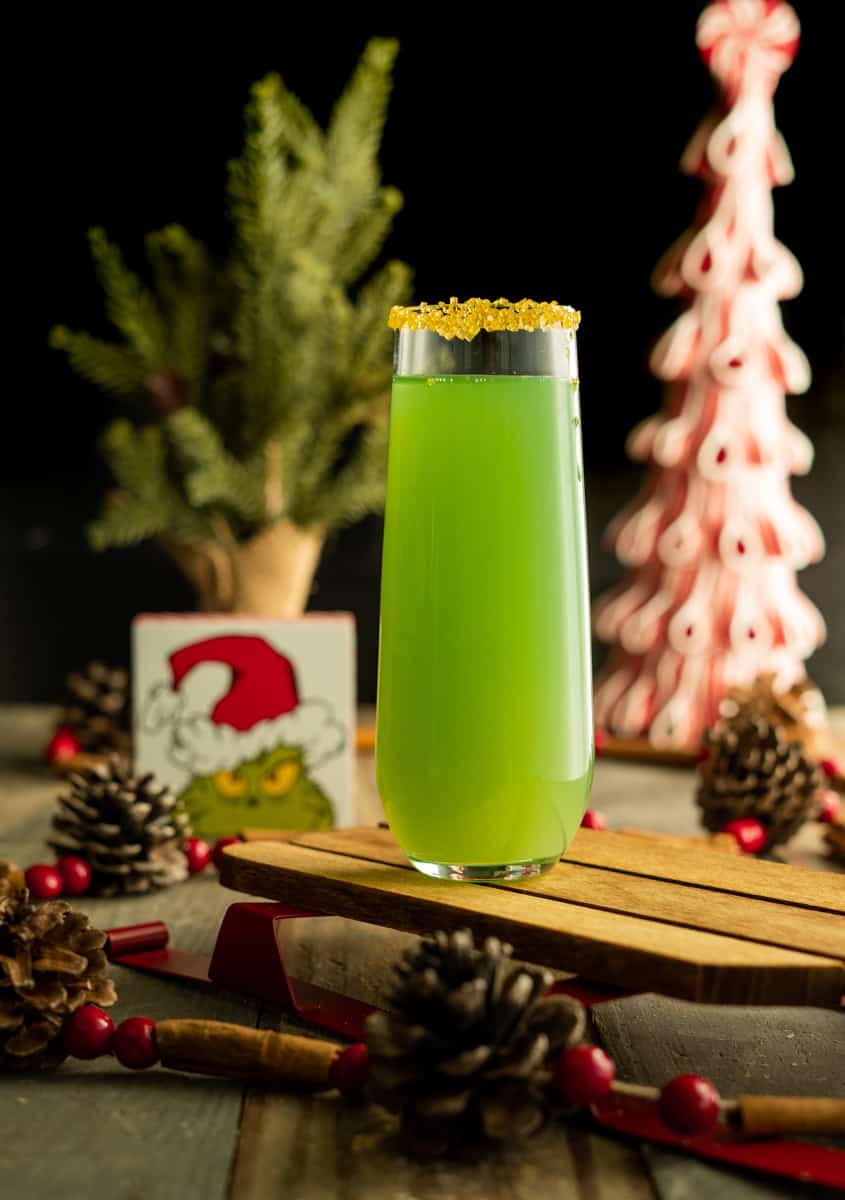 For a fun twist on the classic Bellini, try adding a small scoop of peach ice cream instead of peach puree. This not only adds a creamy texture but also a delightful surprise for your guests.
In the case of Mimosas, while the classic morning drink uses orange juice, don't be afraid to mix things up with different flavors. Cranberry or grapefruit juice can make for a more tart drink, while pineapple juice can add a tropical flair. Lavender is a new personal favorite I discovered this past Mother's Day!
The Art of Morning-Friendly Cocktails
Both the Bellini and the Mimosa offer an exciting palette of flavors and history. From the vibrant streets of Venice to the elegant halls of the Ritz Hotel in Paris, these drinks have traveled the world, gaining popularity and evolving with new technology and changing tastes.
So, whether you're a fan of the sweet and peachy Bellini, inspired by the Venetian painter Giovanni Bellini, or the refreshing and citrusy Mimosa, with its roots in the Ritz Hotel, there's a champagne cocktail out there for everyone.
Embrace these classic recipes or experiment with your own. Remember, the best part about cocktails is not just the taste, but also the joy of making and sharing them. And whether you're hosting a brunch or simply enjoying a relaxing weekend at home, these iconic drinks are sure to bring a sparkle to your day.
In the end, it's all about what delights your taste buds and the experience you create while enjoying these fruity cocktails. So, raise your champagne flute to the art of morning-friendly cocktails, and don't forget to share these classic and refreshing drinks with your loved ones. Cheers!