Ahoy, cocktail lovers! Yearning for a tropical escape? This delicious Coconut Mojito recipe is the ship that'll sail your taste buds to a blissful tropical island. It's like the classic mojito sailed the Caribbean and brought back a coconut treasure!
Jump to:
📋 Ingredients
¼ Teaspoon Granulated Sugar
-1 Fresh Lime - Juiced or 4 Tablespoons Fresh Lime Juice
4-6 Fresh Mint Leaves
1 oz Malibu Coconut Rum
1 oz Bacardi Silver Rum (or white rum)
1 oz Cream of Coconut (or coconut cream)
8 oz Coconut LaCroix
1 cup Ice
Lime Wedges for Garnish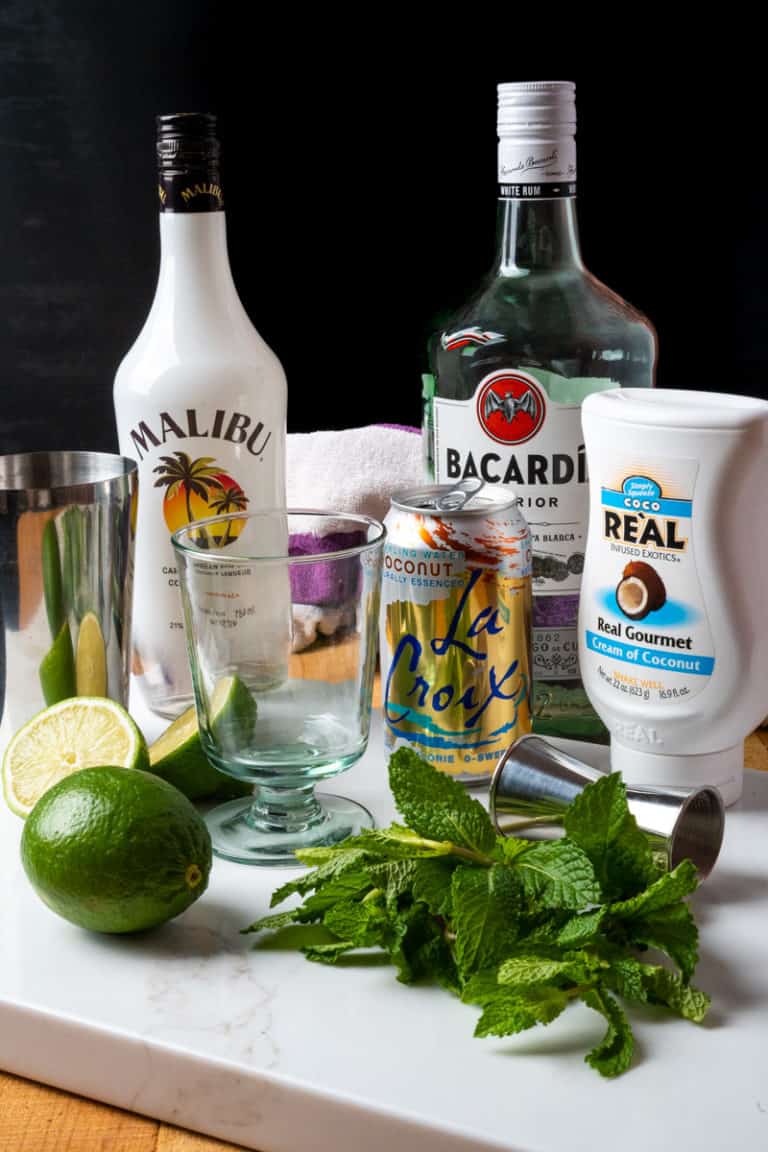 ⚙️ Instructions
Muddle Like a Pro
1. In a cocktail shaker, muddle the fresh mint leaves with sugar and a splash of lime juice. You're looking to release the mint flavor, so don't be shy! 
2. If you're using canned cream of coconut, make sure it's mixed well. Sometimes it's as stubborn as a pirate and needs to be warmed in a microwave-safe bowl to combine properly.
3. Add Malibu Coconut Rum, Bacardi Silver Rum, Cream of Coconut, and the rest of the lime juice to your shaker. Embrace your inner hula dancer and shake vigorously for 15 seconds!
4. Pour your tropical concoction over a cup of ice in a tall glass, and top it with Coconut LaCroix for that delightful fizz.
5. Garnish with a mint sprig and a lime wedge. Go the extra nautical mile with a sugar rim or lime zest.
🌿 Know Your Mint
Mint is an essential part of any mojito and there are plenty of kinds of mint out there! The most common type is Spearmint, but there is Mojito mint as well.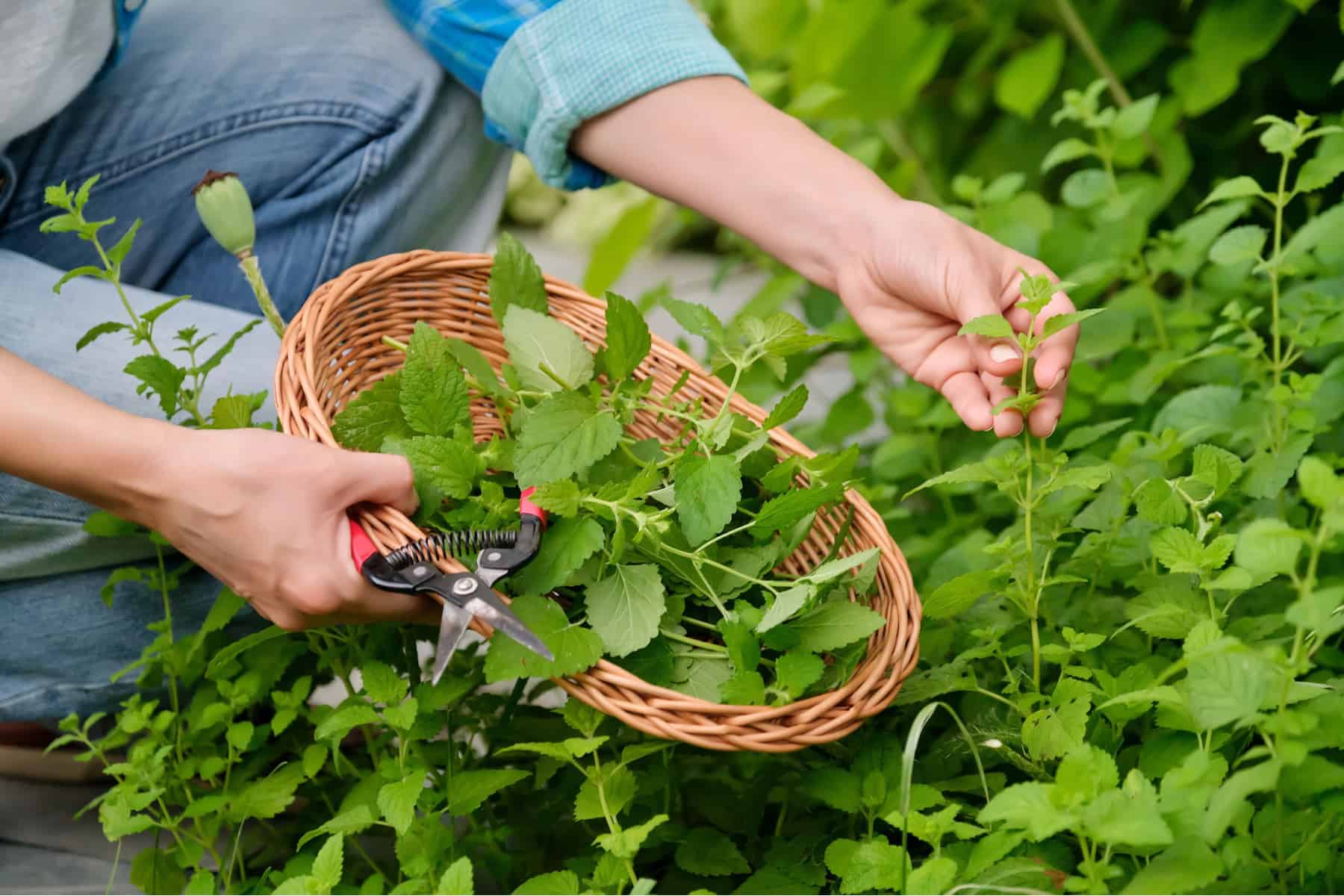 If you find it and are feeling like an adventurous twist, try Pineapple Mint! I would however stay away from anything too strong like Chocolate Mint. The key is to use fresh mint leaves; it's the soul of this cocktail!
🥥 Cream of Coconut
If you use the canned cream of coconut vs the squeezable Coco Cream bottle, it will need to be mixed thoroughly as it separates pretty aggressively. Even to the extent of needing to warm it up to get it to fully incorporate again. We recommend the squeezable plastic bottle due to this not being nearly as much of an issue.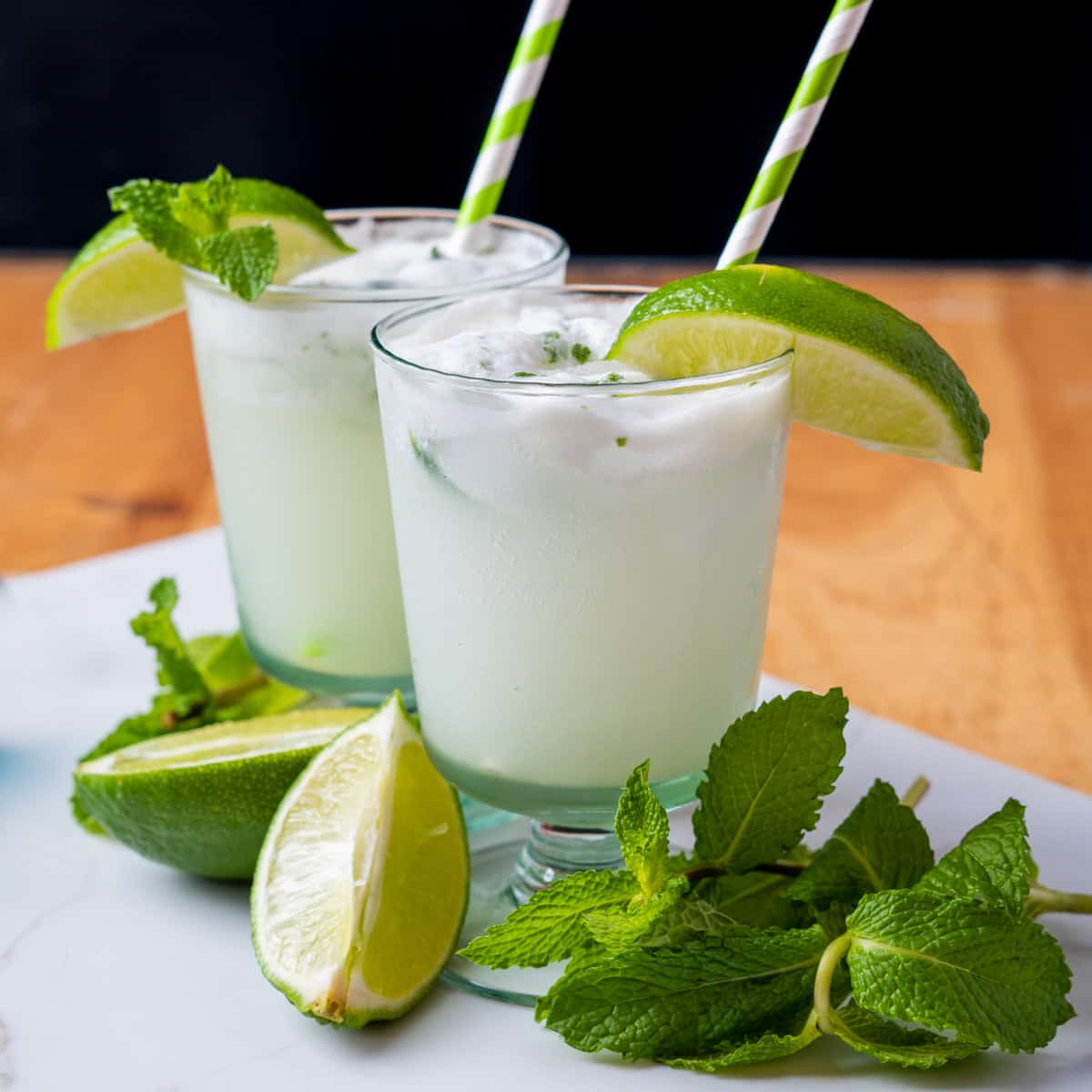 🔄 Substitutions
If you're missing an ingredient, fear not!
Swap granulated sugar for brown sugar or make a simple syrup for a smoother texture.
Replace Coconut LaCroix with coconut water or soda water.
No Cream of Coconut? Try coconut milk for a lighter version.
🕰 Making Them Ahead of Time
Planning a beach-themed party? You can make a batch of these ahead of time. Just mix everything except the LaCroix and keep it chilled. When you're ready to serve, pour over ice and top with Coconut LaCroix.
📜 A Brief History of the Mojito
The mojito traces its roots back to 16th-century Cuba. It's said that Sir Francis Drake and his crew drank a primitive version of this to fend off scurvy. The classic recipe was later refined in Havana, and allegedly, Ernest Hemingway was quite the fan!
🍹 Other Variations to Try
Piña Colada Mojito: Add pineapple juice and garnish with a pineapple slice.
Blueberry Mojito: Add blueberries while muddling and a splash of blue curaçao.
Virgin Coconut Mojito: Omit the rum for a non-alcoholic treat.
Ginger Coconut Mojito: Add ginger beer instead of LaCroix for a spicy kick.
👩🏼‍🍳 Chef Tip
#1 The canned cream of coconut needs to be shaken well and warmed. The plastic container doesn't. It was more expensive but worth it!
#2 You'll want a straw for this drink OR to strain out the muddled mint. If not, you'll have pieces of mint in your mouth!
#3 There are a lot of different types of mint! We wrote a whole article about the different varieties of mint and which work best in mojitos if you want to do a deep dive.
FAQ: Frequently Asked Questions
What makes this Coconut Mojito different from traditional mojitos?
This creamy coconut mojito recipe combines the classic mojito flavors with a tropical twist! With the addition of coconut rum and cream of coconut, it's like a hybrid between traditional mojitos and piña coladas.
Can I make this mojito recipe as a frozen drink?
Absolutely! Just throw all the ingredients (except the Coconut LaCroix) into a blender with a cup of ice. Blend until smooth and serve in a highball glass. Perfect for those extra hot days!
How can I add a fruity touch to this coconut cocktail?
A fun addition to your mojito variation is adding a splash of blue curaçao or muddling some fresh blackberries or raspberries in the cocktail shaker before shaking. It adds a fruity cocktail vibe!
Can I use light rum instead of coconut rum in this tropical drink?
Certainly! Using light rum instead of coconut rum will still give you a delicious tropical cocktail, but with a more subtle coconut flavor. Add a splash of coconut syrup or a little extra cream of coconut for that coconut punch.
What is the best rum to use for this creamy coconut mojito recipe?
Malibu Coconut Rum is perfect for this recipe as it adds that tropical spin with its coconut flavor.
How can I make this cool drink even more Instagram-worthy?
Garnish with a lime wheel, lime slices, and a mint sprig. Don't forget the little umbrellas! For an extra fancy touch, add a sugar rim with lime sugar. Snap new photos and become a social media star! 📸
Is there a way to make a non-alcoholic version of this mojito recipe?
Certainly! Just omit the rum and add a little more coconut syrup or cream of coconut, and you have a virgin coconut mojito. A perfect way to enjoy the warm sunshine in a non-alcoholic form!
Can I use coconut milk instead of cream of coconut?
Yes, you can use coconut milk as a lighter alternative. It will have a less intense coconut flavor compared to the cream of coconut but still brings in that tropical feel.
Remember, the beauty of cocktail recipes is experimentation! Grab your simple ingredients from the grocery store and start shaking! 🍹🌴
🍹More Cocktails
To find more drinks to pair alongside your brunches or dinners, check out all our cocktail recipes!
📖 Recipe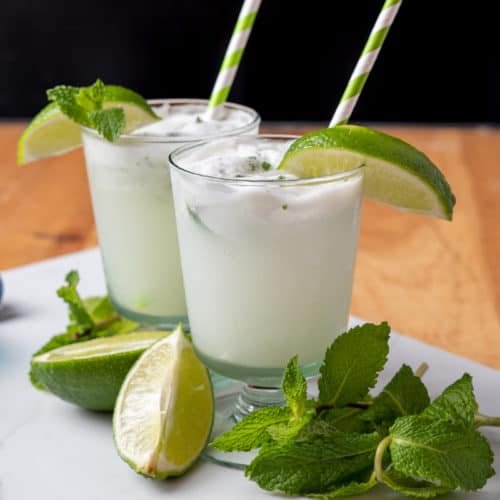 Coconut Mojito
The definition of refreshing. Bright lime and coconut seltzer come together with cream of coconut to create the perfect summer drink.
Ingredients
¼

teaspoon

Granulated Sugar

1

Large Lime - Juiced

-

or 4 tablespoon Lime Juice

4-6

Fresh Mint Leaves

1

oz

Malibu Coconut Rum

1

oz

Bacardi Silver Rum

1

oz

Cream of Coconut

8

oz

Coconut LeCroix

1

cup

Ice
Instructions
Muddle the mint leaves with the sugar and a splash of lime juice in a shaker.

(When using canned cream of coconut) Mix thoroughly as it likes to separate. This sometimes requires warming it in a microwave-safe bowl.

Add the rum, cream of coconut, and remainder of the lime to your shaker and mix for 15 seconds.

Pour over a glass of ice and top with Coconut LaCroix.

Garnish with fresh mint & a lime wedge.
Nutrition
Calories:
140
kcal
Carbohydrates:
14
g
Protein:
0.3
g
Fat:
2
g
Saturated Fat:
2
g
Polyunsaturated Fat:
0.03
g
Monounsaturated Fat:
0.01
g
Sodium:
15
mg
Potassium:
46
mg
Fiber:
2
g
Sugar:
11
g
Vitamin A:
102
IU
Vitamin C:
10
mg
Calcium:
19
mg
Iron:
0.3
mg