Mexican chorizo is ground pork blended with a variety of seasonings such as chili peppers, garlic powder, and paprika. Perfectly smokey and spicy, we use it in our Chorizo Burger and Chorizo Sausage Gravy. This leaves us with a great question... How long does Mexican chorizo last in the fridge?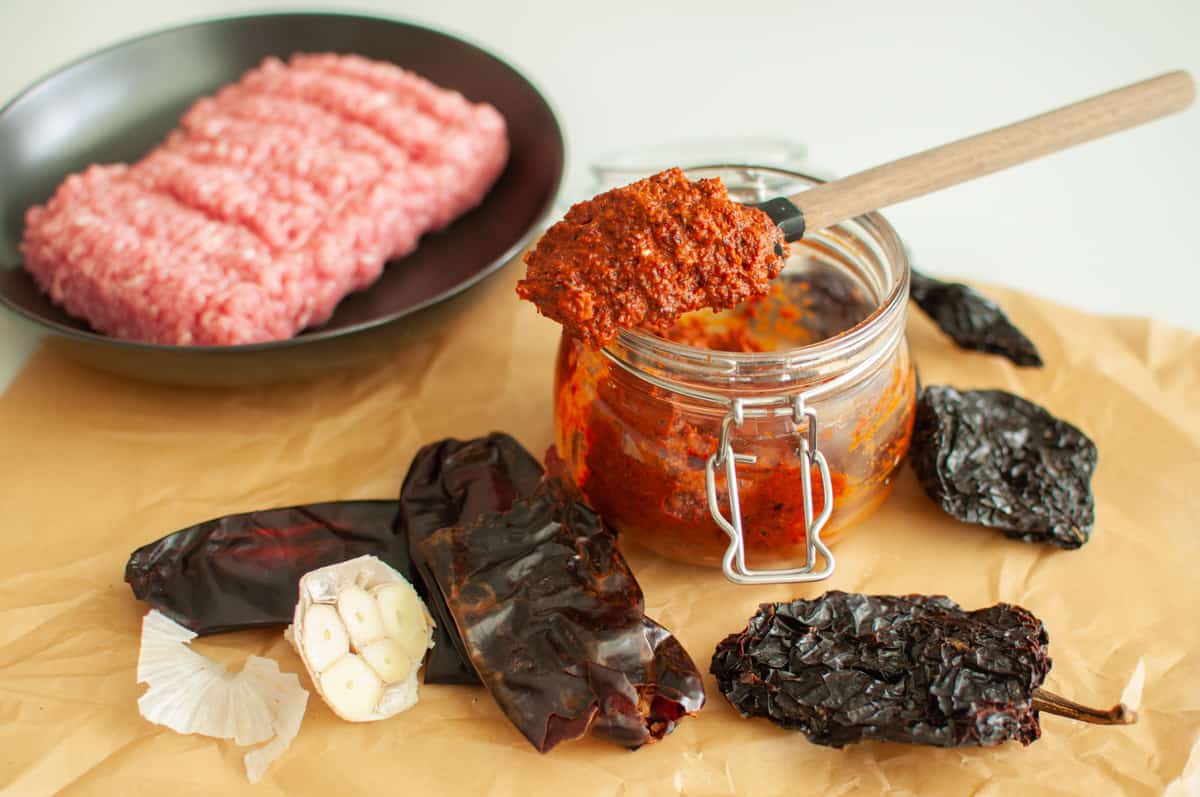 Jump to:
🥡 Storing Homemade
Generally, Homemade Mexican Chorizo can be kept raw, in the fridge, for up to 3 to 4 days. Make sure to check the best-by-date on the ground pork you'll be using! Assuming it has at least 3 to 4 days of remaining shelf life left, and storing properly it in an airtight container. The addition of vinegar in your recipe also helps to extend the fridge life slightly, but not by much. If you are planning to store the chorizo for a longer period of time, it is recommended to freeze it instead.
You can store homemade chorizo in the freezer for up to 3 months in a freezer-safe bag or airtight container and label it with the date (Month/Day/Year). Making sure to keep track of when it was made will help you use the oldest one first and reduce waist or freezer burn.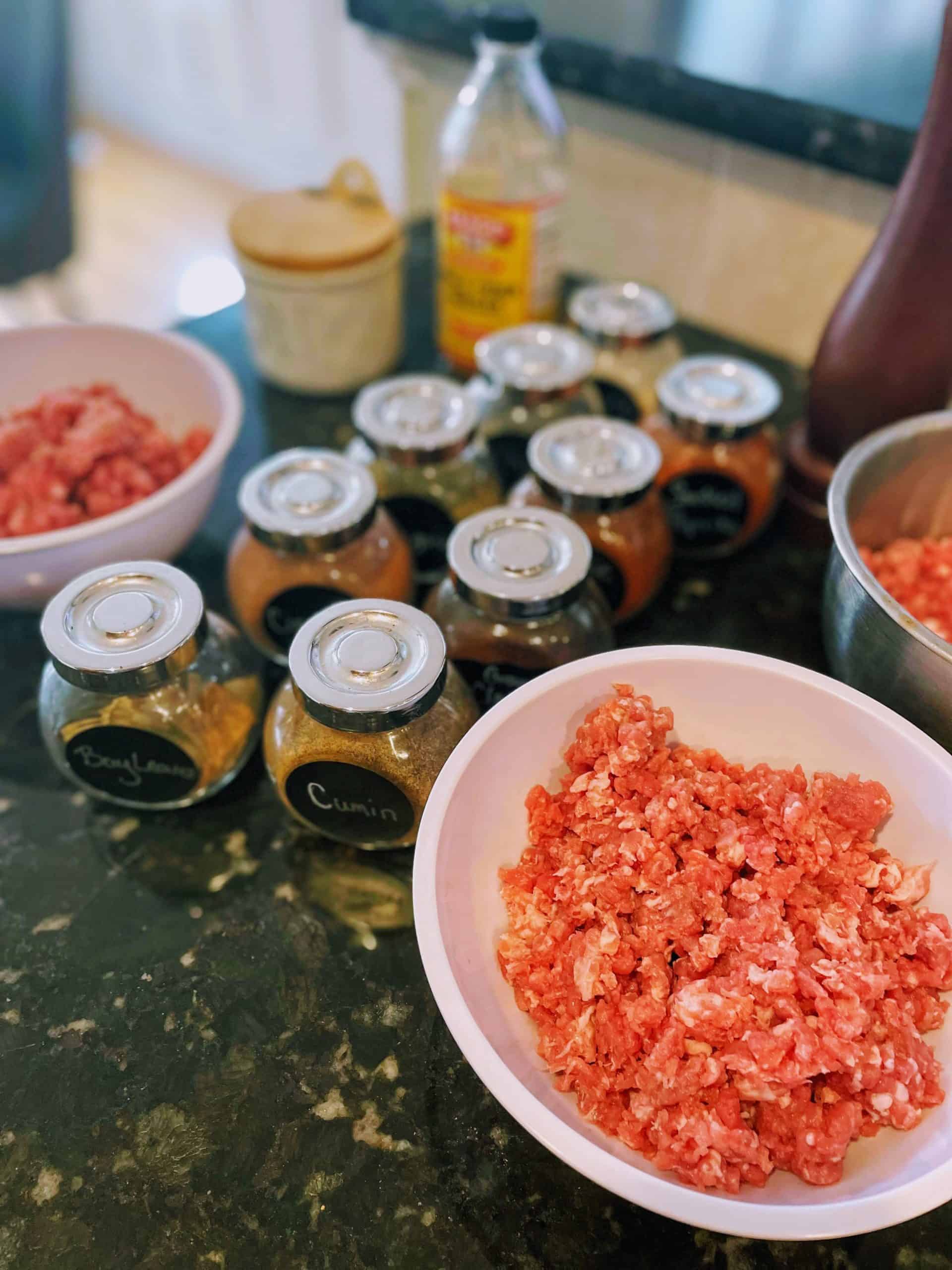 Always make sure to follow safe food handling and cooking practices as well, to ensure the best quality and safety of your homemade chorizo. If you notice any off odors or signs of spoilage, it is best to discard them. For a full list of FDA guidelines check out the FDA's website or the USDA's website. It's the best place to find the most up-to-date information and best practices.
If you are looking for a homemade chorizo recipe you've also come to the right place! You can find our Mexican Chorizo recipe as well as lots of yummy ways to use it like Chorizo Sausage Gravy, our Spicy Chorizo & Shrimp Appetizer, and of course our Chori Pollo.
​⏲ How to Stretch Fridge Life
If you know your raw chorizo needs to be cooked and you aren't quite ready to use it, don't fret! Cooking chorizo and then refrigerating immediately can extend its life another 3-4 days. This is a great hack if you are making Chori Pollo and your uncooked chorizo might be at the end of its life, but you might not be ready to make it for a few more days.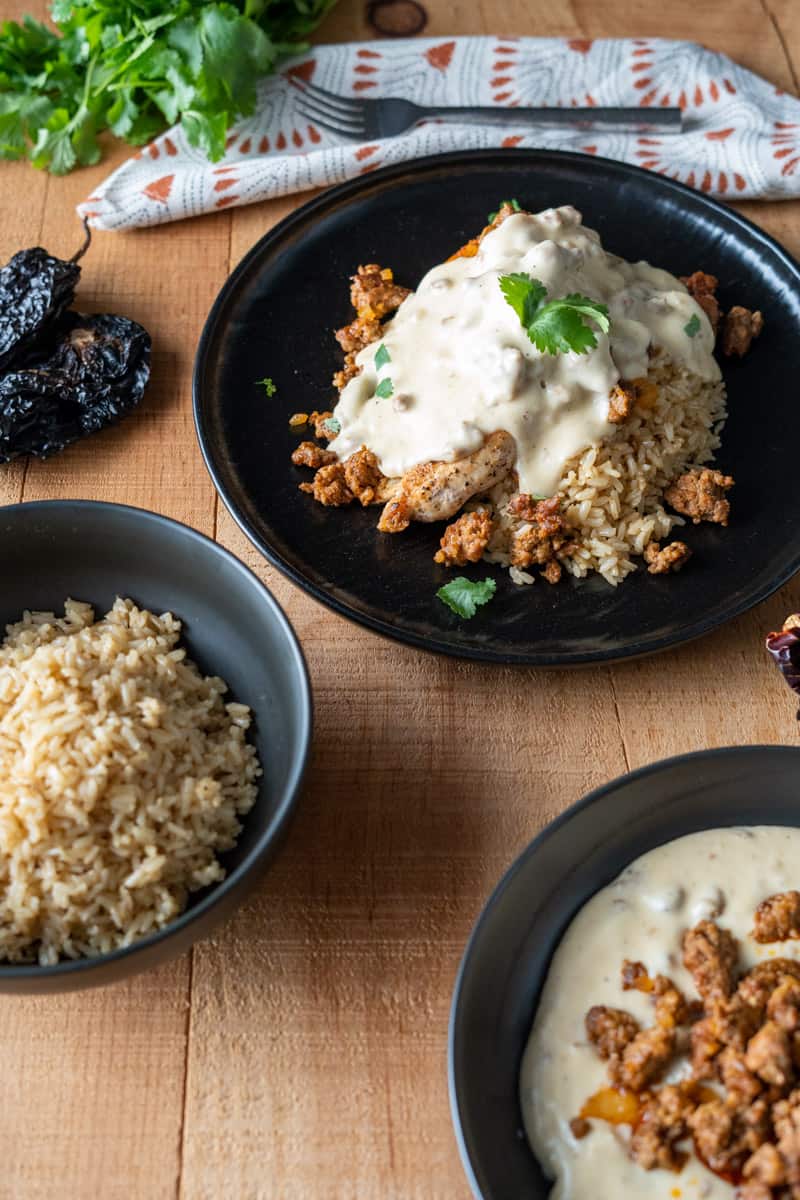 It's important to note that if the chorizo has an off odor or if it has been stored for too long, it may not be safe to eat. As with any raw meat product, it's important to follow food safety guidelines and to use chorizo within its expiration date for the best quality and safety. If you have any concerns about the quality or safety of your chorizo, it's best to discard it and buy a fresh package.
❄️ Freezing
When it comes to storing leftover chorizo, you can store it raw or cooked. Both variations should last up to 3 months in the freezer. It's important to note that if you are planning on freezing store-bought chorizo, you should always follow the use-by date, whether it's fresh or cured.
To prevent freezer burn, make sure to use an airtight, freezer-safe bag.
🛒 Store Bought
We've struggled at times to find chorizo at grocery stores. Farmers' markets have been our best bet but aren't always a guarantee. However lately, we've noticed a few new brands pop up at our local grocery store. If you do find some premade, you can expect an unopened package of store-bought chorizo to last in the fridge for up to 2 weeks, as long as it is stored properly in its original packaging and you are within the sell-by date.
It is important to note that these time frames are general guidelines, and you should always check the expiration or use-by date on the package. Additionally, if you notice any off odors, sliminess, or discoloration, it is best to discard the chorizo, as it may have spoiled.
To maximize the shelf life of store-bought chorizo, it is important to store it properly in the fridge. Keep it in the coldest part of the fridge, which is usually at the back. This will help to prevent any bacteria growth and prolong the freshness of the chorizo.
Once you have opened the package of uncooked chorizo, it should be stored in the refrigerator and consumed within 3-4 days. To store the leftover chorizo, wrap it tightly in cling film or place it in an airtight container.
Below are some examples of commonly used phrases that the FDA uses to help you properly store or use your food.
A "Best, if Used By/Before" date, indicates when a product will be of the best flavor or quality. It is not a purchase or safety date.
A "Sell-By" date tells the store how long to display the product for sale for inventory management. It is not a safety date.
A "Use-By" date is the last date recommended for the use of the product while at peak quality. It is not a safety date except for when used on infant formula as described below.
A "Freeze-By" date indicates when a product should be frozen to maintain peak quality. It is not a purchase or safety date.
🧤Handling Raw Chorizo
Wearing gloves is recommended but not required while mixing your chorizo. Washing your hands thoroughly with hot soapy water before and after is always important for sanitation purposes. Keep in mind you will be dealing with some spices as well. Touching sensitive areas after working with spices can be unpleasant!
⏳ Time & Temperature Safety
It is generally recommended that raw meat should not be left out at room temperature for more than 2 hours. This is because bacteria can quickly multiply at temperatures between 40°F and 140°F (4°C and 60°C), which is known as the "danger zone" for food safety. If the room temperature is above 90°F (32°C), then raw meat should not be left out for more than 1 hour.
It is important to note that these guidelines are for food safety reasons and to prevent the risk of foodborne illness. Raw meat that has been left out at room temperature for too long can develop harmful bacteria that can cause food poisoning. If you are unsure about the safety of your meat, it is best to discard it rather than risk getting sick.
You can see a full list of time and temperature safety guidelines at the USDA's Food Safety site.
Different Chorizo Types
One of the main things to consider when storing either homemade or storebought chorizo is the type of chorizo you have. There are different types of chorizo, such as fresh chorizo, dry chorizo sausage, and semi-cured chorizo. Each type of chorizo has a different shelf life, and it's important to follow the storage instructions for each type.
Spanish Chorizo - This is a cured sausage that is typically made with pork, paprika, and garlic. It has a firm texture and is often sliced and eaten as a snack or used as an ingredient in various dishes.
Mexican Chorizo - Mexican chorizo is a fresh sausage that is made with ground pork, chili powder, garlic, and vinegar. It has a softer texture than Spanish chorizo and is often used as a filling for tacos, burritos, and other Mexican dishes.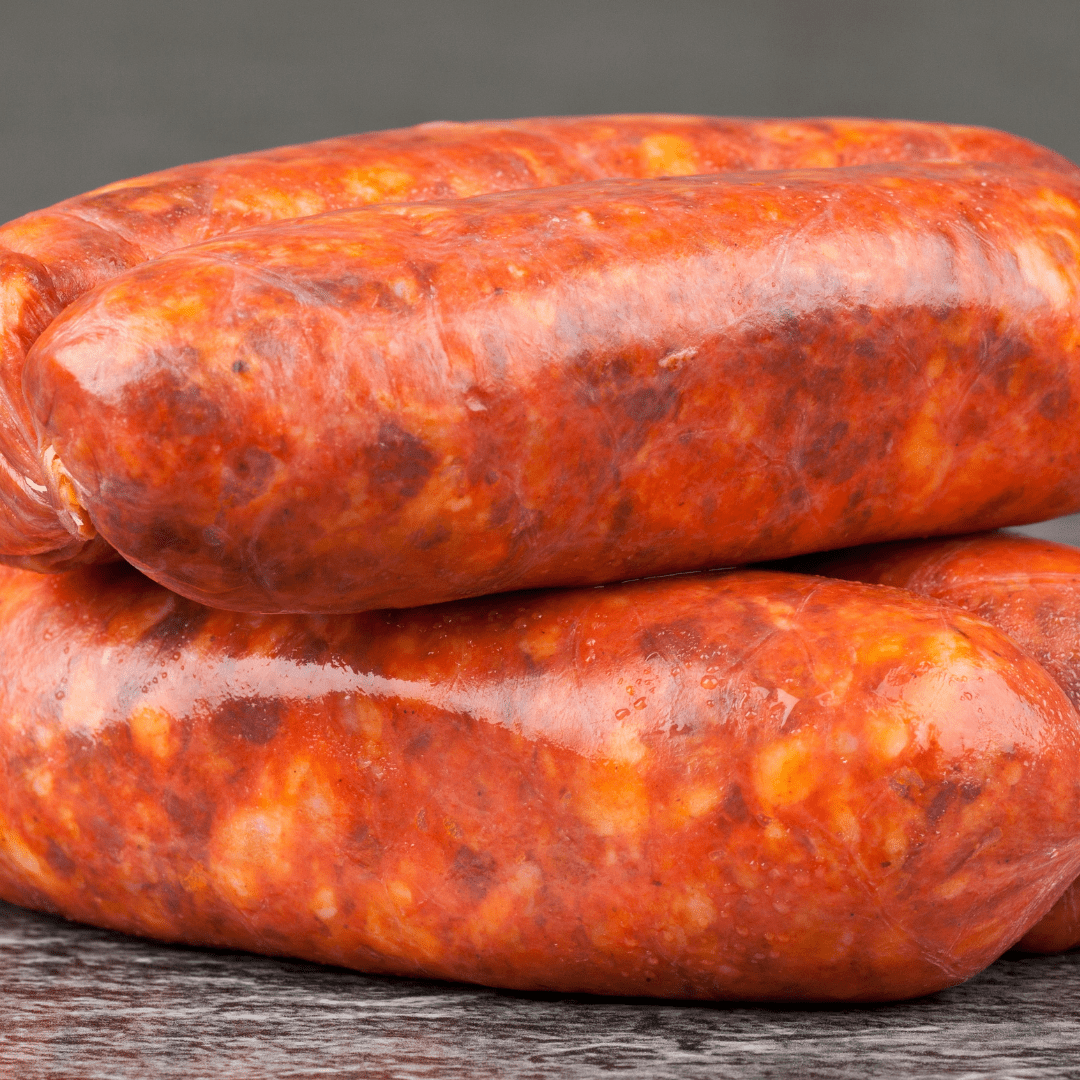 Puerto Rican Chorizo - Puerto Rican chorizo is similar to Mexican chorizo, but it often contains additional spices like oregano, cumin, and coriander. It is also commonly used as a taco filling or served with rice and beans.
Portuguese Chorizo - Portuguese chorizo is a smoked sausage that is made with pork, paprika, and wine. It has a firm texture and is often sliced and eaten as a snack or used as an ingredient in stews and soups.
Argentinian Chorizo - Argentinian chorizo is typically made with beef and pork, and it has a mild flavor. It is often grilled and served as a sausage sandwich or used as a pizza topping.
Cured Spanish Chorizo
Cured or semi-cured chorizo, like Spanish chorizo, can last longer. If unopened and stored in its original packaging, it can last for several weeks in the refrigerator. Once opened, it's best to consume within a week or two, and it should be wrapped in cling film or placed in an airtight container to prevent it from drying out.
Cured chorizo can also be frozen for longer-term storage. You can also freeze it in small portions or slices for later use in your favorite recipes.
Semi Cured Chorizo
Semi-cured chorizo is a type of chorizo that has been partially cured but still needs to be cooked before it can be consumed. It comes in natural and synthetic casings and is left to air-dry, typically for several weeks.
During this time, the chorizo develops a firm texture and develops its characteristic flavor. Semi-cured chorizo can be eaten raw, but it is most commonly used in cooking, where it adds a rich, smoky flavor to a variety of dishes, such as stews, soups, and rice dishes. It can also be sliced and served as a snack or appetizer. *Eating raw or undercooked meats can cause food-borne illness.*
Compared to fully-cured chorizo, which is typically hard and dry, semi-cured chorizo has a softer texture and a more moist consistency. It is a popular ingredient in Spanish and Latin American cuisine, and can often be found in specialty food stores or online.
👩🏼‍🍳 Chef Tip
Cured chorizo can be a really amazing addition to a charcuterie board! We can easily find some at our local deli, but recently found an amazing variety pack imported from Spain at World Market of all places. Another hidden bonus was World Market also had a tona great crackers, jams, and spreads as well.
If you've never made a charcuterie board and you are wondering how much the cost is or how to make one, we have a whole article dedicated to just that!