Carnitas are a classic Mexican staple. Slow-cooked, shredded pork butt, and a favorite among food lovers worldwide. Whether you made your own carnitas recipe or ordered it from a restaurant, you're probably wondering how to best reheat your leftover carnitas without losing that delicious flavor and texture.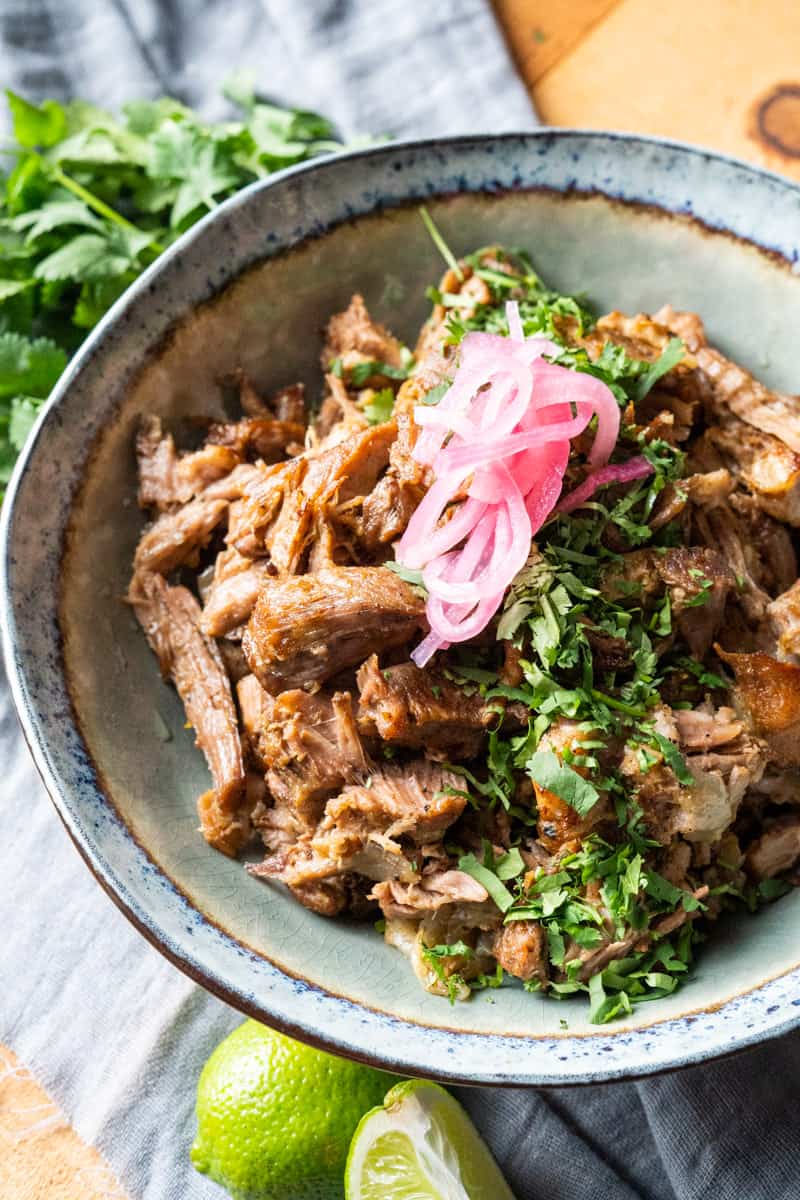 Fortunately, there are several ways to reheat carnitas, each with its pros and cons. We'll explore some of the best methods and simple steps to help you enjoy your leftover carnitas as if it was freshly cooked. Obviously, we have a favorite method which we will highly below.
Jump to:
Safety First
Before we dive in, it's essential to note that proper storage is actually the first step. You'll want to store your leftover carnitas in an airtight container or freezer bag. Carnitas can last up to 3-4 days in the refrigerator after cooking and up to three months in the freezer. Now that we've covered proper storage let's look at some of the best ways to reheat your leftover carnitas in order of our personal preference...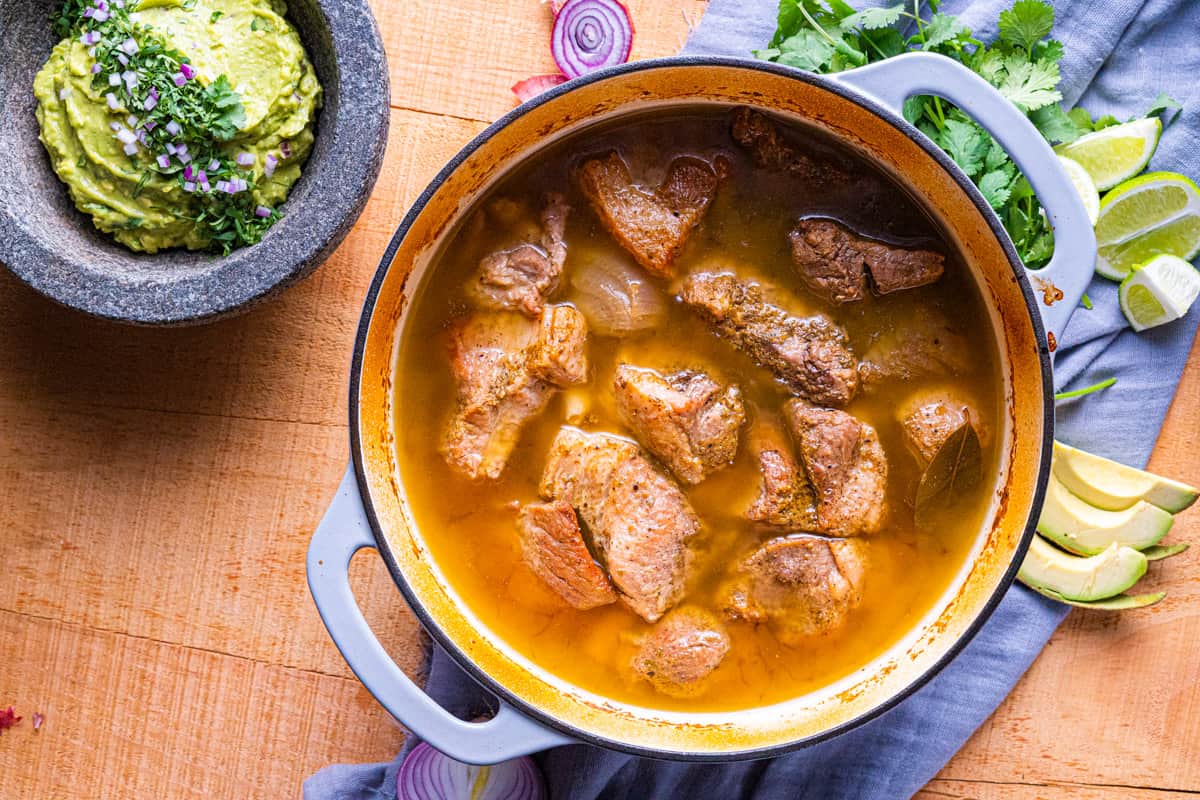 Reheating Methods
Stovetop
This is our personal recommendation, but only if you're reheating a small batch. In a non-stick skillet, add a little vegetable or olive oil. Heat the pork over medium-high heat until just simmering and heated through. Stir occasionally to prevent burning and add a tablespoon of water or chicken stock if the pork seems dry.
Oven
Reheating carnitas in the oven is a great way to achieve crispy pork carnitas that taste like they were freshly cooked. Preheat the oven to 350 degrees F and line a baking sheet with aluminum foil. Spread the leftover pork pieces evenly in a single layer on the baking sheet and pour a cup of water, chicken stock, or leftover cooking liquid over the pork. Cover the pork with another layer of aluminum foil to prevent it from drying out. Reheat the pork for 10-15 minutes, then remove the top layer of foil and continue heating until the pork is hot and crispy.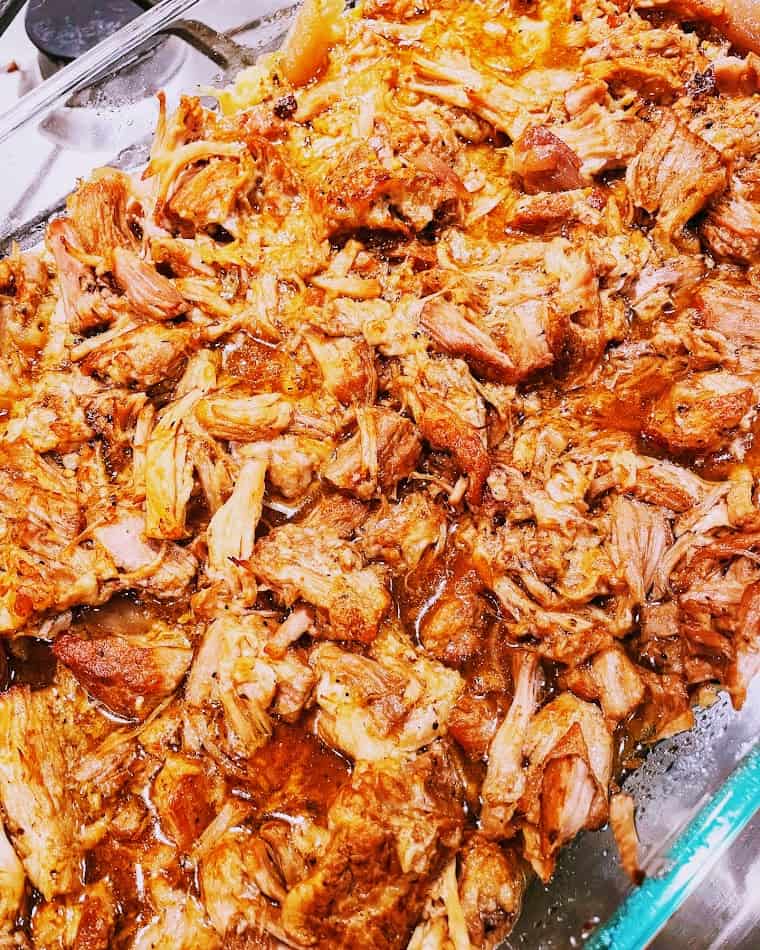 Crock Pot
If you are reheating a larger portion of carnitas, a slow cooker method would be a great choice. Add the leftover carnitas to the pot, add a cup of chicken broth or cooking liquid, and cook on low for 2-3 hours. If you want a crispier texture, you can finish the carnitas on the stovetop or under the broiler for 30 seconds to 1 minute.
Sous Vide Machine or Vacuum Sealer
If you have sous vide machine or vacuum sealer, you can reheat carnitas using the sous vide method. Simply place the leftover carnitas in a vacuum-sealed bag, then submerge it in a water bath heated to 165 degrees F for about an hour. This method helps to retain the tenderness and flavors of the pork but won't provide the crispy bits some people really enjoy. 
Instant Pot
An instant pot could be a good idea! Simply place the pork pieces in the pot, add enough liquid like water, chicken stock, or orange juice, to cover the bottom of the pot, and cook on high pressure for 3-5 minutes.
No matter which method you choose make sure to heat it to an internal temperature of 165°F (74°C) to ensure that it's safe to eat. Once you've reheated your carnitas, you can serve them again with your favorite sides, such as refried beans, or warm tortillas. We've also used them the next day on carnitas nachos, inside quesadillas, and on top of salads and rice bowls!
Some Additional Tips:
Avoid reheating carnitas in the microwave, as it can dry out the meat and cause it to lose its flavor and texture. Instead, try using one of the methods mentioned above. If you want to change up flavors a bit try mixing in some barbecue sauce, pico de gallo, or chopped red onions. You can also drizzle some lime juice or orange juice on the meat for a citrusy pop.
We don't recommend reheating your carnitas in an air fryer for the same reasons as the microwave, it will dry them out.
Pork can sometimes get a "leftover" flavor that I dislike. It doesn't mean your carnitas have gone bad, but it is worth noting if leftovers aren't you're favorite, to begin with. 
What is Carnitas?
Carnitas is a Mexican dish that consists of slow-cooked, shredded pork that is typically seasoned with a variety of spices and herbs. The word "carnitas" literally translates to "little meats" in Spanish, which refers to the small chunks or shreds of pork that are used to make this dish.
Traditionally, once shredded they are typically served with corn tortillas, cilantro, onions, and a variety of toppings, such as salsa, guacamole, and lime wedges. The meat is often seasoned with a combination of spices and herbs, such as cumin, oregano, and garlic which give it a mouth-watering flavor you can't stop eating.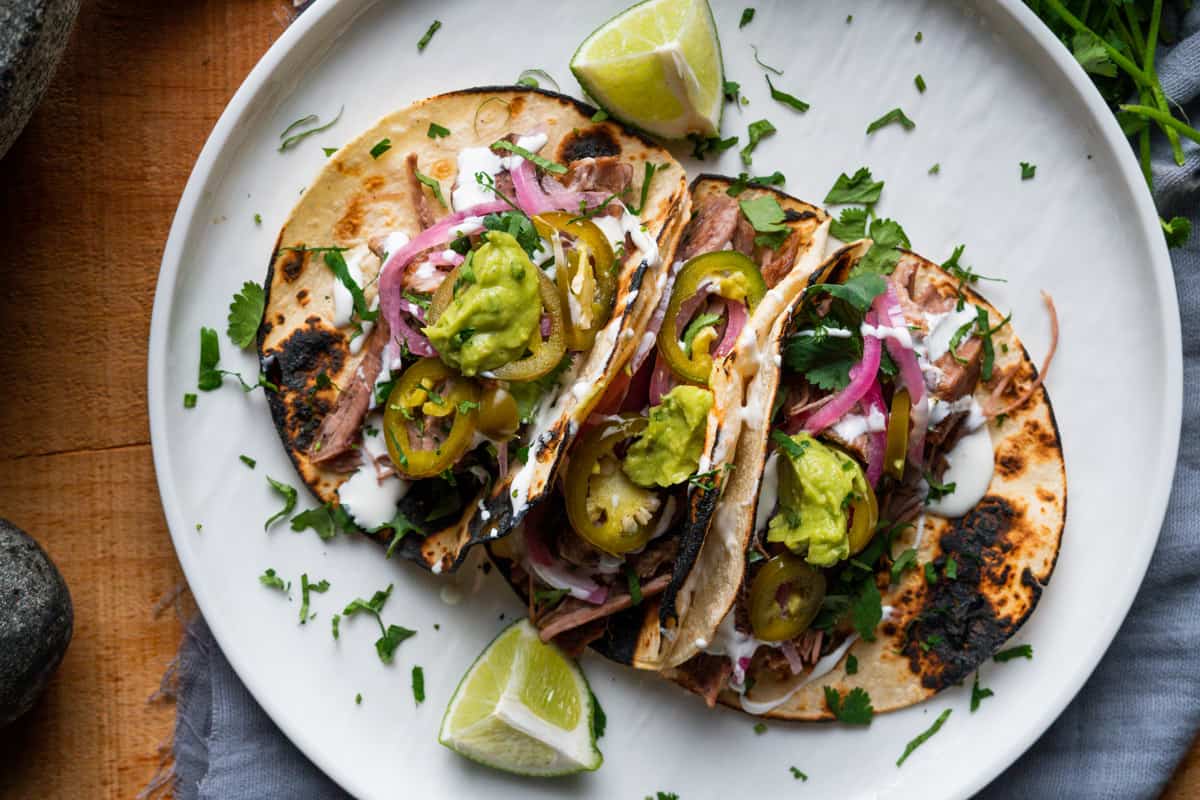 Carnitas is a popular dish in Mexican cuisine and can be enjoyed as a main dish or used as a filling for street tacos, burritos, quesadillas, and other Mexican dishes.
Proper Storage
Before storing pulled pork, there are a few important things you should keep in mind to ensure that it stays safe to eat and maintains its quality. Here are some tips:
Cool the pulled pork properly: Before storing pulled pork, it's important to let it cool down to room temperature. This helps to prevent the growth of harmful bacteria. To cool the pulled pork quickly, you can spread it out on a baking sheet and place it in the refrigerator for about 30 minutes.
Store in airtight containers: Once the pulled pork has cooled down, transfer it to airtight containers. This helps to keep it fresh and prevent it from drying out. You can use plastic containers or resealable plastic bags for storing pulled pork. We love using reusable pop-top-style glass containers as well. 
Label and date the containers: It's important to label the containers with the date that the pulled pork was made and stored. This helps you to keep track of how long it has been in the refrigerator and when it should be used by. 
Store in the refrigerator or freezer: Pulled pork can be stored in the refrigerator for up to 3-4 days. If you want to store it for longer, you can freeze it for up to 3 months. Make sure to thaw the pulled pork in the refrigerator overnight before reheating it. 
By following these tips, you can ensure that your pulled pork stays safe to eat and maintains its quality while in storage. For more information about food safety and guidelines we highly recommend checking out the USDA Food Leftover Food Safety Page.