Perfect Vanilla Buttercream in 10 Minutes
The frosting makes or breaks cakes and cupcakes for me. They can be too sweet, too heavy, flavorless, or gritty. I also hate nothing more than store-bought jar frosting. The only exception to this rule is Rainbow Chip sprinkle frosting which was super popular like 20 years ago. Hence me making this simple and perfect Vanilla Buttercream.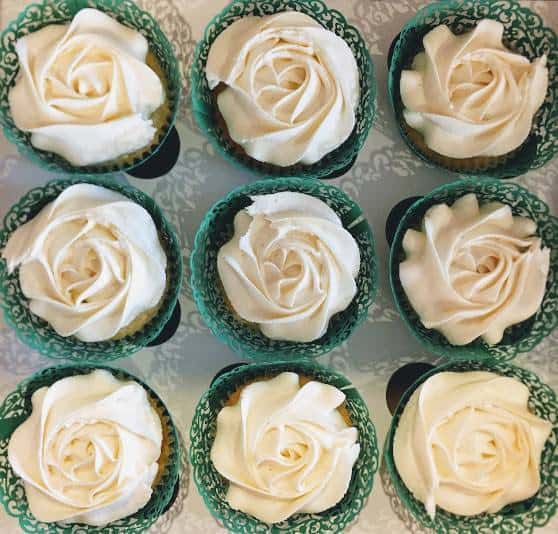 Either way, here is my go-to standard for a simple and delicious frosting that is nearly impossible to botch. It's versatile and can easily be modified to whatever flavor profile you are shooting for. Add almond extract or peppermint… it really is all up to you!
Cake Recipe to Pair
If you are in the market for an excellent cake or cupcake recipe to pair with, we recommend our OG Vanilla Honey Cupcake or our Chocolate Espresso Cake.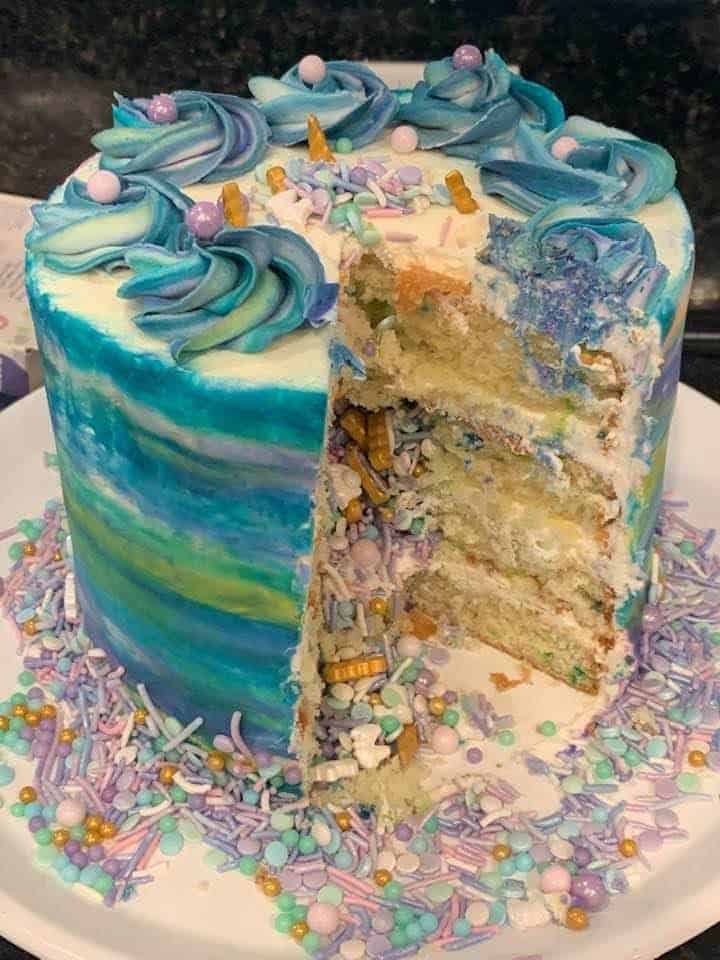 Storing Your Vanilla Buttercream
If this is covered it can stay out on the counter for a solid few days. Just be mindful of the temperature of your house. If you live in TX and keep your house at 80, you will have frosting soup. 
While you can refrigerate this vanilla buttercream recipe, please please remember the butter will get firm again. Depending on how large of a bowl you have it will take a very very long time to come back to room temperature and be easy to work with.
Decorating Tips & Tricks with Buttercream
If you are looking to take your cake decorating skills a few notes I highly recommend checking out our Cake Decorating Kit post. It walks you through a handful of tools that will truly set you up for success. All for under $100.
📖 Recipe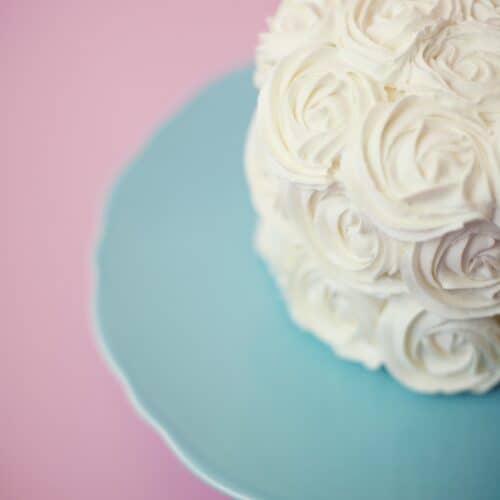 Simply Perfect Vanilla Buttercream
This is a staple buttercream here at Tabetha's Table. It holds up well on cakes and cupcakes. It's super easy, wildly delicious, buttery, and not super sweet. It's adaptable to almost any flavor profile so be creative and enjoy!
Ingredients
1

cup

Unsalted Butter

-

Room Temperature

3

cups

Powdered Sugar

1

tablespoon

Heavy Cream

1

teaspoon

Vanilla Extract
Instructions
Place room temperature butter & powdered sugar in a bowl and mix with the WHISK attachment

Slowly increase the speed as the powdered sugar and butter come together

Once fully incorporated, turn up to high

Scrape down the bowl a few times to make sure the sides are fully incorporated

Whisk for 3-5 minutes or until light and fluffy

Add the heavy cream and vanilla

If coloring your frosting, this is a great time to add dye

TASTE IT. Adjust extract if needed
Notes
Make sure you start your mixer on low speed. 
If not you will look like Farva from Super Troopers:

Scrape down the bowl often. The frosting will start to get very light and fluffy in the middle but the sides will need some help getting worked in. 
When decorating your cupcakes, pastry bags and full-size pastry tips are the way to go. 
If you are using this recipe for making a cake, an offset spatula & a spinning cake table are must-haves. The amount of frustration and work will be cut down by 50% easily. 
Nutrition
Calories:
258
kcal
Carbohydrates:
30
g
Protein:
1
g
Fat:
16
g
Saturated Fat:
10
g
Polyunsaturated Fat:
1
g
Monounsaturated Fat:
4
g
Trans Fat:
1
g
Cholesterol:
42
mg
Sodium:
3
mg
Potassium:
7
mg
Sugar:
29
g
Vitamin A:
491
IU
Vitamin C:
1
mg
Calcium:
6
mg
Iron:
1
mg