The biggest Reese's dessert ever, made with the biggest Reese's ever. This Reese's Puff Pastry Pie was made out of desperation of what to do with the ridiculously huge Reese's my kids lovingly gave me for Christmas.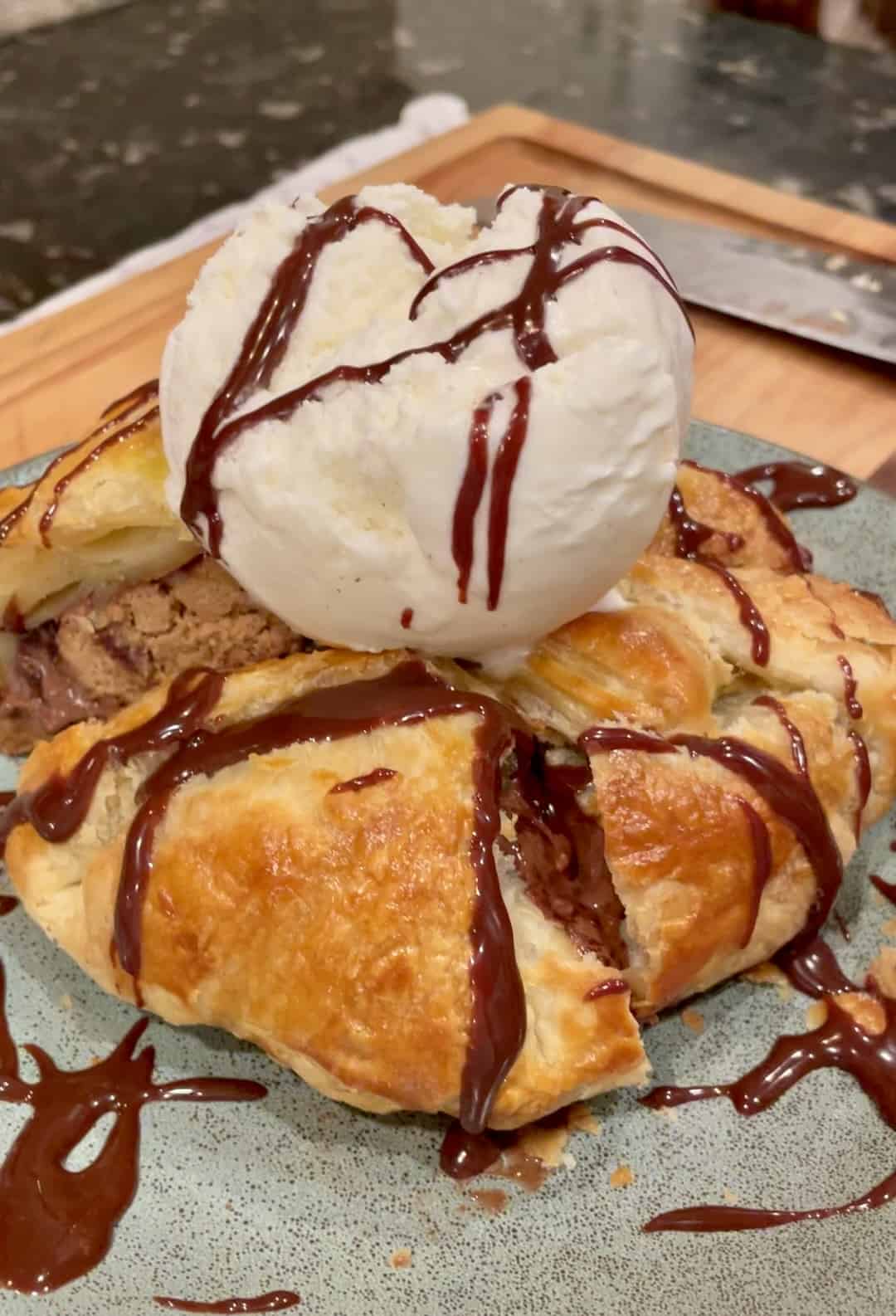 What To Do With A Giant Reese's Cup
I decided I would turn these massive Reese's into a full-on dessert. Wrapping those bad boys in puff pastry, baking it, drizzling on some delicious topping, and adding a few sprinkles. It was the most beautiful mistake. Mostly because I know knew the power which I held. The ability to take my favorite sweet and somehow make it unhealthier and more delicious all at the same time.
So where did we end up? Well, this is a solid ½ pound of Reese's, wrapped if flaking, crispy, buttery puff pastry, topped with homemade ice cream, and drizzled with hot fudge... Sorry, not sorry.
Frozen Puff Pastry
I would suggest buying the puff pastry. Homemade is a bear to make and not worth your time in this kind of preparation. It costs under $5 and comes with 2 sheets which means if you also have a mega pack of Reese's like me, you can wrap both with one box of puff pastry.
If you don't have a mega pack of Reese's but now you find yourself needing one, I got you. You can find Mega Reese's on amazon or all over Hershey Park.
Serving your Giant Reese's Dessert
You can't go wrong with Vanilla Ice Cream to start. If you are feeling extra today, I also have a recipe for homemade Vanilla Ice Cream, so make sure to check that out!
As far as drizzles go, chocolate syrup or fudge is a simple go-to that you might already even have in your fridge. I also had a leftover jar of butterscotch sauce from a bread pudding I recently made which was amazing on top. The recipe is in the works. 
Sharing is Caring
Sharing is caring! Plus, you might get violently ill if you ate this whole thing from an overload of richness. When I was taste testing I cut a small wedge out and plated it for myself. If I was making this as a dessert for my family to devour, I would serve this on one plate with 4 forks.
Being that there were two Reece's cups and two sheets of puff pastry, if I was making this for more than 4 people I would make both.
📖 Recipe
Reese's Puff Pastry Pie
Massive Reese's Peanut Butter Cup Wrapped in Puff Pastry
Instructions
If using frozen puff pastry, make sure to pull it out and let it thaw for 15-20 minutes.

Using a rolling pin, roll out your puff pastry slightly larger, adding another 2-3" to the height and width.

Place your massive Reese's in the middle.

With a sharp knife, round off the corners of the puff pastry slightly.

In a small bowl, mix together your egg and water to make your egg wash.

Using a pastry brush, spread a light layer around the perimeter of the puff pastry.

Starting at the top, bring the edge of the puff pastry to the center of the Reese's and press down slightly. Moving over about an inch, repeat the pattern until you have folded and pressed all the puff pastry down around the Reese's. *see video attached if you have questions*

Once the Reese's is completely covered, brush the top with egg wash as well and move to a 400-degree oven until crisp and golden, about 30-40 minutes.

Move to a plate, top with ice cream or your favorite sweet drizzle, and proceed to thoroughly enjoy.
Notes
You can absolutely substitute normal-sized Reese's for this, or whatever holiday-themed Reese's that might be out. I'm looking at your Easter Egg and Christmas Tree Reese's. 
Nutrition
Calories:
645
kcal
Carbohydrates:
59
g
Protein:
12
g
Fat:
42
g
Saturated Fat:
12
g
Polyunsaturated Fat:
6
g
Monounsaturated Fat:
21
g
Trans Fat:
1
g
Cholesterol:
44
mg
Sodium:
371
mg
Potassium:
247
mg
Fiber:
3
g
Sugar:
27
g
Vitamin A:
92
IU
Vitamin C:
1
mg
Calcium:
57
mg
Iron:
2
mg