Planning and designing a kitchen renovation always seem like the longest phase of the project. The back and forth of what we should and shouldn't do. What color? Should we replace the dishwasher too? Do we actually need a bigger hood?
The short answer is we didn't NEED to do anything. Which was a decent place to start. The kitchen is actually in good shape. Nothing is really wrong with it... except it's not set up for me and what I do. Which is cooking a lot with the kids and making big messes that require significantly more counter space than this kitchen provides.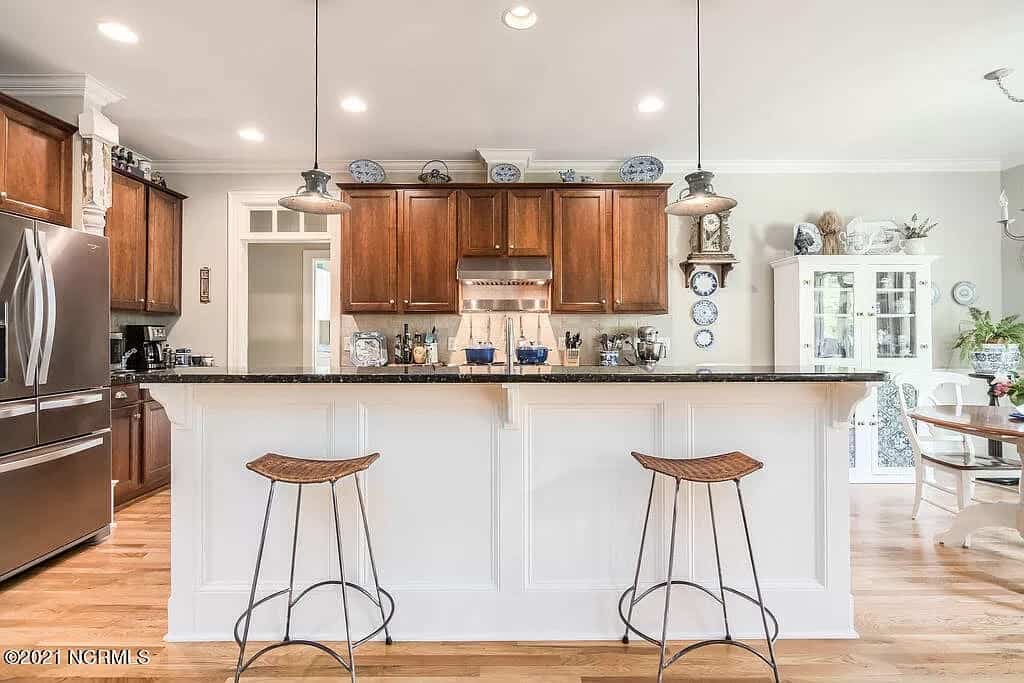 So what is a girl to do?! Yeah... we're renovating the kitchen. #sorrynotsorry 
This will be our 3rd full kitchen design/remodel. I can confidently say I'm prepared and somewhat knowledgeable about the process. Cabinet types and styles I've got down. I knew what type of sink I wanted, the feel I wanted, the door fronts, etc.
The hard part about this round was the shape of the existing space. It's long and narrow but not quite a galley. The eat-in kitchen has been nice, but it wastes so much potentially usable space.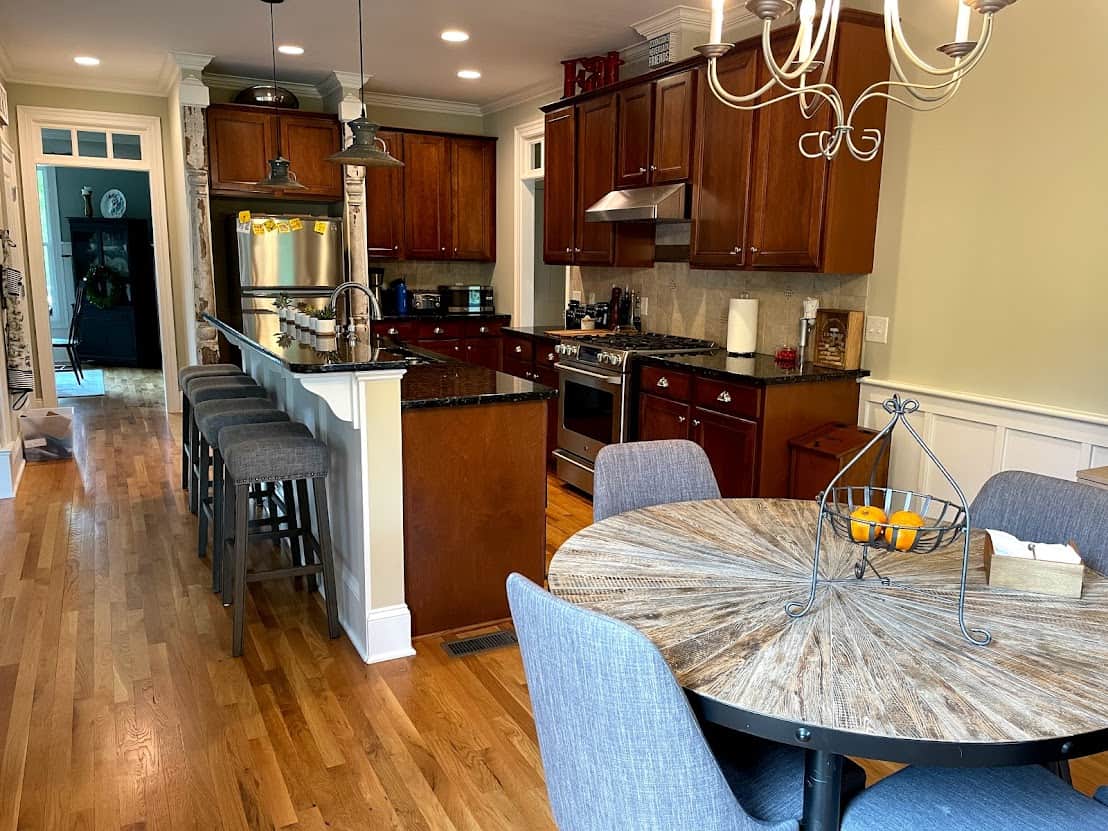 Plus, if you include the dining room, island, and patio, the eat-in kitchen would be the 4th possible option for places to sit and eat. Fifth if you include the couch, which my children would fight you to the death over being a perfectly acceptable place to eat. 
Finding a Contractor
I hate this part. You are basically interviewing. Spending a decent amount of time walking contractors through your home and then, in turn, they walk you through their products and then cost out the different options.
We got quotes from two different companies + costed out an option where we bought everything and had a handyman help install it all.
The 1st contractor was almost $25,000 more than the 2nd contractor and didn't provide as many services. They also were new and didn't have a ton of previous customers to talk to. This led to an eventual no for us.
Company #2, came in on budget, with plenty of customer reviews saying they did good work, and they had AMAZING 3D modeling software. I also enjoyed their personalities as well. Which, honestly is a big part. You don't want to be in this kind of renovation with someone you don't connect with.
The "Order The Cabinets Ourselves" option did come in slightly cheaper but with a lot more work on our end. This being the 3rd big kitchen renovation, we decided we wanted to say out of it as much as possible and all the finishing touches can be on them. Mwahaha.
This led to Company #2 getting the job and we get an absolutely, 100% completely done kitchen... and a happy Tabetha.
The Design
This is the (basically) finished design. We extended the Island another foot to the right so two full-size barstools could fit underneath it with elbow room. The cabinet to the right of the dishwasher got a few inches bigger, we are putting cabinet doors on the back of the island to keep it dressed up, and picked a different style hood, but other than that... here she is.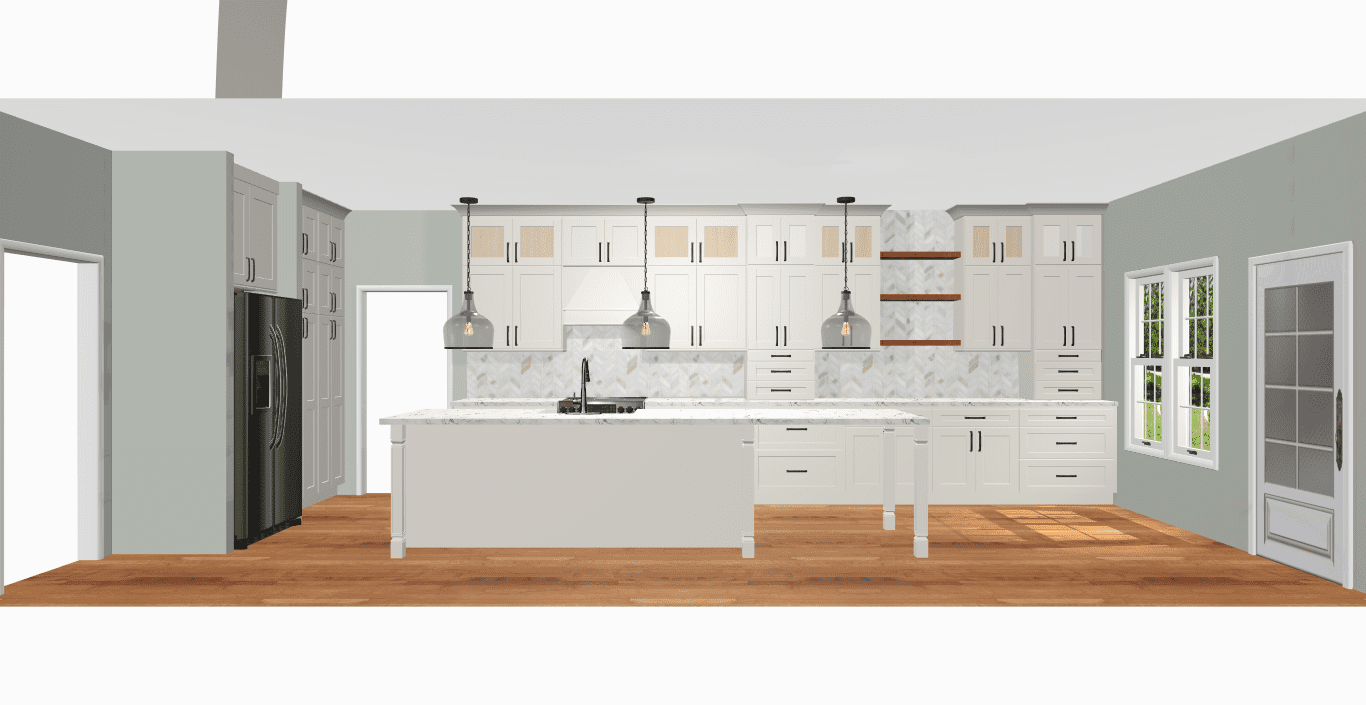 The idea is when you are looking at it dead-on, the right side is going to be my baking paradise. This is where all my cake pans, turntables, sprinkles, piping tips, KitchenAid, cookie cutters, pie dishes, mixing bowl... okay, you get it.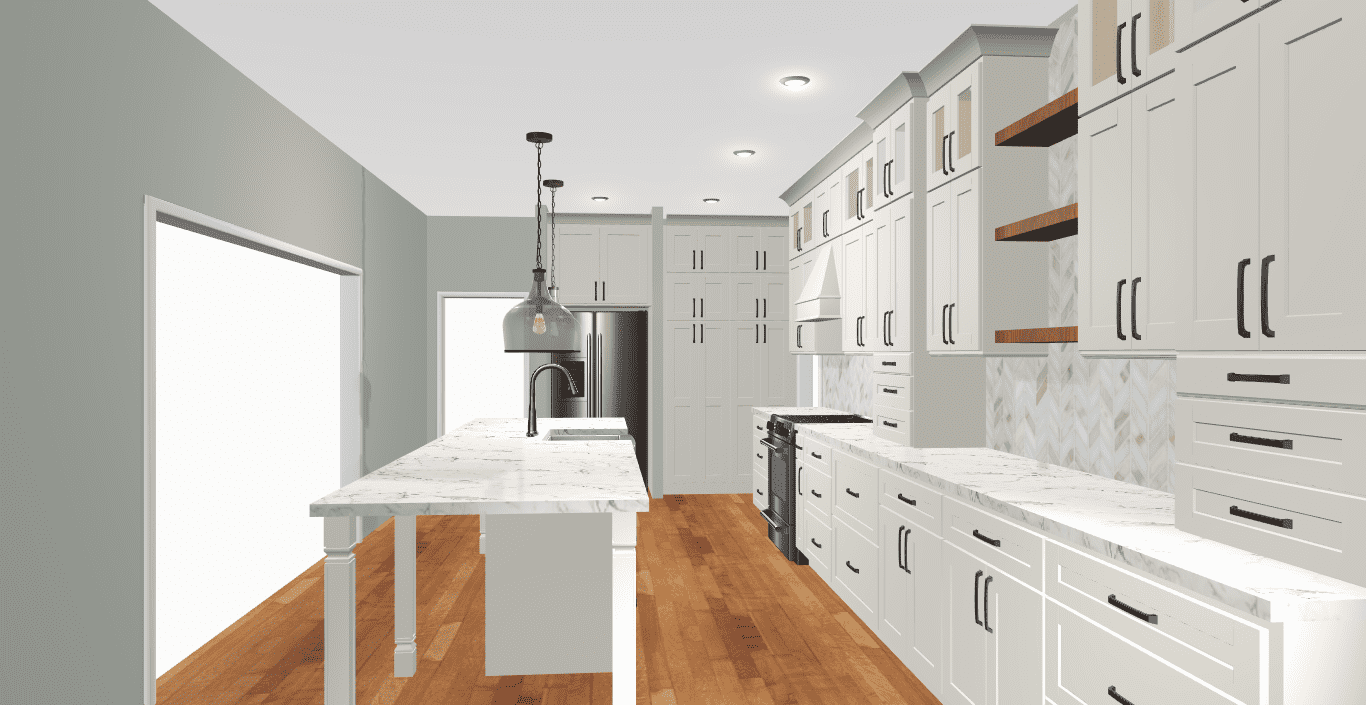 Next to the fridge are two full-height pantries. One will be the appliance garage/microwave house. The 2nd will be anything pantry-wise that I use for cooking all the time, that I don't want to have to walk across the kitchen for.
We do have a built-in closet-style pantry under the stairs. The goal is for this to be more breakfast/snacks/kid stuff with the hope of keeping the kids out of the kitchen when they are just rummaging for snacks.
What's Next?
Now we wait... The cabinets are 6-8 weeks out and the goal is to start as soon as they get here. In the meantime, the only thing I am on the hook for is picking the pendant lights, which if you don't know me well enough by now I 100% already have, and the faucet.
I'm super excited to share this process with you. I will be posting videos on TikTok along the way if you want to follow there. I'll also be posting on Instagram and Facebook as well.
🎉 Update: It's Done!
Come see how the whole process came together, step by step with lots of pretty fully completed kitchen remodel photos!