To say that Turks & Caicos is Heaven on Earth is, in my opinion, accurate. If you are a fan of perfect beaches and the Caribbean sun beaming down on you, I've found the next place you need to add to your travel list. 
Where Is Turks & Caicos?
The Islands are roughly 575 miles from Miami and located just southeast of the Bahamas. Turks & Caicos is located in the Tropical Atlantic Sea. Making the flights shorter than most other Caribbean Islands.
Why We Picked Turks & Caicos
We had seen on multiple sites that Turks & Caicos had the best beaches in the world. I had never even heard of it so I wasn't sold. My husband's old boss ended up taking a trip and when he came back he made it very clear it was worth the hype.
Further research showed it was one of the safest islands we could visit as well, which basically sealed the deal as far as bringing the kids.
We flew into Providenciales (PLS) which is on the west side of Turks and Caicos. You can also fly into Cockburn/Grand Turk but this is on the far east side of the island from where we stayed. You can take ferries but it would not be my suggestion unless you are planning on staying on that side of Turks & Caicos.
How We Got There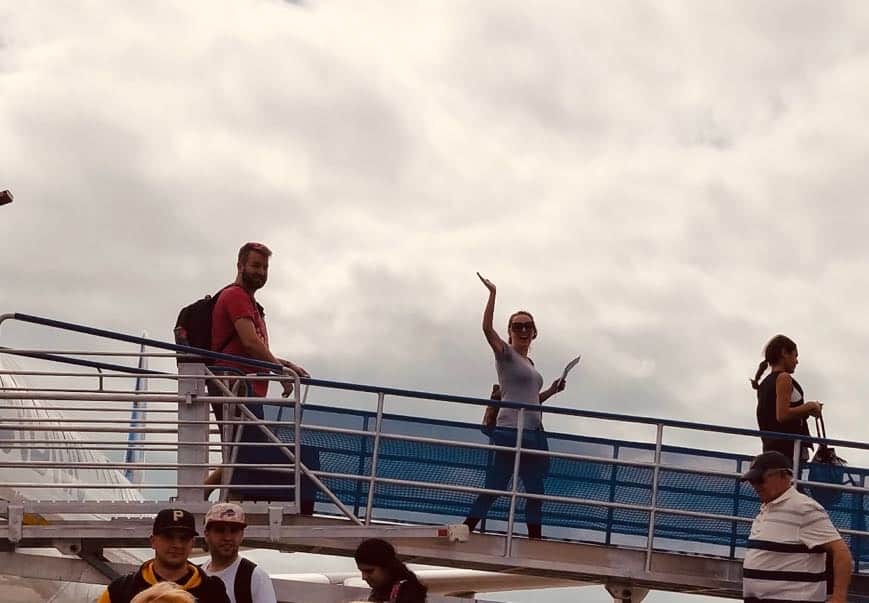 Our flight was from the east coast and only had one connecting flight in Florida. There was no need for a small aircraft to hop us around from one island to island which was amazing considering the kids. Overall it was a super easy flight and it was comparable price-wise to flying to other Caribbean Islands.
Where We Stayed
Keep in mind we have now been twice. On our first trip, we landed on The Sands at Grace Bay. We were celebrating my 30th birthday & anniversary smashed into one glorious beach trip.
One of the key features for us was that The Sands has all suites. I hate hotel rooms and their lack of space and the feeling of home. Especially if we are going to be staying for an extended period of time. We had a living room, bedroom, bathroom, and balcony. It was perfect. 
The pools, beach, and restaurants were all lovely. We took the complimentary bikes out for a ride down to the local shopping strip (5 minutes), enjoyed the bar, and soaked up every second. The only thing I wish they would have had was someone taking drink orders out to the beach. The bar was very close by, but who doesn't want drinks delivered to them on the beach?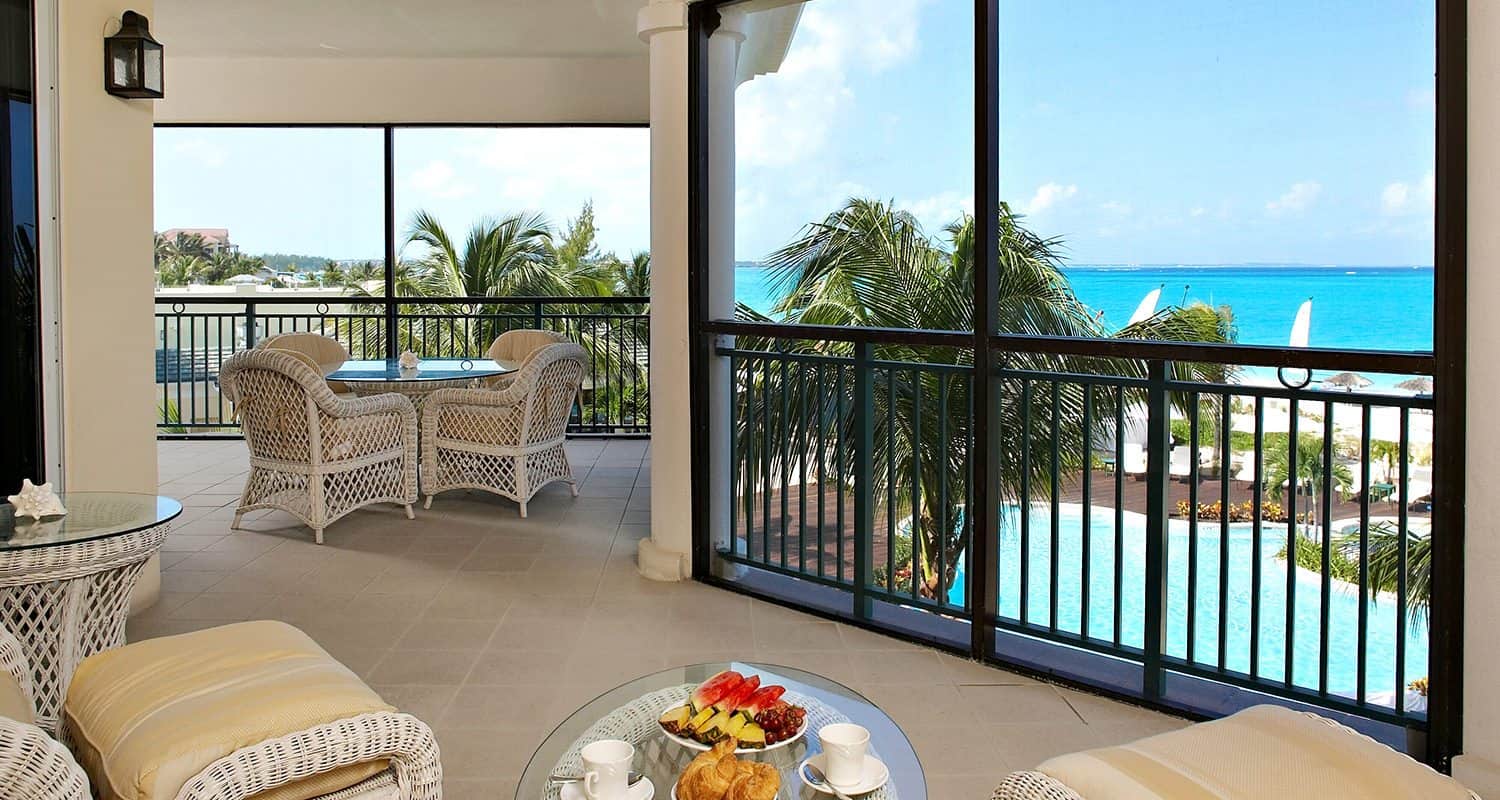 We stayed at Coconut Beach Villa when we came back with the kids. I was obviously having too much fun because I think we have like 8 pictures of the whole trip. To this day, this is the best trip we have ever taken as a family.
You can see all the pictures of the property by clicking HERE.
The property is divided into two completely separate homes. Each is a mirror image of the other. That means two kitchens, two living rooms, two dining rooms, and two separate outdoor patios. The thing that brings them together? A gorgeous pool set up with views of Sapodilla Bay.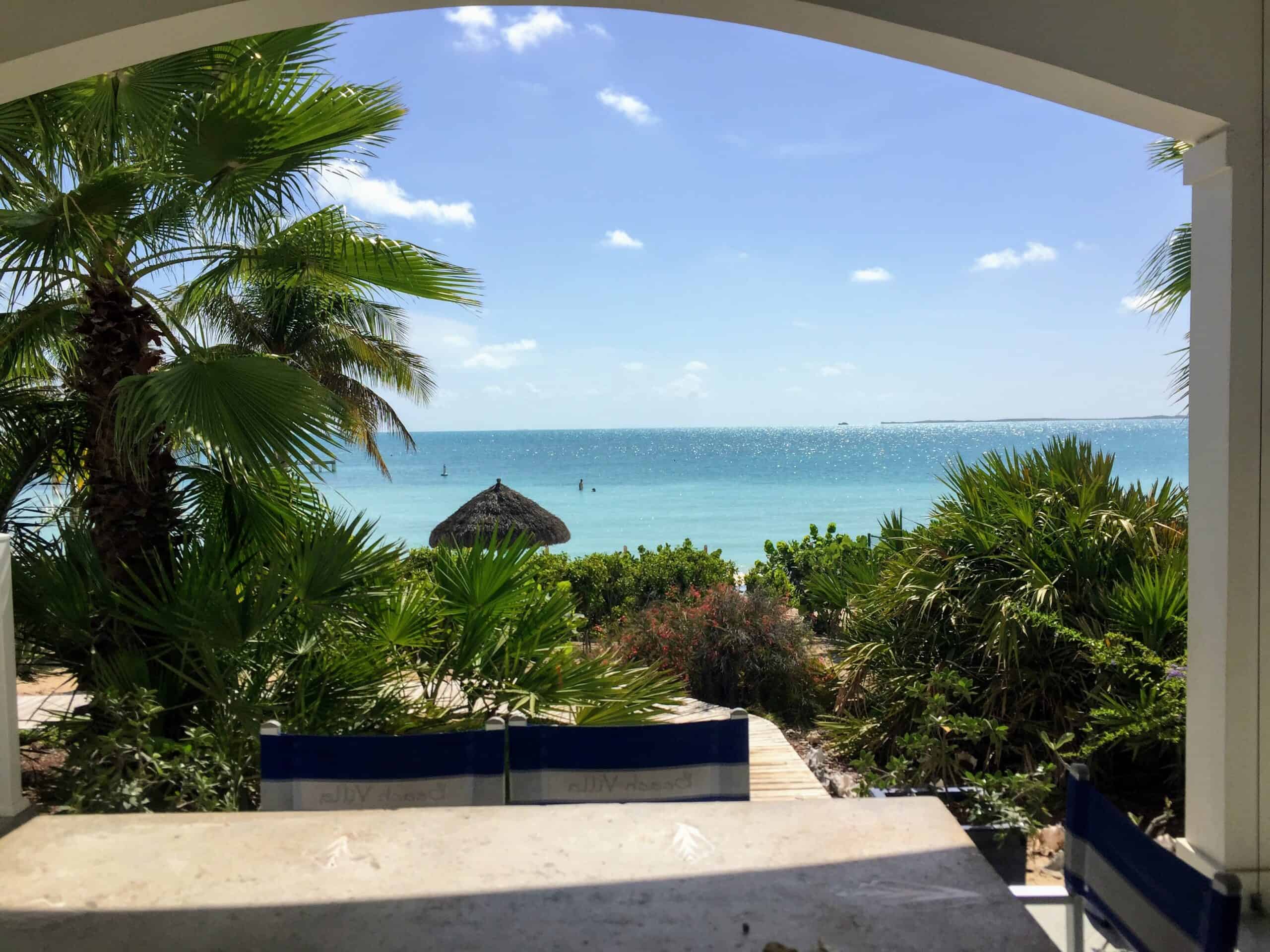 Here is why this was so mission-critical for us. We had a big group of family come with us from all over the United States. Colorado, Virginia, Maryland, and New York. My Dad came and stayed in one house with us and our kids. My brother-in-law also came with his family. They stayed in the other house. That meant no kids on MD time waking up kids on CO time. That meant when MD people were ready to call it a night CO people could stay up. It. Was. Perfection.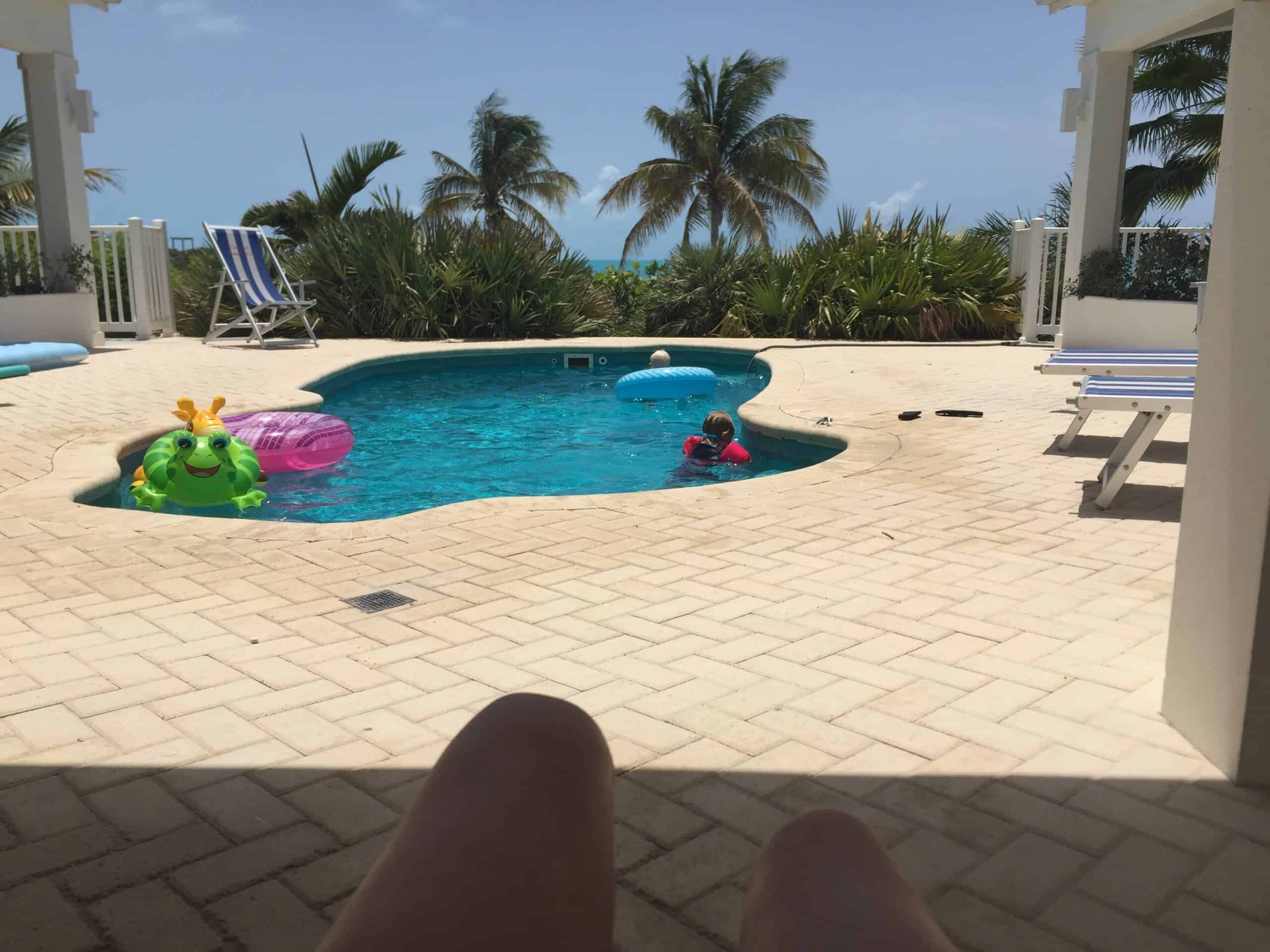 They had a huge storage area full of sand toys and pool floats. There were games inside and a much better-appointed kitchen than I have seen in other rentals. The house was clean, the beach was flawless, and the owners were literally a phone call away if we needed anything.
Where We Did Go While We Were There
Leeward Settlement
Located just north of Grace Bay at the North end of Providenciales, the Leeward Settlement is a great spot for kite surfing on top of just being gorgeous. The north side is specifically where these pictures were taken.
The land you see on the other side of the water is Little Water Cay (Iguana Island), a nature preserve. You can take excursions or kayak yourself over. While we didn't get to go, we heard amazing things.

Northwest Point National Park
Northwest Point National Park is at the farthest North West point of Providenciales. Yes, we literally drove from one side of Provo to the other, and it was glorious.
The isolation and beauty of this place were breathtaking. A word of caution though. The road is very narrow getting to this point so passing another car is going to be tricky. You would also probably do better in a 4X4 vehicle if you decide to make this journey.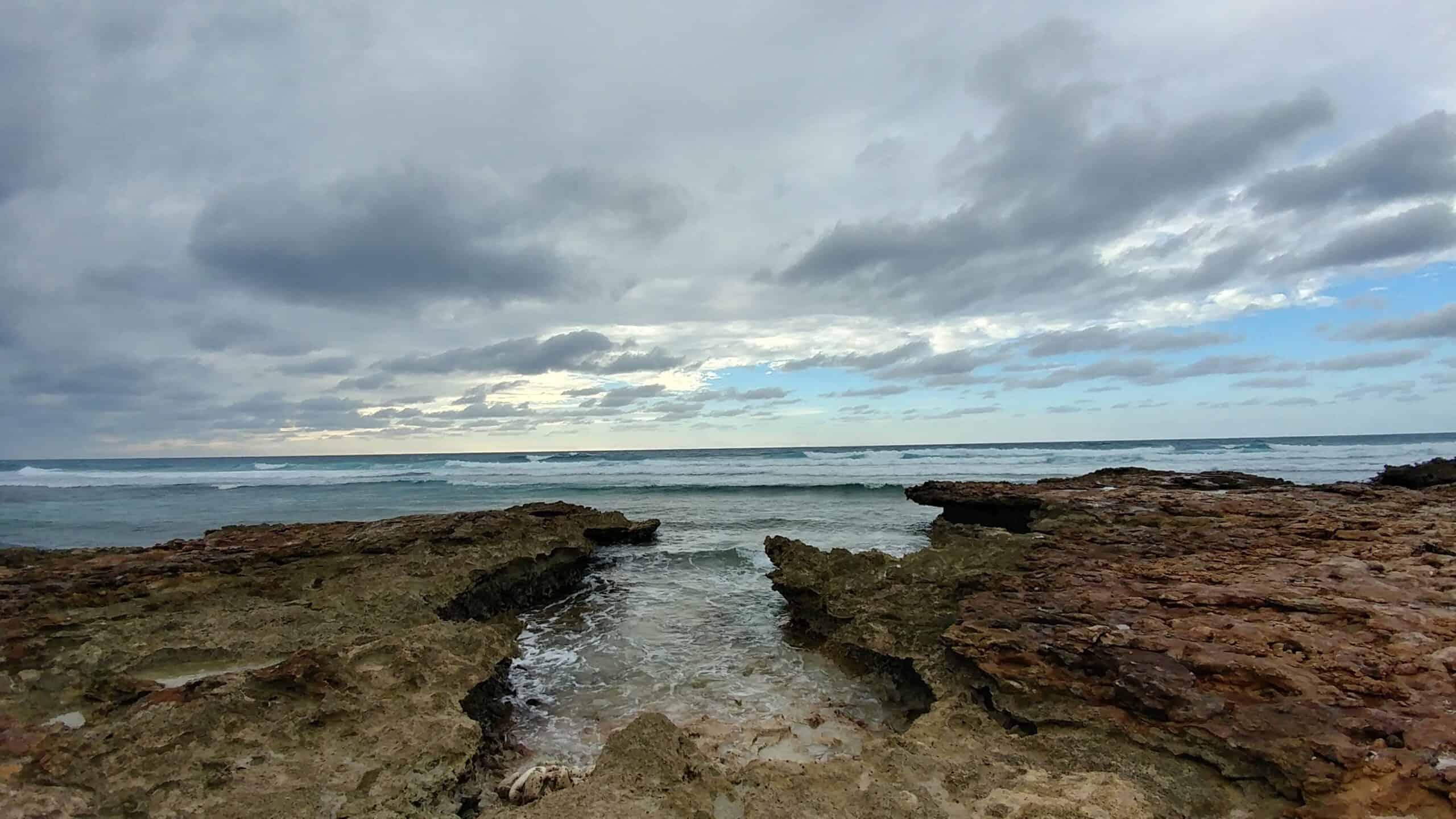 There are excursion-style companies who will take you here as well if you want to see the sites, but not risk the possibility of getting stuck. 

Sapodilla Hill & Sapodilla Bay
Sapodilla Hill can be found directly off of Sapodilla Bay. There is a small parking lot at the bottom of a beaten path. We struggled to find it and got there just in time to see the most amazing sunset. It only took around 5-10 minutes to get to the top, but the path isn't well-worn either. I made it up at dusk in flip-flops and I am one for climbing mountains.

The Hill itself is pretty spectacular. Once on top, you will find some remaining inscriptions carved in stone from 1700-1800s sailors and travelers. It was a very strange feeling knowing we flew in on a commercial airline and we felt isolated enough, but to think back to the 1800s and find yourself on that same point but with no way out was intense.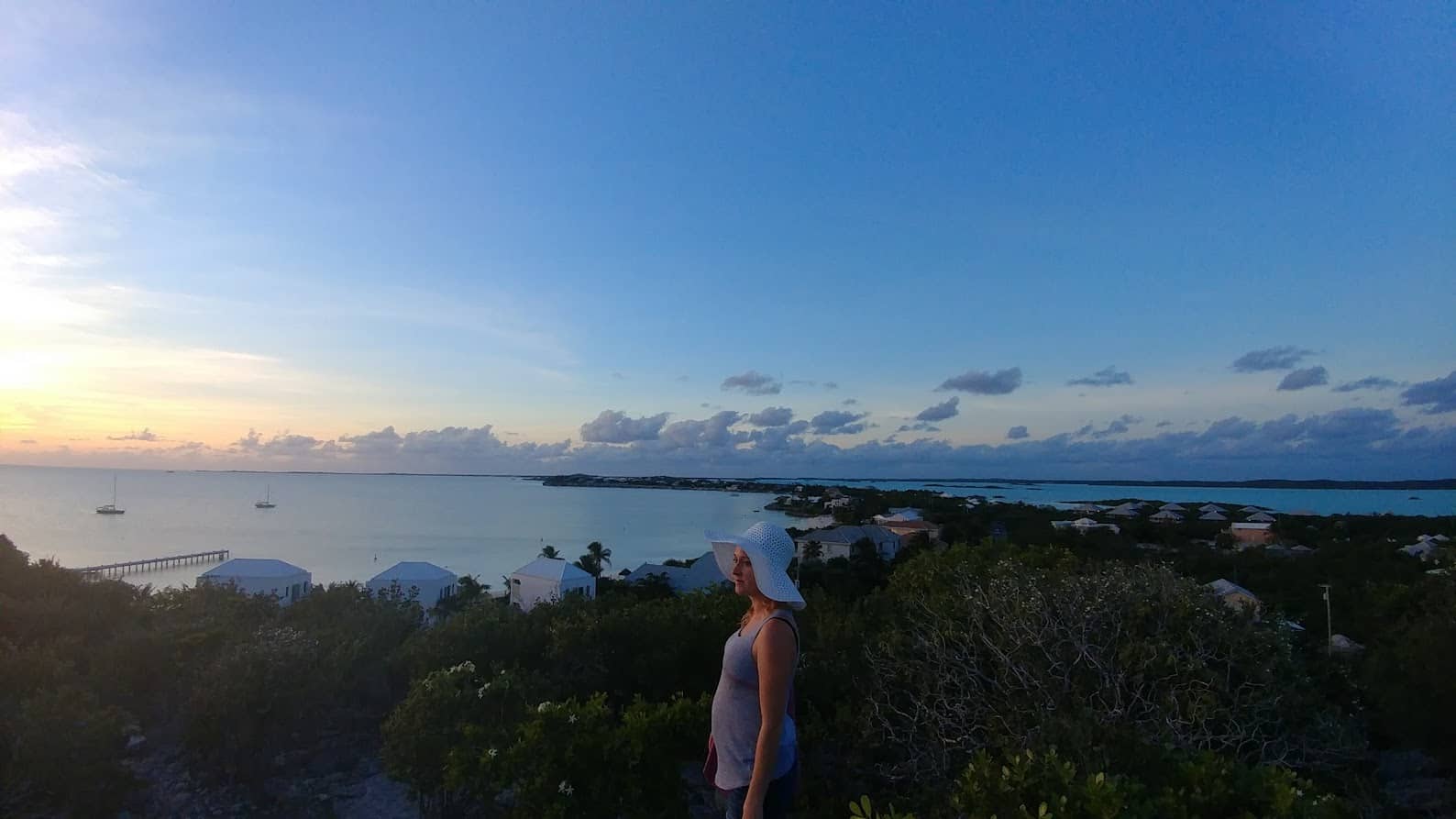 Sapodilla Bay is what you can see in the background of the pictures above. When I say I immediately fell in love with this island I wasn't exaggerating AT ALL. As soon as I stepped foot on Sapodilla Bay I knew we had to come back with the kids.
Soft sand, super shallow water that was warm and crystal clear. This made it possible to see so many amazing things... starfish, sea turtles, little fish friends, and beautiful seashells.
The whole bay is lined with gorgeous house rentals. I did some research and 9 months later we came back with the whole family in tow to stay at Coconut Beach Villa.
How We Got Around
Renting a car is a must if you can manage it. We used two different rental car companies each time we came and both were fine. The tricky part about renting a car here is that they drive on the left side of the road.
Jon and I traveled a decent bit. Once when we went to England we decided to take a weekend and drive all the way up through Wales. It was a beautiful yet terrifying drive. Either way, it gave Jon and me both a decent understanding of what it takes to drive on the wrong side of the road. For us that looks like me yelling "LEFT!" every single time we make any kind of turn.
Jon 100% got tired of this and asked me to stop. The next time he turned he tried to go right, so we both agreed my system worked. #TeamworkMakesTheDreamwork
In all of our travels we never really found ourselves in a "bad" area. The roads were clearly marked and in decent shape. However, we were told it's better to not leave your purses in the rental cars as they may get broken into. We clearly didn't have that issue but it was worth noting.
What Time of Year to Go
We've been to Turks & Caicos twice, at two very different times of the year. We even went back to a lot of the same landmarks each time. It was crazy the difference between the two experiences. 
July/August: It was hot. Not going to sugarcoat that. The water was almost bathwater warm which I loved. There was no easing yourself in. It was just walking in and falling over. Bliss.
End of November: The water was significantly cooler than in July which my husband loved. The humidity was less, the average daily temperature was lovely, and the bugs were minimal.
Let's not forget hurricane season. Now, interestingly enough, Turks and Caicos manage to stay out of the path of most big hurricanes. For full detail on the weather and what to expect go HERE. It's an amazing breakdown of the weather all year round. 
Fun Food Fact
I obviously cook. A lot. We found out on our first trip that there was an amazingly nice grocery store called Graceway that had everything we could have needed, but it was all decently expensive. Meat especially was very very pricy. That isn't a product of Turks and Caicos as much as it's a product of the Caribbean where everything has to be shipped in.
After some research, I found a pretty solid loophole for this problem. You can actually pack and bring your own meat/food into the country. Here is a full link with all the details. We basically bought a Yeti (this was Jon's idea) packed it full of Costco meat, made sure it was under the excessive overweight bag fee at the airport, and brought it as a checked bag. 
The rules change by airline but generally there is a overweight bag fee and EXCESSIVELY overweight bag fee. So just make sure you are well versed in the policy before you show up at the airport with 100 pounds of meat. 
For LESS money than buying meat on the island we purchased a Yeti, all our meat for 10 ppl for 7 days, checked it at the airport and brought it home. The bonus was that we got to bring a Yeti around the island with us to keep drinks cold. It took a lot of planning ahead to make it happen but it worked out so well for us.
We also checked a bag nearly full of kid snacks for the week, spices, and other random kitchen necessities. For example, I can't go anywhere without kosher salt & a pepper grinder. Don't judge me.
Final Thoughts
If you are left wanting to know more about this amazing island you can find a ton of information at www.visittci.com/
I dream about going back to this island regularly. We tried really hard to justify during COVID to just packing up and spending a month or more. The pets and closed borders made that less of a reality.
We have been to Puerto Rico, Haiti, St Thomas, St Kitts, Dominica, Martinique, St Lucia, the Grenadines, Curacao & Grenada. My love for the Caribbean runs deep. Each island has something special to offer. I just happened to find almost everything my soul needs in Turks & Caicos.
Cheers,
Tabi